Sunday 23rd October. Billy is 8 weeks and 5 days old
Billy had a wonderful day today. Most Sundays, my younger son and his girlfriend visit and they were very excited about meeting Billy.
He spent most of the afternoon giving them instructions on how best to align their laps and arms in order for him to get the most comfortable position for his naps.
We have a nice routine now. And Billy is becoming increasingly relaxed and at home here.
A new kitten feeding schedule
I feed Billy four times a day – every three and a half hours from 7:30 in the morning.
We actually get up soon after six and Billy would like very much for me to feed him then.
But he is now very vocal around feeding times and I am wary of getting him into the habit of yelling for his breakfast. I could see that leading to me having to get up earlier and earlier each day in order to stop the yowling.
So Billy has to wait until after we have finished our own breakfast before I prepare his.
Training Billy to come
I have been whistling Billy at meal times for a while now, and he now comes running whenever I whistle.  I only do this when he is near to me at the moment, to ensure success.
His sense of directions seems to be improving too.
I am also whistling Billy from short distances away, in-between meals now, and I have a few tiny pieces of kitten kibble ready to give him each time I do so.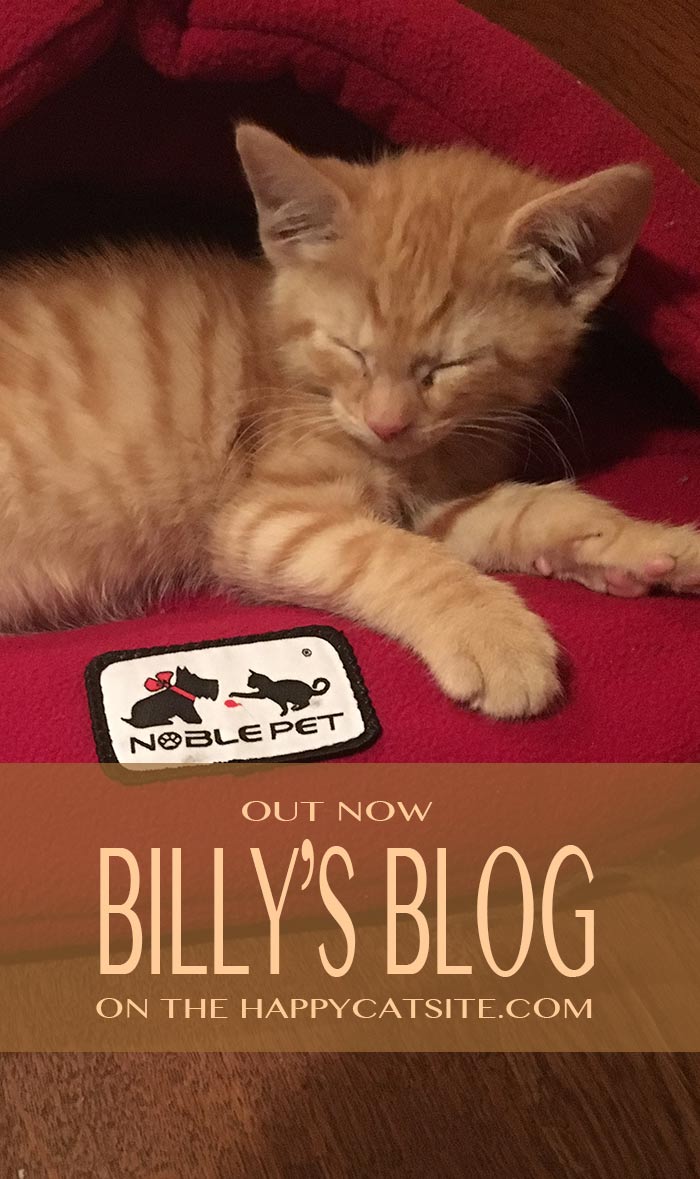 We live in the UK where most cats are allowed to roam free. So it's really important to me that Billy comes when I call him as he may well be allowed outdoors when he is older.
A good recall will help me call him in at night and whenever I think he has been away a bit too long
Cat allergy report
This morning I took my third and last dose of steroids. And they have almost completely suppressed the symptoms of an allergic response that I was suffering from.
So now we have to wait and see if my allergy returns when the steroids are withdrawn.
I have an appointment at an allergy clinic next month and if the allergy does return, I have decided to wait until I have been tested and to seek advice from the consultant, before making any decisions about Billy's future.
So that is at least another two weeks.
What that decision is, will depend on whether or not Billy is the cause, and on how severe the symptoms are.
I am trying not to let the events of the week spoil things, but it has inevitably taken some of the fun out of having Billy. It's horrible feeling 'in limbo' over all this. I'm taking less photos than I would really like to and trying not to get too attached to Billy in case I lose him.
My younger daughter has offered to keep Billy for me if I can't, which although a relief brings its own problems.
Because having a cat allergy isn't just a matter of not keeping cats.
Cat allergy facts
Many of my friends and relatives have cats too. As you can imagine, I have read extensively now on cat allergies, and on managing them safely.
Studies have shown that cat allergens are extremely good at spreading themselves about!
Cat allergies are usually caused by a protein called Fel d 1 It is found in the saliva of all cats and their dander, or dead skin cells, get coated in it when the cat washes.
This dander is incredibly light and sticky and coats the walls of your home, soft furnishings, and clothes. No matter how carefully we clean, it would be in our house for months after Billy is gone.
Fel d1 is transported around by people who live with cats, and can be found in schools and offices, and other places that cat owners may regularly visit.
If Billy goes to my daughter, this could make it difficult for me to visit visit my daughter and grand-daughter.
And as we work together it could mean I am still being exposed to the allergen because Lucy will inevitably have it on her clothes and possessions and some of it will be transfered to my home again.
I suppose much depends on how severe and how controllable the allergy is, without steroids, as these are not safe to take on a long term basis.
Rest assured, that no matter what the outcome, I will make sure Billy has a loving and permanent home where he will be safe and protected.
Monday 24th October. My kitten is 8 weeks and 6 days old
It is now a whole week since we collected Billy and brought him home. In some ways it seems much longer!
Today, Billy has been given access to my carpeted dining room. This is a long room that opens on to both the kitchen and the hall via a door at each end.
He's been in here briefly under supervision, but apart from an hour or so after each meal, I'm now letting him in here unsupervised.
This means that Billy can have great fun racing in one door, along the room and out through the other.
Kitten toilet training at nine weeks old
Billy has not had a single accident in our home. His breeder clearly made a great job of litter training him, and I want to make sure I build on that.
My strategy has been to increase the rooms Billy has access to one at a time, adding a room when I am confident he can find his way to his litter tray from the other rooms.
Restricting access to new rooms during periods when the baby animal is least likely to need to empty themselves, works very well with both puppies and kittens.
I want Billy to build up a habit of not even considering toileting in my dining room. Which is why I don't let Billy into the dining room just after he has eaten, as this is the time he is most likely to need his litter tray.
And to make sure he can remember the quickest route back to his litter tray before he is allowed access to the dining room at those 'risky' times.
Active Billy
Billy's ability to jump is improving swiftly. He can now take hop on (and off) the kitchen chairs effortlessly and from some distance.
Billy's style when exploring anywhere new seems to be to sniff around the edges of the room first, then to run up and down the length of the room very fast indeed for several minutes, until he is exhausted.
Then he likes to take a nap.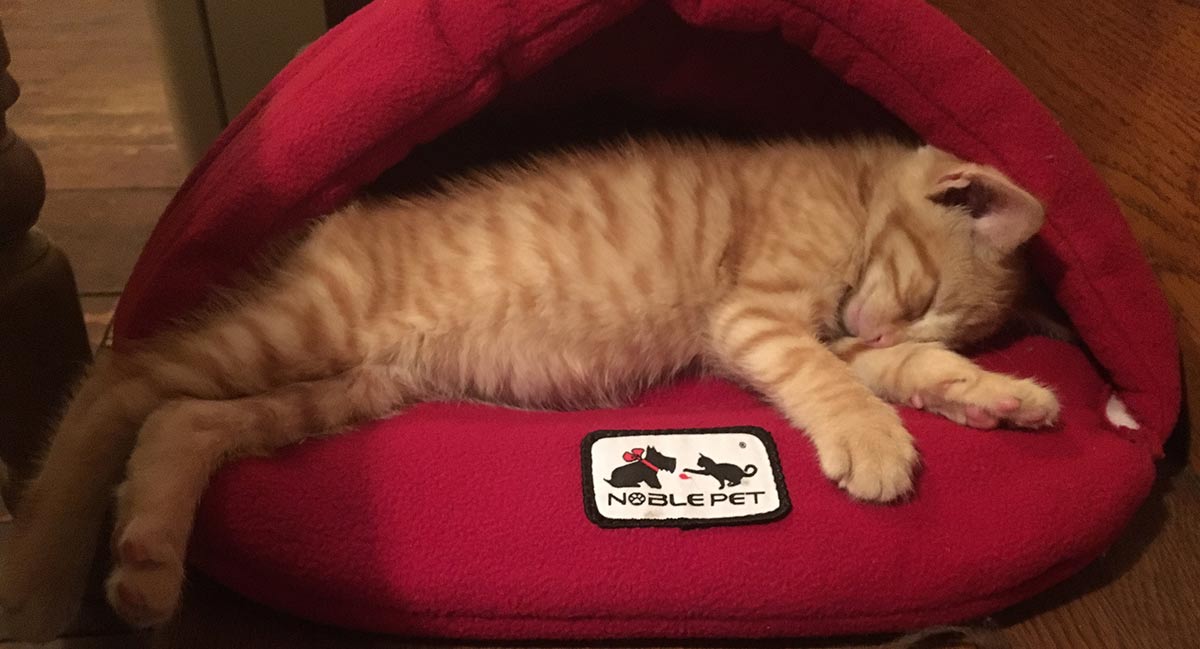 And that's exactly what he did today.
Continue reading Billy's Blog…
Free Updates For Cat Lovers!
Our cat care articles, tips and fun facts, delivered to your inbox