Tuesday 25th October
Billy is nine weeks old today and he is really beginning to liven up. He still enjoys road testing the lap of any visitor to the house.
But he  is sleeping less and racing around more than his did a few days ago.
He's also tested his teeth out on us a couple of times. Not hard, but definite bites, and definitely not acceptable.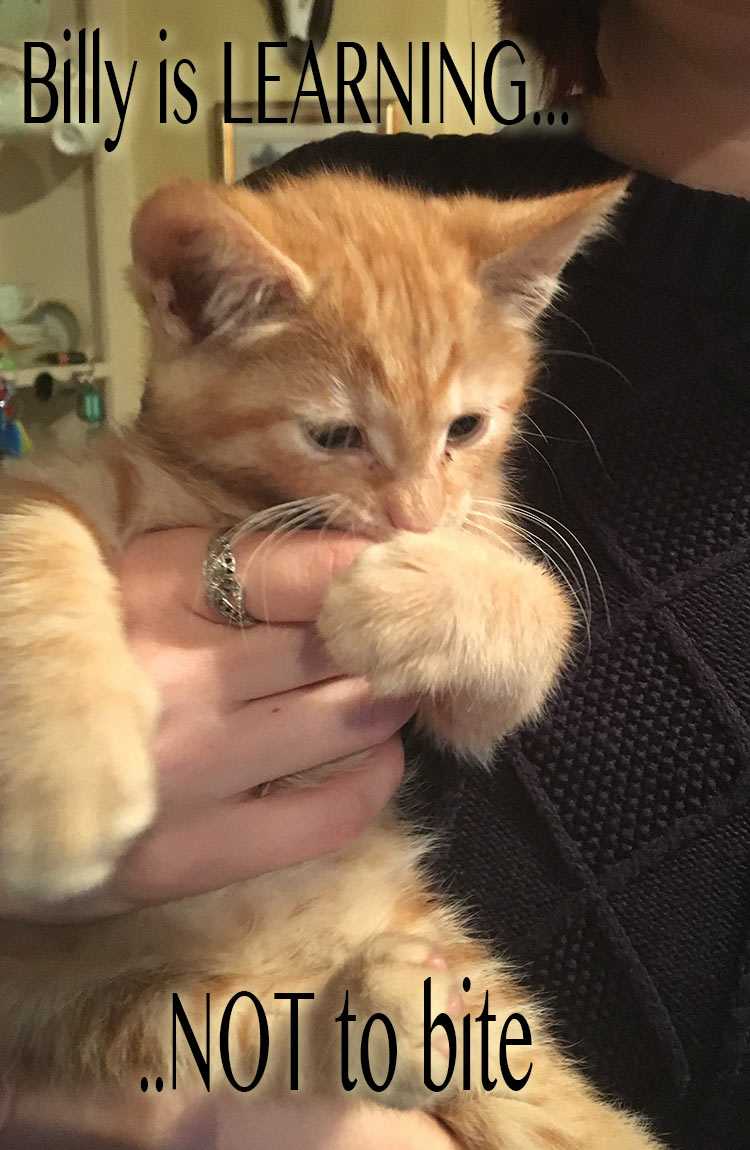 When he does this we immediately put him down on the floor and ignore him.
He then pretends he doesn't care, and ignores us back.
This doesn't mean Billy is aggressive, it's normal kitten behavior, but we don't want to encourage it.
What do nine week old kittens eat?
I have found it quite difficult to decide how much food to give Billy. The quantities recommended on the cans are vague (2-3 tins per day)
And he is always so very hungry.
But I don't want him to get fat or grow too quickly, so I am increasing quantities steadily but cautiously.
I thought it might help others if I keep a record of quantities Billy eats at different stages
He has two different types of wet food at the moment
Thrive kitten food: chicken
Lucy's Kitchen kitten food
Thrive is very moist and juicy – just shredded chicken breast meat in a white gravy/sauce.
It looks like something you might put in a vol-au-vent
Lucy's kitchen is a firmer, denser, jellied food that looks more like typical canned pet food
Billy also has Royal Canin dried kitten food kibble – I was mixing this in with his wet food, just four or five bits of kibble.
I am also feeding the kibble to him as recall training treats in between meals. Five or ten pieces a day.
Our nine week old kitten's meals
Billy has four meals a day
7:30 am 1/4 of a 3.5 oz (100g)  can of Lucy's kitchen – so just under an ounce (25g)
11 am Two heaped teaspoons of Thrive Kitten food – this is slightly less than half a 2.5oz (75g)  can so about 1 ounce (30g)
2:30 pm 1/4 of  a can of Lucy's kitchen
11 am Two heaped teaspoons of Thrive Kitten food
The idea is to get him used to a variety of different tastes and textures while he is young
He's getting a total of just under 4 ounces (110g) of wet food a day together with some kibble
What do nine week old kittens play with?
Billy really loves his wooden box puzzle toy.  But especially the lurid stripey mouse that came with it.
Chasing balls of scrunched up paper is fun, and so is climbing in and out of cardboard boxes.
He is basically, just a really, happy, playful boy.  Anything, and everything, is a game.  Especially poor Tess's tail..
Allergy progress report
If you've been following along, you'll know that I have a suspected cat allergy. And I'm waiting for my appointment with the allergy specialist.
Last night was a long one. My first night after coming off steroids and I admit I was quite worried about the facial swelling returning.
I took an antihistamine before I went to sleep, and woke at intervals throughout the night, making sure I could still open my eyes!
My face did feel very slightly puffy this morning, but not anything that anyone else would notice. And a slight itchiness in my hands was the only other thing I noticed
I am still trying not to handle Billy very much. And washing my hands when I do. But I'm feeling a bit more hopeful today on the allergy front.
Thursday 27th October
Billy is nine weeks and two days old today. And he is getting livelier by the day.
Like a puppy, he seems to have a period each day when he goes a little crazy. This is when things can get rough.
He'll dig his spikes in and shin up your leg.
Or he'll take a running jump at your lap, misjudge the distance and overshoot, then hang on grimly with his claws as he tries to prevent himself falling to the floor
The best thing to do seems to be to create a distraction.
The simplest is to screw up a piece of A4 paper into a ball and chuck it across the room. He'll then fly after it, with his best 'pounce and capture' manoeuvre and proceed to give the paper ball a thorough battering for the next ten minutes.
Charging the clicker
One of the things I was hoping to do with Billy, was to enjoy the experience of, clicker training a cat.
I have some experience of clicker training dogs and puppies, but it will be fun to discover how cats and kittens differ.
So today, I spend some time 'charging my clicker' with Billy
Charging a clicker is a bit of a misnomer. It's more like charging the kitten!
All I do is press the clicker, and then drop a piece of kitten kibble right in front of Billy's nose.
After a few times, he clearly expected every click to predict a piece of kibble
Job done!
And it means that I can now use my clicker as a marker, to let Billy know if I like something he did, and would love it, if he did it again!
A marker is essential for training complex behaviors, and a great help with teaching simple ones too.
Billy and Rachael
Billy is completely confident around dogs now. Almost too confident and trusting. Not every dog Billy will meet will be well-intentioned towards kittens.
I am still supervising contact with Rachael. As I am concerned that she is too bouncy and rough with him.
He is growing in size and strength every day so this should be a temporary problem. But, some of her body language around him is not quite right.
I'll be keeping a close eye on her.
So much choice!
While Billy is not spending as much of his time asleep as he did a week ago, sleeping is still a priority.  As is finding the best, warmest, and squishiest places to rest.
One of Billy's favorite spots to nap is in a kitten cave.
We have two, a red one and a green,  and sometimes, it is very hard for Billy to choose between them

No kittens on the table
Billy and I have a difference of opinion over the kitchen table. This is something of an ongoing battle.
He thinks he should be allowed to walk around on it, whereas I beg to differ.
Unfortunately he has all day to plan how to get up there, whereas I have other things to do. This gives him the upper hand!
We're making sure that there is nothing interesting left on the table to minimise the rewards to be gained by reaching his goal.
And keeping all the chairs pushed underneath makes it harder for him to reach the top.  But still, persistence sometimes wins the day!
Friday 28th October: Billy is 9 weeks and 3 days old
Today has been a good day. Apart from the 'worming' part. More of that in a moment.
I am trying hard not to handle Billy too much, whatever 'too much' might be. What with the whole 'allergy' thing dragging on.
The antihistamines are keeping most of the itching and puffiness at bay, but I do worry about Billy's firm belief that he needs to sleep right up against me, at all times.
If Lucy is here, he is very happy to sleep on her lap.  But when she isn't, he is pretty determined to sleep on mine
I've figured out a way to reduce contact a little without offending my tiny friend.
When Billy climbs on my lap I have a kitten cave handy. The idea is that once he is asleep, I can slide the kitten cave with him inside it sideways onto the bench next to me.
But Billy is getting wise to this now and as soon as I slide him gently to one side, he wakes and climbs back onto my lap, purring with pleasure at the thought of us being back together again!
Here he is pointing out, to Meg the spaniel, that sharing is not an option he is prepared to consider

Making progress with the clicker
Today I have progressed a little with the clicker. Instead of just clicking and treating, I have been waiting for Billy to look at me and clicking him for doing this.
I have some fairly extensive experience in clicker training puppies and dogs, but cats are a new adventure for me.
As I have been feeding Billy from the floor (he is rough about taking food from my hand) I was surprised at how quickly Billy cottoned on to the fact that I was clicking him for looking at me.
He soon started looking at me repeatedly in the hopes of earning another click (and the reward that always follows it. )
We ended this morning's session when he got over-excited at the whole 'food' thing, and started yowling for more!
I am so interested in the difference in response to this type of training, between cats and dogs. So far, Billy is responding in just the same way that many puppies would
I'm looking forward to doing more of this with Billy, but find it difficult to commit to the process when Billy's future (with or without me) is still undecided
Worming a nine week old kitten!
I decided to worm Billy today. I had bought some Panacur paste from Amazon. This is a wormer I have used a lot for puppies, and it is also suitable for kittens.
Paste is great for puppies because unlike a pill, it is difficult for a puppy to spit out. And it tends to be gentle on the stomach.
Puppies, on the whole, are very tolerant of having something pushed into their mouths
Cats however, are not miniature puppies. And Billy was entirely unimpressed about having anything pressed into his mouth, no matter how gently.  Teeth and claws were put to good use!
A first offense
Billy and I have never fallen out and this was the first time that I have ever done anything to upset him.
He was more than a little put out at having some white paste squirted into his little mouth.
I felt quite the villain. And decided that the next dose would be mixed with his food.
He recovered quite quickly and obviously forgave me as half an hour later he was once more installed on my lap.
Into the living room
Another new experience for Billy today, was to be allowed into our living room.
This is the furthest point from Billy's litter tray which is why I have left it until last. And I have only let him in there for half an hour before each meal.
He loved it, and spent the entire time confidently exploring this new addition to his realm.
Saturday 29th October:  Billy is 9 weeks and 4 days old today
I have taught every cat we have ever had to come to a whistle. This makes life just a little safer for a cat that is allowed outdoors.
It means that you can call a cat in if you know there is going to be a firework display, a thunderstorm, or a very cold night.
Or if you need to take him to a vet's appointment
Even if Billy can't sty with me, a good recall will be a useful thing for him, wherever he lives, so I been making an effort to ensure Billy comes whenever he is called.
And over the last couple of days I've been calling him from further away
The secret to recall training kittens and cats is VERY generous rewards. The ideal time to whistle your cat to begin with is while you are preparing food.  And this is what I have done with Billy.
But I have also been practicing recalls with Billy in between his meals.
Billy's recall response is getting better
I initially started whistling Billy when he was a few feet away from me and dropping a tiny piece of kibble on the floor for him when he reached me.
He caught onto this really quickly
For the last few days I have been whistling Billy from all over the house, deliberately waiting until he is some distance away from me.
He now comes flying down the stairs, or from room to room when he hears my whistle to eagerly get his reward.
The next thing is to teach Billy his name. I'll be doing that soon.
Allergy update
On the 'allergy front' I am starting to cut my antihistamines down now. 3/4 of a tablet a day instead of a whole one.
I have to be clear of antihistamines for three full days before my appointment at the allergy clinic. Presumably because antihistamines would interfere with the test results.
But I'm too scared to go 'cold turkey'!
Keep your finger's crossed for me

Monday 31st October : Billy is nine weeks and six days old
We had a better 'togetherness' session with my bouncy young Lab Rachael. Today I had her in the kitchen off leash together with Billy.
And she was okay. A little pushy still, prodding him with her nose, but he stands his ground, which is perfect.
I am hopeful now that her intentions are basically friendly, but rather like a well intentioned toddler I think she regards Billy as more of a toy than a 'person'.
As a result I am not yet confident that she won't make a 'grab' for him, and I am mindful of my obligation to protect him from her exuberance.
I did some clicker training with Rachael, while Billy sat and watched on one of the kitchen chairs, and she was calm enough this time to ignore him and engage with me properly
At the moment, if he ran, I think she might chase and 'bounce' him, so I will continue to supervise, and reward her for ignoring him, until he is a little bigger and stronger.
Relaxing by the fire
We have an open fire in our living room which we light in the evenings. I have been watching Billy closely to make sure he doesn't take a flying leap into the flames!
Fortunately, like most cats, he seems to have a natural and healthy respect for fire and anything that is very hot.
Which is good because while nursery fireguards are great for toddlers and dogs, I don't possess, and have never come across, a fireguard that would keep out a determined cat.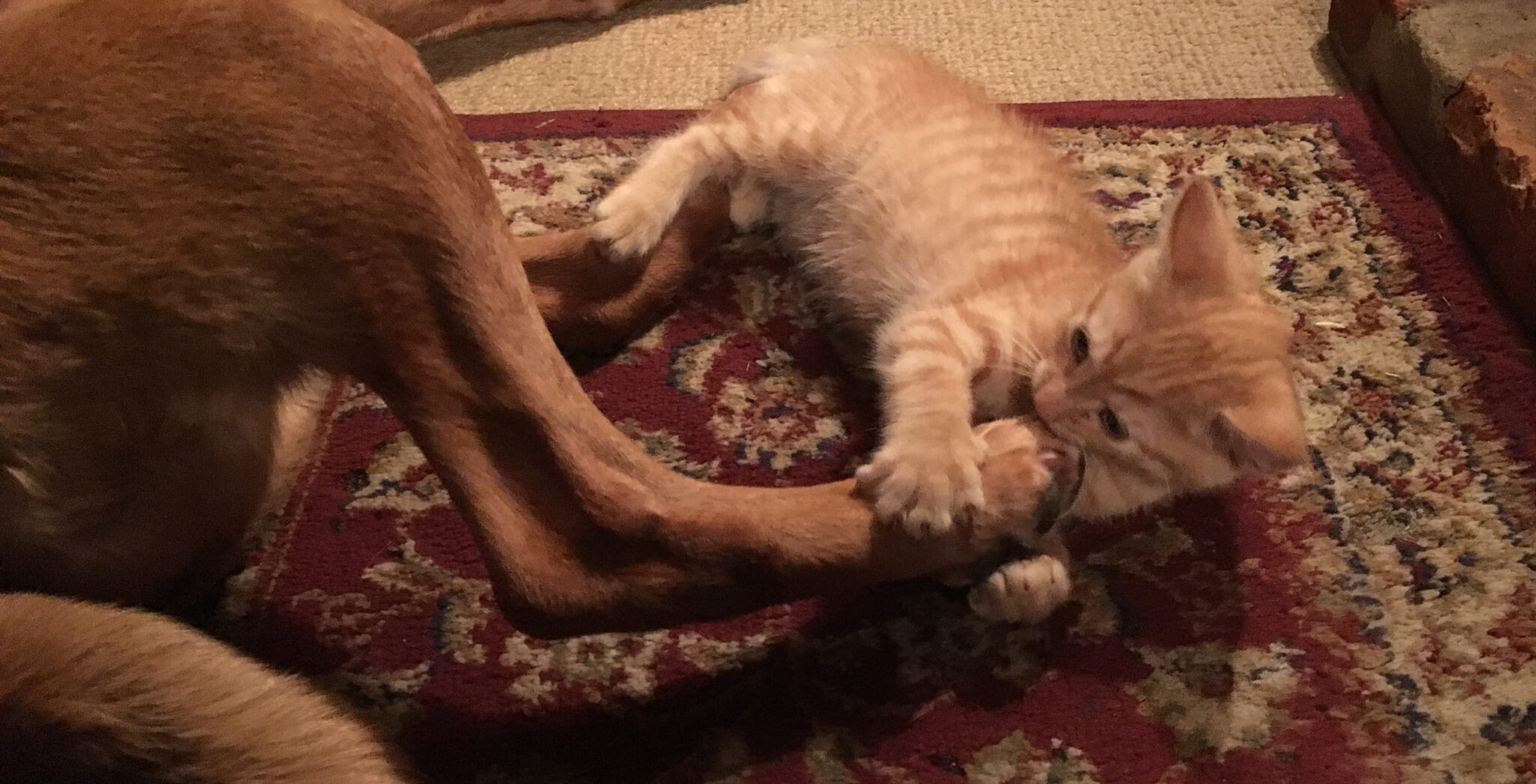 Here he is, testing gentle Tess's patience to the limit!
Watching the birds
Billy loves the living room. In the daytime he like to sit on the windowsill and watch the birds in the garden.
And he enjoys settling down for a nap in the evenings draping himself across anyone who happens to be sitting on the sofa.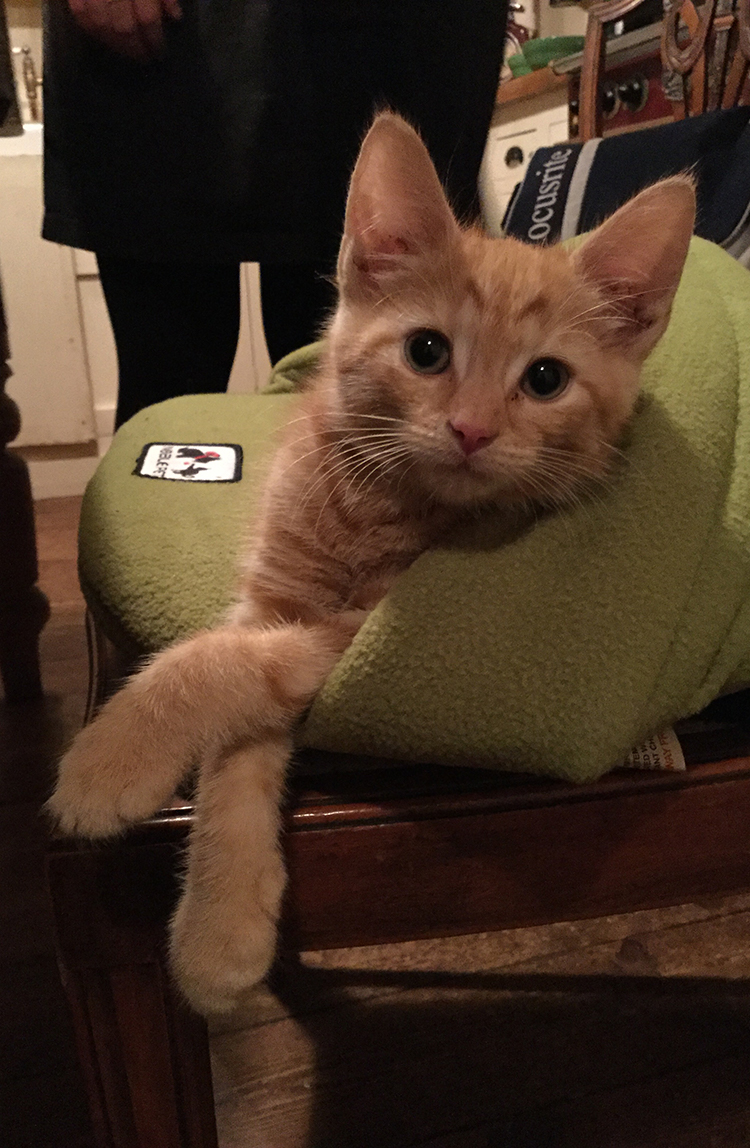 And when we gather in the kitchen and are thoughtless enough to stand about so that he can't sit on us, he likes to chill in his kitten cave
Billy will be ten weeks old tomorrow, Toilet training has gone remarkably well and Billy has not had a single accident in the two weeks he has been with us.
Today I set up a second litter tray in our bathroom and opened the bathroom door for him to explore. Which he thoroughly enjoyed doing!
He also climbed in the litter tray before I tipped up the hinged front end, which is great.  I'm really pleased to see he wasn't put off by the lid.
I would like to have proper lids with door flaps on both litter trays eventually but didn't want to risk putting him off using them by from the start.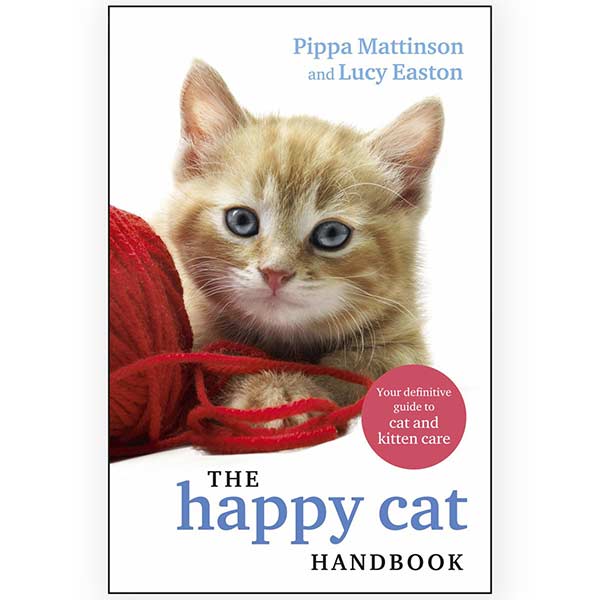 Bathroom safety for kittens!
There's a notice on the bathroom door reminding people to keep the toilet lid closed as I was initially frightened that Billy might drown if he fell in.
He has grown quite a bit in the last two weeks and is much stronger so I feel pretty confident that if a bad human were to leave the lid up, and Billy did fall in the toilet, he would be able to jump out quite easily.
Having said that, if I leave Billy alone in the house, I'll make sure that the bathroom door is closed. At least for a few more weeks.
Eventually, I want to remove the litter tray from my office and have Billy just use the one in the bathroom. But we'll take that slowly
Robot games
A new game for Billy is stalking my robot vacuum cleaner as it does the rounds of the house.
He is not exactly scared of it. But treats it with a little respect, keeping what he considers to be a safe distance.
Following it around and preparing ambushes for it keep him amused for at least half an hour.
Table rules
There seems to be very little that scares Billy, he's an extremely bold and confident little thing.  And very determined.
We are currently engaged in a battle of wills over the kitchen table.
Every time Billy gets on it, I lift him down. This goes on many times until he gets bored and stops trying. Or until I leave the room.
Usually he follows me, but sometimes…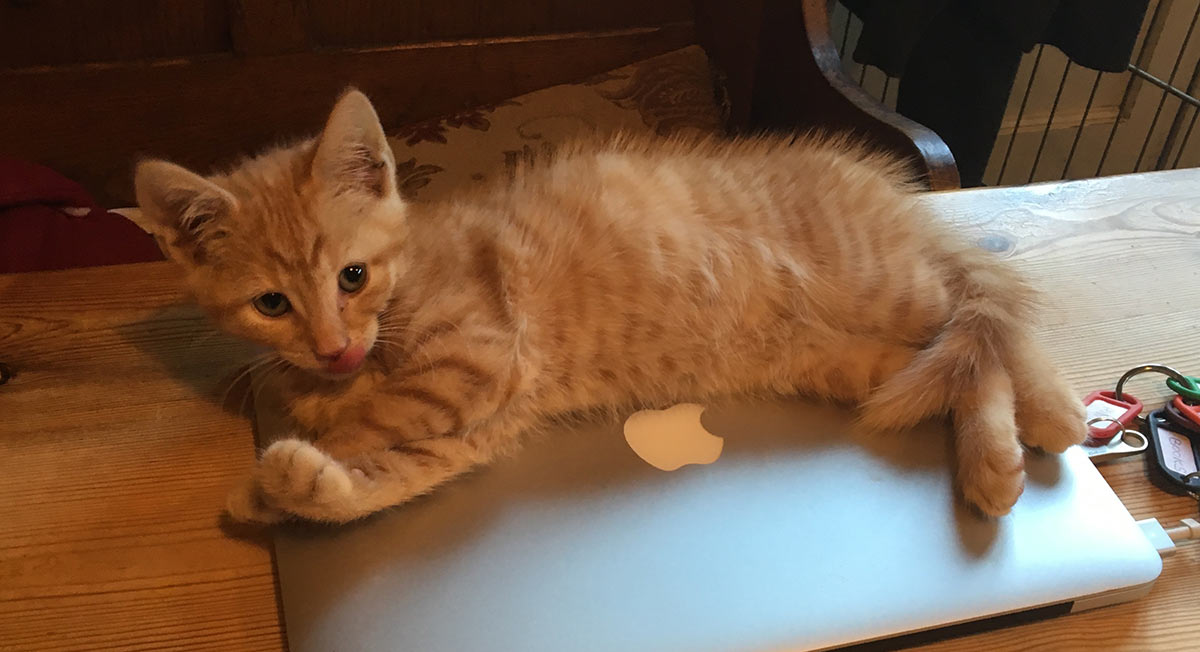 And sometimes, when I tire of the challenge, I throw some kitten kibble on my office floor and shut Billy in there with it for ten minutes, so I can eat my meal in peace!
But I will win, I promise!
Continue reading Billy's Blog..
Your Amazing Cat!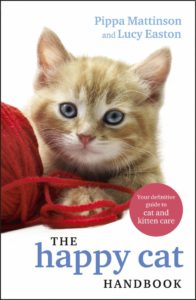 We are so excited to share our new book with you!
If you have enjoyed your visit to The Happy Cat Site we think you'll love The Happy Cat Handbook.
Written by the founders of this website including the author of the hugely successful Happy Puppy Handbook, it's packed with cat care information and fascinating cat facts.
Grab your copy today!
Free Updates For Cat Lovers!
Our cat care articles, tips and fun facts, delivered to your inbox