Tuesday 25th October
Billy is nine weeks old today and he is really beginning to liven up. He still enjoys road testing the lap of any visitor to the house.
But he  is sleeping less and racing around more than his did a few days ago.
He's also tested his teeth out on us a couple of times. Not hard, but definite bites, and definitely not acceptable.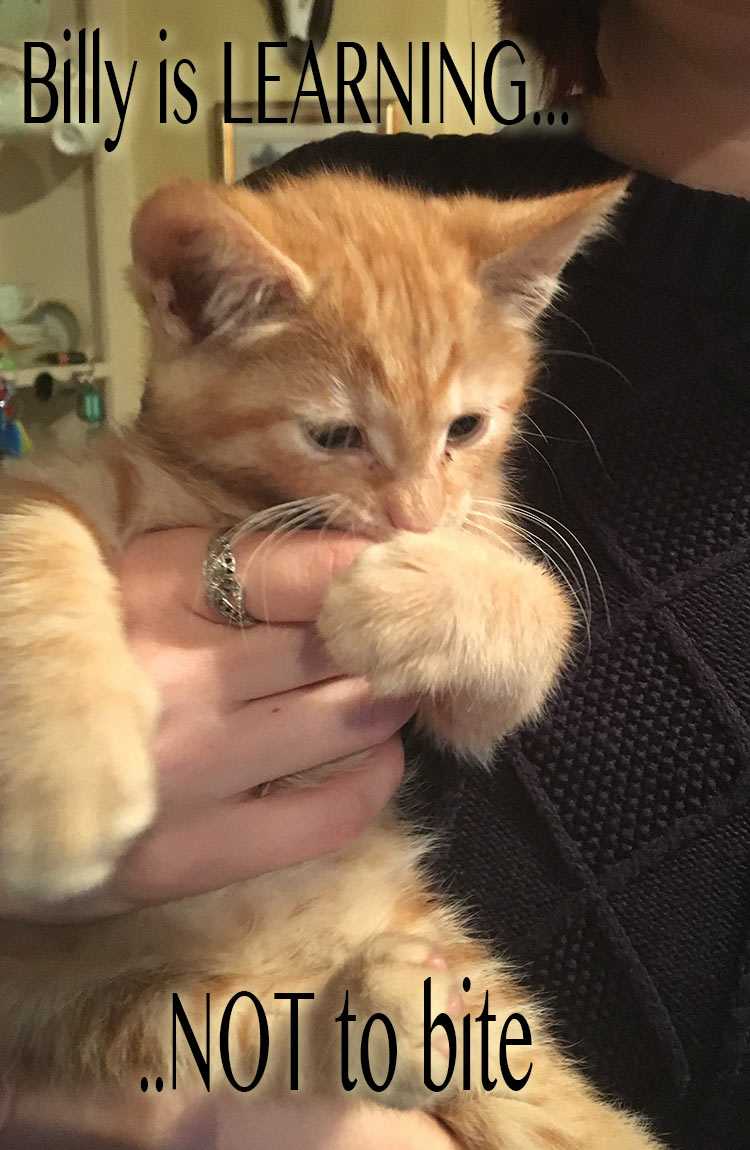 When he does this we immediately put him down on the floor and ignore him.
He then pretends he doesn't care, and ignores us back.
This doesn't mean Billy is aggressive, it's normal kitten behavior, but we don't want to encourage it.
What do nine week old kittens eat?
I have found it quite difficult to decide how much food to give Billy. The quantities recommended on the cans are vague (2-3 tins per day)
And he is always so very hungry.
But I don't want him to get fat or grow too quickly, so I am increasing quantities steadily but cautiously.
I thought it might help others if I keep a record of quantities Billy eats at different stages
He has two different types of wet food at the moment
Thrive kitten food: chicken
Lucy's Kitchen kitten food
Thrive is very moist and juicy – just shredded chicken breast meat in a white gravy/sauce.
It looks like something you might put in a vol-au-vent
Lucy's kitchen is a firmer, denser, jellied food that looks more like typical canned pet food
Billy also has Royal Canin dried kitten food kibble – I was mixing this in with his wet food, just four or five bits of kibble.
I am also feeding the kibble to him as recall training treats in between meals. Five or ten pieces a day.
Our nine week old kitten's meals
Billy has four meals a day
7:30 am 1/4 of a 3.5 oz (100g)  can of Lucy's kitchen – so just under an ounce (25g)
11 am Two heaped teaspoons of Thrive Kitten food – this is slightly less than half a 2.5oz (75g)  can so about 1 ounce (30g)
2:30 pm 1/4 of  a can of Lucy's kitchen
11 am Two heaped teaspoons of Thrive Kitten food
The idea is to get him used to a variety of different tastes and textures while he is young
He's getting a total of just under 4 ounces (110g) of wet food a day together with some kibble
What do nine week old kittens play with?
Billy really loves his wooden box puzzle toy.  But especially the lurid stripey mouse that came with it.
Chasing balls of scrunched up paper is fun, and so is climbing in and out of cardboard boxes.
He is basically, just a really, happy, playful boy.  Anything, and everything, is a game.  Especially poor Tess's tail..
Allergy progress report
If you've been following along, you'll know that I have a suspected cat allergy. And I'm waiting for my appointment with the allergy specialist.
Last night was a long one. My first night after coming off steroids and I admit I was quite worried about the facial swelling returning.
I took an antihistamine before I went to sleep, and woke at intervals throughout the night, making sure I could still open my eyes!
My face did feel very slightly puffy this morning, but not anything that anyone else would notice. And a slight itchiness in my hands was the only other thing I noticed
I am still trying not to handle Billy very much. And washing my hands when I do. But I'm feeling a bit more hopeful today on the allergy front.
Thursday 27th October
Billy is nine weeks and two days old today. And he is getting livelier by the day.
Like a puppy, he seems to have a period each day when he goes a little crazy. This is when things can get rough.
He'll dig his spikes in and shin up your leg.
Or he'll take a running jump at your lap, misjudge the distance and overshoot, then hang on grimly with his claws as he tries to prevent himself falling to the floor
The best thing to do seems to be to create a distraction.
The simplest is to screw up a piece of A4 paper into a ball and chuck it across the room. He'll then fly after it, with his best 'pounce and capture' manoeuvre and proceed to give the paper ball a thorough battering for the next ten minutes.
Charging the clicker
One of the things I was hoping to do with Billy, was to enjoy the experience of, clicker training a cat.
I have some experience of clicker training dogs and puppies, but it will be fun to discover how cats and kittens differ.
So today, I spend some time 'charging my clicker' with Billy
Charging a clicker is a bit of a misnomer. It's more like charging the kitten!
All I do is press the clicker, and then drop a piece of kitten kibble right in front of Billy's nose.
After a few times, he clearly expected every click to predict a piece of kibble
Job done!
And it means that I can now use my clicker as a marker, to let Billy know if I like something he did, and would love it, if he did it again!
A marker is essential for training complex behaviors, and a great help with teaching simple ones too.
Billy and Rachael
Billy is completely confident around dogs now. Almost too confident and trusting. Not every dog Billy will meet will be well-intentioned towards kittens.
I am still supervising contact with Rachael. As I am concerned that she is too bouncy and rough with him.
He is growing in size and strength every day so this should be a temporary problem. But, some of her body language around him is not quite right.
I'll be keeping a close eye on her.
So much choice!
While Billy is not spending as much of his time asleep as he did a week ago, sleeping is still a priority.  As is finding the best, warmest, and squishiest places to rest.
One of Billy's favorite spots to nap is in a kitten cave.
We have two, a red one and a green,  and sometimes, it is very hard for Billy to choose between them

No kittens on the table
Billy and I have a difference of opinion over the kitchen table. This is something of an ongoing battle.
He thinks he should be allowed to walk around on it, whereas I beg to differ.
Unfortunately he has all day to plan how to get up there, whereas I have other things to do. This gives him the upper hand!
We're making sure that there is nothing interesting left on the table to minimise the rewards to be gained by reaching his goal.
And keeping all the chairs pushed underneath makes it harder for him to reach the top.  But still, persistence sometimes wins the day!
Continue reading Billy's Blog…
Free Updates For Cat Lovers!
Our cat care articles, tips and fun facts, delivered to your inbox