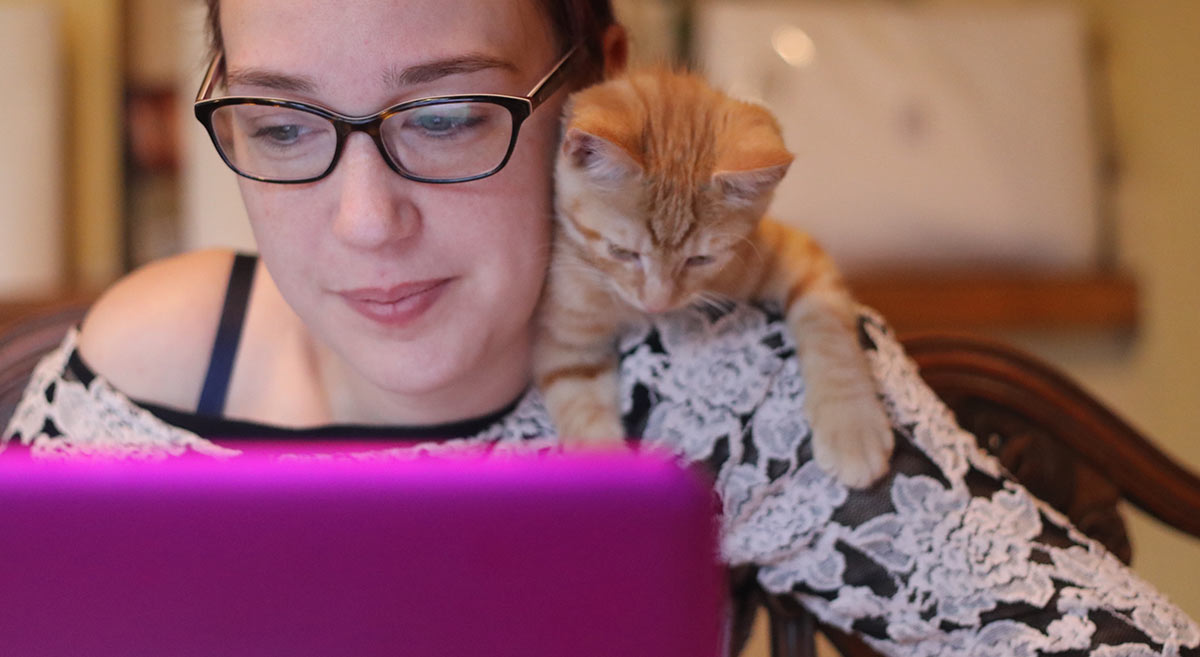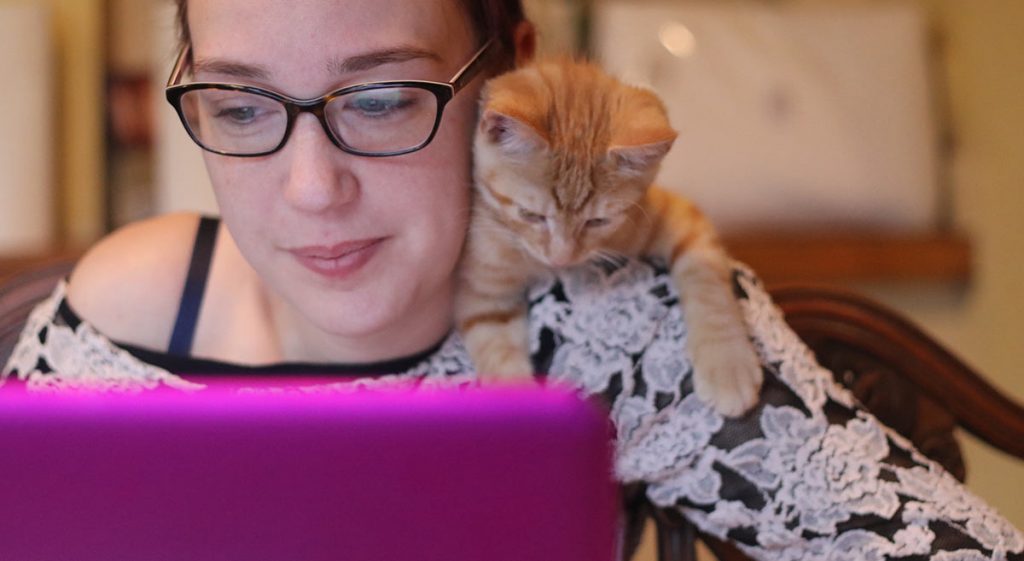 Many 9 week old kittens will have been in their new home for a few days now. They will be starting to find their feet and gain confidence. And that newfound freedom might be getting them into a little bit of trouble already! Today I'll share what to expect from your furry baby. You'll have milestones to aim for, ideas of typical weight, what and when to feed them, tips for progressing with potty training, and that all-important behavior and boundaries.
Contents
9 Week Old Kitten Care
Caring for your 9 week old kitten is all about keeping them safe, healthy and happy. And once you know what you're doing, that's fortunately quite straight forward. One of the biggest kitten care jobs you'll have this week is feeding.
What Do Nine Week Old Kittens Eat?
Your 9 week old kitten can be healthily fed on wet kitten food, dry kitten food or a combination of the two. Brands that are high in protein and fat, but low in carbohydrates, are best.
At this stage you will probably still be using the food that their breeder or rescue center had been using. But if you've decided to switch over for any reason, you can find guidelines on how to do that safely here.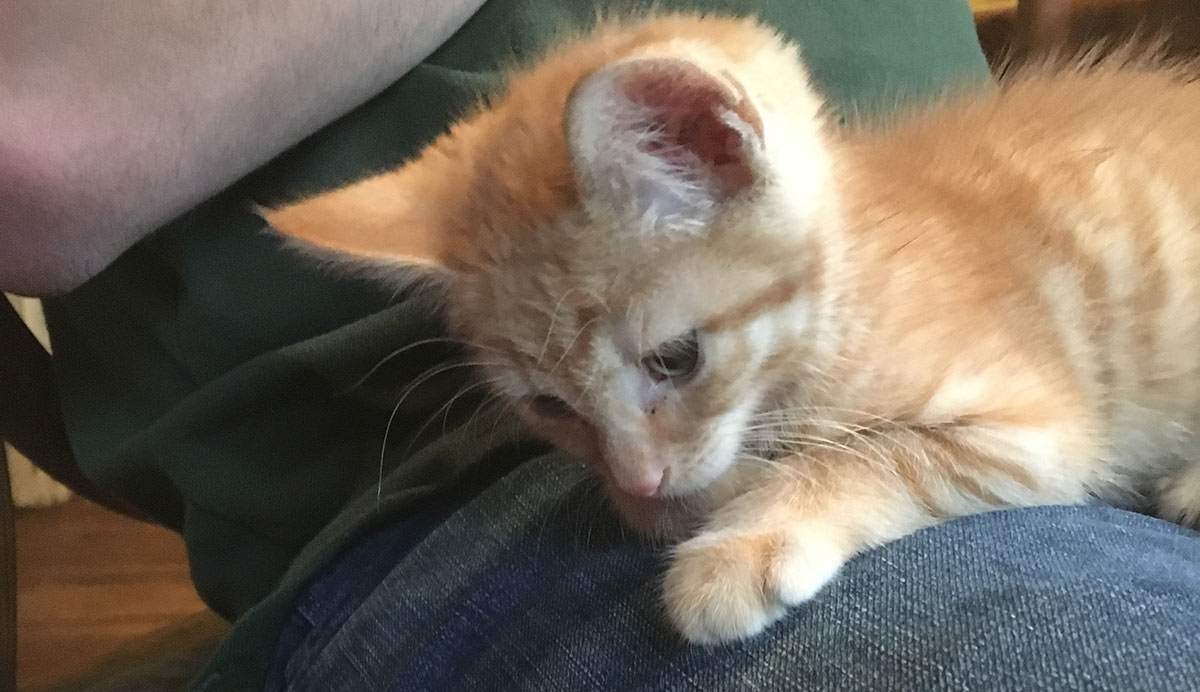 Feeding Schedule
The quantities recommended on some cans of kitten food are vague. 2-3 tins per day is a big difference for a tiny kitten! And they can seem so very hungry, so much of the time. But you don't want him to get fat or grow too quickly, so it's important to increase quantities steadily but cautiously.
Here is our record of the quantities of kitten food our cat Billy ate at this stage
He had two different types of wet food:
Thrive kitten food: chicken
Lucy's Kitchen kitten food
Thrive is very moist and juicy – just shredded chicken breast meat in a white gravy/sauce. It looks like something you might put in a vol-au-vent. Lucy's Kitchen is a firmer, denser, jellied food that looks more like typical canned pet food
Billy also had Royal Canin dried kitten food kibble – I was mixing this in with his wet food, just four or five bits of kibble. I was also feeding the kibble to him as recall training treats in between meals. Five or ten pieces a day.
Our Nine Week Old Kitten's Meals
Billy had four meals a day:
7:30 am 1/4 of a 3.5 oz (100g) can of Lucy's kitchen – so just under an ounce (25g)
11 am Two heaped teaspoons of Thrive Kitten food – this is slightly less than half a 2.5oz (75g) can so about 1 ounce (30g)
2:30 pm 1/4 of a can of Lucy's kitchen
11 am Two heaped teaspoons of Thrive Kitten food
The idea was to get him used to a variety of different tastes and textures while he was young. He was getting a total of just under 4 ounces (110g) of wet food a day together with some kibble.
9 Week Old Kitten Size
At this age your kitten will still be very small. Probably just over 2lbs in weight. Be very careful not to tread on or trip over him!
He will be able to fit into seemingly impossible spaces around your home. And fold into a tiny ball on your lap when he sleeps. Which will still be one of his favorite activities, albeit slightly less than last week.

9 Week Old Kitten Development
Your new bundle of fur is growing fast, and already learning so much about himself and his environment. If he's been with you for a few days you'll be starting to get to know his personality. And this will be really starting to emerge now.
Biting
Most 9 week old kittens are really starting to liven up. They still enjoy chilling in your lap, but they also sleep less and race around more than they did a few days ago.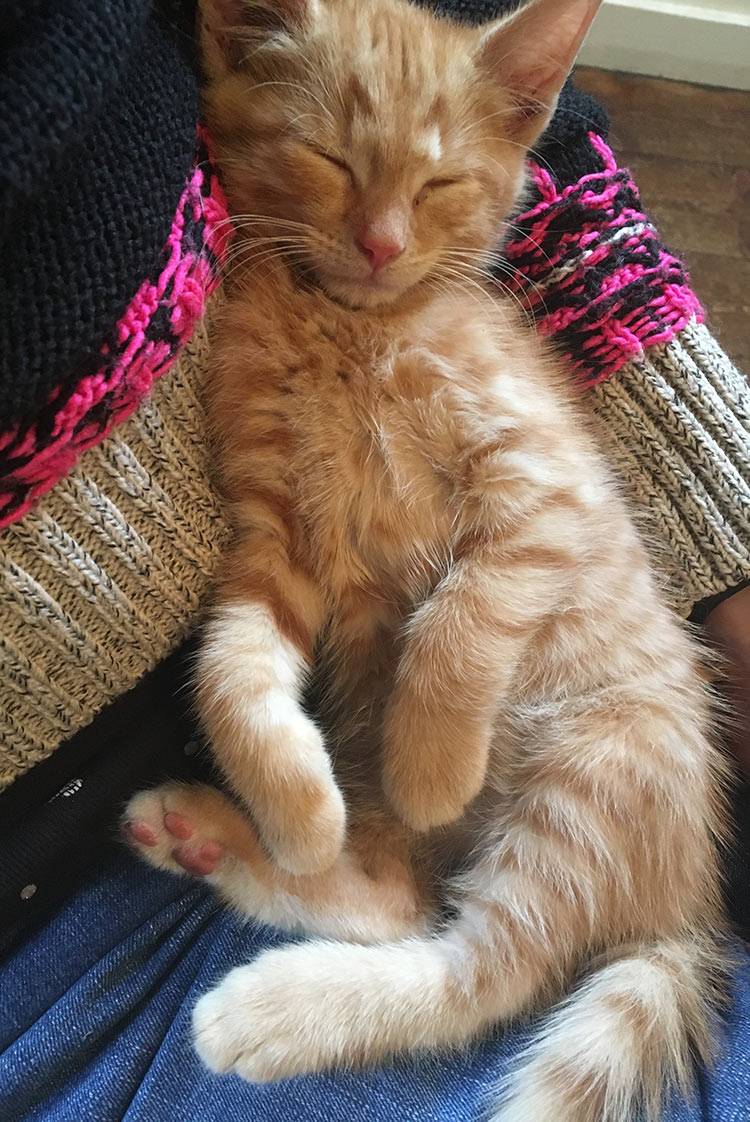 It's also likely that they've become a little more nippy than before. Not hard bites, but definitely not acceptable.
When your kitten does this, immediately put him down on the floor and ignore him. It's likely he will then pretend he doesn't care, and ignores you back! This biting doesn't mean your kitten is aggressive. It's normal kitten behavior, but we don't want to encourage it.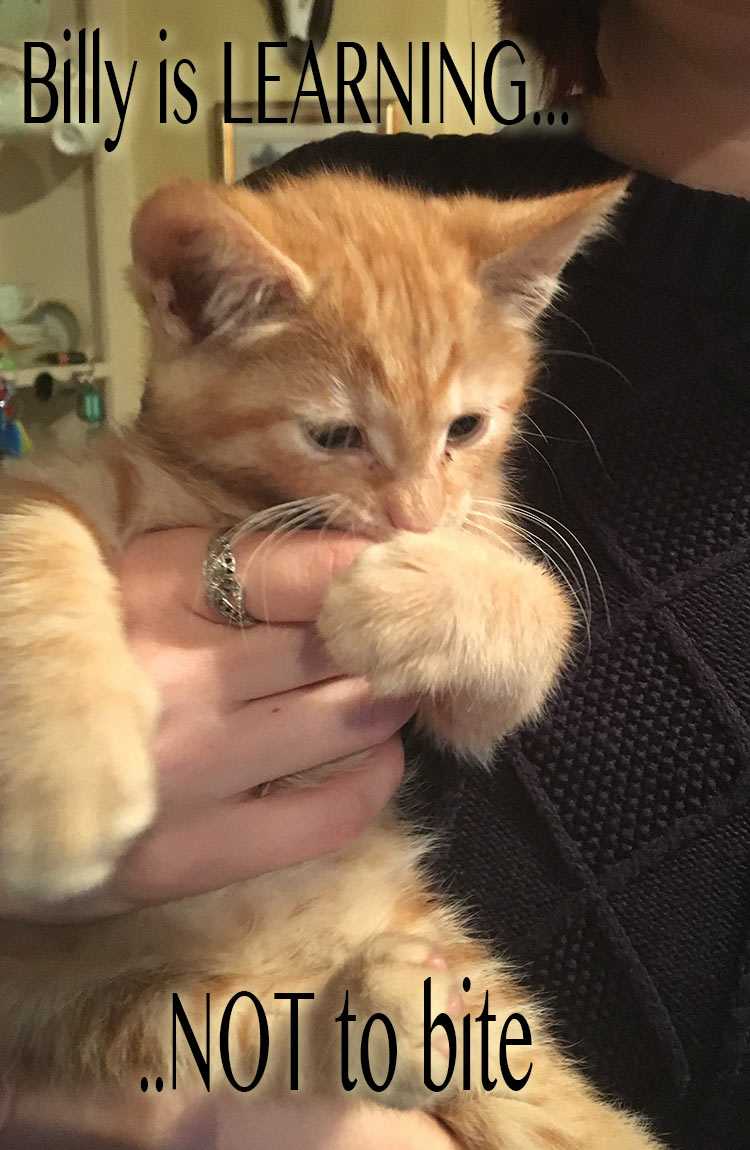 Play Time
Active kittens love toys. Wooden puzzles, mice. Anything that is easy to interact with and moves around. But you don't need to spend a fortune on new toys. Your 9 week old kitten will be just as happy chasing balls of scrunched up paper, or climbing in and out of cardboard boxes. Anything, and everything, is a game.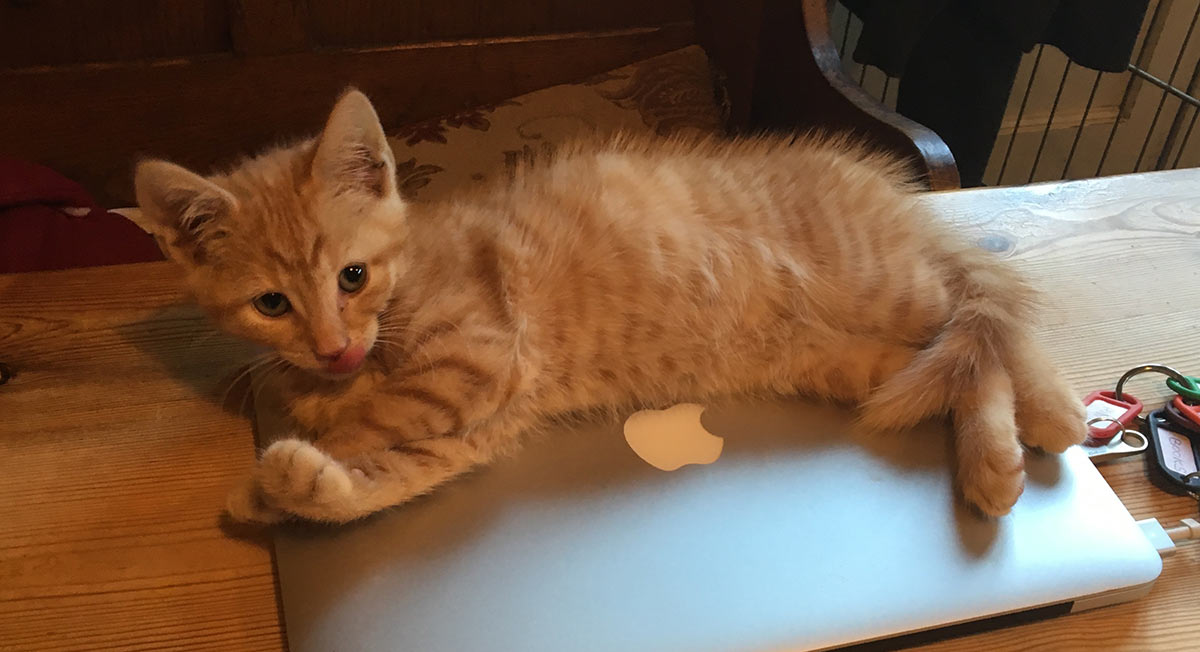 Nine week old kitten behavior
At this age, kittens seem to be getting livelier by the day. They have regular periods of time when they go a little crazy. This is when things can get rough.
They'll dig their spikes in and shin up your leg. Pounce on your wiggling toes. Or he'll take a running jump at your lap, misjudge the distance and overshoot, then hang on grimly with his claws as he tries to prevent himself falling to the floor
The best thing to do is to create a distraction with some of their toys, or leave the room until they've calmed down.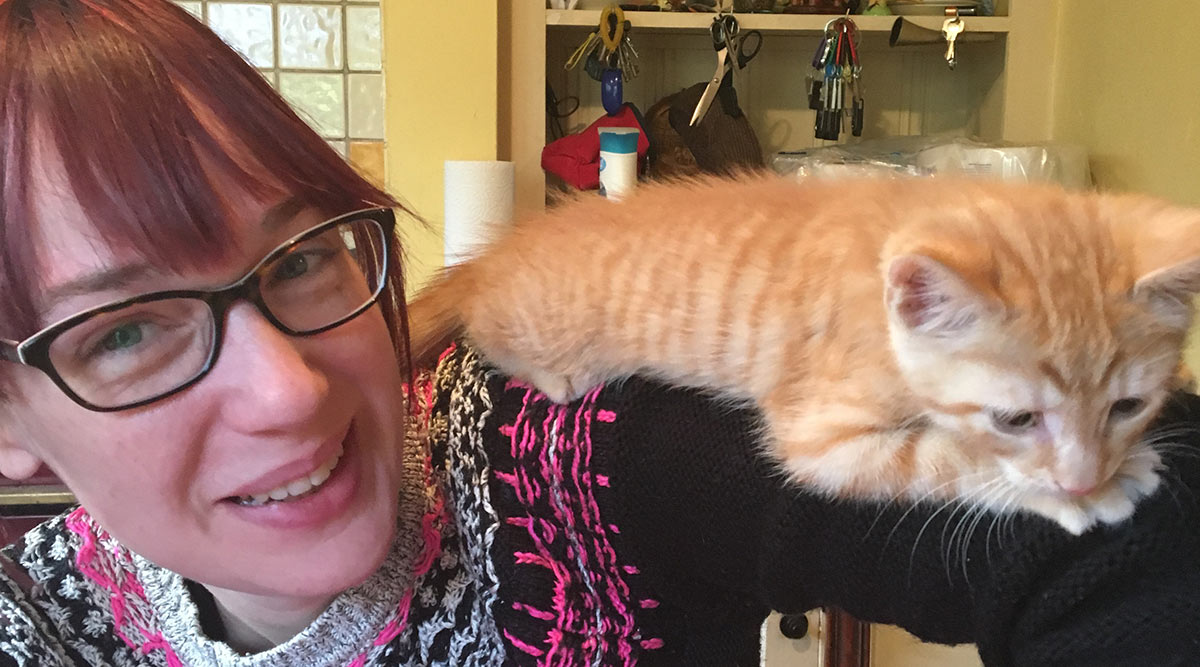 Kitten training!
If you like, it's fun to do some kitten training at this stage. And you might like to play around with a clicker.
Start by getting your cat used to the sound and building an association with it's meaning. Press the clicker, and then drop a piece of kitten kibble right in front of his nose. After a few times, he will expect every click to predict a piece of kibble. And it means that you can now use a clicker as a marker, to let him know if you like something he did, and would love it, if he did it again!
A marker is essential for training complex behaviors, and a great help with teaching simple ones too.
Making progress with the clicker
When your kitten understands a click means something good, you can move on a little. Instead of just clicking and treating, wait for your cat to look at you and clicking him for doing this. You might be surprised at how quickly he works out the game!
Just remember to pause the fun if he gets over excited and starts asking for more food. You don't want to accidentally create a very loud kitty!
Kitten Recall
I have taught every cat we have ever had to come to a whistle. It means that you can call a cat in if you know there is going to be a firework display, a thunderstorm, or a very cold night. Or if your indoor cat gets outdoors by mistake!
The secret to recall training kittens and cats is VERY generous rewards. The ideal time to whistle your cat to begin with is while you are preparing food. When you are putting each meal onto the floor for them, make a series of peeps with yoru whistle. Make sure you use the same whistle and pattern of peeps each time.
Building up the kitten recall
Start whistling for your cat when they are a few feet away from you, and drop a piece of kibble when they come running. Most cats catch onto this really quickly. You can then do the same thing when they are slightly further away.
Don't ditch the rewards, make sure it's always worth his while. So when you need to use your whistle, it's most likely to work. And this will really matter when they have access to a larger area.
Increasing the space
Your kitten will have originally stayed in a relatively small area of your house. This will have helped him to learn where his litter box is, and find his feet.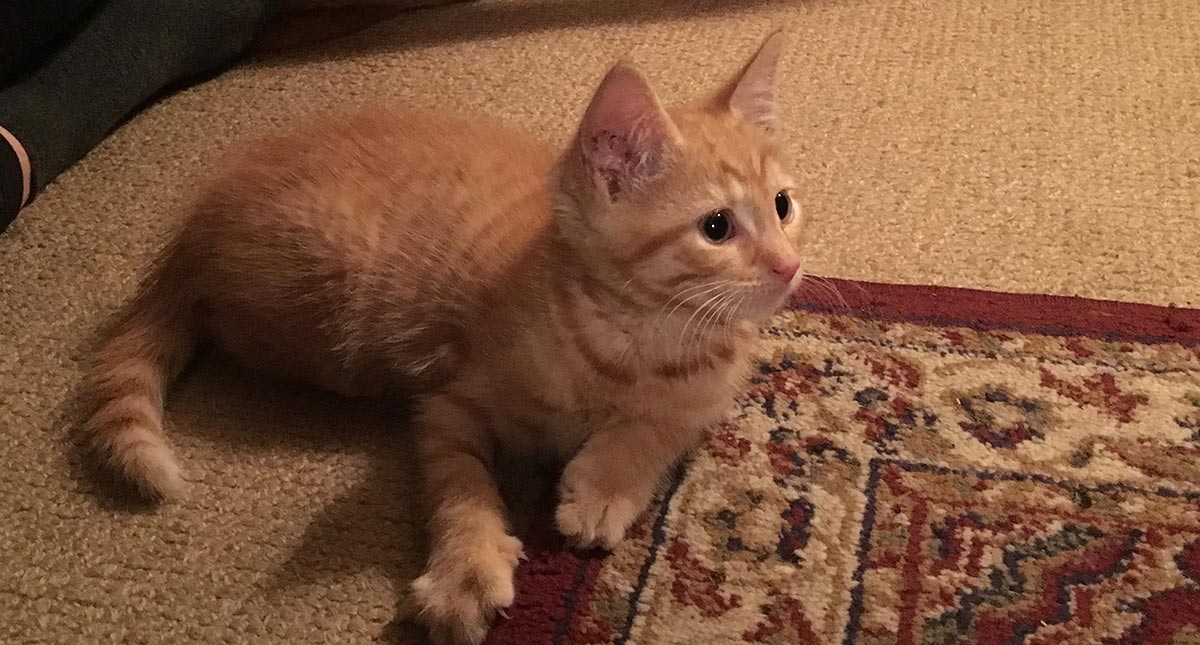 Once he's been with you a few days you can start to extend this area. And he will love exploring his new zones. But you'll need to be careful not to go too far too fast, and risk upsetting his potty training.
New Zones and Moving Litter Boxes
You might find once your kitten has more access to the house that there is another location you'd prefer the little box to live in. The bathroom is a popular choice for many families. Just be careful! Set up a second litter box in this room, don't abandon the one he's got used to yet. And make sure that you leave the door open so your kitten can come and go. Leaving the loo seat closed, just in case!
Your New Kitten
Most nine week old kittens are curious, playful and bold. Don't worry if the biting and scratching are ramping up. It's only a phase, and they will grow out of it.
Have plenty of toys to keep him entertained in his enthusiastic periods, and some lovely places for him to sleep when he's chilled. Check out our guide to 10 week old kittens to find out what to expect next!