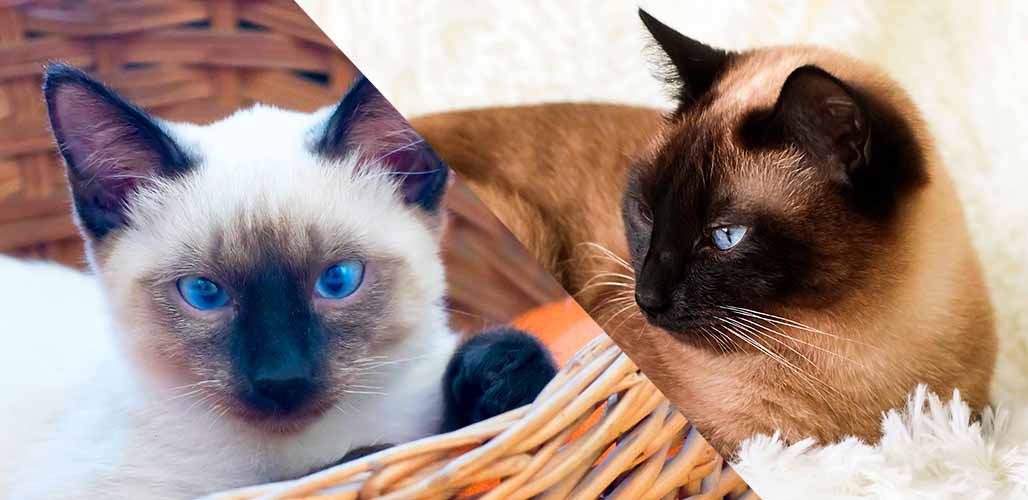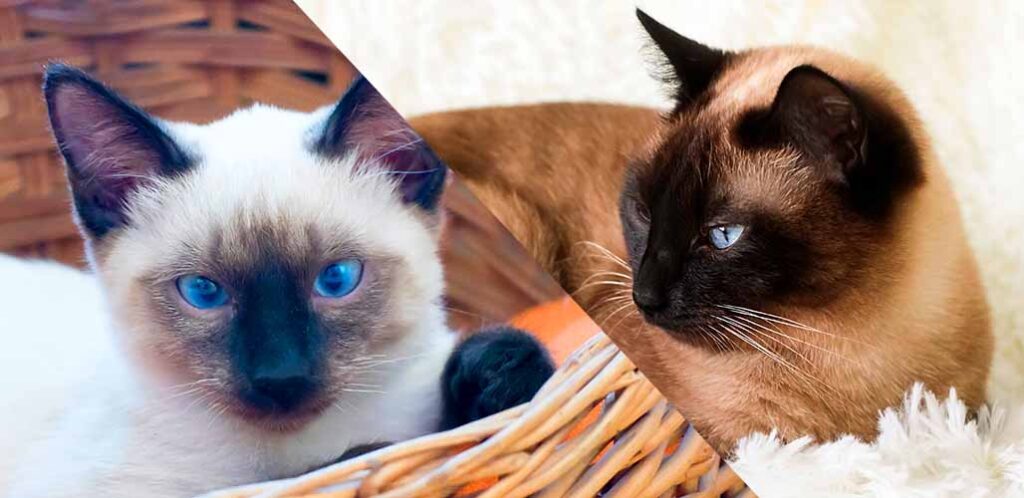 Our pet cats are originally descended from African wildcats, which all look essentially the same – they have brown and gray tabby coats, for optimal camouflage. So the fact that our modern pet cat breeds come in so many colors and patterns is endlessly fascinating to me. In this article, I'm going to focus on seal point vs chocolate point coats specifically: where they came from, which breeds have them, how they compare with each other, and whether one is any better than the other.
Contents
Where do seal and chocolate points come from?
The first cats to have colorpoint coats were the early forefathers of Siamese cats. The Siamese cat breed is so old that no one knows exactly when it was established. But illustrations of Siamese cats in ancient Thai manuscripts date their origins to sometime between the mid-14th and mid-18th centuries.
What we do know is that colorpoint coats are the result of a specific genetic mutation, called temperature sensitive albinism. Cats with temperature sensitive albinism only produce pigment in their fur where the surface temperature of their skin is lowest: on their muzzle, ears, paws and tail. Elsewhere on their body, the temperature of their skin suppresses the activity of an enzyme called tyrosinase, which is essential for pigment production. So the fur has little or no pigment in it at all.
Breeds that can have seal or chocolate points
These days, the cat breeds which can have seal or chocolate point patterns are:
Birmans
Himalayans*
Persians*
Ragdolls
Siamese
Toybobs
* Himalayan cats are, for all intents and purposes, Persian cats with colorpoint coats. But different breed registries take different approaches to recording them. The Cat Fanciers' Association (CFA) registers seal and chocolate point Persians as Persian cats with Himalayan coloring. Whilst The International Cat Association (TICA) records Himalayans as a distinct and separate breed, and therefore doesn't technically recognize colorpoint Persian cats at all.
Seal point vs chocolate point appearance
At the most basic level, seal means 'dark brown points' and chocolate means 'mid brown points'. Interestingly, there is no such thing as a colorpoint cat with black points though, in any breed. Cats which are genetically black produce seal points when they have the temperature sensitive albinism mutation, and it's not entirely clear why that is. Since black fur contains some red pigment and an overwhelming amount of black pigment, it could simply be that the red pigment shows through a bit more when the amount of black pigment is under the influence of skin temperature.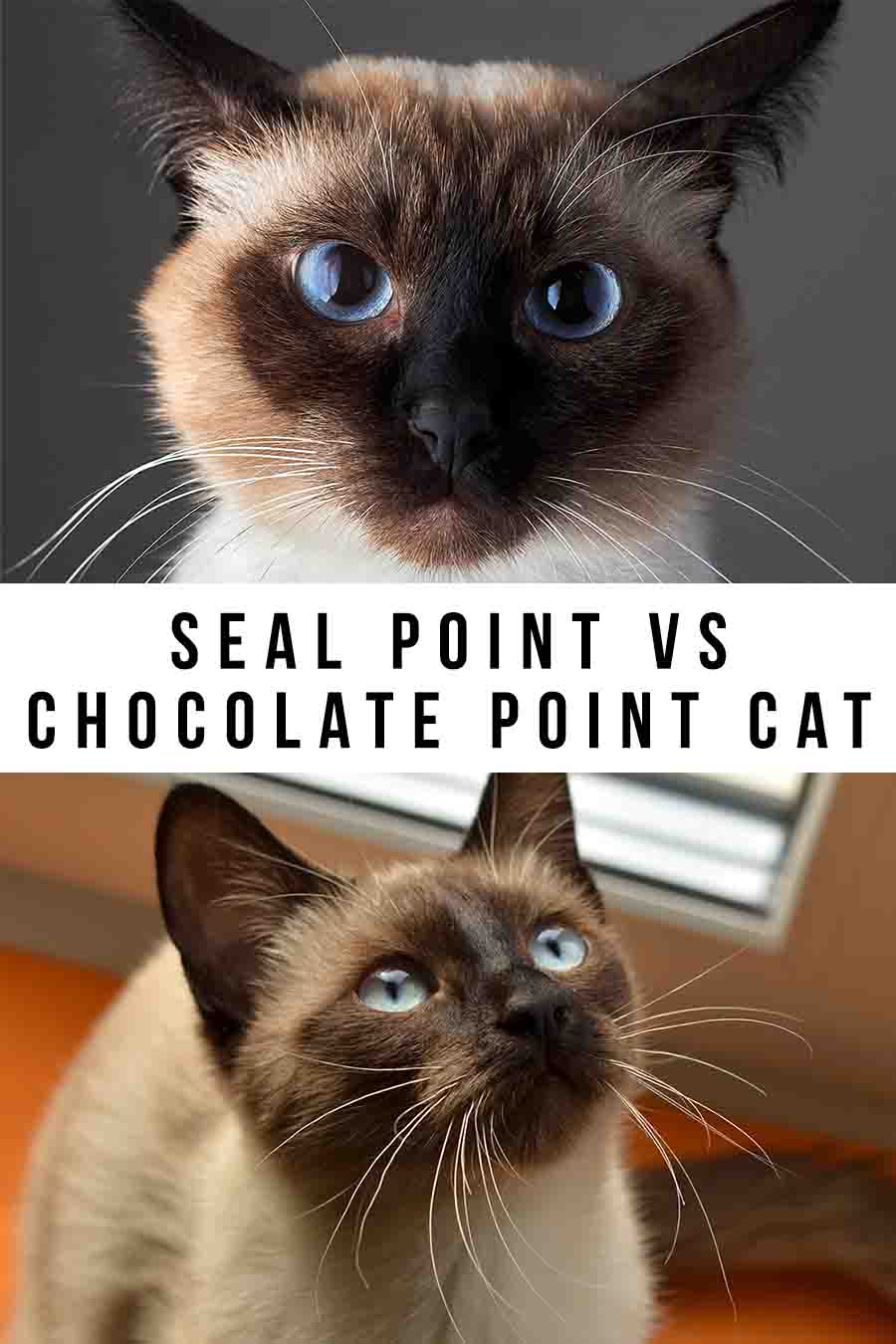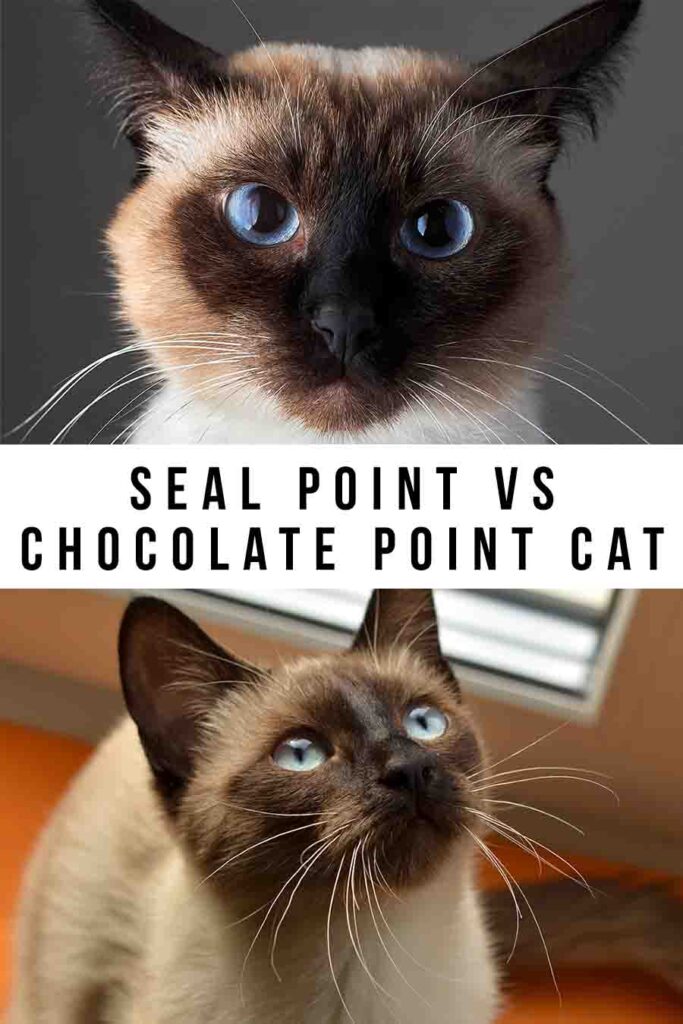 Remaining at the genetic level for a moment longer (bear with me), chocolate point cats are also essentially seal point cats with two added copies of a recessive gene that modifies how much black pigment is produced in their coat. So the red pigment is no longer completely obscured by it, and the result is brown-looking fur. We'll come back to the why the inheritance of chocolate points is significant in a moment (in an interesting way!) but first let's take a more detailed look at how seal point vs chocolate point cats look.
Seal points
Regardless of their breed, seal point cats have:
A pale fawn or cream body, which is evenly colored and warm in tone. Their belly and the underside of their chest is practically white.
Deep seal brown points. Seal brown is very dark, like an espresso coffee. It looks almost black in indirect light, but is more obviously brown when it's caught in direct sunlight.
Seal brown nose leather and paw pads.
Blue eyes. Whilst they can be any shade of blue, deep vivid blue eyes are 'best'.
Some breeds can or must have white markings overlaid on top of their points too. For example seal point Ragdolls can have white markings on their face, chest, and feet. And seal point Birmans must have white gloves on their paws.
Chocolate points
Meanwhile, chocolate point cats should have:
An ivory body and a white or practically white belly.
Milk chocolate colored points, which are warm in tone.
Milk chocolate colored paw pads.
Cinnamon-pink nose leather.
Blue eyes.
Chocolate point cats can also have white markings like the examples described above.
Variations on seal and chocolate points
In addition to the classic solid seal and chocolate points, some cats have modified versions of these colors, where the points contain patterns, or the fur on he rest of their body isn't quite so pale:
Colorpoint Shorthairs
In Colorpoint Shorthairs, seal and chocolate pointed cats can't have solid points – they always have seal or chocolate stripes on a lighter background, known as 'lynx points'.
Tonkinese
In Tonkinese cats, the points are solid seal or chocolate, but the fur on the rest of their body is medium brown rather than beige for seal points, and beige rather than ivory for chocolate points. So the contrast between their body color and their points is lower. The colors have also been given different names, so Tonkinese cats with seal points are called natural mink, and Tonkinese cats with chocolate points are called champagne mink.
Burmese
Whilst Burmese cats also technically express a type of temperature sensitive albinism, the density of pigment on their body is actually so close to the color of their points that the difference is almost imperceptible. You'll really only notice it in the right light! The color names are different again too: seal points are known as sable, and chocolate points are known as champagne.
Seal point vs chocolate point: which is more unusual?
For cat breeds with color point coats, seal points are always more common than chocolate points. This is because seal points are genetically dominant. Kittens only need to inherit the gene for seal points from one of their parents, and it will mask any other instructions received from the other parent.
Chocolate points, on the other hand, are a genetically recessive trait. That means kittens will only develop chocolate points if they inherit the chocolate gene from both parents. Kittens which inherit the gene for chocolate points from one parent, and the gene for seal points from their other parent, will have seal points. But they will carry the chocolate gene silently, and could pass it on to their own kittens.
Is one better than the other?
Beauty, as they say, is in the eye of the beholder. So neither seal nor chocolate points can be described as objectively better. To the best of anyone's knowledge, there is no connection between the inheritance of either of these colors and having better health, a longer life, or any particular kind of temperament. Some people think chocolate point cats are more desirable because they are more unusual, and they like the idea of having a pet that few other people have. But this comes down to our perceptions of value – not any inherent difference between seal and chocolate pointed cats!
Seal point vs chocolate point cats: summary
Seal point cats have dark brown points, and chocolate point cats have mid brown points. Several cat breeds can have these colors, from the lithe and lively Siamese, to the fluffy and placid Ragdoll. Neither color is better than the other by any objective standard, so there's no reason to specifically choose one over the other. We'd love to hear which you like best in the comments section down below!