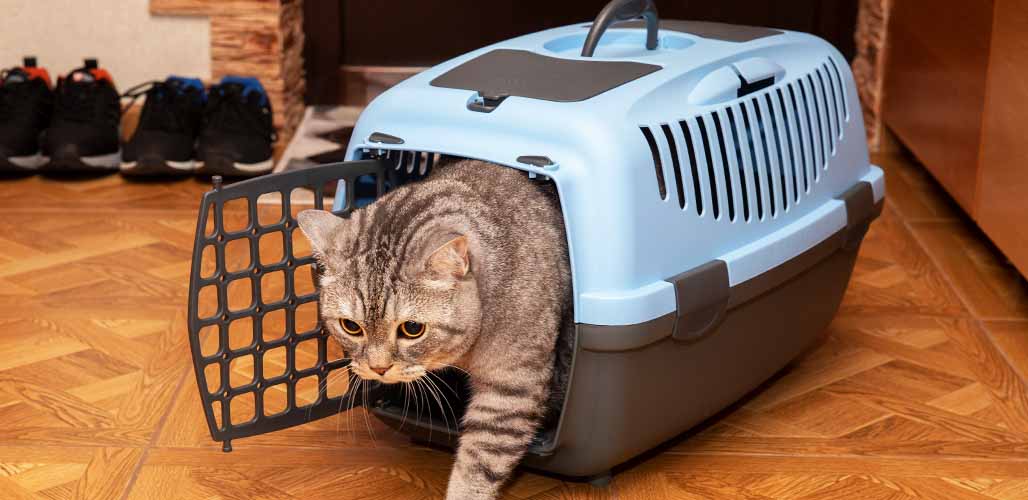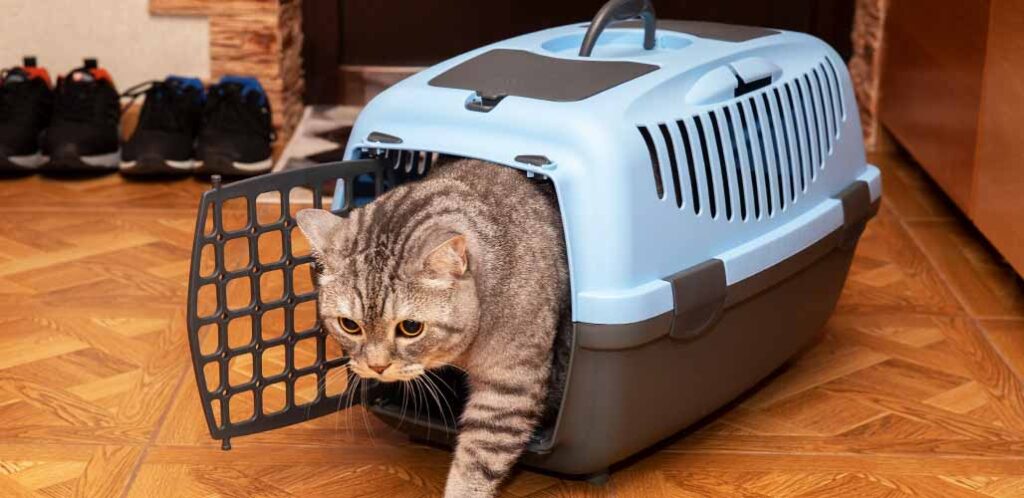 Are you thinking of taking your cat to another house? I know of cat owners who take their cat to visit their in-laws every Sunday. And even people who take their cat on vacation with them. Travelling, visiting loved ones, and even staying away from home with your cat can be a great adventure. But it can also be a recipe for disaster. It's important to consider your own cat's personality, and make the right choice for them as an individual. And if you do decide to set off together, there are some common-sense steps you should take to make sure everyone has a good time, and stays safe.
Contents
Scenarios when you might want to take your cat to another house
The most obvious reason why you would want to take your cat to another house is because you are also moving to live in that house permanently. But there are also plenty of reasons why you might want to take your cat to another house for a short visit or a temporary stay. Such as:
Visiting friends or family
Staying in a holiday rental
House sitting for someone
And there are practical and emotional reasons for wanting to take your pet with you. Catteries and cat sitters can be expensive, and demand often outstrips supply during holiday periods. It can also be upsetting to leave precious pets behind. The misery of separation can make it hard for us to enjoy the trip. But is taking them with you a good solution? Is it even really an option? Let's take a look at whether it can be done, and the pros and cons.
Is taking your cat to another house a good idea?
It's not hard to find anecdotes from people online who go on vacation with their cat. Or who take them along when they visit family for lunch or travel stay with them at Thanksgiving or Christmas. Most of these pet owners agree though – the likelihood of it going well depends very much on the individual cat, their temperament, and how adaptable they are to change.
Before you make this decision on behalf of your own pet, lets take a look at the pros and cons of taking your cat to someone else's house
Pros
You get to keep your feline friend alongside you.
If the alternative is a cat sitter or cattery, taking them with you may save money.
Lots of cats struggle with boredom and loneliness when they are cared for by a cat sitter or cattery. Some even resort to harmful displacement activities like over grooming or self-barbering. Keeping them with you may be better for their welfare.
If the dynamic is right, having your cat with you can be a source of joyful moments and fun memories for you, your host, and your cat.
Cons
The risk of your cat escaping into an unfamiliar environment and getting lost.
It can be impractical to meet a cat's physical needs in an unfamiliar home. For example making sure they have opportunities for exercise, or finding a suitable location for their litter box.
Your cat won't necessarily behave the same way as they do at home. For example they may behave more aggressively towards people due to stress.
There is potential for causing damage to someone else's property through urine marking, scratching, etc.
Your cat's arrival could stimulate territorial aggression from other pets already living there (we'll come back to this in more detail later).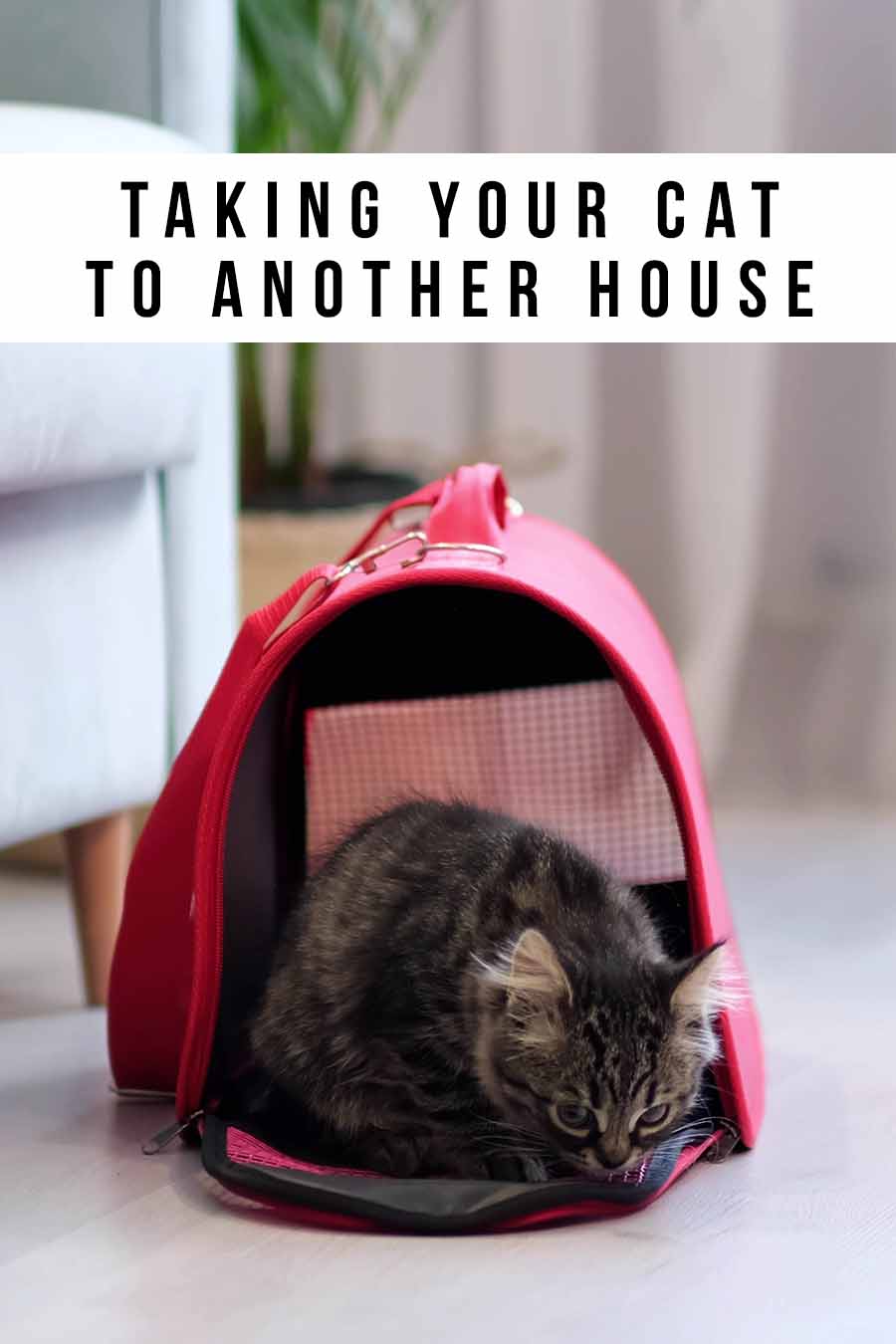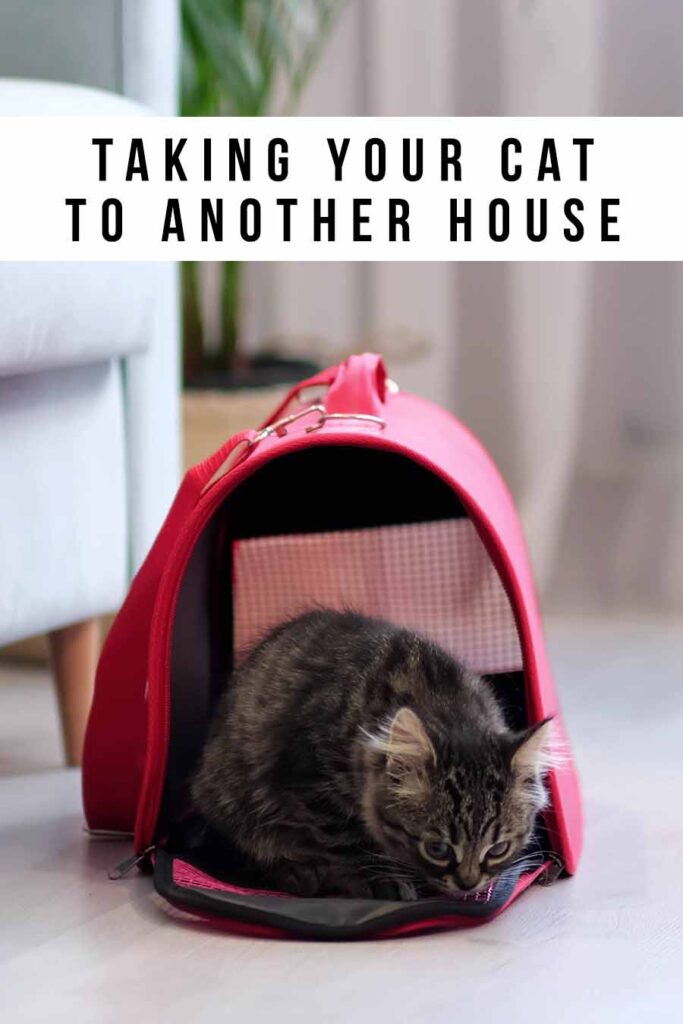 Cats who make happy travelers
The general consensus among cat owners seems to be that taking your cat to another house should be decided on a case-by-case basis. It needs to take into account the temperament of your specific cat. Some factors which seem to be associated with it going well are:
The cat being well socialized between 7 and 9 weeks old. Including having several positive experiences visiting unfamiliar places and meeting new people.
The cat being generally highly motivated to seek out company at home, and unlikely to stray far from their human family.
Having have a 'dog-like' personality (for example Bengals and Maine Coons).
Being generally very chilled out, and relaxed about change (for example Ragdolls).
The house you are taking them to being one that they will visit regularly in future, so they will be able to get genuinely familiar with it.
When you should definitely leave your cat at home
On the other hand some cats just won't cope well with being packed up and transported to unfamiliar places. There's no magic formula for telling which cats will cope well, and even enjoy the change of scene and extra attention from being in a different environment. Or for identifying which ones will have a miserable time, or be disruptive. But most cat owners tend to have a pretty good intuition for which camp their cats falls into. Cats who routinely try to flee or hide from unfamiliar situations are definitely best left at home or in the care of a cattery. And in most cases, it's not a good idea to take your cat to another house if there are already other cats living there.
Tips for taking your cat to another house
Before you embark on a trip to another house with your cat, here are some steps to make your visit as successful as possible:
Make sure you have your host's permission to bring your cat. Not only is it rude to skip this step, but if they have allergies or phobias you might be faced with having to travel straight home again!
Always transport your cat in a suitable carrier.
Bring something of your cat's with a familiar scent on it, such as their bed, a blanket, or their favorite toy.
Secure the doors, windows, cat flaps and even chimneys of the house you're visiting before releasing your cat. Look around for potential hiding places they might use, and block them off if you wouldn't be able to get them back out again.
Make sure everyone else understands the importance of keeping doors and windows shut too. If you can't rely on everyone to do this (for example young children) think hard about whether taking your cat is really a good idea.
Make sure your cat is wearing ID in case they do escape. Ideally, have them microchipped as well.
On arrival, confine your cat to one room with everything they need:

litter box
food
water
places to hide
bed
toys
scratching post
Feliway diffuser

Wait until their behavior is fully settled before allowing them access to the rest of the house. In some cases, it might be wise to confine to one room for the whole visit.
Use a harness and leash to take your cat outside.
As you can see, a successful first visit to a different house is something of an undertaking! Settling them into a new environment takes time, which is why it might be best reserved for houses you're going to visit frequently.
Letting them out
In general, letting cats out of an unfamiliar house without using a harness and leash is not a good idea. Cat experts recommend that when you move house, you don't let them outside for at least a month. This is to prevent them trying to find their way back to their old home. On that basis, most of us don't visit other people's houses for long enough to let our cats out safely. But exceptions might be if you divide your time between two homes, or if you're staying with someone on a medium- or long-term basis in order to care for them for example.
Taking your cat to another house which already has resident cats
In adoption studies, introducing an unfamiliar cat to a house which already has cats in residence triggers fighting in half of cases. Remember that even though you know you're only there for an afternoon, the cats have no way of understanding that the incursion on their privacy is only temporary! Furthermore, in roughly one third of adoptions it takes over a month for the new cat to be accepted by existing cats in the household. Sometimes it never happens. So if you're only visiting for an afternoon, or week or two, consider whether taking your cat will still feel worth it if they are never accepted by the other cats there.
If the house you are visiting already has resident cats, confine your cat to a single room at first as above, making sure the resident cats can't get in. When they are settled, swap their bedding with the resident cat's bedding so they can get acquainted with each other's scent. Then swap the cats' locations, so they can explore the places where each other have been, without the other being present. And finally, use a pet carrier or harness for the first visual contact, before releasing your cat into the home.
It's not clear whether the sex of your cat and your host's cat(s) changes the likelihood of them fighting. Attempts to study introductions between unfamiliar cats, have been inconclusive on the significance of sex. However, it does seem that cats will be more likely to fight if one or both of them is normally an outdoor cat, which is something to bear in mind.
Taking your cat to another house – summary
Some cats regularly visit houses other than their own, and the experience is a positive one for everyone involved. But they are the exception rather than the rule. If it's something you'd like to try, introduce them to the new house gradually, and remember to make sure they are wearing ID in case they escape. Finally, use the comments box down below to let us know your plans, and how you get on!