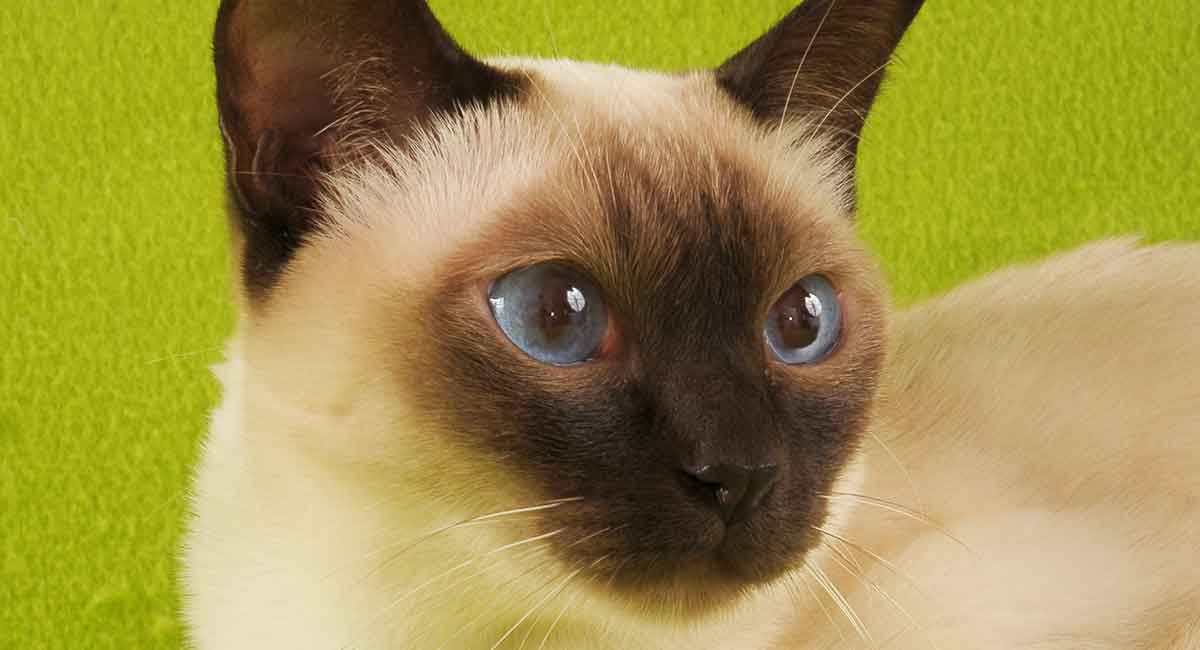 The Tonkinese cat is smart, active and athletic. Originally a Burmese Siamese mix, they are now a breed in their own right. Weighing in at about 4kgs on average, Tonkinese cats have pointed face mask, ears and feet, with a short, neat coat in a range of colors. These cats are sociable and healthy. Today we'll uncover the origins of the Tonkinese cat breed and share what makes them great pet cats. We'll help you adopt, raise and care for a Tonkinese kitten, and help them live a long, happy life with you.
Contents
We'll look at what you can expect from full grown Tonkinese cats in terms of their size, temperament, personality and breed traits. As well as looking at the grooming and shedding needs of this cute house cat.
Tonkinese Cat FAQs
Our readers' most popular and frequently asked questions about the Tonkinese.
What is a Tonkinese Cat?
Tonkinese cats have an interesting history that is both long, and short. Put simply, Tonkinese cats were created by breeding Siamese cats and Burmese cats together. The idea is nothing new – kittens of Siamese and Burmese cats have been described in Far Eastern poetry since the 14th century, and they've cropped up here and there ever since.
That's their long history. Modern Tonkinese cats have a much shorter history. The Tonkinese pedigree as we know it today was conceived by Canadian breeder Margaret Conroy in the 1960s. Conroy set out to create a cat which embodied all the best attributes of Siamese and Burmese cats, and looked a bit like both, without the exaggerated features of either.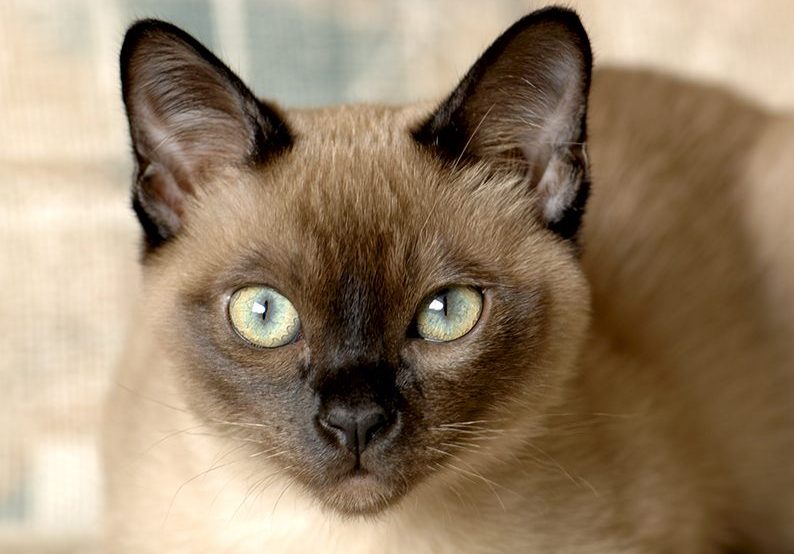 Tonkinese Cat History
When cats of different pedigrees are mated together, their kittens and grand-kittens inherit traits of each breed at random. But through careful selection, the breeding program started by Conroy began to produce Tonkinese cats that "bred true".
Breeding true means that when two Tonkinese cats breed together now, their kittens will look and behave in a predictable "Tonkinese" way. At this point out-crossing with Siamese and Burmese cats was phased out, and Tonkinese cats began to gain recognition from breed registries in their own right.
The Tonkinese cat was first recognized by the Canadian Cat Association in 1971, the Cat Fanciers' Association in 1974, and The International Cat Association in 1979. From designer animal beginnings, Tonkinese cats were finally recognized by all the major breed registries in 1990.
Tonkinese Cat Personality
The Tonkinese cat's owners LOVE to describe all the wonderful things about their cats' personalities, and it's easy to see why. Because Tonkinese cats have loads of great qualities!
These cute cats are active and playful, and their mischievous adventures are guaranteed to fill your home with giggles. They're also charismatic leaders. No Tonkinese cat owner would claim to be the boss in their own home any more (but none seem to mind!)
Do Tonkinese Cats Like Kids?
Above all else, Tonkinese cats adore company. They are full of love and affection for everyone they meet, even children, strangers, and other animals. This makes them the perfect breed for you if the stereotype of cats being aloof and solitary has put you off in the past. Or if you have children and other pets at home.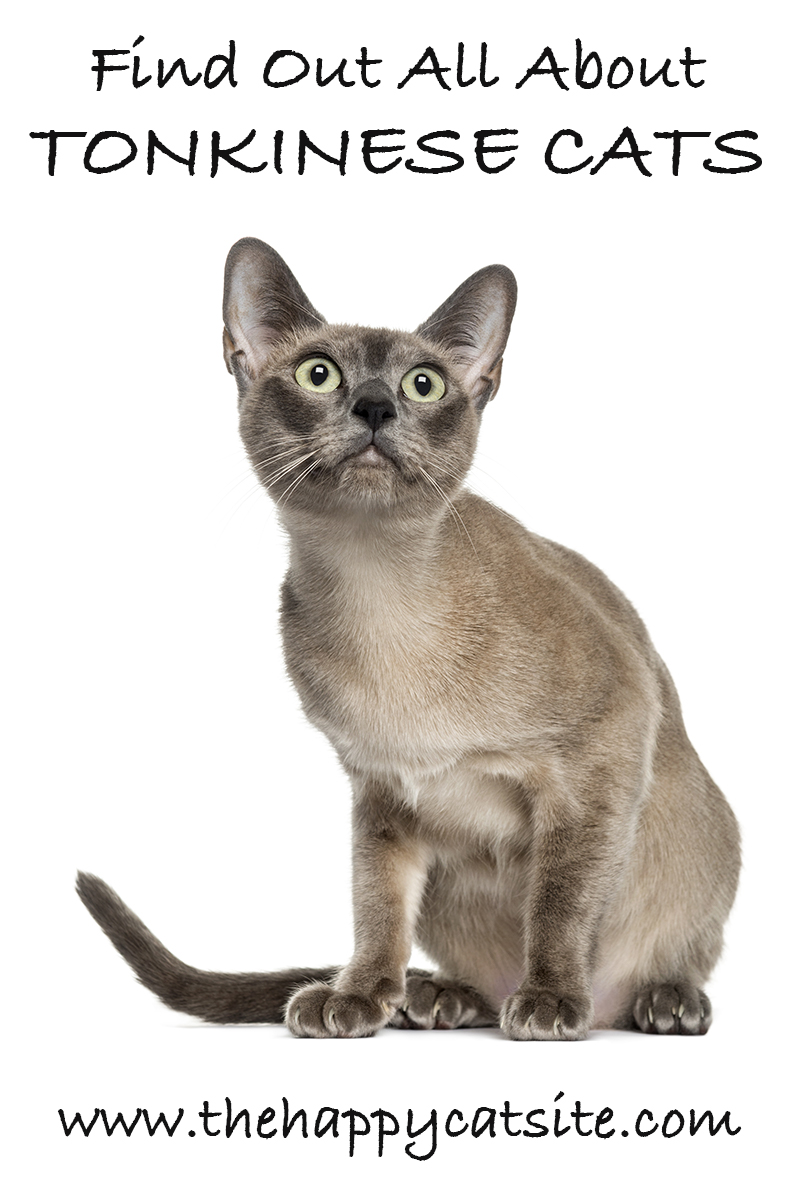 Tonkinese Cat Temperament
If Tonkinese cats have a motto, it's "everything in moderation". They are chatty, but not so vocal they'll drive you to exasperation. They'll amuse you with their games, but settle down for a cuddle whenever you have time.
But, because Tonkinese cats live for companionship, they will eventually get bored and frustrated if they're left at home on their own all day. Intelligent and resourceful, their mischievousness can over-spill into naughtiness when they're lonely.
Keeping them in pairs from kittenhood will go a long way to helping their behavior. But if work requires you to be out of the house all day, then a more independent and self-sufficient breed might be a better cat-match for you.
Can Tonkinese Go Outside?
There is nothing to suggest that a Tonkinese cat can't be an outdoor cat. Whether you want to have a cat who can roam free outside is up to you in this case.
The Tonkinese has a normal, active hunting instinct and will likely give chase to smaller animals it considers prey. Some consider free-roaming domestic cats to be a threat to local wildlife. However, others believe that a cat's predatory nature is an important factor in a healthy animal ecosystem.

Tonkinese Size
Tonkinese cats are often described as being heavier than they look. Despite being a small to medium sized breed, they tip the scales at about 4kg (9lb) on average.
That's because they carry lots of muscle on their small frame. Which gives them their distinctive thickset appearance – or "cobby build" in pedigree animal parlance.
Coats
Tonkinese cats are a truly kaleidoscopic breed. They come in a wide spectrum of muted and pastel tones. Including silvers, grays, taupes, browns, caramels, lilacs and blue.
Some inclusive registries recognize all their possible colors, but the most exclusive registries still only recognize four colors. These include Natural, Blue, Champagne and Platinum. Somewhat confusingly, Tonkinese colors don't refer to the main color of their body, but the color of their "points".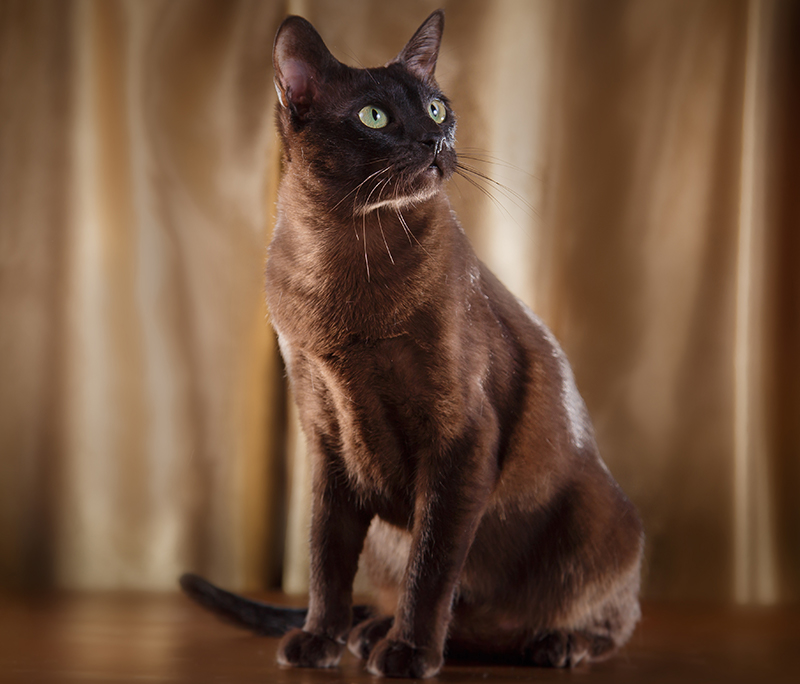 Blue Tonkinese vs Blue Point Tonkinese Cat
Points are the places at the nose, ears, paws and tail where a Tonkinese's coat is the darkest. Point markings are remarkable because the pigmentation in these places is temperature sensitive. They are dark because the temperature of the skin is lower, which drives more pigment production.
Tonkinese cat coats can either be Point (high contrast, where the body color is much lighter than the color of the points), Mink (medium contrast between the points and the rest of the coat), or Solid (low or no contrast between the color of their points and the rest of their coat).
So a Blue Point Tonkinese cat will have Blue points (a sultry slate-gray, not actually blue!) and a pale creamy-gray body. A Solid Blue Tonkinese will be slate-gray all over. And a Blue Mink Tonkinese will have slate-gray points, and a medium-gray body.
Tonkinese Coat Colors
If you'd like to find out more about how Tonkinese cats inherit their coat color, the Tonkinese Breed Association has a detailed explanation of Tonkinese coat genetics. They also have a fun table for predicting Tonkinese kitten colors.
Tonkinese cat colors take a while to develop and reach their final appearance, and keep evolving throughout a cat's life.
The Cat Fanciers' Association Breed Standard allows 16 months for development of full body color, and allows for colors to darken with age.
Grooming your Tonkinese
Are you thinking about getting a Tonkinese cat, but worried about how much grooming they'll need? Tonkinese cats are a short haired breed, with a neat coat. They'll enjoy some help with grooming once a week or so, but on the whole their coat is low maintenance.
If you were hoping to find a long haired Tonkinese cat, then you might be interested in Balinese cats or Himalayan cats (originally a Persian x Siamese hybrid) instead.
Best Brush for Tonkinese Cat
Tonkinese cats don't need much grooming, but unlike other breeds that fight you every step of the way, they love the attention of having their coat brushed for them (oh the irony!) A rubber grooming paddle like this one from Pixikko* will massage their skin as you as you go, for the ultimate spa-like treatment.
Tonkinese Shedding
Fortunately for those of you worried about cleaning up endless amounts of cat hair, the Tonkinese is a low shedding breed. Its short coat is easily kept and doesn't require any special care.
Are Tonkinese Cats Hypoallergenic?
Tonkinese cats are just one of the breeds that have mistakenly described as hypoallergenic. Cat allergies are triggered by Fel D 1 protein in cats' saliva. As cats wash themselves they shed hair and dander coated in saliva. This leads to the Fel D 1 protein becoming airborne as the saliva dries.
There are no breeds of cat that don't produce any Fel D 1 protein, So no truly hypoallergenic cat exists. Some allergy sufferers report that short-haired, low shedding breeds like Tonkinese are easier to tolerate. However, there is a complex biochemistry to allergies which we don't fully understand.
If you or a family member are allergic to cats, spending some time at your breeder's home is the best way to find out how you'll react to their cats.
Tonkinese Health
So, we know that this breed was created by mixing two pre-existing pedigrees. Normally we would tell you that the new hybrid could experience any of the health concerns associated with either of their parent breeds.
To be on the safe side you should hope to find a breeder who rigorously health tests their kittens. However, it's interesting to note that UK charity PDSA keeps detailed information about breed specific health problems for pedigree cats. And they list "nothing specific" for the Tonkinese.
Tonkinese cats owe their robust good health to the careful breeding choices of the people who founded the breed – they are lucky cats.
Like all breeds of cats, Tonkinese cats do need vaccinating. Make sure they have shots against cat flu, feline infectious enteritis, and feline leukemia virus. This is in addition to regular treatment for worms and fleas.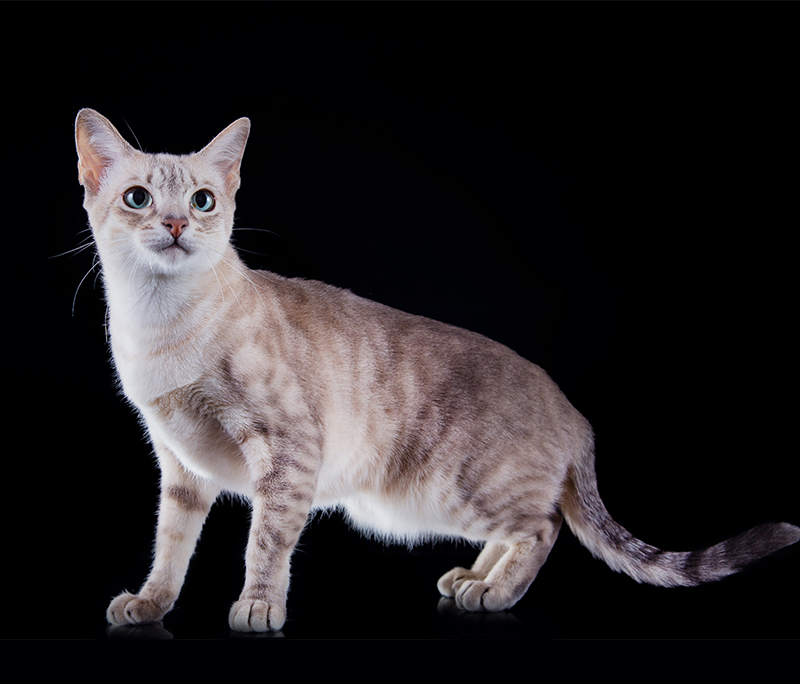 Diabetes in Tonkinese Cats
A study at the Royal Veterinary College in 2016 found that Tonkinese cats do have an increased prevalence of diabetes compared to crossbred cats. However, due to historical breeding policies, the UK Burmese cat population has a much higher rate of diabetes than the American Burmese cat population.
It is unclear whether the UK Tonkinese cat population inherited their risk of diabetes through out-breeding with UK Burmese cats when the breed was being founded. So it may not be a problem that affects US Tonkinese cats, but the research doesn't exist yet.
Tonkinese Cat Eye Problems
Tonkinese cats' eyes are their stand-out feature. They're the only pedigree that can be registered with "aqua" eyes – a beautiful, unusual, green color.
The color is striking, but harmless. Tonkinese cats are no more predisposed to eye-problems than any other breed.
Tonkinese Lifespan
With a bit of luck and proper care, Tonkinese cats typically live to around 15 years old.
This is a respectable age for a pedigree cat, and places them firmly in the middle of the range across all pedigree breeds.
Feeding your Tonkinese
When you bring a Tonkinese cat home, they will already be used to the food they were eating at their previous home. Continue feeding them this and if you want to make changes, do so gradually.
As Tonkinese cats are generally healthy, it's unlikely they will need a specialized diet.
They do have a high prey drive though, so if they're allowed outside you might find that they catch plenty of meals themselves!
Dry Food vs Wet Food
You might be wondering whether your new Tonkinese should eat wet or dry food. The truth is there are benefits to both. For example, wet food has a higher water content. So, you can rest easy that your Tonkinese is staying hydrated.
On the other hand, kibble comes with varying ranges of nutritional benefits and you will likely find one that suits your cat best. You will however, have to make sure your cat is getting his fill of water too.
As the Tonkinese doesn't have any special requirements, you should be able to feed your cat either.
It's always worth consulting your vet before changing your cat's diet. Your vet can test for any intolerances your Tonkinese might have.
Are Tonkinese Cats Good Pets?
There are no major health concerns that would make a Tonkinese kittens or a Tonkinese adult a bad choice as a family pet.
These cats are friendly, they love company and they love to chat. They should get on well with other pets and might not be as standoffish as other cat breeds!
Tonkinese Cat Price
The price of a pedigree Tonkinese varies hugely by the area you live in, as well as whether you have your heart set on a particular color.
If there aren't many breeders operating in your area, the price of a Tonkinese kitten can easily tip over $1,000, and even reach $1,500. If supply and demand are more closely matched, the price will be lower.
Tonkinese Cat Breeders
One of the most important things you can do when looking for a new pet is to be careful where you get the animal from. We strongly recommend that you avoid pet stores and anything that resembles a kitten mill.
Animals from these places are not treated properly. This goes for both the kittens and the parents. Make sure you find a breeder who properly health checks their kittens. Your breeder should be happy to field any questions you might have and must understand the importance of socialization of kittens.
Fortunately Tonkinese cat breeders are a tight-knit and exacting community. The Tonkinese Breed Association is very well organized, and their website includes lots of contact information for Tonkinese cat breeders.
Tonkinese Kittens
The popularity of the Tonkinese breed means that many Tonkinese kitten litters will have been promised to waiting buyers before they are even born, and never listed publicly for sale. To bring a Tonkinese kitten home, make contact with breeders near you, and ask to placed on their waiting list.
Caring for a vulnerable kitten is a big responsibility. Make sure you check out our guide to litter training, socialization and coping with biting. You might also want to consider reading The Happy Cat Handbook.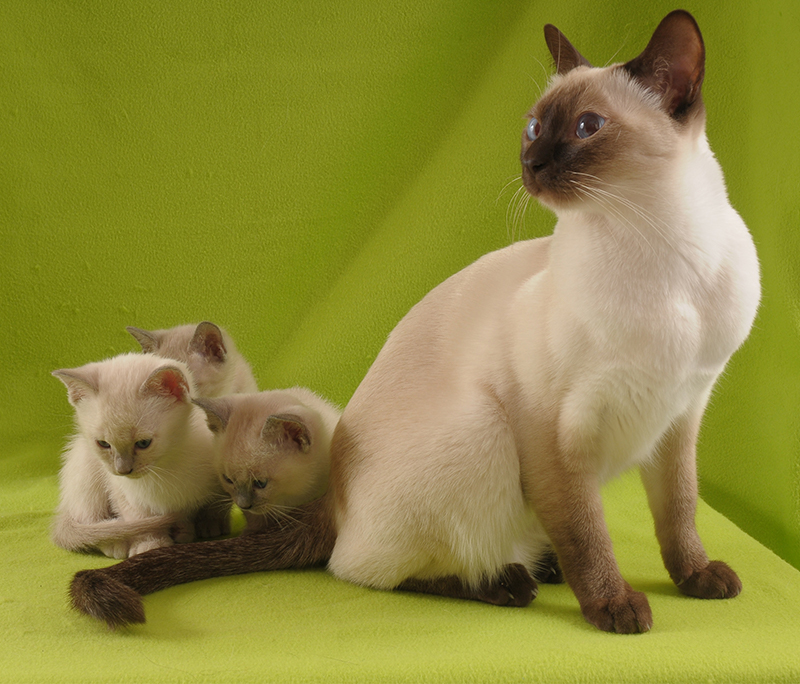 Rescuing a Tonkinese
Tonkinese cats don't often arrive in rescue shelters, but it does happen, for example if their owners have a dramatic change in circumstances, or pass away. Be aware of Siamese and Burmese cross cats that are advertised as Tonkinese kittens.
First generation kittens of Siamese and Burmese kittens will have an unpredictable combination of traits from each of their parents. This isn't necessarily a bad thing, but isn't a Tonkinese either.
Alternatively, some breeders do offer retired breeding cats as pets for a discounted price. You'll have less time with these cats, but you'll know exactly what personality they have when you bring them home. Also, they might be calmer than a high-octane Tonkinese kitten.
You can find a list of Tonkinese rescues at the bottom of the page.
Tonkinese Mixes
Torn between the charms of a Tonkinese and the lure of another breed? Then you might be interested in Tonkinese cat mix, for example a Persian Tonkinese cat.
Tonkinese cat breeders are rightly proud of the Tonkinese cat breed, and passionate about carrying on the legacy of breeding healthy cats, whose temperaments are exactly right.
As a result, many Tonkinese kittens are sold either already neutered/spayed. Or even with an obligation that their new owner neuters/spays them straight away without breeding them.
This means Tonkinese cat mixes are particularly uncommon. Where they are advertised occasionally, it invariably seems to be the result of an accidental mating, and the father might be completely unknown.
Pros And Cons of Getting A Tonkinese
Cons
Tonkinese in the UK may have a higher prevalence of diabetes
Can be destructive if not adequately stimulated
Pros
This is a robust breed with few health problems
Tonkinese cats are affectionate and will love your company
Should I get a Tonkinese?
Tonkinese cats are proof that conscientious breeding programs can create new pedigrees that are beautiful, healthy, and have wonderful personalities. For me, Tonkinese cats aren't just enchanting pets, but also a fascinating history lesson in how so-called "designer animals" can transition from being controversial to widely accepted.
Unethical breeders chasing quick profits give hybrid breeds a bad name, but none of our domestic cats descended from their wild ancestors by accident. They have all been visualized and coaxed into being by breeders.
Tonkinese cats are robust, fun loving, and companionable. If you have a lot of love to give back, and time to share in their games, then a Tonkinese might be the perfect cat for you.
Do you already have a Tonkinese cat?
Is your house ruled by a Tonkinese?
Please tell us about your experience of owning a Tonkinese cat in the comment section!
Affiliate link disclosure: Links in this article marked with an * are affiliate links, and we may receive a small commission if you purchase these products. However, we selected them for inclusion independently, and all of the views expressed in this article are our own.
Tonkinese Rescues
USA
UK
Australia
References And Resources
Gough A, Thomas A, O'Neill D. 2018 Breed Predispositions to Disease In Dogs and Cats. Wiley Blackwell
Hawes et al. Factors Informing Outcomes for Older Cats and Dogs in Animal Shelters
O'Neill et al. Longevity and mortality of cats attending primary care veterinary practices in England
O'Neil D.G. et al. 2016. Epidemiology of Diabetes Mellitus among 193,435 Cats Attending Primary-Care Veterinary Practices in England. Journal of Veterinary Internal Medicine.
Gunn-Moore, D. et al. 2008. Breed-related disorders of cats. JSAP