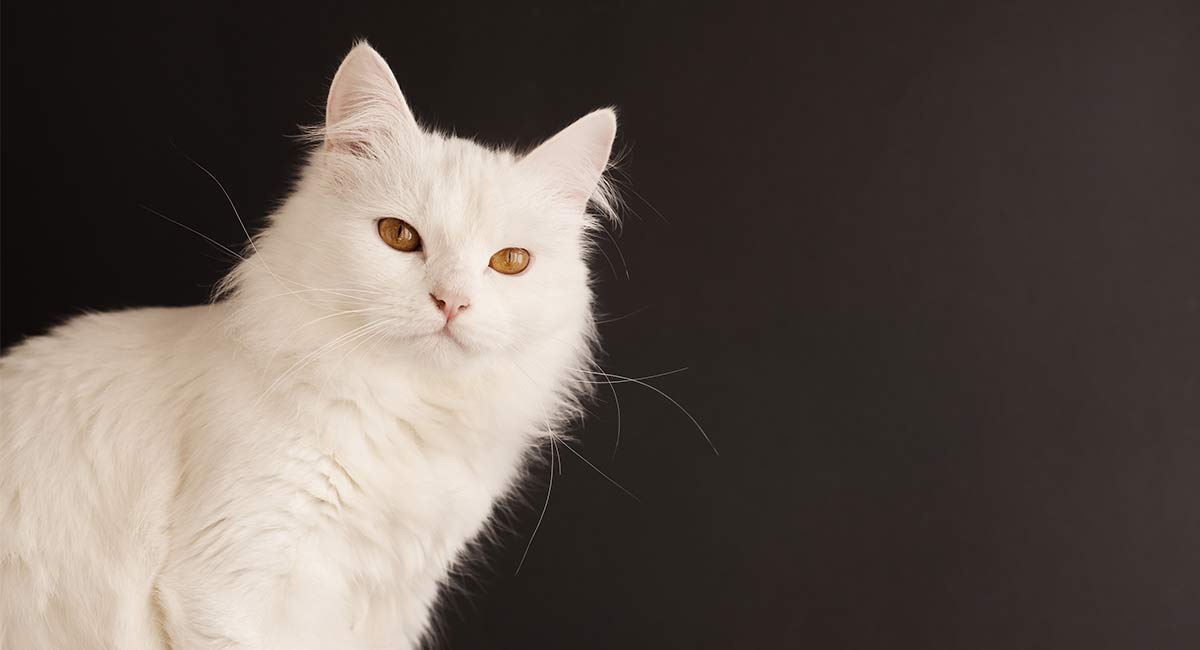 In this article, we introduce to you the beautiful and enigmatic Turkish Angora cat!
We take a look at where this stunning and rare breed originated, discuss his character traits, and talk about his overall health.
If you're wondering how to identify a Turkish Angora cat or you'd like to know whether this kitty breed would be right for you, read on to find out all you need to know!
What is a Turkish Angora cat?
Turkish Angora cats are a charismatic old breed, who have dipped in and out of popularity over the last few hundred years. They are almost always white, though can be other colors especially on their heads or tails. They have a sleek, fairly long coat and grow to a medium size.
The Turkish Angora cat is thought to have its origins in the mountainous regions of Turkey, where it evolved from the wild Pallas' cat.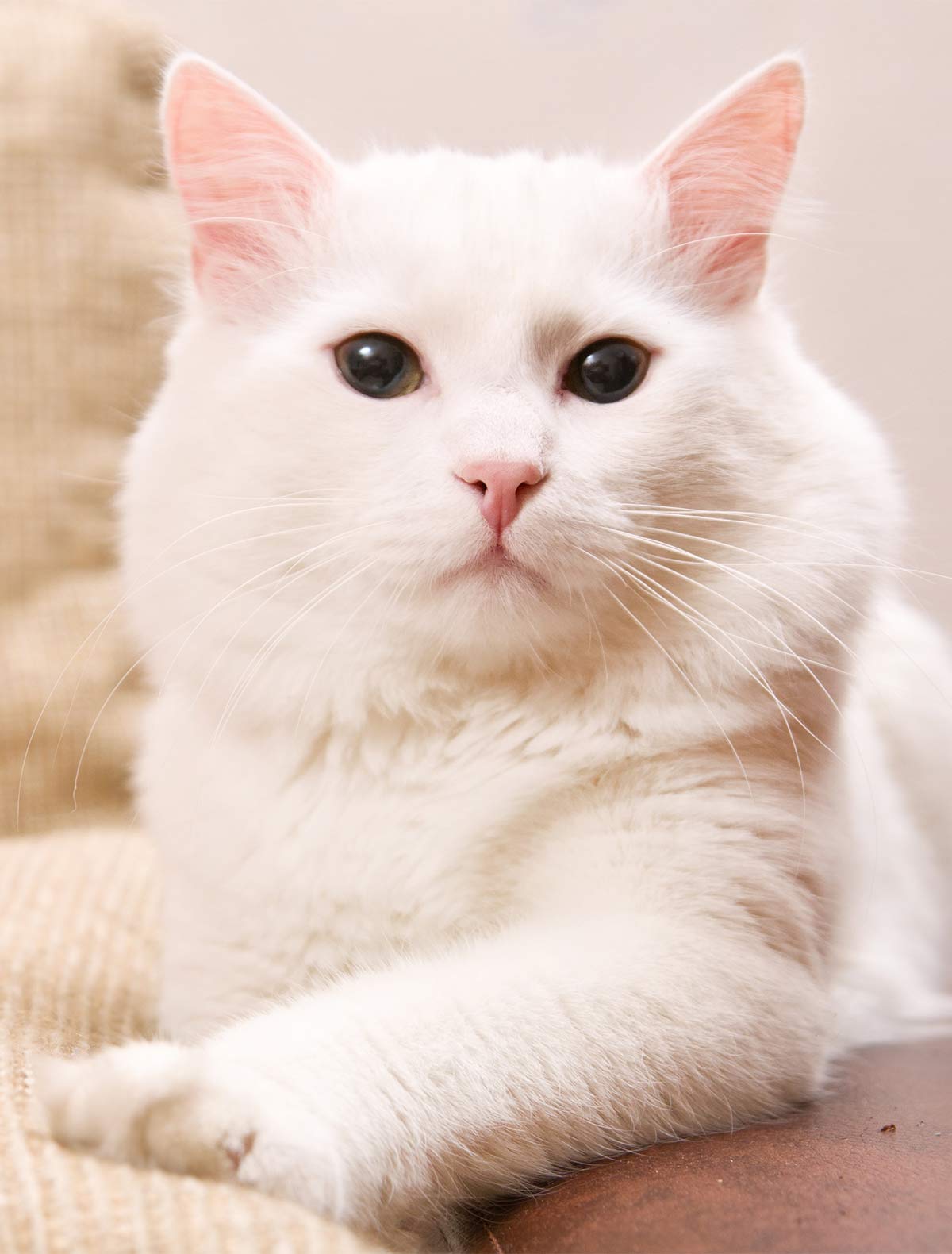 The Turkish Angora is distinguished by its glorious, unusually soft and silky coat, which probably developed to give this exotic kitty protection against the harsh climate of its native land.
Turkish Angora facts
The history of Turkish Angoras as pets dates back to 16th century France.
However, thanks to indiscriminate breeding during the early 1900s, the pure breed almost disappeared.
Then, in the 1950s the Turkish Angora was discovered alive and well at the Ankara Zoo by US servicemen.
Luckily for us today, this beautiful cat was imported into the US in 1954 where it has thrived ever since!
In his native homeland, the Turkish Angora is considered to be a national icon!
But these days, the Turkish Angora cat is something of a rarity. He's definitely not your common or garden moggy!
Turkish Angora vs Turkish Van
You may be wondering if the Turkish Angora and the Turkish Van cat breeds are one in the same.
Well, they're actually different breeds, although they may be distantly related!
The Turkish Van has a mainly white body, a colored tail and head.
The Van is larger and bigger-boned than the delicate Angora. Vans are not fully grown until they reach four or five years of age.
Turkish Angora size
The Turkish Angora is a small to medium-size kitty.
On average they weigh-in at between 5 and 9 pounds.
Male Turkish Angora cats are usually a little larger and heavier than females.
Turkish Angora colors
Turkish Angoras are renowned for their fine, long, silky coats that shimmer as they strut around their kingdom (your home!)
When they have their full winter coats, mature Turkish Angoras often sport a ruff around their neck, and they wear gorgeous, fluffy "breeches" on their upper hind legs, which are perfectly set-off by their extravagant plumed tail.
The traditional Turkish Angora coat color preferred by purists is white.
But the coat can be other solid colors, including black, red, blue, and cream.
Patterned coats are also seen, including tortoiseshell, tabby, and calico.
Turkish Angora's eyes are almond-shaped and can be green, blue, gold, or amber.
Some individuals have eyes of two different colors!
Turkish Angora grooming and shedding
You might think that the Turkish Angora is a walking hair-shedder! Or perhaps he suffers from hair mats, because of his long coat.
In fact, neither is the case.
Your furry friend's coat doesn't grow to its full length until he's about two years of age.
This kitty's luxuriant coat has no undercoat that could cause tangles or mats. His coat is one single layer of loveliness that is surprisingly easy to maintain!
You can keep your Turkish Angora looking great by combing or brushing him just once a week. And he'll certainly thrive on the attention!
Surprisingly, Turkish Angoras shed very little!
Unlike some other breeds of long-haired cats, this kitty doesn't suffer from regular shedding episodes.
When you notice that your kitty is losing a little more hair than usual, just brush him twice a week instead of just once!
Turkish Angora personality
These cats are full of personality and character.
The Turkish Angora is energetic and easily bored, so you'll need to invest in plenty of interactive toys to keep him entertained!
Your fluffy bundle of fun will follow you around, hoping for a game or just to see what you're up to.
He's nosy and likes to be in on everything!
Many Turkish Angoras also enjoy swimming and playing in water.
Don't be surprised if you find your kitty taking a dip in your pool or paddling around in your bath with you!
The perfect home for Turkish Angora kittens
Your friendly Turkish Angora will generally get on well with children, so long as they don't pull his tail or hair.
He will enjoy the company of other cats, and even dogs, although this kitty cat will always be in charge.
Like any cat, he is more likely to be comfortable with something as an adult if he gets used to it as a kitten, so begin gentle introductions as early as possible.
Turkish Angora cats like to be up high where they can look down on everything and everyone in their kingdom.
Be sure to invest in plenty of climbing and resting posts for your cat so that your furniture doesn't become a substitute climbing frame!
Turkish Angora safety
Turkish Angoras are an unusual and especially beautiful breed of cat, which makes them potentially very valuable.
Unfortunately, this can make Turkish Angora cats a target for thieves who would steal your cat in order to sell him.
For this reason, some Turkish Angora owners prefer not to let their cat to roam free, especially at night.
You will have to make your own decision for you you and your cat.
If you're worried about let them out, don't forget there are some great compromises, like supervised playtime in an enclosed garden, or expeditions outdoors using a harness and lead.
Turkish Angora cat health
Any cat has the potential to develop health problems.
And like any purebred cat, the Turkish Angora is particularly vulnerable to some disorders that can be inherited from his parents.
So, when you buy a Turkish Angora kitten, be sure to go to a registered, reputable dealer who will provide you with a health guarantee.
Turkish Angoras are pretty healthy cats.
However, there are a few health conditions that they can be prone to, which you should be aware of before you take one on.
Hearing problems
Some white Turkish Angoras who have blue eyes may be prone to deafness, due to a genetic defect.
Although cats can get usually along fine without their hearing, a deaf or partially deaf cat is unlikely to hear traffic or other dangers approaching.
For this reason, a deaf Turkish Angora is best kept as a house cat, unless you have a safe, enclosed garden for him to play in.
If you are intending to buy a white, blue-eyed Turkish Angora kitten or cat, always ask your vet to check your cat's hearing, before you part with any cash.
Hypertrophic cardiomyopathy
Some Turkish Angoras may suffer from a heart condition called hypertrophic cardiomyopathy.
This is the most common feline heart problem suffered by many breeds, including Turkish Angoras.
The condition causes thickening of the heart muscle, which can lead to a shortening of your cat's life expectancy.
Some breeders claim to only use HCM-free bloodlines in their breeding stock.
However this cannot be realistically guaranteed, and no-one can be certain that their cat will not develop this condition.
The only way to tell if your cat has hypertrophic cardiomyopathy is to have him screened for the condition by a qualified vet.
Turkish Angora lifespan
If you decide to welcome a Turkish Angora cat into your home, you can expect to devote between 13 and 15 years to his care.
Some Turkish Angoras have even been known to live as long as 20 years!
Of course, giving your cat the right kind of food, ensuring he has plenty of exercise, and taking him for regular vaccinations and vet checks will help to increase his lifespan.
In general, house cats tend to live longer than cats that are allowed to roam.
Outdoor cats are more exposed to the dangers of traffic and predatory animals, hence their shorter life expectancy.
Turkish Angora kittens
So, what can you expect if you take on a Turkish Angora kitten?
Turkish Angora kittens are cheeky, lively, active, and intelligent!
And they love to spend time with their owners. Your Turkish Angora will follow you around the house, just looking for a game (and for mischief too!)
This is not a kitty who will happily curl up and sleep all day – he likes to be on the go all the time!
Choosing a Turkish Angora kitten
When choosing a Turkish Angora kitten, always go to a registered breeder with a good reputation.
You should always be able to meet a kitten with their mother.
The kittens should be reared inside a family home where they can build their social skills, and mom should clearly be a much-loved pet.
Look for a Turkish Angora kitten that has clear ears and eyes. If the kitten is white with blue eyes, be sure that his hearing is perfect.
All the kittens in the litter should be friendly, active, curious, and up for a game.
If any of the kittens seem lethargic, disinterested in their surroundings, or have a milky discharge from their eyes or nose, walk away!
Turkish Angora breeders
TICA and the CFA both keep details of Turkish Angora cat breeders.
Reputable breeders will perform the necessary health certifications to screen-out genetic health conditions, so check that the breeder you are planning to use has done this.
There are a number of red flags to watch out for when perusing breeders' websites.
Warning signs include kittens always being available all the time, and breeders who have lots of different litters on their premises at the same time.
Also, being able to choose any kitten you want and breeders who offer the facility to pay online with a credit card can be danger signs of catteries that are less than scrupulous.
A very good source of information regarding catteries and breeders is your local vet. Your vet may be able to point you in the right direction of a good breeder that you can trust.
Be prepared to wait. If a Turkish Angora kitten is not available, you may have to wait awhile!
Adopting an adult Turkish Angora cat from a rescue or shelter
Although the Turkish Angora is quite a rare breed that's not common to find in shelters, you may strike lucky, so it's always worth taking a look.
In particular, see if there are any shelters near you that specialize in rehoming purebred cats.
As soon as you get your new Turkish Angora cat or kitten home, it's essential that you have him looked over by your vet.
That way, you can be sure that your new furry friend is starting his life with you in rude health!
Turkish Angora price
The Turkish Angora cat price can come as something of a shock to first-time owners of this unusual breed.
The price range for this exotic kitty starts around $800 and can easily finish up at $3,000 or more!
The cost of a Turkish Angora kitten will vary, depending on a few different factors, including color, gender, family tree, and the championship status of your kittens parents.
If your kitten comes from prize winning stock, you can expect to pay top dollar!
It's important to find out exactly what's included in the price of a Turkish Angora cat or kitten.
In general, the price you pay for your kitten should include a guarantee of health for six to 12 months.
You should also receive the kitten's pedigree paperwork. The cost of having the kitten spayed or neutered is usually also included in the purchase price.
Finally, the breeder should offer you an option to return the kitten if there is a problem.
Is a Turkish Angora cat right for me?
The Turkish Angora cat is an unusual breed with a very individual personality that might not suit every household.
If you are looking for a lively, sociable, curious friend who will stick to you like glue as you go about your daily chores, the Turkish Angora could be just the feline friend you're looking for!
However, you must be mindful that white, blue-eyed Turkish Angoras can have hearing problems, so you will need an enclosed garden for him to play safely in that's well away from dangerous roads.
Do you own a Turkish Angora cat?
Are you lucky enough to have a beautiful Turkish Angora cat in your home?
Is your kitty the classic Turkish Angora white or is he a more unusual color?
Does your Turkish Angora enjoy a dip in your bath tub or swimming pool?
Why not tell us all about your Turkish Angora cat in the comments section below – we'd love to hear all about him!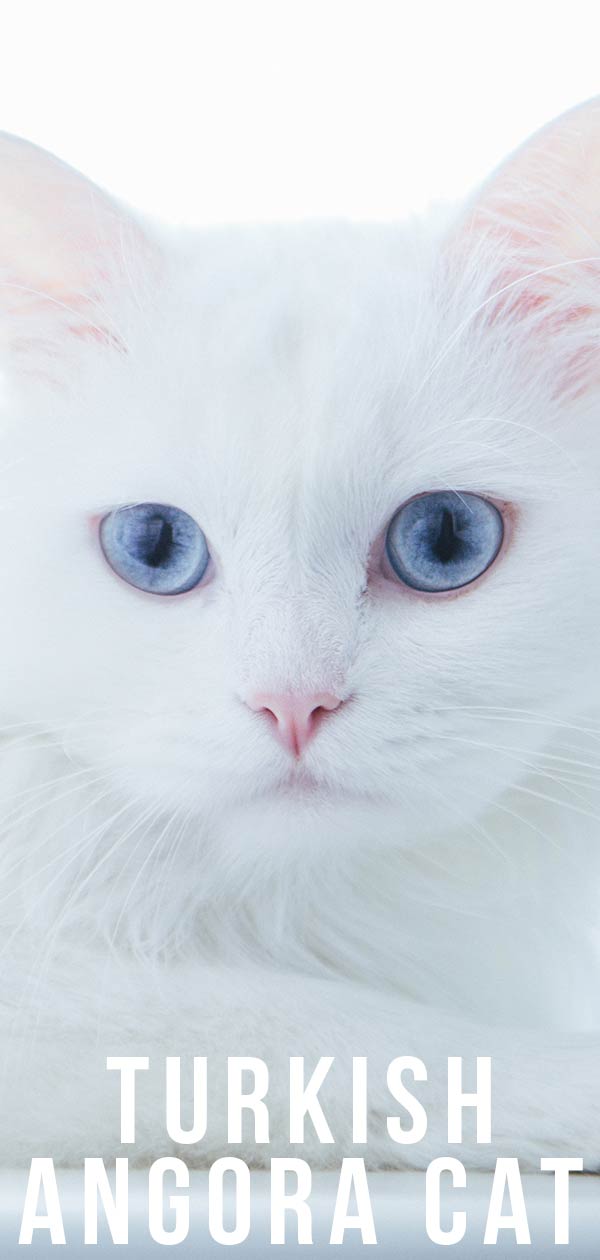 References and further reading
CFA – Turkish Angora
Cornell University, "Hypertrophic Cardiomyopathy in Cats", 2015.
TICA – Turkish Angora