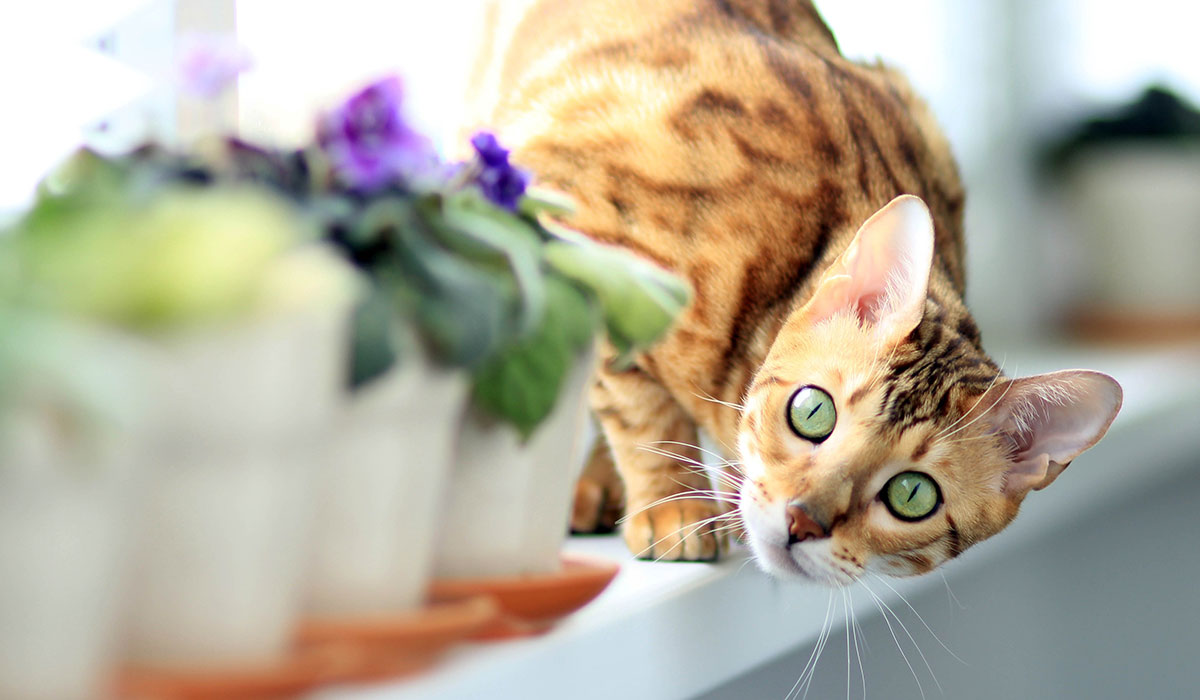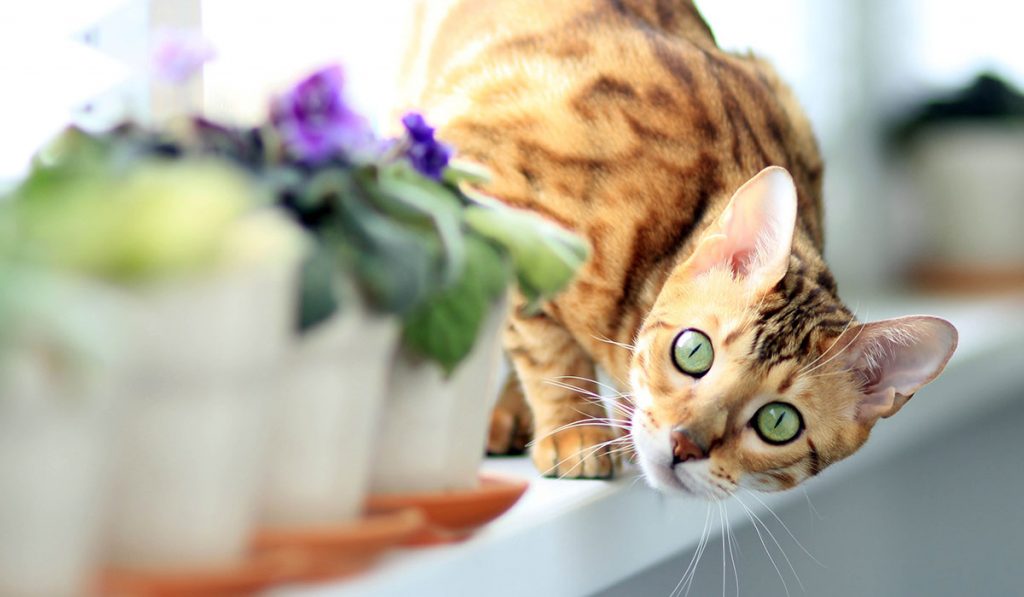 When you have a female cat in heat, your household might become a little disrupted. Wailing, restlessness, excessive affection and crawling around the place are all behaviors commonly displayed by a cat during her season. But what happens when a cat is in heat, to cause all this fuss? Are female cats uncomfortable during heat? Or is there something you should you do as an owner to help her during this time? And is letting your cat have seasons a good thing, or is it a recipe for disaster?
We'll look at..
And much more! You'll find a video below where you can listen to a female cat in heat calling to attract a male. Let us know in the comments below if this sounds like your cat!
Your female cat in heat
Cats have a cycle that is controlled by reproductive hormones. Just like humans do!
When we talk about a female cat going into heat, we mean they have reached the point in their cycle where they are most likely to become pregnant if they mate.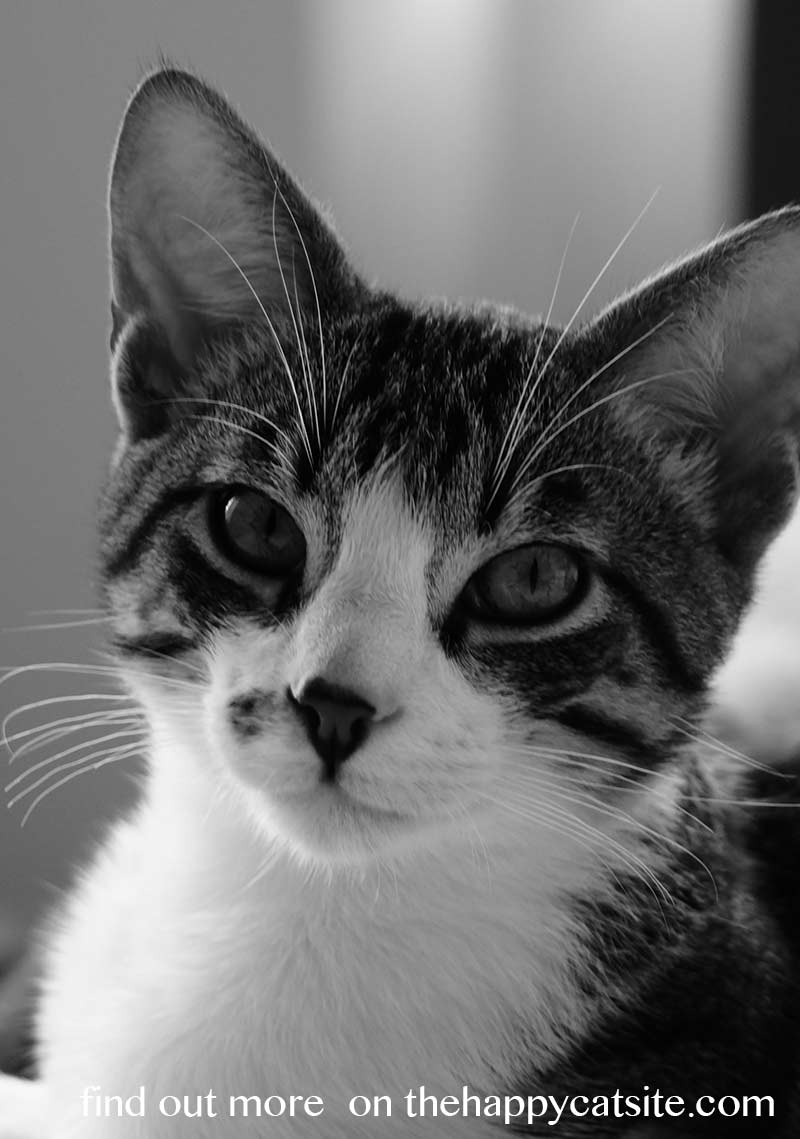 A female cat in heat will behave in a very specific and recognizable way, to try and attract tom cats to mate with her.
Signs of a female cat in heat
There are a number of signs that indicate their season has come around. Some of them are cute and funny, others can be rather frustrating!
#1 Wailing
This is different from the sounds your cat normally makes.
You'll hear loud, persistent, meowing or wailing.
Not just loud and persistent, but VERY loud, and VERY persistent. Expect a few disturbed nights!
#2 Restless behavior
Cats in heat can be very restless.
Disappearing outside for longer periods than usual and struggling to settle indoors are typical behaviors of a queen impatient to find a suitor.
#3 Increased affection
A female cat in heat will often direct her amorous feelings towards anyone and everyone.
Not to mention the furniture and the window and door frames!
She has an ulterior motive: while she's in heat, the scent that rubs off from her cheeks and chin changes ever so slightly.
The purpose of this is telling tom cats who smell it that she is ready to mate.
#4 Excessive licking
Your cat will experience increased blood flow to her vulva while she's on heat, causing it to swell slightly.
This can be uncomfortable (but not painful) for her, and she might wash the area more in response.
Important health note: if your cat is licking more than usual but without any other signs of being in heat, it could mean that she has an infection. Ask your vet to check her over.
#5 Commando crawling
Flattening her ribs to the ribs to the floor with her front legs bent, and her bottom in the air, then shuffling forwards.
Quite simply, she REALLY wants a male to notice she's ready for sex, and she's not leaving any thing to chance.
Which brings us on to…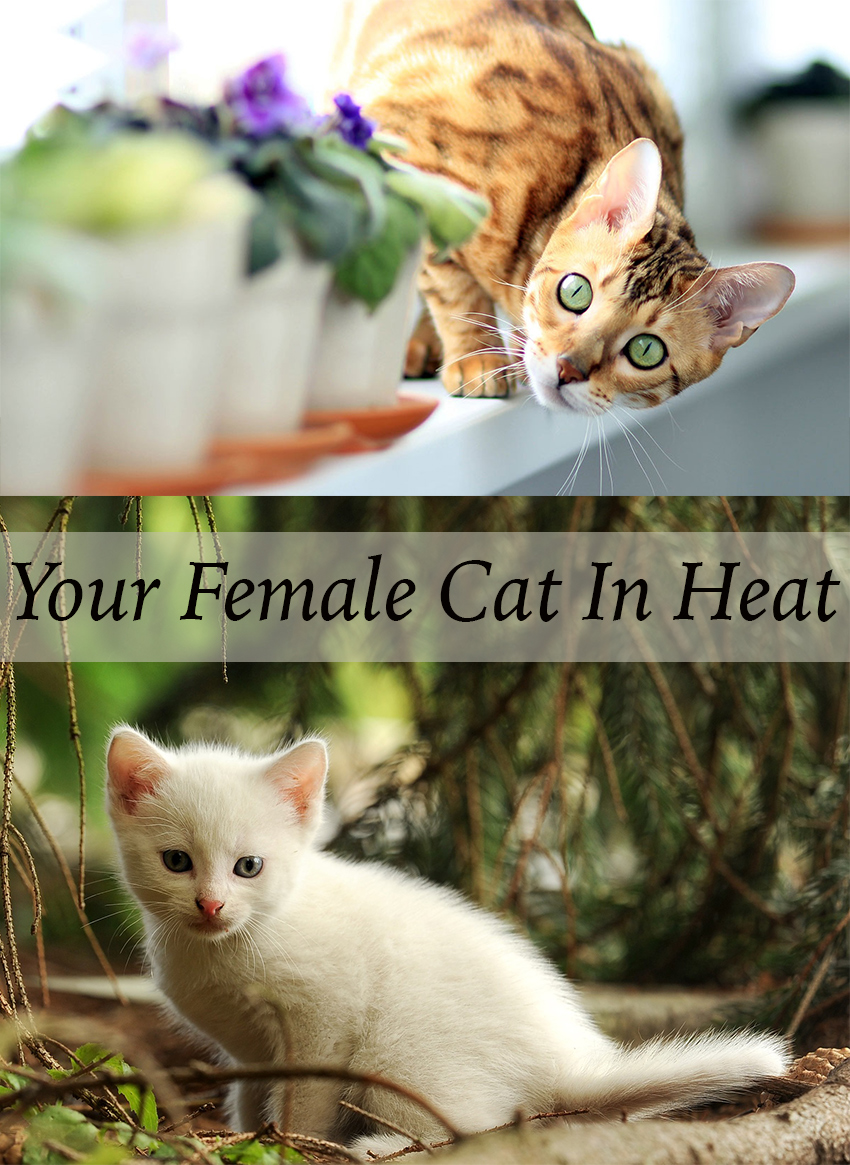 # 6 The tail deflection reflex
If you suspect your cat is going into heat, try running your hand down her back towards the tail.
A cat in heat is likely to push her bottom right up, and move her tail to the side, ready to mate.
And finally…
# 7 Increased rolling
Because, why not?
And it probably helps to spread her scent around, leaving a 'calling card' for any passing males.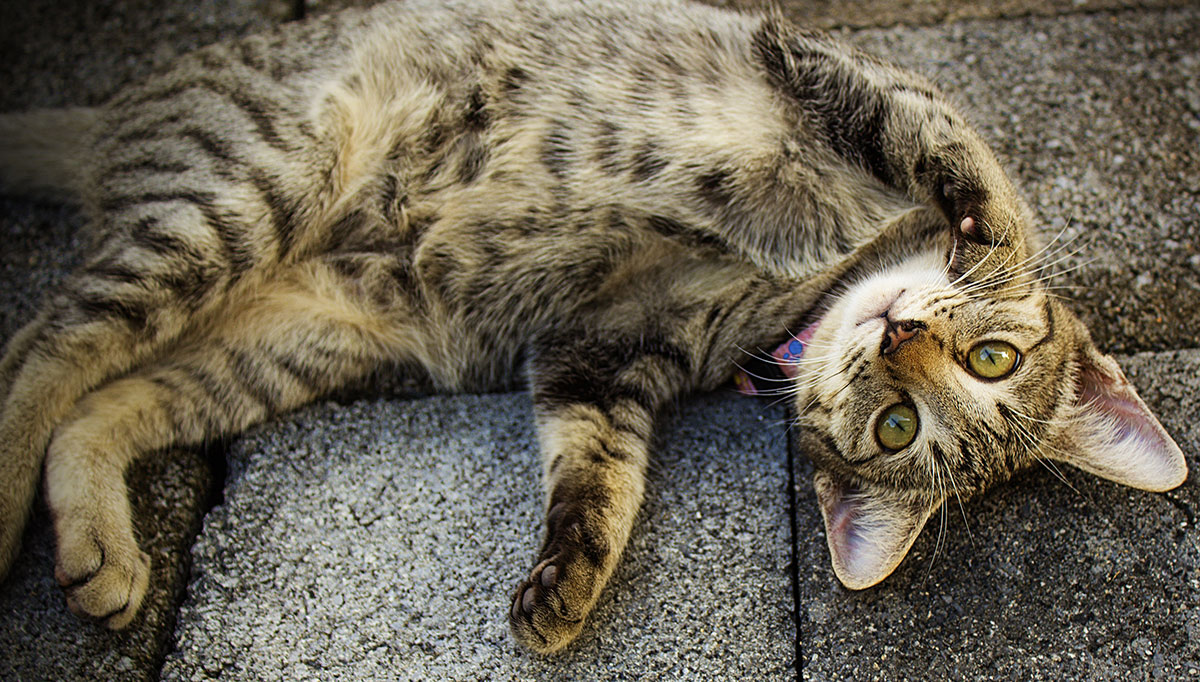 What age do cats go into heat?
It seems so hard to imagine when they're a tiny young thing, but your cat could hit puberty by the age of five months.
A female cat which has gone through puberty and reached sexual maturity is known as a queen.
Female kittens usually reach sexual maturity between the age of five and twelve months. The exact timing can vary by breed and by environment.
Oriental cat breeds such as Siamese cats and Oriental Shorthairs commonly reach puberty around five months.
Persian cats and other long haired breeds usually take a little longer. A Persian cat in heat will normally be at least eight months old.
Additionally, cats which spend most of their time outdoors will typically reach puberty sooner than cats which live exclusively indoors.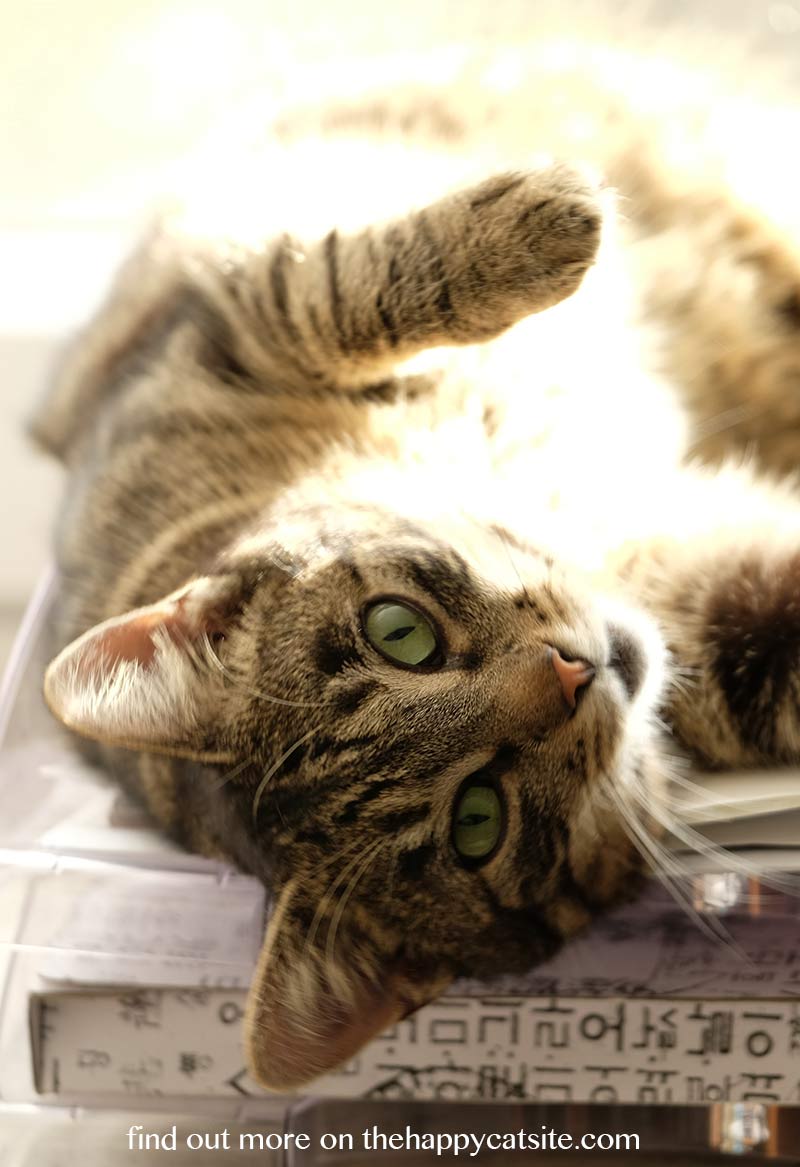 However, there is no hard and fast rule!
Environments are highly variable.
Unless your cat is a perfect pedigree, you probably won't know for sure what heritage could be influencing the speed they develop at.
When can female cats have kittens?
A female cat can get pregnant on her very first heat.
But just like in humans, being old enough to get pregnant doesn't mean that it is safe for your female cat to get pregnant.
That's why a responsible cat owner will plan the right birth control for their female cat early on. And be ready to recognise when their pet goes into heat for the first time.
How often do female cats go into heat?
This can vary hugely from cat to cat.
At certain times of the year, female cats go into heat on average every fourteen to 21 days, although much shorter cycles have also been recorded.
When we refer to a cat being in season, it's because female cats don't usually mate all year round.
In the wild, female cats only come into season in spring and summer. This is so that their kittens are born in the warmest, driest months, giving them the best chance of survival.
Cats in the wild can tell when spring has arrived because there are more hours of daylight.
For modern day domestic cats, this often means that the artificial lights in our homes trick them into thinking it is spring and summer all year round.
If you keep your female cat indoors a lot of the time, it's best to assume she has the potential to go into heat at any time of year from five months old.
How long are cats in heat?
Again this can vary every time, from two days to nine days, but six or seven is about average.
If your female cat isn't mated during her heat, she may then come into heat again two or three weeks later.
Do female cats have periods?
No. Your cat is unlikely to experience any bleeding or discharge whilst she's on heat, or at any other time.
If you notice that she is, it could be a symptom of infection, so take her to your vet for a check up.
What to do when your cat is in heat
Going into heat is normal behavior for a female cat, and there's no need to suppress it.
However to prevent an unwanted pregnancy it's essential to prevent your cat coming into contact with un-neutered tom cats.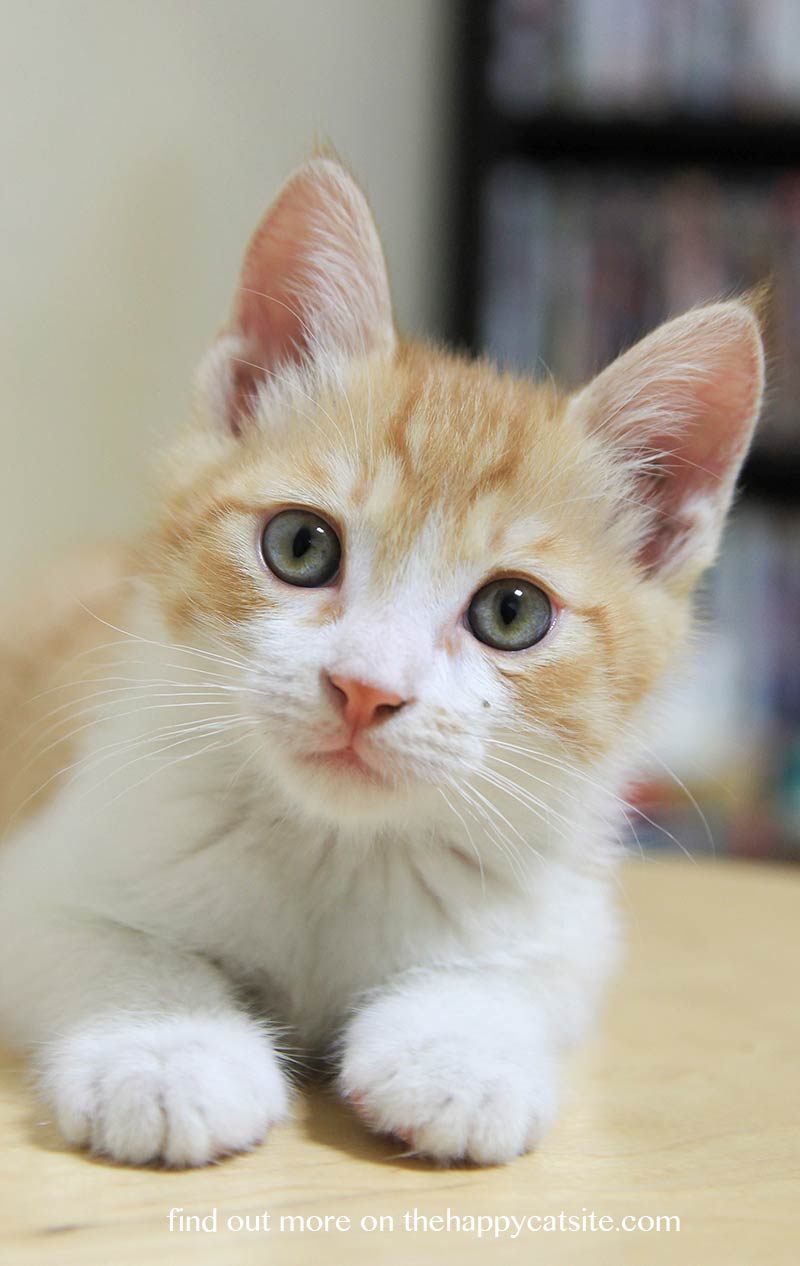 And that's not going to be easy, because when a female cat is in heat, it's all she can think about!
Preventing pregnancy in your female cat
Keep your cat indoors while she is in heat, and keep doors, windows and cat flaps shut.
If you have an unneutered tom cat in the house, keep at least two closed doors between them at all times.
They are going to stop at nothing to try and get to each other!
You might even find that just seeing a tom cat from the window makes your queen in heat louder and more agitated.
If it comes to this, you might find that taping cardboard over your windows starts to look like a really sensible idea.
However, if your cat likes to be outdoors, and you're not planning to breed her later, the most straightforward way to prevent her getting pregnant is to have her neutered. This is also known as having your cat spayed.
Soothing or calming a female cat in heat
If you have decided not to neuter your cat you may be concerned about her welfare and happiness while she is in heat
Even though heat behaviors are completely natural and your cat isn't in pain or distress, it is natural to want to soothe a restless pet.
Some cat owners find that Feliway products help.
They take time to build up in your pet's system though, so start using them from the beginning of spring, rather than waiting until she's already in heat.
Reasons for neutering your female cat
The American Society for the Prevention of Cruelty to Animals (ASPCA) estimates that there are as many as 70 million stray cats in the United States.
Certainly 3.4 million cats enter animal shelters every year, of which 1.4 million sadly have to be euthanized.
The number of cats without a loving home is a very real problem right now. And it has never been more important for responsible pet owners not to contribute to the problem.
The easiest way to guarantee that a female cat won't get pregnant is by spaying. There are also drug treatments which can stop queens getting pregnant if spaying isn't an option.
We'll take a quick look at both methods.
Spaying female cat
Spaying a female cat is a routine surgical procedure performed under total anaesthetic to remove the ovaries and uterus.
Once your pet is spayed, she won't be able to get pregnant, and she won't go into heat either.
There are other health benefits associated with getting your cat spayed.
Spaying protects your pet from uterine infections and breast tumors, which are almost always malignant or cancerous in cats.
When to get a cat spayed
Your vet will be able to advise the best time to spay your pet.
Female kittens can be spayed safely from eight weeks, and spaying your pet before she reaches puberty eliminates the risk of unwanted pregnancy altogether.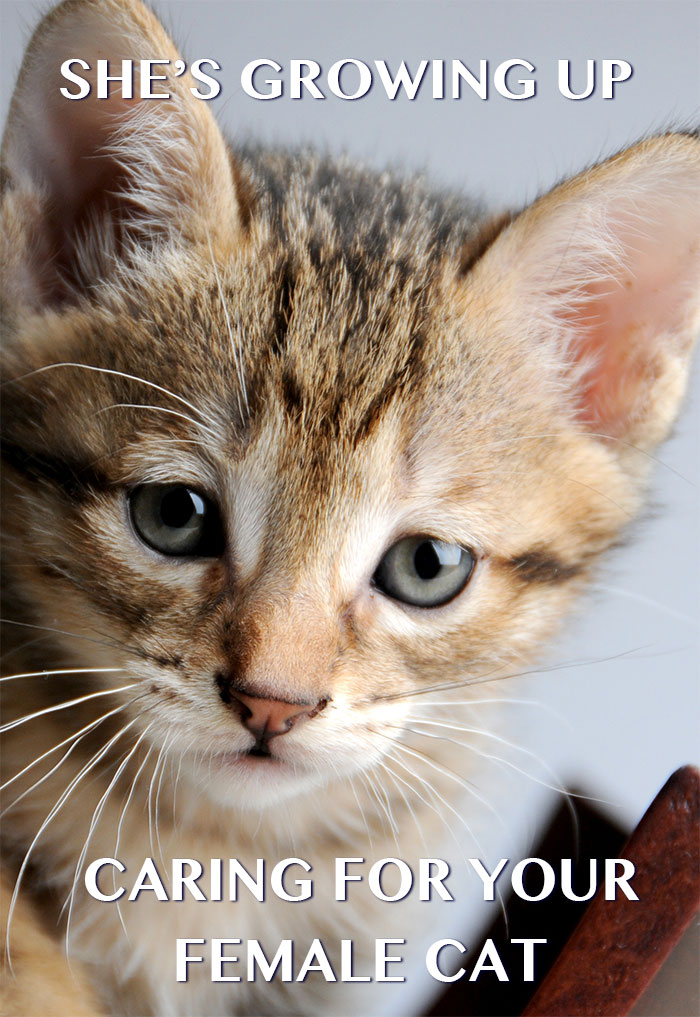 Spaying a cat in heat isn't ideal due to the extra blood flow to her reproductive organs at this time.
Before her first heat, or between heats is better for her. In most cases, a vet can still perform the surgery if your pet has gone into heat on the day of the operation.
This is at the vet's discretion of course, and they will help you decide what's in the best interests of your pet.
Low cost spay programs
With the number of stray cats at an all time high, low cost spaying programs are now widely accessible.
There will still be a small fee though, so it's wise to find out prices in your area and budget for the procedure before you commit to bringing a new pet home.
Drugs to prevent pregnancy in cats and kittens
No kitten should be allowed to get pregnant before she is 18 months old. Until then her body isn't ready for the risks associated with pregnancy or birth.
If you plan to breed your cat in the future, your vet may advise you to use a feline contraceptive pill to stop her getting pregnant in the meantime.
However – like any medicine – these aren't appropriate for every pet, and carry their own risks and possibility of side effects. Your vet will be able to help you decide if they are right for your cat.
Your female cat in heat
Do you have any tips for calming and containing a cat in heat? Or did your kitten go into heat for the first time very early, and catch you by surprise?
Please share your experiences in the comments section below!
Today's article is by Sarah Holloway. Sarah holds a bachelors degree in Zoology and has a special interest in animal behavior and communication
More Cat and Kitten Information
Is it better to get a kitten in summer or winter?
Is my house big enough for a cat?
How to get rid of cat litter responsibly
References
American Society for the Prevention of Cruelty to Animals
Olson, P. N., Kustritz, M. V., & Johnston, S.D., (2001), "Early-age neutering of cats and dogs in the United States", Journal of Reproduction and Fertility, 57:223-32.
Root, M. V., Johnston, S. D., & Olson, P. N., (1995), "Estrous length, pregnancy rate, gestation and parturition lengths, litter size, and juvenile mortality in the domestic cat", Journal of the American Animal Hospital Association, 31(5):429-433.