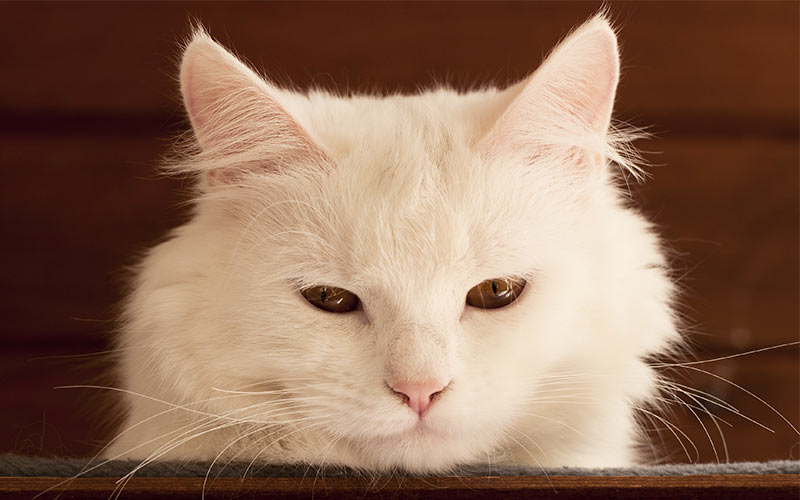 White cat names don't just have to show off their snowy coat. The best names for white cats also give a nod to their personality, your hopes, dreams or even your hobbies! Looking for a name for your adorable new white cat? Then check out our awesome list of the best names for white cats.
Contents
There is just something so special about a pure white kitty! And out of all the white cat names you could choose from, it is only natural that you want to find "the one" that is clearly reserved for your cat and only your cat! We are going to take a look at the best, most interesting, most unique and creative names for white cats.
Cute White Cat Names
All cats are cute. But if you happen to co-habitate with a white cat or a white kitten, you have it on good authority that white kitties are the cutest. And a very cute kitty deserves the very finest selection of cute cat names for white cats and cute names for white kittens! Speaking of which, here are some of our favorite cat names for white cats for your perusal:
Chowder
Coco (short for Coconut)
Misty
Casper (the Friendly Ghost)
Tic Tac (for the tiny white peppermint candy by the same name)
Boo (your baby or the kind with the white sheet – you pick)
Lily
Chilly
Peppermint Patty
Daisy
White Male Cat Names
When browsing through male cat names white kitties will suit, you have any number of options, from cartoon cats to famous ghosts to equally famous gangsters. Your cat's individual personality will ultimately determine which category of boy cat names seems to be the best fit, and then you can refine your search from there.
To help you with this process, we have assembled a variety of white male cat names from different categories. As you study your new cat's unique personality, mannerisms and habits, notice any comparisons you find yourself making in your head.
Like if you find yourself thinking "Wow – the way he just jumped from the floor to the top of his cat tree reminds me of that nature special I just saw where the polar bear did the same thing!" that could be your cue to pursue nature analogies in greater detail until you find your cat's perfect name.
Nimbus (a type of storm cloud)
Bear (as in polar)
Snoopy
Santa Claws (instead of "Claus")
Sirius (after the White Dwarf star with the same name)
Igloo (like the cooler or the ice dwelling)
Abe (after Abraham Lincoln, who is also the most famous ghost said to haunt the White
House!)
Yeti (re: the Abominable Snowman)
Yuki (in Japanese it means "snow")
Female White Cat Names
Ahh….isn't it just the best to have a little white girl cat in your household? Now all that remains is for you to choose from the near-infinite possibilities for white cat names female to find that one name that is a perfect fit for her.
This list of white girl cat names offers several different themes to consider including flowers, gemstones, seasons, celebrities, home furnishings, beverages, languages and more. As you browse through this list of cat names female white, notice if one idea leads to another.
For instance, you might think "oh, camellia – that is a white flower – what other white flowers are there? Okay, daisy, jasmine, gardenia, lilac, lily…." And before you know it, you will discover you have found a name you truly adore for your new little white lady kitty!
Camellia
Kenzie (it means "the fair one" in Scottish)
Savvy (short-form of the white wine sauvignon blanc)
Pearl
January (for the icy cold month or the famous actress)
Daisy
Jasmine or Jazzy for short
Opal
Isa (in the Norwegian dialect this translates as "ice")
China (as in the white dishware, not the country)
Unique White Cat Names
If this is your first time brainstorming your way to choosing the best name for your white cat, you are probably beginning to understand how all those "best name for baby" books came into existence. Choosing the perfect name is hard work and you want and need all the inspiration you can get!
This list offers a selection of fun and unique white cat names that will challenge you to think of new name ideas on multiple levels. Inspiration comes from foliage, seasons, weather patterns, languages, fast food, celebrities and even our galaxy!
Birch (for the white-barked tree by the same name)
Jack Frost (another name for winter, as in the season)
Blizzard (like the weather or the famous Dairy Queen confection)
Blanco (the Mexican word for the color "white")
Vanilla Ice or Robert Van Winkle (after the 1990's rapper by the same name)
Galaxy (like the Milky Way galaxy we live in)
Moscato (a sweet white wine)
Bailey (for the pale delicious liqueur)
Zima (the Russian/Slavic word for "winter")
Flower (a play on words – "flour" is white)
Good Names for White Cats
Sometimes you feel no need to reinvent the wheel when it comes to naming your sweet white kitty. You know your cat will be happy with any name you choose, so you can go with something fresh and new or pick your favorite old standard with no pressure whatsoever!
Here are some wonderful time-honored white cat names that have been beloved for decades. When reviewing the names on this list, you may also want to try out one of our all-time favorite ways to choose a cat name. Start by reading each name on this list aloud and then spending a moment looking at your cat afterwards. If a particular name seems to be a "fit," then try to call her using that name. If she responds, you may have just found your perfect name fit – yay!
Luna
Alaska
Lotus
Angel
Snowflake
Ivory
Star (after the popular children's song "Twinkle, Twinkle Little Star")
Tofu
Storm (after the X-Men character played by Halle Berry)
Cottontail (or Peter Cottontail like the famous rabbit)
White Fluffy Cat Names
What could be more elegant than a sleek white feline slinking by you? Probably nothing, right? But then there is that first glimpse of the fluffalicious white fur ball that is the fluffy white cat. So snuggly! So huggable! You just want to pick him up in your arms and bury your face in all that soft, white fur!
Luckily, you have an equal plethora of wonderful fluffy white cat names to choose from, whether you take one of the names on this list as-is or use the list as a jumping-off place to create your own unique kitty name.
Cottonball
Powder Puff
Snowball
Nimbus (like the white fluffy rain cloud)
Marshmallow
Snuggles
Creampuff
Furby
Fluffernutter
Snow White
Cool White Cat Names
A dog on her best day could only hope to pull off the regal bearing of a cat on her worst day. This is just the cool, calm, collected nature of a cat in repose. These cool white cat names may just do the trick of capturing the full force of the cat-o-logical coolness of your new feline family member.
Ice Man
Ice T
Pale Rider (from the Clint Eastwood movie by the same name)
Panda Bear
Wizard or Gandalf (from the Lord of the Rings series)
Purrfect (Ceelo Green's cool and calm white cat)
White Lightning
Zuri (the Albanian word for "white")
Elsa (the chilly princess who turns everything white and icy)
Samurai Jack (from the white coat-wearing sword-wielding cartoon character by the same name)
Celebrity White Cat Names
Simone (Audrey Hepburn's white cat)
Malcolm (Mia Farrow's white cat)
Senior Kittizen (Regis Philbin's white cat)
Little Man (Cameron Diaz's white cat)
Pebbles (Susan Boyle's white cat)
Olivia Benson (Taylor Swift's white cat)
Choupette (Karl Lagerfeld's white cat)
Edward (Alia Bhatt's white cat)
Miu Miu (Jacqueline Fernandez's white cat)
Mr. Fluffy Pants (Kesha's white cat)
White Kitten Names
If a white cat is cute, a white kitten is cuter. In fact, sometimes the sheer "cuteness factor" of a little white kitten can even get in the way of choosing a name that will grow with your white kitten as she transforms into a regal adult white cat. For this reason, this list has a selection of names that will sound cute when calling a kitten and mysteriously intriguing when calling an adult cat.
Bianca (means "white" in Italian)
Finn (for "Fionn" which means "fair" or "white" in Irish)
Blackie (heehee)
Alba (it means "white pearl" in Latin/German)
Shiro (the Japanese word for "white")
Toby (for "tohbi" which means "white" in Choctaw)
Private Garlic (from the movie "Good Morning Vietnam" and the white vegetable)
Hannah Banana (after the near-white fruit by the same name and the popular blonde
television celeb)
Pingu (the white cartoon penguin)
Dandelion
Names for White Cats with Blue Eyes
White cats who also have blue eyes that stay blue into adulthood are particularly rare and visually striking. The combination of white fur and blue eyes can only arise under a specific set of genetic circumstances.
The white color gene is actually considered a color-masking gene, which means that when the white gene is present as a dominant gene, it will mask other colors. Even more interestingly, this gene is ultimately expressed when there is a need to protect a cat from exposure to cold weather and the threat of frostbite.
In these cats, the dominant white gene will prevent the expression of color in any area of the body that needs to stay warm (such as the torso, head and chest). But the eyes can still be colored. Here, the white gene will mask all other colors except the underlying blue of the iris, which will result in a cat having blue eyes into adulthood.
Complex feline DNA mechanics aside, a cat with white fur and blue eyes may evoke in you a strong desire to find a name that references such a unique and beautiful coloration. You may find inspiration in these names for a white cat with blue eyes.
Celebrity White Cat Names
Frank or Sinatra (after Frank Sinatra, the singer who was nicknamed "Ol Blue Eyes")
Sherlock (the fictional character was said to have heterochromia, or two differently colored eyes)
Benedict (after Benedict Cumberbatch, the movie star who plays Sherlock in the series and actually has two differently colored eyes in real life)
Taylor (after Taylor Swift, the blue-eyed, blond-haired singer who loves cats)
Sapphire
Azure
Bluebell
Blueberry
Churchill (a popular brand of fine china that features several well-known blue and white china patterns)
Glory (after the Morning Glory, one of only a handful of flowers with a naturally-occurring blue hue to its blossoms)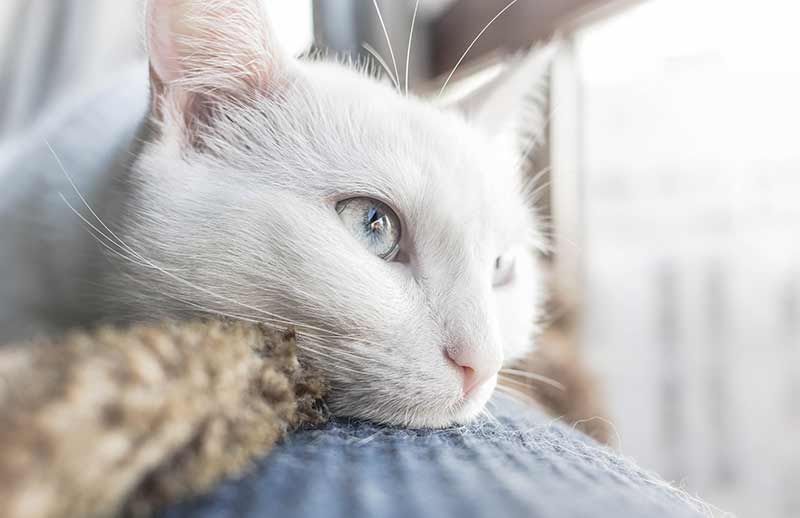 Best Names for White Cats
Sometimes there can be such a thing as "over-thinking" your new feline family member's name. And if you notice yourself feeling anxious, stressed or pressured in any way by the name-choosing process, this is a sign you need to take a break.
Just go do something else for a while and give your brain a rest. Engage it in listening to music, watching a program, playing a game, going for a walk, doing some work, cooking dinner or something else.
Chances are good that while your brain is resting consciously it will also be subconsciously organizing your favorite name options to produce "the one." And that is usually the moment when you will wake up from a dream in which you named your white cat or you will suddenly find yourself singing out your new white kitten's name in the shower.