Tuesday 1st November: Billy is ten weeks old today!
Billy now has full run of the house, apart from our bedroom.
I have to wait another ten days for my allergy test and standard advice for anyone that might have a cat allergy is to create a zone of at least one room, usually the bedroom, where the cat is never permitted to go.
So that is what I have done for now.
The idea is to allow the cat allergy sufferer (if that is what I am) a sizeable block of time (ie overnight) in a space with fewer allergens in it.
I am pretty itchy and puffy today, and I'm hoping that cutting down my antihistamines isn't going to be a problem..
Ten week old kittens love to explore!
Billy had fun exploring on of our small bedrooms today. We have five bedrooms, but my children are all grown up now, and unless my son is home from university for a while, or my grandchildren are staying, they are empty.
One particular bedroom I use for doing my ironing.
Billy was interested in the hiss of the steam iron and sat on the floor quietly watching me for a while before thoroughly investigating under the bed..
Then he went to give the big fern in the bathroom a bit of a bashing.
Kittens love jumping and scratching
Billy is really enjoying his new found freedom, especially the sitting room – there is a log basket to play in, and lots of surfaces he's allowed to jump on – the sofa, the coffee table, the windowsill, bookshelves, the TV cupboard.
And from which he can survey his new territory.
Kittens and all cats need to stretch out their claws and scratch on a surface they can grip onto.  If you don't want them to scratch your furniture and carpets, you need to provide them with special scratching posts.
Billy has a scratching post in my office, but he doesn't seem to scratch very much at all yet. So far he's made no attempt to scratch the chairs, but if he does, I'll put a scratching post in here too.
What do ten week old kittens eat?
This is what Billy has had to eat each day this week
7:30 am A generous 1/3 of a 3 and a half ounce (100g) can of Lucy's kitchen – so about 1 and a quarter ounces  (35g)
11 am Three heaped teaspoons of Thrive Kitten food – this is more than half a two and half ounce (75g) can so just under an ounce and a half  (40g)
2:30 pm 1/3 of a  can of Lucy's kitchen
11 am Three heaped teaspoons of Thrive Kitten food
So he's getting a total of about 5 and a quarter ounces of wet food altogether in a day.
That's a little less than an ounce and a half (40g) a day more than last week.
Billy looks in good shape, not plump but not thin, but he is always hungry and clearly growing fast, so I am increasing quantities steadily. He also gets a little kibble for training treats.
How much do ten week old kittens weigh?
We weighed Billy on a better set of scales this time, as last time I weighed him he fell out of my old kitchen scales and wasn't keen to go in them again!
He came out at just under two and a half pounds (1.1 kilos).
I know he is bigger than last week so I'm guessing our rough and ready previous measurement was slightly over estimating his weigh at nine weeks
The vet will probably weigh him on some more accurate scales, when he is vaccinated in a couple of days time
How much do ten week old kittens sleep?
Billy sleeps a LOT. Mostly on my lap. More and more he is reluctant to sleep anywhere else.
It sounds so ungrateful because I longed and wished for a friendly little cat who would sleep on my lap sometimes.
But ALL the time can be just a little bit much. And if I am honest, I do worry about my face swelling up when I am so close to him for so long
However, Billy is not easily distracted from his aim and if he wants to sleep on my lap, well that's what he does.
He plays for maybe an hour or so after each meal, and the rest of the time, he sleeps.
What else do ten week old kittens do?
When he is awake, Billy is very lively and very, very quick. He likes to race up and down the stairs, up and down the dining room and to leap from chair to chair in the living room.
He is increasingly warm and friendly towards Tess, my old Lab.
Not rubbing against her yet, but patting her face softly with his mittens on when she licks him, and greeting her with a friendly raised tail
He thinks Meg, the busy spaniel, is great fun and likes to chase her around the house. He remains a little wary of Rachael, rightly so as she is so bouncy, but I'm hoping that they will be fine eventually.
Billy is already very good at jumping.
His judgement isn't perfect yet and he sometimes launches himself onto a chair or a lap and misses completely. But he is getting stronger and more agile every day
He love ambushing people and dogs and often lies in wait behind doors or around corners, to surprise us.
Ten week old kitten vocalisations
Billy makes some wonderful sounds now. He gives a piercing 'feed me I'm starving' meow when he sees me preparing food or when I give my food whistle.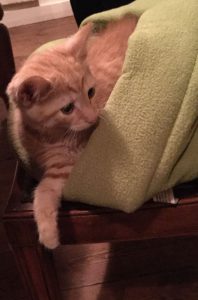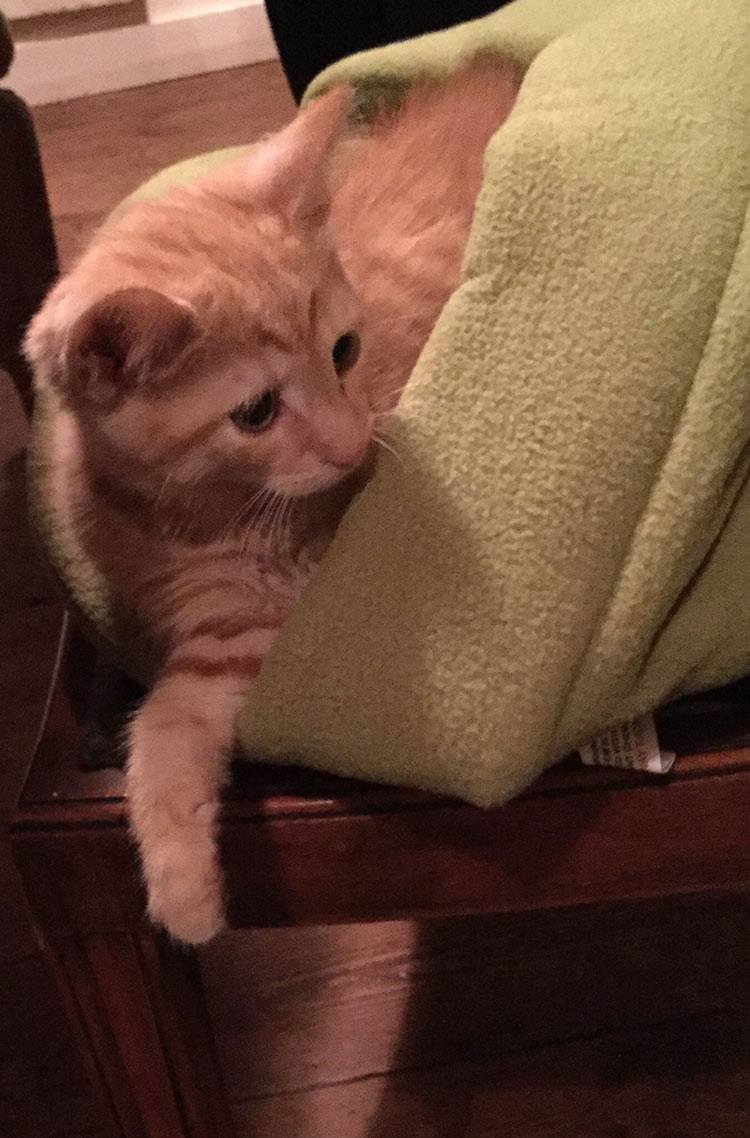 But when he's on my lap he often stares at my face and chirps away at me in a most distinctive way.
This chirping is a sound our old cat used to make occasionally when watching birds through the window.
I've not heard a kitten do it before. But Billy really seems as though he's trying to have a serious conversation
I can't tell you how enchanted we are with this perfect little cat!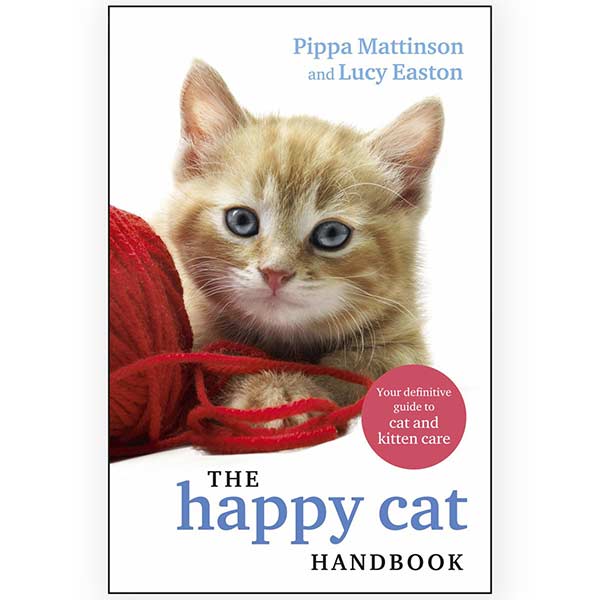 Continue reading Billy's Blog..
Free Updates For Cat Lovers!
Our cat care articles, tips and fun facts, delivered to your inbox
Your Amazing Cat!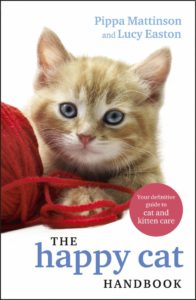 We are so excited to share our new book with you!
If you have enjoyed your visit to The Happy Cat Site we think you'll love The Happy Cat Handbook.
Written by the founders of this website including the author of the hugely successful Happy Puppy Handbook, it's packed with cat care information and fascinating cat facts.
Grab your copy today!
Free Updates For Cat Lovers!
Our cat care articles, tips and fun facts, delivered to your inbox