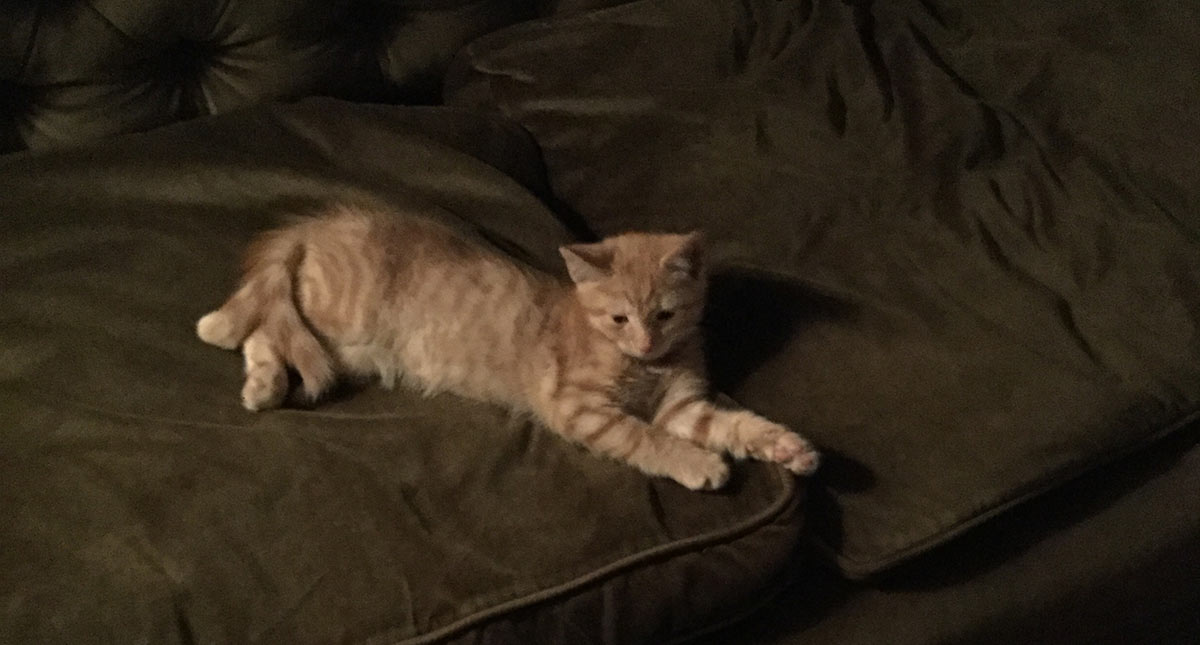 A 10 week old kitten has usually firmly found his feet in his new home. He will weigh around 2.5lbs, and he visibly bigger than he was two weeks ago. Although still sleeping a lot, he will be even more active. And more likely to get himself into mischief! Caring for a kitten at this age is a lot of fun, but it can be exhausting so today I'll share everything you need to know in a quick and easy to follow way.
Contents
What Do Ten Week Old Kittens Eat?
At this stage you might have settled on a wet kitten food, dry food, or a combination of both. It's totally fine either way, although there are pros and cons to each choice.
What is important is to pick brands that include a high protein and fat content, and low carbohydrates. This will help to promote their healthy growth, and support their natural carnivorous origins.
Feeding Schedule
This is what our kitten, Billy, had each day at 10 weeks old.
7:30 am A generous 1/3 of a 3 and a half ounce (100g) can of Lucy's kitchen – so about 1 and a quarter ounces (35g)
11 am Three heaped teaspoons of Thrive Kitten food – this is more than half a two and half ounce (75g) can so just under an ounce and a half (40g)
2:30 pm 1/3 of a can of Lucy's Kitchen
11 am Three heaped teaspoons of Thrive Kitten food
So he's getting a total of about 5 and a quarter ounces of wet food altogether in a day. That's a little less than an ounce and a half (40g) a day more than the previous week. Billy looked in good shape, but he was always hungry and clearly growing fast at that stage.
I increased quantities steadily, and if your kitten is the same you can do the same too. After each meal you will probably find they play for an hour or so, and then have a good nap. And at this stage, those naps are often a bit of a blessing.
Growth and Development
Your busy little kitten is busy learning everything about the world around them. And that good diet will support them as they grow.
How Much Do Ten Week Old Kittens Weigh?
At 10 weeks old you can expect your kitten to weigh around 2.5 lbs. But there will be some variation in this, and anywhere between 2 and 3 lbs is fine. Your kitten should be a little bigger than last week, but not too much. And their behavior will be changing too.
10 Week Old Kitten Behavior
If your kitten has been home for a couple of weeks, he's likely to have the run of the house by now. That means lots of rooms to explore, and gaps between furniture to inspect.
Pot plants should be kept a close eye on, in case they are used as a toilet! And any escape routes into the outside world need to be kept firmly closed.
You'll be amazed by the places kittens this age can find fun. Leaping in and out of baskets, and wiggling themselves into seemingly impossible spaces. They also love any high up surfaces, from which they can survey their new territory.
Tiny Athletes!
When awake, your kitten is likely to be very lively and very, very quick. Racing up and down the stairs, around the kitchen, and leaping from chair to chair.
At 10 weeks old kittens are already very good at jumping. Their judgement isn't perfect yet, so sometimes they will miss their target completely! But they are getting stronger and more agile every day.
Watch out for ambushes too! They enjoy laying in wait behind doors or around corners, to surprise their human family.
Ten Week Old Kitten Scratching
With new places comes new potential for problems. Kittens and all cats need to stretch out their claws and scratch on a surface they can grip onto.
If you don't want them to scratch your furniture and carpets, you need to provide them with special scratching posts. Corrugated cardboard cat scratchers go down well too. It's a good idea to have a few toys to distract them when they get spiky.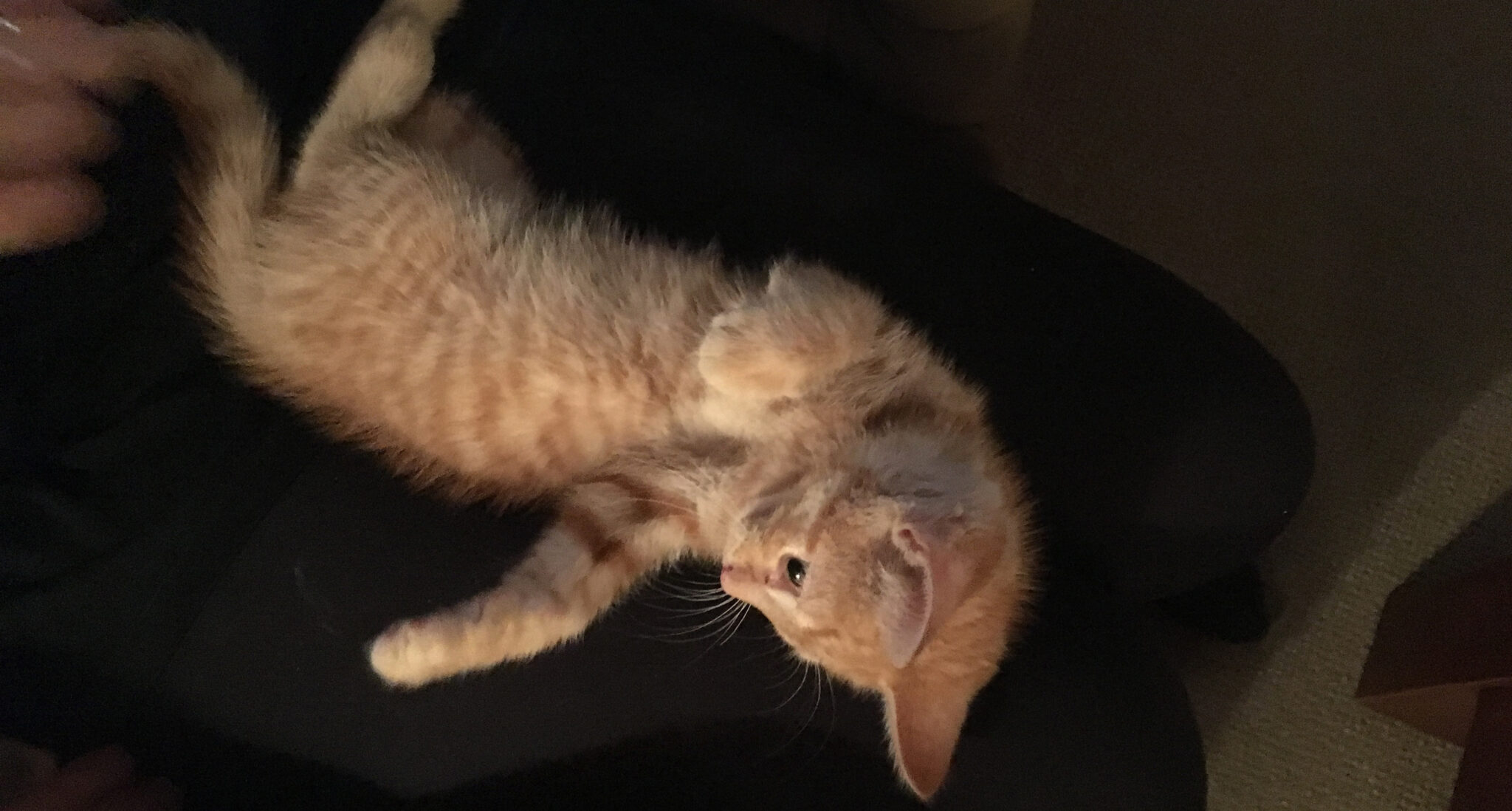 Sleep and Cat Naps
10 week old kittens sleep a LOT. Mostly on your lap. In fact, at this stage they might well be reluctant to sleep anywhere else! Make the most of this lovely bonding time, if you can. Many cats sadly do grow out of wanting to sleep on your lap once they're a few months old.
Noises and Sounds
Kittens make some wonderful sounds around this age. A piercing 'feed me I'm starving' meow when they see you preparing food.
Try not to reward these cute noises too much, however adorable they might be. You could end up with an overly vocal adult cat if they realise 'meow' always equals a treat!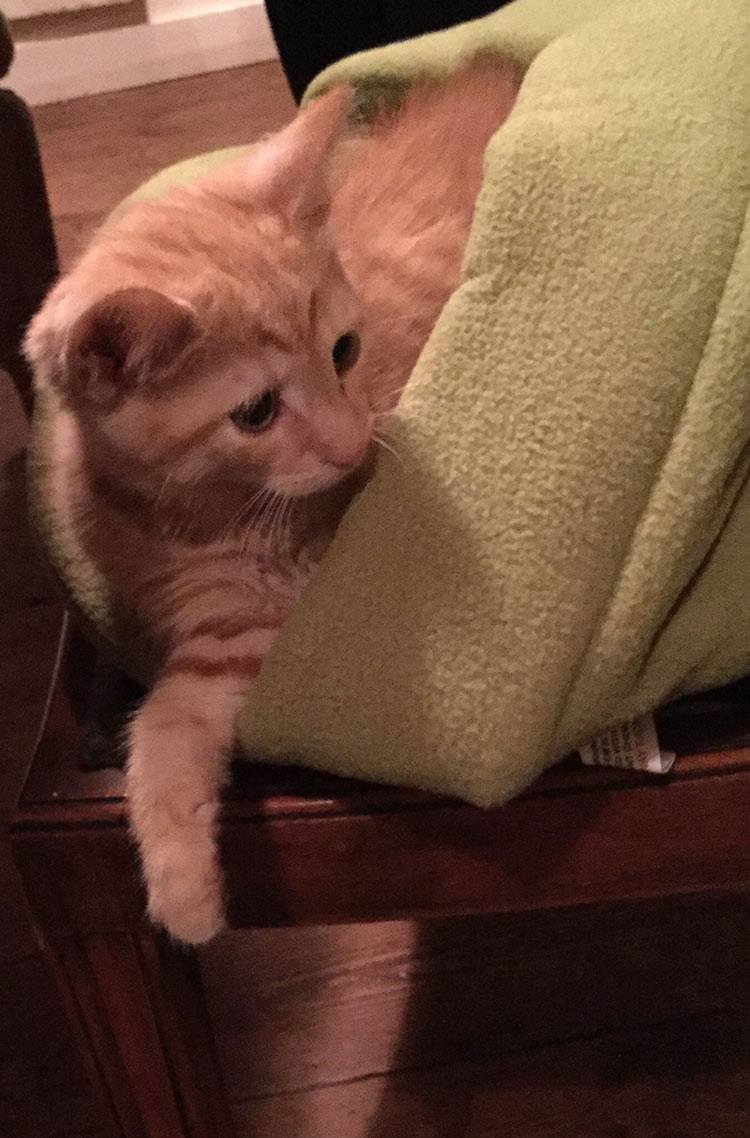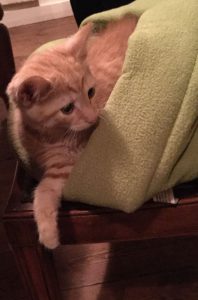 You might also find your kitten chirps! This communicative noise is usually associated with hunting, but makes a really fun accompaniment to their cuddles when young.
Your 10 Week Old Kitten
By now your kitten will have hopefully settled firmly into your home. Don't worry if she's very lively, scratchy and even biting. These are all perfectly normal kitten behaviors, and she'll soon grow into a calmer adult cat.