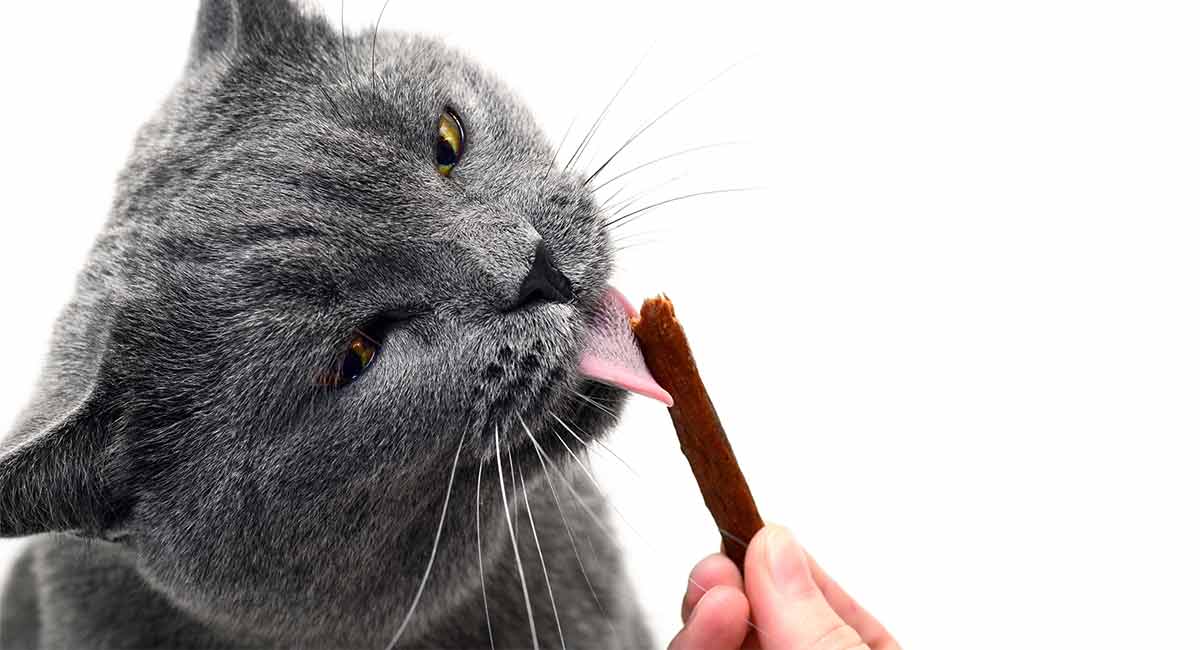 If you have searched online for the best cat treats, you have probably realized there are dozens of options available.
You may have a few questions about all of those treats and how many it's safe for your cat to eat in a day.
If you have old and young cats at home, you might also wonder whether treats for adult cats are safe for kittens.
So, when you are in the mood for a bit of spoiling, what should you do?
Well, you should read on and let us help you with this kitty treat conundrum!
Are Cat Treats Good For Cats?
Cat treats are a staple of every animal supply store, and you can't walk down the pet food section of your local grocery store without eyeing at least a dozen options.
But, are the best cat treats even good for your feline?
The answer to this question is a complicated one.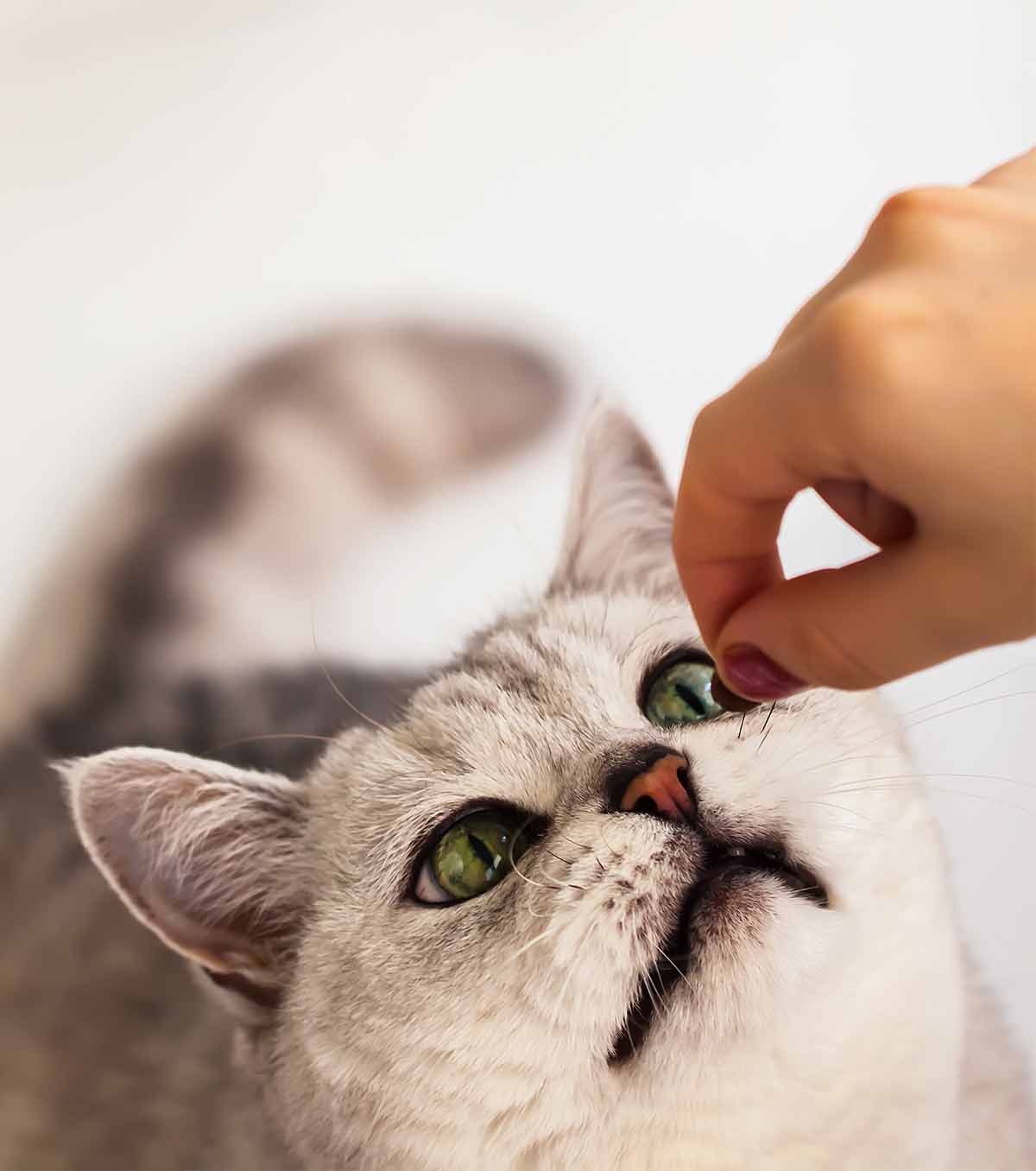 Cat treats, as the name suggests, are treats to be given to your feline as a sometimes food or an occasional special item.
Cat treats are not bad, if they only make up a small part of your cat's overall diet.
However, the ingredients in many treats are not as healthy as they could be.
Just like the potato chips or ice cream you pick out for yourself, cat treats are often high in calories and fillers.
These filler ingredients include fat, carbohydrates, and artificial flavors.
Finding Healthy Cat Treats
Cat treats are often high in fat because fat smells and tastes especially appealing to felines.
And fat has an important place in a healthy cat diet (indeed our cats need a far higher proportion of dietary animal fat than we do), but too much of it can lead to weight gain.
This means too many cat treats can easily lead your feline down the path of obesity.
In fact, research shows that the frequency of treat feeding is one of the main factors contributing to obesity in cats.
Obesity can lead to diabetes and other health conditions like urinary tract infections, respiratory disorders, and skin conditions.
However, treat-giving is also an important aspect of the human-animal bond, so as long as they are kept to a minimum it can be possible to enjoy them and use them as part of training or indulging your pet.
To keep them as guilt-free as possible, try to find cat snacks which are high in protein and only contain modest amounts of fat and other fillers.
Can Kittens Have Cat Treats?
So, adult cats can have a limited number of treats, but what about kittens?
Kittens can have treats too, but they should be limited to about 10% of their diet, like adult cats.
Since kittens are growing at a rapid rate, it's especially important they don't fill up on low-quality snacks at the expense of the vitamins, nutrients, and amino acids they really need.
The good news is there are a wide variety of treats made for young and growing felines!
Soft cat treats are the best option in most cases due to your kitten's delicate teeth.
So without further ado, let's look at some of the best cat treats to reward your cat with.
Cat Treats For Dental Health
A great way to make cat snacks virtuous is to choose ones which actually encourage feline health.
Greenies Feline Dental Cat Treats
Greenies Feline Dental Cat Treats are harder than a lot of other varieties, but this helps to scrub and scrape the tartar and plaque from the teeth.
While your cat chews on the fish, chicken, or beef flavored morsels, bad breath is reduced and so are cavity and dental disease risks.
These dental cat treats are made with natural ingredients, so they are a good addition to a healthy diet.
Vitamins and minerals are also included to encourage overall health.
Virbac C.E.T. Enzymatic Oral Hygiene Chews for Cats
These oral hygiene chews are another wise oral health choice.
They are hard like the Greenies treats to mechanically remove plaque, and they also have enzymes that help to eliminate the cavity causing bacteria in your cat's mouth.
You can choose from two different types of freeze dried cat treats; poultry and fish.
Healthiest Cat Treats
"Healthy" is a relative concept when it comes to most snacks, but these are the treats which most closely honor the nutritional needs of our feline pals.
Blue Buffalo Wilderness Soft-Moist Grain-Free Cat Treats
If you are looking for natural cat treats as well as weight conscious goodies, then consider Blue Buffalo Wilderness Soft-Moist Grain-Free Cat Treats.
These treats contain no artificial colors, flavors, or preservatives.
No corn, soy, or wheat are added to this product, and the treats are soft ones, which are a great choice for senior felines.
The Blue Buffalo treats are made with real meat and contain 28% protein with chicken, trout, salmon, or turkey listed as the first ingredient on the packaging.
Since cats are obligate carnivores and require a great deal of protein in their diets, these treats are a healthy high-protein choice, as long as only one or two treats are provided on a daily basis.
If you have an older cat with brittle teeth, then the soft chews are a good choice.
However, if your feline enjoys more crunchy snacks, then try out the Blue Buffalo BLUE Kitty Cravings Crunchy Cat Treats instead.
Catnip Treats
If your feline goes nutty for catnip, then you may be looking for a special treat that combines your cat's favorite plant with your desire for a more traditional treat.
Temptations MixUps Cat Treats
Temptations MixUps Cat Treats combine several flavors together, like chicken, catnip, and cheddar.
Catnip powder is one of the ingredients in these treats.
Just like the plant, the powder contains the same fourteen unique chemical compounds that research has identified to create the "catnip response."
The catnip treats are low-calorie like other Temptations treats.
However, if you want a treat that can also assist with oral health, then try the Greenies FELINE Dental Cat Treats in catnip flavor.
Cat Treat Sticks
Some cats like to chew on foreign objects due to boredom, genetic predisposition, stress, a vitamin deficiency, or simply because they like how it feels.
Felines will sometimes chew to mimic the feeling of gnawing on meat or because they like massaging the gums.
Cat treat sticks can be a rewarding way for your cat to follow these instincts.
SHEBA Meaty Tender Sticks Cat Treats
If you are interested in giving your feline cat stick treats, then SHEBA Meaty Tender Sticks Cat Treats are a popular option.
These treats are single-packaged sticks made from real meat.
Whitefish, salmon, tuna, beef, turkey, and tuna are the available flavors, and each stick is a single, daily serving for your cat.
Let your cat gnaw on the entire stick or use the indentations to rip off small sections for your feline.
Malier Cat Catnip Natural Matatabi Chew Sticks
If your cat is a chewer, then he may also like the Malier Cat Catnip Natural Matatabi (Silvervine) Chew Sticks.
These sticks are made from the silver vine or Actinidia polygama plant.
The wood of the plant is used in Japan as a stimulant, much like we use catnip in the United States.
Research shows that 80% of cats respond to silver vine, while only two out of every three cats respond to catnip.
So, if your cat seems to ignore catnip, then give these matatabi sticks a try.
Cat Calming Treats
If your feline has an anxiety issue or if you simply want to see him slow down a bit, then silver vine probably should not be on your shopping list.
But some cat treat manufacturers claim to have treats which will soothe your cat as well.
Pet Naturals of Vermont – Calming, Behavioral Support Supplement
As a supplement, you can try Pet Naturals of Vermont – Calming, Behavioral Support Supplement.
Unlike other treats where a small handful can be freely given, these small chewables are best reserved for stressful situations.
So, use them if you need to travel to the vet or if you are having company over.
The supplements contain a variety of amino acids, vitamins, and other natural ingredients that can aid in calming your pet.
While the treat can be helpful in reducing stress, it is not meant to replace medical care or professional treatment if your feline has a diagnosed condition, so make sure to speak with your vet before adding the treats to your pet's daily regimen.
Best Cat Treats
There are an astounding number of cat treats on the market currently, with every kind of chewable, dental health, and treat stick option that you can think of.
If you are having a hard time choosing the best treat, then take one of our suggestions.
However, keep in mind that treats should be given sparingly and always with your veterinarian's blessing.
Of course, the best cat treats are also the ones that your cat adores and hounds you for on a daily basis, so think about trying a few options (or a few dozen!) until you find the one that really speaks to your feline.
Do you have a cat that chases your around the house for his cat treats or are you looking for the perfect goodies for your special needs cat?
Let us know in the comments below.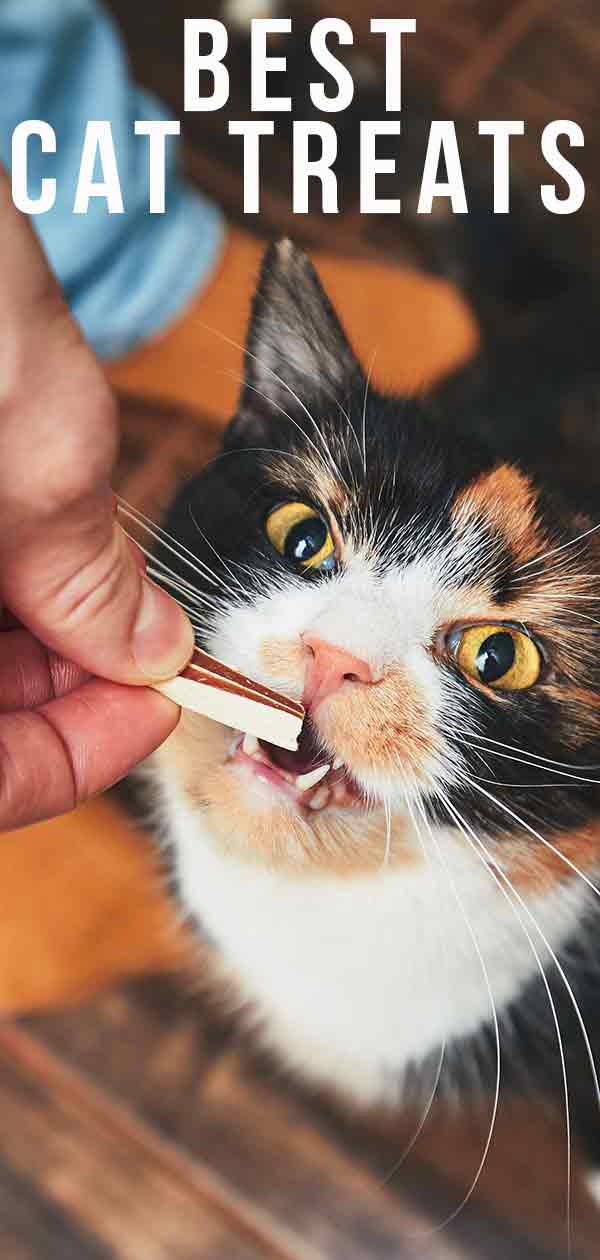 References
Russell K, Sabin R, Holt S, Bradley R, Harper EJ. Influence of feeding regimen on body condition in the cat. J Small Anim Pract. 2000 Jan;41(1):12-7.
Malin Öhlund, Malin Palmgren, and Bodil Ström Holst. Overweight in adult cats: a cross-sectional study. Acta Vet Scand. 2018; 60: 5.
Arthur O. TuckerSharon S. Tucker. Catnip and the catnip response. Economic Botany April 1988, Volume 42, Issue 2, pp 214–23.
Villeverde et al, Macronutrients in Feline Health, Veterinary Clinics: Small Animal Practice, 2014.