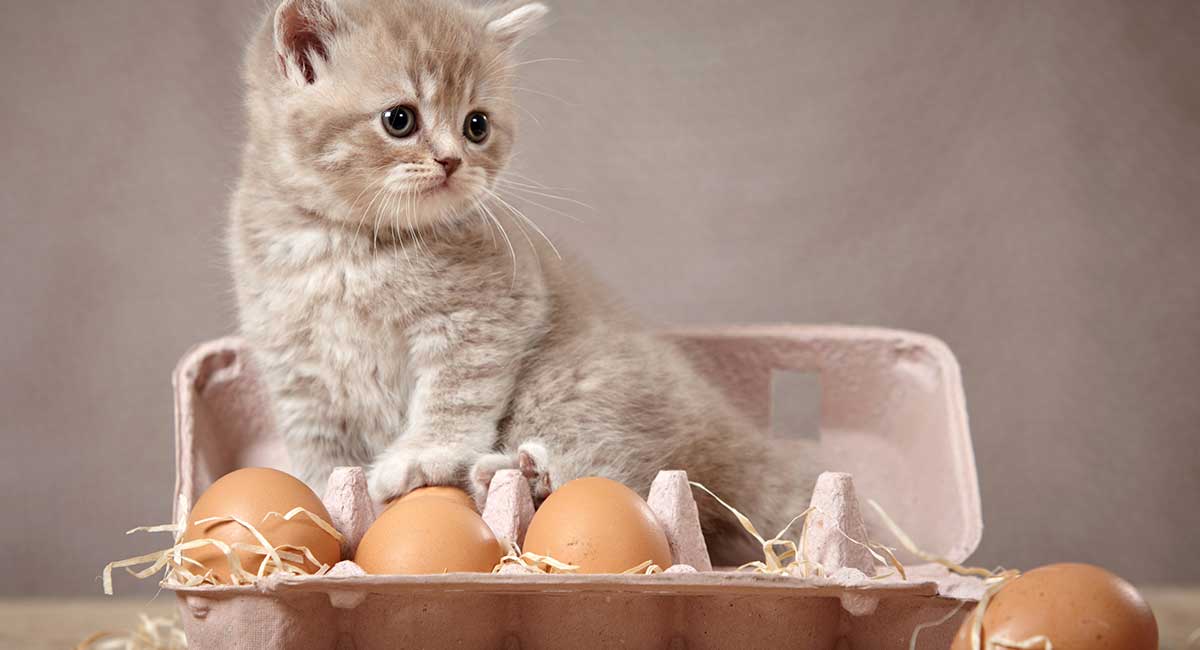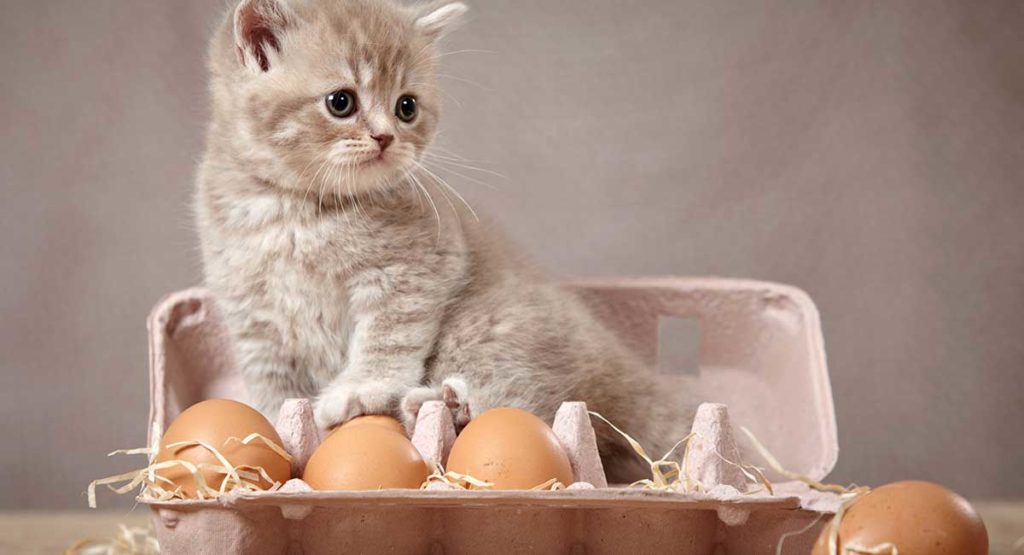 Can cats eat eggs?
Cooked eggs are a safe treat for your cat if they enjoy them.
Cooking eggs thoroughly protects your cat from dangerous bacterial poisoning.
But eggs lack some of the vital proteins cats need to survive, so they should never form a significant part of your cat's diet.
Let's take a closer look at eggs and cats.
Can Cats Eat Eggs?
You know that eggs are a good protein source for humans. But can cats eat eggs? After all, your cat is your best friend, so you want her to have the best nutrition possible.
Today, we're going to look at this question. Like all animals, cats do have specific dietary needs, and their bodies are built for certain types of foods.
There's a short answer, of course, and that is: Yes. Cats can eat eggs, but in moderation. And there are some things about eggs that you'll still have to be careful about.
And with so many types of eggs on the market, you'll need details! Read on to find out more about eggs and your cat's food needs.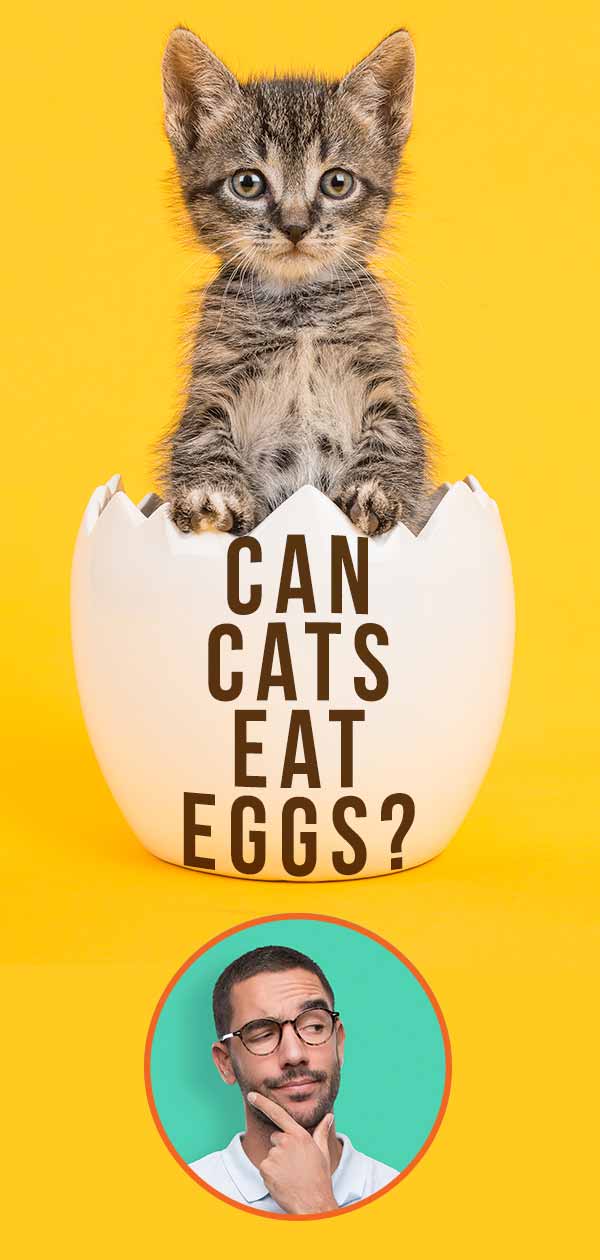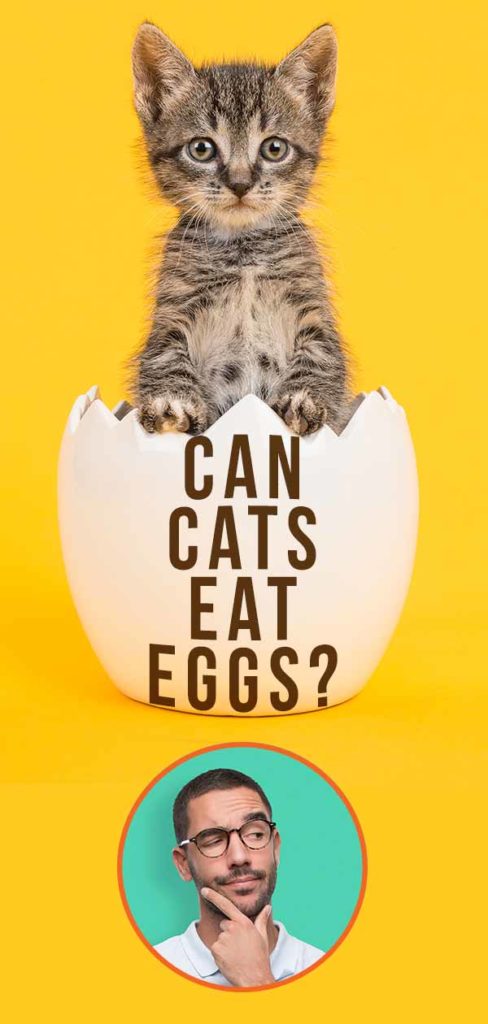 Where Do Eggs Come From?
Eggs, as you probably know, are laid by chickens. They are a hard-shelled carrier used in chicken reproduction (and that of other birds), but they have not been fertilized when they are sold for human consumption.
Most eggs include a few familiar parts: the shell, which protects the contents of the egg; the yolk, which supplies the nutrients necessary for the development of an embryo; and the albumen, which includes the eggwhite layers. There is also a membrane just inside the shell that you've probably had to peel off.
Eggs come from chicken farms. California, Texas, Iowa, Indiana, Ohio, Pennsylvania, Georgia, Michigan, Arkansas, and North Carolina are the biggest egg-producing states in the U.S.
According to United Egg Producers, there were 328 million commercial laying hens in the U.S. in 2018 and egg production totaled 95.3 billion eggs that year! And in 2018, 279 million eggs were consumed. That's a 16 percent increase over the past 20 years.
Over the years, people have come to be concerned about the conditions of egg-laying hens. The standard is a conventional cage environment, but there's a growing demand for organic, cage-free chicken eggs. As of 2019, almost 20 percent of chicken eggs produced in the U.S. are organic and cage-free.
So let's get back to the question "can cats eat eggs?".
What Are The Benefits Of Eating Eggs?
We eat eggs because they are a good source of protein and healthy, unsaturated fats. They carry good amounts of vitamins A, B5, B12, D, E, K, and B6.
They also provide folate, phosphorus, selenium, calcium, and zinc, which are all minerals we need.
Eggs help raise our good cholesterol, or high-density lipoprotein, levels. They also provide choline, which is great for cell membranes and brain signaling functions.
Additionally, eggs have lutein and zeaxanthin, antioxidants that assist in eye health. Some also have omega-3 fatty acids.
What Is A Natural Cat Diet?
Can cats eat eggs as part of their natural diet? Cats are obligate carnivores. This means they need meat to survive. They are not adapted to digest plants, and they are not omnivorous, like dogs.
One amino acid that cats need is called taurine, and they cannot produce this themselves. Taurine is found in animal sources and not in plant sources, which is another reason why cats must eat meat. A taurine deficiency in cats can lead to fatal heart issues, among other problems.
Cats need a high-protein diet, mostly free of carbohydrates. Their diet should include amino acids such as arginine, methionine, lysine, tryptophan, phenylalanine, and taurine.
They also need omega-3 fatty acids and minerals such as calcium, sodium, chloride, and magnesium, and vitamins such as vitamin A, vitamin D, vitamin E, and vitamin B6.
Your cat's food should also include a good amount of moisture; their natural foods usually provide a good source of water.
What About A Raw Diet?
A cat's natural diet includes raw meat, but you should be careful of introducing this kind of diet. Pets on raw diets have been known to have health issues as a result of bacterial contamination and other factors, such as the presence of bones.
Cow's milk is not well digested by cats, and they can experience digestive troubles and skin irritation as a result.
Can Cats Eat Raw Eggs?
Cats can eat a raw egg yolk occasionally, as a treat, but not raw egg white. The whites include a protein called avidin, which binds to B vitamins (like biotin) and makes it harder for cats to absorb them.
Many vets recommend cooked eggs, though, because heated eggs are less risky in terms of bacterial infection.
Additionally, cooking neutralizes the effect of avidin, so you can feed a cat cooked egg white.
Can Cats Eat Organic Eggs?
Organic eggs come from chickens raised in cage-free environments with outside access, fed a diet without synthetic pesticides, and managed without antibiotics or hormones.
Organic standards, however, like cage-free and free-range standards, vary widely from farm to farm. There's no good way to know how humane or nutritious an egg is without finding out on an individual basis.
It is possible that organic eggs have more nutrients than other kinds of eggs. A 2010 study out of Penn State University showed that certain organic eggs had 23 percent more vitamin E, 38 percent more vitamin A, and 2.5 times more omega-3 fatty acids than conventionally-grown eggs.
However, there's currently no scientific consensus over whether organic eggs are actually better nutritionally. Some studies say there's not enough difference to affect anyone, others say there is.
Like humans, cats may benefit from eating organic eggs, under the right, safety-oriented conditions.
Can Cats Eat Cage-Free Eggs?
Eggs from cage-free chickens are not measurably different from factory-farmed eggs.
The most important thing to look for, whichever type of egg you buy, is the USDA inspection mark in the US, or the lion mark in the UK.
These tell you the eggs have been pasteurized to kill off dangerous bacteria. That makes them the safest choices for your cat.
Eggs from cage-free chickens are fine for cats under the above conditions.
Can Cats Eat Free-Range Eggs?
Eggs from free-range chickens come from animals that do have access to the outdoors, but it depends on the individual farm how often they actually get to go out.
Eggs from free-range chicken are fine for cats. But just like other eggs, they should only be given on an occasional basis.
Can Cats Eat Pasteurized Eggs?
Pasteurized eggs are safer for people and cats when raw because they have been heated to destroy bacteria.
However, they might have lower amounts of certain B vitamins that are sensitive to heat, such as riboflavin, thiamin, and folic acid.
If you are feeding your cat eggs that are cooked but runny, like soft-boiled or sunny side-up eggs, using pasteurized eggs is a better bet.
Are Eggs Good For Cats?
So, we know cats can eat eggs. But are they actually good for cats?
Based upon their nutritional needs and the makeup of eggs, eggs can provide a good source of nutrients for cats.
Eggs include water, energy, protein and 10 amino acids essential to a cat's ideal diet. Note, however, eggs do not include taurine.
Eggs can provide a good percentage of what cats need, such as 21 percent of their daily protein needs, 12 percent of calcium, and 9 percent of iron. They also have B vitamins that cats need.
Veterinarians say that feeding eggs to your cat occasionally is fine, if you keep the amount in moderation.
And they also recommend keeping raw egg whites out of it, because of avidin.
Are Eggs Bad For Cats?
The answer to this question is no, just as long as you don't make it a part of your cat's daily diet. They are high in calories, so feed them only as a treat.
Consider that each egg has about 77 calories, and your 10 pound cat only needs about 200 calories per day to maintain his weight (20 calories per pound). One egg is almost half of your cat's daily food needs!
Also consider bacteria issues. Fresh eggs, even uncracked ones, can have salmonella inside them. Preparation and improper storage can influence this as well. Salmonella and other food-borne bacteria can be removed if you cook eggs until they are hard, however. Runny eggs may still allow salmonella to survive.
As we mentioned above, raw egg whites have a protein in them that presents B vitamin absorption.
So, the verdict is that, while eggs can offer some good nutrition for cats, they must be fed thoughtfully, as a treat, and cooked is better than raw.
Do Cats Like Eggs?
This is a personal preference. Some cats like eggs, others may not. There's no good way to tell unless you feed your cat an egg!
Just make sure it's cooked and safe before you try this.
Can Cats Eat Eggs?
Yes, cats can eat eggs. But they should be an occasional treat, not a staple part of the cat's daily diet. Eggs have too many calories. While they have many nutrients that cats need, they do not provide balanced nutrition for felines.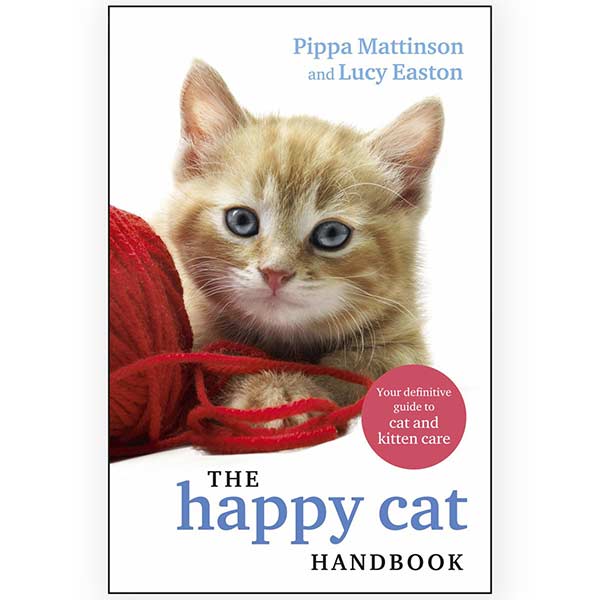 For example, they do not include taurine, which is a daily necessity for cats.
Additionally, cats should not eat raw egg white because of the presence of a binding agent that limits absorption of important B vitamins.
Because of the risk of bacterial infection that is very high with raw foods, cooked eggs are safest.
If your cat likes eggs, though, go ahead and give her one – or part of one – as a treat! She might love it.
More Useful Guides
If you're keen to learn more about cats, take a look at our guide to cats and catnip!
Or read about more foods below:
References And Resources
Your Amazing Cat!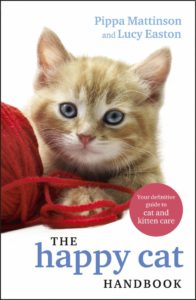 We are so excited to share our new book with you!
If you have enjoyed your visit to The Happy Cat Site we think you'll love The Happy Cat Handbook.
Written by the founders of this website including the author of the hugely successful Happy Puppy Handbook, it's packed with cat care information and fascinating cat facts.
Grab your copy today!