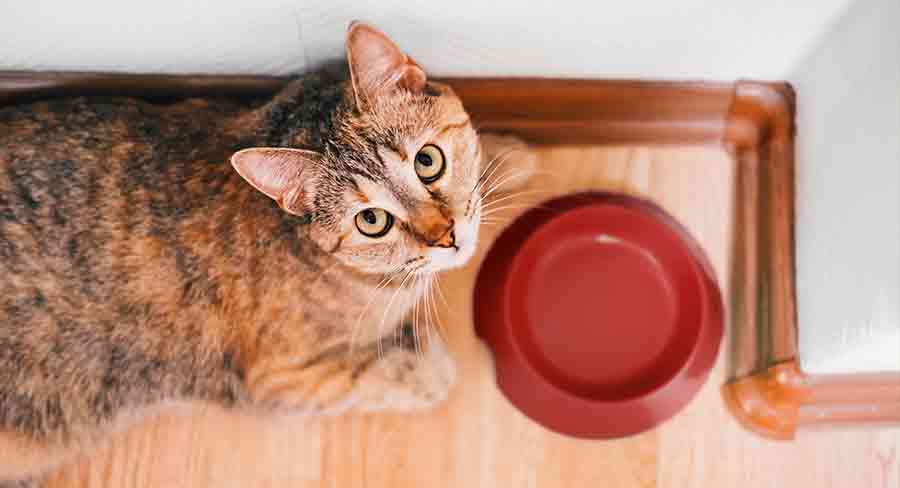 How long can a cat survive without food? If your pet has lost their appetite, we take a look at how long they can go without eating, and when it's time to call upon veterinary support.
Some cats can survive up to 2 weeks without meals, provided they had access to clean drinking water. But cats' bodies aren't adapted to cope very well with fasting, and many cats will die after a much shorter period without food.
Before we dive further into the question "how long can a cat survive without food", let's take a look at why they would stop eating in the first place.
Why Do Cats Stop Eating?
There are many reasons why cats lose interest in eating.
They're getting food elsewhere. Outdoor cats can be very successful in persuading other people to feed them. Especially if they're not wearing a collar to make it obvious they have a home. A small number of outdoor cats might even be so successful at hunting that they don't need pre-prepared meals.
Pain. Pain from broken teeth or an abscess in the mouth can make the act of eating too uncomfortable to contemplate. But pain in other areas of the body can also be enough to suppress your cat's appetite.
Problems in their digestive tract. Including parasites, tumors, indigestion, constipation, obstruction by fur balls, and inflammation of the lining of the intestines.
Kidney disease. When cats' kidney fail, the waste products they should have filtered out start to accumulate in the blood stream instead, causing nausea and loss of appetite.
Pancreatitis. The pancreas produces delayed-action enzymes, which don't normally become active until they reach the small intestine. Pancreatitis is when the enzymes start working too soon, and inflame the pancreas. Vomiting and loss of appetite are classic symptoms.
Medication. Several antibiotics and chemotherapy drugs for cancer cause nausea and supress cats' appetite. Some drugs for heart and lung diseases also cause loss of smell, which can reduce cats' interest in food.
Stress. Stress, anxiety or depression brought on by changes to your cat's usual routine can cause them to lose interest in eating.
Age. Cats' metabolism and energy demands decrease as they age, and usually their appetite reduces to match.
New food. Some cats have an extreme mistrust of unfamiliar foods, and even reject them outright if the transition isn't gradual enough.
Learned food aversion. Learned food aversion is when cats associate eating with something bad happening, and it puts them off. This could include being sick after eating, but also being pestered by other animals or children while they eat.
How Long Can A Cat Survive Without Food?
How soon after you notice your cat leaving meals untouched should you start to worry about it? In observed cases of cats who have either stopped eating, or been trapped without food, they have survived for anything from 3 to 14 days.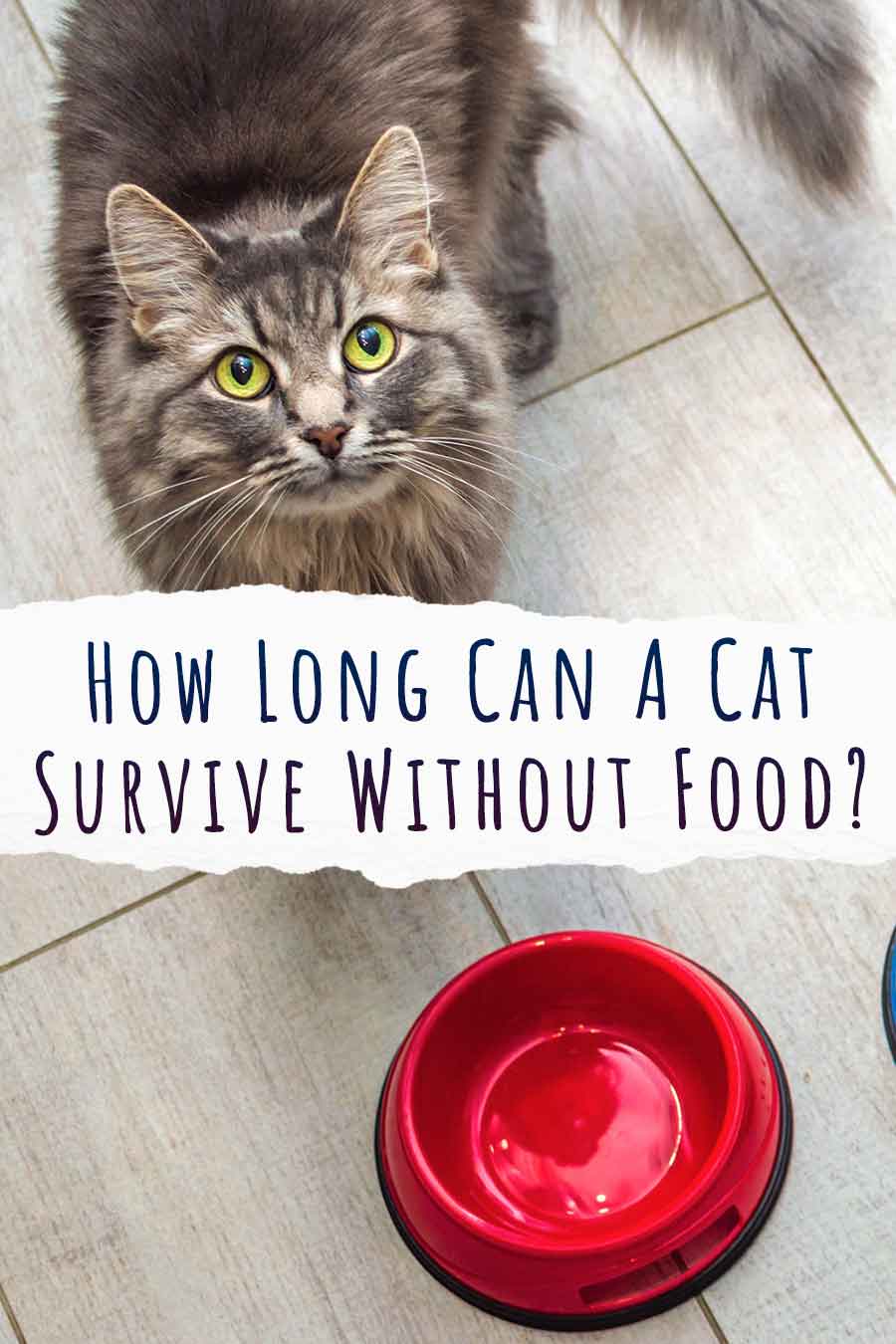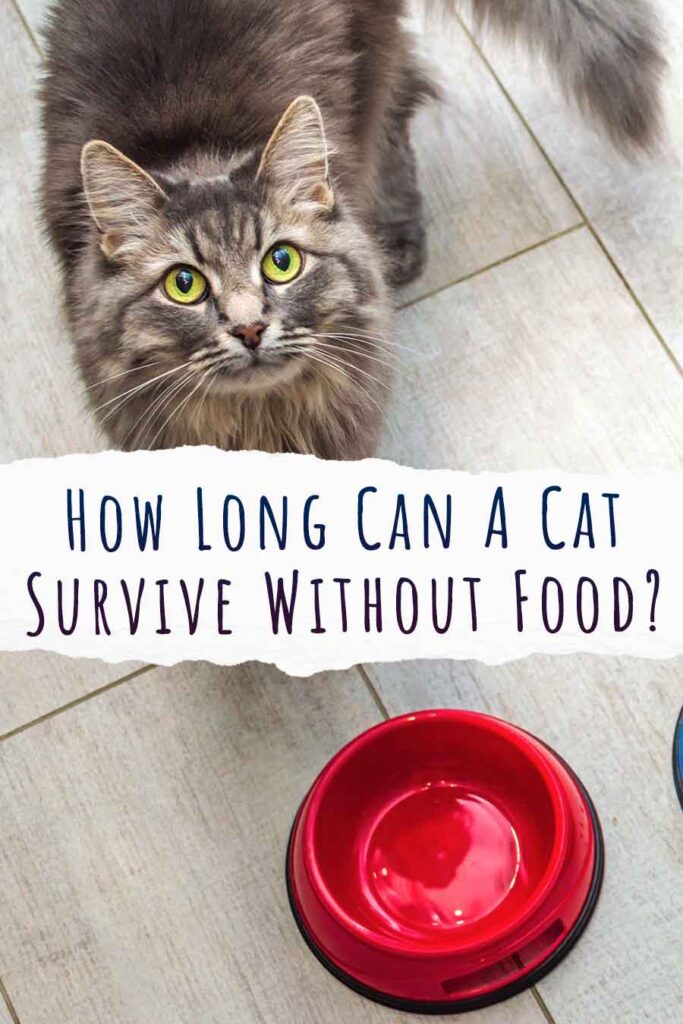 The reason some cats only survived for such a short time is that their bodies are remarkably poorly adapted to coping without meals. When a cat stops eating, their body starts breaking down its fat reserves to get energy. However, their livers are not well adapted to respond to this, and the fat begins to accumulate in the liver tissue because it can't be processed quickly enough. This is caused hepatic lipidosis, or fatty liver syndrome. The fat deposits in the liver further prevent it from working properly, so that the cat rapidly becomes jaundiced. Without medical intervention, the whole situation can become fatal very quickly.
Cats aren't only at risk if they stop eating altogether. Felines rely on eating proteins from animal sources to get essential amino acids. Essential amino acids are so-called not just because cats need them (although they do!) but because it's essential that cats consume a diet which contains them. In other words, they can't make them out of building blocks found in other foods. So, a cat which is eating, but only eating inappropriate foods from non-animal sources, will also become dangerously malnourished very quickly.
How Long Can A Cat Survive Without Food Or Water?
As we've seen, the amount of time a cat can survive without food is highly variable. An unlucky cat might only survive for three days, whilst another might defy the odds and survive nearly five times as long. However, it's a different story with water. All cats need water to survive, and dehydration is immediately dangerous for all cats. Most cats will die after three days without access to suitable drinking water.
When To Visit A Veterinarian
Due to the risk of fatty liver syndrome, you should always consult your vet if you are not aware of your cat having eaten anything in the last 48 hours. Counterintuitively, the role of fatty liver syndrome means that cats are at greater risk of dying if they were overweight before they stopped eating. Because they have more fat reserves to break down, and therefore their liver is more likely to be overwhelmed. So don't brush off a lack of appetite by saying they could stand to lose a few pounds anyway!
Your vet will take a full medical history, and look to rule out or identify underlying health problems that are causing them to lose their appetite. Once they have established why your cat has stopped eating, they will work with you to manage the situation. This might include treating an underlying health condition, syringe feeding to avert the immediate risk of going without food, and changing how or what you feed them to restore their appetite.
Encouraging A Cat To Eat
So, the answer to "how long can a cat survive without food" varies. But, if your cat has stopped eating, it's important to try and encourage your cat to have some food. Some of the things your vet might suggest to encourage your cat to eat include:
Warm it up
Cat's wild instincts tell them that food should be just below body temperature – like freshly killed prey. Commercial diets stored at room temperature or in the fridge are colder than this, and that can put cats off. Warming food up doesn't just improve the temperature, it also makes it smellier, and therefore more mouthwatering on that basis too.
Or cool it down
On the other hand, cats who have learned an aversion to their food because they associate it with being sick afterwards might be put off by the smell of it. In this case, serving it from the fridge to reduce the odor it gives off can help tempt a cat back to the bowl.
As you can see, sometimes when it comes to feeding a can't that won't eat, a little trial and error is sometimes involved!
Change the texture
Cats with toothache might find it too painful to bite through hard kibbles. And cats generally dislike sticky textures. Adapting their texture of the dinner to something more appetizing can help tempt them to eat. For example, you can soak kibble in a little warm water, or buy wet foods with whole flakes of fish or soft chunks of meat.
Feeding them away from people and other cats
Cats are a predatory species, but they are also small enough to be preyed upon, and to have their food stolen by larger animals. As such, eating in busy places can put them on edge. Providing a quiet place to eat in peace can improve how much food they eat. Remember to serve each meal from a clean bowl, and leave fresh drinking water nearby too.
How Long Can A Cat Survive Without Food – Summary
Do you feel better equipped to answer the question "how long can a cat survive without food"? There are occasional reports of cats surviving up to two weeks without food. But most cats will become seriously ill and possibly even die within a few days. This includes a few days of only being fed inappropriate foods, without an animal based protein. If your cat hasn't eaten in 48 hours, ask your vet for advice.
Other Articles You Might Enjoy
Best Cat Food For Older Cats – Choosing The Right Senior Cat Food
References