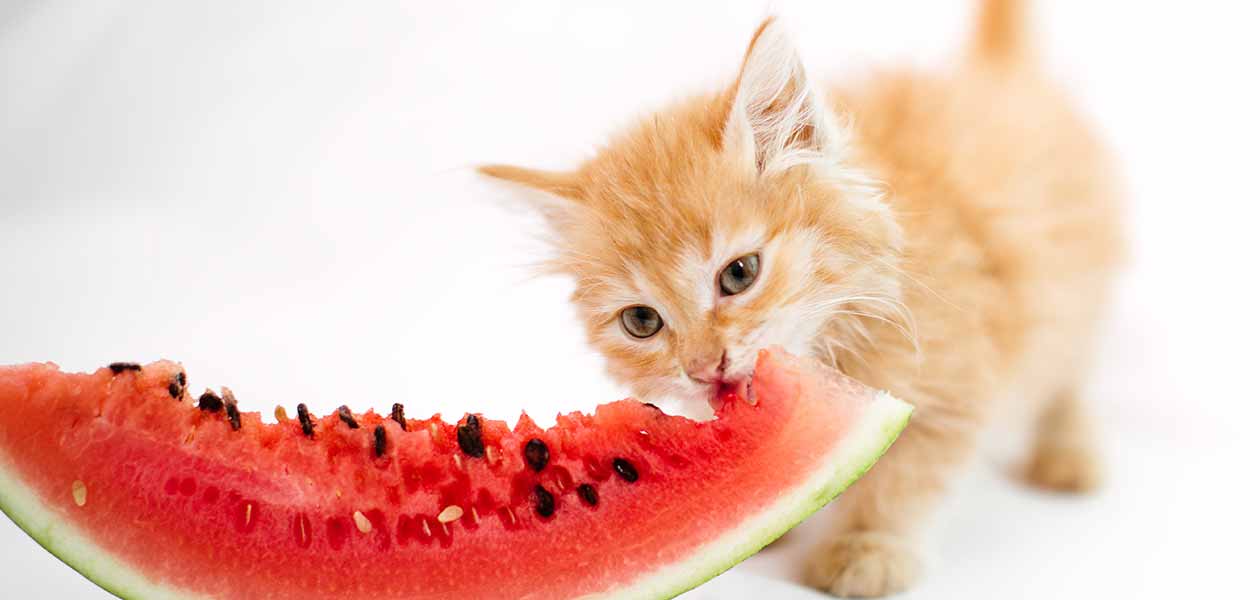 Can cats eat watermelon?
Watermelon fruit is a safe hydrating treat for cats, especially during hot summer months. But you should never give your cat the seeds or rind of a watermelon.
Seeds can be a choking hazard, and contain cyanide, which could harm your cat.
Watermelon should only be given as a treat, due to high sugar levels. Consult your vet first if your cat has diabetes.
Can Cats Have Watermelon?
Domestic cats are obligate carnivores. This means that they get all of the nutrition they need from meat and other animals.
So, watermelon doesn't actually fit into a natural cat's diet at all. But, this doesn't mean that they don't enjoy it.
Despite being around 92% water, watermelon contains approximately 46 calories per cup. In a cup of watermelon, there are around 11g carbohydrates, of which 9.5g are sugars.
1g protein, and a mixture of vitamins, minerals, fats and fatty acids are also present.
So, cats may get some nutritional value from watermelon. They just don't need watermelon.
But it is a safe occasional treat for your cat.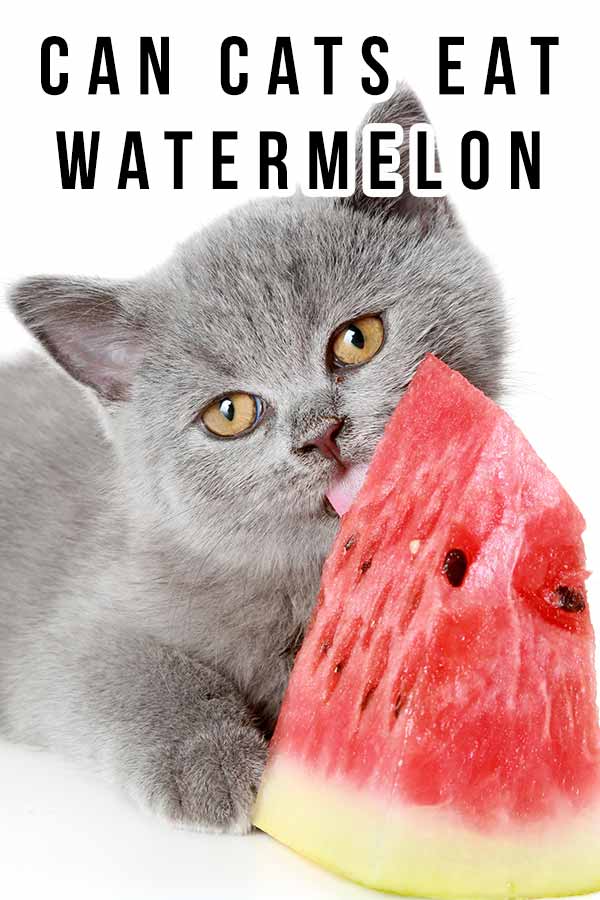 Cats and Watermelon
Cats have high protein and taurine requirements, which they can't get from watermelon.
However, they can get small amounts of fats, fatty acids, and vitamin A from watermelon, which are part of their nutritional needs.
A natural cat diet is quite low in carbohydrates. So, this part of watermelon isn't really necessary for cats.
And although watermelon is less sugary than some fruits, it does still contain sugars. Too much sugar can cause obesity in cats, and can exacerbate problems such as feline diabetes.
The best parts of watermelon for cats are the vitamins and minerals. But, these are only found in the red flesh of the fruit, not the seeds or rind.
Why Do Cats Like Watermelon?
Not all cats will like watermelon. So, if your cat is turning his nose up at this treat, don't panic. There are plenty of other treats you can offer.
But some cats enjoy the occasional piece of watermelon. Primarily because of the water it contains.
Cats need water every day, especially if they are fed on a dry diet. Watermelon can be a great source of hydration for cats who are fussy about drinking water from a bowl.
Studies have shown that cats lack a sweet taste receptor. So, they won't like watermelon for its sweetness, as they can't taste it!
Is Watermelon Safe For Cats?
The flesh of the watermelon fruit is safe as an occasional treat for cats.
Plus, it can be a great way for cats to get some much needed water and hydration, especially in the hot summer months.
Some cats can be quite fussy about how they ingest water. If your cat is like this, try offering them a small piece of fresh watermelon.
However, like any fruit, cats should only have watermelon occasionally.
Is Watermelon Bad For Cats?
We've seen that the flesh of watermelon fruit is safe for cats to eat, and can be a good way to give them water.
But, there is a downside to watermelon for cats.
Too much watermelon means too much sugar. This can lead to obesity, and can be really bad for cats with pre-existing problems like feline diabetes.
Obesity is a growing problem in pets like cats. But, it can be managed with a healthy diet.
So, don't offer your cat too much watermelon. A couple of small pieces in a week is plenty.
Is Watermelon Good For Cats?
We have briefly looked at the benefits watermelon has for cats. But let's recap.
Mainly, watermelon is a great source of water. It helps to keep our cats hydrated, especially if they don't like drinking from water bowls.
Cats on a dry food diet can really benefit from water-rich foods like watermelon.
On top of this, watermelons are packed full with vitamins and minerals.
But, most cat foods are designed to give your cat a complete balance of the nutrients they need anyway.
So, watermelon won't add much in the way of nutrition.
Can Cats Eat Watermelon Seeds?
Everything we've spoken about so far only refers to the flesh of the watermelon fruit.
Watermelon seeds are not safe for your cat to eat. If you ever give your cat watermelon, you must make sure that you have removed all the seeds.
Watermelon seeds contain cyanide, just like apple seeds. This substance can be really dangerous for cats. It can cause digestive upset, and more.
On top of this, the seeds can be a choking hazard for our cats. Especially if you have a small cat breed.
So, never give your cat watermelon with the seeds left in.
Can Cats Eat Watermelon Rind?
The nutritional benefits of watermelon flesh for cats are not found in the rind of this fruit.
Watermelon rind can be hard to chew and digest.
Just like seeds, the rind can also cause intestinal blockages and choking. Plus, it can give your cat an upset stomach.
It's best to cut off any watermelon rind before giving your cat this fruit.
Can Cats Eat Frozen Watermelon?
Frozen watermelon is fine to give your cat, as long as any seeds and rind have been removed.
Freezing this treat can make it refreshing for cats to snack on in summer. But, the same cautions as before will apply.
Frozen watermelon will still contain sugar, so it should only be given as an occasional treat.
And remember, not all cats will enjoy watermelon.
Can Watermelon Give My Cat An Upset Stomach?
Watermelon is safe for cats to eat if the seeds and rind have been removed. But, too much watermelon can give cats an upset stomach.
This is because of the sugar it contains. Too much sugar can cause digestive upset, as well as other problems in cats.
Additionally, some cats can be allergic to watermelon.
So, if you are giving your cat watermelon for the first time, monitor them closely for any bad reactions.
My Cat Ate Watermelon, What Should I Do?
You don't need to worry if your cat has just eaten some watermelon flesh.
But, if your cat has eaten some watermelon rind, or even a few of the seeds, it's a good idea to call your vet.
Watch your cat closely to make sure they don't choke on it.
Your vet will likely tell you to monitor them, and take your cat in if you notice any unusual behavior.
But it's best to call, just to be safe.
Can Kittens Eat Watermelon?
Just like adult cats, watermelon fruit will be okay for kittens to have as a very occasional treat.
However, they won't get any nutritional value from this fruit. Plus, too many sugary snacks like this can be really bad for kittens.
They are also more prone to choking on the small seeds.
So, it might be best to stick to other snacks for kittens. If you're having trouble getting your kitten to drink enough, consider a wet kitten food.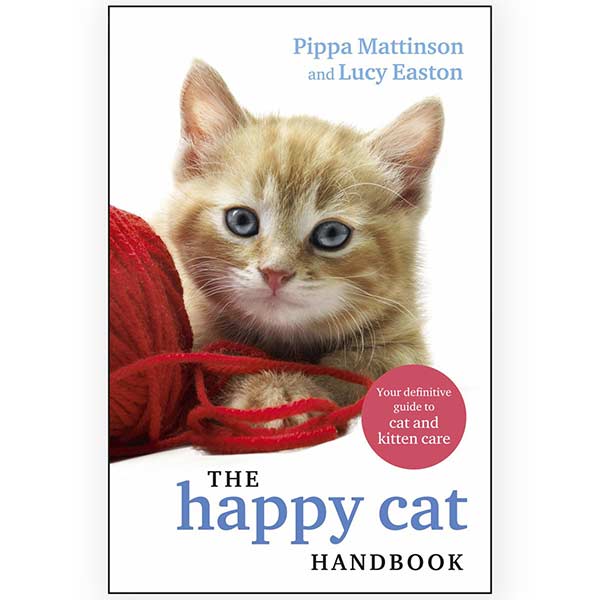 Cat Watermelon Treats
Here are some fun ways to prepare watermelon for your cat.
Frozen watermelon chunks
Cat kibble with added watermelon
Fresh chunks of watermelon
Alternatives to Watermelon for Cats
Not all cats will like watermelon. But there are plenty of other foods you can offer them.
Take a look at our guides below to find out more about their nutritional value for cats.
Can Cats Eat Watermelon Summary
So, to recap. Cats can eat watermelon fruit as long as the seeds and rind have been removed.
Don't give this treat too often, as the sugar can be bad for their health.
Have you given watermelon to your cat? You can let us know about your experiences with cats and watermelon in the comments below.
References and Further Reading
Your Amazing Cat!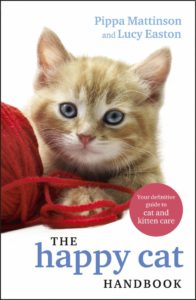 We are so excited to share our new book with you!
If you have enjoyed your visit to The Happy Cat Site we think you'll love The Happy Cat Handbook.
Written by the founders of this website including the author of the hugely successful Happy Puppy Handbook, it's packed with cat care information and fascinating cat facts.
Grab your copy today!