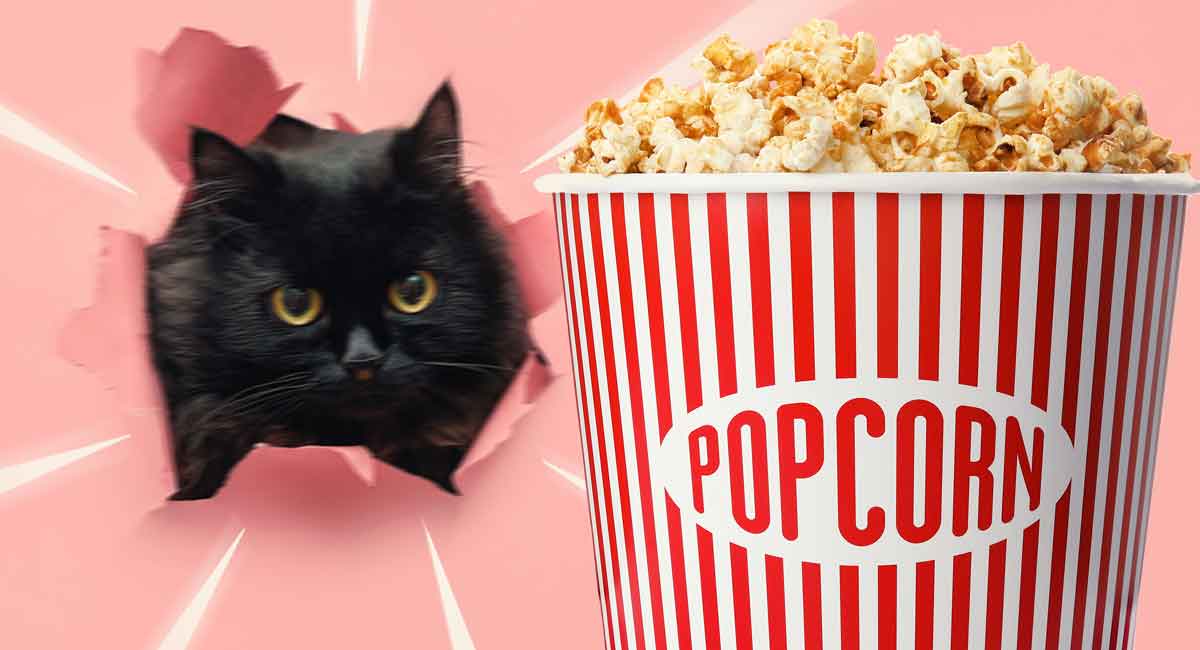 Can cats eat popcorn?
Many cats can eat popcorn without immediate or serious ill effects. Popcorn is not toxic to cats. But it doesn't meet any of their nutritional needs either.
Some popcorn seasonings are more dangerous to cats then the popcorn itself. Chocolate, coffee, garlic, onion, and other allium species are all toxic to cats.
Popcorn can also be a choking hazard to cats.
Let's take a closer look at the question "can cats eat popcorn".
Cats And Popcorn
A lot of cats are fans of snacks.
So, whatever you are having, they are interested in eating it too. Or at least they will want to give it a try!
But is it a good idea to feed popcorn to your cat? Before we look any more at whether cats can eat popcorn, let's find out where this food comes from.
Where Does Popcorn Come From?
Popcorn is made when you heat corn kernels. The outer layers act as a kind of pressure cooker.
When this capsule breaks, the water inside is extremely hot and the internal part of the kernel expands rapidly.
Only one variety of corn, Zea mays everta, produces popcorn. Corn kernels of this type contain a lot of starch, which causes more expansion.
Unseasoned popcorn is made entirely of corn. But we often eat it with seasoning, or coated with additional ingredients like butter.
These ingredients also need to be considered before letting your cat eat popcorn as a treat.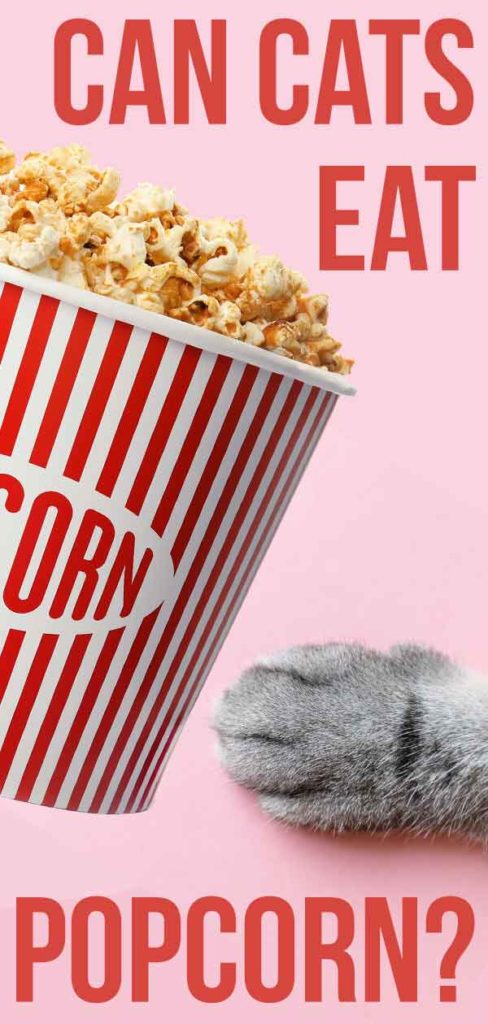 What Is A Natural Cat Diet?
Can cats eat popcorn as part of their natural diet? Cats are adapted to eat a diet made almost entirely of animal proteins and fats. It is important that cats are provided with meat as their main diet.
Popcorn is only 12% protein, and of course that protein is vegetable protein, not animal protein.
Cats are less able to absorb these proteins from corn, whether to use them for energy or to build muscle.
Some carefully developed commercial diets manage to incorporate plant materials and still provide all the necessary nutrients and minerals.
But generally speaking, if cats eat a lot of plant material they will be at risk of nutritional deficiencies and health problems.
Can Cats Eat Popcorn Seasonings?
You should keep in mind that some foods are fine for humans but toxic to cats. Popcorn comes in many interesting and gourmet flavorings these days.
Be sure to check the full ingredient list. Never feed cats products including chocolate, coffee, garlic, onion or other allium species.
Other food types are not toxic but can upset a cat's stomach. For example, milk products, herbs and spices, and high levels of salt.
Is Popcorn Good For Cats?
Popcorn has no benefits for cats other than that they might enjoy it.
You can use treats that your cat enjoys in training or to socialize nervous cats.
But you should avoid feeding it to small kittens as it may be a choking hazard.
Is Popcorn Bad for Cats?
Popcorn is not bad for most cats when fed as an occasional treat.
A small number of cats have a food sensitivity to corn gluten. So, if your cat seems unwell after eating popcorn, do not feed it to them in the future.
While people are often told not to give any human food to cats, even as a treat, it has not been shown that feeding treats contribute to cat obesity. Treat feeding can also help with the human-cat bond and used as part of the socialization or training plan.
Just keep in mind that humans are large omnivorous animals, and cats are much smaller and designed to live almost entirely on meat. So, you definitely should not take a 'one for me, one for the cat' approach.
How Much Popcorn Is Safe For Cats?
It is recommended to feed less than 10% of the calories in your cat's diet as treats.
For help figuring out how much that is for your cat, visit the Cat Nutrition Alliance calculator to see a recommended caloric intake for your cat.
Plain air-popped popcorn is about 31 calories a cup, less than a calorie per kernel.
But with oil, butter or other toppings, and seasonings, that number will quickly increase.
The first time your cat tries popcorn, limit it to one or two kernels in case it disagrees with them.
Do Cats Like Popcorn?
Whether cats like popcorn is pretty hit or miss.
Popcorn does not have the flavor or texture of food cats naturally eat. But some are more adventurous eaters than others.
Cats cannot taste sweet flavors. But they are instinctively drawn to energy-rich fats, like butter.
Can Cats Eat Popcorn?
So, let's recap. Can cats eat popcorn? Cats can safely eat small amounts of popcorn.
Unseasoned popcorn is the healthiest option, but flavored varieties are okay in moderation if they do not include food unsuitable for cats.
Does your cat like popcorn? Let us know in the comments!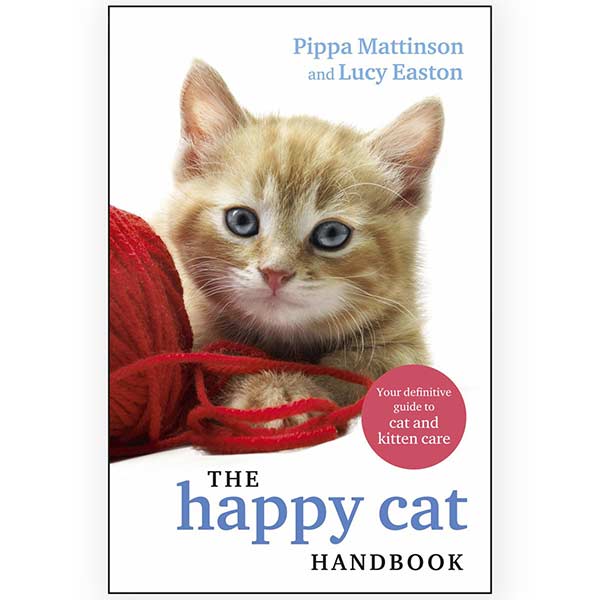 More Food Guides
There are plenty of other foods cats can get hold of! Find out if they're safe in the guides below.
References And Resources
Brooks, D., Churchill, J., Fein, K., Linder, D., Michel, K. E., Tudor, K., … & Witzel, A. (2014). 2014 AAHA weight management guidelines for dogs and cats. Journal of the American Animal Hospital Association, 50(1), 1-11.
Cortinovis, C., & Caloni, F. (2016). Household food items toxic to dogs and cats. Frontiers in veterinary science, 3, 26.
Curtis, T. M. (2008). Human-directed aggression in the cat. Veterinary Clinics of North America: Small Animal Practice, 38(5), 1131-1143.
Donoghue, S., & Scarlett, J. M. (1998). Diet and feline obesity. The Journal of nutrition, 128(12), 2776S-2778S.
Funaba, M., Matsumoto, C., Matsuki, K., Gotoh, K., Kaneko, M., Iriki, T., … & Abe, M. (2002). Comparison of corn gluten meal and meat meal as a protein source in dry foods formulated for cats. American journal of veterinary research, 63(9), 1247-1251.
Mueller, R. S., Olivry, T., & Prélaud, P. (2016). Critically appraised topic on adverse food reactions of companion animals (2): common food allergen sources in dogs and cats. BMC veterinary research, 12(1), 9.
Your Amazing Cat!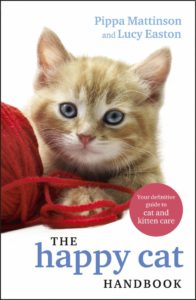 We are so excited to share our new book with you!
If you have enjoyed your visit to The Happy Cat Site we think you'll love The Happy Cat Handbook.
Written by the founders of this website including the author of the hugely successful Happy Puppy Handbook, it's packed with cat care information and fascinating cat facts.
Grab your copy today!
Free Updates For Cat Lovers!
Our cat care articles, tips and fun facts, delivered to your inbox