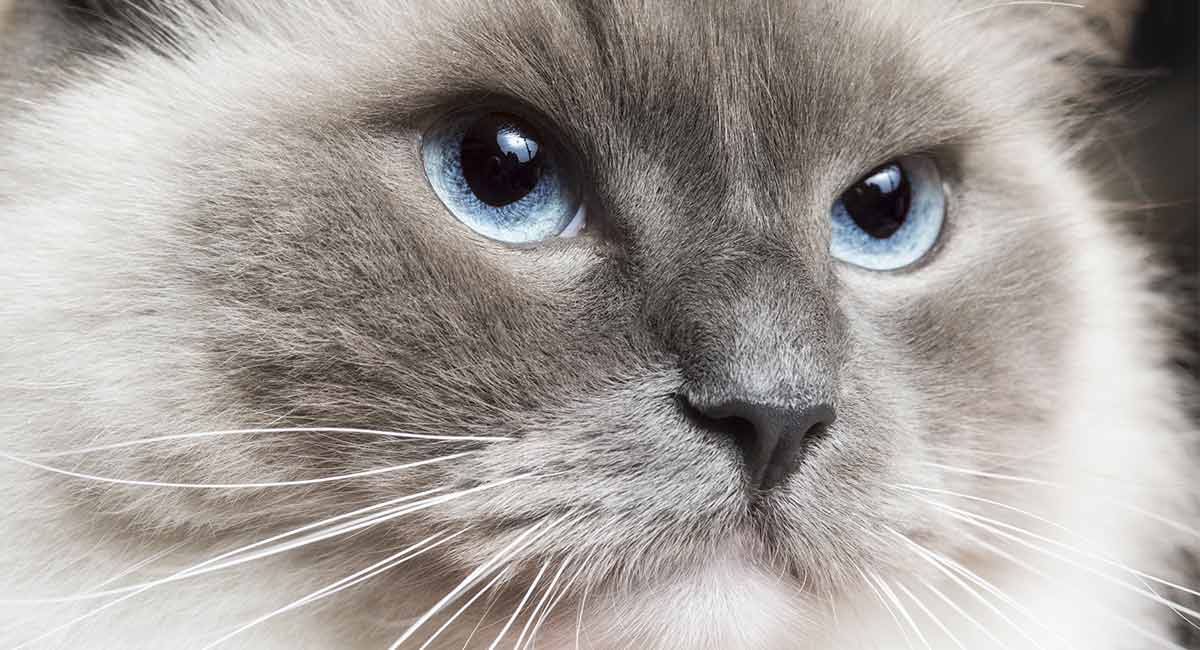 The best food for Ragdoll cats provides complete nutrition, but also accounts for some of their more unusual quirks! It should be high in protein and fat, low in carbohydrates and other fillers. The best Ragdoll cat food also helps their glorious coat to stay shiny, and reduces the chances of furballs.
Contents
The Best Ragdoll Cat Food
The best food for Ragdoll cats can change as your cat moves through life. Ragdoll kittens are generally quite active and playful. They can expend quite a bit of energy throughout the day!
In adulthood, most Ragdoll cats are starting to settle down, even to the point of preferring to stay nearer the floor. Rather than climbing and exploring high spaces like many other cat breeds. Because of this, and also because the Ragdoll cat's long, silky fur can easily collect dust and debris outside, many Ragdoll cat owners prefer to keep their cat indoors. But this also means your Ragdoll – a sizeable breed to start with that can reach 25+ pounds in adulthood – will need extra play and a carefully measured diet to avoid feline obesity.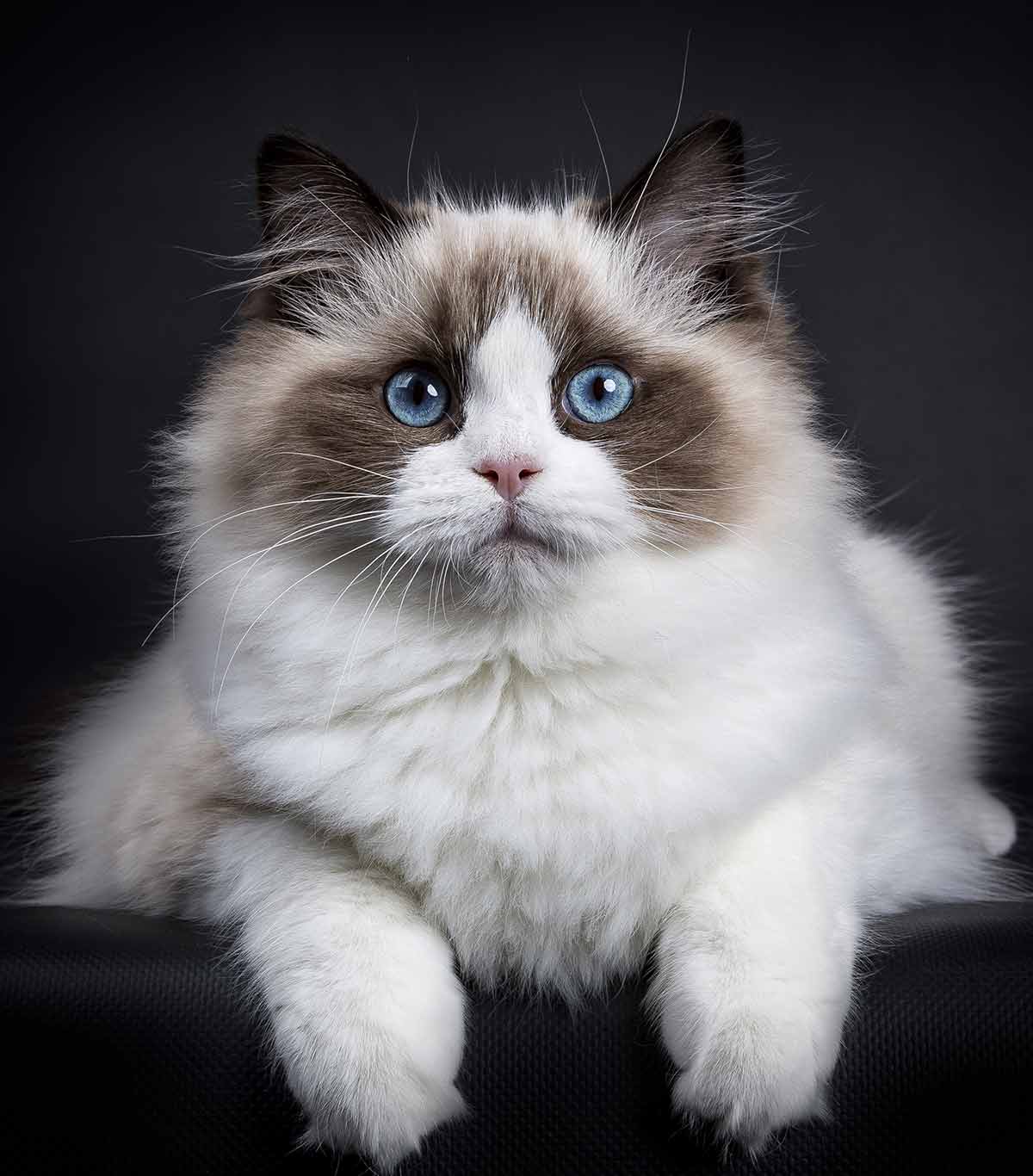 Best Dry Cat Food for Ragdolls
Because cats in general are obligate carnivores (evolved to eat pure protein diets), simpler cat food recipes typically work best to maintain your cat's overall health and wellbeing. And cats don't like to go without! These brands offer some of the simplest and best dry cat food for Ragdoll cats!
Royal Canin Ragdoll Dry Cat Food
You can't help but feel confident when the cat food is formulated specifically for the Ragdoll cat breed, which is something Royal Canin happens to do especially well. This dry Ragdoll food* comes highly recommended by Ragdoll breeders and owners. As a bonus, the kibble is bigger to make it easier for your larger-jawed Ragdoll cat to grasp and chew.
Natural Balance Limited Ingredient Dry Cat Food
This simple, limited ingredient recipe dry cat food* comes highly recommended by Ragdoll breeders. After the first few ingredients, the remainder of the recipe focuses on vitamins, minerals and nutrients to supplement your cat's immune system heath.
Wellness Grain Free Dry Cat Food
This high quality grain-free indoor cat food* is free from grains and other known allergens and comes in several recipes for indoor-only cats. The nutrient balance is designed to support the health needs of larger cat breeds with lower activity levels like the Ragdoll cat.
Best Wet Food for Ragdoll Cats
Wet cat food can be an important part of your Ragdoll cat's diet. It is highly palatable and contains more moisture, which is ideal for when your cat is not feeling well to avoid preventable, dehydration-related kidney failure.
Wet food can also make for a great training treat! These brands offer some great options for the best wet food for Ragdoll cats.
Hill's Science Diet Cat Food
This balanced adult cat food by Hill's* proves that wet cat food can be delicious without packing on the pounds. This is a popular wet food choice with Ragdoll cat breeders because it can help keep your cat hydrated and slim.
Iams Purrfect Delights Cat Food
This breeder-recommended wet flaked food* is gluten-free and is free from corn, soy and artificial flavors. It makes a perfect stand-alone meal, accent to dry kibble or treat food. You can choose from several recipes to keep your cat's menu interesting.
Wellness Natural Grain Free Cat Food
This grain-free natural wet cat food* is recommended by Ragdoll breeders for its pure protein-based recipe full of real whole food ingredients. Choose from several recipes to keep mealtime for your Ragdoll creative and tasty.
Best Food for Ragdoll Kittens
Ragdoll kittens, like all kittens, need a daily diet that is formulated with a kitten's higher nutrient and calorie needs in mind. These brands are worth considering as you select the best food for Ragdolls as kittens.
BLUE Freedom Grain Free Dry Food
Ragdoll kittens will spend the first year or so of life developing their gastrointestinal system and "putting the internal house in order" so to speak.
It is especially important during this time to ensure your Ragdoll kitten's diet is pure and free from potential allergens like wheat and grains. This food comes highly recommended by Ragdoll breeders for its pure-protein, nutrient-enriched formula*.
Royal Canin Babycat Dry Food
Royal Canin's Mother & Babycat food* can help your Ragdoll kitten put down a firm nutritional foundation. Helping them to develop a strong immune system and GI tract. This food is designed to be highly digestible and is packed with essential nutrients and prebiotics. The kibble is nice and small to make it easy for your kitten to grasp and chew.
Hill's Science Diet Dry Kitten Food
This highly recommended dry kitten food* is a favorite for kittens. Be sure choose the Indoor Kitten formula if you're keeping your cat inside.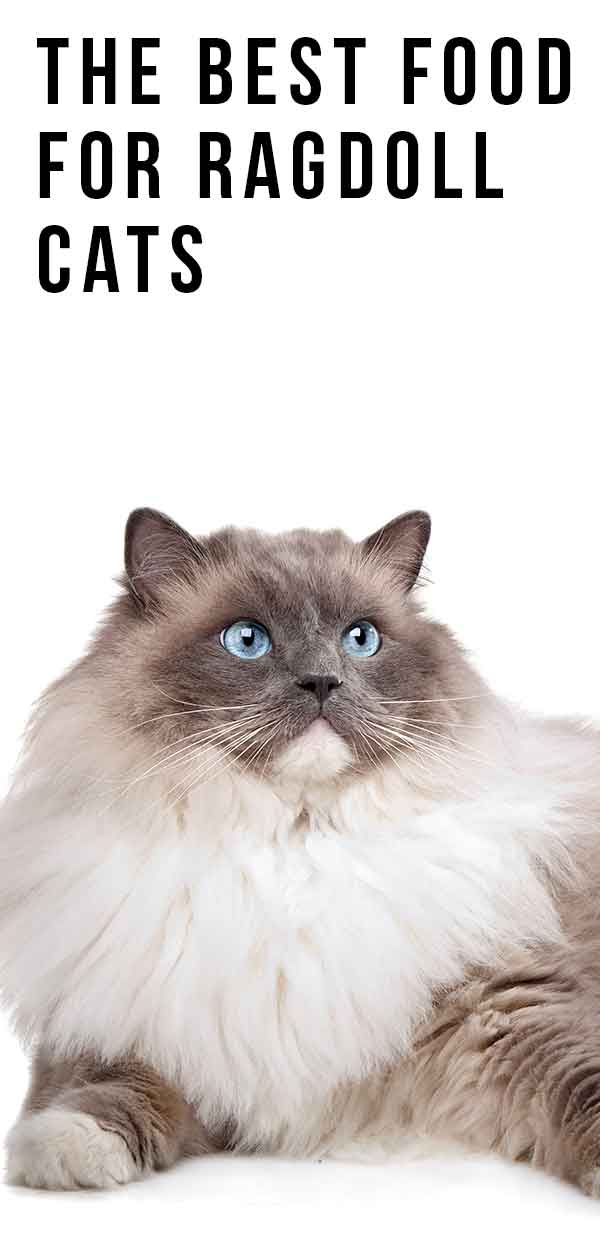 Affiliate link disclosure: Links in this article marked with an * are affiliate links. We may receive a small commission if you purchase these products. However, we selected them for inclusion independently, and all of the views expressed in this article are our own.