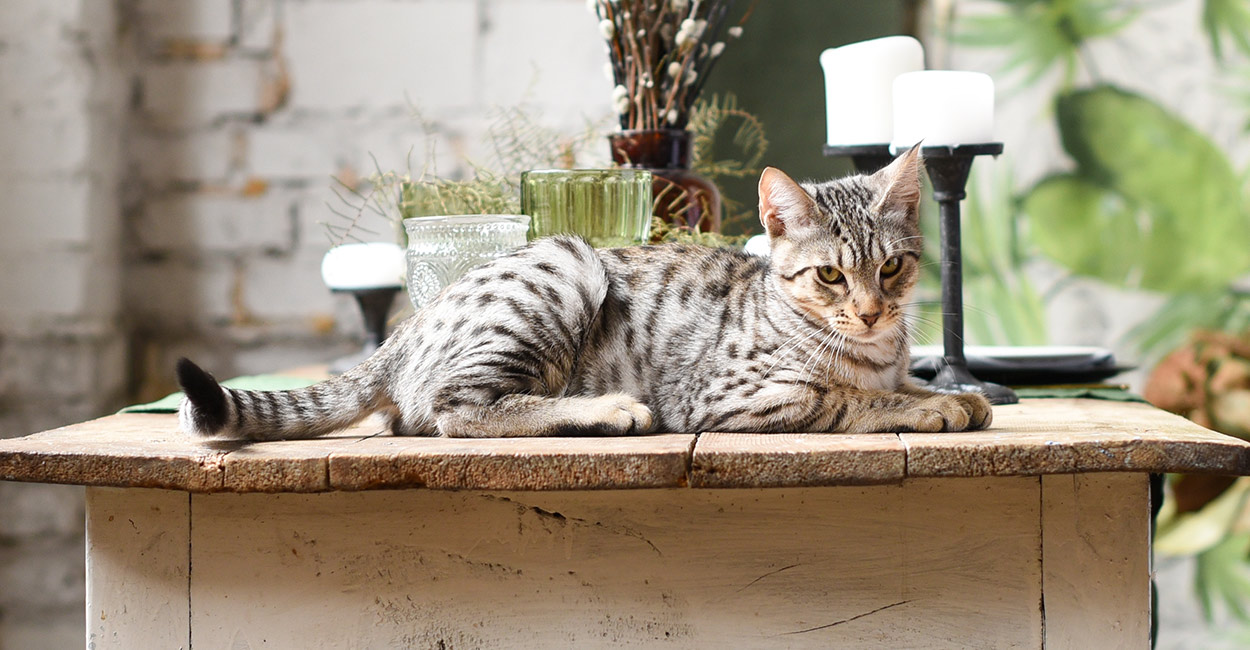 The best food for Savannah cats caters to their really wild digestive system and meaty taste preferences. Savannah cats are one of just a handful of modern domestic cat breeds that can trace their current lineage all the way back to a genuine wild cat – in this case, the wild African Serval cat. This unique heritage makes the Savannah cat breed is one of the most visually striking and beautiful cats in existence. And it also impacts the type of food you should give them, and your feeding schedule. Today I'll share the top diets for Savannah cats and most delicious meals perfectly matched to their nutritional needs.
Contents
The Savannah cat is a very new breed of cat that got its start just a few decades ago in the 1980s and is still developing rapidly. Interestingly, this is also the tallest breed of cat, standing on average 5 inches higher than other domestic cats!
Savannah Cat Food
When you found your Savannah kitten, they were probably advertized alongside a filial number, such as F5 or F8. The filial number gives you a rough estimate of how much wild serval is still left in your purring Savannah.
An F1 Savannah has a serval parent, an F2 Savannah has a serval grandparent, and an F3 Savannah has a Serval great-grandparent. But what does it mean as for feeding your Savannah cat? Well, the closer your Savannah cat is to its African Serval cat ancestor, the more like her wild cat parent she will be!
Wild vs Captive Diets
The closer to F1 your kitty is, the more likely they are to have a sensitive digestive system. One that is more specialized to digest only those foods a wild obligate carnivore would normally consume. This means she may not be able to metabolize the nutrients in many cat foods as efficiently as her fully domestic brethren.
In the wild, African Servals love to eat small rodents and birds. In captivity, you will need to take care in choosing the purest possible high protein foods that will suit the Savannah cat's specialized digestive system.
Commercial vs Raw Feeding
Breeders often recommend feeding at least a partially raw diet and steering clear of many (but not all) wet foods, which can include corn, gluten and other grains that are less easily digested.
Your options are to go fully commecial and pick a grain and corn free food, or to incorporate raw meat into their regime. Which is a challenge for most pet owners due to hygeine considerations, and the need to provide nutrients in balaned amounts.
If you are adopting a Savannah kitten, it is wisest to stay with the feeding schedule and food type offered by your breeder or shelter. Transitions should be done slowly and with great care to minimize stress.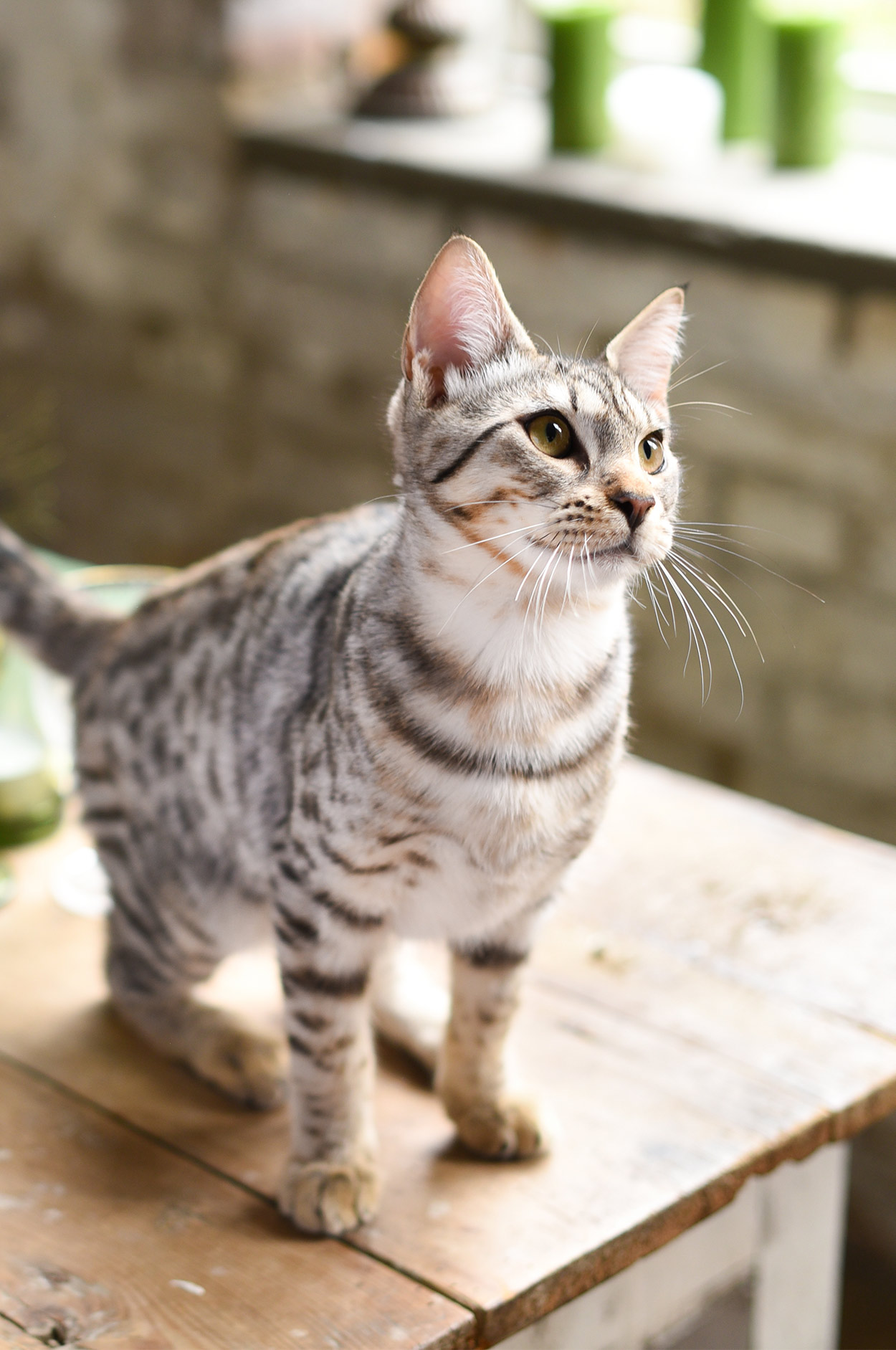 How Often Should They Eat?
While there are many benefits of feeding your Savannah cat a raw meat protein diet, the most realistic option today is to choose high protein, high quality commercial cat foods.
Wild cats will often eat 15 to 20 small meals throughout the day, since they have to hunt and catch their prey before they get a meal. The more closely you can replicate this feeding schedule, the better for your Savannah cat.
Not only will eating 15 to 20 times per day be more stimulating and enriching for your cat, but it will also help her maintain a more stable metabolism and energy level.
Best Dry Food for Savannah Cats
Each of these specific adult cat dry foods is Savannah cat breeder-recommended!
Nutro Grain Free
This grain free dry cat food comes in chicken or turkey flavor* and is also free from corn, soy, potatoes, tapioca and artificial ingredients or preservatives. It has 83 percent protein and low-sugar vegetables like lentils. The special kibble helps reduce tooth tartar as your cat chews.
Blue Wilderness
This popular and highly rated dry cat food features deboned real chicken* with plenty of nourishing antioxidant-rich foods like berries and cranberries. It is grain and gluten free with no meat by-products and is vitamin and mineral enriched.
Raw Boost
This popular and highly rated grain free, corn and soy-free, potato and by-product free dry cat food* features freeze-dried raw ingredients made from predominantly real chicken. It is enriched with antioxidants, vitamins, minerals and essential fatty acids, as well as probiotics to support healthy digestion.
Best Wet Food for Savannah Cats
Each of these wet cat food brands is a staple at Savannah catteries!
Wellness Natural
This grain-free, whole chicken-based wet cat food* is free from meat by-products. It has no artificial ingredients and preservatives.
Blue Wilderness High Protein
This highly recommended and popular wet cat food is made from whole chicken with no animal by-products*. No grain, gluten, corn or soy.
Purina Friskies
This highly popular and well rated wet cat food* is made in the USA. Using whole ingredients including chicken, rice and greens. It is also formulated to help control hairballs.
Earthborn Holistic
This well balanced, nutritionally whole wet cat food* has plenty of whole chicken. And the added benefit of amino acids, vitamins and minerals and essential fatty acids to keep your cat's coat and skin healthy.
Savannah Kitten Food
You will notice some of these foods can be fed from kittenhood into adulthood, eliminating that transition stress!
Royal Canin
This popular kitten dry food* contains a balanced blend of prebiotics, vitamins and minerals. This is including vitamins C and E, lutein, taurine, which kittens need to develop strong, healthy immune systems.
Orijen
This specially formulated grain free, potato free dry food* is suitable for both kittens and adult cats. It is 90 percent protein, so it closely mimics the food a wild cat would eat. It is a great choice if you don't want to have to transition your kitten to adult cat food.
Royal Canin
This popular and highly rated, breeder-recommended kitten wet food* is prepared to be easy for small feline mouths to grab and chew. The first three ingredients are all whole meat protein sources and it is packed with essential vitamins and trace minerals for whole-body kitten development.
BLUE Wilderness Kitten
This grain free kitten food* is free from corn, wheat, soy, artificial ingredients and by-products. It is also fortified with vitamins and minerals.
Wellness Natural
This carrageenan and grain-free kitten wet food* is also free from by-products and artificial ingredients. It is enriched with vitamins and minerals and essential fatty acids.
Are you caring for a Savannah cat? What does your Savannah eat? We'd love to hear what your cat's favorite foods are – drop us a comment to let us know!

Affiliate link disclosure: Links in this article marked with an * are affiliate links, and we may receive a small commission if you purchase these products. However, we selected them for inclusion independently, and all of the views expressed in this article are our own.