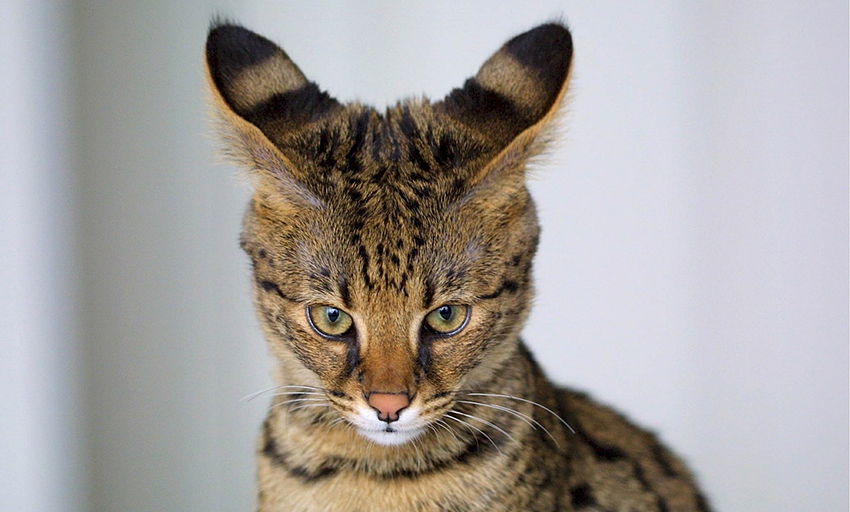 In this article we bring you a complete guide to the savannah cat. Giving you all the savannah cat facts and information that you are looking for.
Savannah cats are one of the cat world's newest pedigrees.
While they have yet to break onto the most popular breeds list, savannah cats have gained a steady following in the last thirty years.
And interest in them is growing.
With their intriguing looks and reputation as loving and loyal pets, it's easy to see why they're so desirable.
But where did they come from, and how can you tell if they're right for you?
What is a savannah cat?
Oddly enough, we know the exact day the first savannah kitten was born: Monday April 7th, 1986.
Savannah cats are hybrids of domestic cats and servals, and that spring the first savannah cat kitten was born to a female domestic cat who had mated with a male serval.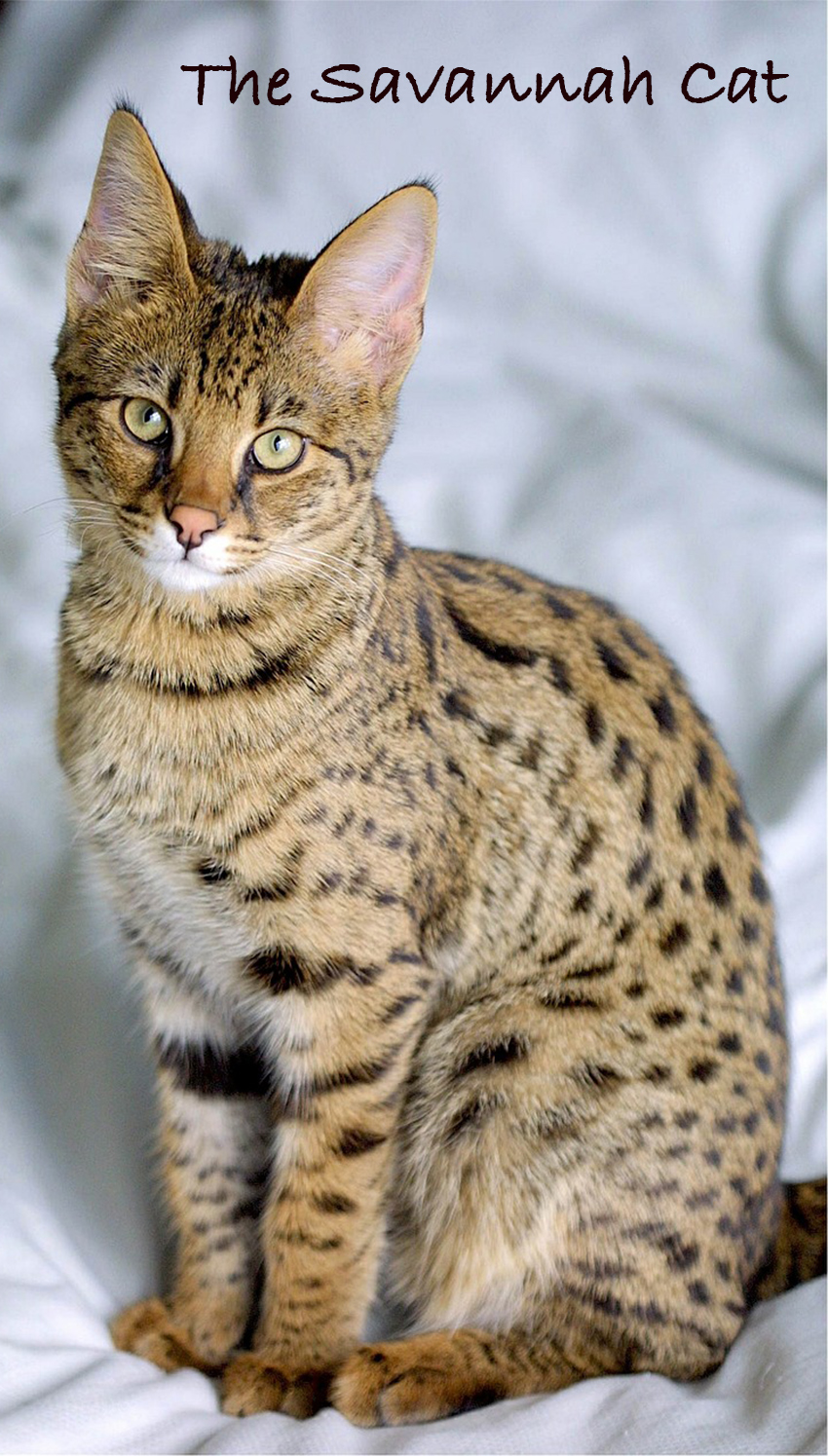 Servals are medium-sized wild cats found across sub-Saharan Africa.
They are cousins of the better-known lynx and ocelot, and they sport the same spotted coat.
But the first thing you'd notice about a serval, were you ever to bump into one, is their outrageously long legs, which are a result of elongated bones in their feet.
The never seen before kitten charmed it's owner, and the savannah cat breeding program began.
Fifteen years later in 2001, savannah cats were officially recognized by The International Cat Association (TICA), but so far TICA is the only body to recognize them.
Know your F2 savannah cat from your F5 savannah cat
The first thing you'll notice when you start looking for a savannah cat is that they are almost always described with a filial number, for example F1, F2, F3, etc.
A filial number describes the generation an individual cat comes from:
An F1 savannah cat has a serval parent.
An F2 savannah cat has a serval grandparent.
An F3 savannah cat has a serval great grandparent, and so on.
So, the filial number is a rough guide to how far removed from servals an individual cat is, and how much wild cat DNA they possess.
The rule for calculating how much serval DNA a savannah cat has looks as simple as dividing by two for each subsequent generation.
But in reality it is usually made more complicated by the practice of back crossing: mating across different filial generations.
Back crossing early generations of savannahs is popular to "fix" as many serval characteristics as possible at the beginning of the breeding line. For example those lanky long legs.
F4 savannah kittens are the first generation to be considered purebred savannah cats, rather than wild cat hybrids.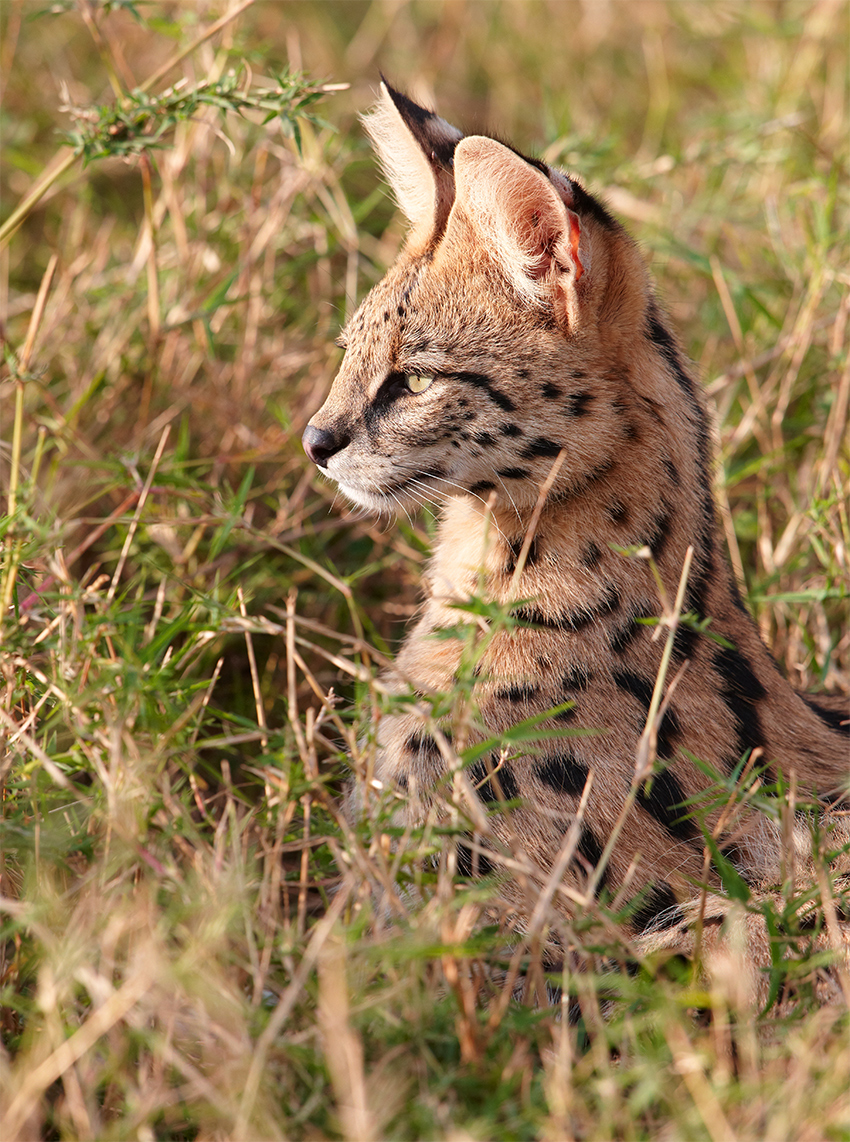 When you meet a savannah cat breeder, they should be able to provide a detailed family tree for their kittens, and a calculation of how much serval DNA each one has.
Savannah cat size
Savannah cats fall somewhere on a scale between domestic cats (9-11lb) and servals (20-40lb).
F1 and F2 generations are the biggest, and subsequent generations tend to get smaller as their serval ancestry becomes more dilute.
F4 savannah cat size is equivalent to a normal medium or large domestic cat (around the 11-13lb mark).
That doesn't mean they're not imposing though. Large savannah cats are taller than most domestic cats.
Even in lower generations, their long legs and muscular build give the impression of height and size, even when their weight is comparable to other domestic cats.
What makes a savannah cat?
The secret of the savannah's mesmerizing appearance is that none of their features are quite what we expect to see in a domestic cat.
Their legs are just a bit longer than we're used to.
The savannah cat's tail is just a bit shorter.
Their ears are bigger.
And when they jump, boy do they jump.
Savannah cat coloring
Savannah cats have been meticulously bred to retain as much of their serval appearance as possible.
Purebred savannah cats have crisp and distinct spots on their coat.
They also have dark "tear stain" lines from the inside corner of their eyes to the corners of the mouth, and ocelli (eye shapes) on the back of their ears.
Savannah cats come in four background colors: golden brown, silver, smoke, and black.
And those exotic spots? Well you can have them in any color you like, as long as it's black!
Savannah cat temperament & behavior
This is a description of the savannah cat temperament and behavior attributed to F4 savannah cats and below. Earlier generations are less predictable, as a result of having a higher proportion of wild cat in their DNA!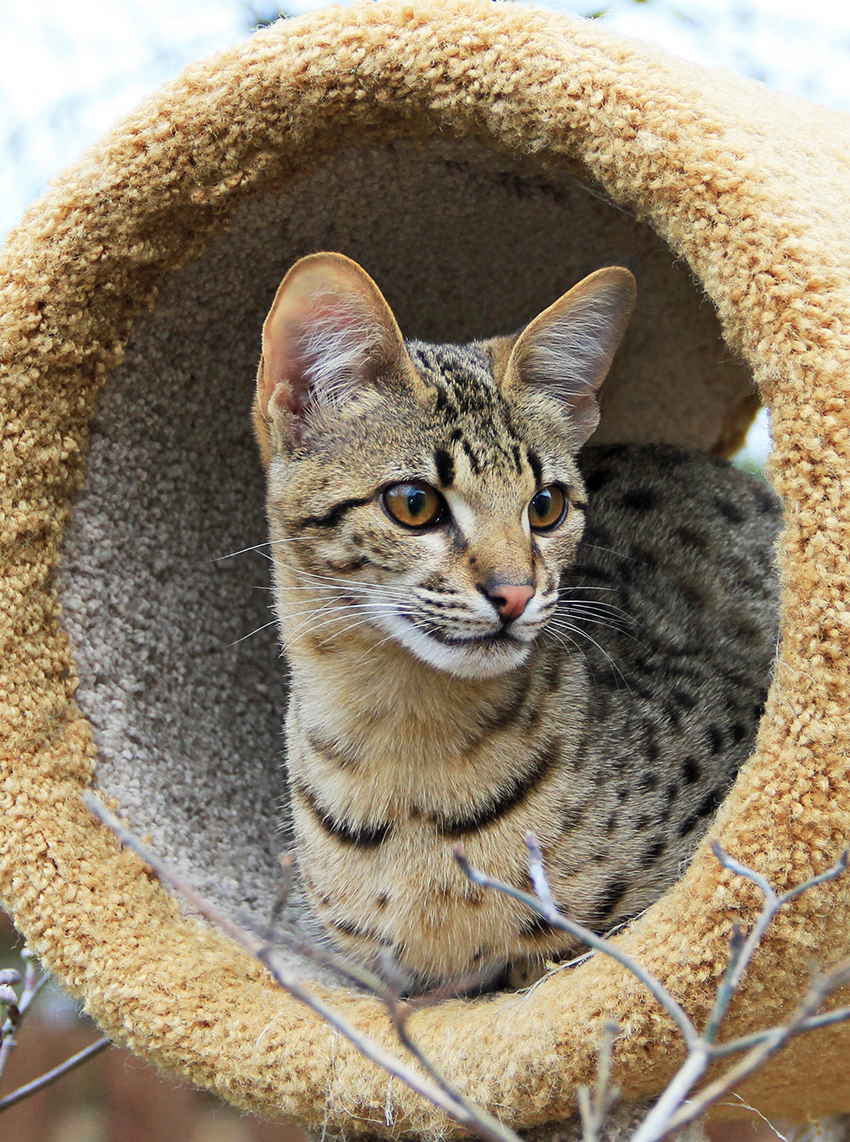 Savannah cats are one of those breeds often described as a dog inside a cat's body.
They are loyal and loving, and they are also fiercely intelligent.
Savannah cats require lots of mental stimuli, so to keep them from tearing up your home you'll need a large stash of toys, and plenty of diverting and enriching activities to keep them occupied.
Savannahs are also incredibly athletic, easily jumping two metres from a standing start. Being curious fellows, they'll use this prowess to explore every possible corner of your house.
It's this combination of wit and playfulness which gives savannah cats their bright and entertaining personalities, and makes them so beloved by their owners.
The feelings are usually reciprocated too: savannah cats are known for meeting their owners at the door when they get home, and keeping them company round the home.
Grooming your savannah cat & general care
Savannah cats have been bred primarily for their temperament, body shape and coloring, so their coat has remained short, slightly coarse and practical like their wild ancestors.
It doesn't require much grooming, although they'll thank you for a gentle brush every now and then to catch stuck pieces of debris (especially if they're an outdoor cat).
Savannah cats tend to prefer a wet diet with a large meat component.
Your savannah cat breeder should be able to discuss their parents' diet in detail, and give you a small amount of the food your kitten has been weaned onto in their going home pack.
To make sure your savannah cat enjoys the best possible health over the course of their life, find a vet who has experience treating cats descended from wild hybrids.
Savannah cat health issues
The biggest problem with savannahs is creating the first F1 hybrid between a domestic cats and a serval.
Domestic cats and servals have different gestation times, which results in a high number of aborted pregnancies, still births and deaths in early infancy.
But once these hurdles are overcome, most savannah cats enjoy pretty good health.
There are two conditions worthy of mention though.
Hypertrophic cardiomyopathy (HCM)
Like many pedigree cats, they seem more vulnerable to hypertrophic cardiomyopathy (HCM) than their moggy counterparts.
Cats with HCM have an enlarged heart, which can impair function and result in sudden cardiac arrest.
In an ideal world, all pedigree cat breeders would have their breeding cats regularly checked for HCM, but unfortunately there is no requirement for them to do so.
Hybrid Male Sterility (HMS)
Like many hybrid animals (think mules) early generations of male savannahs suffer Hybrid Male Sterility (HMS).
HMS means that male savannahs are born with incorrectly developed testes and remain infertile in at least the F1 and F2 generations. Very, very occasionally a fertile male savannah is born in the third generation, but the F4 generation is the first to produce reliably fertile males.
In fact, savannahs are proving a valuable species for scientists at Texas University trying to understand HMS, and how it works to keep all species distinct, instead of infinite hybrids cropping up all over the place.
HMS doesn't really affect male savannahs very much, but as we'll see in a moment, it certainly does affect their price.
Savannah Cat Lifespan
Estimates on savannah cat lifespan vary depending upon where you look. However, most reports tend to put them between 15 to 20 years.
Savannah house cat or outdoor cat?
Savannah cats love to be around people and often have no desire to stray far from their owners, so many will adjust to life indoors, provided you supply plenty of entertainment.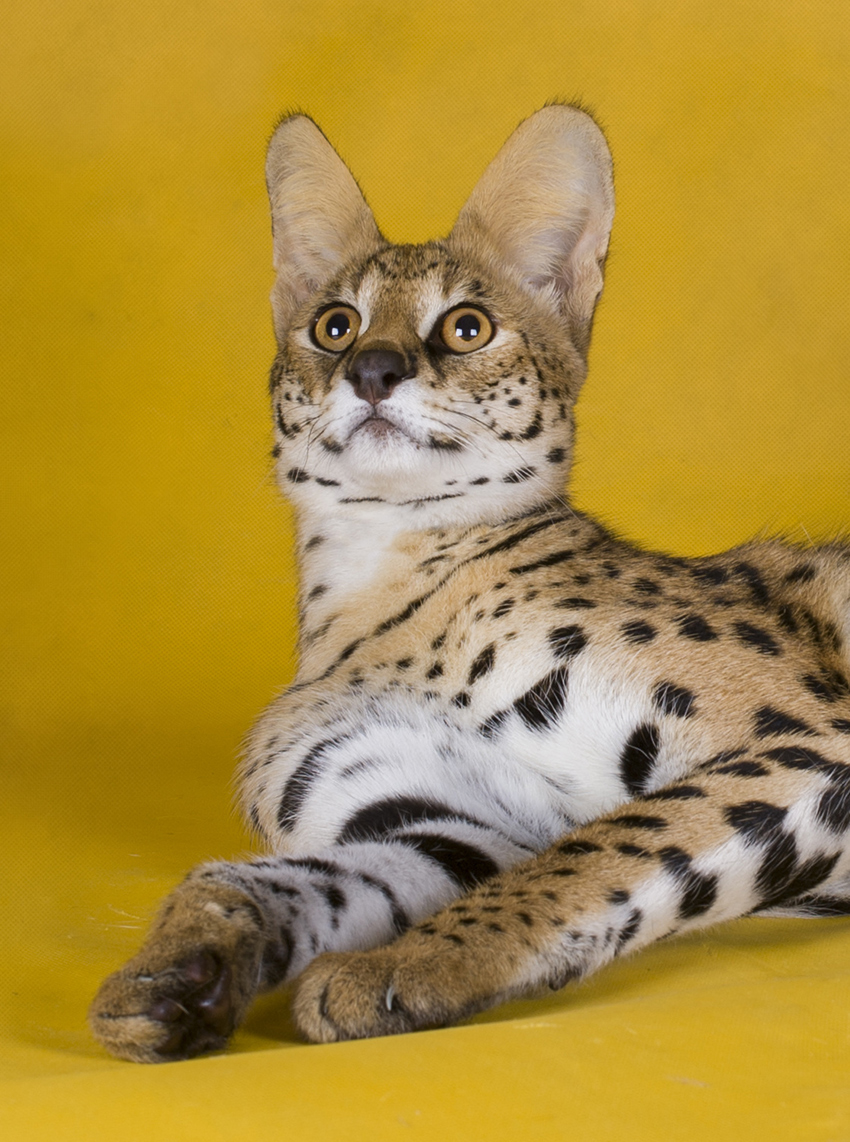 But savannah cats are enthusiastic athletes, and sometimes it can be hard to satisfy your impulse to run and jump indoors.
When this happens they can get bored and destructive, so the best way to be confident they will burn off their energy appropriately is by letting them roam outside.
There's a quirky compromise to be had too: lots of savannah cat owners report successfully teaching their savannahs to walk on a leash outdoors.
Is the savannah cat right for your family?
Savannah cats crave one-to-one attention, so for this reason they are perhaps incompatible with raising small children at the same time.
But they are highly sociable and rarely shy of people, which makes them a great pet for older children.
Savannah Cat Breeders
Due to their unusual ancestry, some regions have strict rules about owning savannah cats, and some places have prohibited it completely.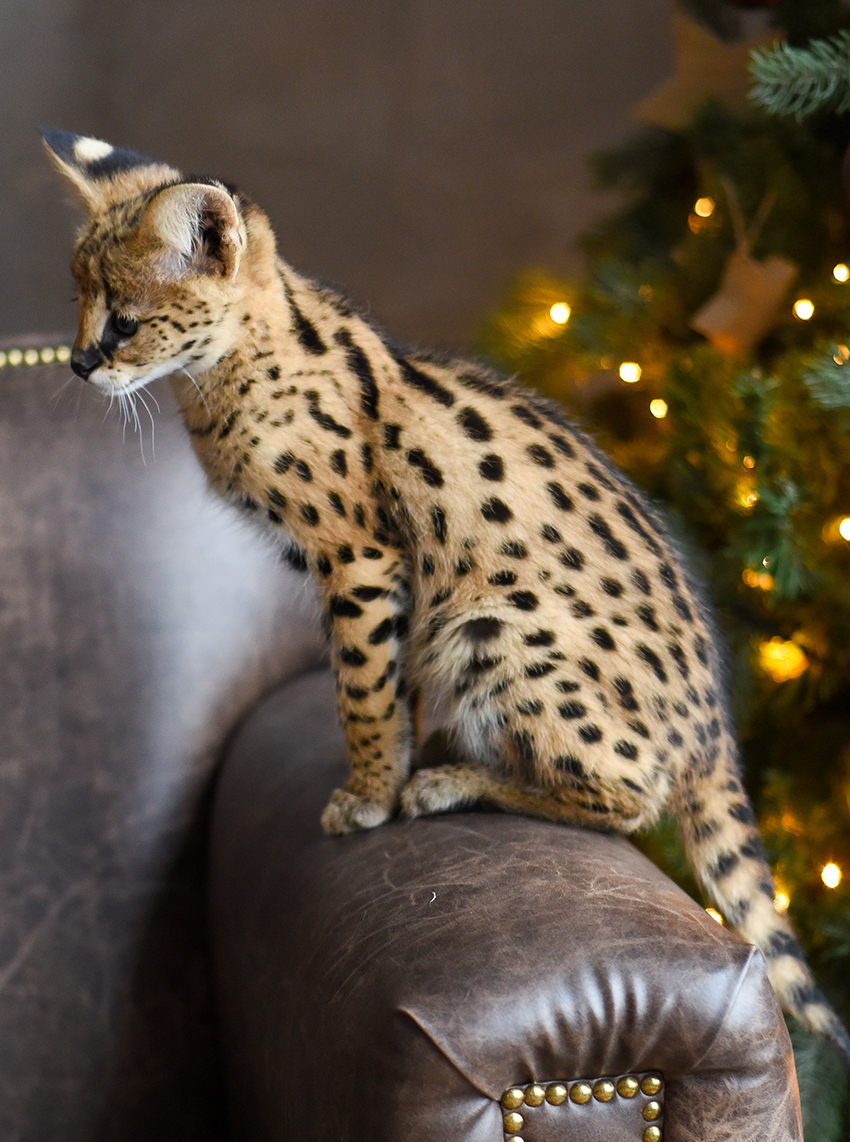 If you're thinking of bringing home a savannah cat, first make sure you don't live in a prohibited area:
Regions with restrictions on owning a savannah cat
Regions in the United States where all savannah cats are illegal:
Alaska
Connecticut
Georgia
Hawaii
Iowa
New York City
Regions in the United States with restrictions on owning savannah cats:
Colorado
Only F4 or below permitted
Indiana
Only F3 or below permitted
Massachusetts
Only F4 or below permitted
New York (except New York City – see above)
Only F5 or below permitted
Please note these lists have been compiled with the most up to date information I can find, but local legislation is subject to change.
Please check the rules in your area before you commit to buying a savannah cat, and let us know if any of our information is out of date!
In the United Kingdom, F2 savannah cats and lower are legal. F1 savannah cats require a special license.
If you're reading this in Australia, all generations of savannah cats have been illegal since 2008.
The government's rationale for this, and the counter-arguments made by their critics, are a thought-provoking debate. On the rights and wrongs not only of creating wild cat hybrids, but importing alien species and managing unwanted cat populations at a national level too.
If savannah cats are outlawed where you live, don't stop reading or do anything drastic like relocate, because in a minute we'll look at some alternatives guaranteed to cheer you up!
Finding a savannah cat for sale
So, if you're confident that a savannah cat is the breed for you, and you've checked they are allowed where you live, how do you go about getting one?
The TICA website maintains a list of Savannah cat breeders, and more can be found online.
How Much Is A Savannah Cat?
Savannah cats are really, very, very expensive.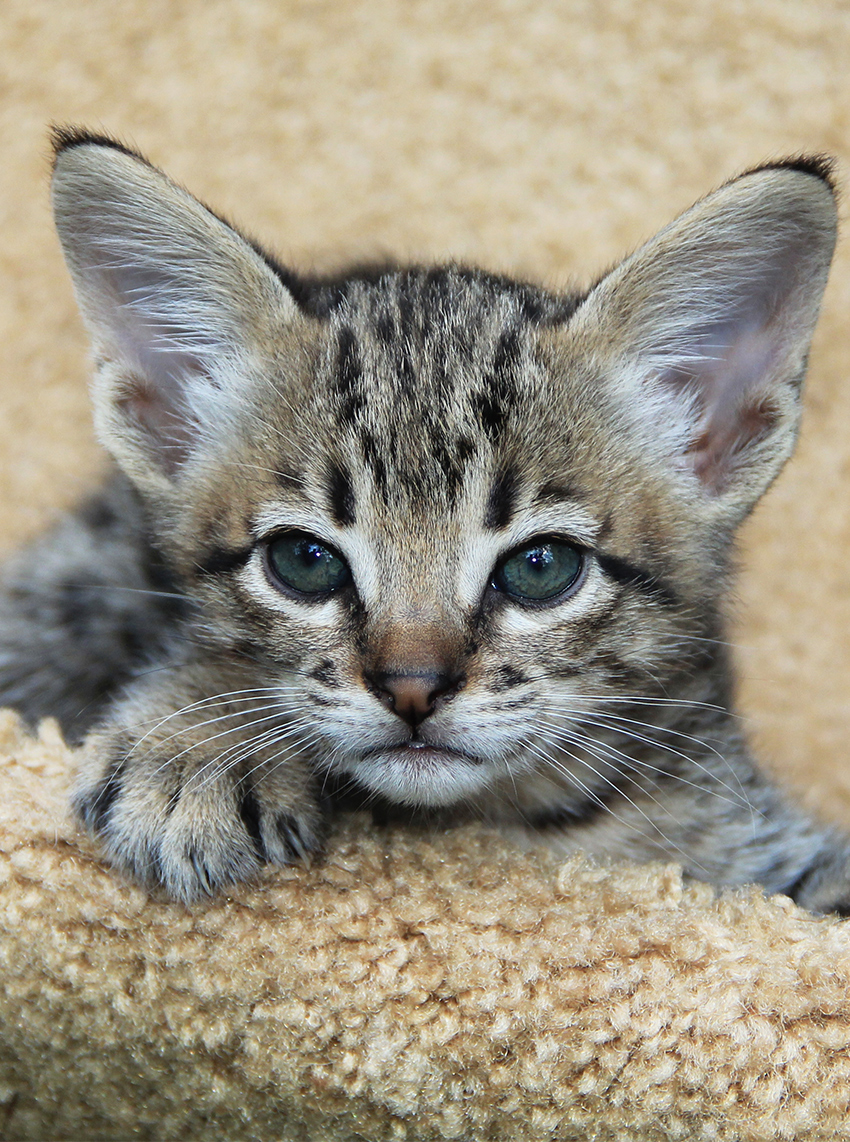 F4 and F5 savannah cat kittens usually costs between $1,000 and $2,000.
F8 savannah cats tend to be sold for around $600 – $700.
Expect to pay a premium for kittens of any generation who have inherited especially serval-like features.
Effect of HMS on savannah cat price
If you have already decided you specifically want a male savannah cat or a female savannah cat, you'll need to bear in mind the effect of Hybrid Male Sterility on the price of a savannah cat.
In the F1-F3 generations the males are usually sterile. This means that female savannah kittens are much more valuable than male savannah kittens. Although in reality they are usually kept or promised to other breeders before they are even conceived. They are rarely found for sale.
From the F4 generation onwards, the value of female kittens drops as they become further removed from their serval relatives. But the males become fertile, so their value goes up. So it's easier to find an F3 savannah male kitten on the market than an F4 savannah male kitten.
Savannah Cat Rescue
Savannah cats are still pretty rare, owing to the biological challenges of creating them, and their youth as a pedigree.
However, it's not completely unheard of to find savannah cat for adoption every now and then.
If you wish to go down the route of savannah cat rescue, you might have to register your interest with local agencies. Then brace yourself to be a little patient.
If you encounter an early generation being offered for adoption, be prepared to ask the owner exactly why such a valuable cat is being offered for free. Alarm bells should ring if they try to sweep your concerns under the carpet.
Alternatives to owning a savannah cat
So what if you've come this far and decided that a savannah cat is not right for you. Or realized that they are outlawed in your area?
Well there are some great alternative breeds, with exotic looks and devoted personalities, but which are completely domestic.
Oriental shorthair
Originally an off shoot of the siamese pedigree, oriental shorthair cats are lean and muscular like the savannah cat. They also have the same big eyes, big ears, and big personalities.
Oriental shorthairs come in almost every possible coloring, including spotted tabbies which look like uncanny dopplegangers of the savannah.
Ocicat
Ocicats are three parts siamese and one part abyssinian, discovered by happy accident in the 1960s.
The breed became popular because their spotted coat gives them the appearance of a wild cat, without any wild cat DNA.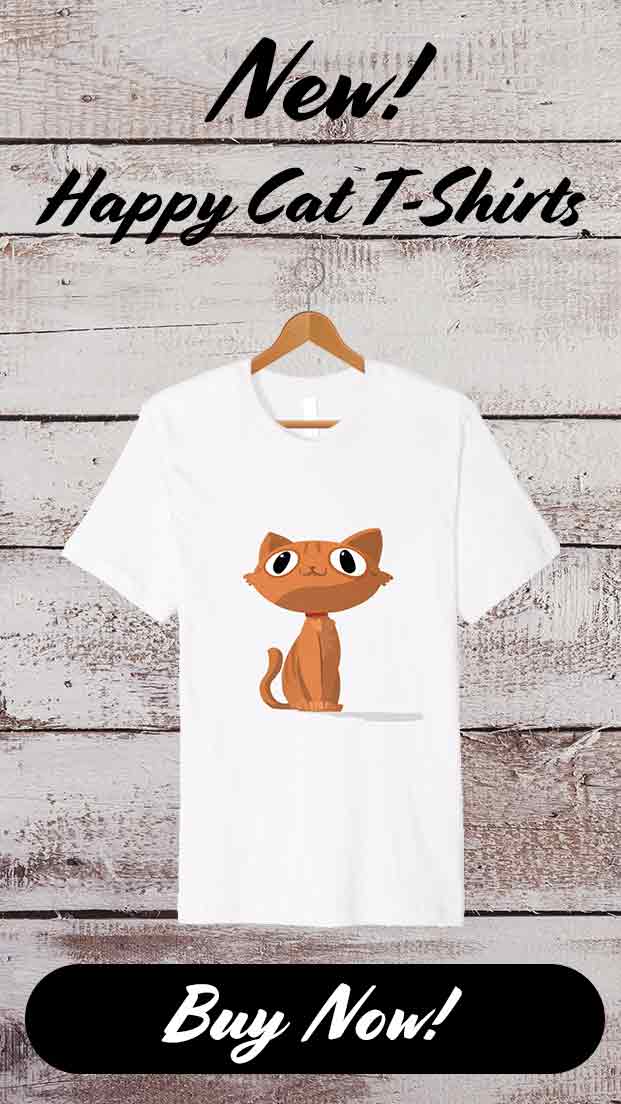 Their temperament is friendly and energetic, so they make great family pets.
Savannah Cats
Savannah cats are part of a wider trend for designer pets which resemble wild animals.
The practicalities of owning an early generation savannah cat means they are best left to professional breeders. Or very experienced cat owners with a lot of time and energy to spare.
However, savannah cats from the F4 generation onwards have stacks of potential to be charming and loving family members.
Before bringing one home, make sure you can provide a suitable environment for them and lots of company.
You'll be rewarded with a feline companion like no other.
Do you have a savannah cat?
Which generation did you choose, and what are they like?
And to all our readers, where do you stand on creating wild cat hybrids as domestic pets?
Join in the debate using the comments section below.
Free Updates For Cat Lovers!
Our cat care articles, tips and fun facts, delivered to your inbox
References and Further Reading
David, B. W., (2015), "Mechanisms Underlying Mammalian Hybrid Sterility in Two Feline Interspecies Models", Molecular Biology and Evolution, 32(10): 2534-2546
Gelberg, H. B., (2009), "Purkinje fiber dysplasia (histiocytoid cardiomyopathy) with ventricular noncompaction in a savannah kitten", Veterinary Pathology, 46: 693-697
Free Updates For Cat Lovers!
Our cat care articles, tips and fun facts, delivered to your inbox