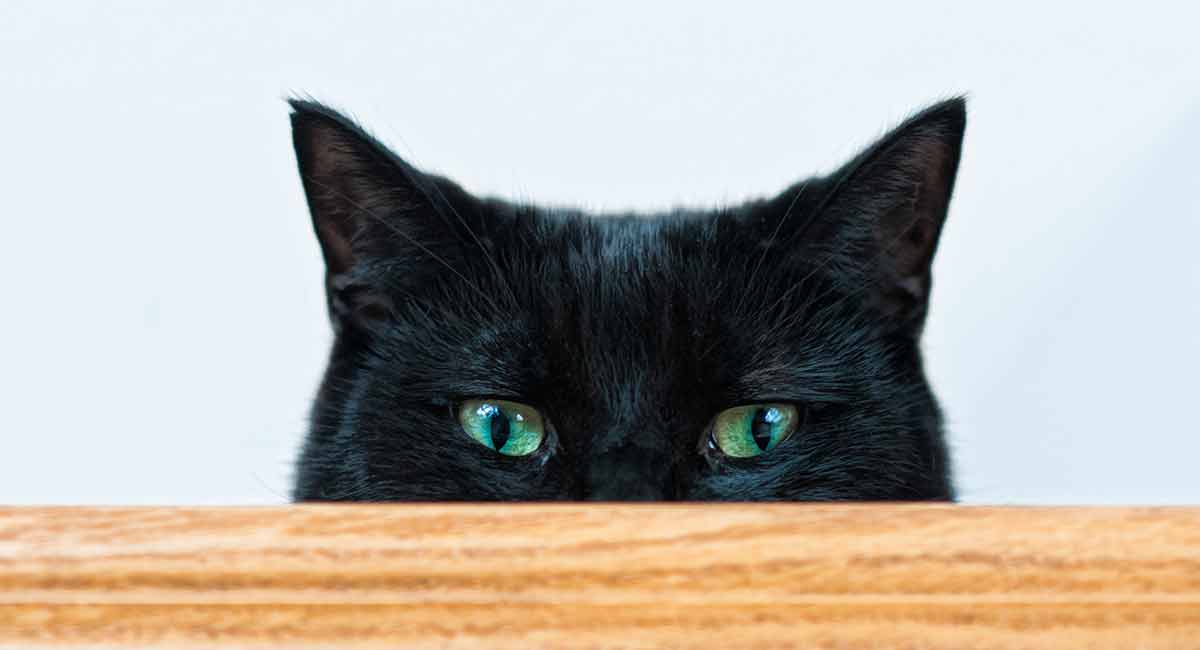 Black cat breeds have fascinated people for centuries. Just think about the sheer number of legends, myths and fables that surround solid black cats! Today I'll share the top breeds that you'll find with a pure black fur coat.
Contents
In Germany, if a black cat crosses your path, you can look forward to good times ahead. And in both France and Scotland, treating black cats respectfully bodes well for your finances. Of course, most people are also aware of the persistent stigma (thank you, Middle Ages) that black cat breeds bring bad luck. Thankfully, both black cats and street rats have now been exonerated of blame for spreading that era's deadly black plague. And feline genetics experts now know that black cats have some of the sweetest, calmest personalities in the cat world – and this is directly related to their coat color!
Which Breeds of Cat are Black?
The Cat Fanciers Association (CFA) currently recognizes 22 breeds of cat which can come in black. However, not all black cats are necessarily also purebred cat breeds. Some black cats may have hybrid or mixed breed parents, and some might not have any pedigree heritage at all.
Some purebred cats may also be able to breed kittens with a wide variety of coat colors, including but not limited to black. This means that sometimes the only way to find out what breed your black cat is, is to have your kitty genetically tested by your veterinarian. Interestingly, fur color can be one particularly useful clue to help feline geneticists figure out who a kitten's parents are!
Bombay Cats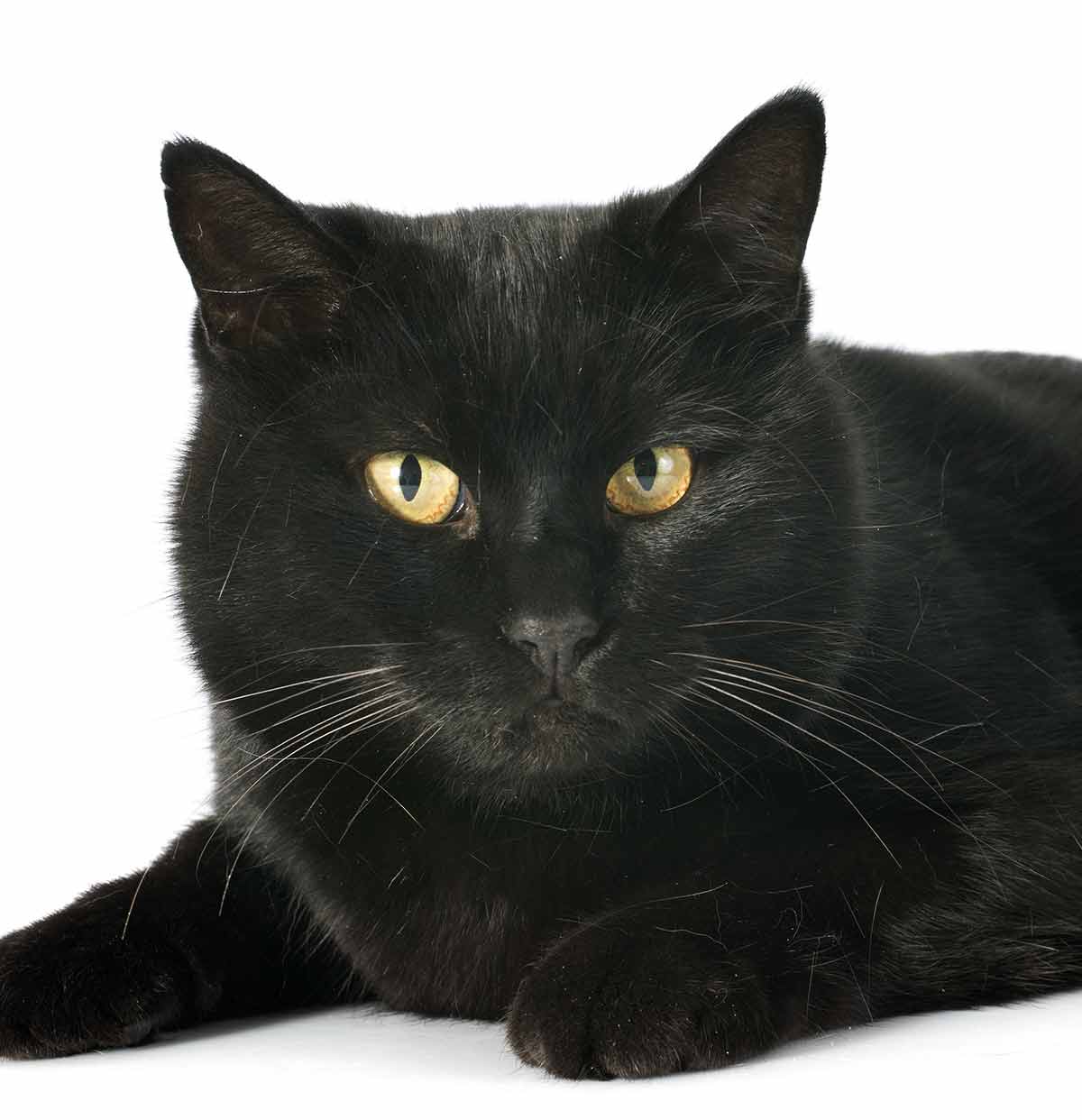 Beautiful Bombay cats look like small panthers, and this is not an accident. In 1953, breeder Nikki Horner deliberately crossed an American Shorthair cat with a Burmese cat to create the popular and unique cat breed now known as the Bombay.
These are short haired cats with shiny, silky hair and outgoing personalities who love to vocalize. They are smart and sociable and are a great choice for pet owners of all ages.
Interestingly, the Bombay cat is the only cat breed that is always all black. They are is small to medium in size and can weigh 6 to 12 pounds.
As a relatively new purebred cat, the Bombay doesn't have a long list of known health issues. But since the flat-faced Burmese breed is in this cat's genetic history, be sure to watch for eye, nose, throat and dental health issues.
Exotic Shorthairs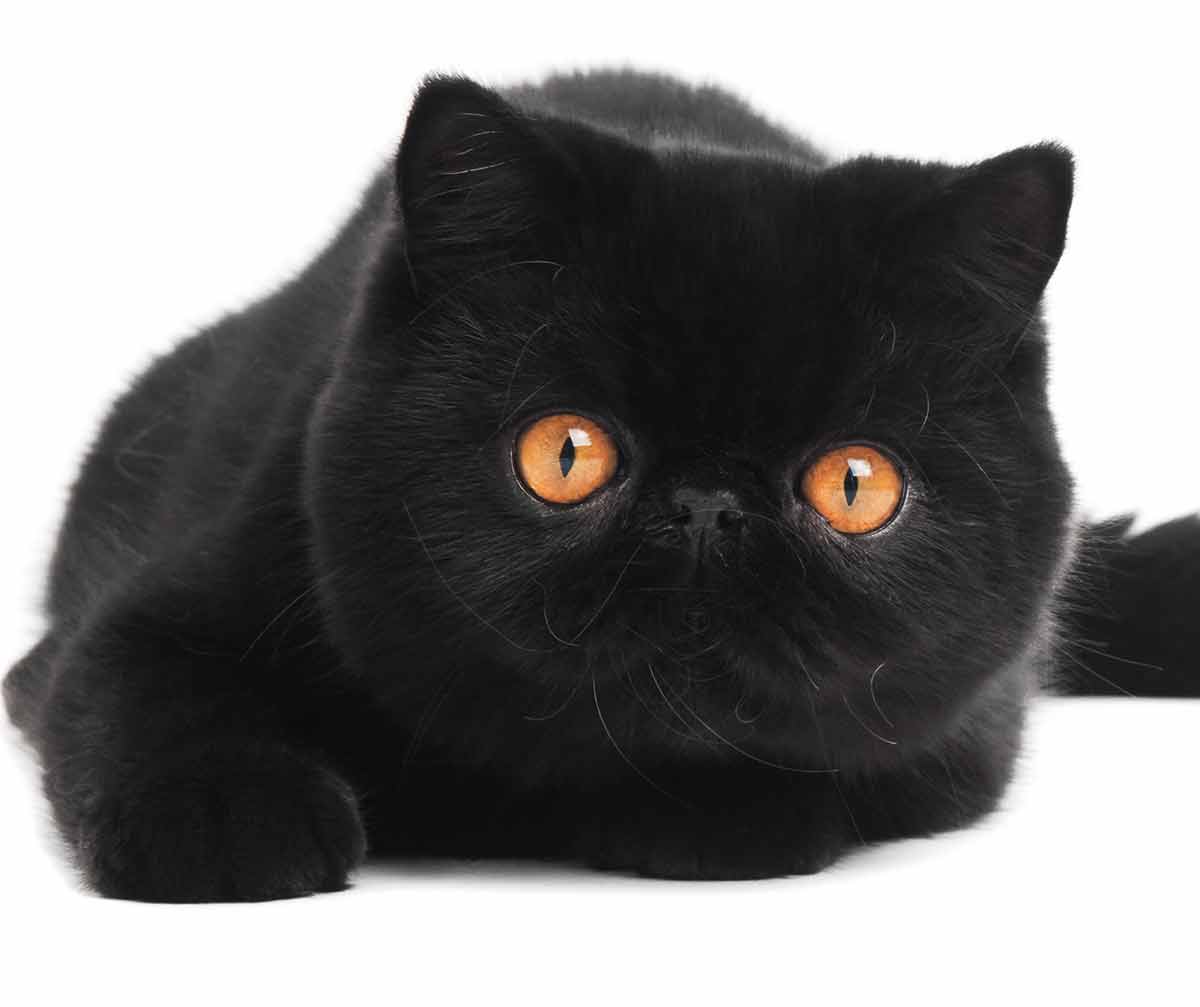 The Exotic Shorthair cat is a great example of short haired black cat breeds. Its plush and brilliant black coat is so beautiful some breeders and owners describe it as a "mini-tuxedo." This cat is strongly linked genetically to the Persian cat, but its short coat means you will log a lot less time on grooming and combing tasks!
They are playful and smart, but still super cuddly. These cats love lap naps, people time and play and can become lonely when left all by themselves for many hours at a time.
While the Exotic cat can sport a striking all-black coat, this cat can show many other coat colors as well. All black Exotics have copper eyes. Sadly they are very unhealthy. As flat-faced cat breeds, both can suffer from eye, nose, throat and dental health issues.
Persian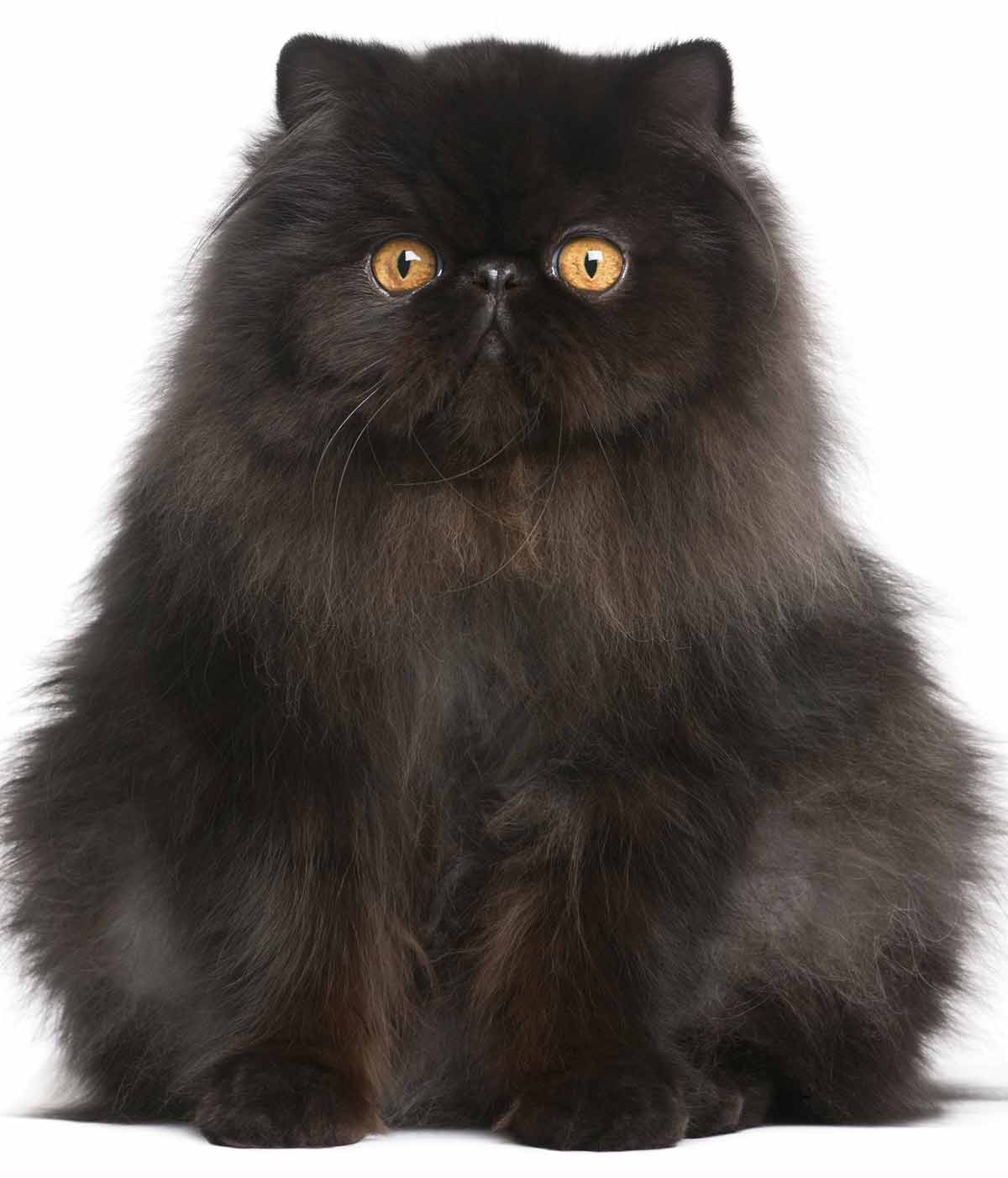 The iconic Persian cats are one of the most ancient long haired black cat breeds. They are also one of the black cat breeds with copper or yellow eyes.
The Persian cat's long coat needs lots of maintenance, including daily brushing and combing to avoid mats and tangles. But, these cats have lovely, calm personalities and do not vocalize loudly or often, and these characteristics can make them great family pets.
One thing to watch for health-wise is that Persian cats are a flat-faced breed, which means sometimes they can struggle with eye, nose, throat and dental health issues. These issues are serious and should not be taken lightly when deciding whether to bring home a flat faced cat.
Scottish Fold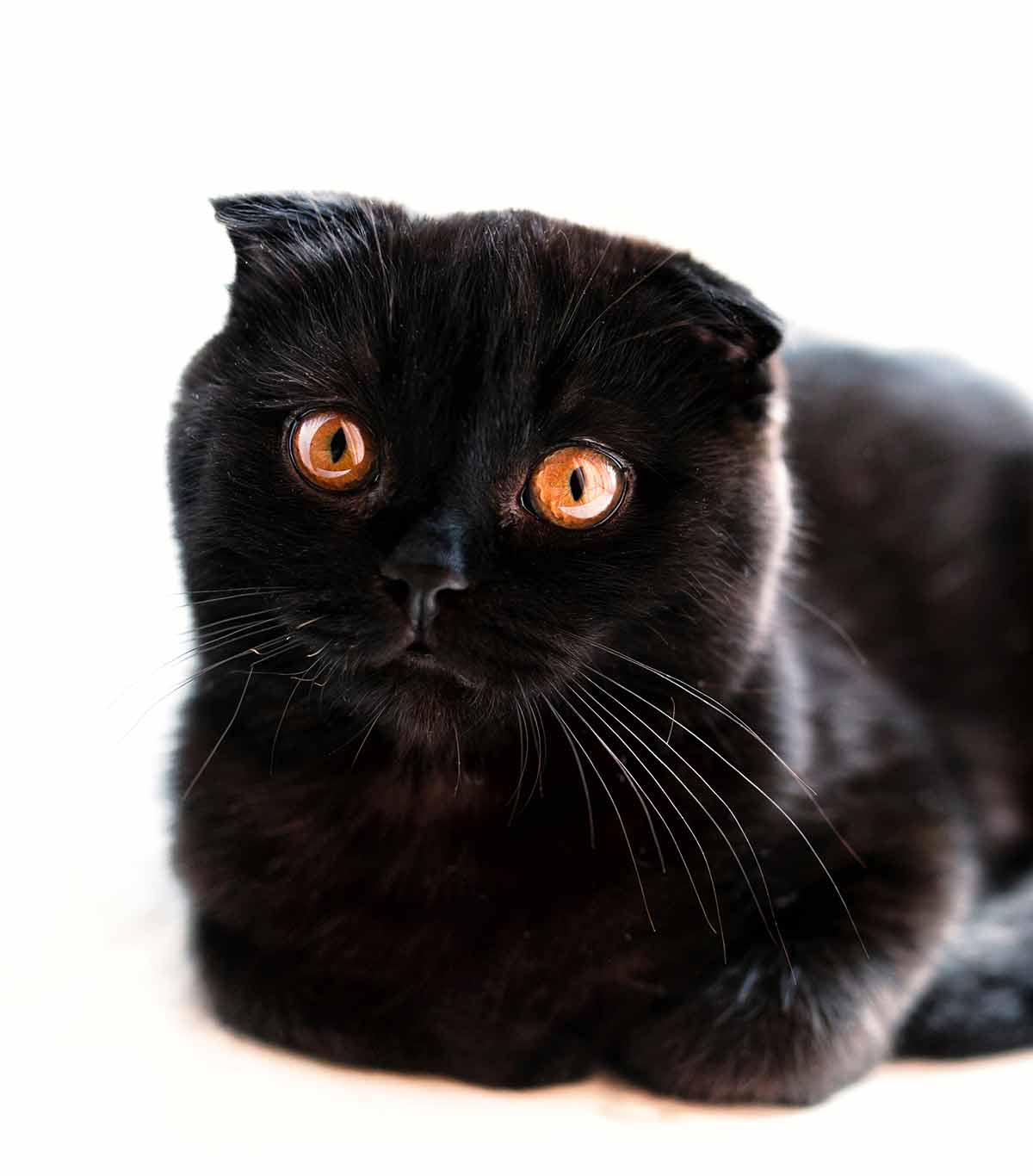 The Scottish Fold cat gets its name from an unusual gene mutation that causes the ears of some kittens to fold forward. Black is just one of many coat colors this cat breed can exhibit. A black Scottish Fold cat will display either gold or copper colored eyes.
The Scottish Fold's personality is lovely and these cats are smart, sweet and loving companions. They are also a good fit in multi-pet households.
However, it is important to recognize that the folded ears can cause some health issues in Scottish Fold cats. You will need to pay extra attention to ear cleaning, and sadly these cats can also suffer from skeletal and joint issues related to the same gene mutation.
Selkirk Rex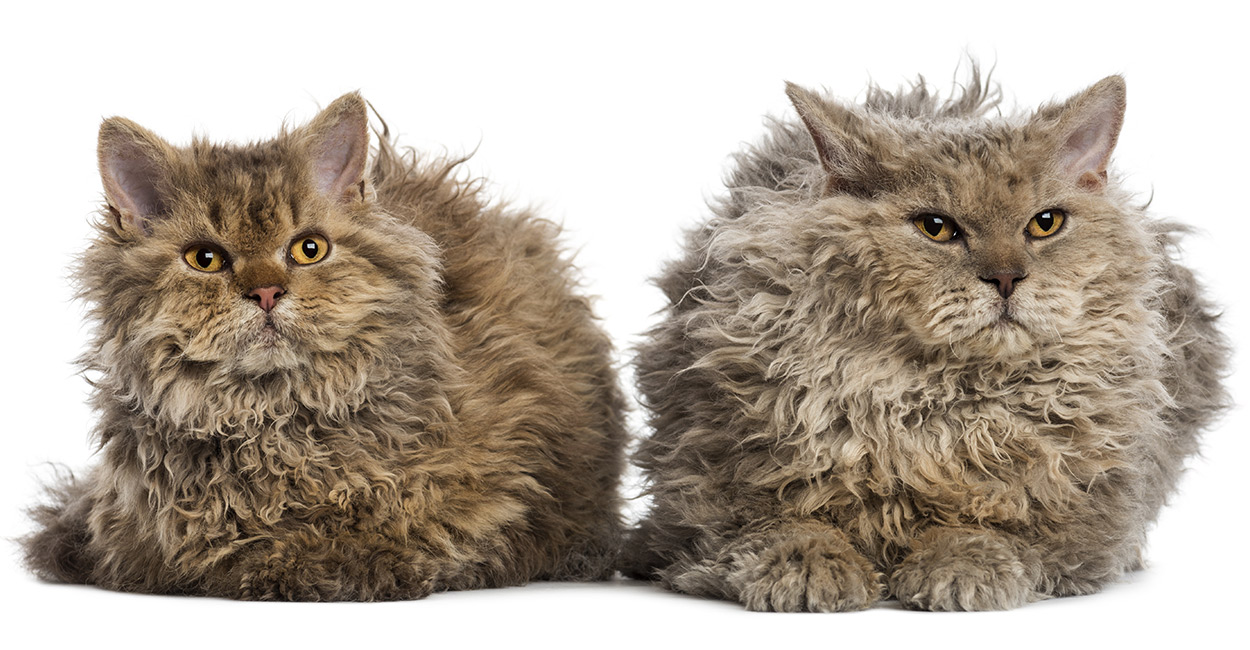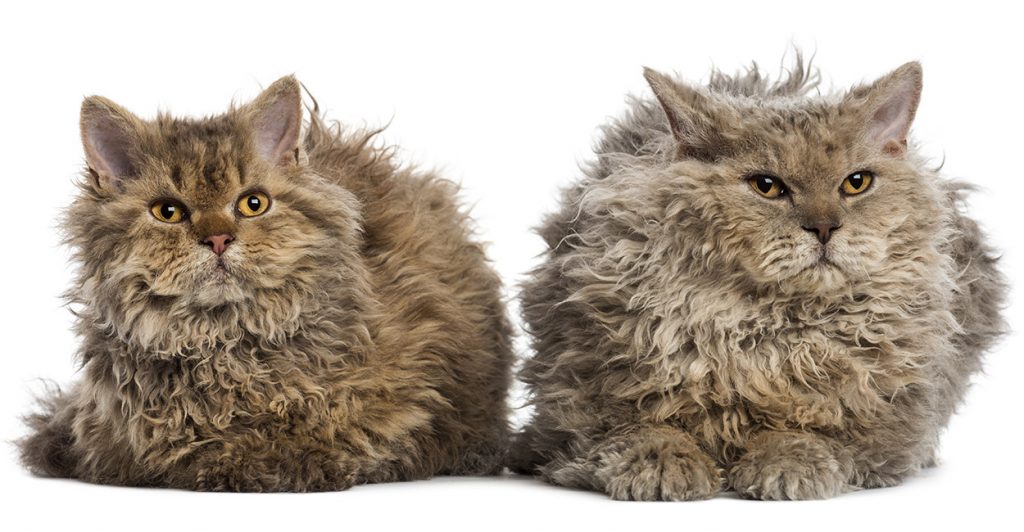 The Selkirk Rex cat is sometimes nicknamed the "woolly cat" for – you guessed it – this cat's thick and woolly coat! Because of the curly thick coat, you will need to be ready to devote more time to brushing, combing and grooming your Selkirk Rex cat.
Luckily, this cat loves to cuddle and snuggle and is naturally loving and affectionate, so you likely won't have to chase your kitty down for grooming time.
The Selkirk Rex cat is still a newer purebred cat breed, so owners don't have the advantage of the extensive genetic health records for older cat breeds. However, there are some known health issues you can watch for, including polycystic kidney disease, heart issues and hip dysplasia.
American Bobtail
The American Bobtail cat can be long or short-haired and solid black is just one of many possible coat colors. The most interesting aspect of this purebred cat breed is, of course, this cat's bobbed tail. In some cats, it might seem there is no tail at all, while other cats may have a short tail that is straight, curved or kinked.
The pet American Bobtail cat has an awesome, playful personality. They love to run and jump and play games and follow their owners around, to the point where some fans say these felines are more like dogs than cats!
The American Bobtail's health is generally sound. Unlike the tailless Manx cat, very few American Bobtails suffer spinal problems as a consequence of their bobbed tail gene mutation.
American Curl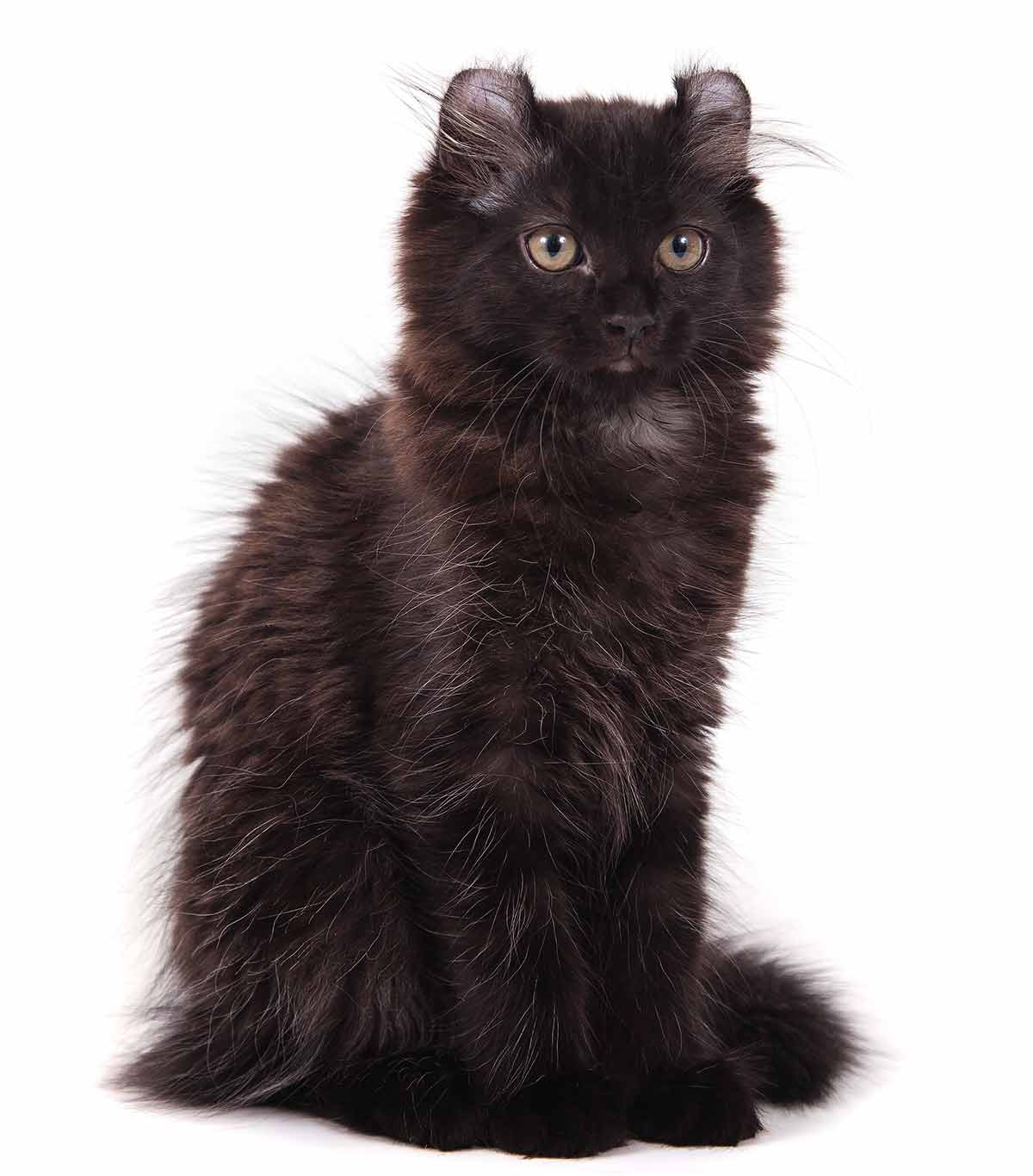 The American Curl cat gets its name from its unique ears that curl out and backwards. It's a different genetic mutation to the Fold, and crucially it doesn't have any detrimental consequences for their health.
The full adult ear position can sometimes make this cat look continually surprised, which is very cute! However, you won't see this curling process begin to happen until a kitten is around the age of four months.
The American Curl cat can have a long or a short coat, and black is just one of many possible solid coat colors. These cats don't have much of an undercoat, which makes grooming and brushing easier.
Their personality is endearingly social. These cats are smart, curious, playful and very devoted to "their" people, making them more like dogs than cats in some ways! This cat breed is not only new but is genetically quite diverse, which makes it one of the healthiest pet cat choices overall.
Manx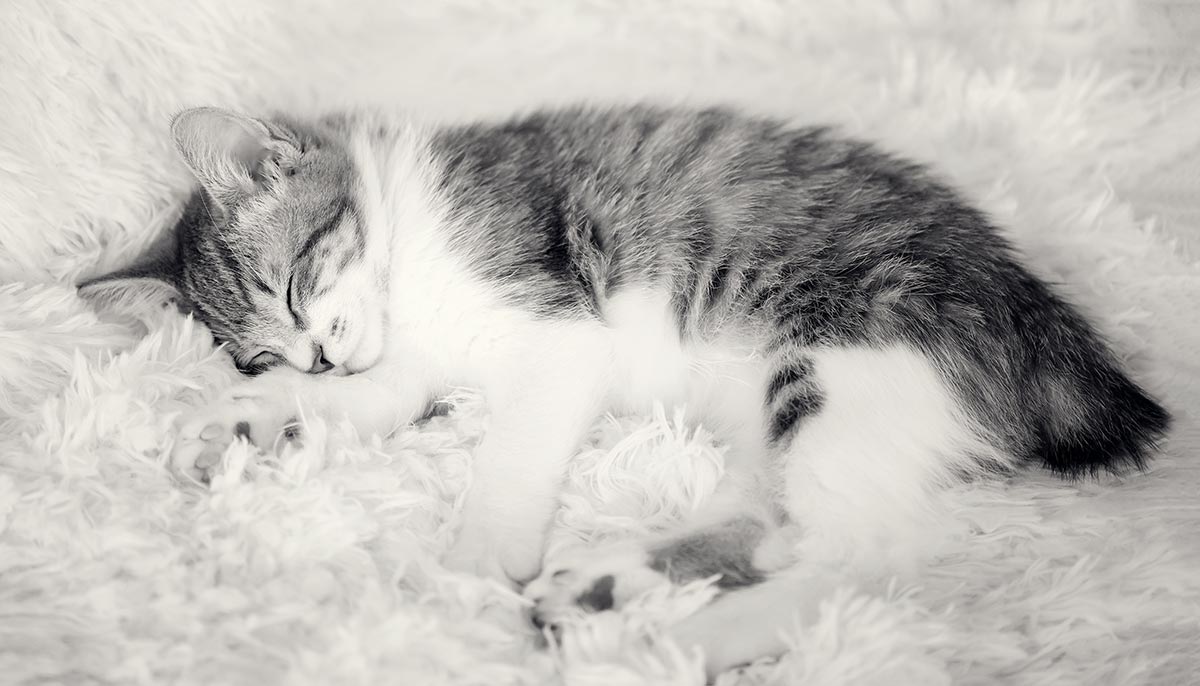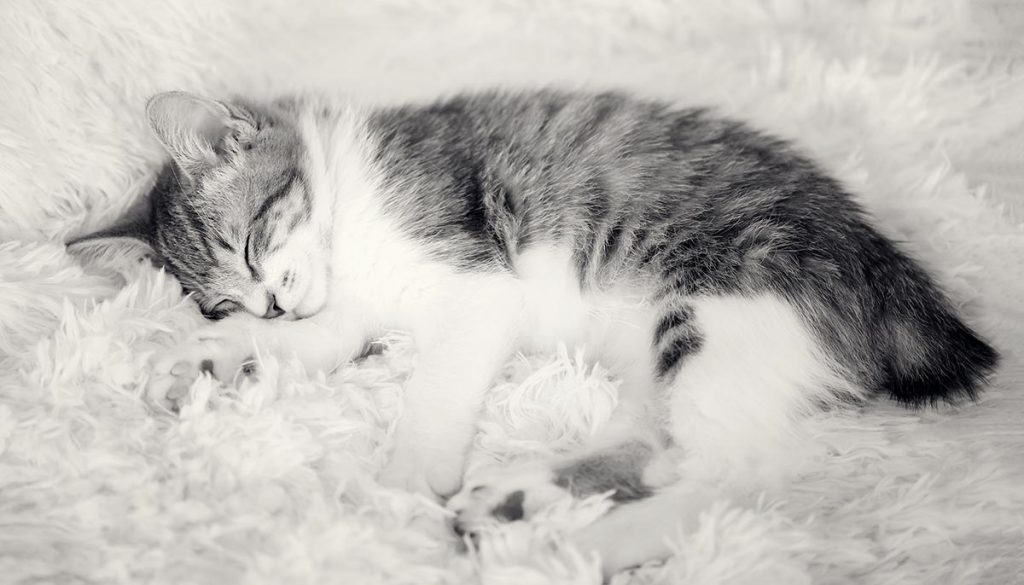 The Manx cat breed is one of the most ancient cat breeds. Most of these cats have no tail, which gives them a very distinctive appearance! The reason the Manx cat is usually tail-less is due to its genetics. A gene tells the cat's spine not to make the final vertebrae that would be the tail.
Sadly this gene can also cause health troubles depending on how aggressively it expresses itself. Some Manx cats will be healthy, while others may develop spinal issues including spina bifida.
But all is not lost! Cautiously bred Manx cats with enough tail vertebrae remaining to protect their spine can be great family cats. They are smart, playful, loving with family members of all ages, great with other pets and generally just very attentive and affectionate.
Oriental Shorthair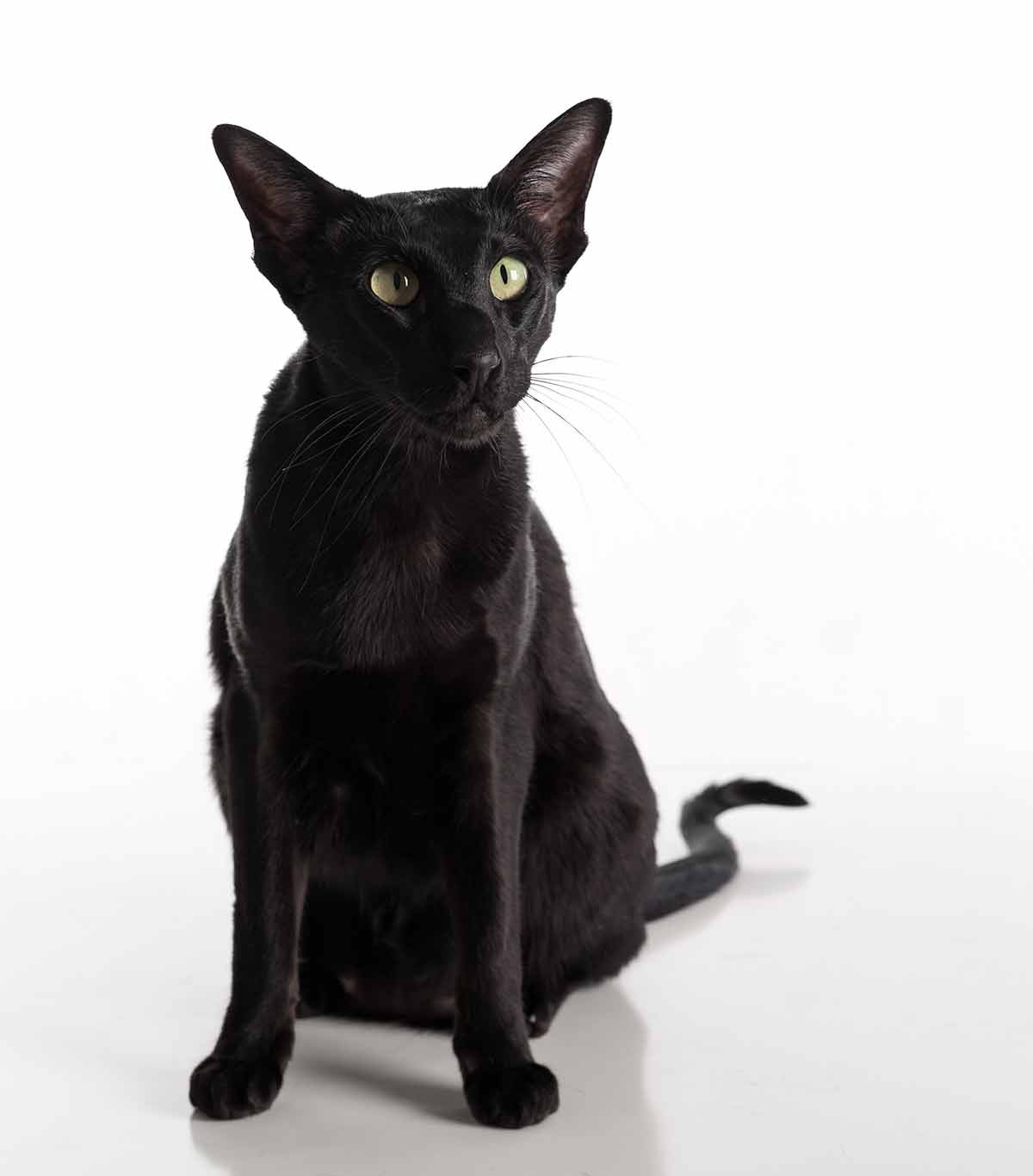 The Oriental Shorthair cat is a small black cat breed with a very distinctive, lithe and exotic look. These cats have amazingly large ears that sometimes look almost like tiny wings on either side of the cat's head!
Black is just one of many solid colors this cat breed can develop, but when it happens, it makes the Oriental cat look even more striking and mysterious. To lend additional beauty and intelligence to this cat's looks, the Oriental is one of the best representatives of black cat breeds with green eyes! But this cat can also manifest many different eye colors, including yellow and orange.
Personality-wise, the Oriental cat is extremely loyal, loving and devoted and really just wants to be with you all day and all night. They can be quite vocal and can get lonely if left by themselves for long periods of time.