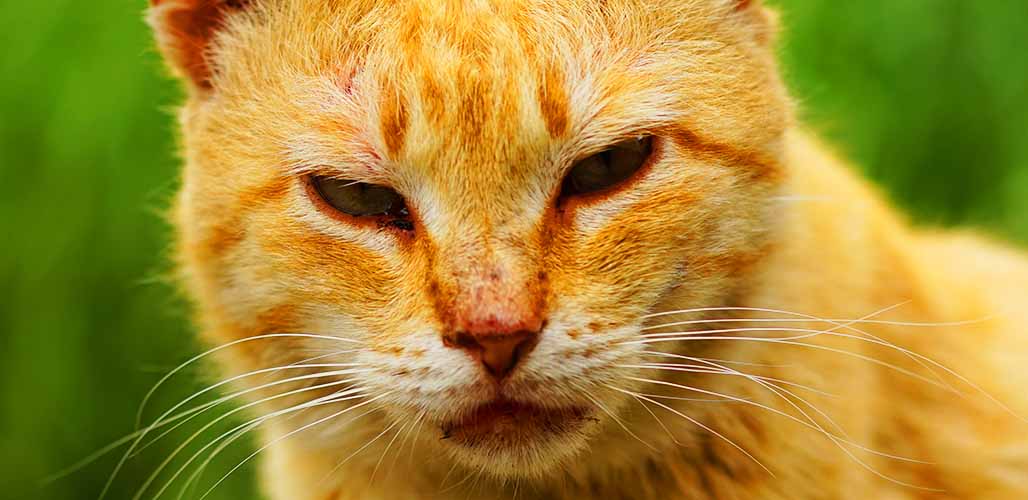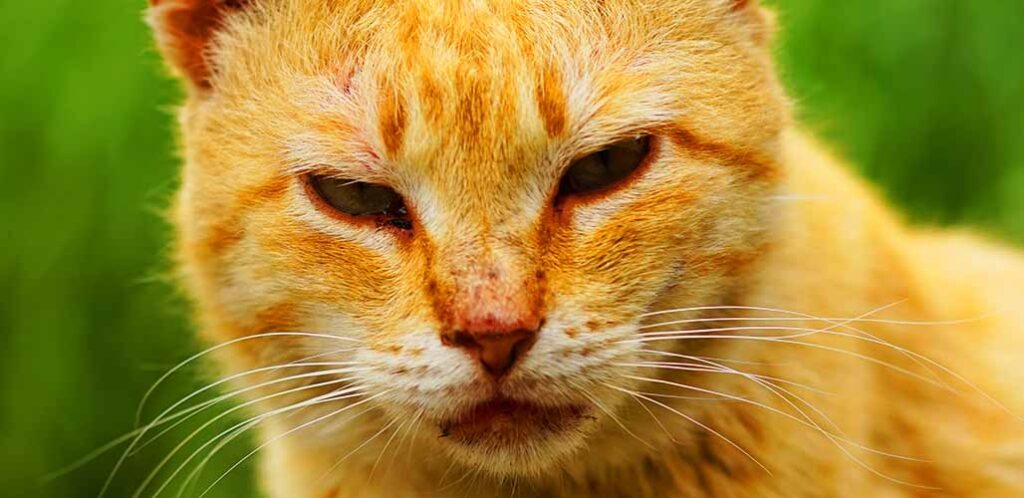 You don't need me to tell you that cats are fastidiously clean. But they're not completely immune from sometimes looking a bit unkempt. A classic example of this is a bit of crustiness around their nose. A little bit of black crust around cats' nose is usually just harmless dry boogers or perhaps lentigo. But crustiness which has suddenly become noticeably worse, or which is not normal for your cat, can be a sign of an underlying health problem. Here's what you need to know about when black crust around cats' noses is safe to ignore. And when it's worth mentioning to a veterinarian.
Contents
Causes of black crust around cats' noses
These are the usual culprits when it comes to crusty kitty noses:
Dried nasal mucus (boogers)
Dry blood
Feline herpes
Lentigo
Lesions or ulcers which have scabbed over
Dried nasal mucus (boogers)
Black crust around a cat's nose which comes and goes is usually composed of dried nasal mucus, or boogers. Just like inside our own noses, the inside of your cat's nose is lined with mucosal membranes. These secrete a sticky substance we know as mucus, boogers, bogeys or snot. This mucus traps dust, dirt, allergens, bacteria and other nasties from the air cats inhale, and stops them reaching the lungs. The mucus drains out of the nostrils, and if it dries at the opening of the nostril before being cleaned away (for example in their sleep) it forms a little crusty nugget stuck to the skin and small hairs around the entrance of the nose.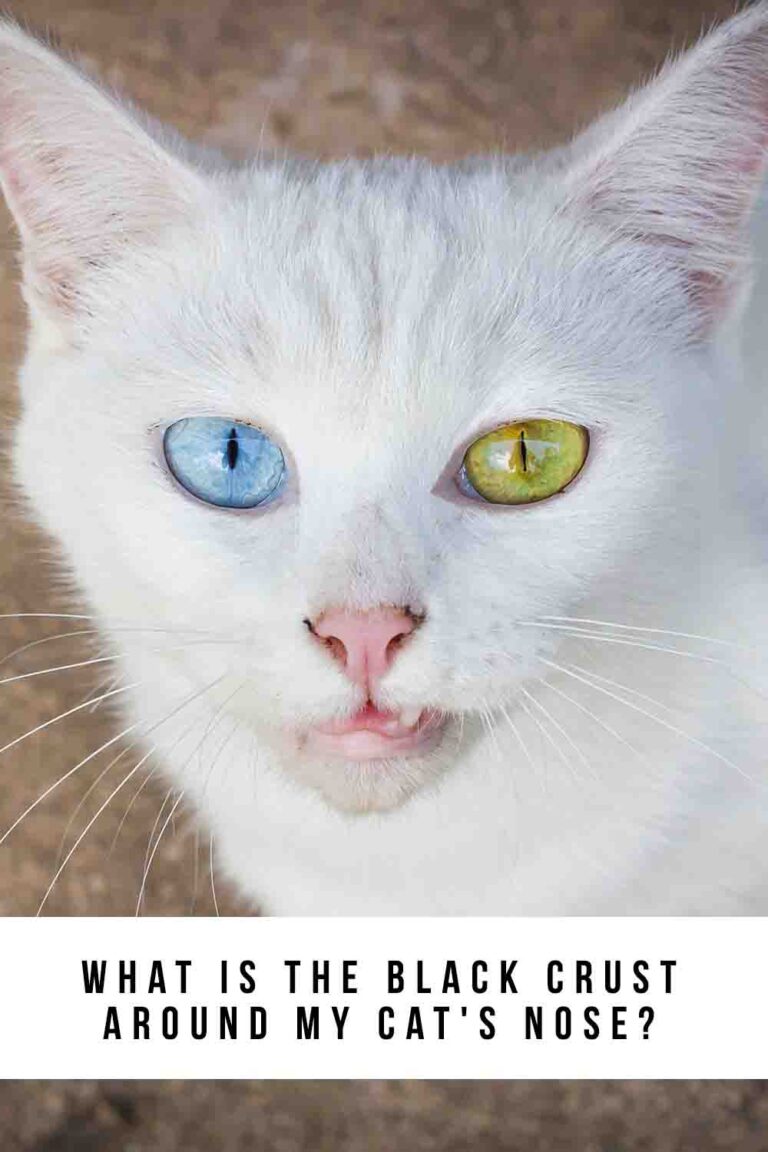 But why is it black? This is actually pretty normal for cats. Their tears naturally contain high levels of a reddish-brown pigment called porphyrin – a waste product from the breakdown of iron in their meat-rich diet. Their tears drain from their lower eyelid to their nasal cavity via the lacrimal duct, and so the porphyrin stains their boogers dark brown too. As they dry out the color deepens to black.
Dry blood
Another reason your cat might have a black crust around their nose is if they have had a nose bleed, and some of the blood has dried around the entrance to the nose. Cats can suffer nosebleeds as a result of:
Being injured in a fight.
Being hit by a vehicle.
Accidentally inhaling something spiky like a seed head.
To identify dry blood from a nosebleed, look for signs of other injuries such as scratches, or blood in other places on their coat. Dried blood from nosebleeds is also more likely to affect just one nostril.
Feline herpes
Feline herpes is a virus which causes upper respiratory tract infections in cats. If your cats is infected with it, there is no complete cure at the moment, so treatment focuses on limiting the frequency and intensity of relapses. During the initial infection and subsequent relapses, common symptoms are watery eyes and a runny nose, so deposits of black boogers are also likely to build up more quickly around your cats nose too.
You can identify black crusts around your cat's nose caused by feline herpes because they get noticeably worse than usual. Your cat is likely to also be displaying other symptoms, like:
Puffy eyes
Sneezing
Coughing
Lack of energy
Loss of appetite
Lesions or ulcers which have scabbed over
Another possible cause of black crusts around cats' noses are lesions or ulcers on the skin which have scabbed over. Skin lesions and ulcers can be caused by:
Insect bites
An allergic reaction to food or something in the environment
UV exposure
Bacterial, viral or fungal infections
Genetic or hereditary factors
The scabs that form as they heal are dark because of the iron in the red blood cells trapped in the scab. Usually, you'll know if this is why your cat has dark crusts around their nose, because you'll be aware of the lesion or ulcer which came first. A notable expectation might be if you have found a stray cat with black crust around their nose, or if your cat went missing for a while and came back with them.
Scabs can be distinguished from dried boogers because they aren't easily soaked off with some warm water on a cotton ball.
Lentigo
Finally, I want to give a special mention to lentigo. Lentigo are harmless freckles that appear on the noses of orange cats as they get older. They are caused by an accumulation of pigment producing cells called melanocytes. They can be brown or black, and be flat or have raised edges. Black lentigo with raised edges could be mistaken for crustiness, especially if you've never encountered it before, and if your cat's nose leather is on the dry side anyway.
Lentigo is completely benign and nothing to worry about. It is usually quite easy to recognize by comparing it to photos online, but if you are worried you veterinarian will be happy to confirm either way.
How to remove black crust around cat's nose
Your cat will usually succeed in removing their own dried boogers as part of their normal grooming routine. But, if they are very young, or getting old, or have long fur which traps the boogers very firmly, you might like to offer them a helping hand. The safest way to do it is using boiled water that has cooled back down to warm, and some cotton balls or swabs. Hold your cat securely but gently, and wipe outwards from the edge of their nose. Alternatively, you can buy face wipes in pet stores and online which are specifically designed to be safe for cats. Once the area is clean, give them a treat to make it worth their while!
When to see a vet
If the crustiness doesn't wipe away easily using the method above, or if you find fresh, bright red blood on your swab, stop there, and arrange to see a vet. You should also seek medical advice if:
The amount of crustiness around your cat's nose increases significantly from what is normal for them.
There are other signs your cat is injured.
They have been diagnosed with feline herpes in the past.
Black crust around cat's nose – Summary
Most incidences of black crust around cats nose are harmless dried boogers. Usually, your cat will groom them away themselves, but you can lend a helping hand with some cotton wool and warm water if you like. Occasionally, it can be a sign of an injury inside their nose, or a viral infection, in which case it is a good idea to arrange for their vet to examine them.
Does your cat get black crusties around their nose? Can you recommend any specific products for removing old dry boogers? Let us know in the comments box down below!