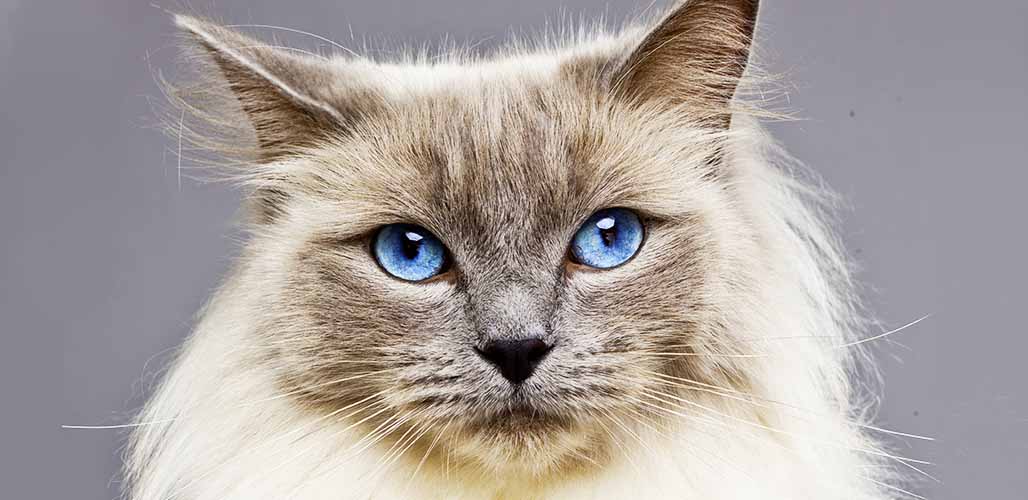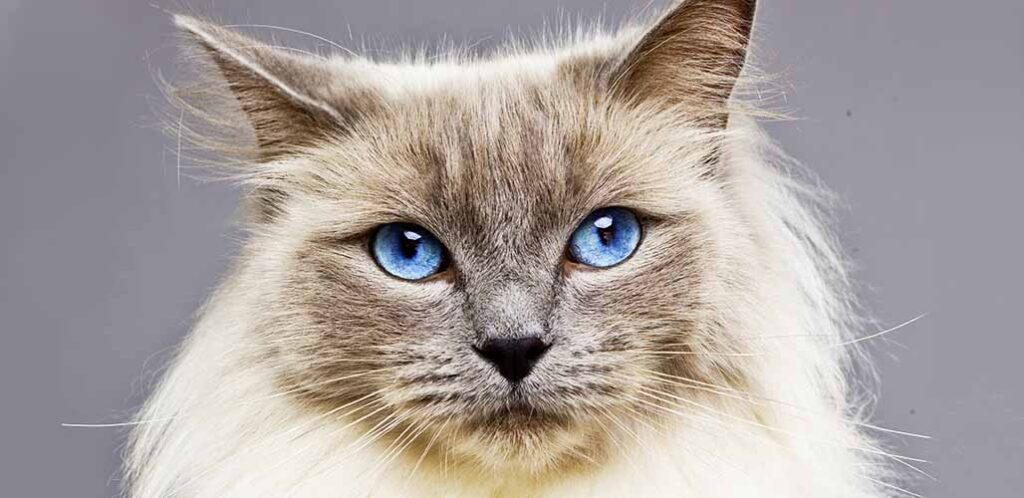 The blue Ragdoll cat is a popular variety of the Ragdoll breed with dilute coloring at its points. This complete guide takes a closer look at all possible blue Ragdoll cat fur patterns.
Ragdolls are friendly, gentle, and playful cats that can make a wonderful addition in the right home. All Ragdolls have pointed fur and striking blue eyes. But, the color of their points can vary. Blue Ragdoll cats don't have actual blue coloring! But, they will have creamy white bodies with bluish grey fur at their extremities. And, like all Ragdolls, they will be born without any color at all.
About the Blue Ragdoll Cat
The blue Ragdoll cat isn't actually a blue cat. Like other Ragdolls, they'll have long, soft fur, bright blue eyes, and pointed coats. This means that they have a light overall coat, but their extremities will be darker. So, a blue Ragdoll has a white or cream body, with bluish grey coloring on its face, ears, feet, legs, and tail.
A Ragdoll's pointed fur is caused by a form of temperature sensitive albinism. The pigment level of each hair is dictated by the temperature of the skin at its root. So, the coldest parts of your cat's body will have the most pigment. The coloring at these points will depend on the other genetics at play.
Blue is a dilute color – the dilute version of black. The genes that cause blue fur are recessive. So, a cat must receive two copies of this gene if they're going to have blue fur. Only one copy would lead to black fur. This means blue point Ragdolls can be quite hard to come across! But, some breeders will specialize in this coloring.
Blue Ragdoll Cat Patterns
Though all blue Ragdolls will have grey pigmentation at the points of their bodies, color placement and pattern at their points can vary. The three major types of Ragdoll coloring are solid, mitted, and bicolor. Solid point Ragdolls can also display tabby/lynx or tortie patterns at their extremities.
The pattern or type of Ragdoll that you choose won't impact your cat's temperament or health. Instead, the quality of breeder you choose and the upbringing your cat has will have a greater impact. But, for now, let's take a closer look at what to expect from these different patterns.
Blue Point Ragdoll Cat/Solid Ragdoll
A solid point Ragdoll will display an obvious contrast between their points and the rest of their bodies. Those with blue coloring will have pale bodies, but their extremities will be a bluish shade of grey.
A solid point Ragdoll will have plain coloring on their ears, face, tail, legs and feet. But, the intensity of the pigment will vary from one blue Ragdoll cat to the next.
Blue Point Mitted Ragdoll
A blue mitted Ragdoll will have the same temperature sensitive albinism as other Ragdolls. So, they will still have grey coloring at their points. But, they will also have patches of white fur that can mask this coloring.
Mitted Ragdolls have white chins, and may have a white blaze on their nose. They have white front feet, including all toes. Their back legs will be white, usually from the toes to mid-thigh. And, they will have a white stripe of fur from their chin through their chest, to their belly.
Blue Bicolor Ragdoll
Like the mitted Ragdoll, the bicolor variety will have patches of white fur that will mask any other pigment on your cat's coat. But, the placement of this white coloring is slightly different on a bicolor Ragdoll than a mitted Ragdoll.
Bicolor ragdolls have an inverted, white V shape on their faces, completely surrounding their nose. They will also have a white chin, like the mitted variety. This Ragdoll type will have white fur on their chest, ruff, and belly. They can also have a white saddle. Many bicolor Ragdolls will also have white feet and legs.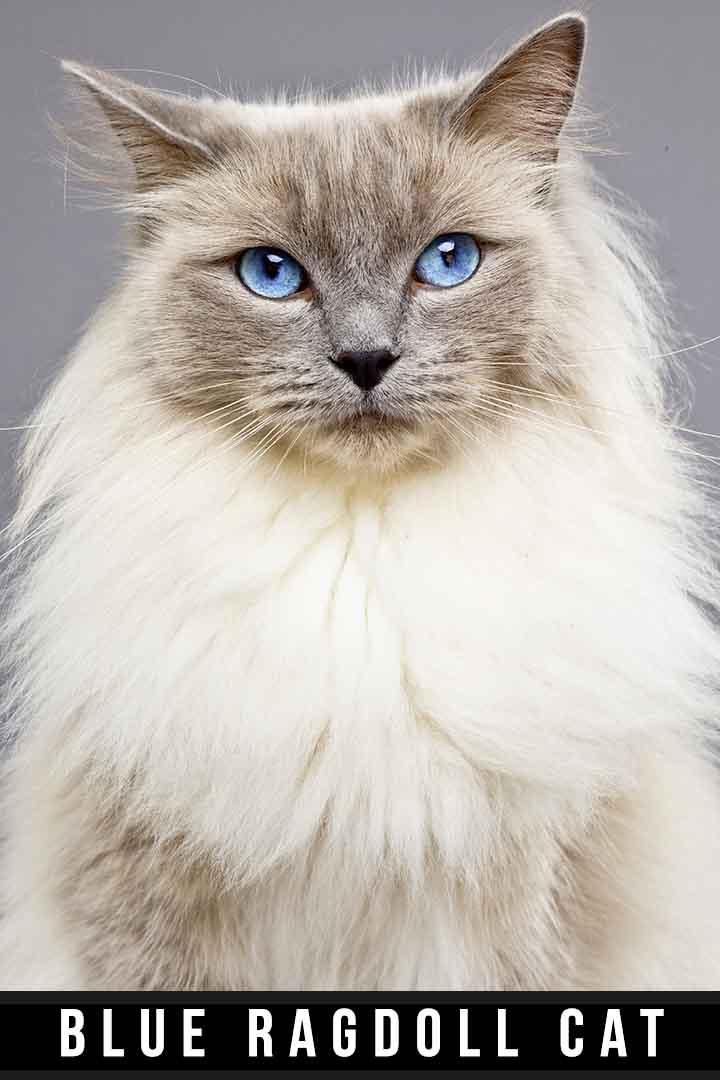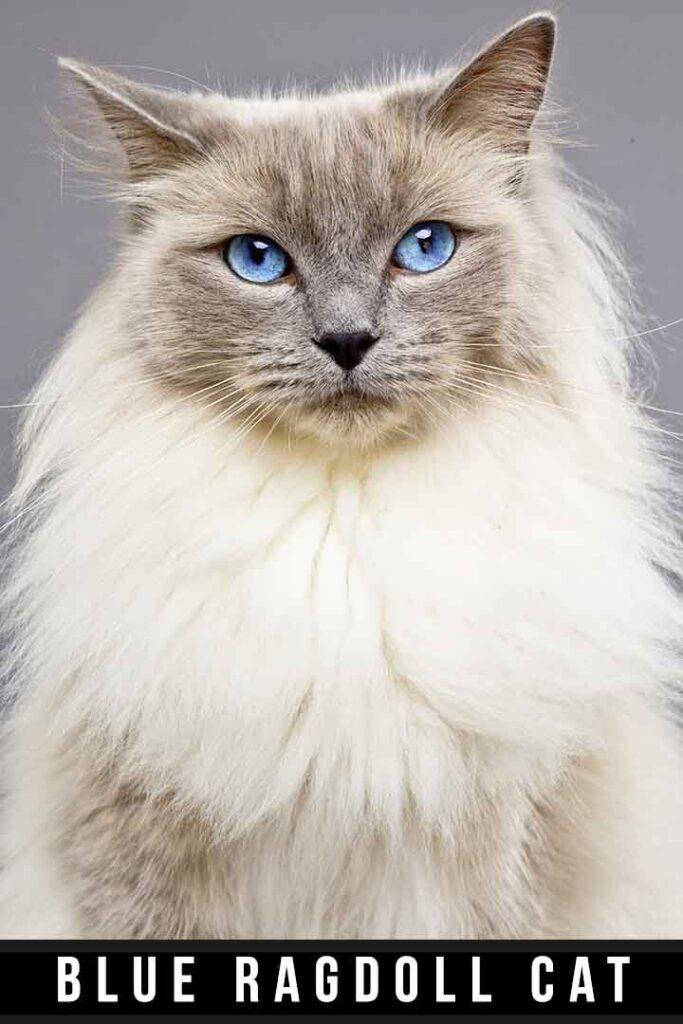 Blue Lynx Ragdoll
A blue lynx Ragdoll will have pointed blue coloring, but the grey fur at its extremities will also have striped tabby markings. This usually consists of alternating darker and lighter fur, often with an 'M' shape above the eyes. The exact placement and intensity of tabby markings will vary from one lynx Ragdoll to the next.
Blue Tortie Ragdoll
Like Lynx Ragdolls, Tortie Ragdolls will have the traditional Ragdoll points, but the pattern and coloring at their extremities will be slightly different to a solid Ragdoll. Tortie Ragdolls will have tortie markings at their points. This is also known as calico or tortoiseshell.
A blue tortie Ragdoll's points will be mottled with cream coloring. The exact placement and size of cream patches will vary from one tortie Ragdoll to the next.
Do All Ragdolls Have Blue Eyes?
One trait that all Ragdoll cats share is their striking blue eyes. Though all kittens are born with blue eyes, Ragdolls keep theirs as they age. So, you can expect a blue point Ragdoll cat to have blue eyes just like any other Ragdoll color variety.
Blue eyes and white fur in cats has been linked to hearing problems and deafness in some cat breeds. In particular, deafness has been linked to the white (W) fur gene. Ragdolls can carry this gene, and so can be prone to hereditary deafness. But, many researchers acknowledge the need for further studies and evidence on the topic.
Blue Ragdoll Temperament and Care
Blue points won't impact your Ragdoll's temperament. So, you can expect a blue point Ragdoll cat to be as affectionate and gentle as any other Ragdoll. Ragdolls are well known for their clever, playful, and curious personalities. In fact, many owners succeed in teaching their Ragdoll cats tricks! They are known for being quite a dog-like breed. They suit homes with owners that have plenty of time to dedicate. But, they won't necessarily be as clingy or vocal as some cat breeds, like the Siamese.
Ragdolls are a relatively easy cat breed in terms of their daily care. They may need occasional grooming, but have surprisingly low grooming needs despite their long fur. They thrive on a high quality, protein-rich diet. And, they will need regular mental stimulation and exercise.
Finding Blue Ragdoll Kittens
Blue coloring is caused by the recessive dilute gene. To have blue points, Ragdoll kittens must inherit two copies of the dilute gene, which makes them a little less common than other shades. However, there are some breeders who will specialise in colors like this. Choosing a reputable breeder is a really important part of getting a kitten, so make sure you do plenty of research.
It's worth noting that Ragdoll kittens can take up to two years to develop their adult colors. But, the process will usually start from around 4 weeks of age. So, your kitten will have some coloring when you bring them home. But, the intensity of this color will change over time. Many good breeders will be experienced at predicting kitten coloring, but it's worth bearing in mind if you've fallen in love with the color of a kitten at 8 weeks. It may not last!
Since blue coloring is not the most common, it might take you a while to find a blue Ragdoll kitten. The best breeders may also have waiting lists until litters are ready. But, your alternative is to look for an older rescue Ragdoll. Since rescue cats are often older, they may even have their adult coloring. So, if you find a Ragdoll with coloring that you love, they're less likely to change over time! Rescue cats often also cost a lot less than kittens.
Blue Ragdoll Cat – A Summary
The genes for blue fur in cats are pretty special! But, blue Ragdolls are all the more popular for it. Do you have a blue Ragdoll kitten at home? Or are you still searching for your perfect kitten? We would love to hear about your experiences with this Ragdoll variety in the comments!
Readers Also Liked
References and Resources
Wilhelmy, J. (et al), 'Behavioral Associations with Breed, Coat Type, and Eye Color in Single-Breed Cats', Journal of Veterinary Behavior (2016)
Griffin, B. 'Cat Identification', University of Florida College of Veterinary Medicine (2011)
Hartwell, S. 'Color and Pattern Charts', Messy Beast
Jacobberger, P. 'Coats and Colors: How Does the Description Work?', Cat Fanciers' Association
The International Cat Association
Strain, G. 'Cat Breeds with Congenital Deafness', Louisiana State University (2009)
Strain, G. 'Deafness in Blue Eyed White Cats: the Uphill Road to Solving Polygenic Disorders', Veterinary Journal (1997)
Lyons, L. 'DNA Mutations of the Cat: The Good, the Bad and the Ugly', Journal of Feline Medicine and Surgery (2015)