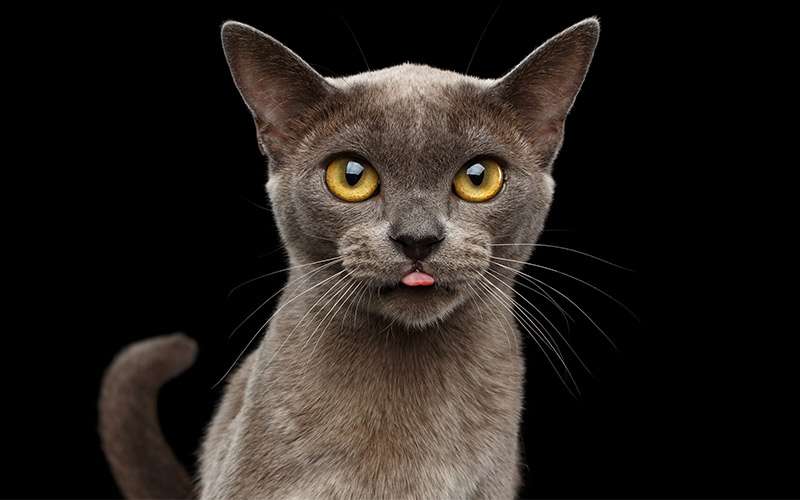 Welcome To Our Complete Guide To The Burmese Cat Breed. Giving You All The Information You need In Order To Decide Whether A Burmese Cat is The Right Breed For You.
We'll learn about the Burmese cat's temperament, personality and common health problems.
As well as the breed's average lifespan and typical appearance – including coat color and weight.
You'll also discover what to ask breeders when buying a Burmese cat. How much you can expect to pay for Burmese kittens, as well as the difference between a European Burmese cat and an American Burmese cat.
What is a Burmese cat?
According to the Cat Fancier's Association (CFA), today's Burmese cats can trace their roots back to a single ancestor. A female cat named Wong Mau.
Originally from Burma, Wong Mau was brought to America in 1930 and bred with a Siamese. This Burmese Siamese cat was used to create the Burmese breed so popular among cat lovers today.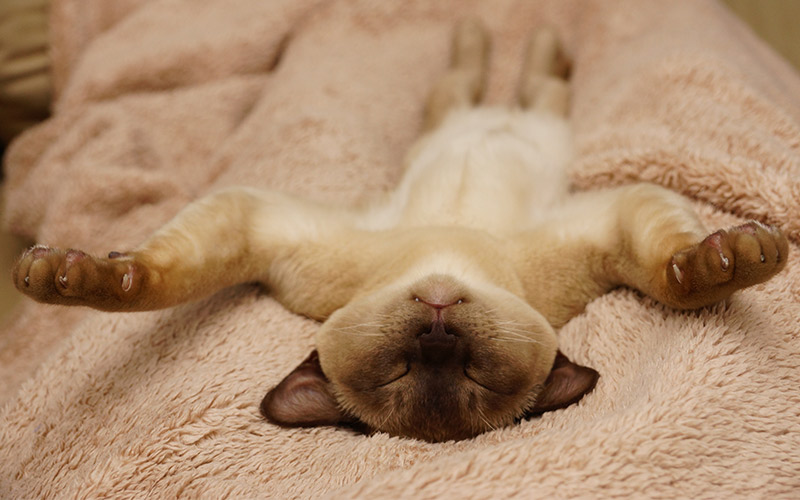 First officially recognised by the CFA in 1936, the breed has since undergone many subtle changes.
It is now mostly known for its large eyes, silky coat, stocky build the affectionate Burmese temperament.
Today the CFA recognises two different types of Burmese – the American Burmese and the British or European Burmese.
The latter emerged in the 1940s and 1950s when British breeders began mixing the original Burmese with Siamese and British shorthairs.
Burmese cat personality
Burmese cats love their people. Affectionate, loyal, playful and trusting, these cats form an almost dog-like bond with their owners.
They have even been known to play fetch with their toys.
Much like their canine counterparts, Burmese cats thrive on affection and attention. They love to interact with people and have no qualms about noisily demanding attention.
The Burmese are a vocal and confident breed, chattering and rumbling to grab the limelight.
Burmese cat temperament
Sometimes labelled 'velcro cats', the Burmese breed has a tendency to trail its owners from room to room.
It's no wonder the National Alliance of Burmese Breeders (NABB) calls them "the ultimate companion cats".
For this reason, Burmese cats are a bad choice for people who spend long periods away from home or cannot give these people-oriented animals the attention they deserve.
However, Burmese make great family cats as they integrate well with small children and are docile, loveable playmates.
In general, Burmese are more likely to enjoy curling up in your lap than climbing the furniture. They are also very neat and do not tend to make mess – being easily trained to use a litter box.
Burmese cat weight
Burmese cats can be deceptively heavy. Although medium-sized cats, these stocky felines are heavier than they appear with a compact, athletic body.
The NABB likens Burmese to little bulldogs and warns that they are a lot of muscle and power packed into a small frame.
Adult Burmese cats can weight between 8 and 13 pounds. Males are noticeable bigger than females, weighing up to 3 pounds more.
Burmese cat colors
According to the CFA, American Burmese cats come in four distinct colors. Sable (a deep, rich brown), champagne, platinum (a pale, silvery grey Burmese cat) and blue Burmese cat.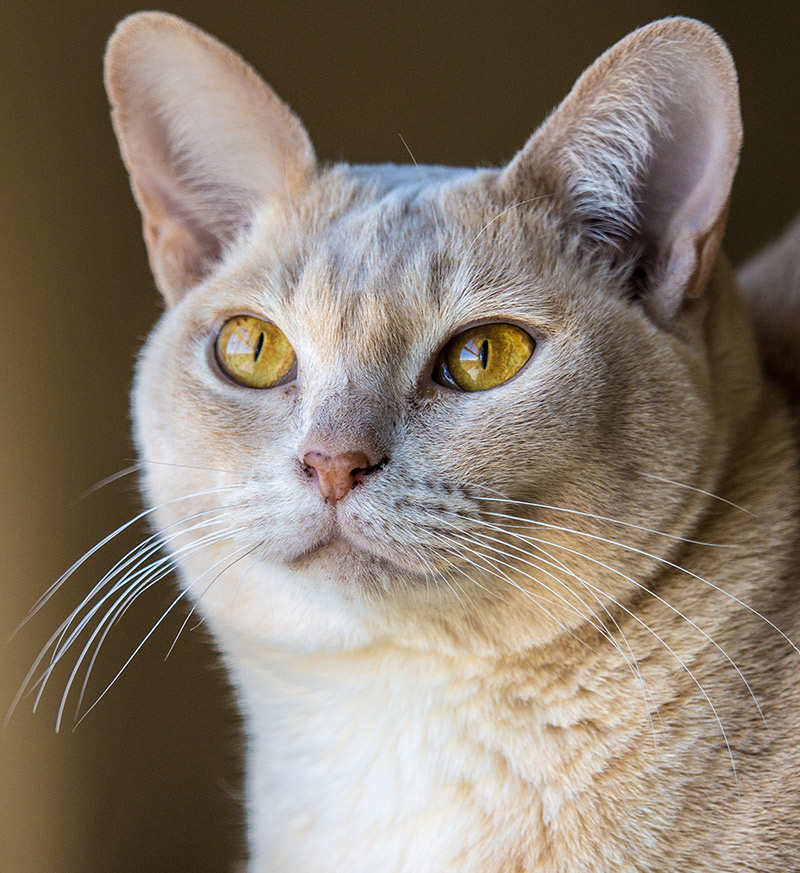 They all have large yellow/gold eyes. Burmese cat – blue eyes? I'm afraid they don't exist.
But Burmese cat colors were not always so clear cut.
The original Burmese, Wong Mau, was a deep walnut brown Burmese cat. And this sable color was the only one recognized by the CFA when it first certified the breed in 1936.
Since then, ambitious breeders experimented with other hues and, decades later, the CFA finally recognised the four colors it uses today.
European Burmese cats are found in a variety of colors including tortoiseshell, cream and red. Champagne-colored European Burmese are known as the chocolate Burmese cat, and the platinum are called lilac Burmese cats.
Long Haired Burmese Cat?
Lots of people love the look of a Burmese cat, but want a long haired cat breed.
The long haired Burmese cat unfortunately doesn't exist. But there are some really great long haired cat breeds that you might like to check out.
You can find out all about them in this article – A Complete Guide To Long Haired Cat Breeds
Are Burmese cats hypoallergenic?
Research from the Asthma and Allergy Foundation of America shows that as many as 3 in 10 people have allergic reactions to animals, with cat allergies twice as common as dog allergies.
Most people who are allergic to cats are not actually reacting to the cat's fur but rather a protein found on its skin known as Fel d 1.
While all cats produce Fel d 1, some breeds carry less than others.
Happily, Burmese cats are known as one of these more hypoallergenic breeds.
Burmese cat health problems
Unfortunately, Burmese cats have shown a tendency for diabetes melitus (particularly in older cats). Research indicates that this is more prevalent in cats in Australia, New Zealand and the UK.
They can also suffer from hypokalemia (low blood potassium) which can lead to muscle weakness.
Fortunately, this disease is not fatal and can easily be treated with potassium supplements.
In 2012, researchers from the University of Bristol identified the gene that carries hypokalemia in Burmese cats and breeders can now identify felines that carry the trait.
Burmese cat lifespan
On the whole, Burmese are a healthy breed. Burmese cat life expectancy is normally between 16 and 18 years.
With one, notable exception.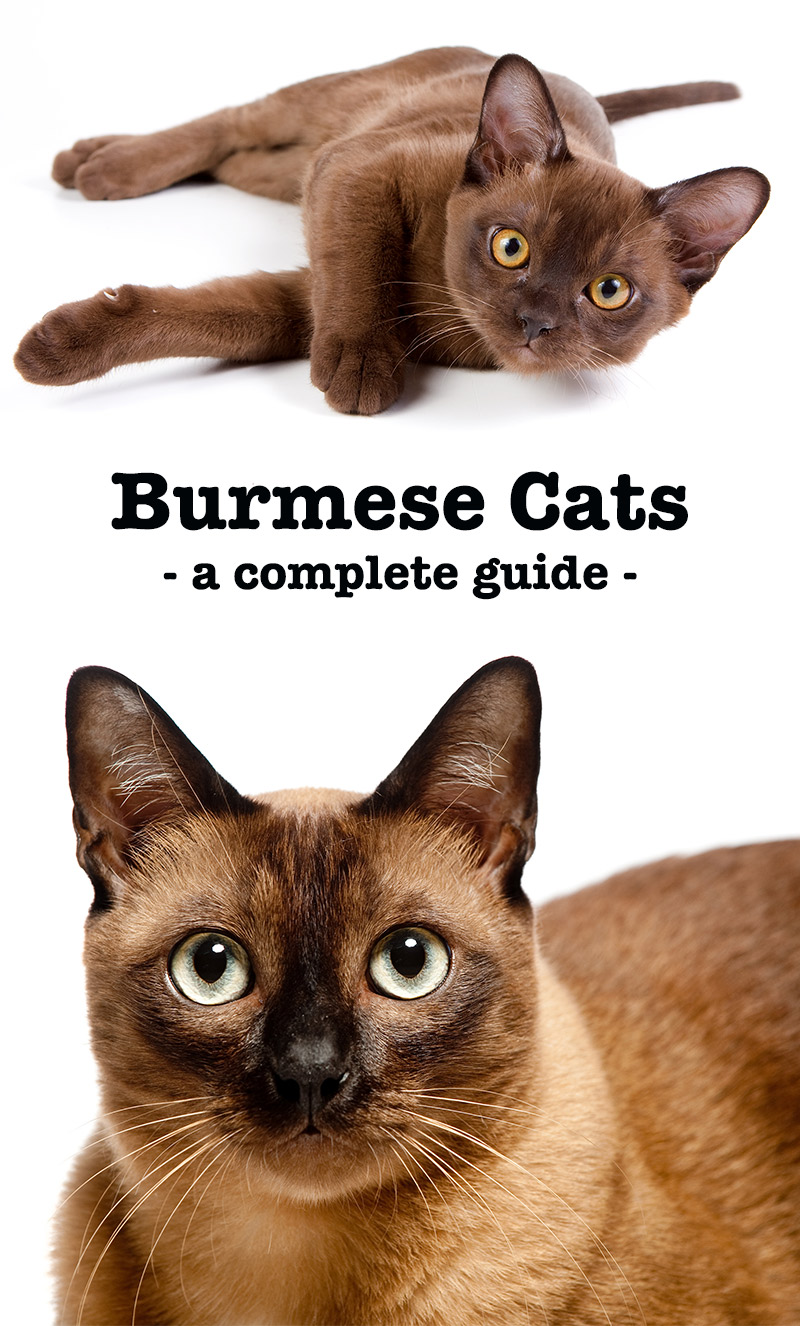 In 2004, the Guinness World Records recognised a very special Burmese as the world's longest living cat. Kataleena Lady, who lived in Australia, was 27 years old when she was honoured with the title!
Burmese cat price
Burmese kittens are very popular and a reputable breeder will charge around $400-$600, with a higher price tag if you're looking for a specific color. Blue Burmese kittens are particularly popular.
In the UK, Burmese kitten price can range between £500 and £700.
Be wary of sellers offering kittens for less as this can be a red flag that you're not dealing with an accredited breeder.
Burmese cat breeders
In the US, the NABB is a helpful resource thanks to their comprehensive directory of Burmese breeders throughout the States and Canada.
The CFA, which also lists certified breeders on its website, advises potential pet parents to visit the breeder's home before purchasing a kitten. Ask for a health guarantee and registration papers and have your own vet look at the cat shortly after the sale.
In the UK, The Burmese Cat Club can help put you in touch with European Burmese breeders.
Burmese kittens
A healthy Burmese kitten is a playful, curious and highly sociable addition to the household.
These tiny creatures should be easily handled, bright and alert.
Most kittens will be placed in their new homes between 12 and 16 weeks and should have received all the necessary kitten shots by that time.
Burmese kittens have to be closely monitored as sometimes they can be too adventurous for their own good.
They should be kept indoors and offered toys (particularly a scratching post) to keep them entertained.
Burmese cat rescue
If you'd prefer to visit a rescue centre rather than a breeder, there are plenty of options for rehoming a Burmese in need.
NABB runs its own Burmese Breed Rescue Program for abandoned or displaced cats. Since its creation, the scheme has re-homed over 1000 Burmese.
Most of the cats available through the program are between 5 and 10 and the adoption fees range from free to $200.
You can also contact your local cat rescue and ask whether they have any Burmese cats who need rehoming. Or consider a Burmese cat mix.
Burmese cat mix
Rather than going for a pedigree, some cat owners prefer to purchase a mixed breed.
A popular choice is often a Burmese-Siamese mix, also known as a Tonkinese.
These combine the loving nature of the Burmese with the Siamese's mischievous curiosity to produce a lively, intelligent and affectionate companion.
Another common mix is the Burmilla, which is a hybrid of the Burmese and Chincilla Persian.
When looking for a suitable mixed-breed, check rescue shelters and animal charities. These are often a good place to find a variety of breeds and the staff can help pinpoint the right pet for you.
Should I buy a Burmese cat?
If you have lots of time to devote to a feline friend and want a cat that will shower you with affection and be a loyal and loving companion then the Burmese is the cat for you.
This is an indoor breed that requires lots of attention, and is happy with small children and families.
Short-haired and sleek, Burmese are beautiful pets that don't require much grooming. And while no cat is allergy-proof, they may be more suitable for allergy sufferers.
When considering your options, whether rescuing an adult cat or buying a kitten, it's important to do the research.
Only use reputable breeders or registered animal charities and be sure to ask about the cat's pedigree and veterinary history.
References
Joshua, J.O, " The Clinical Aspects of Some Diseases of Cats", Butterworth-Heinemann, 1965.
Hart, B. L, Hart, L.A, "Your Ideal Cat: Insights into Breed and Gender Differences in Cat Behaviour", Purdue University Press, 2013.
Vella, C.M, McGonagle, J, Jr, "Burmese Cats: Everything about Acquisition, Care, Nutrition, Behavior, Health Care and Breeding", Barron's Educational Series, 1995
Mark, P.G, Segal, D.B, Dallaire, M.L, Garman, R.D, "Human T and B Cell Immune Responses to Fel d 1 in Cat-Allergic and Non Cat-Allergic Subjects", Clinical & Experimental Allergy, 1996.
Gough, A, Thomas, A, "Breed Dispositions to Disease in Dogs and Cats", Wiley-Blackwell, 2010.
Gandolfi, B et al, "First WNK-4-Hypokalemia Animal Model Identified by Genome-Wide Association in Burmese Cats", PLOS, 2012