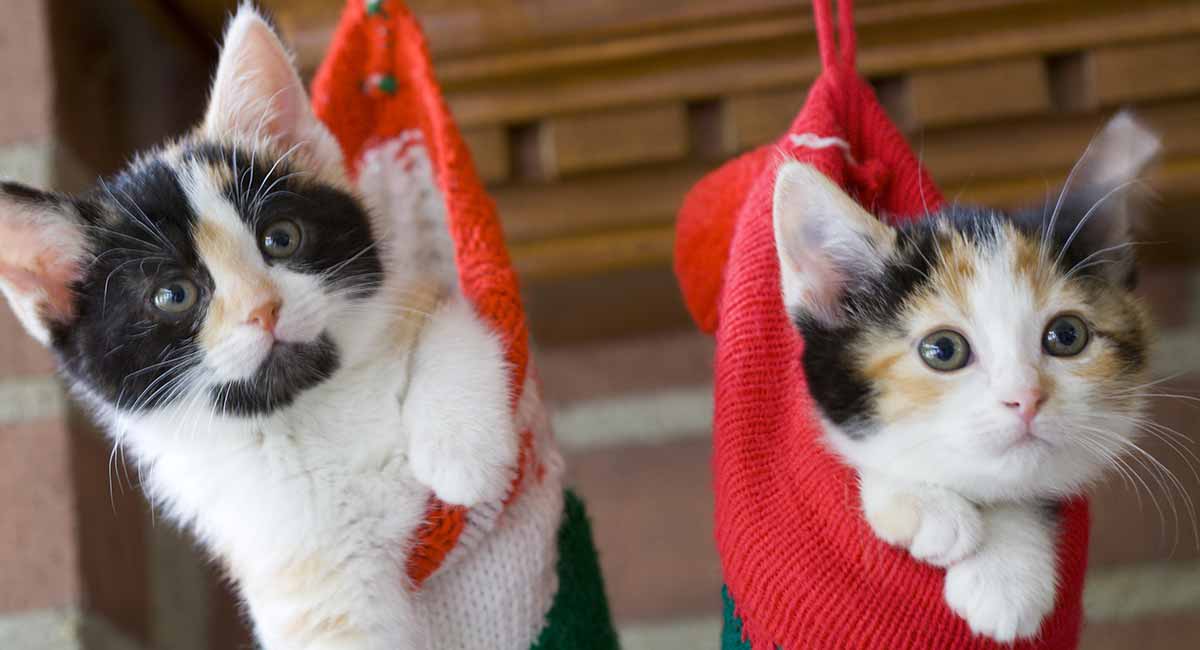 A calico cat always has three colors in its coat, something that we call tricolor. For a cat to be truly calico, this must include white. Some are almost all white, while others only have small white patches. These differences are what makes every calico cat so unique and gorgeous.
Contents
No two calico cats are exactly alike, and these awesome markings can be found in a variety of breeds. Amaze your friends and family with these awesome Calico cat facts, and dispel some of the more unusual myths! These fascinating felines have been lucky mascots, assigned incredible wart healing powers and even given a job as a stationmaster. But their genetics hold perahps the most amazing mysteries of all.
Calico Cat Genetics
The reason that cats have colored coats is because they have melanocytes in their skin, and these contain color pigments. We have melanocytes, too. They make your skin go darker when you develop a suntan.
The color these melanocytes give is all down to a cat's genes, which contain a blueprint for coat color. The color genes are on something called the X chromosome. Females have two of these, which we call XX.
For cats, the colors black and orange are found on the X chromosome. Because female cats have two X chromosomes, if they have a black gene on one and orange on the other, you will get a mixed color tortoiseshell.
Tricolor cats are more complex, because they have another gene on the X chromosome for white patches. If a cat has all three genes, it will be calico.
The white gene is usually dominant over the color genes, so the amount of white on a calico cat can vary.
What About Male Cats?
If we go back to our genetics lesson, instead of XX, male cats have XY chromosomes. The Y chromosome doesn't have any color genes, so males are rarely tortoiseshell or calico.
Males can have color and white on their X chromosome, of course. Interstingly, a rare condition means that a few boy cats can be calico.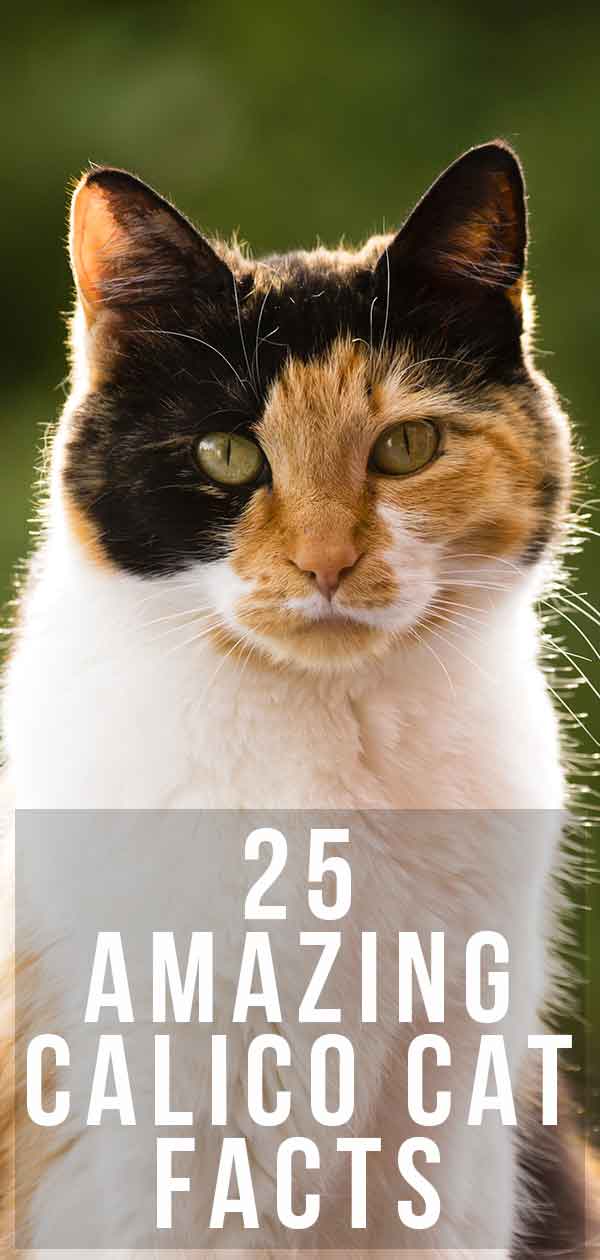 Fantastic Calico Cat Facts
You've likely seen the distinctive tri-colored pattern of the fluffy calico cat, but you might not know all the unique traits of these fabulous felines.
Not only are Calico cats gorgeous, they have some unique characteristics.
1. There is no such thing as a calico cat
Did you know there's no such thing as calico cat breeds? Really! Well, then, what is a calico cat?
Let us clarify things. The term calico refers to the tri-color coat on the cat. Furthermore, a number of different breeds can have the calico's signature orange, black, and white hues, and all of these are still called calico!
A calico pattern is mainly white with spots of orange and black, meaning that you can have all types of calico cats. You can have a calico tabby, an American shorthair calico, a muted calico, a calico Persian cat, or even a longhaired calico cat! One of the most popular is the American Shorthair Calico.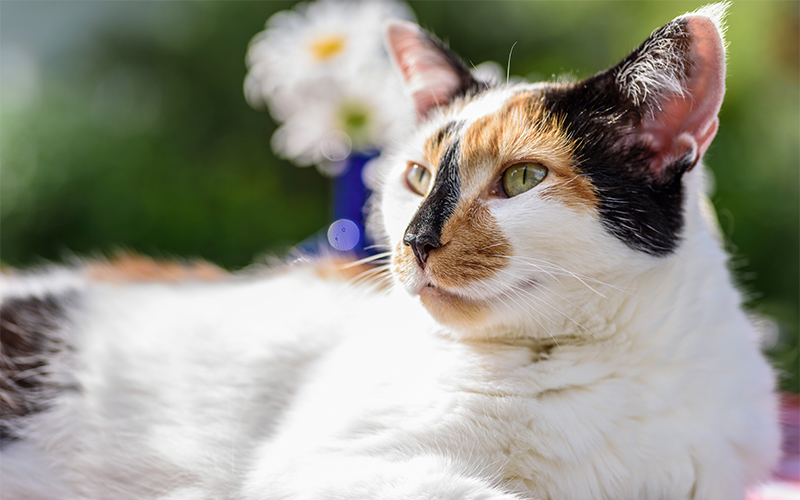 2. American Shorthair Cats can be calicos
The American Shorthair calico is a variety of the much-loved American shorthair cat breed. Shorthairs are renowned for their kind nature and their ability to mix with kids and other pets.
It's no wonder that many owners love this variety of calico cat.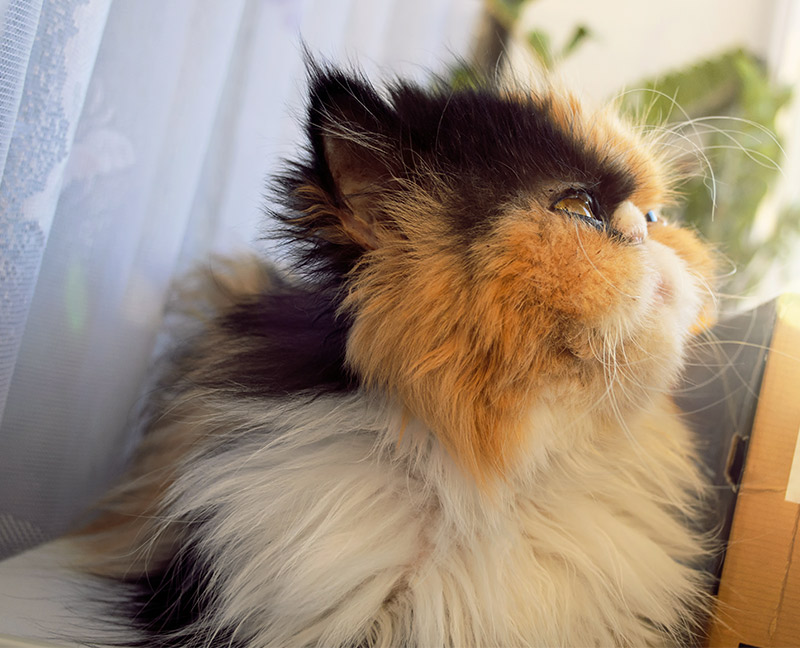 3. Exotic Persians can be calico too
Calico Persian cats have the distinctive Persian look, complete with the fabulous calico color scheme! Although they are lovely cats in terms of appearance and temperament, the Persian breed does have some health problems potential owners need to consider.
We recommend some research before adopting any Persian cat so that you are fully prepared.
If you are thinking of buying a calico Persian cat, then check out this article to find out more.
Most people love Persians because of the long hair. Of course, most longhaired breeds can be calico.
4. Longhair calico cats are possible
Persian cats are one of the breeds that can produced longhaired calico cats. But, they are, by no means, the only one! A long and luscious calico coat can be absolutely divine.
While longhaired calico cats are beautiful, they need a little more care.
You'll need to groom your longhaired calico kitty at least a couple of times a week, and potentially have to deal with a few more furballs too!
You can find some lovely long haired cat breeds in this article
Most kitties love grooming, especially if you give them a tasty treat afterwards, and it can strengthen the bond between you and your cat. Grooming time is never wasted time!
For all you shorthair cat lovers, they usually love grooming time, too! Don't make them feel left out!
5. Some calico cats have dilute coats
You might have a calico cat that has muted, pastel colors. It looks like it has been painted in watercolors!
We call these dilute calico cats, where the term 'dilute' simply refers to the vibrancy of the colors.
A dilute cat's coat is paler and has gray/blue instead of black, and cream or gold instead of red and chocolate. These light calicos are common and just as beautiful
Like almost all calico kitties, they are almost always girls.
6. Most calicos are female
Almost every calico kitty is a girl! How does this happen? It's all in the calico cat genetics.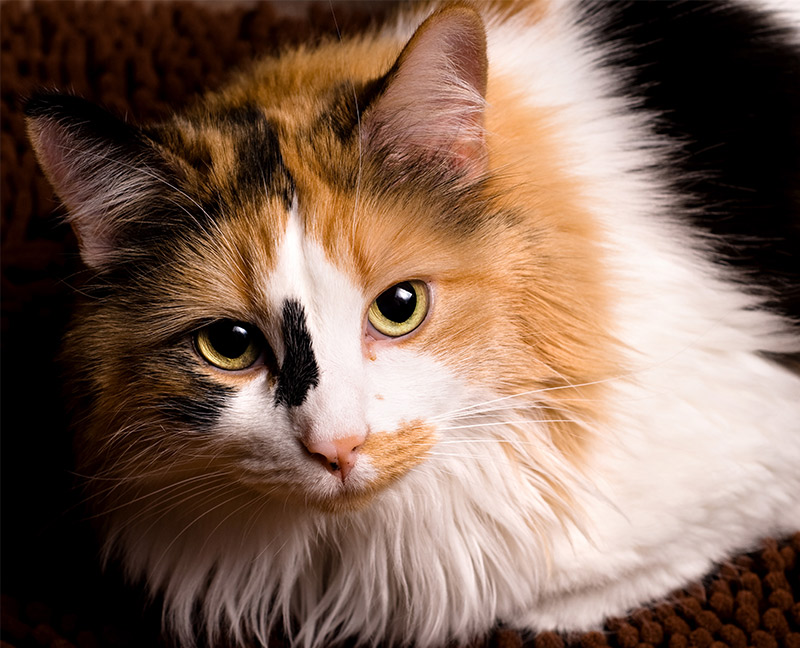 7. Male calico cats are rare
Well, it's thought that the figures lie somewhere in the range of 1 in 3,000 calico kittens!
If we go back to the cat genetics, a male calico cat has XXY chromosomes instead of the normal XY. To give the technical name, this is called Klinefelter syndrome.
8. Boys are usually sterile
So, we know male calico cats are very rarely born.
Which, logically, leads to the question: are calico cats sterile when they're male?
Unfortunately, the answer is 'Yes!' For the male calico cat in question, he'll be almost assured of being sterile and cannot breed.
9. Calico cats are a happy accident
The simple answer is 'no.' Again, due to genetics, it is difficult to breed cats and end up with your beloved calicos. You can't ever plan a purely calico litter, so treat them as a happy accident!
Fortunately, this makes every calico unique and something to be treasured.
10. Every calico is unique
Every calico cat has its own markings. This uniqueness also extends to personality.
The calico cat temperament and calico cat behavior can be as distinct, and as different, as any individual cat. Because calico is a color pattern and not a calico breed type, there aren't any common calico cat traits.
However, one interesting study showed that people assign personalities to different cats based upon their colors. As a result, some people see calicos as more aloof and intolerant than other cat breeds, although there is no evidence to back this up! It's just to do with people's perceptions.
That said, it is still possible to find a calico with the temperament you want. Remember, we said that calicos can be almost any breed of cat. Handily, that means you can look for a breed that has the personality traits you want.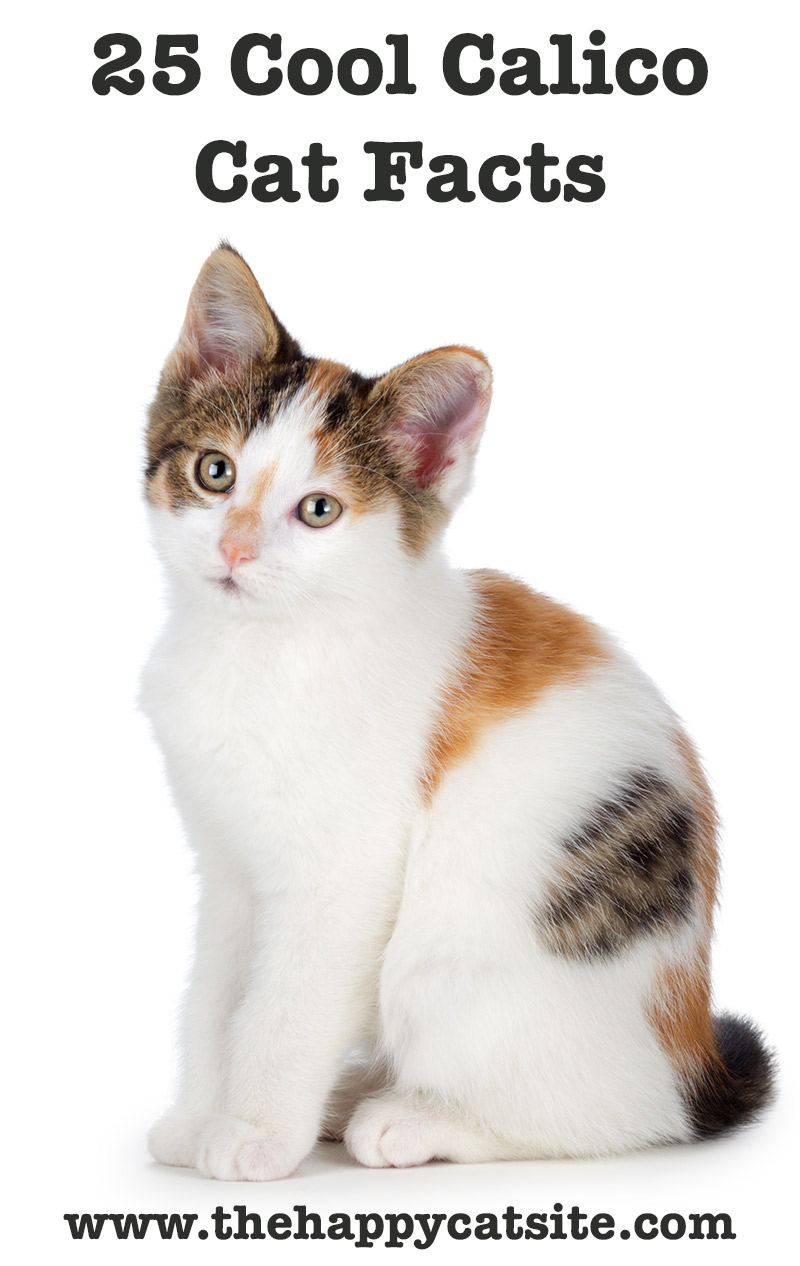 11. Personality is unpredictable
One way to predict the calico cat temperament is to buy a calico cat from a specific breed.
Therefore, a purebred Persian calico cat will have a temperament in line with her parents and grandparents. Likewise, the same will be true for an American Shorthair calico cat.
Of course, finding a furry friend with the right calico cat personality is never exact, but the unpredictability is one of the things that we cats lovers adore most about our furry buddies.
We have given you some great information about your calico, so how about some wacky calico kitty facts. Here are some things that you won't believe!
12. Maryland loves calico cats
Calicos are the official cat of the state of Maryland!
They were chosen because their coloring is reminiscent of the state bird (and baseball team!), the Baltimore Orioles.
Maybe they can pass some of their legendary luck onto the baseball team!
13. They are considered lucky by some
Had a bad streak? Add a calico cat to your life.
Some cultures believe that these tri-colored beauties bring good luck. And, because they're so rare, male calicos are considered extra lucky!
Many cultures see calico cats as a blessing that brings money or even helps them catch fish.
14. Japanese Beckoning Cats are based on them
You've likely seen a sweet, waving cat statue in the doorway of your favorite Japanese restaurant or business.
Although usually gold colored, these "beckoning cats" are based on a calico and are thought to bring wealth and good business.
Not content with that, the Japanese also think that calicos help them catch fish!
15. Calicos have a fishing history
Japanese sailors and fishermen have long kept these felines on board their vessels as a talisman for safety and a bountiful catch.
We don't have any idea if this is true, but we are sure that these calico ships' cats have as much fish as they can eat.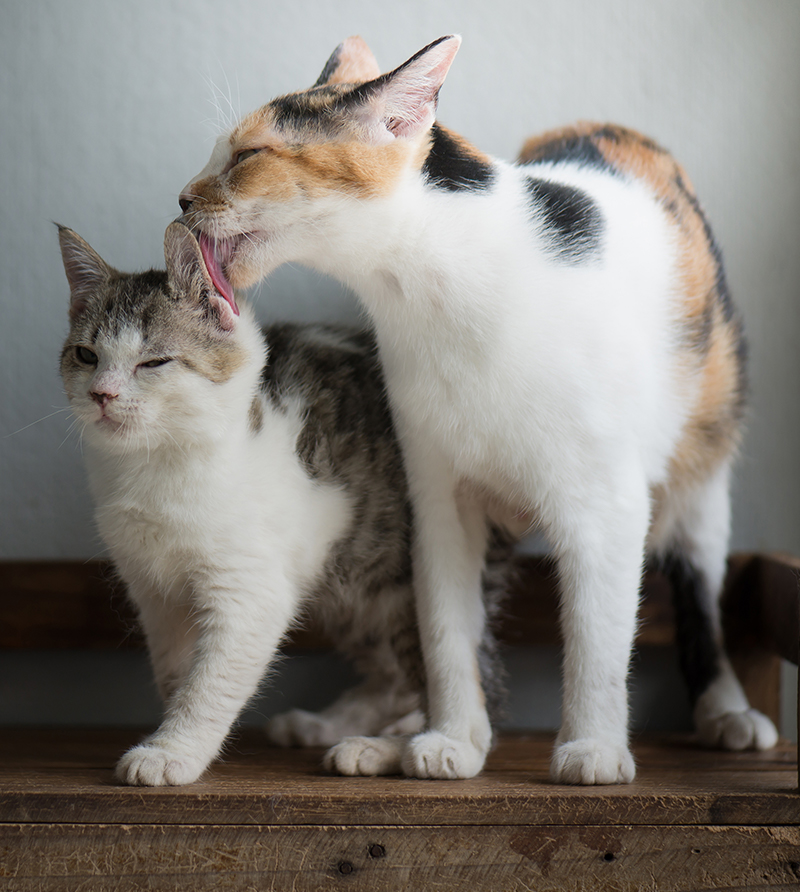 16. Some believe they cure warts
Some people in Ireland believe that the calico's tail will cure warts…if it's rubbed on the wart…in the month of May. Hmmm…we're not buying it.
Old wives' tales aside, where did calico cats come from? If so many cultures revere them and have beliefs, they must have a long and noble history.
17. Calicos met the Pharaohs
Some archaeologists and researchers tell us that calico cats likely originated in Egypt and worked their way across the continent. They were common in the ports of Ancient Greece and the Middle East before people took them everywhere.
Maybe that's where the calico exotic shorthair comes from!
We are not sure if their Egyptian origins are true, but they have been around for a long time. Artists have included calico cats in paintings for hundreds of years.
18. Calico was a material
What is the calico definition? Originally, it was a type of fabric made in India, but the word soon spread.
Today, calico fabric is a small floral patterned print, often used by quilters. The calico may have gotten its name from this fabric, which has small patterns.
Now, the word calico has been used to name many other things.
19. They live around 15 years
Well, much like humans, the answer depends on their lifestyle and breed.
A healthy diet, plenty of exercise and lots of love will typically result in a 15-year calico cat lifespan.
Again, unfortunate for the rare male calico, he'll likely live a much shorter life due to his unique genetic makeup.
You can find out all about cat lifespan in this article.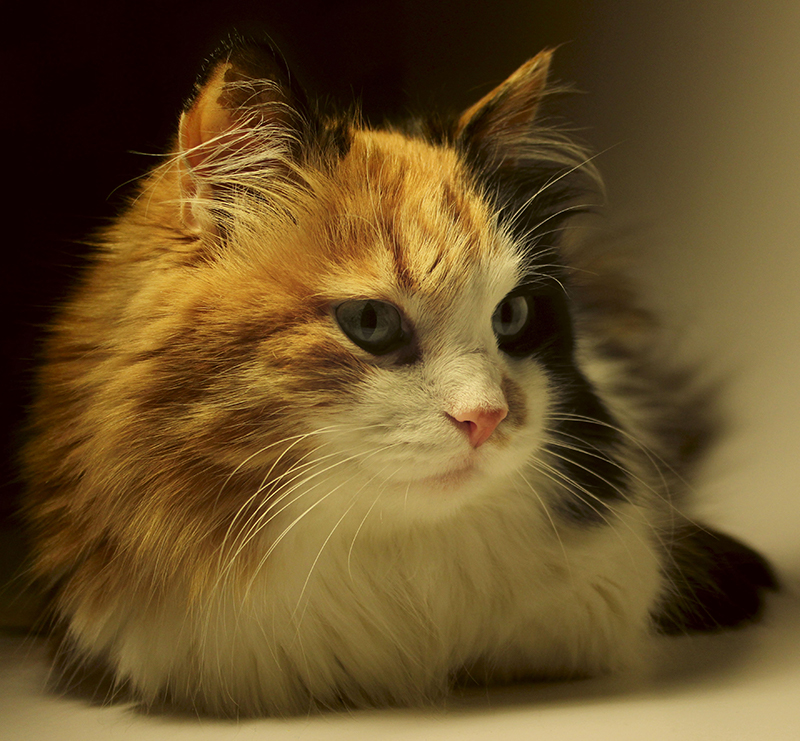 20. Numerous breeds can be calico cats
It's almost easier to ask which breeds can't be calico. Seriously, almost every type of cat you can think of can be a calico. That's before we even look at our lovely mixed-breed moggies!
If we look at show breeds that are allowed to have calico coats, there are eleven:
Manx
British Shorthair
Arabian Mau
Norwegian Forest Cat
Japanese Bobtail
Turkish Angora
Siberian
American Shorthair
Turkish Van
Exotic Shorthair
Persian
Of course, these are just the recognized breeds. Mixed breed cats can be calico, too, and are just as gorgeous.
As with any cat, being aware of the breed can be useful because this means you will be aware of any potential health issues and dietary needs.
Knowing the breed means you will know the likely personality, size, and lifespan.
If you are not sure, ask your vet. They might be able to pinpoint the cat's lineage.
21. They have many names
We already learned that calicos come in many colors, such as white, black, and orange/ginger, or white, brown/chocolate, and orange. They can be dilute calicos, or they can be tabby. These tabbies are called 'caliby' cats.
Diluted calico cats can be called calamanco cats, or sometimes 'clouded tiger,' which we think is really neat!
Calicos can have different names around the world:
Tri-color
Brindle
Tortoiseshell and white
Tobi Mi-ke – 'triple fur' in Japanese
Lapjeskat – 'patches cat' in Dutch
22. A calico cat had a real job
One Japanese cat, Tama, became a famous stationmaster for Kishi train station in Japan. She was a stray cat regularly fed by the station manager and passengers.
When the station was due to be closed, in 2004, citizens protested and the station remained open, but the company cut the staff at all its stations to save money.
Instead, they chose people from local businesses to become stationmaster and greet passengers.
At Kishi Station, they chose Tama! Her job was to greet passengers, and she was paid with food.
Believe it or not, she became so famous that people made journeys just to see Tama. This led to an increase in the number of passengers and money for the local economy from 'cat tourists!'
Now, after meeting Tama, a cat who helped people, did you know that calicos may actually save human lives.
23. Calico cats could save lives
Unbelievably, calico cats have been very useful for studying human health.
Using calicos, scientists can study the difference between genders in mammals, and this may lead to advances in knowledge.
Who knows, maybe a geneticist studying calico cats might come up with a cure for some nasty disease.