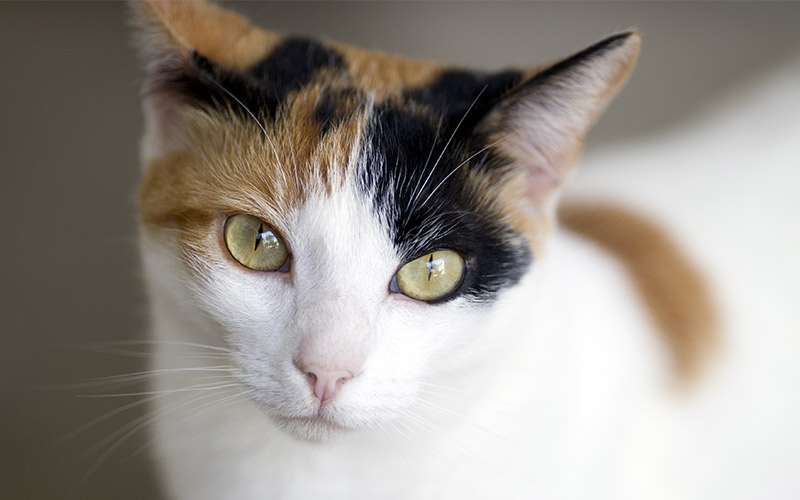 Do You Love A Calico Cat? Want To Know More About These Wonderful Creatures? Then Check Out These Awesome Calico Cat Facts!
You've likely seen the distinctive tri-colored pattern of the fluffy calico cat, but may not know all the unique traits of these fabulous felines.
Not only are Calico cats gorgeous, they have some fascinating characteristics too.
In this article we are going to explore 25 of the most fascinating calico cat facts!
One
Did you know there's no such thing as calico cat breeds? Really!
Well, then, what is a calico cat?
The term calico refers to the tri-color coat on the cat. A number of different breeds can have the calico's signature orange, black and white hues and still be called calico!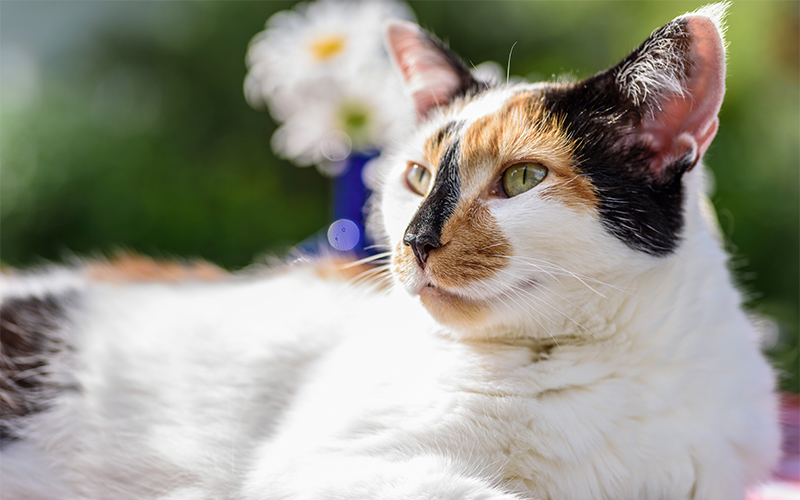 A calico pattern is mainly white with spots of orange and black – meaning that you can have all types of calico cats.
A calico tabby, an American shorthair calico, a muted calico, a calico Persian cat, or even a longhaired calico cat!
Two
The American Shorthair calico is a variety of the wonderful American shorthair cat breed.
They are renowned for their kind natures, and how well they mix with kids and other pets.
A lovely variety of calico cat.
Three
Calico Persian cats have the distinctive Persian look, in the fabulous calico color scheme!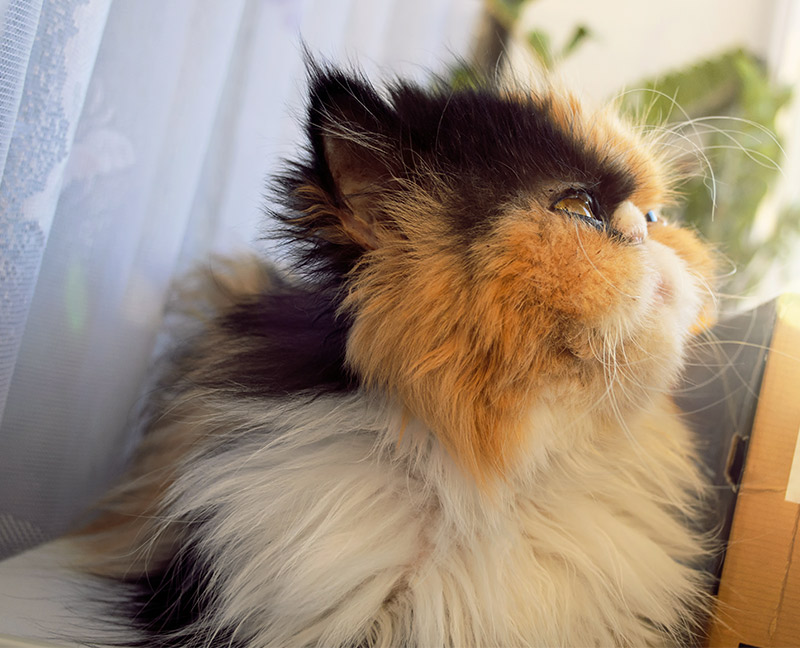 Although they are lovely cats in terms of their appearance and temperament, the Persian breed does have some health problems potential owners need to consider.
If you are thinking of buying a calico Persian cat, then check out this article to find out more.
Four
Persian cats are one of the breeds that can produced longhaired calico cats. But by no means the only one!
Long haired calico cats are beautiful, but they need a little more care.
You'll need to groom your long haired calico kitty at least a couple of times a week, and potentially have to deal with a few more furballs too!
You can find some lovely long haired cat breeds in this article
Five
Here's the real question: tortoiseshell vs calico?
What about a dilute calico? A dilute tortie? Is there such a thing as a calico tortie?
The difference is in the patches of color.
A calico coat is seen in distinct in patches of color, whereas a tortie's coat is more muddled with little to no white. You can't technically have a calico tortie, as they are descriptions of separate types of markings.
The term dilute simply refers to the vibrancy of the colors. A dilute cat's coat is paler.
Six
Are all calico cats female? Yep, pretty much.
Almost every calico kitty is a girl!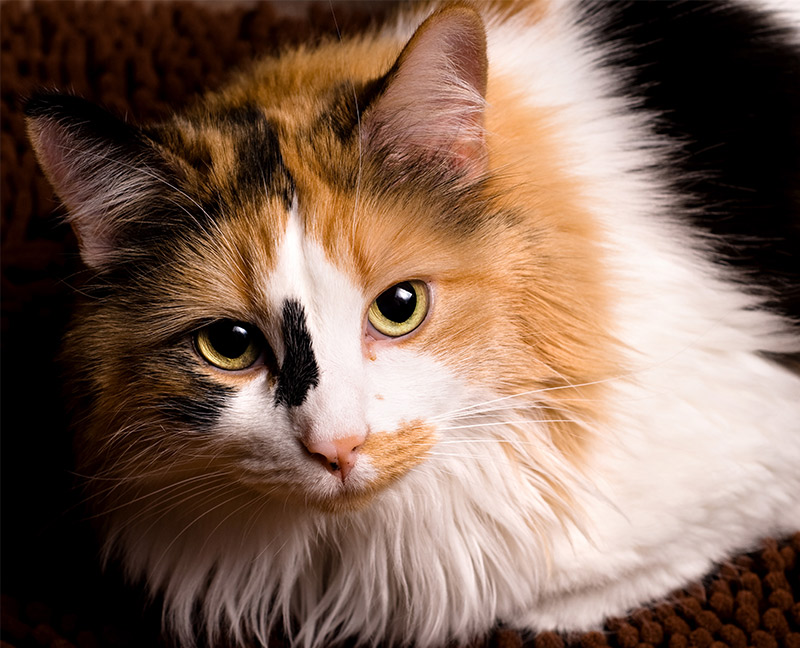 How does this happen? It's all in the calico cat genetics.
You can find out all about how they work in this interesting article
Seven
So if almost all calico cats are girls, then how many are male?
Well, it's thought that the figures lie somewhere in the range of 1 in 3,000 calico kittens!
Eight
So, we know male calico cats are very rarely born.
Which logically leads to the question, are calico cats sterile when they're male?
Unfortunately for the male calico cat in question, he'll be almost assured of being sterile, yes.
Nine
It's not possible to breed for the gorgeous calico colors. You can't ever plan a purely calico litter.
Ten
The calico cat temperament and calico cat behavior can be as distinct and as different as any individual cat.
Because it's a calico color pattern and not a calico breed type, there aren't common calico cat traits.
They're all unique.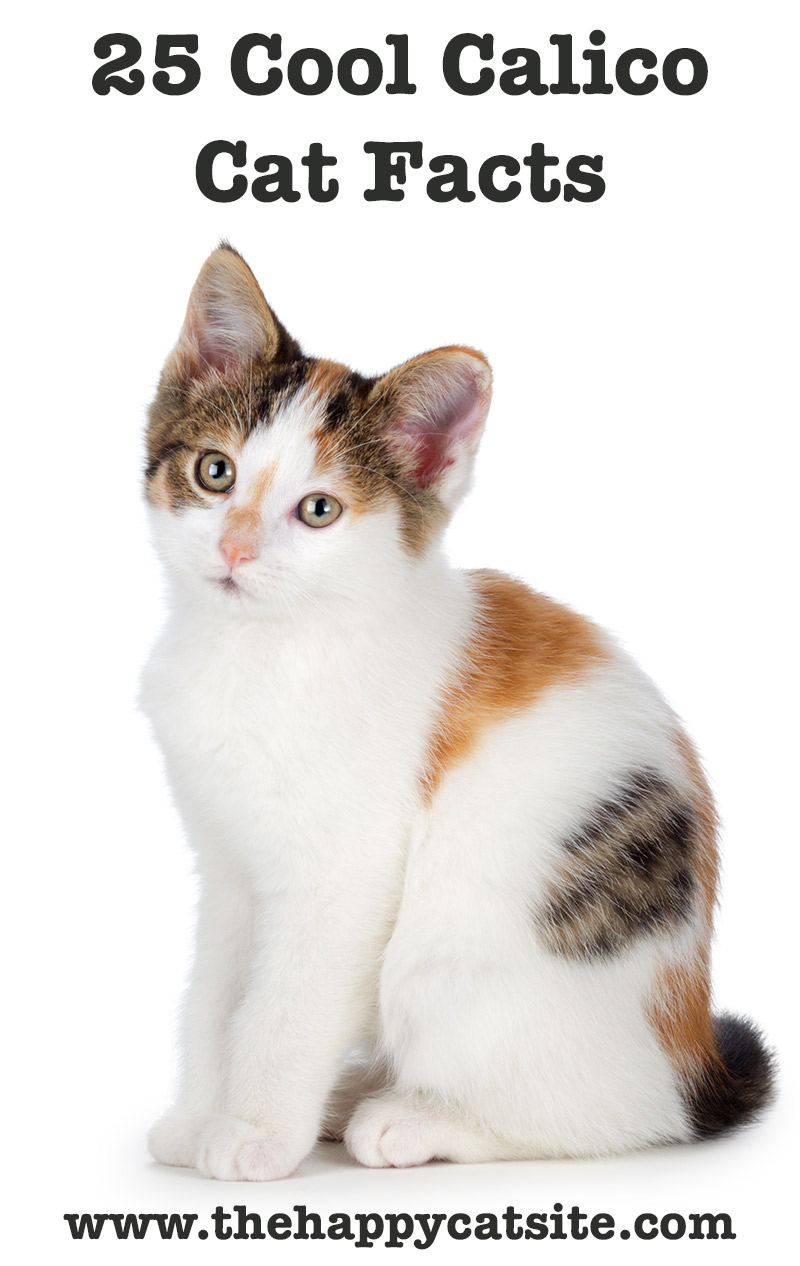 However, one study has shown that people assign personalities to different cats based upon their colors.
They are believed to be more aloof and intolerant than other cat breeds – although there is no evidence to back this up! It's just to do with their perception.
Eleven
One way to predict the calico cat temperament is to buy a calico cat from a specific breed.
So a purebred Persian calico cat will have a temperament in line with her parents and grandparents. The same will be true for an American Shorthair calico cat.
Twelve
Calicos are the official cat of the state of Maryland!
They were chosen because their coloring is reminiscent of the state bird (and baseball team!), the Baltimore Oriole.
Thirteen
Had a bad streak? Add a calico cat to your life.
These tri-colored beauties are said to bring good luck. And, because they're so rare, male calicos are considered extra lucky!
Fourteen
Nicknamed the Money Cat, calicos were said to bring extra high fees to their breeders.
Oops…the genetics tell us this is just an Old Wives Tale, as a calico cat can't be bred purposefully.
Today, a calico cat price can vary from "free to a good home" to $100 or more.
Fifteen
Into natural remedies? Grab a calico cat! It's rumored that the calico's tail will cure warts…if it's rubbed on the wart…in the month of May.
Hmmm…we're not buying it.
Sixteen
Japanese sailors and fishermen have long kept these felines on board their vessels as a talisman for safety and a bountiful catch.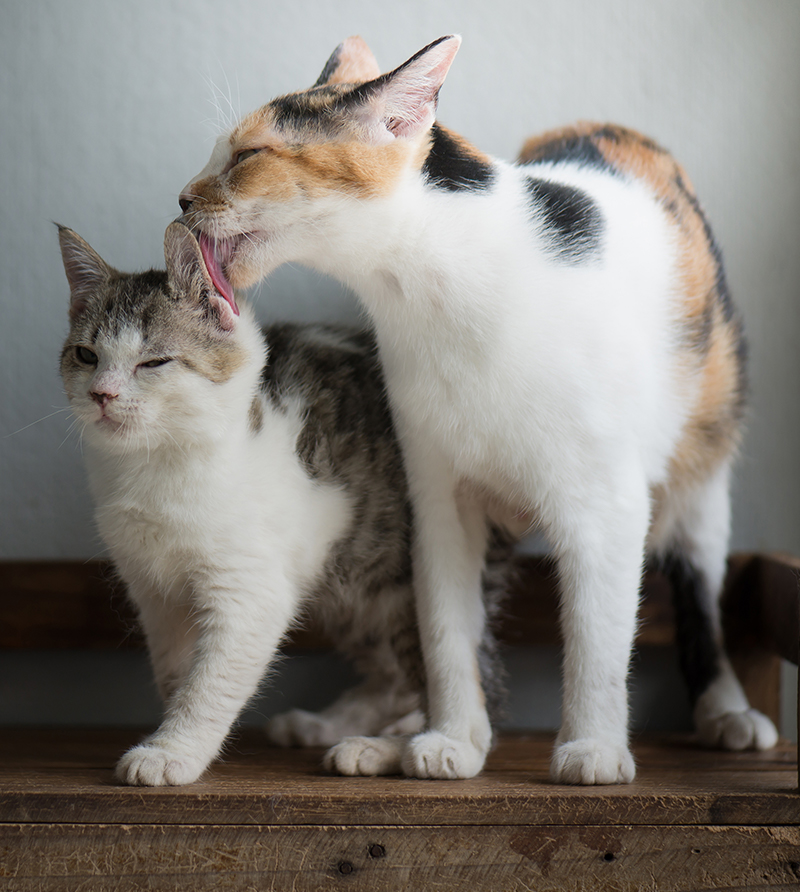 Seventeen
You've likely seen a sweet, waving cat statue in the doorway to your favorite Japanese restaurant or business.
These "beckoning cats" are based on a calico and are thought to bring wealth and good business.
Eighteen
Archaeologists and researchers tell us that calico cats likely originated in Egypt and worked their way across the continent.
Maybe that's where the calico exotic shorthair comes from!
Nineteen
Are there famous calico cats? Of course!
Instagram's most famous tri-color cat, @pudgethecat, has more than 672,000 followers!
Twenty
What is the calico definition? Originally, it was a type of fabric out of India.
Today, calico fabric is a small floral patterned print, often used by quilters. The calico may have gotten its name from this fabric, with the small patterns.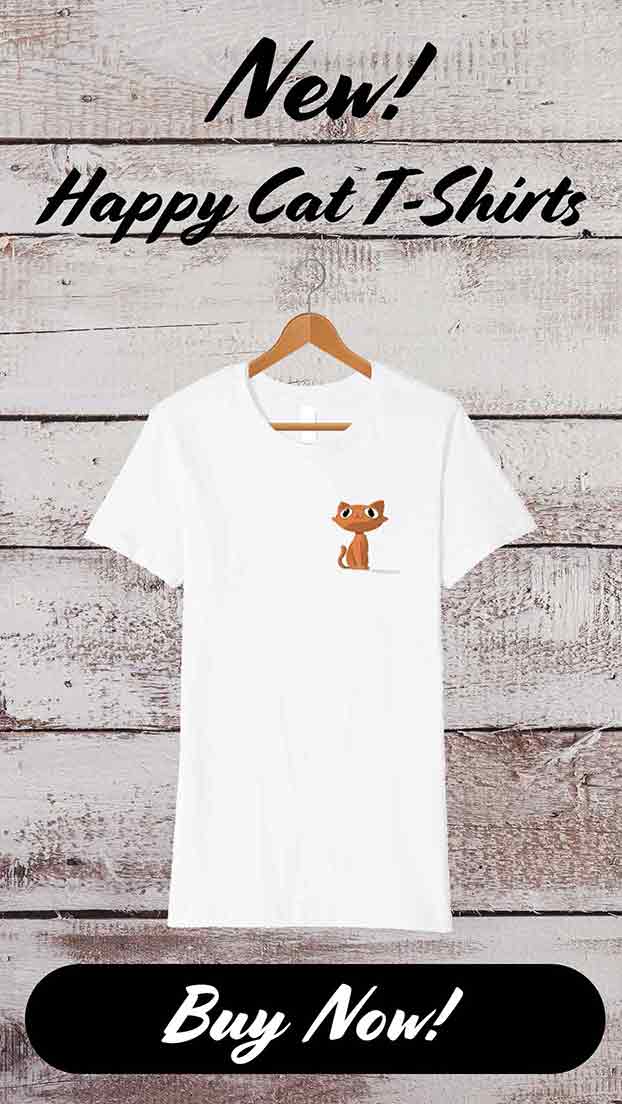 Twenty-One
The calico crab was named after the calico cat. The crab's large, orange spots are reminiscent of the calico cat characteristics.
The crab lives in the Atlantic Ocean and the Chesapeake Bay.
Twenty-Two
Calico beans, a favorite recipe of old-time cooks, was named after the cat.
The dish features a trio of beans in a tomato based sauce with ground meat.
Twenty-Three
What are some great names for calico cats?
Many owners like to choose a name that suits their coloring, while others will choose an old standby. Chloe, Bella, Lucy and Angel are just four of the most common cat names.
You can find loads of great calico cat name choices here.
Twenty-Four
How long to calico cats live? Well, much like humans, the answer depends on their lifestyle and breed.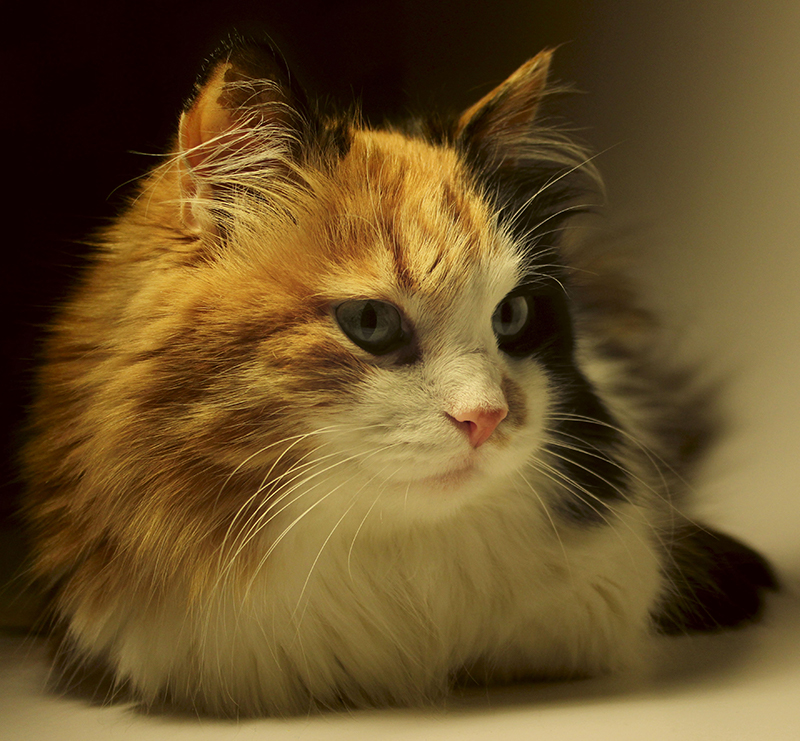 A healthy diet, plenty of exercise and lots of love will typically result in a 15-year calico cat lifespan.
Again, unfortunate for the rare male calico. He'll likely live a much shorter life due to his unique genetic makeup.
You can find out all about cat lifespan in this article.
Twenty-Five
Ready to bring a calico cat home? Here's the best fact of all: your local rescue group or animal shelter is sure to have a few beauties to choose from.
And we're guessing you might have a hard time taking just one!
Further Reading and Resources
Delgado, M.M. et al 2015 Human Perceptions of Coat Color as an Indicator of Domestic Cat Personality. Anthrozoos Journal.
Stelow, E.A et al. 2015. The Relationship Between Coat Color and Aggressive Behaviors in the Domestic Cat. Journal of Applied Animal Welfare Science.
Centerwall, W.R. et al 1973. Male Tortoiseshall and Calico (T-C) Cats. Animal models of sex chromosome mosaics, aneuploids, polyploids, and chimerics. Journal of Heredity.
Free Updates For Cat Lovers!
Our cat care articles, tips and fun facts, delivered to your inbox