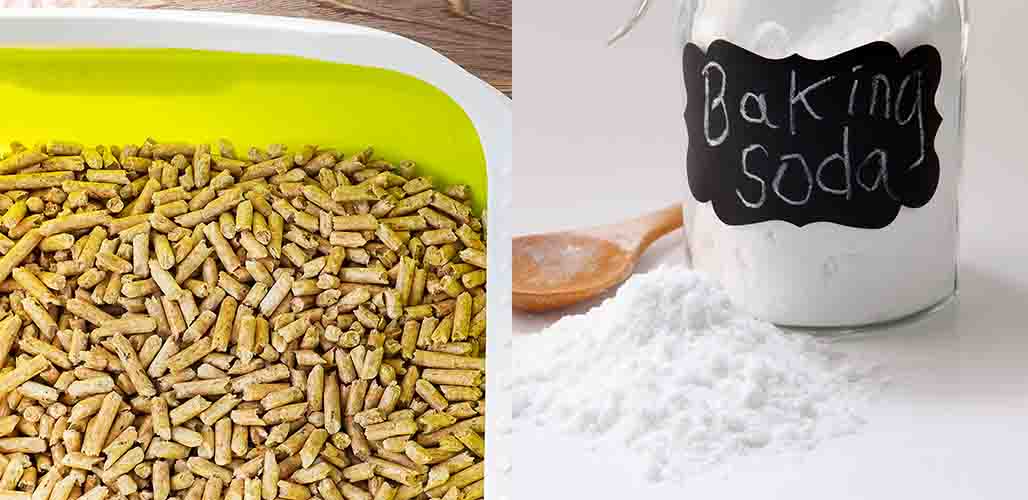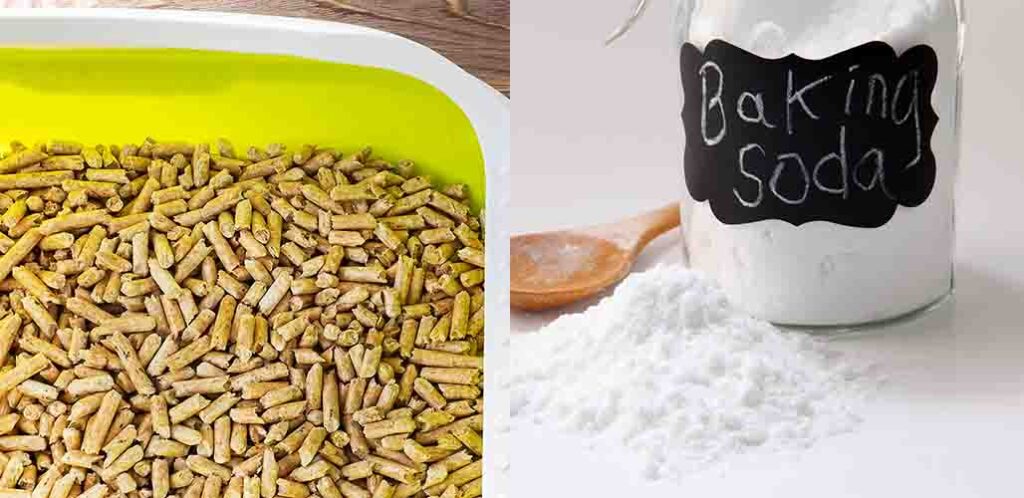 The smell of kitty litter is one of the few downsides of being a pet parent, but what if you could add one simple ingredient to your cat litter to get rid of that stench for good? You may have heard some people have permanently removed their litter box odor using baking soda. As long as you use a small amount this is a safe solution to the smell. But using too much can be risky especially if you have a kitten or an adult cat that likes to lick their litter box.
Contents
What is Baking Soda?
Baking soda, scientifically known as sodium bicarbonate, is an alkaline substance that creates carbon dioxide after it reacts with acidic compounds. The substance appears to resemble white powder, and you can buy it in any grocery or convenience store near you.
Baking soda has numerous applications; it's used in baking, relieving itchy skin, and, more importantly, cleaning.
Can You Put Baking Soda In Cat Litter?
Ideally you should clean your cat's litter boxes three or four times daily to prevent odor build-up. More so if you have two or more cats. Unfortunately, sometimes we get so busy with our daily duties that we forget or don't have the time to clean the litter box as required. That is what leads to the unpleasant smell.
You can put baking soda in cat litter. People use it because it absorbs that unpleasant litter box smell. It can make cat parenting bearable. Particularly for owners with overly sensitive noses.
Benefits of Adding Baking Soda to Kitty Litter
Here are some benefits you can obtain by sprinkling baking soda in your furry friend's litter.
Eases cleaning
Reduces odor
Saves money
Works with any litter
Better than scented litter
Eases cleaning
Baking soda is gentle on the hands but is a tough abrasive. Hence it will lessen the hassle you would go through while cleaning your cat's litter box, mainly when you empty it for extensive cleaning.
Reduces bad odor
As mentioned earlier, baking soda possesses scent absorption properties. When your feline friend finishes his business in the litter box, the compound will absorb the foul smell before it spreads in the air.
If you regularly clean the litter box while also using baking soda, chances are you will rarely experience the unpleasant smell.
Saves money
Even though scented litters are ideal for odor reduction, they are costly. A factor that explains why most pet parents would instead use baking soda than go for the pricey scented litter.
While using baking soda, you will also save on the money previously spent on air fresheners, scented candles, etc. Baking soda is affordable and easy to find for people with many cats, even in bulk.
Preferable to scented litter
Some cats have extremely sensitive noses. Consequently, they will steer clear of a litter box with a strong scent. This makes it challenging to use scented litter. On the other hand, baking soda eradicates the odor and doesn't leave behind a smell.
Scented litters could also pose a danger for cats due to the chemicals they contain. Whereas baking soda is only toxic when ingested in high amounts. A factor that significantly limits the chances of your cat getting sick from the contents in its litter box.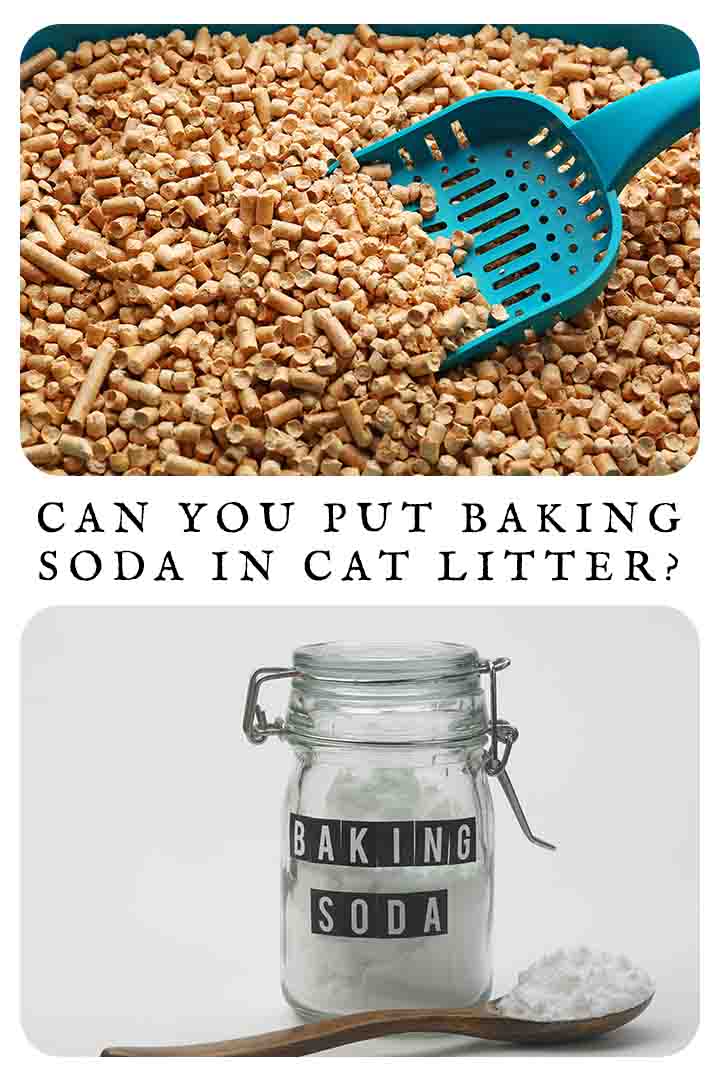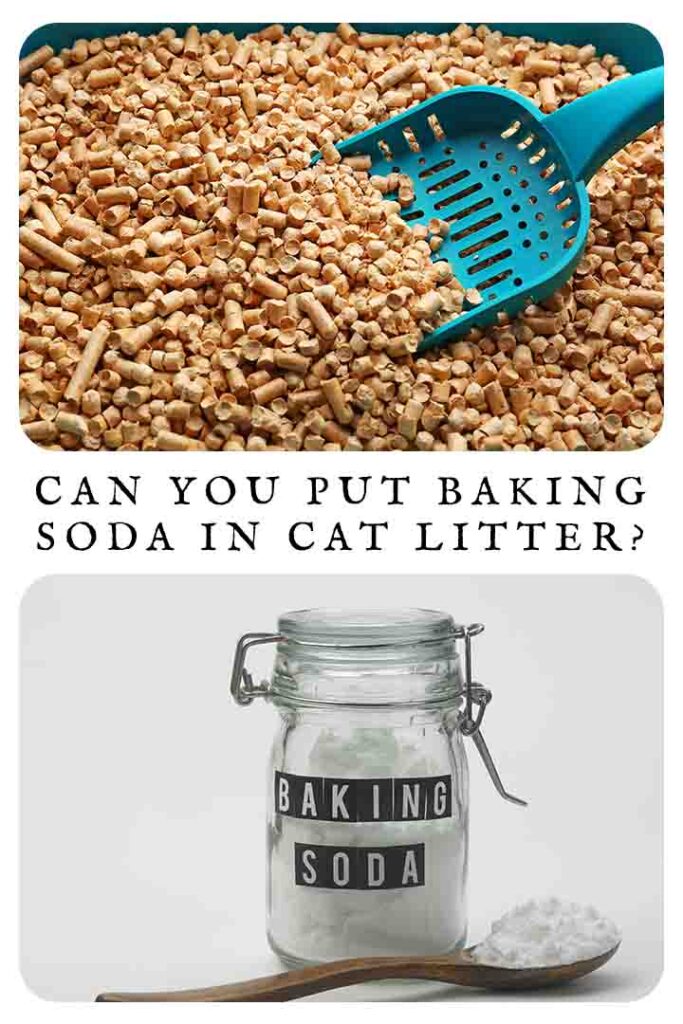 How Much Baking Soda Should You Put In Cat Litter?
Add one or two baking soda tablespoons to a medium-sized litter box. However, you can only do so if the litter you purchased doesn't have baking soda to avoid toxicity.
You may have observed that once a cat finishes their business, they like digging up the litter to hide the waste. Doing so aids in mixing the baking soda. Consequently, the odor released by the litter will be negligible.
Some cat parents prefer to pour a layer of cat litter, sprinkle a spoonful of baking soda, then add another layer to fill the litter box appropriately. Feel free to use either of the above methods, provided you don't add too much baking soda.
Reasons Not To Use Baking Soda In Cat Litter
In some cases, if you use excessive amounts of baking soda and it completely clears the litter smell, the cat may not recognize where it should do its business. I learned this the hard way. I have a Ragdoll cat named Jesse, and she is very picky. Once she noticed a change in her litter box, she didn't use it. Instead, she relieved herself under the sofa.
My veterinarian explained that cats require their litter box to somehow smell like their poop. That tells them where to go to relieve themselves.In such a case, you will need to add small amounts while observing how your feline responds to it.
Litter Boxes Still Need Emptying
Since the litter box won't be stinking, most people will forget to clean it regularly. Over time, your cat will stop using it, for it will be full. Therefore, you could end up finding waste all over the house.
You can counter this by creating a reminder, so you don't forget to clean the litter box.
Is Baking Soda Toxic To Cats?
Though rare, when a cat ingests too much baking soda it will develop health issues. Kittens are particularly vulnerable for they will eat anything within their reach. Signs of too much consumption of baking soda include
Gas
Weakness
Disorientation
Muscle spasms
Lethargy
Diarrhea
Vomiting
Excessive thirst
If you suspect your furry friend has ingested baking soda, contact your vet immediately for treatment.
Can You Put Baking Soda In Cat Litter?
Baking soda can help reduce the smell in your cat's litter box. However, it will only work if you also regularly clean the box. That way, your feline friend will always have a clean place to go.
More Kitty Care Tips
How to make your cat even happier
Do cats like sitting on paper?
References
Ellis et al. Does previous use affect litter box appeal in multi-cat households?