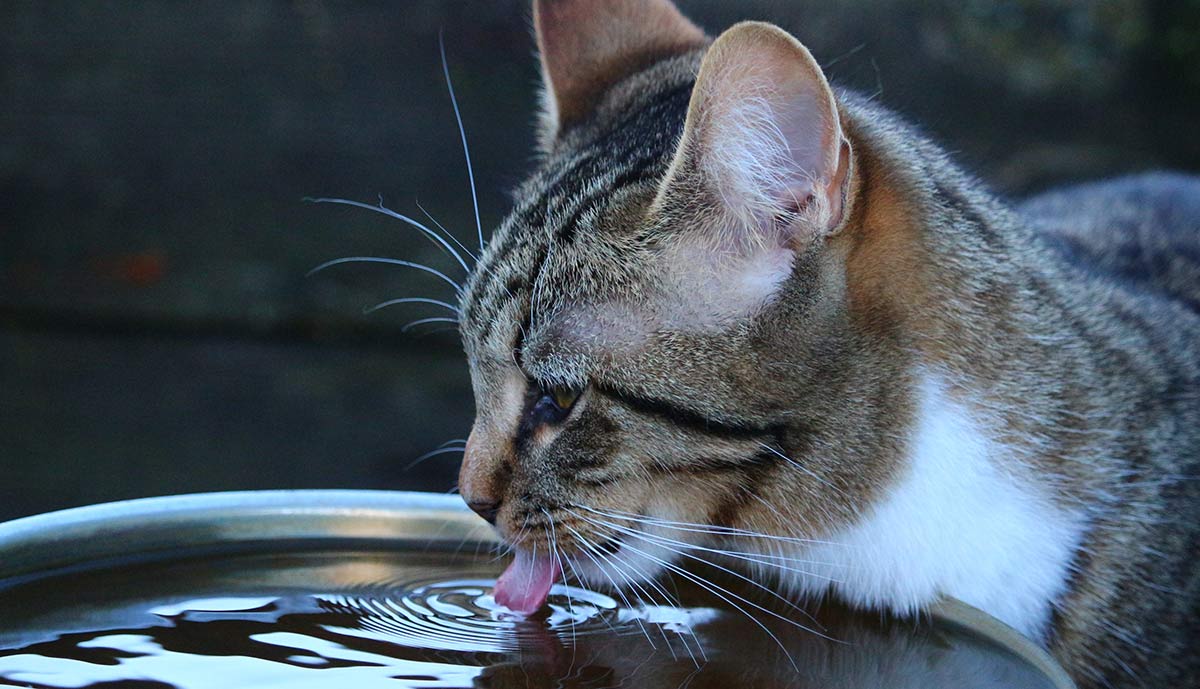 A cat drinking a lot of water is usually one with a health problem. For the first few weeks after my kitten Billy came to live with us, I don't think I ever saw him drink water. We would always leave water down for him, but the levels never changed and he never seemed to touch it. He does drink water occasionally now, his preference is to take a few laps from the top of a clean glass of water that I have just filled for myself….as I prefer not to share – I then have to go and fetch another.
But Billy is not unusual in his general indifference to water. Many cats drink very little, especially if, like Billy, they are fed on wet cat food. If your cat starts to drink a lot of water it is important to take notice. Because it could be an early sign that he is ill. Obviously, there might be a very simple explanation. So you'll need to consider any recent changes that could have affected your cat.
Diet Can Make You Drink More
If you have just switched your cat from wet food to dry food for example, your cat is going to need to drink more than he did before. In fact if he doesn't have more water, he could be in trouble. Some cats, especially male cats, don't drink enough to do well on dry cat food and can end up with bladder problems
It seems that cats are not very good at adapting to eating dry food and fail to keep themselves properly hydrated. For this reason, many experts think that wet food is better for cats.  However, the important thing to know is that most cats on dry food gulp down more liquid than those fed on wet food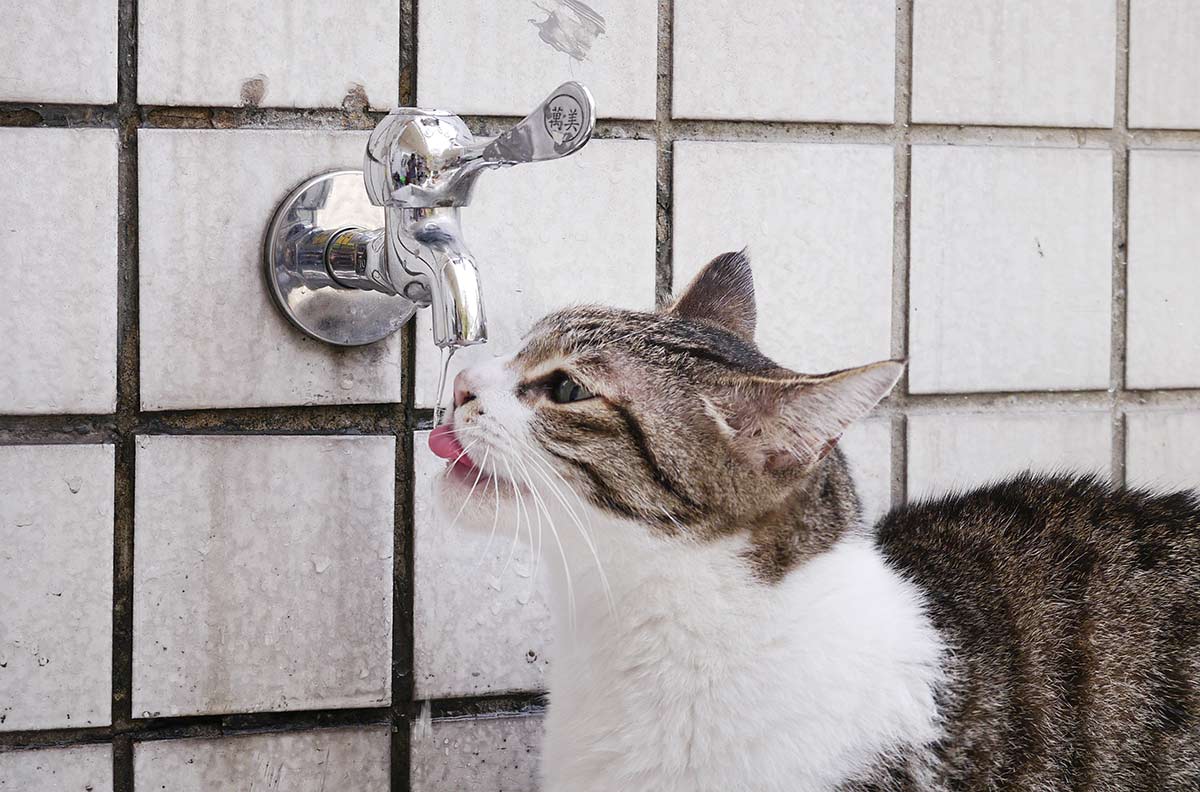 Thirsty Cats in Hot Weather
Your cat may need to drink more water in very hot weather. So, if temperatures are very high during the summer, your cat may lap more frequently and in larger quantities. However, this is unlikely to be a dramatic change.
When Drinking Lots is a Danger Sign
Drinking more than is normal can indicate the early stages of some quite serious health problems. If your cat is affected by one of these problems, he will start to look for more water in order to flush toxins from his body and to attempt to rebalance the systems in his body that are 'out of synch'
His urinary system (kidney disease and urinary tract infections)
His system for maintaining stable blood sugar levels (diabetes)
His system for stabilising his metabolism (thyroid disease)
Anytime a vet sees a cat drinking a lot of water, he or she is going to have these problems at the front of his mind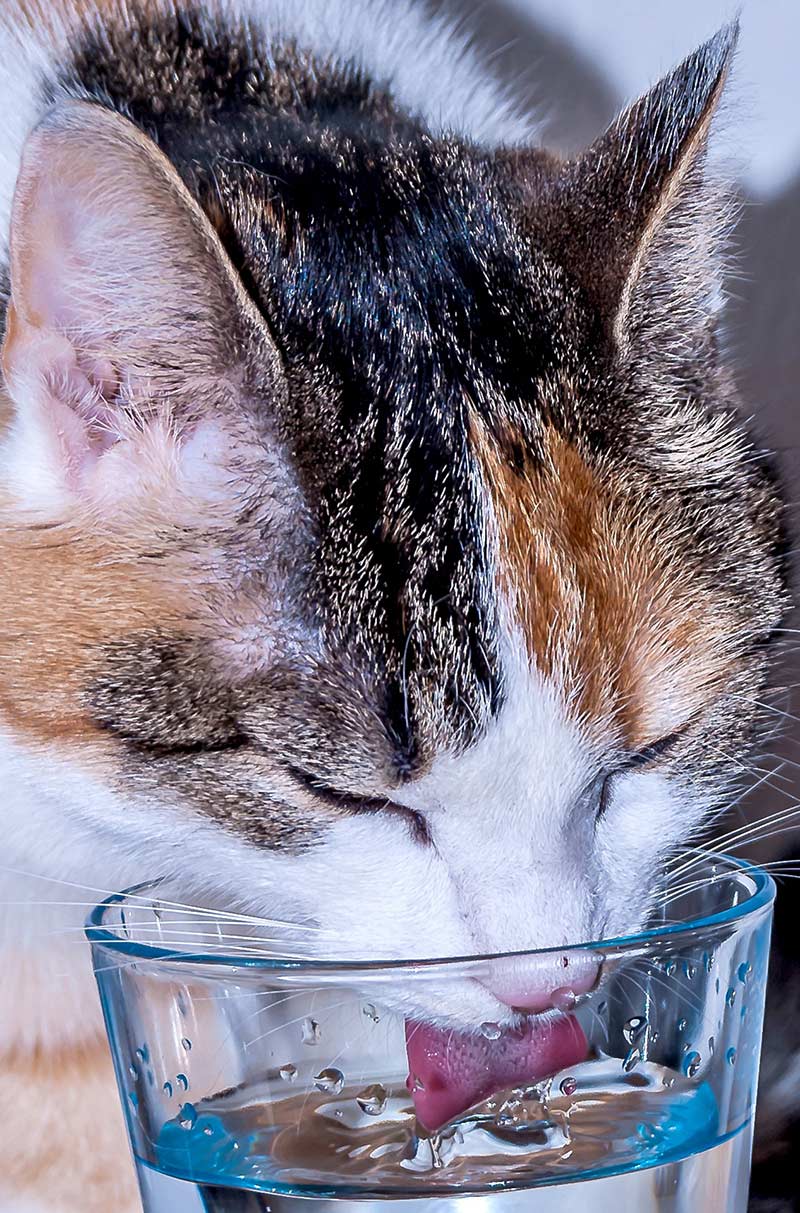 Excessive Thirst and Kidney Problems
Kidney problems are quite common in elderly cats, and almost one third of cats over 15 years old will be affected. Kidney disease is often accompanied by weight loss and significantly increased thirst.
We tend to ignore it, or put it down to aging, when old cats get a bit scrawny, and spend more time at the water bowl, but this is not necessarily a normal part of aging, it's often a sign of health trouble. And time for a check up.
Don't assume your cat doesn't have kidney trouble just because he is young. If you notice you cat drinking lots of water, much more than usual, get him examined by a vet.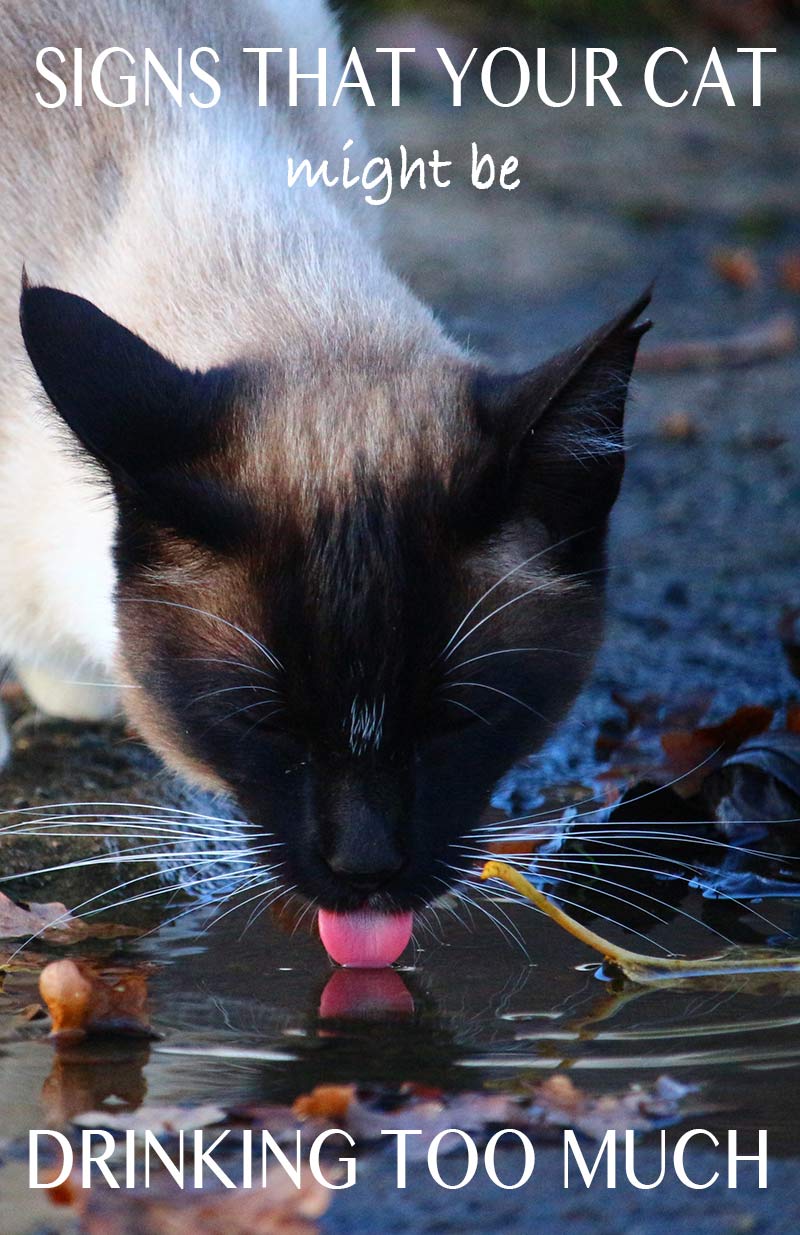 Diabetes Makes Cats Drink A Lot
The risk of a cat getting diabetes increases with weight, especially in male cats, so if your cat is on the plump side and very thirsty this is a real possibility. Again – a trip to the vet is in order. These conditions can and should be treated, as soon as possible
Excessive Thirst in Cats and Thyroid Problems
Like kidney problems, hyperthyroidism can cause weight loss along with thirst. There are other, more unusual health problems that can cause thirst too. And all these problems, left untreated, can lead to misery and even death for your cat.
Basically, this is a big deal for your cat.  And as there is no way for you to tell what is making your cat drink so much yourself, you are going to need help. So if you suspect that he is especially thirsty, you must take your cat to the vet without delay.
The Right Amount Of Water
Experts differ slightly as to how much they think your cat should drink. But as a rough guide you could be looking at about a cup, or up to four ounces of water a day for a 9lb (4 kg) cat. Drinking a lot more than this is not normal.
On the other hand, many healthy cats drink less than this, especially on a wet diet. My Billy probably doesn't drink even two ounces of water a day. So if he suddenly started a whole cup of water, unless for some reason I had changed his diet, then that would be a sign that something is wrong.
The message here is, you need to think about what is normal for your cat. Keep a weather eye on him or her, and be aware of what his usual habits are.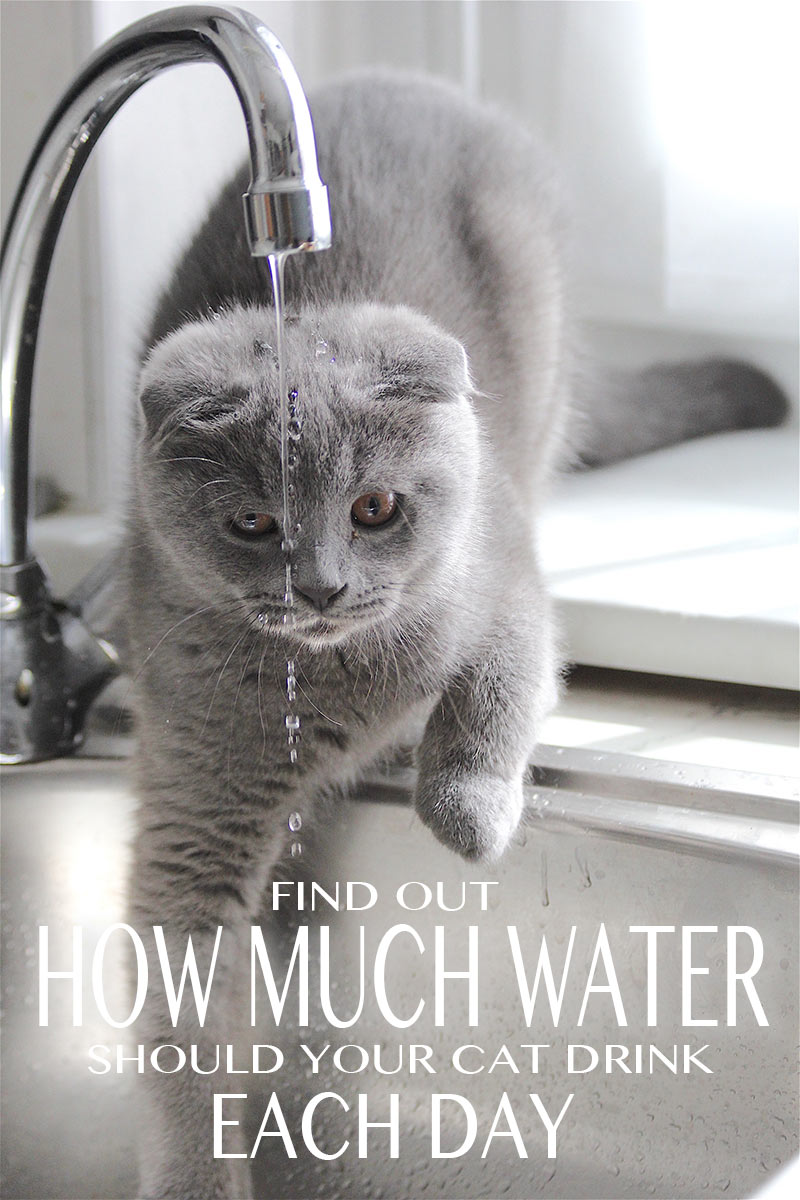 Is My Cat Drinking Too Much?
If your cat's water bowl is emptying much faster than normal – then there could be a problem with his health. You may notice your cat visiting his bowl much more frequently. If you see your cat lapping away from his bowl and you think to yourself, didn't he just do that an hour ago – then again, there could be a problem.
Perhaps your cat has suddenly started raiding the kitchen sink or sitting in the bath to drink from that leaky tap? These kinds of changes in behavior can indicate excessive thirst in some cats. If you're not sure, whether your cat is drinking more, then you can measure how much he is drinking.
How Much Is Your Cat Drinking?
Use a measuring jug to add a specific quantity of water to your cat's bowl each morning. Make a note of exactly how much water you put in the bowl. The following morning, pour what is left into the bowl back into the same jug and note the difference between the two quantities.
Write this down before refilling his bowl once more. If your cat goes outside of course, he could be topping himself up from next door's fish pond, so this won't be accurate. You may need to keep him indoors for 48 hours to be sure.
Encouraging Your Cat To Drink
Some cats are quite reluctant to drink enough water for their own good. And can end up with painful little stones in their urinary tract as a result. If your cat falls into the reluctant drinkers group, then you need to be scrupulous about keeping his water bowls clean and providing fresh water at least twice a day.
You might even want to consider getting him a water fountain. Many cats prefer fresh, running water, and will choose to drink more if it is available.
Cat Drinking A Lot Of Water
Whether your cat regularly enjoys drinking water, or rarely drinks, the important thing is to notice changes in his behavior. Increasing thirst can be a sign that your cat is in trouble. So it's important to get your cat checked out by a qualified vet within the next day or two.
Not all problems that cause thirst can be completely cured, but they can be treated and controlled so that your cat no longer feels ill and desperately thirsty all the time, and is once more able to enjoy life.
References
Leslie Kuczynski, VMD, DACVIM  "Why is my cat so thirsty?"
Prahl et al.  "Time trends and risk factors for diabetes mellitus in cats presented to veterinary teaching hospitals"
Plotnick A. "Feline chronic renal failure: long term management"  Compend Contin Educ Vet  2007 
Daisy Vet Medical Centre "Skinny, thirsty, older cats" 
Holzworth et al. "Hyperthyroidism in the cat: ten cases" Journ AVMA 1980