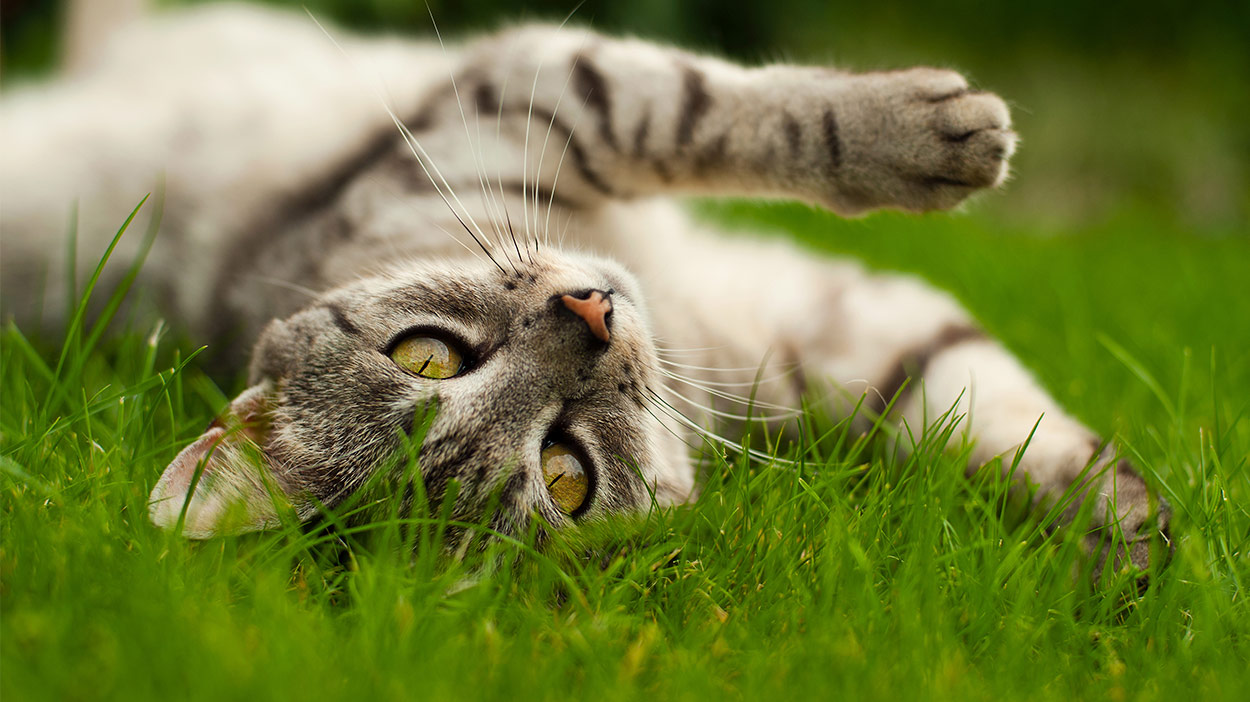 Kristin Hitchcock finds out why you might choose diatomaceous earth for cats, and whether it works.
Oh no – your cat has been diagnosed with worms. Or maybe you've noticed a flea or two on your feline friend.
Perhaps their litter tray smells worse than usual and you're feeling guilty about how much clay-based cat litter you're using to keep on top of it.
No need to panic!
There might be a natural solution to your cat's new-found issue – diatomaceous earth.
Though it might sound like something out of a science fiction movie, diatomaceous earth has actually been used for centuries to control fleas and combat parasites in a number of species, from cats to humans!
In fact, diatomaceous earth has even caught on among veterinarians, and some are beginning to recommend it to their patients.
However, what exactly IS diatomaceous earth? What does it do? And is it a solution for your cat's worm and fleas?
What is Diatomaceous Earth for Cats?
Simply put, diatomaceous earth is the fossilized remains of extremely tiny, aquatic organisms called diatoms.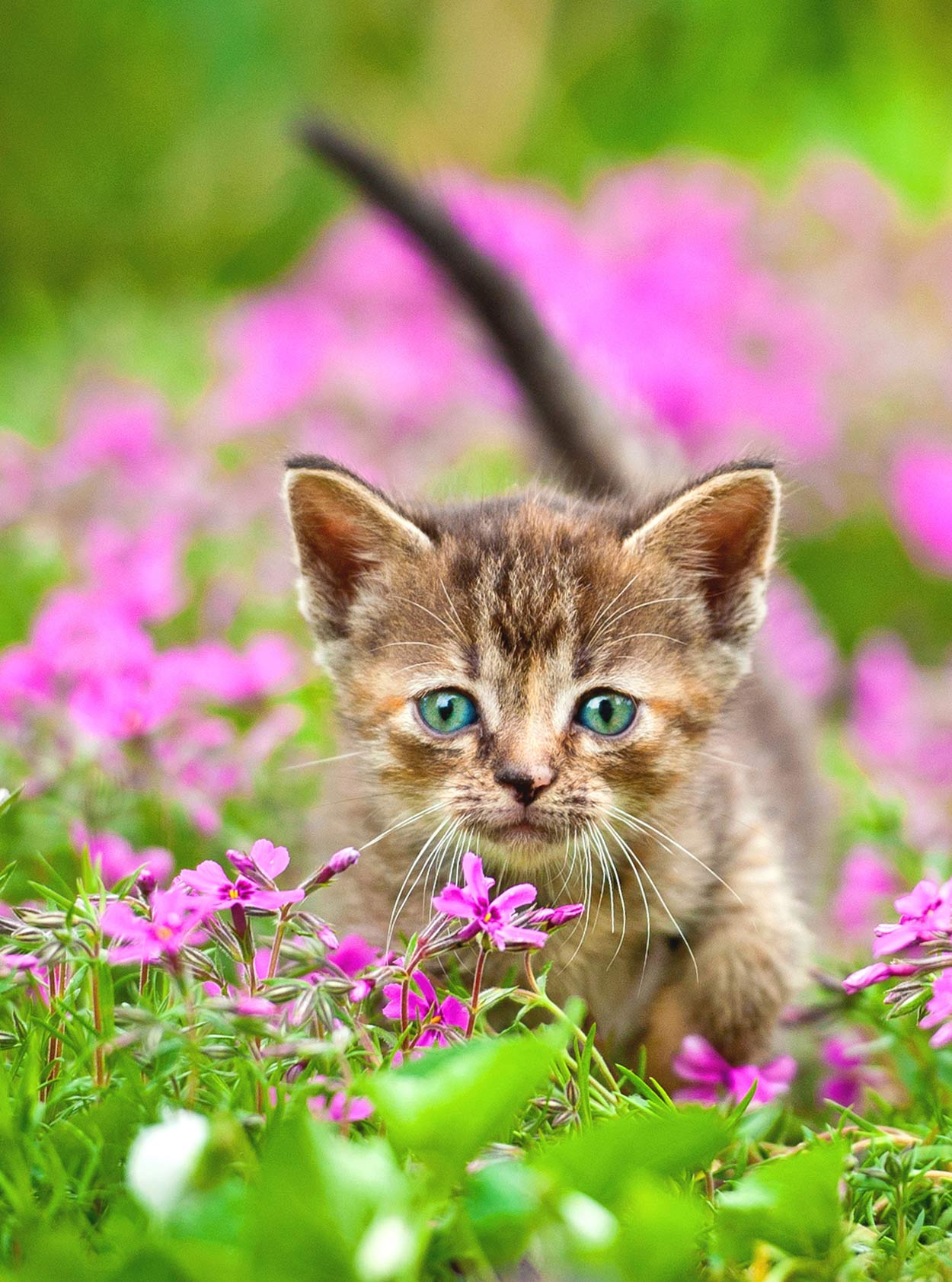 Over time, these organism accumulate in the dirt of rivers, streams, lakes, and oceans.
And these tiny creatures' skeletons are made out of silica.
Silica is actually extremely common. In fact, it has been theorized that silica makes up about 26% of the earth's crust.
Their fossils, however, become a specific kind of silica compound, called silicon dioxide.
Silicon dixoide is created when silica reacts with oxygen and water.
Which is exactly what happens when these organisms die underwater and decay over a long period of time.
The resulting diatomaceous earth is rich in silicon dioxide, and it can be mined from beneath lakes, and places water used to be, like some deserts.
Diatomaceous Earth Uses for Cats
Now that we know what diatomaceous earth is, let's explore some of the proposed uses.
The most common use of diatomaceous earth for cats is to combat fleas.
Fleas, after all, are an extremely common problem in cats.
Many pet owners are tempted to flee(!) from harsh chemicals and chose something a little more "natural" to combat this problem.
Diatomaceous earth for cats has also been advertised to combat internal parasites, such as tapeworms.
This use is not as common as the previous one. However, it is common enough that is deserves a look.
What Else?
Lastly, diatomaceous earth has also been proposed as an all-natural cat litter.
Many cat owners are opting to switch to this seemingly better alternative over the more traditional, clay cat litter.
But how effective really is diatomaceous earth for these problems?
Can diatomaceous earth really be used to control fleas, treat internal parasites, and as an alternative to cat litter?
Let's look at each in turn to find out.
Diatomaceous Earth for Fleas on Cats
Diatomaceous earth has been used for a while as a pesticide, and has actually been shown to be pretty good at preventing and disrupting insect infestations.
It's effective against insects because, when finely ground, it can pierce a number of insect's exoskeletons and dehydrate them from the outside in.
One study in particular explored the effectiveness on diatomaceous earth on beetles.
It found that, while diatomaceous earth wasn't entirely effective against killing older insects, it did cause a substantial drop in the population of various insects.
Another study found that the specific species of the bug, dose rate, and temperature all played a major role in how well diatomaceous earth worked.
However, in nearly every case, it did prove to be decently effective.
Diatomaceous Earth and Cats
But what does all this mean for our felines?
Well, diatomaceous earth works through a mechanical, rather than chemical function.
Because of this, your pet's liver does not have to work to process it and is does not enter your pet's blood system.
Due to this fact, it is generally safe.
Furthermore, it is also effective against many types of bugs, including fleas, and might therefore be considered an effective treatment and prevention measure.
How to Apply Diatomaceous Earth to Cats
When using diatomaceous earth for fleas on cats, it is important to make sure that it is food grade, not pool or industrial grade.
This is because it is not completely uncommon for your pet to ingest whatever you put on their fur.
You should also avoid the eyes when rubbing diatomaceous earth onto your pet's skin. It is an abrasive after all.
Make sure that the product comes into contact with your pet's skin. You don't just want it sitting around in the fur, but directly in the area that the fleas will be feeding.
Usually, weekly application is plenty to prevent fleas.
Using Diatomaceous Earth To Tackle a Flea Infestation
However, if you're trying to get rid of a present flea infestation, you might want to re-apply daily until you notice improvement and then move out to weekly for prevention.
Remember, you should always consult with your vet before starting any new treatment on your pet, including something as simple as treating for fleas.
Some pets have preexisting conditions that might make this treatment unsuitable.
Your vet will tell you for sure and might instruct you on a more specific application regimen.
Diatomaceous Earth for Cats Worms
Worms are actually extremely common in cats.
On top of this, testing for worms is often difficult and ineffective, which can make treatment even more unsure and complex.
However, it has been found that many internal parasites perish when exposed to diatomaceous earth.
This is due to the same properties that cause diatomaceous earth for cats to be effective against worms.
Diatomaceous earth is abrasive, and can therefore cut and injure small insects.
Its high silica content also dehydrates organisms when they are engulfed in it.
Still, in order for an internal parasite to come into contact with diatomaceous earth you cat would, simply put, have to eat it.
Is Diatomaceous Earth Safe For Cats To Eat?
This is complicated in itself (my cat won't even eat cat treats half the time), but also comes with its own set of risks.
Diatomaceous is an abrasive after all, and can cause damage to your pet's digestive tract.
It also has the potential to cause dehydration not just for your cat's worms, but your cat as well.
On top of this, we simply do not have very much information involving the safety of diatomaceous earth for cats.
There have been no studies done on its effectiveness or safety as a treatment for internal parasites.
For this reason, it is extremely important to only use this under a vet's supervision.
You should never to treat your pet without vet consultation.
Many symptoms, after all, can point towards a number of different diseases and treatment plans are often specialized for the specific cat.
Diatomaceous Earth Cat Litter
Diatomaceous earth has been used as a component in cat litter for a very long time.
Now, however, more and more cat litter brands are developing litter that contains more diatomaceous earth than in the past.
This is because diatomaceous earth is both extremely absorbent, like most silica, and more environmentally friendly than clay-based litters.
Most sewer systems can handle diatomaceous earth being flushed down the toilet, while clay tends to be a different story.
(But read more about the wisdom of flushing kitty litters here).
Diatomaceous earth also smells better (at least, in my opinion) and can be far less dusty than traditional cat litter.
Is Diatomaceous Earth Safe for Cats?
Short answer: we don't know.
There has simply not been enough studies done regarding diatomaceous earth treatments in cats for us to say whether it is truly safe or not.
Many experts agree that diatomaceous earth is okay for external use in cats, such as a flea treatment or cat litter.
This is because it does not actually come into contact with a cat's organs and does not have to be filtered out by a cat's liver.
However, internal use is a different story.
We do not know exactly how diatomaceous earth reacts with a cat's internal system.
Use internally is not complete unadvised, but it does need to be done only under the careful eye of a vet.
Diatomaceous Earth and Cats
Diatomaceous earth is growing more and more common among veterinarians and pet owners alike.
While it has already been proven as a great pesticide, there have simply not been enough studies done on its use in cats to make a firm conclusion about its safety.
More research is needed before anyone can really say how safe it is, especially when used internally.
Do You Use Diatomaceous Earth For Your Cat?
How has it worked for you? Let us know in the comment section below!
References and Further Reading
Butch, T. R. "Diatomaceous Earth: General Fact Sheet." National Pesticide Information Center. 2013.
Mewis, I. "Action of amorphous diatomaceous earth against different stages of the stored product pests Tribolium confusum, Tenebrio molitor, Sitophilus granarius and Plodia interpunctella." Journal of Stored Products Research. 2001.
Athanassiou, C.G. "Insecticidal efficacy of diatomaceous earth against Sitophilus oryzae (L.) (Coleoptera: Curculionidae) and Tribolium confusum du Val (Coleoptera: Tenebrionidae) on stored wheat: influence of dose rate, temperature and exposure interval." Journal of Stored Products Research. 2005.
"Diatomaceous Earth for Flea Control." Riversong Veterinary Clinic. 2011.