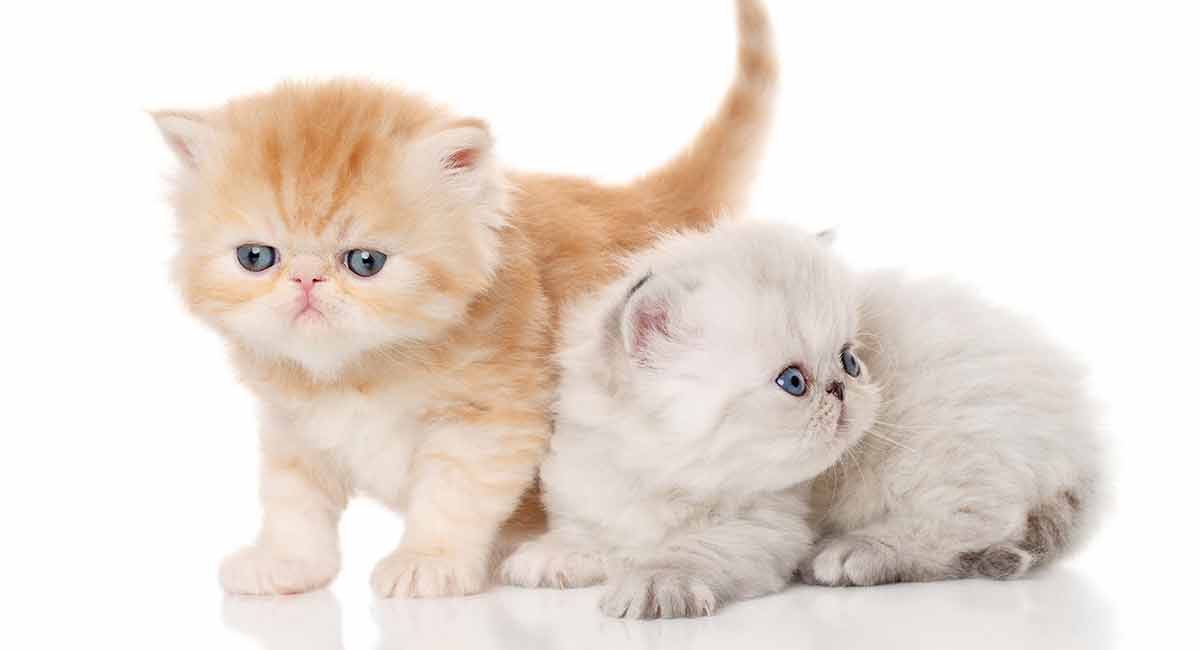 In this article Penny Berrigan homes in on Exotic Shorthair lifespan, and the factors which affect longevity among this popular cat breed.
It's vital reading for anyone thinking of bringing home one of these flat faced cats.
The Exotic Shorthair is essentially a Persian minus the high maintenance hairdo.
If this sounds like just the kind of kitty you would like to bring home, you may have questions such as: What is the Exotic Shorthair lifespan? And what are some common Exotic Shorthair health problems?
If you are not too familiar with this breed, you can find more information about the Exotic Shorthair in our breed review.
If you are already familiar with the breed but are keen to find out more specifically about Exotic Shorthair lifespan and general health, read on!
Exotic Shorthair Lifespan
In many ways the Exotic Shorthair is just like the breed from which it was derived, the Persian.
Their lifespan is no different. You can expect these cats to live around of 12-15 years.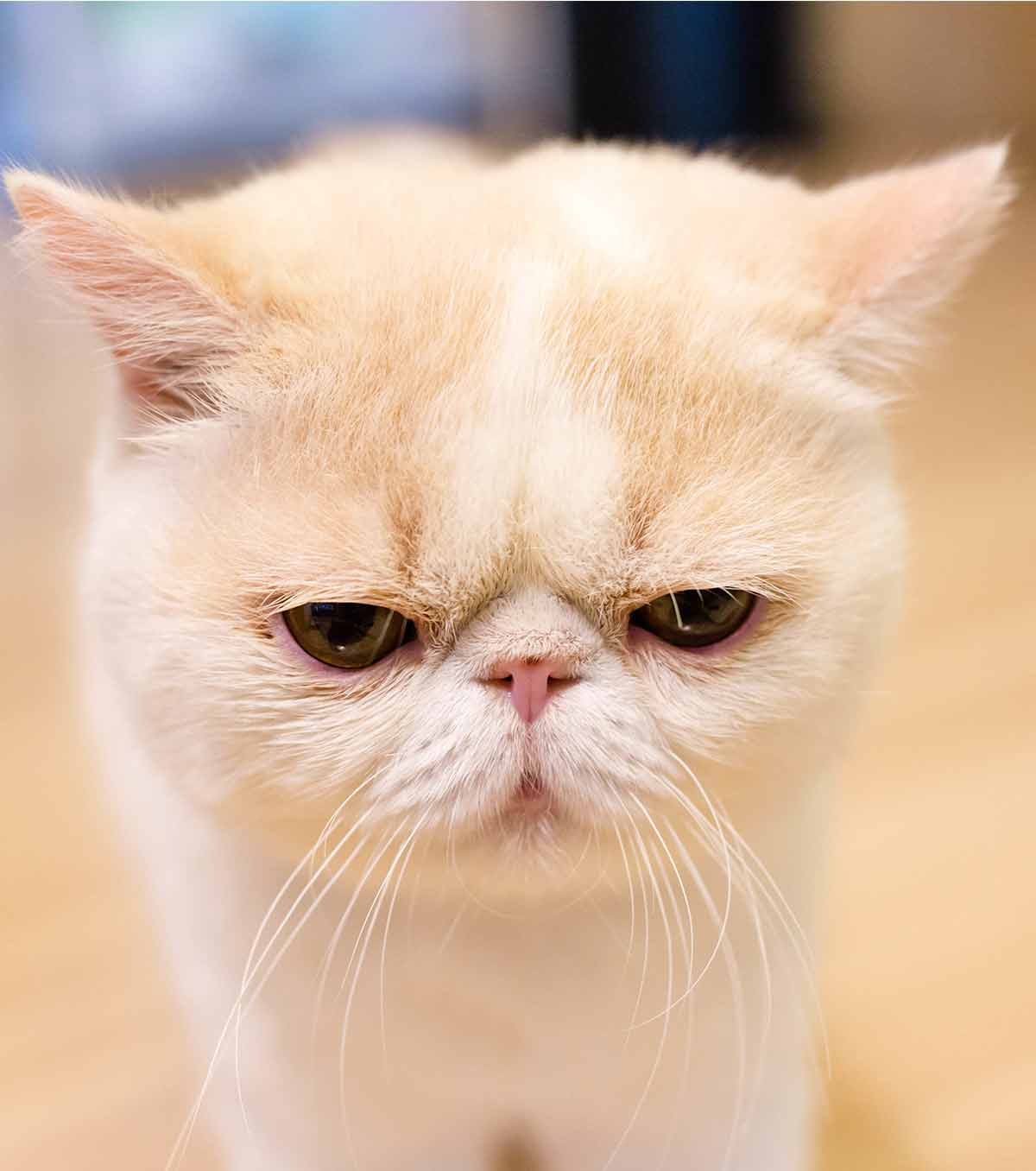 However, as is the case with many purebred cats, there are some health conditions that this breed is predisposed to.
Sadly, some of these conditions can affect Exotic Shorthair life expectancy.
Other conditions can be managed with proper care and treatment.
Always make sure you ask about the health of a prospective kitten's parents.
Ideally, you should be able to "meet the parents" and check that the breeder cares for their cats properly before you purchase a kitten.
Common Exotic Shorthair Health Problems
These are the illnesses most commonly seen in Exotic Shorthair cats.
Brachycephalic Respiratory Syndrome
This condition afflicts cats and dogs with flat faces.
While this is the distinctive look that makes many people fall in love with these cats, it can also be very problematic for them.
Due to the extreme flattening and shortening of the nose, the nose cartilage and teeth are displaced.
This leads to multiple issues, including difficulty breathing, poor drainage of the sinuses, and dental problems.
The severity of this syndrome depends on the degree to which the cats face is flattened.
If you suspect your cat is suffering badly from this condition, talk to your vet.
If your cat is overweight, losing some weight will help.
Sometimes, keeping your cat in cooler, less humid conditions such as in an air-conditioned environment, will help.
There is also surgery available that can help alleviate the issue.
If you would like to know more about this condition, you can read about it here.
Feline Polycystic Kidney Disease
Persians and Exotic Shorthairs are also prone to polycystic kidney disease.
This condition will eventually lead to renal failure. Therefore, it is a life limiting condition.
This condition is inherited, so obtaining information about the health of your kitten's parents will give you an idea whether your kitty is at risk.
Kittens with the disease start to develop cysts on their kidneys from just a few weeks of age, and if they have not shown signs of the disease by about 6 months, then they will likely not be affected.
While there are some medications available that may ease symptoms, there is no way to remove the cysts other than a kidney transplant.
However, a kidney transplant is a very risky surgery, and the cost is prohibitive.
Calcium Oxalate Urolithiasis
This condition is common in Persians and Exotic Shorthairs, along with some other breeds of dogs and cats.
In this condition, the dissolved salts calcium oxalate and magnesium ammonium phosphate crystalize in the bladder.
The result is an accumulation of 'uroliths', which are like little stones, in the bladder.
These stones can block the urethra, and if the blockage is not removed, your cat can die.
Thankfully, this condition is treatable.
If your cat is susceptible, they will be placed on a special diet with increased water content, extra potassium citrate, and a higher protein content.
Length of Life vs Quality of Life
While Calcium Oxalate Urolithiasis is easily controlled, the other conditions that these cats are prone to can affect their quality of life, even if it does not shorten Exotic Shorthair lifespan.
Particularly when purchasing a brachycephalic cat, consider how pronounced their flattened face is, and if this is going to make everyday activities such as breathing, sleeping, and eating difficult and uncomfortable for your kitty.
Brachycephaly and feline polycystic kidney disease are passed on genetically.
So, if you are careful to check the health of your kitten's parents, you can avoid buying a kitten who will grow into a cat with problems that make their life difficult.
By refusing to purchase irresponsibly bred kittens, you are also helping to stop unscrupulous breeders making money from sickly kittens that need not have been born that way.
Exotic Shorthair Lifespan – Conclusion
We hope this article has been helpful for understanding Exotic Shorthair lifespan.
Exotic Shorthairs' cuddly personalities and unique features make them very appealing to many cat lovers.
The average Exotic Shorthair lifespan is 12-15 years.
However, they do come with some potential health issues.
Being aware of these issues can help you pick a healthy, happy kitten, or successfully care for an older cat that may develop signs of such problems.
Choosing an Exotic Shorthair kitten from a breeder who prioritizes health face shape and healthy genes gives your cat the best chance of a life that is both long and happy.
Are you a proud Exotic Shorthair owner?
Have you had experience with a kitty that had some of these health issues?
Let us know your thoughts in the comments section below.
And if you enjoyed reading this article, please be sure to share!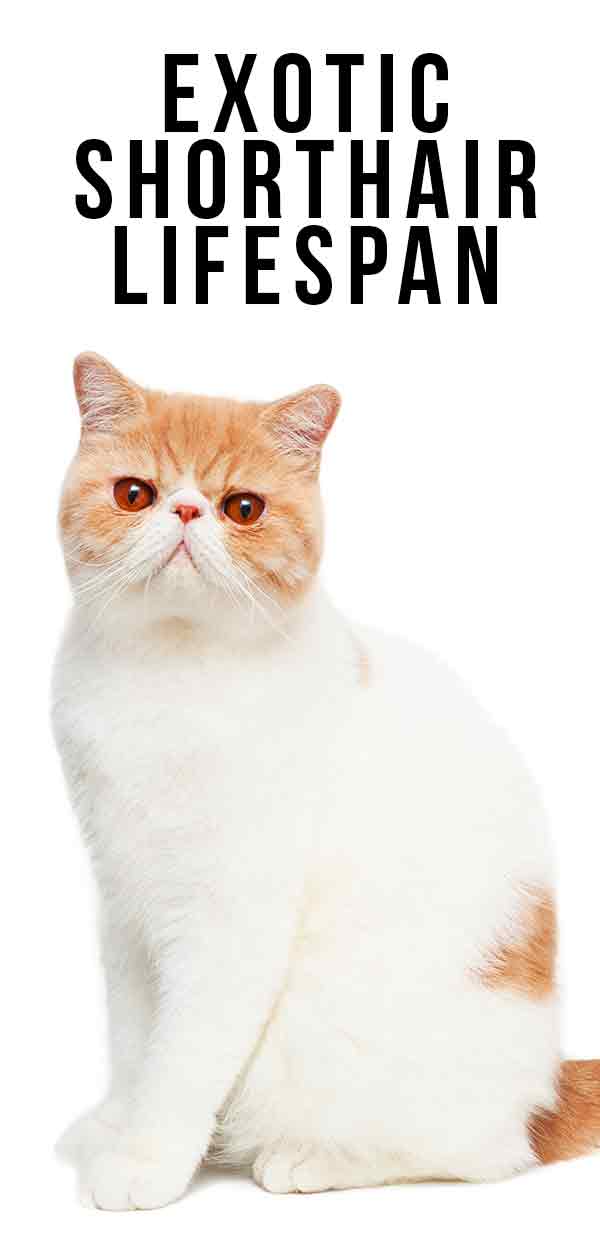 References
Houston, D.M., Moore, A.E.P., Favrin, M.G., Hoff, G., Feline urethral plugs and bladder uroliths: A review of 5484 submissions 1998–2003, The Canadian Veterinary Journal, 2003.
Biller, D. S. DiBartola, S. P. Eaton, K. A. Pflueger, S., Wellman, M. L. Radin, M. J., Inheritance of Polycystic Kidney Disease in Persian Cats, The Journal of Heredity, 1996.
Schlueter, C., Budras, K.D., Ludewig, E., et al, Brachycephalic Feline Noses: CT and Anatomical Study of the Relationship between Head Conformation and the Nasolacrimal Drainage System, Journal of Feline Medicine and Surgery, 2009.