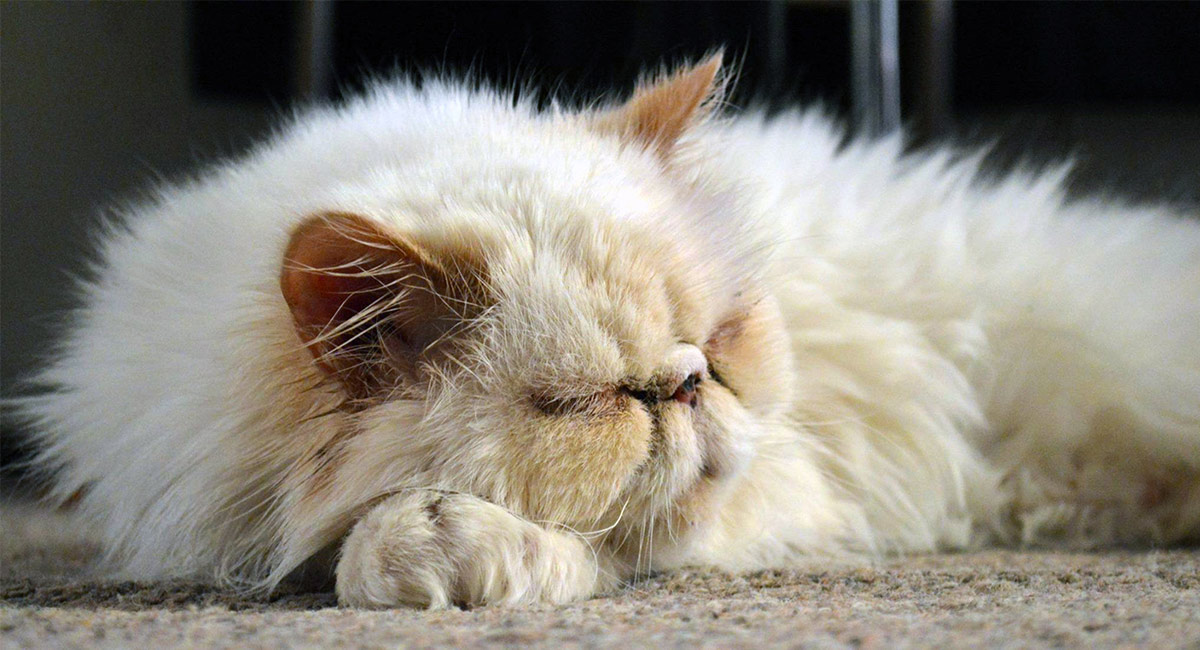 Flat faced cats are incredibly popular and much loved for their cute smooshed features.
If you love to see a squishy face cat and are thinking of bringing one home, then it's time to get reading.
Because underneath that characteristic expression, brachycephalic cats have some really big problems.
We're going to take a look at what people mean when they talk about brachycephaly, and in term what that diagnosis means for your kitty.
Having a flat faced cat might be appealing, but is this distinctive look worth the cost?
Let's find out.
What is brachycephaly?
Brachycephaly is the scientific term for flat faces. It means 'short skull'. It's a word you've probably come across if you have ever looked up health problems related to Pugs, Bulldogs or French Bulldogs.
Brachycephaly in dogs is fairly well known these days. But brachycephalic cats suffer in the same ways.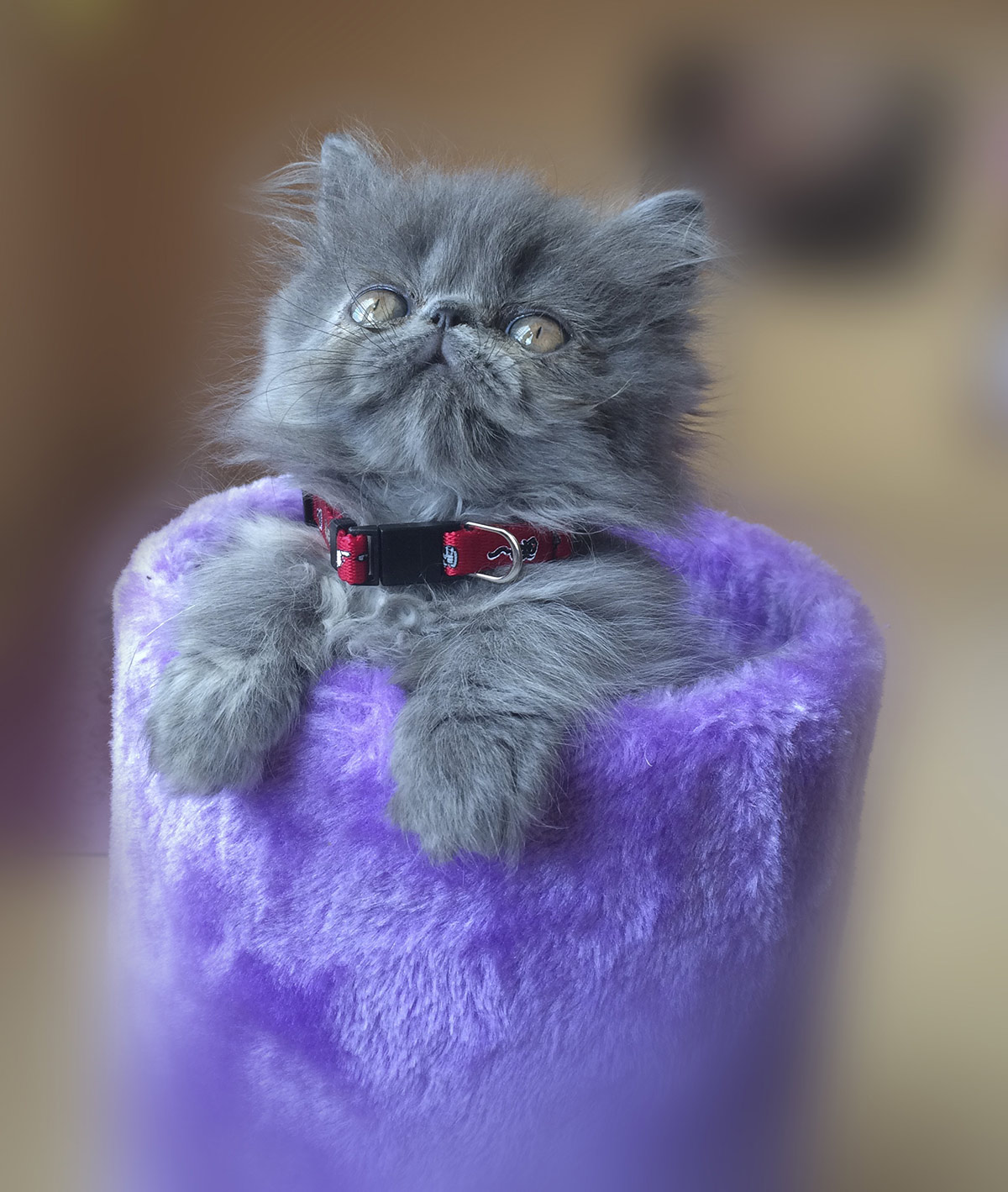 Flat faced cats have extremely distorted skulls. And this head shape comes at a price.
You have probably heard flat faces being associated with breathing problems.
But did you know that this is just one of many issues.
Dental problems and horrendous eye problems also affect our flat faced cats.
It is also possible that they suffer from digestive problems, sleep disorders and temperature control issues as dogs do, but the research in these areas is currently limited.
Even so, many people are now asking why do we keep breeding cats like this? What is the appeal of a smooshed face cat? And what happens when you make a cat's skull much shorter than it should be?
In this article I am going to give you the facts.
We'll look at how being a flat faced cat affects their quality of life. The health problems you might have to contend with.
And which breeds make up the flat faced cat family.
Brachycephalic airway syndrome
Brachycephalic airway syndrome in dogs has been well documented in recent years. But the research in cats is not quite as comprehensive.
Fortunately, there is still some of it, and we can infer a little more from the work with dogs.
Let's take a look at what we know for certain about the breathing of cats with brachycephalic syndrome.
Flat faced kittens might well look adorable.
A common result of being a flat faced cat is a condition that vets call  brachycephalic airway syndrome.
Simply put, they have breathing problems.
Breathing Problems In Flat Faced Cats
Issues experienced by flat faced cats can range from relatively minor to very serious indeed.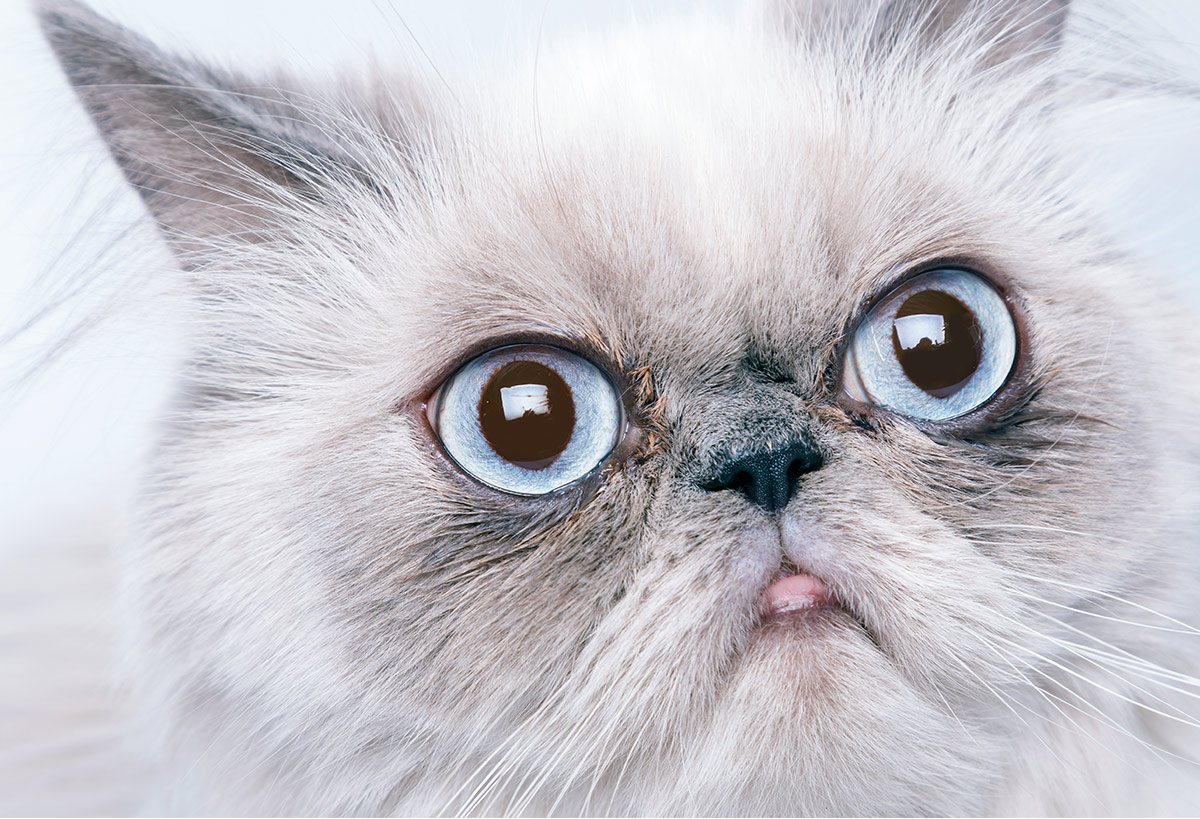 The extent of the breathing problems can be related directly to the extent of their brachycephaly.
The shorter the skull, the worse the breathing.  That's partly because although the brachycephalic cat's skull is shorter than it should be, all the tissues that need to fit inside the cat's mouth are regular cat size.
And there just isn't room for them
Brachycephalic obstructive airway syndrome is serious business.
And there are other related causes too, such as closed nostrils (stenotic nares) and an elongation of the soft palate.
These factors combined with others can lead to laryngeal collapse, which is potentially fatal.
In a study of brachycephalic dogs and cats it was found that 21% of them had naeopharyngeal turbinates.
This is related to the stenotic nares. Closed nostrils and closed nasal passages contribute to potentially very severe breathing problems.
Even in the veterinary description of dealing with dental problems in brachycephalic cats, it is stated that the owner of a brachycephalic cat should anticipate upper airway obstruction.
They advise intubating the cat quickly in order to keep their period of airway obstruction as short of possible.
This is something veterinarians need to keep in mind any time when operating on a brachycephalic cats.
As a potential flat faced cat owner you therefore need to know that if your cat needs intubating for any reason, this is going to be trickier for the vet to achieve safely.
All I Need Is The Air That I Breathe….
Respiratory problems caused by brachycephaly in cats are serious. And they need some serious treatment options.
There are ways to improve the breathing of some brachycephalic cats.
Initially upon admission to the veterinarians they will try to stabilize the kitty. Sedating them, cooling them down and administering oxygen as appropriate.
The veterinarian will look for signs of brachycephalic airway syndrome. Noting the size of the nostrils, inspecting the soft pallet and trachea.
They will use this information to decide on the best course of action to take next.
Going on from there are surgical options to attempt to solve the problem in the longer term.
One example is given in a case study in the Journal of Feline Medicine.
The Persian cat in question at only 9 months old had a pulmonary adema caused by an elongated soft palate.
They surgically removed a part of the soft palate that was causing the airway to be obstructed, and the kitty's breathing was improved.
Another option that has been tried on cats with laryngeal paralysis is continuous positive airway pressure (CPAP). Although this is not a widely used technique.
Flat Faced Cats Noses
A major part of the breathing difficulties in flat faced cats is related to their noses.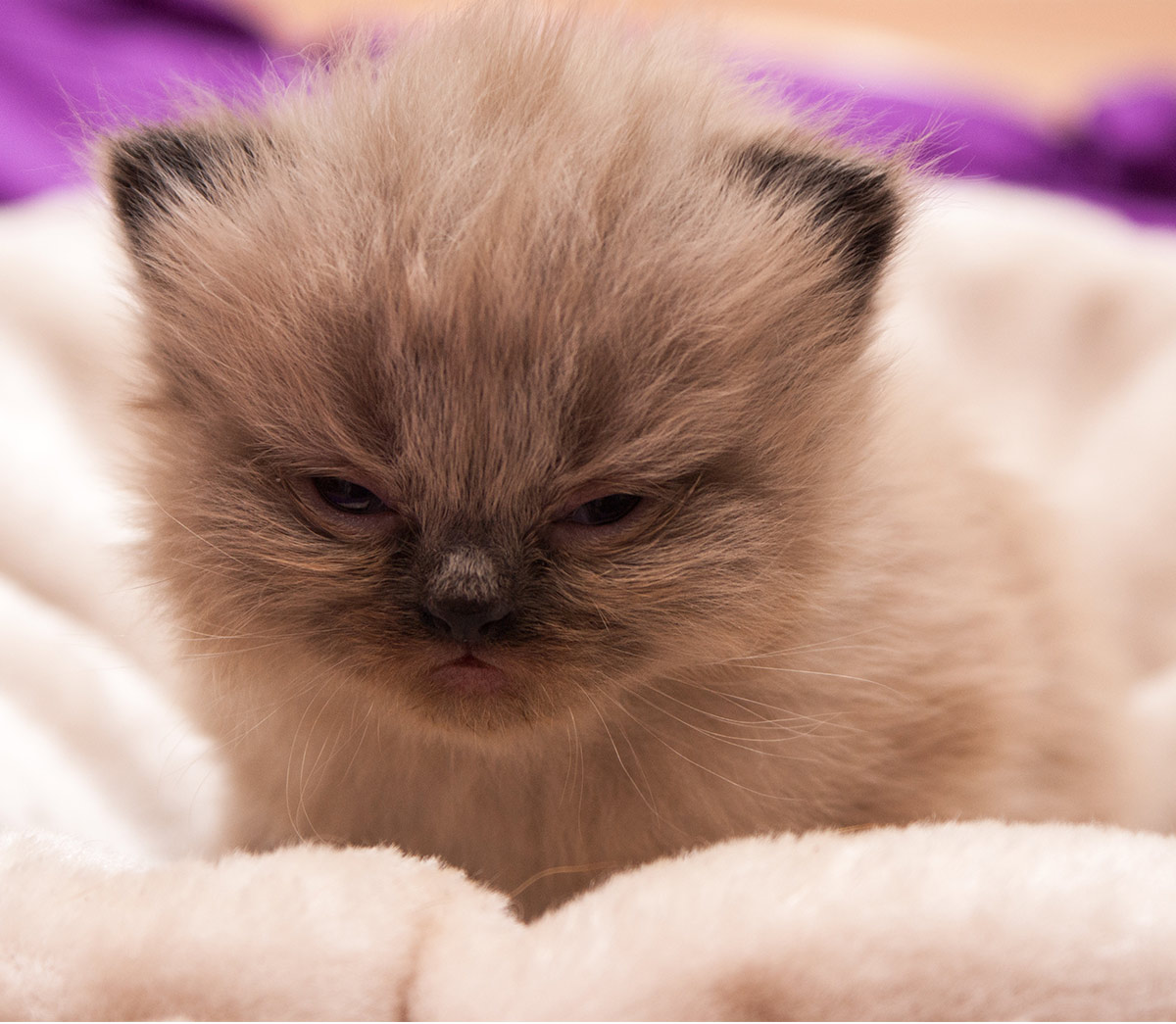 Stenotic nares are clear to see. Instead of looking like a wide comma, the nostril will appear to be a narrow slit. In extreme cases it will appear to be entirely sealed off.
This can be helped surgically. Removing an amount of tissue from the dorsal cartilage to widen the space.
Some adult flat faced cats that appear to have good nostrils will have had the surgery at some point in their life.
It's important to know this if you are considering buying a flat faced kitten and looking for a better example in the parents.
You will need to check the cat's medical history to be sure that their nostrils were always wide enough, and not surgically enlarged to help the cat breathe.
Never buy a kitten from a parent that has needed surgery in order to breathe freely.
Flat faced cats eye problems
It's not just breathing that is impacted in brachycephalic cats.
There are also a wealth of problems with their eyes.
And the eye problems suffered by flat faced cats are very well documented.
A study of seventy cats, twenty of whom were brachycephalic cats, looked at their corneal sensitivity.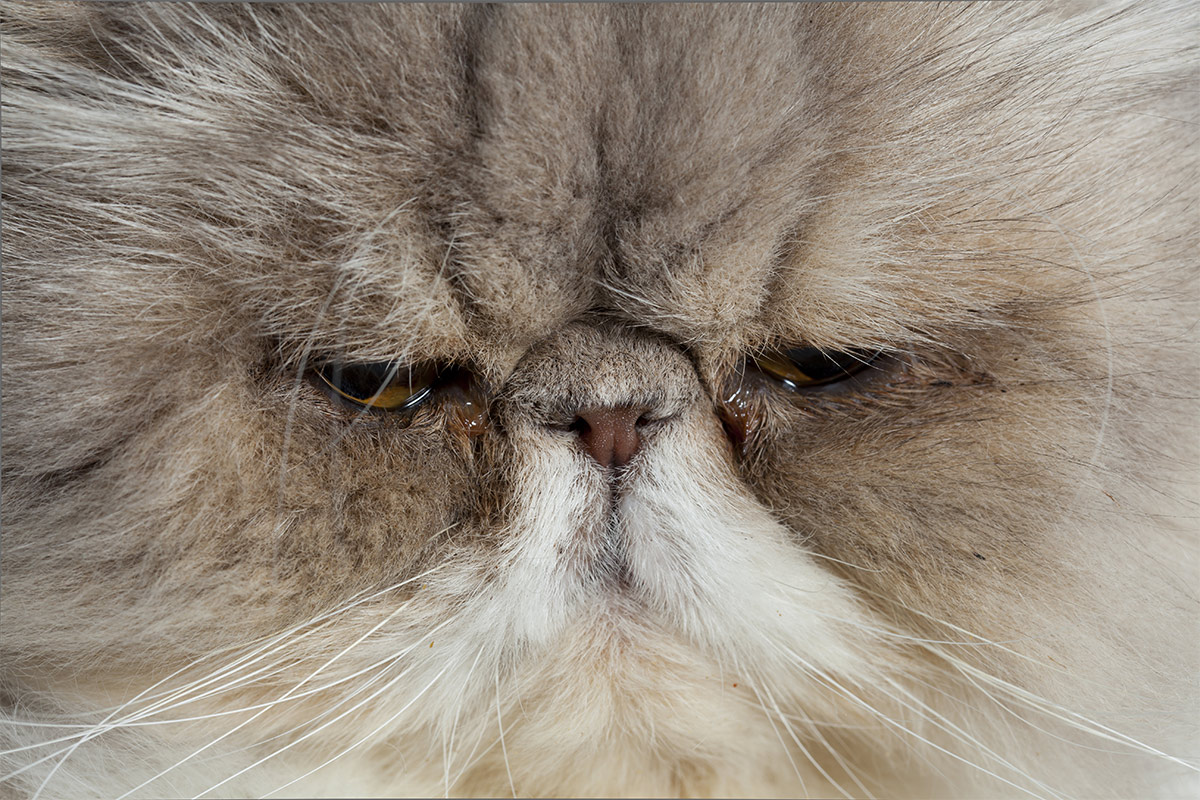 The cornea is the transparent layer at the front of the eye.
It is thought that in brachycephalic cats this is less protected due to the protrusion of the eye. The way in which it appears to bulge out of the socket. This in turn is cause by the lack of space in the shortened skull.
The veterinarians were looking for a blink reflex when they touched the cornea.
In brachycephalic cats the blink reflex was delayed when the middle or edge of the cornea was examined.
This shows that the corneas of flat faced cats are less sensitive than those of cats with standard skull shapes.
The excessive folds of skin often found on flat faced cats have been known to repeatedly rub on their eyes, among other places.
Another study has confirmed the corneal problems in brachycephalyic cats by comparing flat faced Persian cats with domestic shorthaired cats.
They flat faced cats had significantly lower nerve fiber density in their cornea.
Eyes are not designed to sit outside their sockets, and to come into contact with the long fibers of their fur on a regular basis.
Assaulted constantly by dust and debris, it's not fun being a flat faced cat's eyes.
There are also problems with brachycephalic cats' tears, and we'll look at them in a moment because they are connected to the dental problems caused by this flattened skull shape.
Flat faced cats teeth
Flat faced cats are prone to dental problems. The shape of their skull is directly related to the amount of issues they will have in their lifetime.
There are a few reasons for this.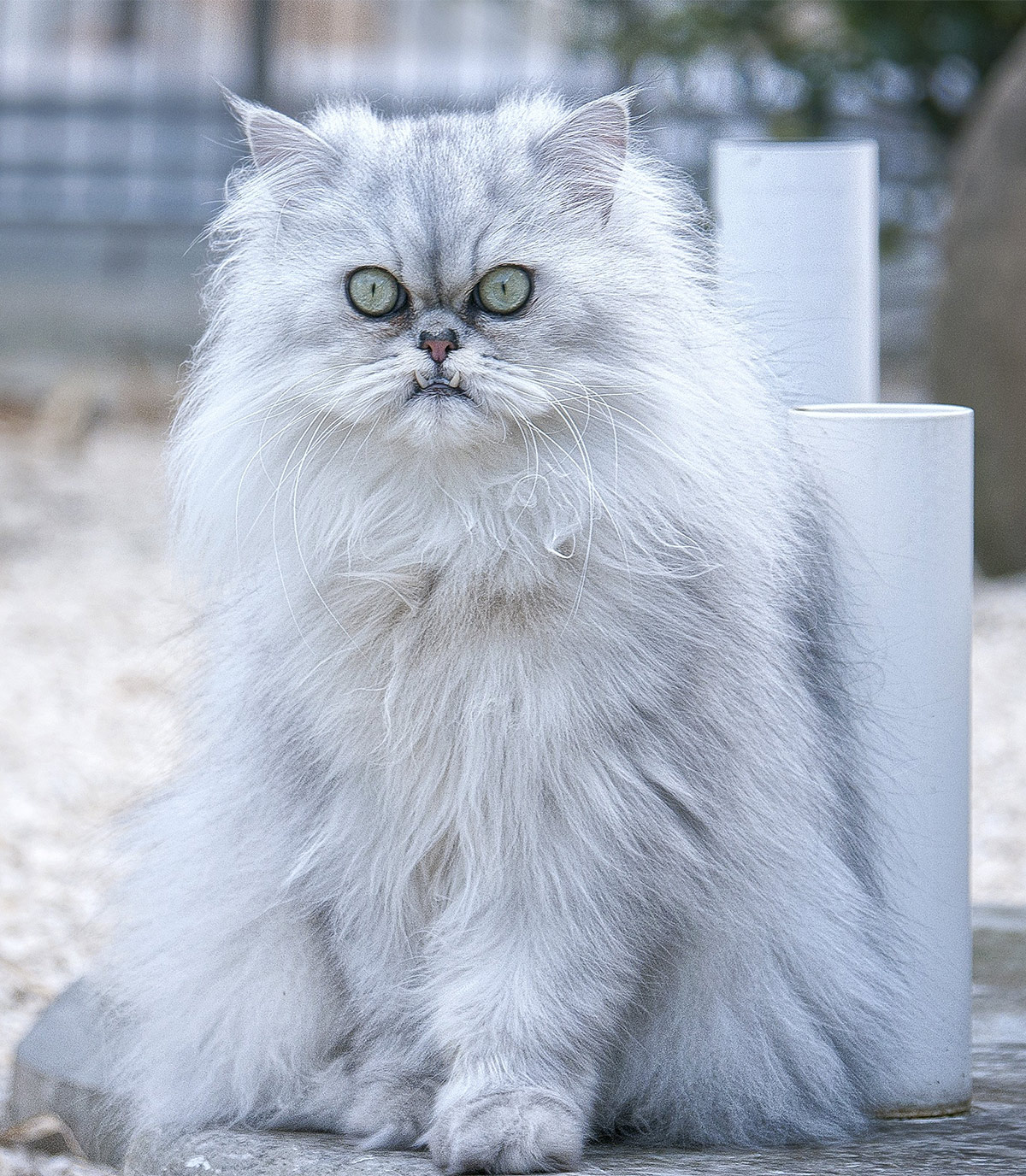 One is because the shortening of the jaw results in less space in the mouth.
Brachycephalic cats don't generally have less teeth, so they have to fit the same size and number into a smaller teeth.
This of course results in overcrowding and rotated or overlapped teeth.
Some do appear to have less teeth, but only because they are impacted into their gums.
But wait, there's more…
Not only is there less space, but the jaws don't line up like they would naturally.
The lower jaw is longer than the upper jaw, which is known as a mandibular bite.
Oral tumors – that's mouth cancer to you and me, can also arise commonly around the carnassial and canine teeth of brachycephalic breeds.
The differences in the facial structure have lots of implications when trying to fix these dental problems too.
The veterinarian may have practical difficulties anesthizing your cat effectively. For example, the surgeon is only meant to inject slightly into the infraorbital nerve to block it. But in brachycephalic cats the infraorbital canal is short. So there is a risk of going too far and causing problems, without a guide.
The dental problems experienced by flat faced cats frequently cause issues with chewing and therefore eating their food.
So much so that you can even buy specialist cat food for Persians and other brachcephalic breeds, that is easier for them to eat.
Flat faced cat health problems continue…
The dental problems faced by flat faced cats can lead to and be connected to other problems too.
One rare example was a mixed breed brachycephalic cat that suffered from endogenous endophthalmitis (a potentially blinding eye infection) as a result of recurrent dental problems.
Another more common example is the link between the tooth displacement of flat faced cats and their nasal drainage systems.   Let's look at that next
Flat faced cats nasal drainage
An important part of your cat's anatomy is their nasal drainage system and lacrimal system.
To put it simply – these systems refer to the way in which your kitty's tears go from their eyes, through the face and to the nose.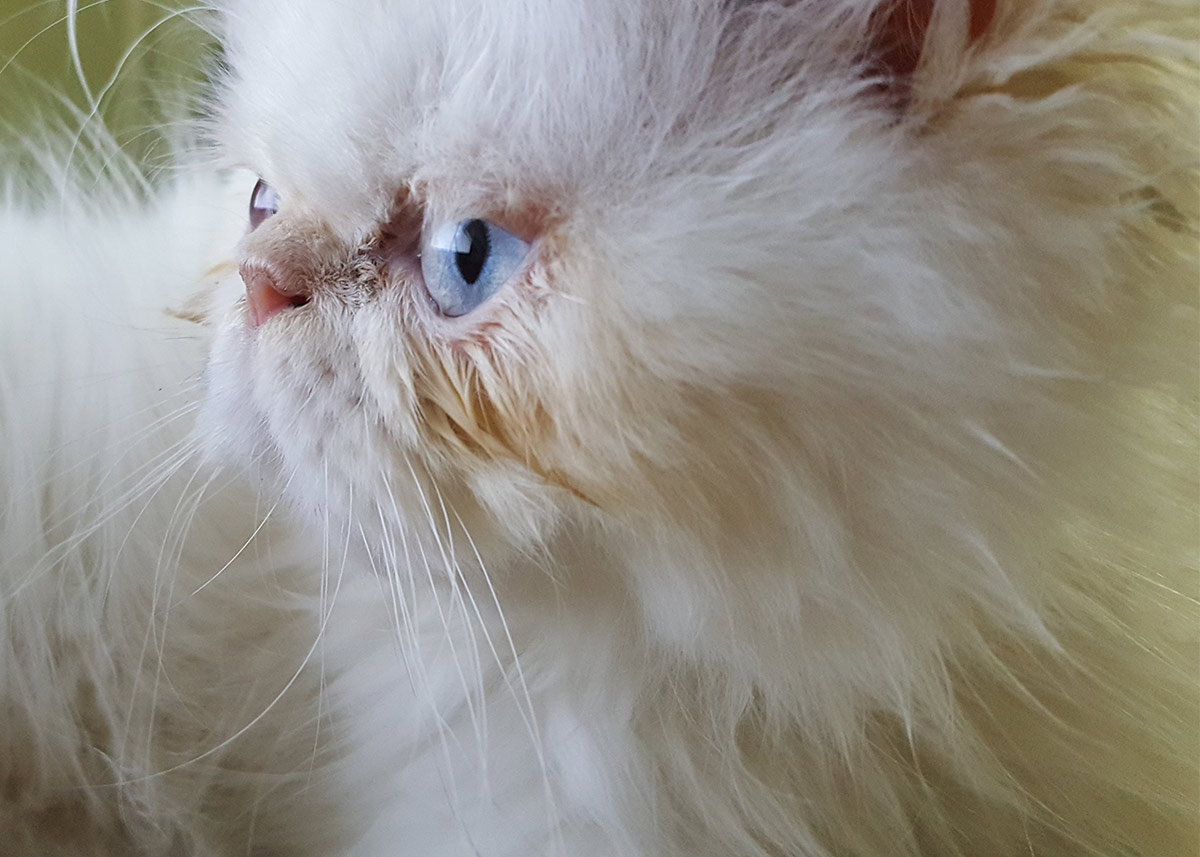 These systems are responsible for keeping the eyes healthy and functional.
In a healthy cat, fluid or tears produced naturally in the cat's eyes, drain through a little passageway  called the tear duct.
In flat faced cats the tear ducts are often blocked or distorted causing tears to spill out onto the cat's face. The facial bones and teeth are positioned incorrectly, which changes the natural route of the nasal drainage system.
The flatter the face, the worse the effects can be.
The affected cats can't be fixed, all we can do is avoid breeding from such cats and perpetuating these problems. That's why  veterinarians who have studied the effect recommend preferentially breeding from cats with longer facial bones.
The symptoms of damaged tear ducts are clear to see.
Excessively watering eyes are also common in brachycephalic cats, and it's almost considered normal to see Persians with constantly tear stained faces.
This constant leakage has also lead to irritated skin, and dermatitis.
There have also been links speculated between brachycephaly and nasal aspergillosis-penicilliosis.
A fungal rhinitis that causes nose bleeds, sneezing and nasal discharge.
These problems are by no means minor ones.  And put together they represent a life limiting disability from many of those cats which are affected.
So, which are the cats that are afflicted with these problems? Let's take a look
Flat faced cat breeds
Flat faced cat breeds are very popular, and the trend doesn't seem to be slowing.
The number of people searching online for these cats is astronomically high.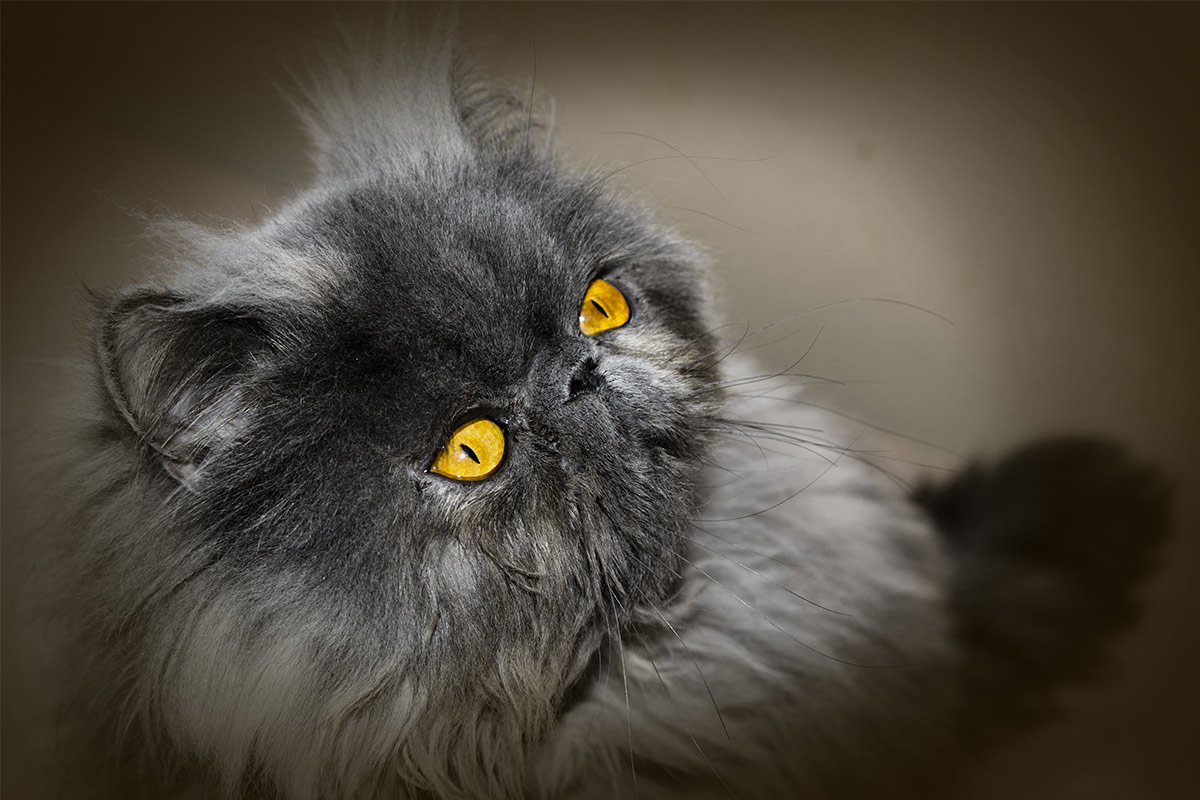 The number of searches for 'cats with smushed in faces', 'moon face cat breeds', and some less savoury examples like 'smashed face cat' and 'punch face cat' are remarkably high.
The flat faced cat breeds are famed for their grumpy cat face and sad eyes.
But the reason these breeds tug at our heart strings should be the same reason we avoid their flat faced kittens.
The Persian, Exotic Shorthair and Himalayan have all been identified as brachycephalic cat breeds by veterinary and scientific research professionals.
But also potentially affected to a lesser or greater degree are the Scottish Fold, Burmese, British Shorthair and some believe the Selkirk Rex is headed in that direction.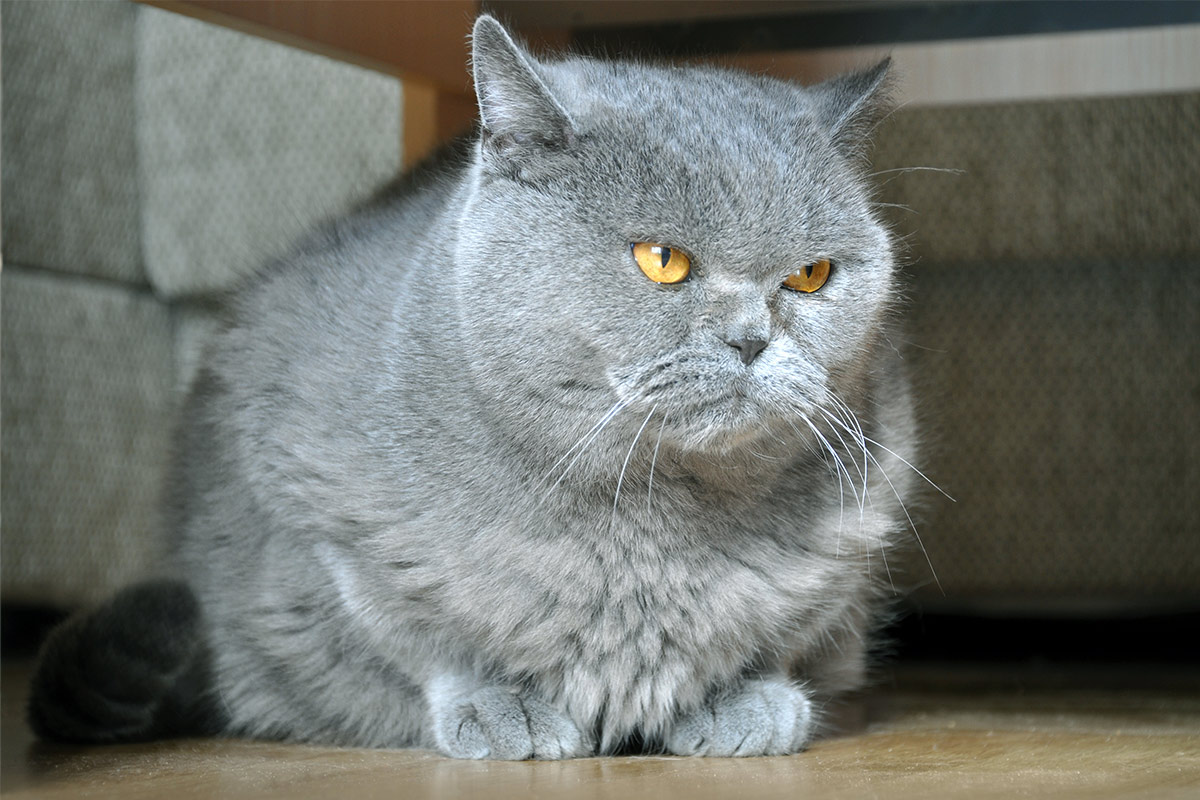 The appeal of a cute smushed face cat breed is one that a lot of people find hard to resist.
But their health problems from facial shape aren't even the main concern.
Persian cats even have other health problems to contain with too. Those related to their coat care and kidney problems, to named but a few.
If you are desperate for one of these flat faced cat breeds, then the best way to get one without perpetuating the fashion for breeding disabled cats, is to go to a rescue.
But be aware, they will likely still have medical issues that you will have to deal with.
This is not a breed for anyone with tight finances or reluctance for veterinary visits!
Birthing difficulties in flat faced cats
Another issue with looking for flat faced kittens from brachycephalic cat breeds is in the act of breeding them.
Difficulties giving birth are known in the veterinary world as dystocia.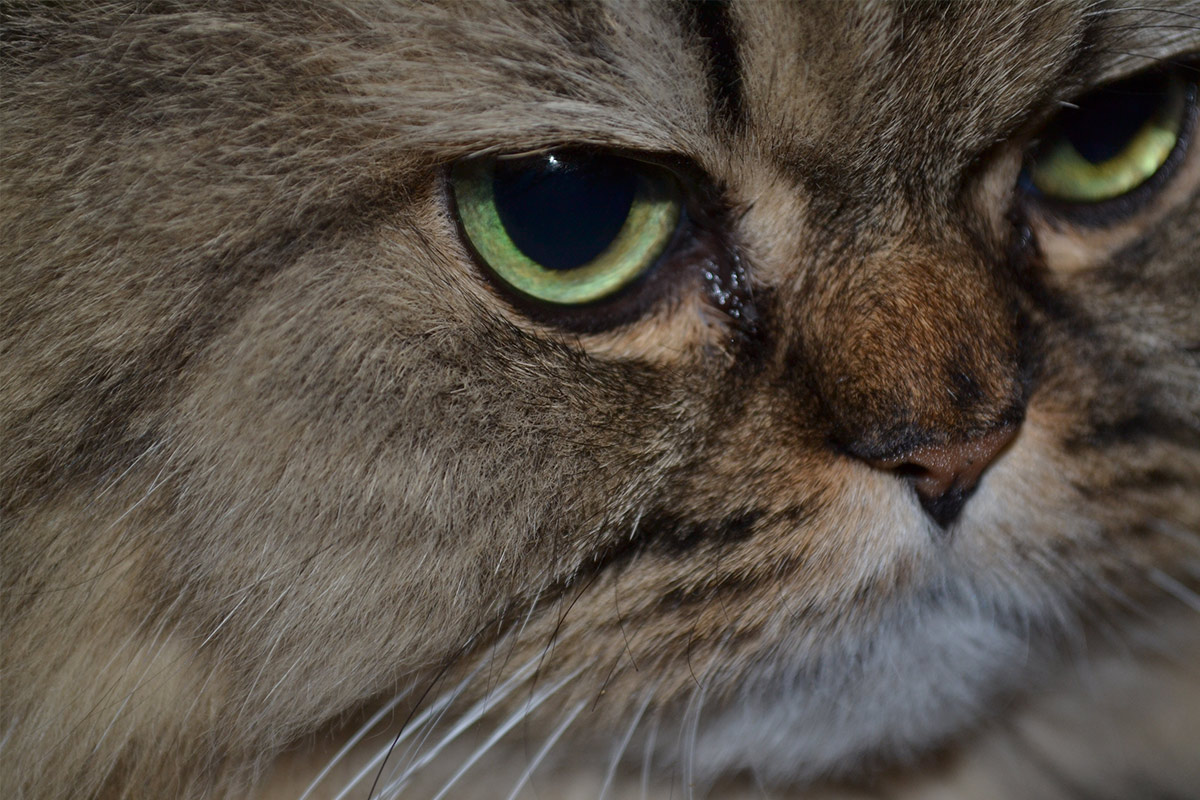 There are some links between tricky births in cats and being brachycephalic.
You could speculate that this is due to the less natural shape of their skulls making for a less easy exit from the mother cat or 'queen'.
One study of 155 cases of feline dystocia showed that the incidence was higher in Persians than any other breed.
We certainly know that some brachycephalic dog breeds are more likely to need caesarean sections than their averagely skulled counterparts.
Some veterinarians have suggested banning the breeding of extreme brachycephalic animals entirely. And although the idea makes you blanch, they do have a point.
With so many healthy and happy cat breeds out there, why do people still want to make more flat faced cats?
One reason put forward by scientists is the the face of a short skulled animal looks more human than that of a dog or cat with a muzzle.  And that humans are naturally drawn to pets that look more like them.
Perhaps knowing why we find these animals so appealing will help us to resist them?  Especially once we have been made aware of the problems a short skull brings to our pets
Flat faced cats
If you already own a flat faced cat then you may be concerned by what you've just read.
Working with your vet there are potentially several options for helping to relieve your kitties problems.
However, the take home point here I hope is that breeding more of these cats should not be being encouraged.
Breeding cats and dogs with flat faces has been widely reported to be something that is having a serious affect on animal health and welfare.
In Germany there is even a word for the extreme breeding that has been happening increasingly in recent years – qualzucht. Directly translated? It means 'torture breeding'.
Whilst this word may seem extreme, in some cases I think there isn't one that is more accurate.
I don't believe that it is morally acceptable to deliberately produce animals that require surgery in order to live a comfortable life.
How do you feel? Is the face you are looking for worth the health implications?
The debate on brachycephaly in cats and dogs rages on – and we would love to hear your thoughts in the comments section below.
References