A hidden cat litter box can be ideal for indoor and outdoor cats alike. These options keep the cat's box out of the limelight, and stop it from impacting household decor. They range in size depending on the style. Many of them are camouflaged as pieces of furniture.
The best hidden cat litter box for you and your cat will be one that fits in with your house, as well as being acceptable to your cat. It will be easy to take care of and clean, and help contain any potential odors.
Let's take a look at some unique hidden cat litter box ideas!
All of these products were carefully and independently selected by the Happy Cat Site team. If you decide to make a purchase from one of the links marked by an asterisk, we may earn a small commission on that sale. This is at no extra cost to you.
Hidden Cat Litter Box Quick Links
The Importance Of Hidden Cat Litter Boxes
If you own a cat, you'll be familiar with the unsightly problem of the cat litter box!
In this article, we'll take a look at the best hidden cat litter boxes and how one could fit into your home.
We'll also examine the potential problems that may arise from using a hidden cat litter tray and how best to overcome them.
If you're unfamiliar with the idea of a camouflaged litter box, you may be wondering why they are frequently recommended. Let's talk about what a hidden litter box is, and why you might want to use one.
Benefits Of A Hidden Cat Litter Box
A hidden cat litter box is pretty much as it sounds – a cat litter tray that's disguised or concealed somehow.
Your cat can still easily access her litter tray. But you and your house guests don't have to watch her using it!
A hidden cat litter box can be particularly useful if you live in a small house or apartment, where every inch of space counts.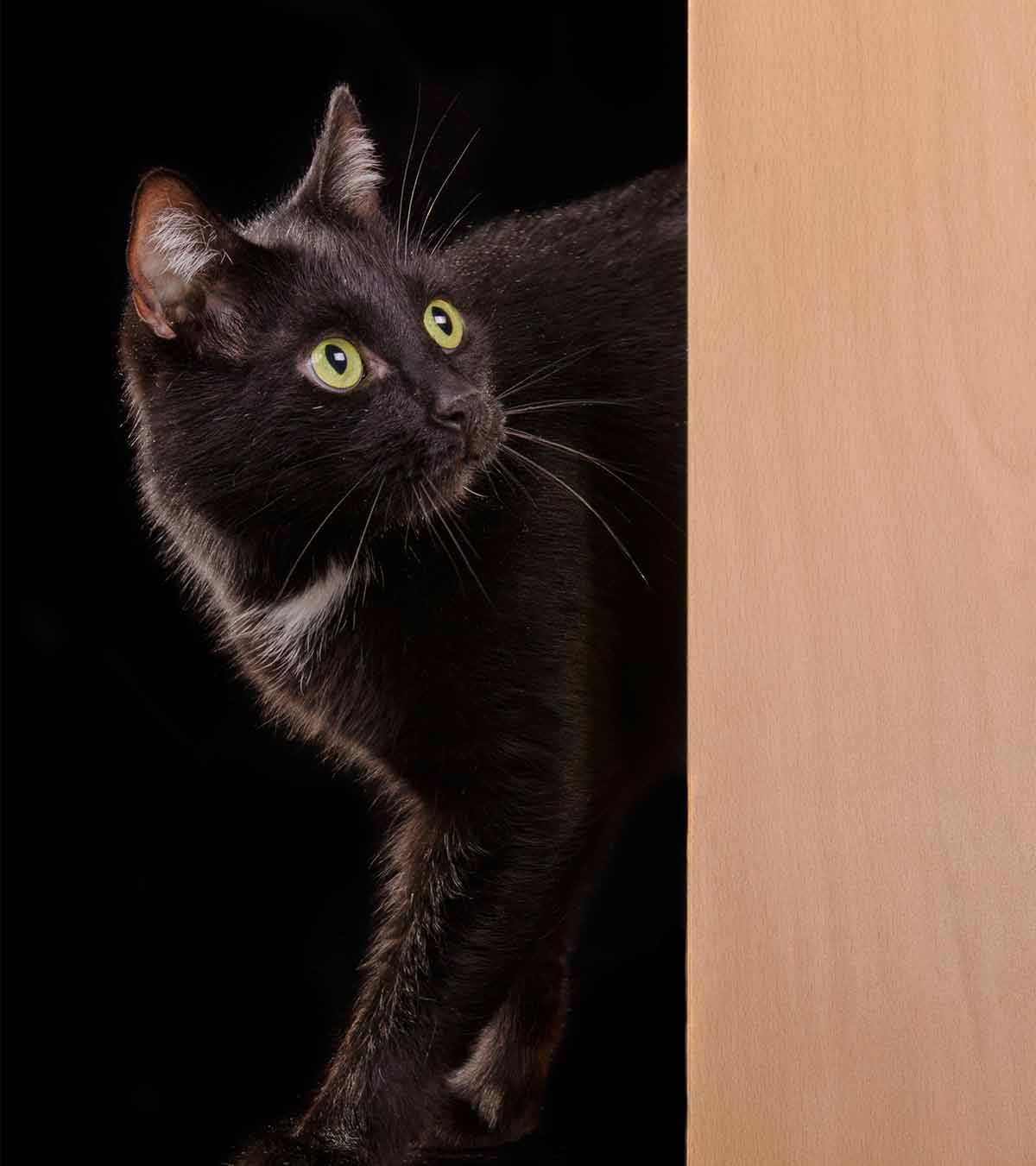 Hidden cat litter boxes are also a great idea if you have an indoor cat for whom a litter tray is essential. And they help to overcome the problem of odor in the home.
However, out of sight must NOT become out of mind too! Always be sure to keep your cat's litter tray clean and hygienic. This helps to keep down odors and ensure that your pet continues to use her tray.
Later on in this article, we will also take a look at how to make sure that your cat uses her hidden cat box. We'll also discuss why she might have problems with it at first.
Alternative To Hidden Litter Boxes
Throughout this article, we will take a look at several different pre-made hidden litter boxes. There's a fairly wide variety. So one or more of them will probably work for your home.
But there are other options apart from a pre-made box.
There are tutorials and patterns available for do-it-yourself projects, such as this litter box cover by Sugar and Cloth. Other hidden cat litter box ideas can be found with a simple internet search.
If you're a do-it-yourselfer, and you like to modify and personalize things, this sort of project may be right up your alley!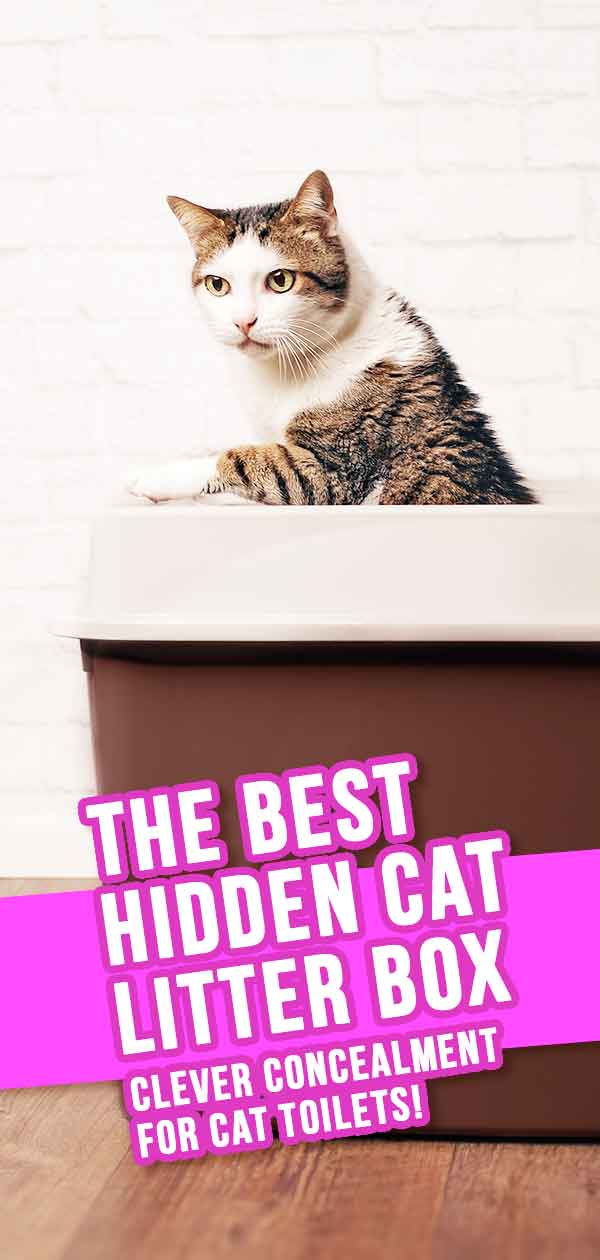 Choosing Hidden Cat Litter Boxes
The main important aspect of a hidden cat litter box is that it successfully camouflages its purpose. This keeps cat owners from having to deal with an obvious, and sometimes obtrusive, litter box.
Apart from that, your box of choice should also be easy to clean.
Not all boxes are created equal in terms of ease of cleaning. We definitely recommend looking for one with high enough sides to prevent too much litter from being kicked out. We also suggest choosing a box that is lightweight. This means it can be removed, emptied, and cleaned out on a regular basis.
This is an important consideration, especially for hidden litter boxes that are part of furniture.
Best Hidden Cat Litter Box Furniture
One very popular method of hiding a cat litter box is by incorporating it into an attractive piece of furniture.
This technique means that your kitty can enjoy her litter tray whenever she needs to, without sharing the pleasure with you!
We've found a few pieces of furniture that double as a hidden cat litter box. We think these look very smart and would complement most homes perfectly.
Just be aware that wherever you place the unit containing the litter tray, you will still be able to hear your cat scratching on her tray.
If this is likely to disturb you, be sure not to place the unit right next to your bed!
Internet's Best Cat Home Night Stand
Internet's Best's cat home night stand* is a very nice piece of hidden cat litter box furniture. It can be used as a nightstand or side table.
The hidden cat litter box features a decorative entry hole where your pet can come and go as necessary.
There's also a larger hinged door. This allows you to place a pet bed or litter box inside the unit.
Merry Products Washroom Bench
The Merry Products cat washroom bench* is a cleverly designed piece of furniture. It's large enough to accommodate any size of hidden cat litter box, including extra-large automatic boxes.
The removable partition provides space in which to store litter, a scoop, and other supplies.
You can locate the entrance to the cat washroom on either side of the bench to suit the layout of your room.
Casual Canine Cat Washroom Nightstand
The Casual Canine cat washroom nightstand* is a very smart unit that's designed for use as a table and also has plenty of room for a hidden litter tray.
There's plenty of room on top of this hidden cat litter box furniture for a table lamp, potted plants, and ornaments. And the handy shelf will comfortably hold magazines and books.
The unit comes in classic white, espresso, beige, and walnut shades and is made from sturdy MDF.
EcoFlex Litter Loo End Table
The EcoFlex litter loo end table* is a well-designed functional end table that can also accommodate a hidden cat litter box.
The material is easy to clean, resistant to warping and cracking, and is moisture repellant.
Any accidents can simply be wiped away without the unit sustaining any damage.
The unit comes in two attractive shades – espresso and russet.
Best Unique Hidden Cat Litter Boxes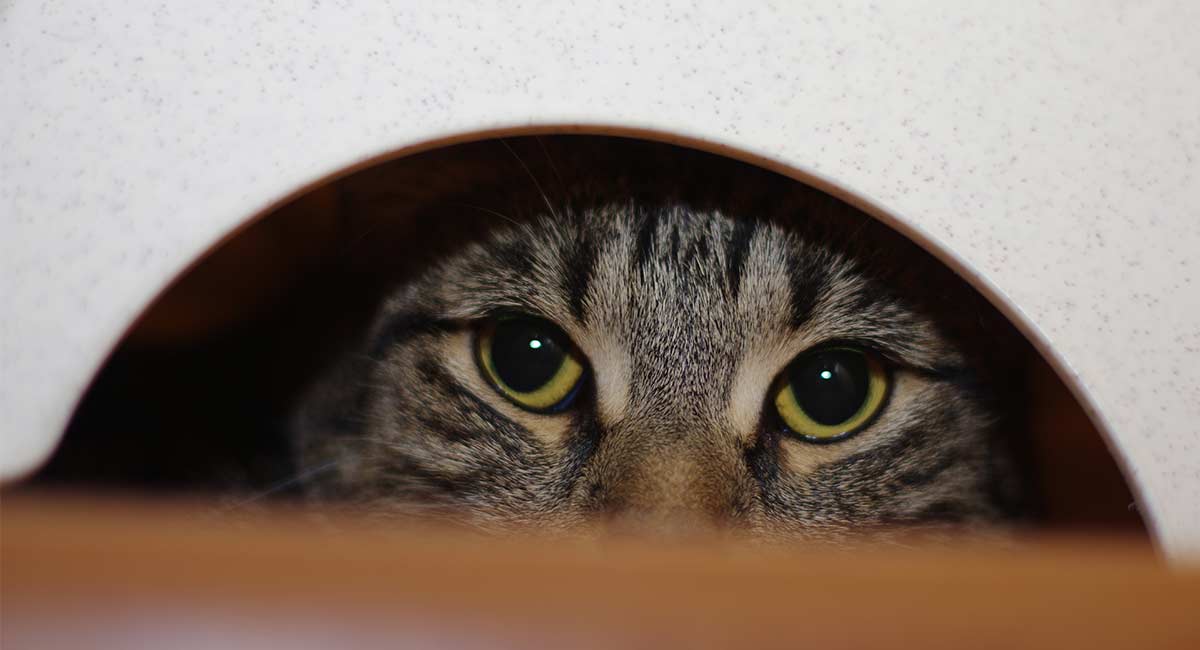 There are some novel ways out there of hiding a litter box.
One way is to hide it beneath a plant pot. The plant lives above in a normal plant pot containing planting medium, which rests atop an urn-shaped faux-clay pot.
This is a favorite for people who love both furry companions and green ones!
Another unique option is to conceal the box within a basket.
Let's take a closer look at some unique litter boxes!
Good Pet Stuff Hidden Litter Box
The Good Pet Stuff Company hidden cat litter box* looks just like a real clay pot, although it's actually made of polypropylene.
The plants and pot sit between the top and bottom section of the hidden litter box. For dust and odor control, the pot has a filtered vented system.
The unit is spacious and will take a large litter tray.
With the unit, you get a plant and a one-year limited warranty.
Petsafe Mr. Herzher's Jumbo Decorative Litter Cover
This basket-like box cover* conceals on all sides, which means that most probably won't even realize what it is!
The box cover comes in a dark brown wicker finish, and is advertised as being both easy to set up and easy to clean.
It also comes with a tray to catch any litter that may get kicked out of the litter box itself.
Best Hidden Cat Litter Trays
If you don't want to invest in a cabinet to conceal your kitty's litter tray, you might want to consider a hidden litter tray instead.
Essentially, a hidden litter tray is simply a litter box with a lid or a top entry hatch.
The idea is to hide the litter from sight and control any odors.
This type of hidden cat litter box solution is best-suited to cats who are agile and not bothered by being in confined spaces.
Modkat Litter Box
The Modkat litter box* is a very cleverly designed top-entry litter box that eliminates litter tracking across your floors almost completely.
The box has a locking lid that works as a walk-off mat, keeping the litter in the box and off your floors.
The litter tray itself is totally out of sight inside the neat box unit.
The box comes with a reusable liner that lasts up to three months. You also get a handy large hanging litter scoop included with your purchase.
IRIS Top Entry Cat Litter Box
The IRIS top entry cat litter box* is neatly designed to allow the cat to easily enter and leave the litter tray, without tracking litter all over your floors.
The box comes with a hanging scoop and is available with lids in an assortment of attractive colors to blend with your décor.
Best Wooden Hidden Cat Litter Boxes
Many of the boxes mentioned thus far are made of wood, plastic, and other materials.
But it's a fact that sometimes, all wood construction really looks best with some types of decor!
Here are a few more furniture-type cat boxes that feature complete wood construction, as well as an upscale designer look.
Sweet Barks Designer Enclosure Furniture
This designer cat house* is a versatile option, doubling as an end table, and as a sleeping or play area if you choose not to use it as a litter box in the future.


The product comes as an easy-to-assemble kit, and the style includes attractive wainscoting and natural wood grains.
Crown Pets Products Cat Litter Cabinet
This option from Crown Pets Products* features an all hardwood design. The finish is stained and lacquered to give it the look of a high-end piece of furniture.


It comes in two shades, either espresso or mahogany, and as with some other hidden box furniture, the access panel can be placed on the left or the right depending on your needs.
Showing Your Cat Her New Litter Box
When you set up your new hidden cat litter box, save a small amount of old cat litter and sprinkle it over the new tray. This ensures that your cat's scent is in the new box so she'll recognize it as hers.
If possible, place your new piece of furniture or plant containing the hidden cat litter box in the same location or very close to the original site of her litter tray.
Your cat should then find the new litter tray when she looks for her usual spot.
In some cases, you might actually have to physically show your cat the new tray! Once your kitty realizes where her new tray is, you should have no problems.
However, sometimes issues might arise with hidden trays.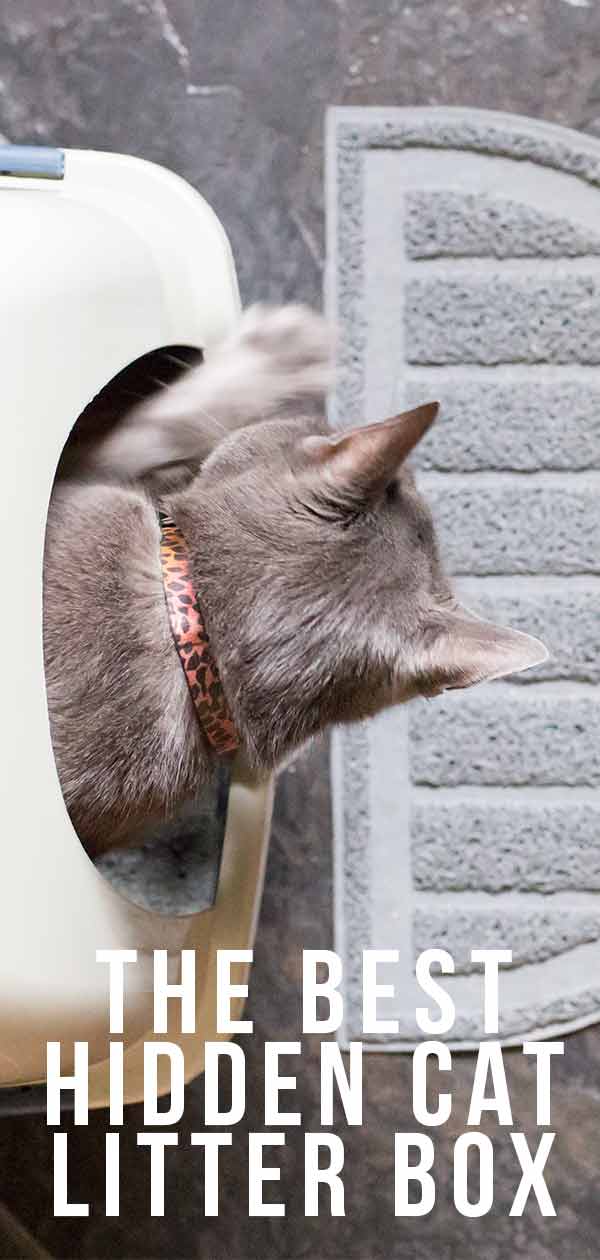 Why Won't My Cat Use Her Hidden Litter Tray?
One of the most common complaints among cat owners is that their cat goes to the bathroom outside of the litter tray.
Anyone whose cat has done this knows that getting rid of the smell of cat pee from your carpets can be almost impossible once it's soaked through!
So why does your cat not want to use her new hidden litter tray?
Cats are fussy creatures and can be suspicious by nature of any change to their environment. There are a number of common reasons why a cat might decide to stop using her litter box:
The box is dirty
Litter type or brand has been changed
Too many cats are sharing one litter box
The litter box is too small
Location of the litter box has been changed
The type of litter box has changed – covered, uncovered, or hidden.
How To Encourage A Cat To Use Her Litter Box
Cats are fastidious and will not use a litter box that's soiled and wet.
You must change your cat's litter regularly to keep it clean.
I remove anything that my cat leaves in his tray as soon as I notice it.
This keeps the tray clean and hygienic and also saves on cat litter, as I never have to clear the tray out completely.
Troubleshooting Litter Tray Problems
One way to make the move to hidden litter box furniture easier is to avoid combining it with other changes at the same time. For example, if you found a new litter you want to try, it's best to wait till your cat becomes accustomed to the new box first.
Some cats do not like certain types of litter.
One of my cats refused to use wooden pellet litter, preferring to use my potted conservatory palms instead! I think this was because he was a stray prior to my rehoming him and didn't understand what the litter tray was for.
I solved the problem by sprinkling a small amount of garden soil over the wooden pellet litter in the tray. Once he got the idea, I was able to use litter only and my pot plants were safe once more!
If you're investing in hidden litter box bench, get your feline used to it with their usual litter, before you make any further changes.
Reasons Your Cat May Reject A New Tray
Although studies have not found a widespread preference for open or covered litter boxes, some cats definitely do know what they like.
My cat will not entertain the idea of using a litter box with a cover. Others don't like boxes with top entrances or flap doors.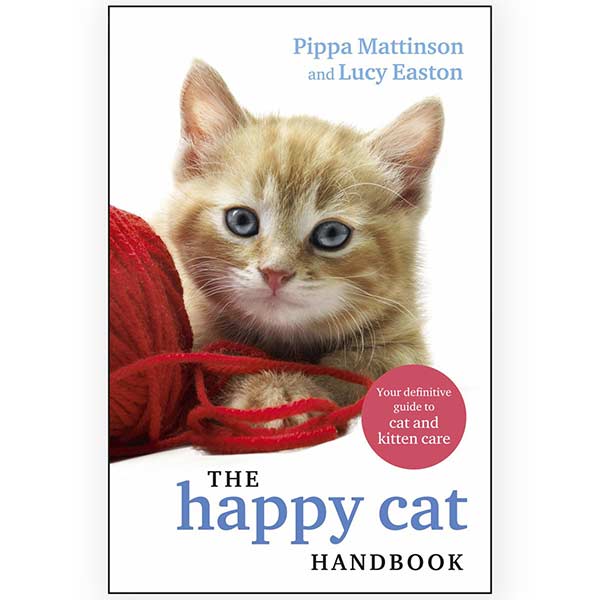 Moving the litter box can be confusing to a cat.
If she can't find her box, she may well decide to use an alternative spot instead.
Once the new toileting location has been chosen and marked with her scent, she will continue to use it, whether there's a litter tray there or not!
Toileting Problems
If your cat persists in refusing to use her litter tray, it could be that she associates pain with the experience or urinating and will therefore avoid the tray.
Always have a chat with your vet if you think this might be the case.
Best Hidden Cat Litter Box
That completes our review of hidden cat litter boxes!
As you can see, there are lots of well-designed, modern solutions out there to accommodate both your cat and your home environment.
If your cat isn't used to using a hidden litter box, introducing one suddenly can be a confusing change for them. Help them make the transition by showing them the new box, and keeping it close to the site of their old box at first if possible.
You can also put a little of their used litter in it a first, so that it smells "right."
Do you use a hidden litter box? Did your cat have any issues with it? Leave us a comment below!
Affiliate link disclosure: Links in this article marked with an * are affiliate links, and we may receive a small commission if you purchase these products. However, we selected them for inclusion independently, and all of the views expressed in this article are our own.
References and Resources
Your Amazing Cat!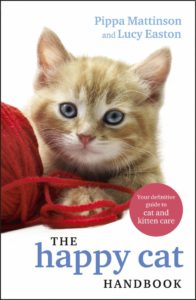 We are so excited to share our new book with you!
If you have enjoyed your visit to The Happy Cat Site we think you'll love The Happy Cat Handbook.
Written by the founders of this website including the author of the hugely successful Happy Puppy Handbook, it's packed with cat care information and fascinating cat facts.
Grab your copy today!