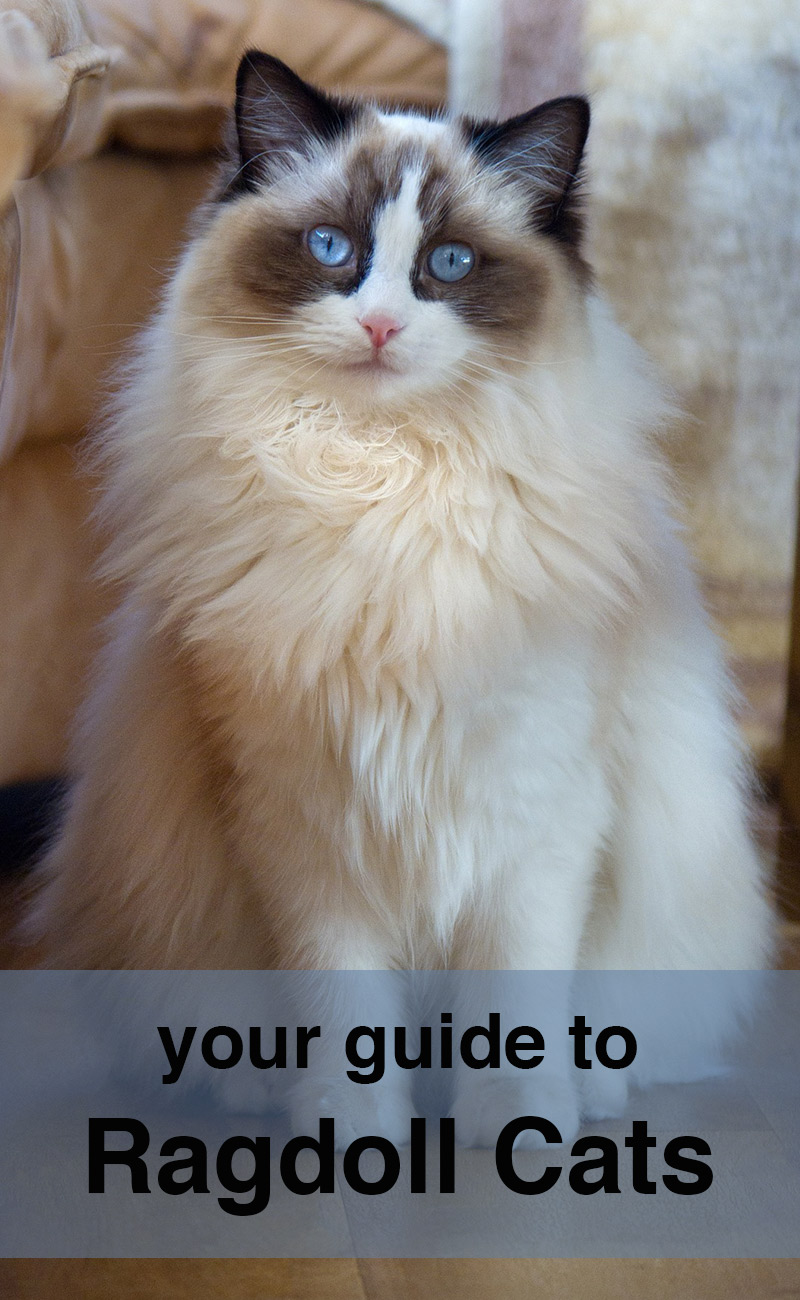 Ragdoll cats are one of the most sought after pedigree breeds of cat at the moment.
A striking appearance, sweet nature and kind demeanour have made the Ragdoll breed one of the rising stars of the feline world.
In this article we are going to take a look at the fascinating Ragdoll cat breed.
Finding out where they came from, what they are like, how to take care of them and whether a Ragdoll cat is the best breed for you and your family.
We'll be sharing all the facts about Ragdoll cats that you will want to know before you bring your new best friend home.
What Is A Ragdoll Cat?
A Ragdoll cat is a fairly recently confirmed breed of pedigree cat.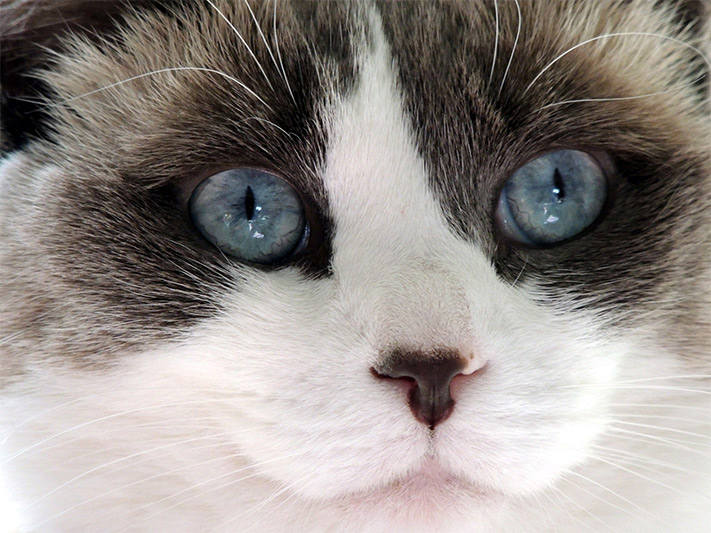 They have medium to long length coats, docile natures and a large size.
Their eyes are a striking blue shade, and their relaxed dispositions and beautiful coloration also lend to the understandable rise in popularity over a relatively short period of time.
History Of The Ragdoll Breed
The history of the Ragdoll breed does not go back very far.
It was begun in the 1960s by Ann Baker, a California based Persian cat breeder who took in a semi-feral longhaired cat, Josephine, who was probably of Persian decent.
Ann is said to have had some interesting ideas about genetics. Insisting that after a period of veterinary treatment following a car accident, Josephine's genes had become altered, affecting her future litter's personalities.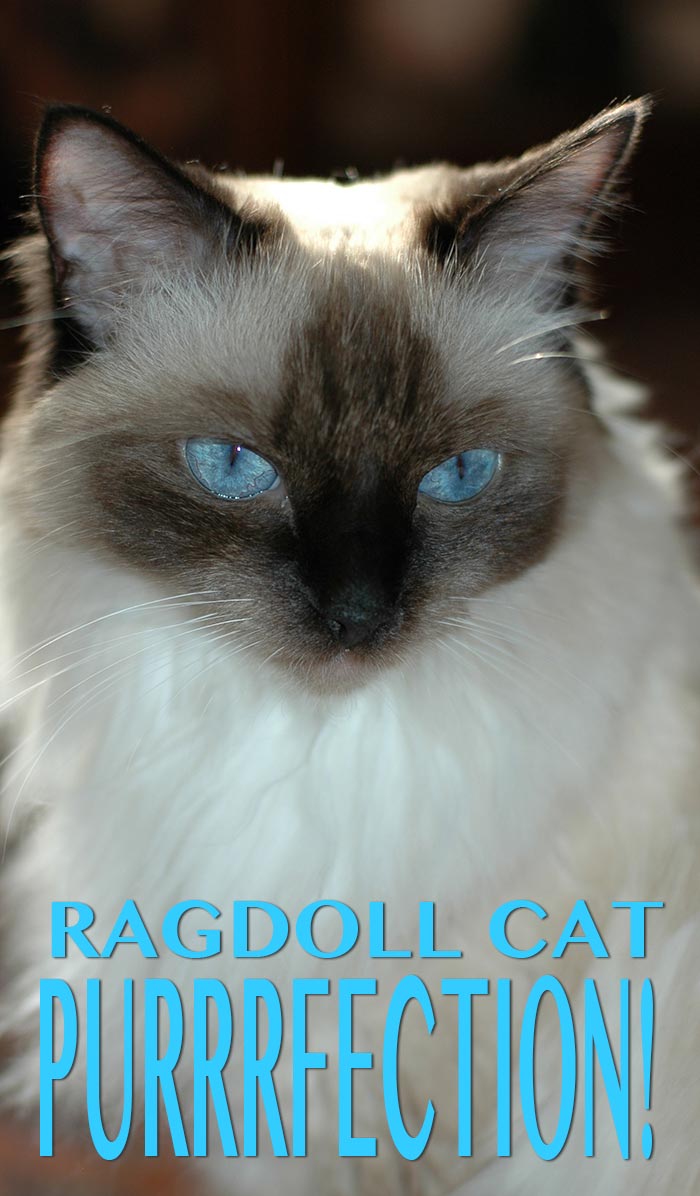 Ms Baker was an interesting character if we are to believe what is written about her, with claims varying from alien influence, CIA experiments and even human/feline gene manipulation.
Whilst this is obviously incorrect, it is true that Josephine produced some lovely litters of kittens, with a characteristic loving personalities and relaxed dispositions.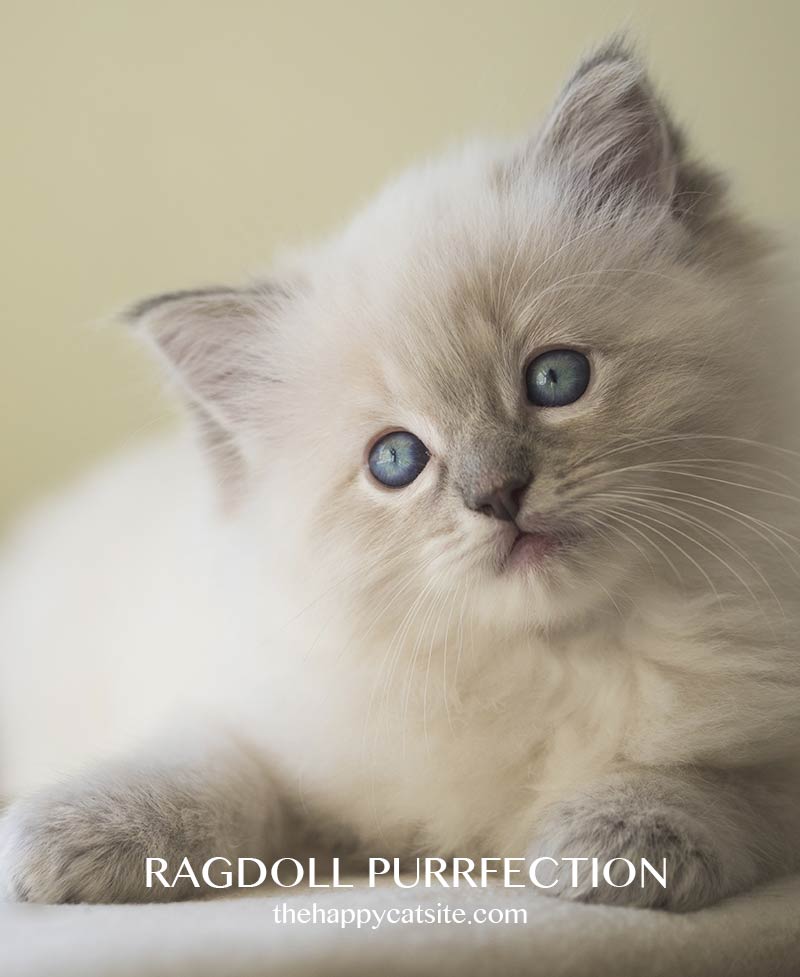 Ann was so pleased with these kittens that she decided to create a registry for the breed herself, and this continued for a while until in 1975 other Ragdoll fans formed a separate association allegedly due to her increasing eccentricities.
This separation was the understandable source of great friction within the fans of the newly emerging breed, but was eventually overcome.
In 1993 the Cat Fanciers Association started registering Ragdoll cats, and by the year 2000 Ragdolls were advanced to championship status in every North American cat association.
Ragdoll Cat Behavior
This is a breed that loves company, but Ragdoll cats are also able to be quite independent and aren't overly demanding. Their voices are also as soft as their natures, with a quiet meow not frequently uttered.
Their calm natures make them excellent pets, but they can still be very playful especially as kittens. When into adulthood although they are capable of jumping around, they seem to prefer to stay on ground level. Ragdoll behaviour is often referred to as relaxed and easy going.
They are intelligent cats, who have been clicker trained to perform tricks using positive reinforcement training.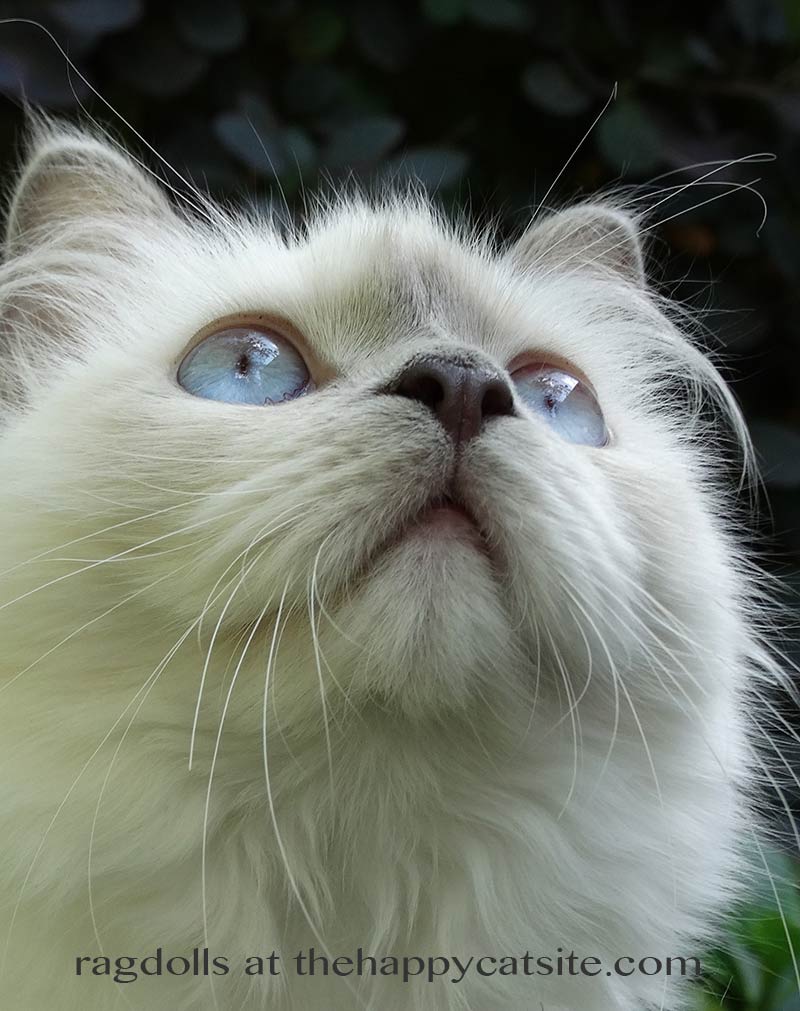 The name Ragdoll cat is probably derived from their tendency to flop over in a relaxed manner when picked up.
They are masters of relaxation, loving to spend time curled up in your bed if not in your arms.
Ragdoll Cat Personality & Ragdoll Temperament
Ragdoll cat temperament is very friendly, unusually often with other cats as well as humans. So named probably because of their tendency to flop out and relax when carried around, Ragdolls are popular pets due to their charming devotion to their family.
They are notoriously tolerant of children and other animals, making them a sought after family pet.
Although anecdotally Ragdoll cats are exceptionally tolerant of children's play, even to the point of allowing themselves to be dressed up or pushed around in buggies, remember that every cat has it's limits.
Just because the cat is tolerating this behaviour, doesn't mean that he is enjoying it. Young children's interactions with even the nicest cat should be monitored, for both of their sakes.
The typical Ragdoll personality is very tolerant, but make sure you watch for any signs that they might be unhappy or bored of putting up with the excited attention of their loving families. All cats need space sometimes, and should be free to wander away for a quiet rest when required.
Ragdoll Cat Characteristics
All Ragdoll cats have oval blue eyes. Ragdoll cat coats are anywhere from medium length to very long indeed.
The fur is silky and soft, made up of guard hairs and often described as being like rabbit fur. The lack of undercoat gives them a very fluffed up appearance. They also have a distinctive ruff of fluff around their necks.
They are very big cats, known as much for their size as their strikingly fluffy coat.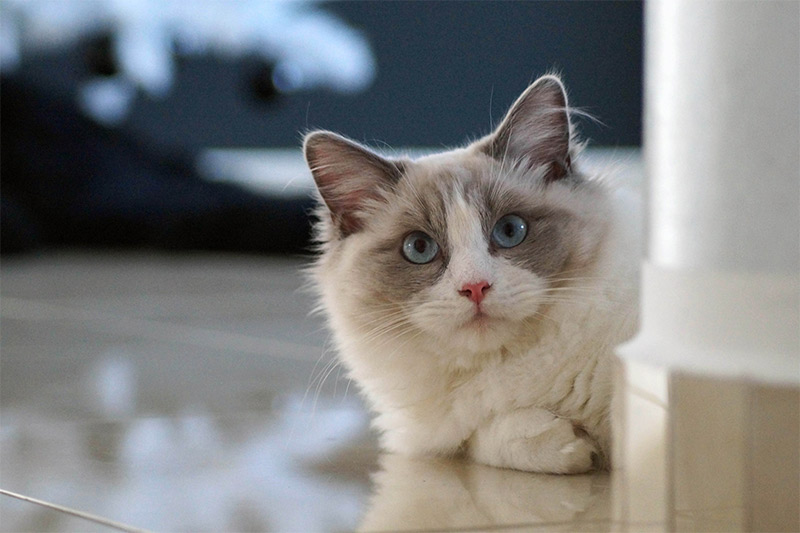 Ragdoll Cat Size
Ragdoll cat size is a notable feature of these beautiful animals. They are powerfully built, heavy, big cats, with the largest Ragdoll cat perhaps weighing up to 25 pounds.
The average Ragdoll cat size is anywhere from 10 to 20 pounds, with females being usually at the lighter end of the spectrum when they reach maturity at around four years old.
Ragdoll Cat Colors
Ragdoll cats are all born the same color, white. White Ragdoll kittens will stay white until they are approximately ten days old, at which time their color will start to develop. You will not see the true adult Ragdoll colors until they are at least two years old.
Ragdoll cats are often described as 'pointed' when their color is discussed. This basically means that the body of the cat is a paler color then the tips. So the ears, face, legs, tail and feet are usually darker than the rest of them, in a similar way to the Siamese cat.
Ragdoll cats originally came in three color types, still seen today. The classic Ragdoll cat colors included seal, chocolate blue and lilac. But these have now expanded somewhat.
Ragdoll cat colours can now include the Seal Ragdoll, Ragdoll Blue, Chocolate Ragdoll, Lilac Ragdoll, Red Ragdoll and Cream Ragdoll. There are also tortoiseshell and lynx patterns seen in Ragdoll coats.
The lynx point Ragdoll can be any of the Ragdoll markings described below, but in addition they will have a tabby pattern on their face. The tortie point Ragdoll will have any of the above below, but the points will be red or cream, mixed with any other colour.
The different colours do not denote different Ragdoll breeds. The Ragdoll breed is the same regardless of color.
Here are some of the different color variations that the Ragdoll cat breed can include.
Ragdoll Colorpoint
A colorpoint Ragdoll cat will have classic Siamese cat style markings, with a point colored mask, ears, feet, nose, paws and tail. A colorpoint Ragdoll cat won't have any white on them at all.
Mitted Ragdoll
A mitted Ragdoll cat will have a point colored mask, ears and legs. Their front feet will be colored white like mittens, and they will also have white 'boots' on their back legs. Their neck, chest and stomach will also be white. They may also have a white blaze on their faces.
BiColor Ragdoll
A bicolour Ragdoll cat will have point colored ears and tail. With a white ask, legs, paws, chest and stomach. Their nose and paw pads will be pink.
Van Ragdoll
The van Ragdoll cats are mostly white on their bodies, with the traditional pointing marks elsewhere on them.
Ragdoll Cat Grooming
The Ragdoll cat requires regular grooming at least twice a week with a steel comb to remove anything trapped in the coat and keep it in top condition, but is less likely to become matted or tangled than some other long haired breeds coats.
The soft silky coat is not overly prone to problems, and grooming for them is more preventative than anything else.
Make sure your Ragdoll cat is happy to be groomed by making sure to start when they are a kitten, using soft gentle strokes when your cat is relaxed and happy.
Do Ragdoll Cats Shed?
Ragdoll cats are fairly prolific shedders. They moult frequently, and the loose fur is very soft and can get stuck to your furniture and bedding.
Regular grooming will help to reduce the levels of moulting, but it will not stop it entirely. This can be aided by using a rubber brush after combing with a steel rake, to pick up any of the hairs you have loosened.
You will need to invest in a good pet hair vacuum cleaner, and remind any friends with cat hair allergies to take an antihistamine before they visit!
Ragdoll Cat Care
Grooming is an important part of caring for your Ragdoll cat. It will help them to stay clean, reduce risk of infections and the chances of hairballs from their silky coat.
You can also help to care for your Ragdoll cat by paying attention to the cleanliness of their litter box. Like many long haired cat breeds, the most likely time for their coat to be soiled is by their litter tray. Removing the waste immediately after they have produced it will reduce the chances of this happening.
If your Ragdoll cat gets any mess in their fur, use damp cotton wool or a wet wipe to dab it gently off.
Some Ragdoll cats do occasionally requiring bathing, but they probably won't appreciate it, so try and help prevent them from getting messy in the first place.
Ragdoll Cat Feeding
Giving your Ragdoll cat a healthy diet is an important part of their care. Being a larger size of cat, they will eat more than your average pet cat. Make sure they have constant access to fresh water, and find a food which is high in protein and low in carbohydrates.
Ragdoll cats can do well on dried cat food or wet cat food, so choose one which you feel gives the most appropriate balance of nutrients. Remember, cats are carnivores, so a diet high in wheat is not going to be ideal.
You can find more information on the best way to feed a kitten in our extensive kitten feeding guide here.
Ragdoll Cat Health
Ragdoll cats tend to be quite healthy. They are a fairly recent breed and so have not suffered as badly from the effects of multiple generations of closely related line breeding, in the way that some cat breeds have.
However, they can be affected by genetic health conditions including the following:
Hypertrophic cardiomyopathy
Hypertropic cardiomyopathy is an inherited, genetic form of heart disease. If you are buying a pedigree Ragdoll kitten, make sure both parents have been DNA tested clear for this to reduce the chances of your kitten suffering from it.
The gene for cardiomyopathy in Ragdoll cats is specific to them, and spontaneously occurred separately to that which can be found in other breeds like the Maine coon.
Bladder Stones
Calcium oxalate bladder stones are very common in a range of cat breeds, from purebred to your average pet. Though some veterinarians believe that certain breeds of pedigree cat may have a predisposition to developing them.
Signs to watch out for include the cat having trouble urinating, blood in the litter train, and peeing in the house.
If your cat shows any of these signs, take him over to the vet who will be able to prescribe a course of treatment.
Feline Infectious Peritonitis (FIP)
FIP is a potentially fatal consequence of a common cat infection called the coronavirus.
Pedigree cats have a far higher chance of developing this, so it's important that you get a certificate from the breeder confirming that the kitten you bring home is free from coronavirus antibodies.
Do not buy a purebred kitten without this certificate, or you will be risking a very upsetting consequence.
Ragdoll Cat Health Problems
Ragdoll cat health problems are not horrendously prevalent, but they do exist as with any pedigree breed. Make sure your kitten and his parents are tested for any relevant conditions. Ask your breeder lots of questions, and if they hesitate or seem evasive walk away.
To avoid Ragdoll cat health issues, and to make sure that you equipped to deal with any veterinary care requirements that should come up, make sure that you have pet insurance.
Pet insurance is highly recommended to help you keep them safe and provide them with the best medical treatment when necessary.
How Long Do Ragdoll Cats Live?
Ragdoll cats can have a very good lifespan, living up to 17 years. The average is however quite broad, being widely noted as 12 to 17 years.
12 years is low for a cat breed, but 17 is fairly high.
Finding A Ragdoll Cat
Ragdoll cats are very social and unlike many breeds will actually prefer the company of their peers to being alone.
The British Ragdoll Cat Club actually recommends that if you are out at work all day that you bring home two kittens from the same litter rather than one.
When you visit the kittens at around 12 weeks old they should be very lively and playful. Their eyes should be clear and their coats should be clean. You should be able to see the mother of the kittens interacting with them, and she should have the classic calm and friendly temperament of a Ragdoll cat.
Ask the breeder to see evidence of all health tests and the mother and father's pedigrees.
Ragdoll Kittens
If you are looking to bring home a Ragdoll Cat of your own, then you have two options. A Ragdoll kitten or an adult Ragdoll cat.
If you are looking for a Ragdoll kitten then you will need to find a reputable breeder, and be prepared to fork out a fair amount of money for your new friend.
How Much Are Ragdoll Kittens?
Ragdoll kittens price is considerably more than an average pet cat, with prices ranging wildly depending upon where you are, the color of the Ragdoll kitten and who is breeding them.
If you get a properly health tested kitten from a good breeder, you will have to pay more. But it will be worth it in the long run.
In the United Kingdom the cost of a Ragdoll kitten will be anything from £400 – £1000.
In the USA Ragdoll kitten price varies even more, looking at anywhere from $600 to $1800 depending on who is breeding him, and the State you are living in.
It is also worth baring in mind that if you are looking to buy a Ragdoll kitten with the breeding rights, you may have to pay twice this much money.
Without breeding rights although your kitten could have litters in the future, the breed club would not register them for you.
If you are looking for a cheaper Ragdoll cat then considering an adult, rescue cat or cross bred cat may reduce this somewhat.
Ragdoll Cat Price
If you want to bring a pedigree Ragdoll cat into your home, then you will be wondering how much it will cost you.
An adult Ragdoll cat which is available for sale will either be being sold by a showing enthusiast who is retiring it, or due to a family's change in circumstances.
This means that you will probably get a lower price tag than for a kitten. It will also mean that you can be fairly confident of the cat's temperament before you bring him home, and could even request health tests on the cat himself rather than his parents to be sure that they are free from inherited diseases.
Ragdoll Cat Breeders
Ragdoll cat breeders will on the whole only breed purebred lines of Ragdoll cats.
Look for a Ragdoll breeder who has an interest in maintaining the health and quality of the Ragdoll Cats in their care. Make sure that they ensure both parents are fully health tested, and given a great quality of life between matings.
The mother of your kitten should not only exist in the breeders eyes to make kittens, but should have another purpose too. Either as a treasured member of the family or a highly valued and much loved show cat.
Be cautious of any household with more than 6 cats. Not only would this indicate potentially that they were breeding for the wrong reasons, but also it would put the kittens at a far higher risk of developing FIP.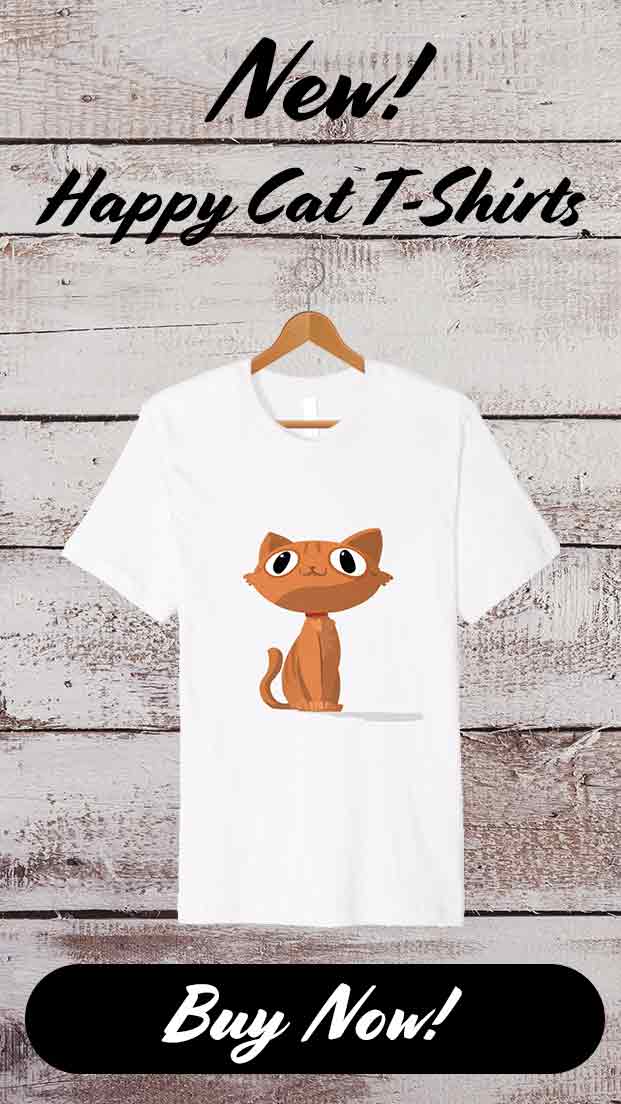 Ragdoll Cat Mix
Cross bred Ragdoll cats can come in many forms. If one parent is a purebred Ragdoll and another is from a different pedigree breed, then you can guess that they will have some features from either or both of the parents. But this really will be an estimate, and you can never tell whether they will have much in common at all.
If you buy a cross bred ragdoll cat mix whose parentage is largely unknown, then you will be even less sure that they will have the characteristics of a Ragdoll cat.
Ragdoll Cat Rescue
There are a couple of rescue organisation who specialise in Ragdoll Cats, but you will find that turn up from time to time in standard cat rescue centres too.
Is A Ragdoll Cat Right For You?
Ragdoll Cats are expensive, require regular grooming, may suffer from inherited health problems and might need to be kept as indoor cats due to their value.
However, this should not put you off the breed as long as you are able to commit to the following:
Pay the sometimes high fee for a kitten from a great breeder, who has carried out extensive health tests on both parents and the kittens, then you are off to a great start.
You will then need to invest in some cat insurance which offers full cover for any medical conditions he may suffer from in the future.
Put aside a period of time twice a week for grooming, and look into the best quality cat food you can provide.
If you can do this, then you will have a wonderful new companion. A friendly, loyal and very adorable cat to spend many happy years together with.
Free Updates For Cat Lovers!
Our cat care articles, tips and fun facts, delivered to your inbox