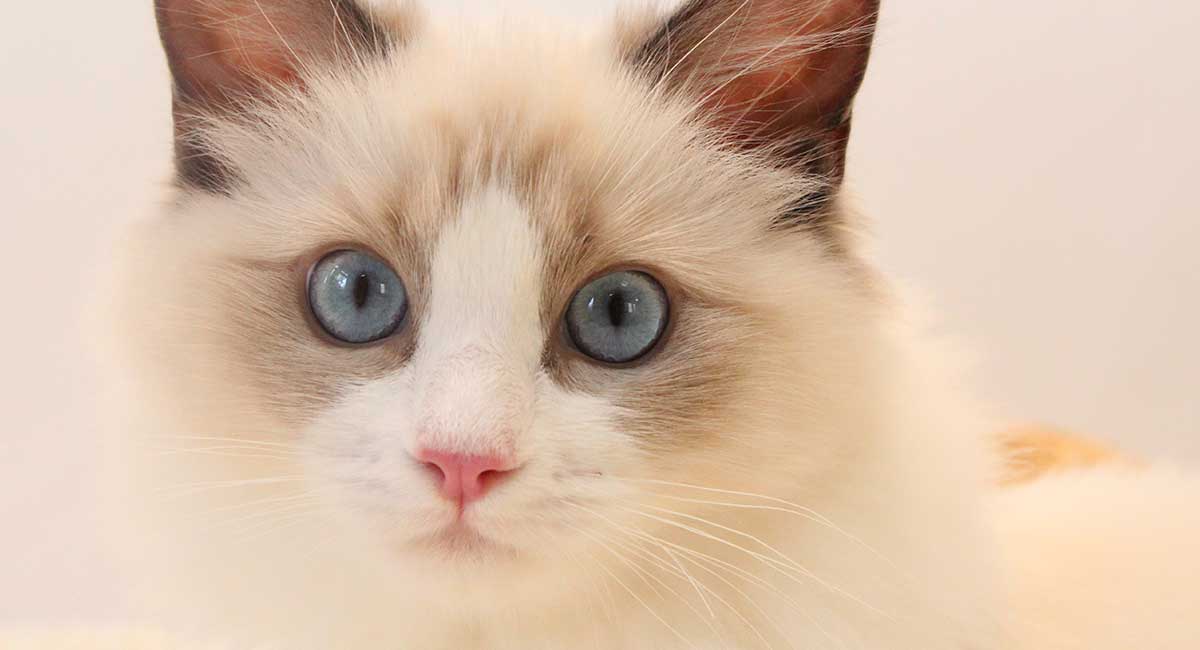 Ragdoll cats are currently one of the most sought-after pedigree breeds of cat. They are known for their gentle playfulness and unusually social nature.
They are a pointed breed with striking blue eyes and a semi-longhaired coat. The Ragdoll cat is one of the largest domestic cats, weighing between 10 to 15 pounds, depending on gender.
The Ragdoll, like any pedigree, has a genetic predisposition to certain health issues but is generally a healthy breed.
In this article, we are going to be learning all about this fascinating breed; everything from their characteristics and care needs to their unique history.
What's In This Guide?
Ragdoll Cats FAQs
Our readers' most popular and frequently asked questions about the Ragdoll Cats.
Ragdoll Cats Breed Review: Contents

What Is A Ragdoll Cat?
The Ragdoll cat is a relatively newer breed of pedigree cat. They are a docile breed with a silky, plush coat and distinctive patterning.
Ragdoll cats are referred to as floor cats; they prefer to hang out on the ground rather than in high places. They are also atypical in their temperament; social and affectionate cats that like to keep close proximity to their owner.
The Ragdoll's beautiful coloring and sweet nature all lend to their understandable rise in popularity over a relatively short period of time.
Ragdoll Cats History
The history of the Ragdoll breed does not go back very far.
The Ragdoll cat was first bred during the 1960s, in Riverview, California (USA), by a breeder named Ann Baker. Ann often bred free-roaming cats with others that she owned or found, so the original Ragdoll cat breed emerged from mainly free-roaming cats.
One particular long-haired, female cat, referred to as Josephine, made especially unique kittens. Josephine's kittens were beautiful as well as unusually docile and sweet-natured.
Ann continued to breed Josephine for the pleasant temperament of her kittens, and carefully selecting mates for the specific physical characteristics she desired in this new breed.
Through this process, Ann created what we know today as the Ragdoll cat.
Ann created a registry for the breed herself and officially registered the first four kittens in 1966.
In 1993, the Cat Fanciers Association started registering Ragdoll cats. By the year 2000, Ragdolls were advanced to championship status in every North American cat association.
Ragdoll Cats Personality
This is a breed that loves the company of others and is known for their loyalty and affection. It is not unusual for Ragdoll cats to greet their owners at the door or follow them around the house.
Ragdoll cats are also capable of being independent and aren't overly demanding. Their calm and easy-going natures make them excellent pets.

These cats do have a playful side, especially as kittens, but even their play is gentle, as they don't tend to extend their claws.
They are intelligent cats, who have been clicker trained to perform tricks using positive reinforcement training. Some Ragdoll's will even play fetch.
Ragdoll Cats Temperament
The Ragdoll cat is sociable and has a relaxed and easy-going temperament. They are even friendly with other cats. As a result, Ragdolls are sought after family pets due to their notorious tolerance of children and other animals.
Although anecdotally, Ragdoll cats are exceptionally tolerant of children's play, even to the point of allowing themselves to be dressed up or pushed around in buggies, remember that every cat has its limits. Young children's interactions with even the nicest cat should be monitored, for both of their sakes.
The name Ragdoll cat is probably derived from their tendency to flop over in a relaxed manner when picked up.
They are masters of relaxation and love to spend time curled up in your bed if not in your arms.
Can Ragdoll Cats Go Outside?
Are Ragdoll cats better suited indoors? What is in your cat's best interest? They may gaze longingly out the window for hours, but should you let them venture outside?
Some people believe that cats should be able to employ their natural instincts to prowl and hunt outside. Access to the outdoors gives cats better opportunities for physical exercise and can help prevent boredom.
The argument against allowing Ragdoll cats outside stems from the observation that these social and loving cats tend to be too trusting. Their gentle and affectionate temperament doesn't arm them with the necessary feline outdoor skills.
They are not territorial and do not usually defend themselves against other cats. This puts them at even more risk of exposure to disease and parasites.
Their high resale value and their beautiful coat also make them prime targets for theft if left to wander out on their own.
For more on the indoor versus outdoor debate look at our article, "Outdoor Cat Versus Indoor Cat."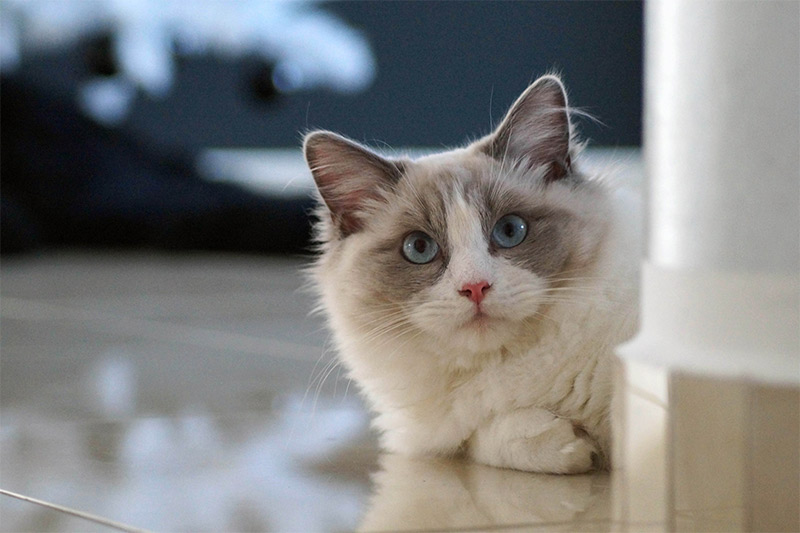 Ragdoll Cat Size And Weight
Ragdoll cats are one of the largest domestic breeds of cat. Their size is a notable feature of these beautiful animals. They are big, powerfully built, and heavy, cats, with the largest Ragdoll cat, perhaps weighing up to 25 pounds.
The average Ragdoll cat weighs anywhere from 10 to 20 pounds by the time they fully mature at around four years old.
The females are usually at the lighter end of the spectrum ranging from 10 to 15 pounds, and the males tend to be on the heavier end weighing from 15 to 20 pounds.
Ragdoll Cat Colors And Coats
Ragdoll cats have startling blue eyes and a medium length coat.
Their fur is silky and soft, made up of guard hairs that are often described as feeling like rabbit fur. The lack of an undercoat gives them a very fluffy appearance. They also have a distinctive ruff of fluff around their neck.
Ragdoll cats are all born white and will remain white until about ten days old, at which time their color will start to develop. You will not see the true adult Ragdoll colors until they are at least two years old.
Ragdoll cats are described as "pointed," which means that the body of the cat is a paler color than the tips. The ears, face, legs, tail, and feet of a Ragdoll cat are usually darker than the rest of them.
Ragdoll cat coats come in a variety of distinctive colors and patterns. These cats originally came in four colors: seal, chocolate, blue, and lilac. Today their coloring has expanded to also include red and cream.
The different colors do not denote different Ragdoll breeds. The Ragdoll breed is the same regardless of the color of their points.
In addition to an array of colors, Ragdoll cat coats also come in different pointed patterns.
Here are some of the most common pattern variations that you may find:
Colorpoint Ragdoll
A colorpoint Ragdoll cat will have classic Siamese-cat-style markings with a point colored mask, ears, feet, nose, paws, and tail. A colorpoint Ragdoll cat won't have any white on them at all.
Mitted Ragdoll
A mitted Ragdoll cat will have a point colored mask, ears, and legs. Their front feet will be colored like white "mittens," and they will also have white "boots" on their back legs. Their neck, chest, and stomach will create a white stripe down their middle.
Bi-Color Ragdoll
A bi-color Ragdoll cat will have point colored ears and tail. Their mask, legs, paws, chest, and stomach will remain white.
Van Ragdoll
The van Ragdoll cat only has color on their mask, ears, and tail while the rest of their body remains white.
For more detailed regarding Ragdoll cat coat patterns and colors check out our article, "Ragdoll Cat Colors."
Ragdolls can now also be found with either a lynx or tortoiseshell color and design.
Grooming Your Ragdoll Cats
The beautiful Ragdoll coat requires a moderate level of upkeep. Ragdoll cats should be brushed from once to twice a week with a steel comb to remove tangles and any loose hair.
The soft silky coat is not prone to many problems and grooming is more preventative than anything else.
Since Ragdoll cats love spending time with their owners, your cat may actually enjoy his grooming sessions if you brush gently.
To ensure your Ragdoll cat is happy to be groomed, make sure to start when they are a kitten.
Use soft gentle strokes when your cat is feeling relaxed and happy.
To learn more about the best tools for grooming, take a look at our article, "Best Brushes For Ragdoll Cats."
Ragdoll Cats Shedding
Ragdoll cats are moderate shedders. They molt more with the change of the seasons but due to their lack of an undercoat, they shed less than many other cat breeds.
Regular grooming will help to reduce the degree of shedding. This can be aided by using a rubber brush after combing with a steel rake, to pick up any of the hairs you have loosened.
Are Ragdoll Cats Hypoallergenic?
What is a hypoallergenic cat? Numerous studies have identified the protein "Fel d 1" in canine and feline saliva as the main pet allergen. Cats generally produce more of this protein than dogs which is why cat allergies are more common than that of dogs.
Fur and shedding were often associated with allergies and now we know that it is not the fur, but the saliva on the fur from the animal grooming itself that actually causes a reaction.
Hypoallergenic cats are those that produce less of the "Fel d 1" protein, however, there are no cats that do not produce any "Fel d 1." Hypoallergenic cats still contain some of the allergens in their saliva. It is due to this fact that some argue there is no such thing as a hypoallergenic cat.
Ragdoll cats are not hypoallergenic. They are not a breed that has been found to have a lower content of the "Fel d 1" protein in their saliva.
Ragdoll Cats Health Problems
Ragdoll cats tend to be quite healthy and have the potential for a long lifespan, but like most pedigree breeds they do have a genetic predisposition to some health problems.
The following are the most common diseases Ragdoll cats are at risk of developing:
Heart Disease
Ragdoll cats have a genetic predisposition to heart disease and to a specific type called hypertrophic cardiomyopathy (HCM). It is caused when the heart muscle thickens as a result of an overactive thyroid.
Cats have a habit of hiding illness, so by the time you notice symptoms in your cat they have likely been suffering for a while, and the condition could be serious.
Blood clots can form as a part of HCM and these clots can result in a painful paralyzing of the back legs and tail. Other symptoms of HCM include lethargy, poor appetite, and rapid breathing. If you notice these changes in your cat contact your veterinarian immediately.
DNA testing for HCM is available and any responsible breeder should have a certificate clearing both parents.
Polycystic Kidney Disease
This disease is the result of a defective gene and has been found in the Ragdoll cat breed.
Kittens born with this defective gene have tiny cysts inside their kidneys and occasionally the liver. The cysts grow over time and destroy the kidney or liver. Symptoms tend to show around seven years of age and include weight loss, vomiting, excessive thirst, and poor overall health.
While there is no cure for this disease, early detection and intervention can add years to your cat's life. An abdominal ultrasound on an adult cat can often detect the cysts.
Genetic testing is now available for this disease and responsible breeders should not be breeding cats with this genetic defect.
Feline Infectious Peritonitis (FIP)
FIP is a common cat virus, called the coronavirus, that most cats carry. This virus can remain in a dormant state and not cause any harm to your cat.
However, if there is the right combination of mutations it can attack those cats with a susceptible immune system and result in FIP.
Unfortunately, there is no cure for FIP, it is a fatal disease.
There is a blood test that can detect the virus, however, it cannot distinguish between the dormant, non-harmful variety and FIP. This means that screening prior to breeding still cannot guarantee that the kittens will be FIP free.
Ragdoll cats have a higher than average chance of developing this disease, so it's important that you confirm with your breeder that neither parent nor any of their offspring has demonstrated signs of this disease.
Feline Lower Urinary Tract Disease (FLUTD)
FLUTD refers to a number of urinary conditions all grouped under the same category.
Some of these problems include bladder stones, urinary tract infections, and blockages. The various conditions all tend to exhibit similar symptoms, such as incontinence, urination on cool surfaces, blood in the urine, straining or difficulty urinating, or crying in the litter box.
Urinary issues, especially blockages, can deteriorate very quickly within a couple of hours and are an emergency situation. If your cat is exhibiting any of the abovementioned symptoms or cannot urinate, contact your veterinarian immediately.
Urine tests can be done periodically to check for signs of potential issues like kidney disease, infections, or stones. Some urinary tract diseases can be controlled with a special diet or medication while others may require surgery.
Cryptococcosis
Ragdoll and Siamese cats are more susceptible to this type of infection.
This infection is caused by a yeast-like fungus that is contracted through the nasal passages. It can spread through the body, affecting the eyes, brain, and lungs.
Signs of this infection include lethargy, sneezing with nasal discharge, and weight loss. As the infection progresses the symptoms become more serious, ranging from difficulty breathing, fever, seizures, and disorientation. The nose can also develop lesions or become swollen.
If your cat shows signs of this condition contact your veterinarian.
Generally, cats can be treated with an oral antifungal medication.
Recommended genetic testing for Ragdoll cats includes both HCM and PKD. Ensure both parents are cleared of these conditions before bringing home your cuddly new friend.
Ragdoll Cats Lifespan
Expected lifespan (use only scientific papers as your resources and link to them)
Ragdoll cats generally have a good life expectancy and can live anywhere from 15 to 20 years.
As they are genetically predisposed to certain health conditions, knowing the signs and symptoms of these conditions can help with early intervention and keep your kitty happy and healthy for years to come.
Working with a responsible breeder that can provide certificates for all recommended genetic testing will also help increase the likelihood of getting a healthy cat with the potential for long life.
Caring For Your Ragdoll Cats
Information on any special care needs specific to the breed
Grooming is an important part of caring for your Ragdoll cat. It will help them to stay clean and reduce the risk of infections. It will also decrease the chances of your cat getting hairballs from their silky coat.
You can help to care for your Ragdoll cat by paying attention to the cleanliness of their litter box. Like many long-haired cat breeds, the most likely time for their coat to be soiled is when they use their litter tray. Removing the waste immediately after they have produced it will reduce the chances of it catching in their coat.
If your Ragdoll cat does get any mess in their fur, use damp cotton or wool cloth to gently dab it off.
Ragdolls should also have their teeth brushed regularly to prevent dental issues, and their ears gently swapped with a cotton ball on a weekly basis.
Ragdoll Cats Food
Giving your Ragdoll cat a healthy diet is an important part of their care. Being a larger-sized cat, they will eat more than your average pet cat. Find food which is high in protein and low in carbohydrates.
Ragdoll cats can do well on dried cat food or wet cat food, so choose one which you feel gives the most appropriate balance of nutrients. Remember, cats are carnivores, so a diet high in wheat is not going to be ideal.
Most cats like to graze and eat small amounts of food numerous times a day. They may take little nibbles from their bowl 10 to 15 times a day.
Generally, putting the day's allotment out all at once and letting kitty munch when they're hungry works fine. Be sure to always have fresh water available too.
Obesity is detrimental to your pet's health. It can increase the risk of certain health issues and exacerbate existing once. It can even shorten your cat's life for up to two years.
If your cat tends to gobble up their dish of food quickly and leaves none for the rest of the day, ration it out over a period of time instead.
Do not increase their portion unless advised by your veterinarian. Some cats do eat out of boredom.
You can find more information on the best way to feed your kitten in our extensive kitten feeding guide here.
Are Ragdoll Cats Good Pets?
Ragdoll cats tend to make excellent family pets because of their gentle, loyal, and affectionate nature. They are known to be patient with children and friendly other pets.
Ragdoll cats are also relatively low maintenance pets, requiring only a bi-weekly preventative brush and are generally a healthy cat with a long-life expectancy
Ragdoll Cats Breeders
Going through a reputable breeder gives you a much better chance of getting a healthy kitten, rather than a pet store or an online ad.
A reputable breeder should be knowledgeable about the breed and their particular needs and health risks. They should be happy to answer all of your questions and provide certificates for any genetic testing that has been done.
When you visit the kittens at around 12 weeks old they should be very lively and playful. Their eyes should be clear and their coats should be clean. You should be able to see the mother of the kittens interacting with them, and she should have the classic calm and friendly temperament of a Ragdoll cat.
Since Ragdoll cats are so social, The British Ragdoll Cat Club actually recommends if you're going to be out at work all day that you bring home two kittens from the same litter rather than one. While these cats can be independent, too much personal space can cause them to get lonely.
Ragdoll Cats Kittens
Once you have your new best friend, you are going to want to do your best to make sure they stay happy and healthy.
With a new kitten, you need to consider nutritional needs, feeding schedules, litter training, and socialization of your kitten.

Check out The Happy Cat Handbook for more information about caring for your new friend and also find more kitten care tips here:
Rescuing A Ragdoll Cat
Adopting a rescue cat can be a rewarding experience. It is also much cheaper and may be a good option for those who cannot afford the expensive Ragdoll cat price charged by breeders.
While there are a few breed specific rescue organizations specializing in Ragdoll Cats, you may find that they turn up from time to time in standard cat rescue centers as well.
Here are some Ragdoll cat rescues you can check out:
USA Rescues
UK Rescues
Canada Rescues
Australia Rescues
Pros And Cons of Getting A Ragdoll Cats
Pros:
Affectionate, docile, and sweet-natured temperament
Good with children
Gets along well with other pets, including other cats
Sheds less than some other breeds
Relatively healthy breed
Sociable personality
Intelligent and considered easy to train
Cons
Not a recommended breed to leave outdoors
May get lonely if left alone too much
Bi-weekly coat maintenance
Expensive breed
Ragdoll Cat Price
You have two options if you are looking to bring home a Ragdoll cat of your own: a Ragdoll kitten or an adult Ragdoll cat.
You will need to find a reputable breeder (as mentioned previously) if you are looking for a Ragdoll kitten. And be prepared to fork out a fair amount of money for your new friend.
How Much Are Ragdoll Kittens?
The cost of Ragdoll kitten is considerably more than an average pet cat with prices ranging widely depending upon where you are, the color of the Ragdoll kitten, and who is breeding them.
You will have to pay more if you get a proper health-tested kitten from a good breeder, but it will be worth it in the long run.
In the UK the cost of a Ragdoll kitten will be anything from £400 to £1000.
In the US Ragdoll kitten price varies even more. You are looking at spending anywhere from $600 to $1800 depending on who is breeding him and the State you are living in.
It is also worth bearing in mind that if you are looking to buy a Ragdoll kitten with the breeding rights, you may have to pay twice this much money.
Without breeding rights, although your kitten could have litters in the future, the breed club would not register them for you.
How Much Are Ragdoll Cats?
If you want to bring a pedigree Ragdoll cat into your home, then you will be wondering how much it will cost you.
An adult Ragdoll cat available for sale will either be being sold by a showing enthusiast who is retiring it or due to a family's change in circumstances. This means you will probably get a lower price than for a kitten.
It will also mean that you can be fairly confident of the cat's temperament before you bring him home, and could even request health tests on the cat himself rather than his parents to be sure that they are free from inherited diseases.
If you are looking for a cheaper Ragdoll cat then consider an adult, rescue or crossbred cat.
Should I Get a Ragdoll Cat?
If you spend a lot of time at home and are looking for a sweet and affectionate furry companion, or if you are looking for a new pet that will adapt well into your existing family, then the Ragdoll cat might be the cat for you. They are a sociable, friendly, and gentle breed which makes them a highly sought-after family pet.
The Ragdoll cat is best suited to indoor living and enjoys regular interaction with their owners or other family pets.
They have a moderate maintenance coat, so potential owners should ensure they have time in their schedule for the Ragdoll's weekly grooming needs.
This breed does come with a genetic predisposition to some health issues, but with attentive care, Ragdoll's generally have a good life expectancy.
Those that can meet the companionship needs of this beautiful and trusting cat will be rewarded with much love and loyalty.
References And Resources