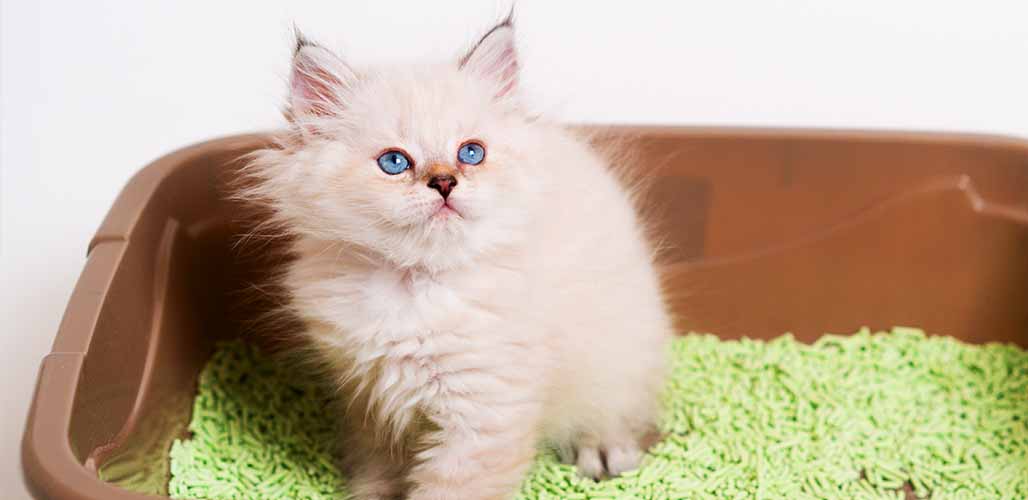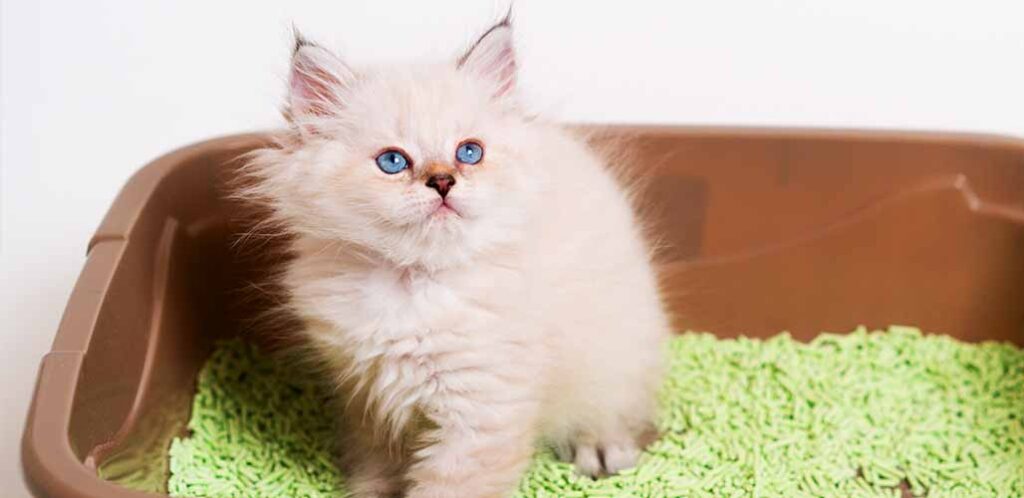 How often do cats need to pee and poop? I'll admit, this is a question I didn't think about for the longest time, until we got stuck in tailbacks on our route home one day and realized that neither of us had unlocked the cat flap that morning. It was a massive mistake that we've been very careful not to repeat since, but it also prompted me to find out more about how long can a cat go without using the bathroom, so to speak. So whether you've got practical questions about how long a cat can hold in their pee, or whether you're worried that your cat hasn't visited the litter box in a while, here's everything you should also know about the frequency of their toilet habits.
Contents
How long can a cat go without using the bathroom?
Cats are instinctively very clean animals, and they have a strong dislike of soiling their home. So they will hold their bladder and their bowels for a surprisingly long time if their usual toileting area isn't accessible to them. A healthy adult cat can go for 24 hours, and sometimes even 48 hours, without using the bathroom. But, it is not good for them to do so. Urine stored in the bladder for that long can become a breeding ground for the bacteria that cause urinary tract infections. And feces forced to accumulate in the bowel get gradually harder, and drier, until eventually they are too difficult to pass, causing constipation.
What's more, denying your cat access to a suitable toilet area for long periods is unkind. Animal welfare experts agree that pets in our care deserve to be free from discomfort, free to express normal behavior, and free from fear and distress. Regularly treating them in a way which means they don't have total freedom to pee and poop when they need to breaches all of these freedoms.
How often does a cat need to pee?
A healthy adult cat normally pees two, three, or four times a day. Pet cats are generally regarded among veterinarians as 'poor drinkers' though, meaning it's not unusual for them to exist on minimal hydration, and pee quite infrequently. That's not to say that staying well hydrated isn't important for them though, and we'll revisit how you can encourage that later!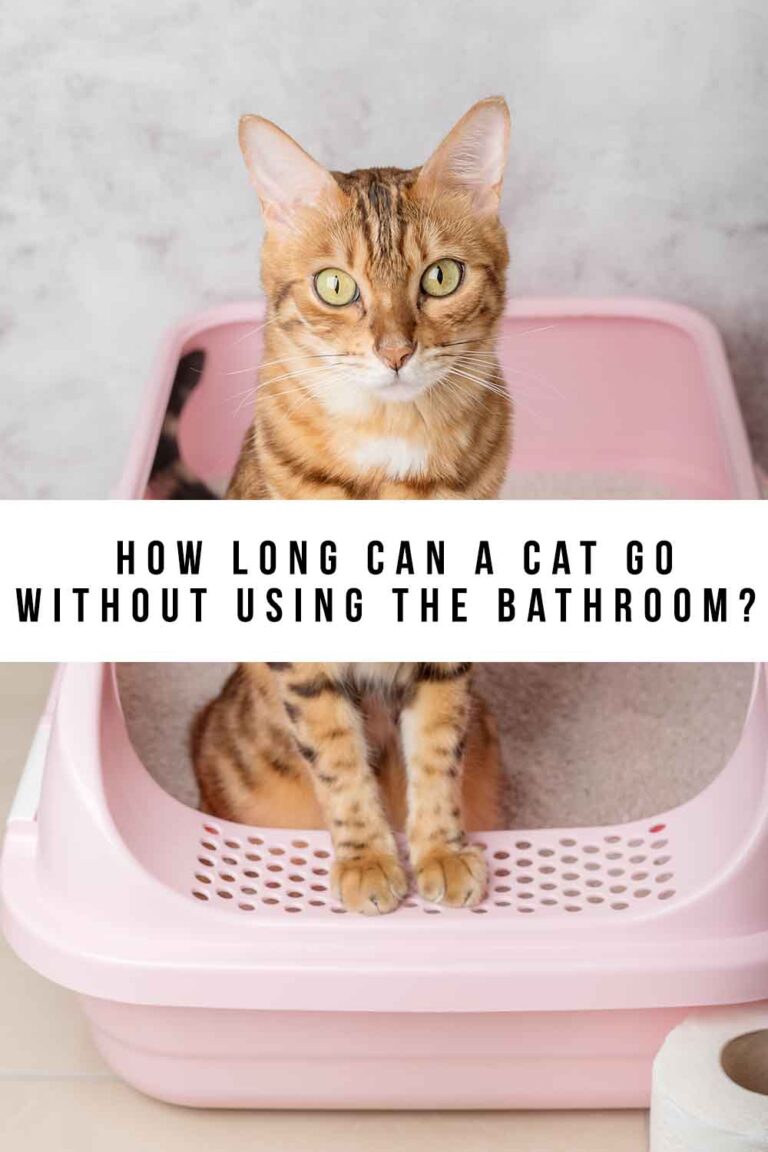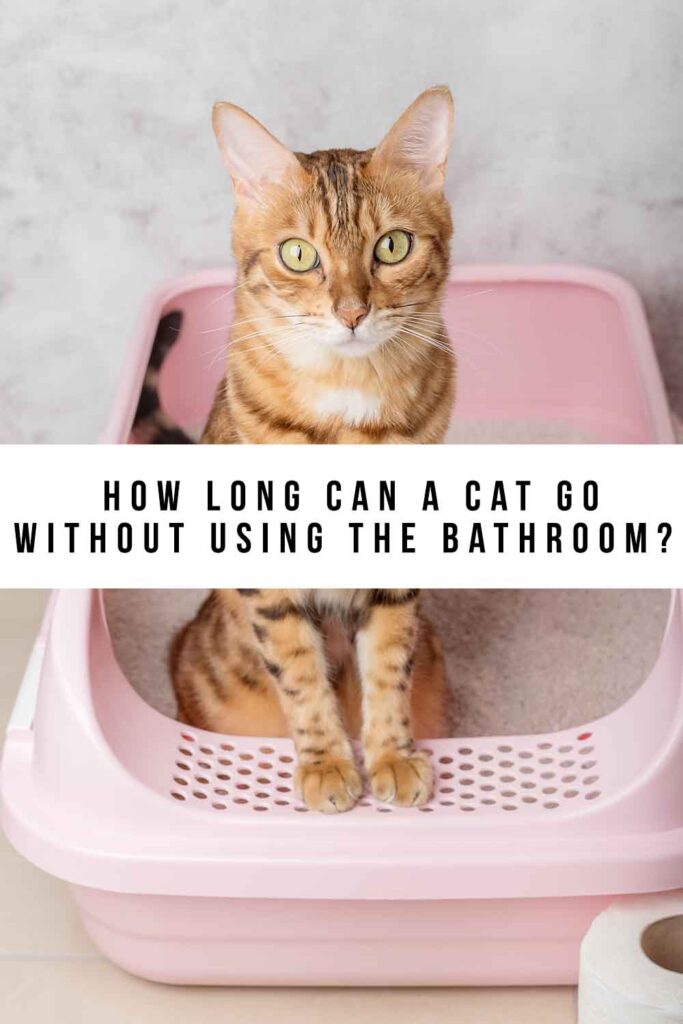 What does it mean if your cat hasn't peed in a while?
If your cat hasn't peed in the last day or so it could be a sign that something is blocking their urethra – the tube through which urine leaves their body. Urethral blockages are a relatively common problem in cats. The cats most likely to be affected are:
Male, because their urethra is longer and narrower.
Kept indoors only.
Those who drink very little.
Overweight.
Causes of blockage can range from inflammation of the urethra itself, to accumulation of calcium deposits or mucus. Very occasionally, a tumor is responsible for blocking the tube. Symptoms of urethral blockage, besides a sudden decrease in peeing are:
Visiting the litter box regularly and producing very little.
Straining in the litter box.
Signs of pain during peeing, such as vocalizing or appearing distressed.
Blood in their pee.
Loss of appetite.
Vomiting.
Lethargy.
You might also be able to feel that their bladder is enlarged and hard inside their belly, but be very gentle trying to feel it, because it is likely to hurt your cat very much! If your cat has any of the other symptoms of urethral blockage, it's better to take them to a veterinarian and let them perform a physical examination.
Urethral blockages are an emergency which require immediate treatment, but the good news is that most (90-95%) of cats recover.
How often do cats need to poop?
The gut transit time for healthy adult cats – that is, the total time it takes for a meal to pass right through their digestive system and be left in the litter box – is 20 to 50 hours. Which means cats usually poop once or twice a day. Young adult cats tend to be more regular than senior cats, and it's more normal for an older cat to skip a day now and then.
What does it mean if your cat hasn't pooped recently?
Constipation is another common problem of pet cats. If your cat hasn't had a bowel movement in three days, or if their bowel movements have become less frequent than normal for them, then it's a good idea to ask your veterinarian for advice. In most cases, what originally caused the constipation can't be identified, but some known culprits are:
Decreased muscle strength in the bowel, due to old age or previous incidences of constipation stretching out the bowel walls.
Hairballs.
Pain passing stools, which puts cats off trying.
Problems with the structure of the pelvis, including improperly healed fractures.
Your vet will recommend a course of treatment based on their symptoms, and the cause (if it can be identified). The remedy might include:
Increasing hydration
Administering laxatives
Painkillers
Manually extracting the trapped feces
Changing their diet to include more moisture and soluble fiber
Old cats who have problems using the litterbox
On top of medical problems like urethral blockages and constipation, and natural changes in toileting frequency associated with old age, older cats might start going longer without using the bathroom because whatever solution you have set up for them is no longer suitable. For example, litter boxes with high sides, small entrances, or small interior volume might become painful for a cat with arthritis to get in and out of. So they start putting it off for longer periods.
Helping your cat stay on a healthy schedule
Keeping your cat on a regular bathroom schedule is good for their health, and interfering with their natural bodily rhythms can potentially have negative consequences for their health too. What's more, regular and predictable bathroom habits are a good sign that your cat is healthy and feeling well in themselves. To encourage regular toilet habits:
Make sure your cat always has access to a suitable bathroom area.
Provide enough litter boxes so that every cat has their own, plus a spare (so three cats need four litter boxes, for example.
Empty their litter boxes every day.
Keep food and water bowls well away from the litter box.
Feed regular small meals, rather than one large meal a day.
Mix dry kibbles with an equal quantity of water.
Try filtered or distilled water if your cat doesn't like your tap water, or flavor it with frozen cubes of meat or fish broth.
Provide multiple water bowls, and clean them every day.
Try a drinking fountain designed for cats.
How long can a cat go without using the bathroom? Summary
If cats don't have access to somewhere suitable to use the bathroom, they can hold their bladder and bowel for many hours. But doing so is distressing for them, and it can make them unwell. If your cat hasn't peed for 24 hours, or pooped in three days, get in touch with their vet and ask for advice. Let us know if you've got anything to contribute on this topic using the comments box down below.