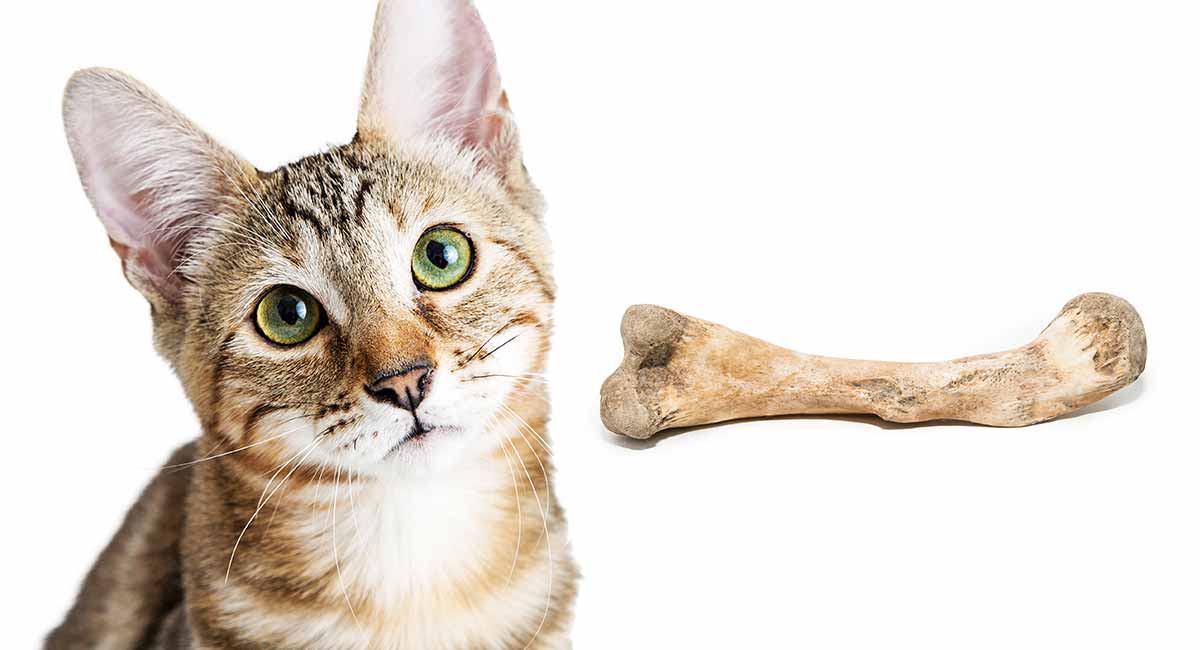 Anyone who admires a cat's agility understands it is down to the cat skeleton. Their unique cat bone structure allows them to twist, turn, and leap, making them graceful and able to perform remarkable feats.
It's time to look inside our feline friends and find out: how many cat bones are in a cat skeleton? There are more than you think, and they allow cats to do some interesting things!
While we are counting, we will also explore some fun facts about your feline's skeleton. We will look at the bones making up their skull and show how it actually contains many bones.
To show you how the cat's skeleton gives it remarkable flexibility, we will study the spine and tail of a cat, the part of the cat skeleton that makes them supple and agile. The article will tell you about cat's legs, and show you how their skeleton makes them one of nature's great leapers.
We'll also show you that answering how many bones are in a cat's skeleton is actually more difficult than you think.
So, are you ready?
If you have any specific questions, you can always use this jump-list to get to where you need:
Now, why don't we make a start. Let's learn all about your cat's bones.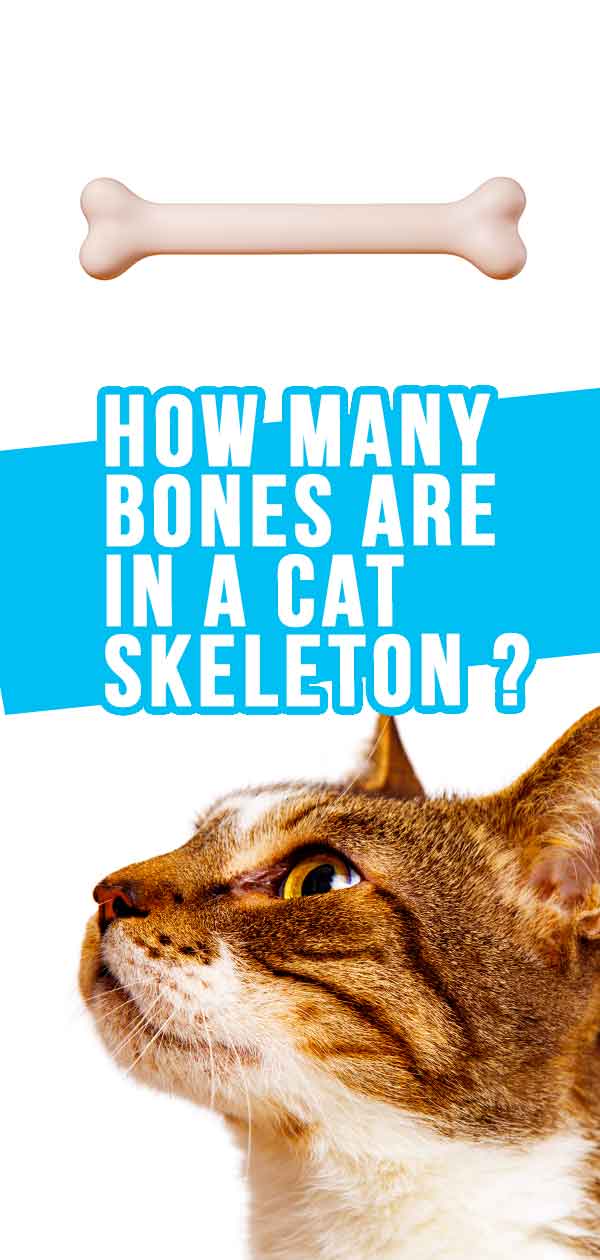 Cats – Specialized Skeletons
You might not have given your cat's internal anatomy a lot of thought before, but cats have remarkably specialized skeletons. A cat's skeleton is very flexible and works in tandem with their muscles to give them their remarkable agility
Just think. Every time you see your cat arch its back at an unwelcome sight, stretch out to scratch the furniture, leap into a tree, or land on its feet, the amazing and unique adaptations in their bone structure are making all this possible.
A basic knowledge of your cat and bones will help you understand them on deeper level. It will help you understand more about your feline friend and know what she needs to remain happy and healthy.
Knowing more about your cat's skeleton might even come in useful one day if you take your cat to a vet with a possible break.
Anyway, why don't we try to answer the question of how many bones are in a cat skeleton. As you will see, this is more difficult to answer than you would think.
How Many Bones Are in a Cat Skeleton?
It seems to be such a simple question:
How many bones does a cat have?
Surely, you can look in an encyclopedia and find the answer in black and white.
Well, guess what: If you thought this was a straightforward question with a straightforward answer, then try again! It's actually quite difficult to give a simple answer, so we will look at the reasons for that later.
However, there is a short answer: about 245, on average. Which is a fair few more than mere humans with only 209!
There is also a longer answer for which we need to understand more about the cat skeleton and cat bone structure. While we do that, we'll explore some of the specialized parts of the feline skeleton and show how it helps cats become the amazing moggies we adore.
So, now we know how many bones are in a cat skeleton, let's find out what our cats are doing with all those extra bones. We'll also explore why some cats have more than 245 bones and others have less.
Of course, it might be a bit easier if we know what bone goes where, so let's take a look at the skeleton structure of cats with a useful diagram.
Cat Skeleton Diagram
Let's start with a picture of a domestic cat skeleton to give us a window under our cats' fur.
Here's a basic cat skeleton diagram showing the principal bones.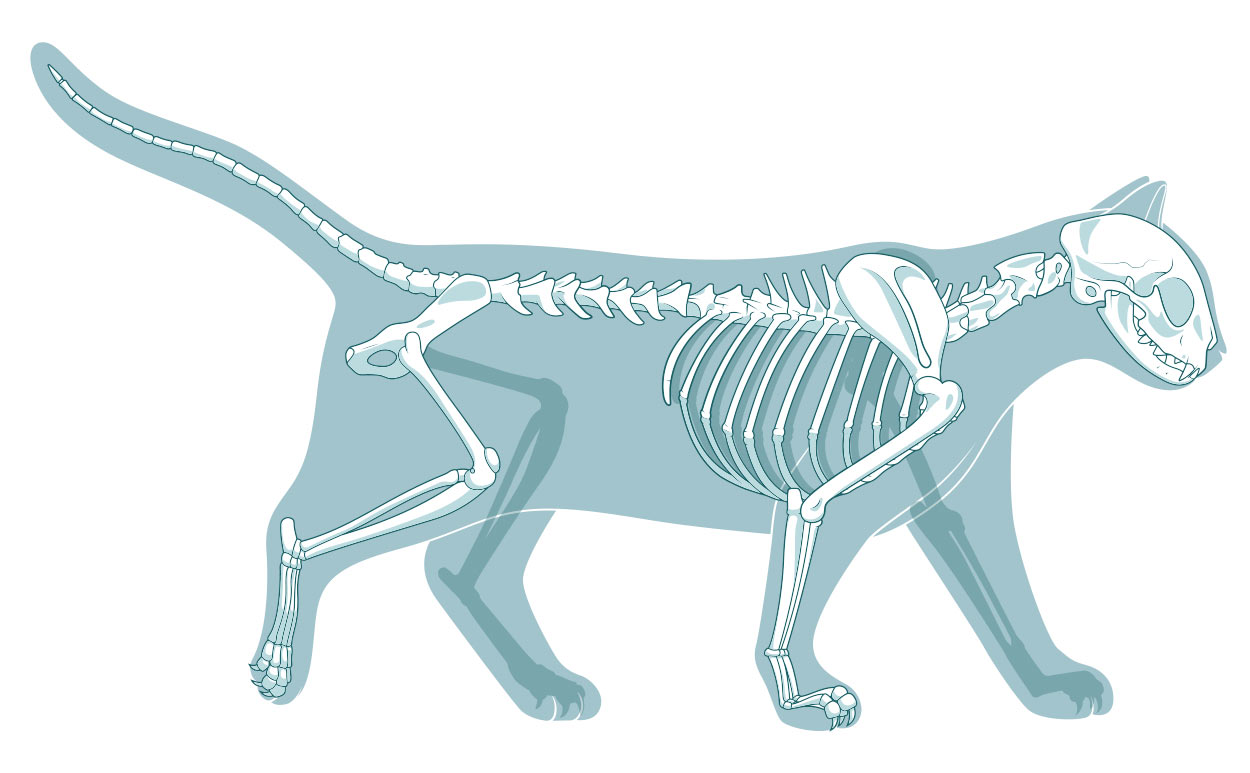 There doesn't seem to be anything surprising about it, does there? If you have seen skeletons and bones of other mammals, the cat skeleton structure doesn't seem to be much different.
In fact, in that diagram, without the cat's distinctive ears, you might not instantly recognize a cat skeleton if you saw one in a museum.
However, as we will see in a short while, the cat's skeleton has lots of little adaptations that you might not notice at first glance. These give the cat its almost superhero-like abilities to jump, fall, and pounce.
In this article, some of the names of cat bones might look familiar because we find them in humans too. There may be other names you haven't come across before, so we can learn them together.
Most bone names originally come from Latin, but don't worry because we will also use plain English descriptions as we go along!
Some of you will have noticed that our diagram seems to be lacking some bones. Why is that?
There Aren't 245 Bones in That Diagram!
That is very true!
We told you how many bones there are in a cat skeleton. Then, we gave you a cat skeleton diagram that suggests otherwise. You must think we are playing with you!
But, believe it or not, there are some really good reasons why the diagram doesn't have the magic number of 245 bones.
Small Bones
First, some bones are incredibly tiny and are far too small to include. Even if they were, you would need to zoom in a lot just to see them.
For example, just like us, cats' ears each contain three tiny bones called ossicles, which transmit sounds from the air into the inner ear.
These are barely millimeters big, and yet they are intricately shaped. For cats, which hunt by sound as much as sight, these are one of the most crucial parts of their skeleton. Yet, they seem so small and insignificant.
Here's one interesting fact for you – the size of these bones in animals is related to overall body size. As they get smaller, they can transmit higher and higher frequencies, which means our domestic cats at home can hear much higher pitches than, say, a tiger!
Fused Bones
The other reason why you won't see all of a cat's bone on a diagram is that some bones are fused together.
One example is the pelvis: although it looks like one bone, it is actually formed of six bones arranged in three pairs.
Just as a diversion, this is true in humans, too. Small children have more bones than adults, but some fuse together as they grow.
Another great example of fused bones occurs in a cat skull.
Cat Skulls
We think of skulls as a single bone, or perhaps two if we count the jawbone as part of the skull. It sure acts like a single bone, but this isn't really the case because it is fused.
So, how many bones are in a cat skull?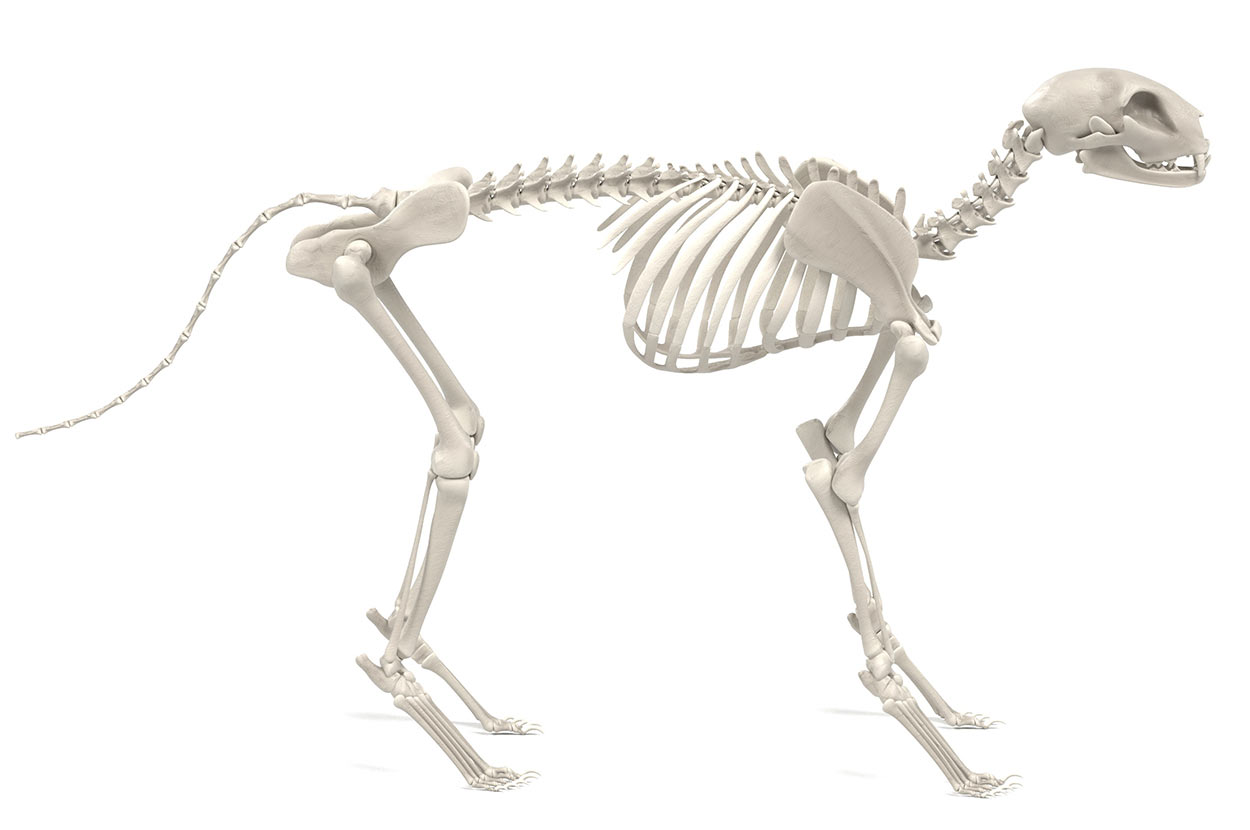 It may surprise you, but a cat's skull actually consists of about 29 bones.
This is one of the reasons why there's no straight forward answer to "how many bones does a cat have?"
Most of the bones in a cat skull are connected by fibrous joins called "sutures", so that overall they create one structure.
However, even vets and zoologists don't always agree how many areas of the cat skull count as separate bones, so the total number is a little open to interpretation!
Who would have thought that counting cat bones could be so complicated!
And, the other end of the cat is just as complex! Cat's tails, which we often take for granted, are actually different and cats can have different numbers of bones.
Cat Tail Bones
Cat tails are wonderfully developed and help your cat balance, leap, and land on its feet when he falls. However, cats' tails are another reason why not every puss has the name number of bones.
The cat tail skeleton is basically an extension of the cat's spine, and the cat tail bones contain more vertebrae, called "caudal vertebrae".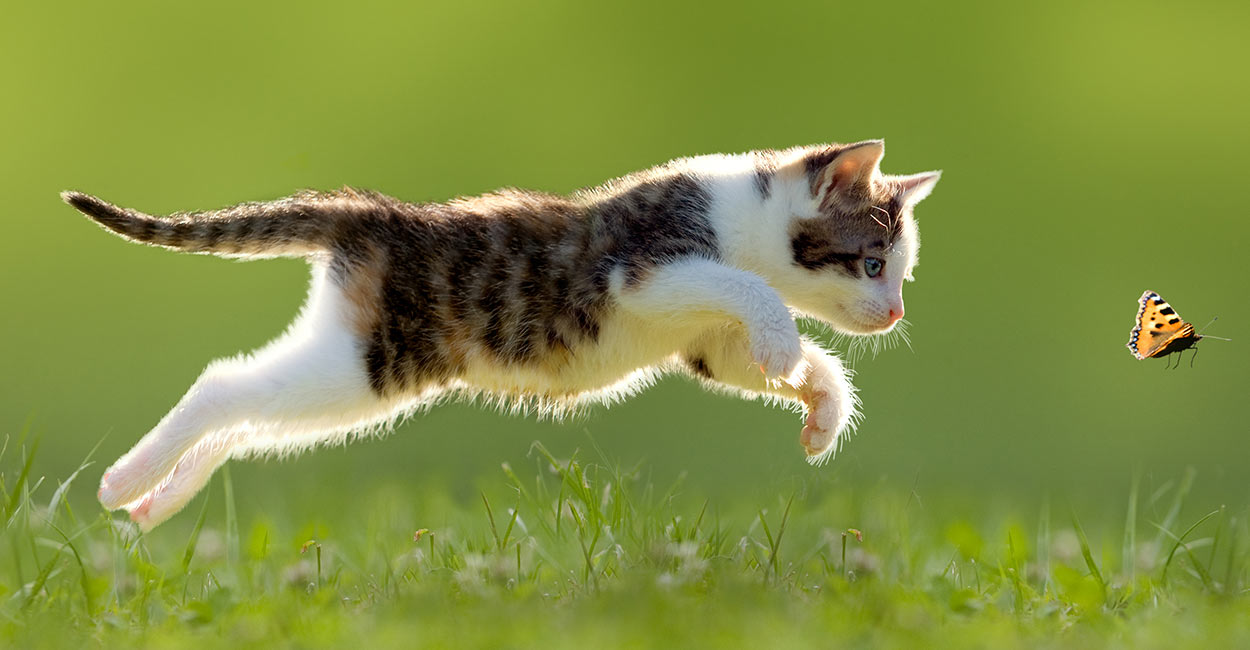 So how many bones are in a cat tail on average?
Well, a typical house cat skeleton has 18 to 23 caudal vertebrae, so this again means that our number of 245 bones is in trouble!
Cats with more caudal vertebrae have longer tails, and cats with fewer caudal vertebrae have shorter tails. Some Manx cats even have none!
Cats use their tail bones to help keep their balance on narrow surfaces such as the top of a fence. By using their tails to counterbalance the weight of their hips, they manage to fall less often!
Now, we mentioned that a cat's tail is an extension of its spine, so we will look there next in our journey through cat anatomy.
Cat Spinal Anatomy
Next let's shimmy up the cat backbone a little way and look at how their spine is specialized for added feline greatness.
Scholars of cat spinal anatomy divide the vertebrae into regions: those in the neck are cervical vertebrae, and the ones over the ribs are thoracic vertebrae. The region over the abdomen contains the lumbar vertebrae.
Where the spine meets the pelvis there are a cluster of sacral vertebrae. Finally, as we have seen, the tail bones are known as caudal vertebrae.
Of course, that leads us to our questions. How many bones are in a cat spine?
Almost all mammals, including cats and humans, have seven cervical vertebrae in their neck.
But, cats have 13 thoracic vertebrae against our 12, and seven lumbar vertebrae to trump our five. You might not think that makes much of a difference, but these extra few bones give cats a very flexible spine that is the source of their agility.
Why Do Cats Have Longer Backbones Than Us?
We've all seen cats twist and turn in mid fall, before landing gently on their feet. Did you know that cats use their extra long spines to achieve this, one of their most impressive and best-known skills.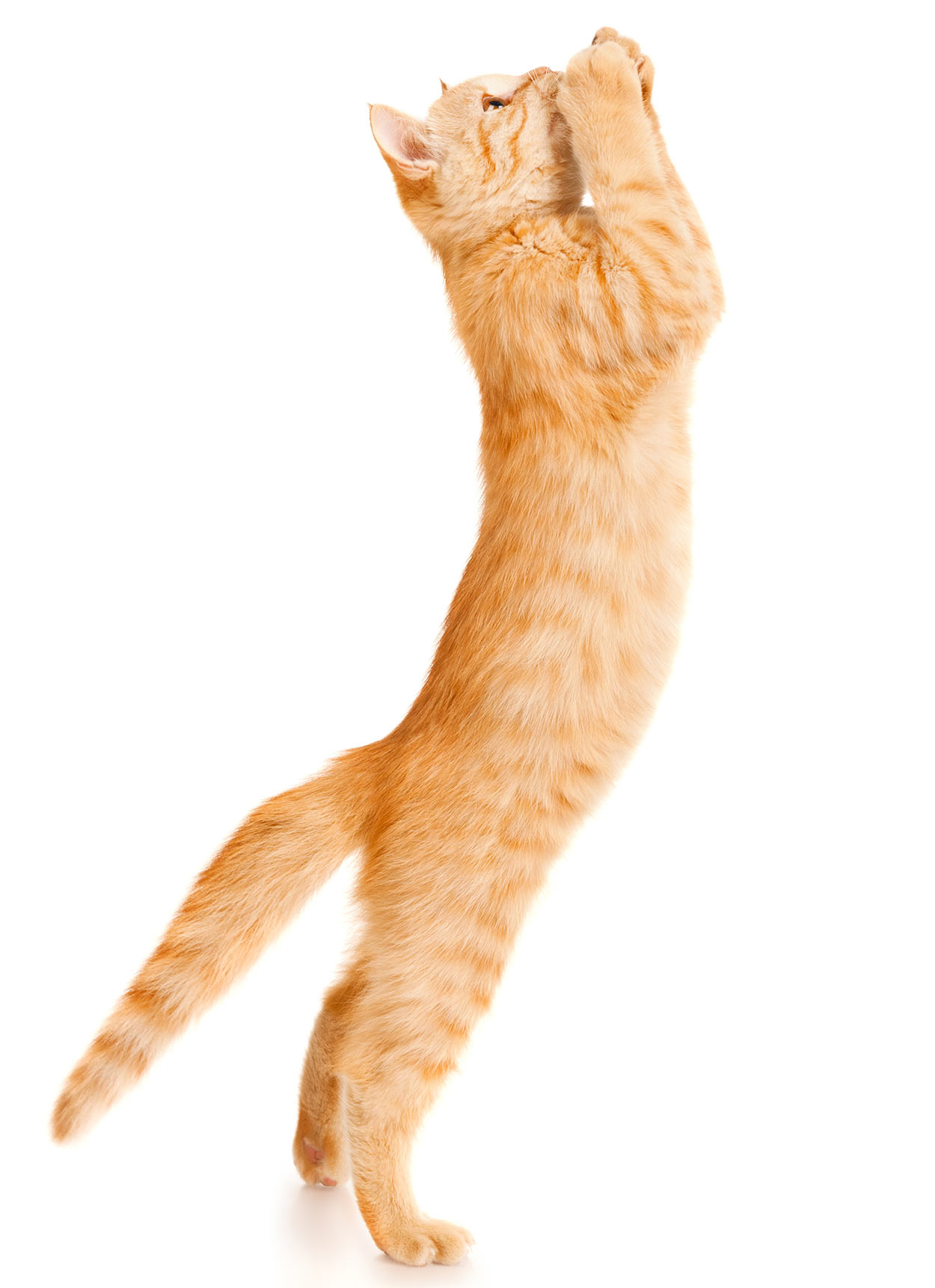 Your cat's ability to land on their feet is governed by something called the 'righting reflex.' This is a precise sequence of mid-air twists and turns they perform in mid-air to make sure they are the right way up before they reach the ground.
Without their extra vertebrae, their spine wouldn't be flexible enough to make these twists as quickly as they need. Without such a flexible spine, their reputation for landing on their feet might not exist.
If you are interested (and it is a great subject), you can read all about how cats right themselves in mid-air and the role of their backbone in our article Do Cats Always Land On Their Feet?
Of course, while the spine lets cats twist in mid air, and absorbs some of the shock when they land, their legs are crucial. As we will see, their legs are also powerful, giving the ability to leap and catch prey.
Much of this strength is because of the cat leg bone structure. We'll look at this, next.
Cat Leg Bones – Hind Limbs
So, let's move on to cat leg bones.
As we all know, cats have powerful hind legs, helping them climb and leap long distances to catch prey.
To work with their powerful hind leg muscles, cat leg bones are strong and flexible. They support this wide range of movement and, compared to our own legs, their layout may surprise you.
For a start, the bone we think of as our thigh bone (or femur) is right up in their haunches.
And, the bones at the top of their leg at the top of their leg are the tibia and fibula, bones that we think of as our shin bones.
So, what's in their shins, I hear you ask?!
Cats actually have a metatarsus, which is a long foot bone just like the ones we can feel through the top of our feet! This configuration is beautifully adapted for propelling our cats high and far when they need to leap.
Leaping is one thing, but what about landing? Cat forepaws are perfectly designed to absorb the shock when they land. Of course, they also give cats agility and speed when hunting and fighting.
Cat Leg Bones – Fore Limbs
Even though we think of cats as having four legs, when we talk about cat skeleton anatomy, we give the bones in their front legs the same names as the bones in our arms.
Just as another interesting little fact, cats are much less likely to break the bones in their forelimbs than in their hind legs.
Approximately three quarters of long bone fractures seen by vets are in the femur or tibia.
In contrast, fractures of the long bones in the fore legs only account for about 16% of long bone fractures.
The strength of cat forelimbs is partly due to the strong bone structure. However, part of it is because cats have inbuilt shock absorbers.
That's why, perhaps the most interesting thing about our cats' front legs is how they attach at the shoulders…
Do Cats Have Collarbones?
We humans have long collar bones, called clavicles, which connect our sternum to our shoulder blade and create strength and rigidity.
In contrast, cats' shoulder blades are only attached to the rest of the body by muscle rather than bone.
This important adaptation gives them a much larger range of movement in their shoulder joint than humans, so they can run with long strides
Cats do have collarbones too, but much smaller ones. Another bonus with this cat skeleton structure is that small collarbones mean cats can squeeze through small spaces.
After looking at legs, what's next in our interesting journey around the cat skeleton? Yes, of course, it's time to look at cat paws. Cats' paws allow our felines to move silently, yet make fearsome weapons when they unsheathe their claws.
Cat Paw Bones
What about the ends of their legs, where our cats' skeletons meet the ground?
Some interesting cat paw skeleton anatomy happens right at the tips of their toes, in the final phalanges (toe bones).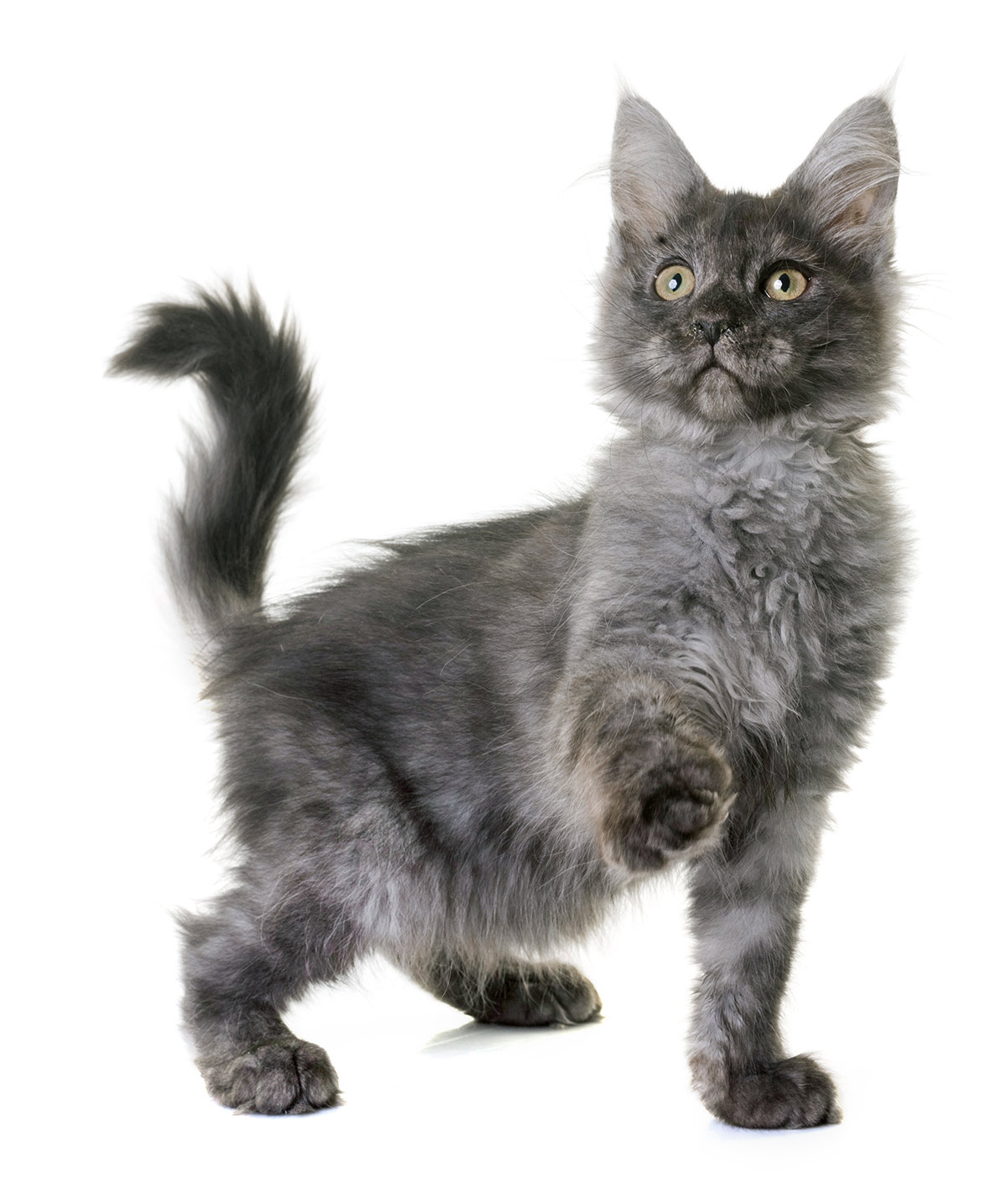 Unlike our finger and toe nails which grow from nail beds in our skin, cats' claws grow directly from these phalanges.
This makes them strong for catching prey and gripping the ground. These claws allow cats to cope with vertical surfaces as they run and climb. A cat's retractable claws are part of its fearsome armory, all supported by a clever bone structure.
Perhaps we should finish with what some of you may think is a stupid question?
Why Do Cats Have Bones?
Okay, this sounds like a silly question, but we want to give a final shout out to all the amazing things our cats' bones do besides hold them up, keep them balanced, and protect their internal organs.
First, the marrow inside cat bones makes red blood cells and some white blood cells. This is important for keeping your cat healthy, making sure that oxygen goes where it needs and protecting kitty against infection.
And second, cats use their bones to store fat, and even some minerals such as calcium and phosphorous.
Put simply, a cat skeleton is a finely engineered, multi-tasking marvel! Who would have known all of these fascinating cat skeleton facts just from looking at a cat skeleton picture? The cat's skeleton structure is what makes them supreme hunters, giving them all the tools they need to survive.
So, when you look at your plump moggy playing with her toys, stop to think about the marvellous cat bone structure that lets her do this.
Cat Skeleton Summary
So, we've found out that the simple answer to the question "how many bones does a cat have?" is "about 245". You now know how fused cat bones in the cat skull and different numbers of tail vertebrae affect the count.
But, we hope you'll agree that trying to look at why the answer is so complicated gave some fascinating insights into the inner workings of our feline pals.
Overall, a cat's skeleton is built for agility, hunting, and balance. The spine and tail especially are adapted for hunting on high, narrow surfaces (like tree branches) and surviving a fall. Cat's skeletons help them to be such amazing acrobats.
Without their amazingly specialized skeletons, cats would be unable to do many of things we consider so essentially cat-like. Without their unique bone structure, cats simply wouldn't or make such distinctive pets.
Do You Have A Story About Your Cat And Bones?
As always, we love hearing from you, our readers. If you have any stories, please feel free to share them with us in the comments below. Just as an example.
Is your moggy a Manx cat with missing vertebrae?
Have they ever been unlucky enough to fracture a bone?
We updated this article in June 2019, but we will try to include some of your interesting comments in the next update.
Additional References
Done, S. H., Goody, P. C., Evans, S. A., & Stickland N. C., 2009, Color Atlas of Veterinary Anatomy Volume 3, The Dog and Cat E-Book, Elsevier Health Sciences.
Hudson, L. & Hamilton, W., 2017, Atlas of Feline Anatomy for Veterinarians, CRC Press.
DeForest, M.E. and Basrur, P.K. Malformations and the Manx Syndrome in Cats. Canadian Veterinary Journal. 1979.
Puria, S., and Steele, C. 2010. Tympanic-membrane and malleus–incus-complex co-adaptations for high-frequency hearing in mammals. Hearing Research.
Pitakarnnop, T., Buddhachat, K., Euppayo, T., Kriangwanich, W. & Nganvongpanit, K. 2017. Feline (Felis catus) skull and pelvic morphology and morphometry: gender-related difference? Anat. Histol. Embryol.