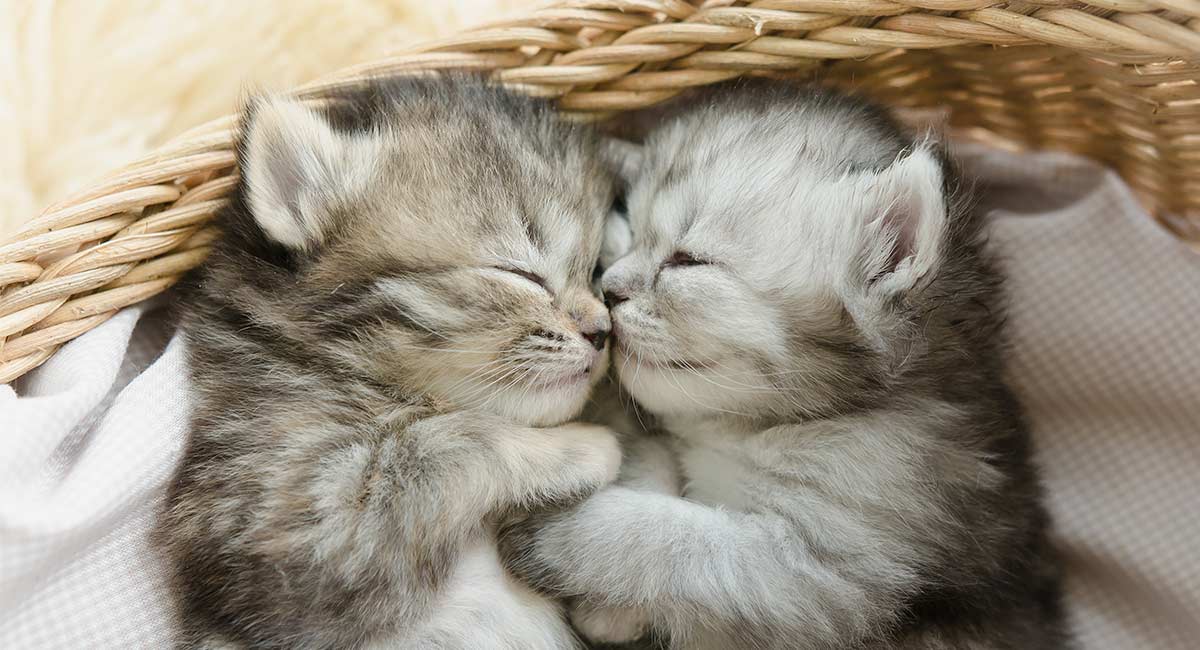 Male or female cat—it's the battle of the sexes, feline edition.
Lots of variables could make one cat a better pet-match for you than another. And you're right to wonder if sex is one of them.
You may be wondering, are male or female cats more affectionate?
Do the sexes have temperaments?
What about health issues specific to the gender? And what's the deal with neutering versus spaying?
Is there even a big enough difference between male and female cats to worry about?
How ARE you going to decide between a male or female kitten?
These are great questions, and we are here to help you sort it all out!
Keep reading to learn all about male vs female cats, and why it's important to know what you're getting into with each sex.
Male or Female Cat – Which to Choose?
Are there really male cats vs female cats pros and cons?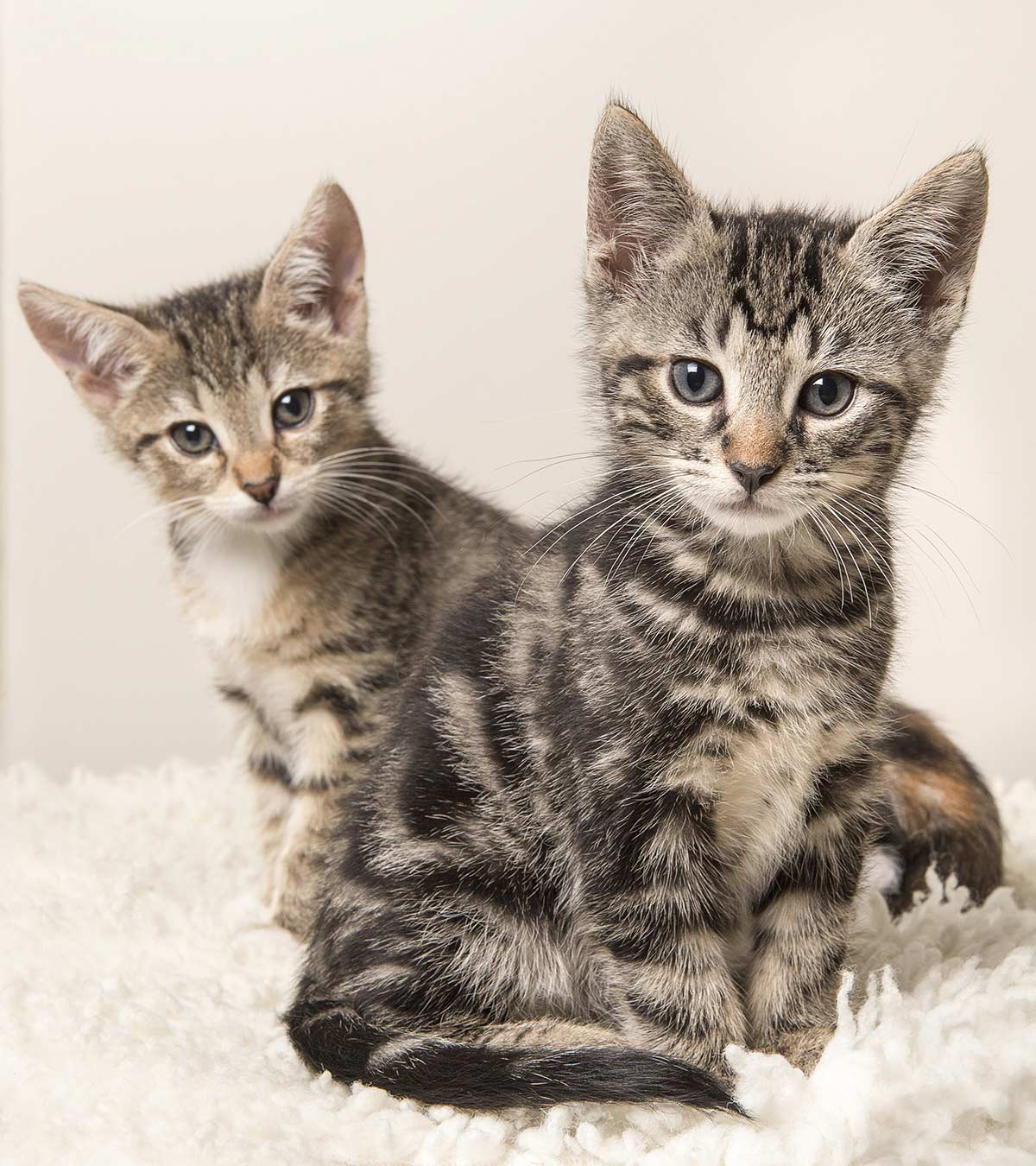 This is a good question and something certainly worth looking into.
But what is the main difference between male and female cats, aside from the obvious?
It seems that many people have some serious opinions on the subject.
One informal online survey concluded that around 55% of people considered male cats to be more affectionate while 25% claimed female cats showed the most love.
The other 19% felt that the sex of the cat had nothing to do with the amount of love it offered up.
So, is there any truth to this poll, or is it simply a collection of opinions from biased cat owners?
Let's find out!
Basic Temperamental Traits of the Male Cat
Believe it or not, there are differences between male and female cats' behavior.
When choosing between a male or female cat, you may want to take this into consideration.
Many studies suggest that male cats are indeed bit more affectionate than their female counterparts.
But there are other traits you should consider as well.
Aggression
Intact male cats can be more aggressive towards other household pets and family members due to their high levels of testosterone.
Luckily, neutering can reduce aggressive or hostile behavior.
Territorial Tendencies
Along with aggression comes more territorial behavior.
In general, unneutered male cats are said to display a more confrontational nature and can be downright possessive of their domain.
And one unfortunate way male cats mark their territory is by…
Spraying
Cat urine tends to have a strong odor, and unfortunately, a male cat who is feeling particularly territorial will spray urine not only outside of his house but inside as well.
However, male cats are also known to spray a very stinky liquid that is not urine at all and that is cloudy white or clear.
While some male cats spray to mark their territory, others will do it when they are nervous or angry.
Wandering
If you plan on letting your cat come and go as it pleases, be prepared for a male cat to wander more than a female cat.
While both male and female cats like to explore, male cats tend to take longer trips than their female counterparts and can be gone for days at a time.
Fighting
Male cats may be considered to be more affectionate, but just because they are lovers doesn't mean they aren't fighters!
Male cats can be competitive and will especially start fights with cats of the same sex.
Predatory Instincts
Male cats can sometimes go after small kittens.
This is an instinctual thing and for this reason, it is safest to keep mother cats and newborn kittens away from adult male cats.
More Loving Towards Owners
So yes, you may have a lover boy on your hands when it comes to male cats.
Studies show that while unneutered male cats may be more aggressive and territorial, they may also display more affection and be a bit more playful.
Mating Habits
Once a male cat reaches sexual maturity he will tend to want to spend most of his time looking for a mate.
He will often give mating calls and will enjoy spending most of his time outdoors than inside with you. Traitor!
Luckily, neutering seems to be a solution for many of the more negative qualities of a male cat (more on that in a minute).
For more male cat facts, take a look here.
For now, let's see what the female cat has to offer.
Basic Temperamental Traits of the Female Cat
Just like with their male counterparts, many of the personality traits in a female cat will depend greatly on whether or not you choose to spay them.
Some of the main personality traits of a female cat who has not been spayed are listed below.
Raging Hormones Due to Estrus
Estrus is a fancy word for the female feline's cycle.
A female cat reaches sexual maturity around six months old and thus begin their seasonal heat, which generally comes every three weeks.
Sings of estrus include excessive meowing and "whining", restlessness, more affectionate behaviors than normal or more irritable behaviors than normal, and urine spraying.
However, unlike human females, female cats do not bleed during their menstrual cycle.
If you notice bleeding in your female cat, contact your veterinarian as soon as possible as this could be a sign of a number of health issues or even pregnancy or miscarriage.
Find our more about your female cat in heat here.
Urine Spraying
Yup, just because your cat is a female doesn't mean you get out of the urine spraying issue.
Your female cat will typically spray when she is in heat – to mark her territory and to tell other females to back off!
But here's the thing—urine spraying can be stemmed by spaying, as your pretty kitty will not experience the hormonal rollercoaster ride that comes along with her monthly menstruation.
Alpha Cat
There is a reason female cats are called queens.
While the pecking order will be different if you have both male and female cats in the home, if you are living with only female cats then expect one of them to be queen bee.
Maternal Instincts
Many female cats have motherly instincts that expand beyond their own litters and sometimes even their own species.
While a male cat may be more affectionate with you, a female cat may literally try to take care of you.
Female cats have been known to hunt for their owners, leaving them gifts of dead birds and rodents.
If your female cat does this for you, she is basically telling you that you are a terrible hunter but that you shouldn't worry, because she has your back.
Female cats have also been known to take on a motherly role towards other kittens who are not their own and will often mother adult female cats as well.
On the other hand, some female cats can become hostile towards other litters and same-sex cats.
It all just depends on the kitty and her temperament.
Territorial Behaviors
Just because female cats lack testosterone doesn't necessarily make them less territorial.
However, unlike male cats, females are less likely to spray urine and more likely to rub their bodies all over the thing they want to mark as theirs.
This could include anything from bedding to trees, to toys, to the couch, to you!
You may notice more of this behavior when your female cat is in heat.
Social Butterflies
Female cats bond more strongly with cats of the same sex, greeting them with nose-kisses and showing affection by rubbing their faces together.
While males also have a way of greeting other cats, they do it less often than females do.
So now that we know the basic love language of male and female cats, let's move on to their unique health issues.
Health Issues of the Male Cat
Some health issues that affect male cats are not the same as the health issues that affect female cats, and this is often due to hormone levels.
Male cats are more predisposed to:
Feline tail gland hyperplasia – also known as "stud tail", the glands at the base of the tail produce too much sebum, leading to blackheads, infections and a foul odor.
Urinary tract obstruction – either because the tissues have been swollen by infection, or the tubes are blocked by "stones".
And of course peculiarities of male anatomy: undescended testes, prostate cancer, and testicular cancer.
Health Issues of the Female Cat
The most common sex-specific ailments of female cats are
false pregnancies and re-absorption of kittens
chronic endometritis – inflammation of the tissue lining the womb
uterine tumors
mammary cancer
and uterine cysts.
Male or Female Cat – Spaying Verses Neutering
When bringing a new cat into your home, one of the most important things to consider is spaying and neutering.
Many people feel it's best to spay or neuter your cats.
Spaying and neutering not only prevents unwanted pregnancies, but reduce the risk of several sex-specific illnesses (including cancers).
And they decrease some of the unwanted behaviors typically associated with trying to find a mate.
Neutering your male cat is surprisingly affordable, with the average cost being less than $100.
The price of spaying your female cat may cost a bit more than neutering a male cat, with prices averaging around $200.
If you still find those prices a bit steep, there are many free or discounted options available for both sexes.
Choosing Between a Male Cat and Female Cat – Could It All Boil Down To Looks?
Perhaps nothing you've read so far has made you rule out either sex altogether.
But have you always imagined yourself with a ginger cat, tortoiseshell, calico or delicate dilute calico cat?
Well you might be interested in the fascinating way some coat colors are sex-linked in cats!
Let's start with ginger cats. Did you know that about three quarters of ginger cats are male, and only one quarter are female?
To find out why that is, read about ginger color inheritance over here.
And if you think those ratios are skewed did you know that only approximately one in every 3,000 male cats are tortoiseshell or calico (including dilute calico)?
It's all to do with the way orange and black pigments are inherited by male vs female cats, and we've got a step-by-step guide to understanding why right here.
So, Male or Female Cat – Which is Right for Me?
Should I get a male or female cat? Are male or female cats better? Who is more affectionate, and which has the least amount of health issues?
When trying to decide between a male or female cat, the truth is that it will mostly depend on you.
Consider your lifestyle, and what you are or are not willing to deal with.
For the most part, the differences between male and female cats are small enough that you may hardly notice them once you get them spayed or neutered.
However, if you opt not to spay or neuter your cats, the gender differences can show themselves in pretty loud-and-proud ways.
We hope this article has been helpful in helping you decide which sex of cat would best suit your lifestyle!
Did You Choose A Male Or Female Cat?
What made your mind up for you in the end?
Tell us your though processes in the comments box and help future cat owners make their own choice.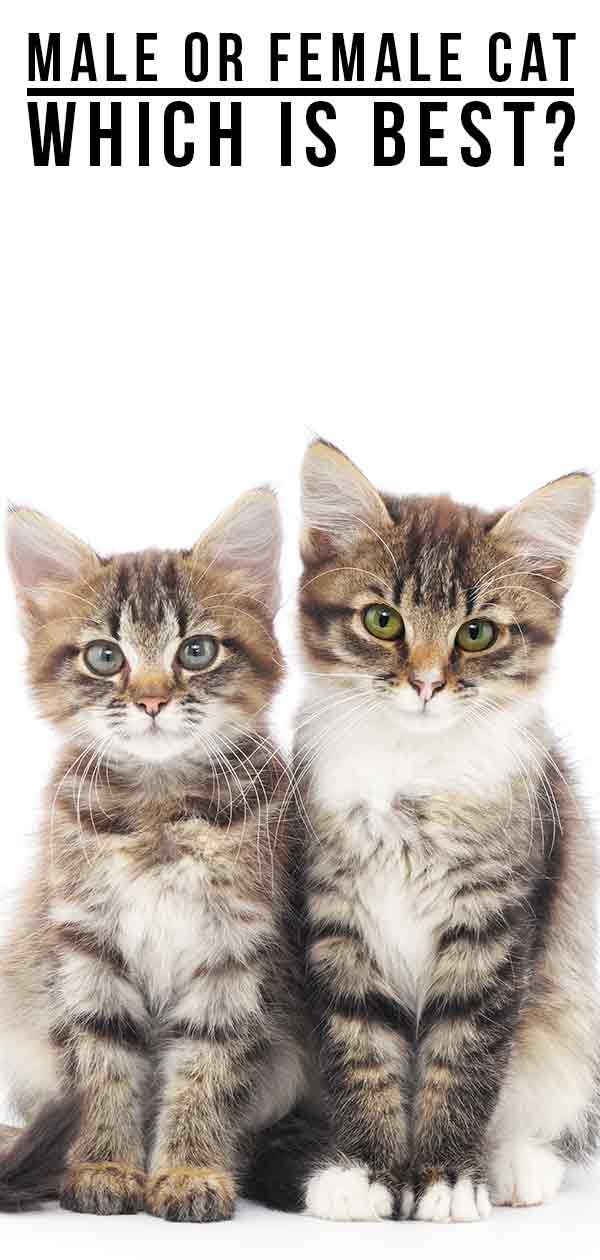 References
Hoenig, M. et al, Effects of Neutering on Hormonal Concentrations and Energy Requirements in Male and Female Cats, American Journal of Veterinary Research, 2002.
Natoli, E. et al, Bold Attitude Makes Male Urban Feral Domestic Cats More Vulnerable to Feline Immunodeficiency Virus, Neuroscience and Biobehavioral Reviews, 2005.
Hosie MJ, et al, Prevalence of Feline Leukaemia Virus and Antibodies to Feline Immunodeficiency Virus in Cats in the United Kingdom, The Veterinary Record, 1989.
Hart BL & Cooper L, Factors Relating to Urine Spraying and Fighting in Prepubertally Gonadectomized Cats, Journal of the American Veterinary Medical Association, 1984.