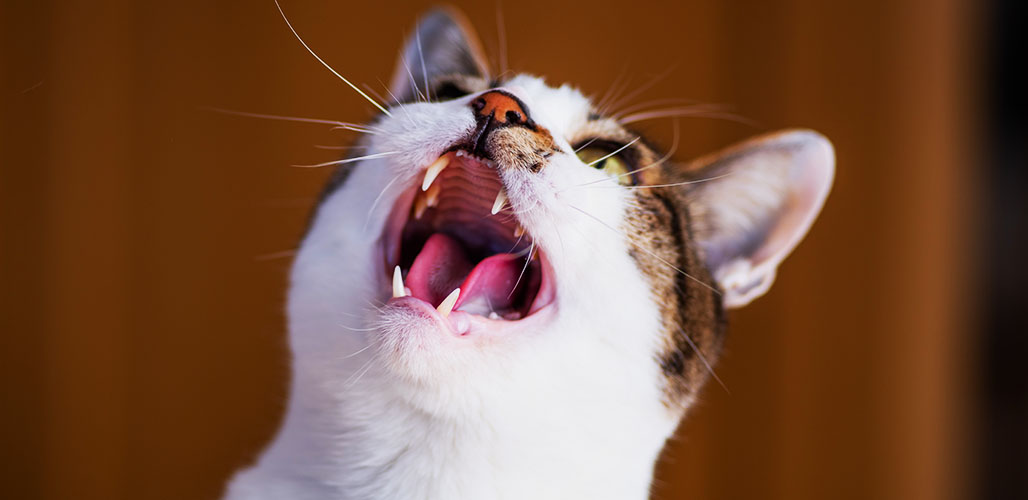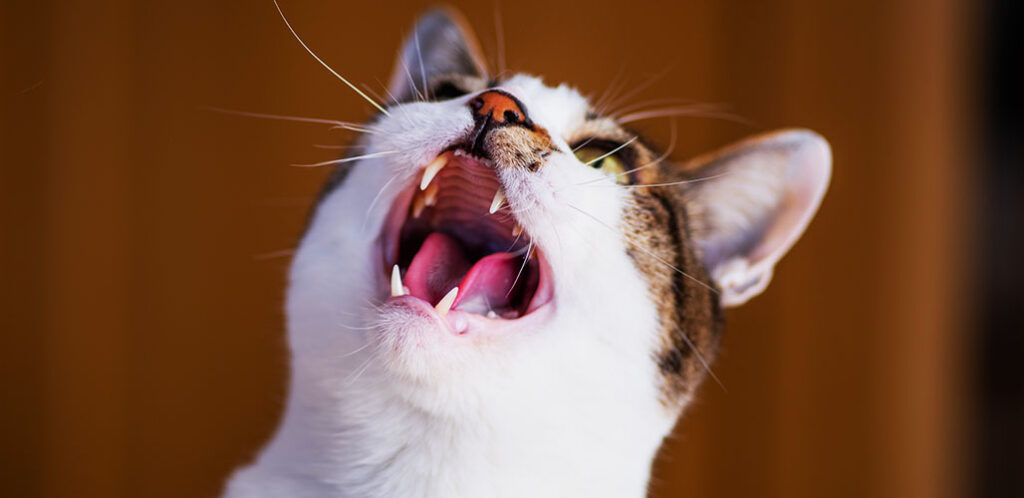 It's something of an understatement to point out that feline courtship and mating is a little different to our own. Female cats in season are programmed to behave in ways which achieve the best possible chance of mating. These include making some pretty startling and loud noises to alert nearby males to her availability. Sometimes the hormones driving these behaviors can make them feel agitated and out of sorts as well. So cats in heat might also meow at their owners more often too. When my cat is in heat and won't shut up about it, here are the things I do to try and restore some calm and quiet. Plus some other ideas which aren't right for my cat right now, but might be right for yours.
Contents
My cat is in heat and won't shut up
Female cats in heat can be remarkably, ear-splittingly noisy. Whether you've been startled by a first encounter with it, or you're at your wits end following a whole season of it, it's normal to want for it to stop. Luckily, whilst many, many cats are relinquished to shelters every year, making excessive noise is very rarely the reason why. Which means the vast majority of cat owners are finding ways to restore quiet, and live peaceably with their cat – even when she's in heat.
Your cat's heat cycle
Unspayed female kittens go into heat for the first time during the first spring after they are born. They can be as young as 4 months old, and all of them have their first heat by the time they're a year old. Thereafter, they will come into heat every 2-3 weeks between February(ish) and October(ish), with a pause only during the depths of winter, when the cold would reduce their kittens' chances of survival. This cycle will continue for the rest of their life, except for when they are pregnant, or if they are spayed.
While your cat is in heat, you're likely to notice very specific behavior changes, such as:
Being very flirty and affectionate.
Making loud yowling and rutting cries.
Rolling around on the floor.
Moving her tail to one side if you rub near her butt (flagging).
And perhaps meowing at you more often too.
Why is she making so much noise?
Female cats are driven by instincts and hormone changes during heat to use various behaviors to secure a mate. The hardest to ignore of these are the vocalizations she uses to make sure every tom cat in the vicinity knows she's close by and receptive to mating. Female cats' mating cries are variously described as rutting cries and yowling. They have been compared to a baby crying, and some people say their cat sounds like she's in pain. If you have any unneutered males living nearby, you might also hear their replies, or even find them beating a path to your door!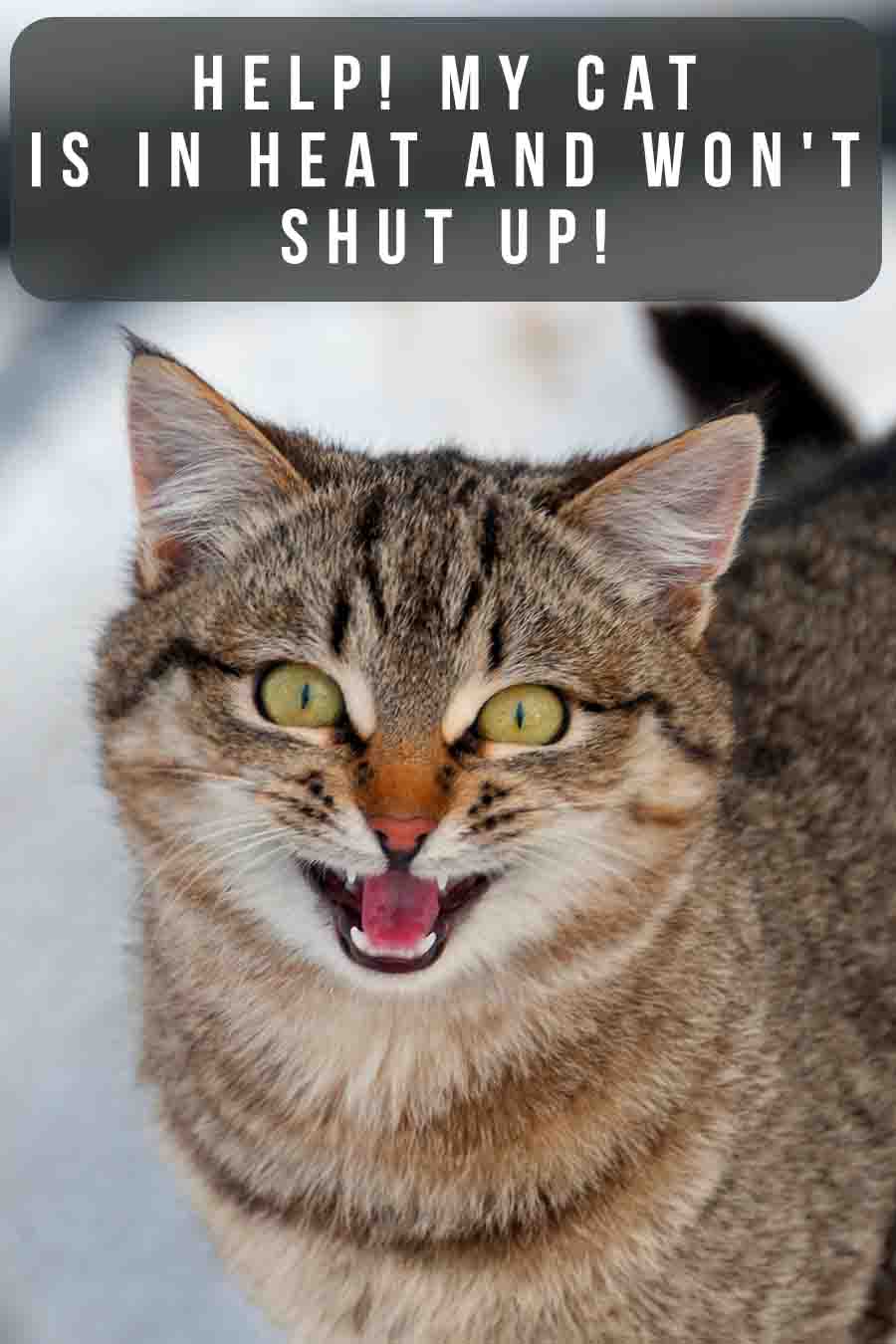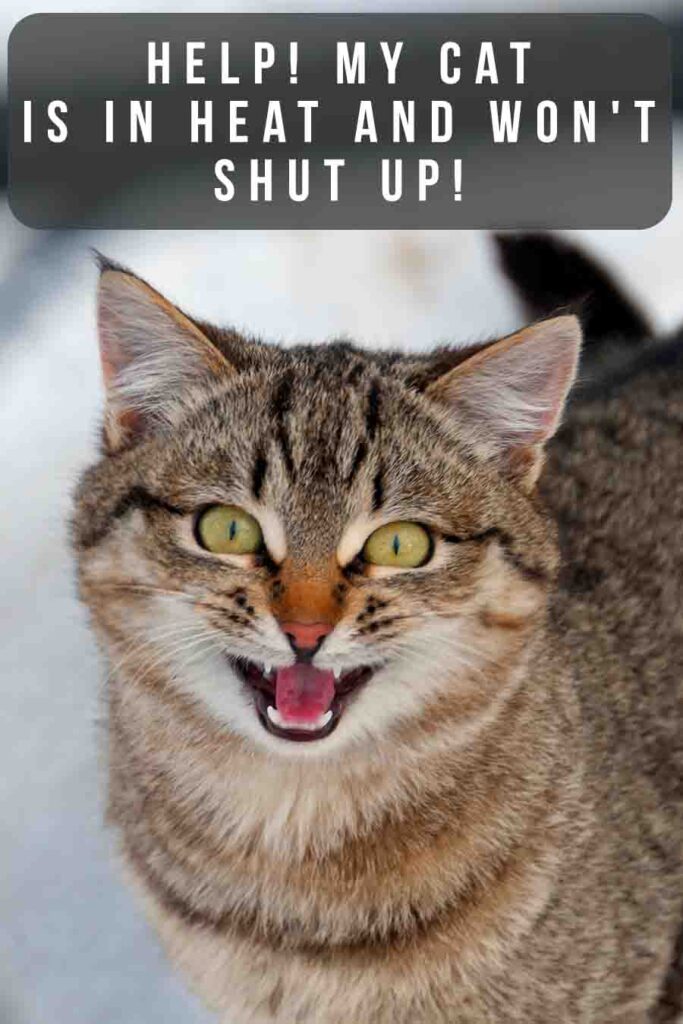 On top of the vocalizations she makes directed at male cats, you might also discover your cat meowing directly at you more often. Cats almost always reserve meowing for communicating with their human family, to communicate some kind of unmet physical or emotional need (like hunger, or boredom). During heat, hormone changes are also likely to be making your cat feel restless and unsettled. Whilst she isn't in pain, she might feel a bit uncomfortable too. So she might meow at you for company, attention, distraction or simple reassurance.
What you can do about it
The noise a female cat makes during heat can range from being a nuisance, to a nightmare. If you work from home, it can be impractical and disruptive – especially if you need to make calls to colleagues, customers or clients. And if she keeps it up during the night, the broken sleep can make you miserable! Luckily, there are lots of strategies for restoring quiet, and most cat owners find one which works for them:
Closing doors and windows
Providing distractions
Giving more attention
Medicines
Spaying
Closing doors and windows
Researchers believe that pheromone signals from male cats are also partly responsible for inducing mating behaviors in female cats. That is, her yowling isn't purely triggered by hormonal changes inside her. The vicinity of male cats is an external factor which is somewhat within our control. Keeping windows and doors shut to stop male pheromones wafting in might be enough to keep your girl that little bit more calm, and thus quiet.
Providing distractions
Cats in heat can be laser-focussed about their instinct to breed. But, distracting your cat with things like interactive games, toys, and catnip may help take her mind off the matter. Try teaser wands, laser pointers and treat dispensers. She's likely craving company and attention, so games that involve you too will be most effective.
Giving more attention
Your cat might also feel calmer, and use less meowing to get your attention, if you give her some love before she needs to ask for it. Make a proactive effort to give her more strokes and cuddles. Remind yourself that it's only for a few days and then she'll be back to normal for a while.
Medicines
Veterinarians may, in some circumstances, prescribe synthetic progesterone, which suppresses sexually driven behaviors in female cats. However, this has a controversial history, since dosage needs to be very closely controlled, and administering too much can cause side effects including permanent hormone imbalances, blindness, diabetes, and lesions in their mammary and uterine (womb) tissue. Modern products are believed to be safe in appropriate dosages, but some veterinarians remain wary. Talk to yours if this is an avenue you'd like to explore.
Spaying
Spaying is surgery to remove a female cat's uterus (womb) and ovaries. Since the ovaries are the main production site of estrogen, which triggers mating behaviors in female cats, removing them also reduces or eliminates mating behaviors. It's obviously a pretty permanent solution, and it won't be right for everyone. Discuss the pros and cons, and how they apply to your cat, with your veterinarian.
My cat is in heat and won't shut up – summary
It's perfectly normal for female cats to make a lot of noise during heat. It's a combination of cries and yowls to get male cats' attention, and meows to get you're attention too. There are lots of strategies for reducing her vocalizations and restoring peace, so this problem rarely becomes a deal breaker for cat owners. If you're really struggling with it, ask your veterinarian for support – they're there to help!
Is your cat very noisy when she's in heat? Let us know what calms her down in the comments box down below.