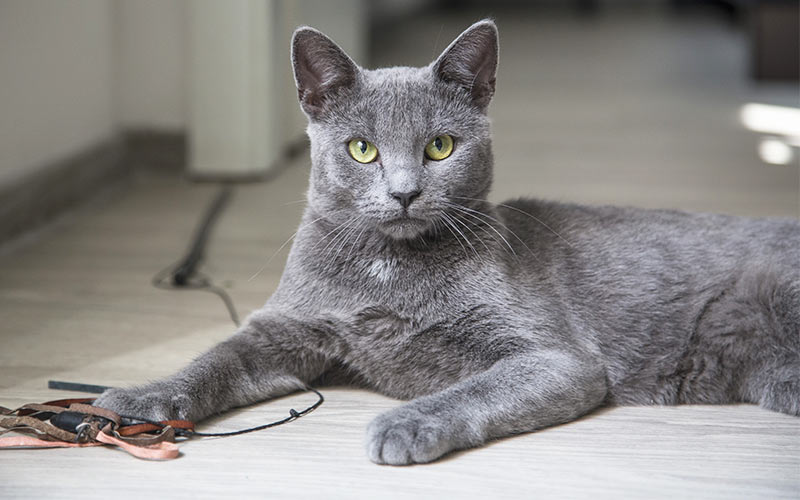 Welcome to our complete guide to the best names for grey cats. Bringing you over 100 amazing grey cat names for your new kitty!
Grey cats are so purrrfect in every way, aren't they!
Speaking of which, did you know that five of the most well-mannered, sweet-natured cat breeds in the whole world feature the color gray?
(And if you didn't know this, we can bet it doesn't surprise you one bit!)
But even if your new grey cat is a precious joy to be with, sometimes picking out names for grey cats can initially feel more stressful than peaceful.
In this post, we want to take all the stress out of choosing from amongst the many possible names for a grey cat so that you can hone in on grey names that suit your new fur baby to a "T!"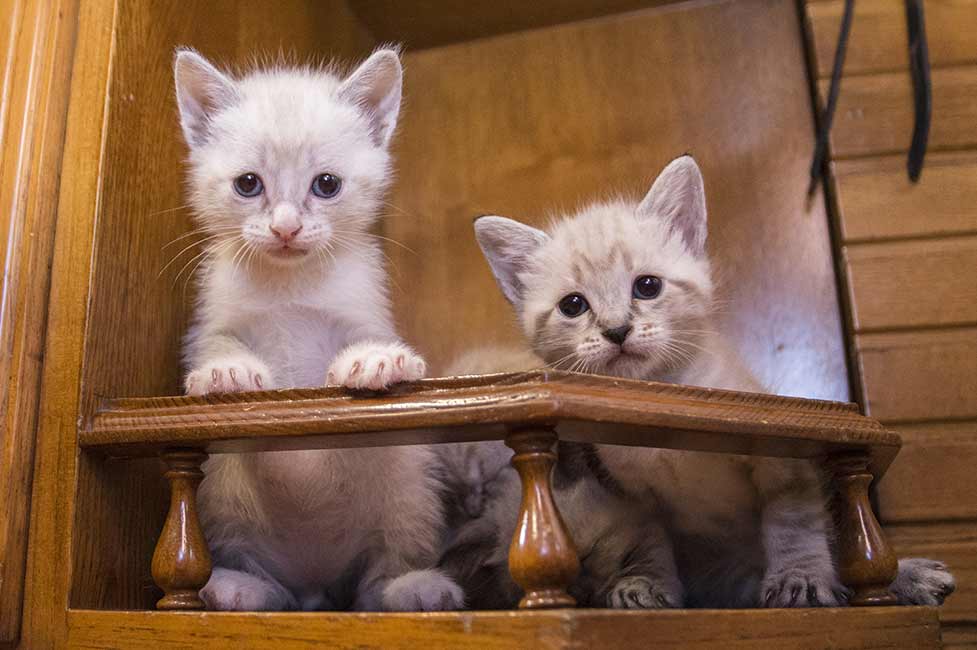 By the way, there are lots of creative ways to approach choosing gray kitty names. So if one approach doesn't work, just try something else!
In this post, we approach the naming process from lots of fun angles so you are sure to find a perfect fit in the following list of gray cat names!
Names for grey cats
One particularly great way to choose between all the options for grey cat names is to closely study your feline sidekick's unique coat color.
Is she a stunning slate grey? Or perhaps a soothing blue gray? Is the shade of grey in her coat more on the light side, in the mid range or on the dark side? Is she silvery or maybe more dusky gray?
Do you see flecks of white, lilac, lavender or other colors that subtly accent her gray beauty?
Is she a tabby with a blend of black, white, grey and maybe even a splash of orange here or there?
Take a few minutes to just observe your kitty closely before you start working on considering great names for gray cats based on coat color.
BRAINSTORMING TIP!
If a friend asked you to describe your new kitty's fur color, what would you say to them about it?
Jot down a few notes and then re-read what you wrote to get some fresh name ideas!
Now, without further ado, here are some fab fur color names for grey cats for your creative consideration!
Ash
Dawn
Dusky
Heather
Lilac
Pearl
Shadow
Smoky (or Smokey)
Storm (or Stormie)
Skye
Cool cat names for grey cats
If ever there were a color to fully convey a true "cool cat," gray surely would be it!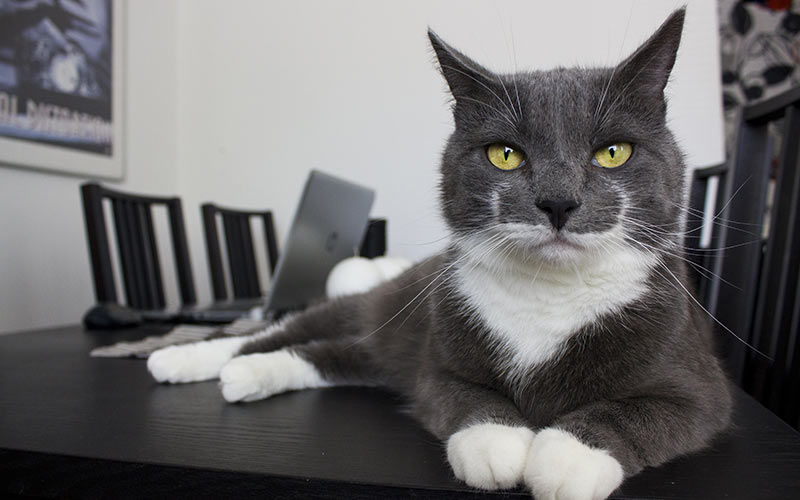 Whether your feline's particular brand of cool is the super-suave and sophisticated kind (think "James Bond" here) or more along the lines of groovy-cool-chill-out kind (think "Austin Powers" here), we think this list of cool cat names for grey cats might just include the perfect name for your cool gray cat!
Austin Powers (It has to be included)
Cinder-Ella
Gray Boy
Graycie
Grey Ghost
James Bond (ditto!)
Lady Grey or Earl (or Lord) Grey
Sir Sterling
Sylvester (the Cat)
Tarzan of Greystoke (or Sir Greystoke)
Cute grey cat names
Feline fanciers may disagree on many things, but there is one thing all of us seem to universally agree about: cats are very cute! And if cats are cute, kittens are even cuter!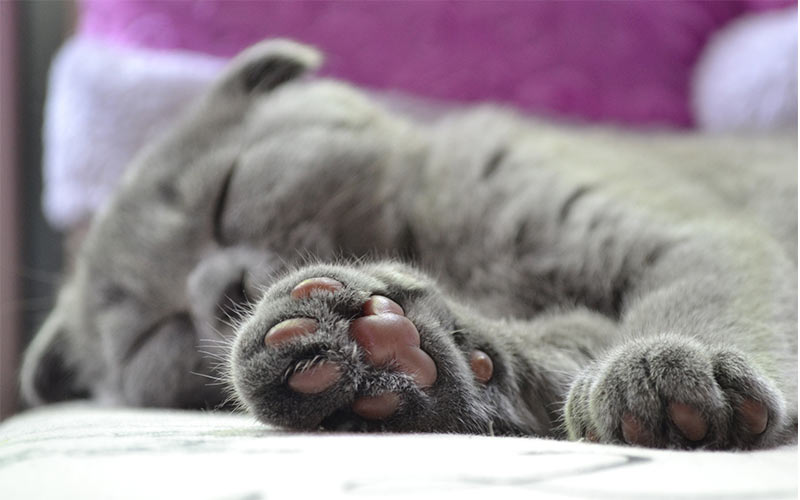 But sometimes your furball's extreme cuteness can actually get in the way of picking a real name for your kitty! After all, you can't just go around calling your kitten "super cutie kittykins" all day, can you? (Sure you can!)
But if you are looking for cute grey kitten names that will in time transition to become equally cute names for grey cats, these cute names for grey cats might be just what the name doctor ordered!
Disco
Ember
Misty
Mercury
Olive
Sage
Silverton
Sylvie
Tinder (heehee – we couldn't resist!)
Tinsel
You can find 200 more great cute cat name ideas here!
Unique grey cat names
While you are sleuthing out good names for gray cats, this is also a perfect time to start pondering all the great qualities and unique personality traits that make your gray feline so unique!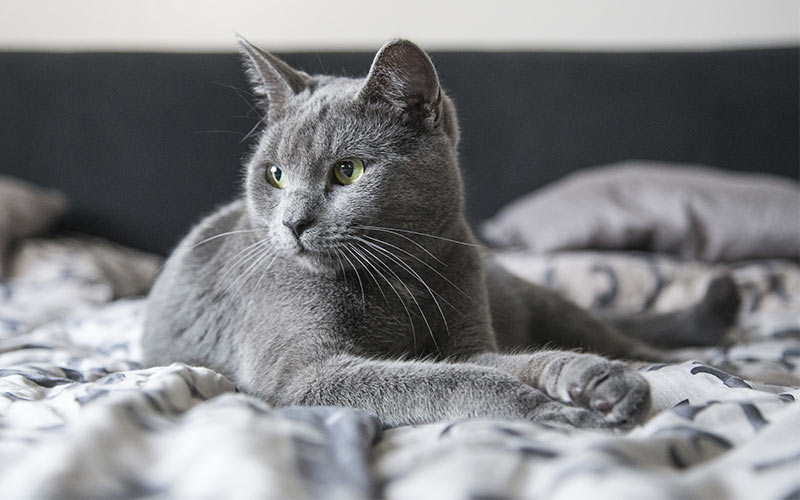 After all, just like you, no two kitties are ever completely alike. When you chose to share your life with your particular fur baby, you chose a being as unique, memorable and one-of-a-kind as you!
All that to say, if you still haven't found that perfect name among all the many great cat names for grey cats, contemplating your kitty's many wonderfully unique qualities might be your fast track to name success!
Here are some unique names for gray cats that might fit your new feline perfectly!
Anchovy
Bullet
Cinna
Eclipse
Flash
Jonah
Mystique
Opal
Rocket
Silverbell
Male cat names grey
Choosing grey male cat names can feel like lots of fun at first – there are so many great names to choose from! But then frustration sets in.
So many boy cat names grey ….how will you ever pick just one?!
Whether your challenge is picking out boy names for grey kittens or gray cats, take a look at this list of great names for grey cats to see if one pops out at you saying "Pick me! Pick me!"
Asteroid
Bandito
Comet
Darth
Dracula (or Chocula, if you prefer)
Grey Gatsby
Mack (the Knife)
Monarch
Sir Cinders
Zorro
Find 250 more awesome male cat name ideas here!
Female cat names grey
Maybe you've just brought home your little girl, and on the ride home you were thinking to yourself, "I'll bet it will be so easy to come up with grey female cat names for her!"
But now that you are finally home and your sweet grey furball is getting settled in, your mind won't cooperate and you are drawing a blank. You mentally scroll through grey female kitten names plus absolutely all of the girl cat names grey you can come up with, and still none of the names you think of seems like "the one."
Here are some fresh ideas for grey female cat names you might not have considered yet – we hope one of these will be calling your little kitty's name – literally!
Artemis.
Cami (for camouflage).
Champagne.
Gemma
Jewel
Karma (Chameleon)
Lady Stardust
Miss Mystic
Princess Elsa (the famous princess who froze everything to silvery ice!)
Queen Cleo (for Cleopatra)
Check out 250 more amazing girl cat names here!
Good names for grey kittens
When you are picking out names for gray kittens, and your little one is still just a tiny ball of fluff, you may not yet have enough information about his personality, habits, preferences or cute quirks to pick a descriptive name on that basis alone.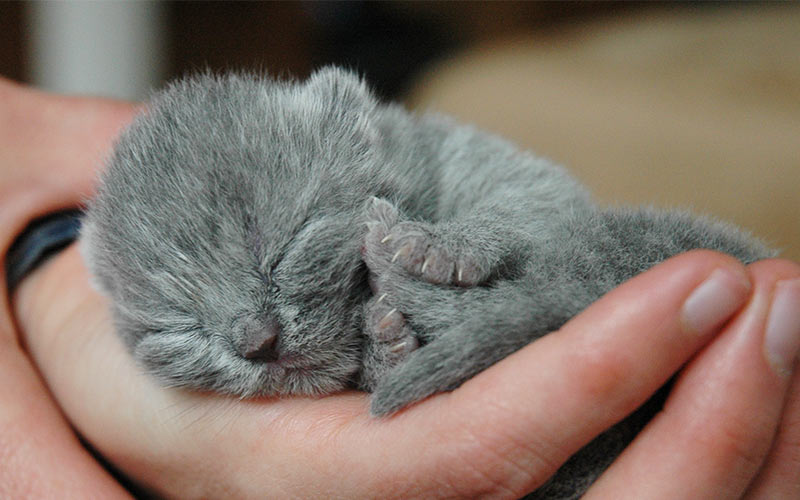 But this doesn't mean you can't still choose from some totally awesome names for grey cats that will be a perfect match for your bundle of fuzzy joy!
These gender-neutral gray kitten names could give you the inspiration you are looking for to name your sweet baby kitty!
Ash (for either Ashton or Ashley)
Chillie
Cloudy
Cocoa
Dusty
Hiccup (from "How to Train Your Dragon")
Inky
Midnight
Silvertoes
Snowball
Names for grey cats with blue eyes
Once you have caught a glimpse of a grey cat with piercing blue eyes, you are not likely to ever forget the striking beauty of this color combination.
But what most cat lovers don't know is that blue eyes in a feline is actually a form of albinism that manifests only in the eyes! Two genes are required to express (be passed on from cat parents to their kittens) in order for a kitten to be born with blue eyes.
One of those genes has the job of specifying the color of a certain body area (in this case, the iris of the eyes). The other gene is a dominant white color gene that masks all the other colors so the blue can show through.
This is called "pointed coloration." Perhaps the most interesting part out of all this, however, is that this mutation manifests to protect the cat from – wait for it – frostbite!
It does this by only making itself visible in body parts that maintain a cooler temperature, such as the eyes, the legs and the ears. These areas, which are cooler anyway, are more vulnerable to frostbite when the weather gets cold.
Intellectual explanations aside, if your gray cat also has blue eyes, that takes the task of choosing great names for grey cats to a whole new level! Here is a selection of names we love for gray cats with blue eyes.
Aqua
Astral
Blu (Blue or Bleu)
Indigo
Periwinkle
Sapphire
Silverbells
Spirit
Twilight
Topaz
Grey and white cat names
As you probably well know, even if your cat's predominant fur color is gray, often if you look closely you can see other, subtler colors mixed in.
For instance, perhaps your kitty may have the kind of cool coloration where she has splashes of white in places, or dashes of black or even orange or brown peeking out here and there.
Certain gray and white cat names seem like they were invented just for grey and white kitties, even if that isn't originally why their creators thought them up! This can make assembling a great list of names for grey and white cats as easy as thinking about things in nature (or in your pantry) that have a similar coloration to your cat.
Here are some fun gender-neutral name ideas that can work equally well for black and grey cat names or gray and white cat names!
Checkers
Domino
Lucky (like rolling a pair of dice)
Oreo
Panda
Patches
Smurf
Stormy (or Stormie)
Zebra
Ziggy
Celebrity gray cat names
If you have gotten this far and still haven't found that one perfect name for your grey cat, maybe what you need is a little celebrity cat-spiration!
For even more proof that celebrities really are just like the rest of us (except that they make a lot more money and appear with great regularity on magazine covers), check out these past and present-day celebs with grey cats and the names they chose for their fur babies.
Maybe your kitty's new name will be found on this celebrity feline list!
Comedian Ricky Gervais and his gray cat "Ollie."
Ed Sheeran and his gray kitten "Graham."
Rapper Macklemore and his tabby cat "Cairo."
Katy Perry with her gray cat "Kitty Purry."
Abraham Lincoln with his tabby cat "Tabby."
Amy Carter (daughter of President Jimmy Carter) and her Siamese cat "Misty Malarky Ying Yang." (No, we really didn't make that up.)
CeeLo Green with his Persian cat "Purrfect."
Snoop Dogg with his two Siamese cats "Miles Davis" and "Frank Sinatra."
Rapper Kreayshawn with her kitties "Kitty" and "Choppa."
Eva Longoria with her grey (studio) cat "Nick."
Grey tabby kitten names
Many cat enthusiasts assume that the word "tabby" is used in reference to a specific breed of cat. But the truth is, in this context, the word "tabby" refers to a color pattern, not to a cat breed type.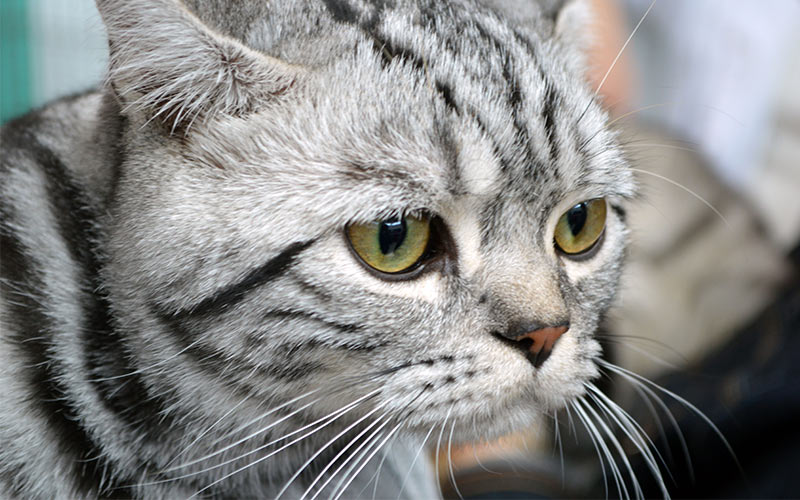 Now, of course, it is time to consider grey tabby cat names and pick out your favorite. Here are some of our top ideas for what to name a grey tabby cat!
Amber
Blackberry
Casper
Chai
Ginger
Katniss
Pepper
Rusty
Speckles
Tawny
What to name a gray cat?
Choosing the very best name for your grey fur baby is not an easy task for most cat parents! After all, you will be using that name many times per day for many years to come to interact with your precious pet cat!
If you have managed to narrow down your choices to just a handful of options, but you still have no idea which single name to choose, you can try this little experiment to see if it helps: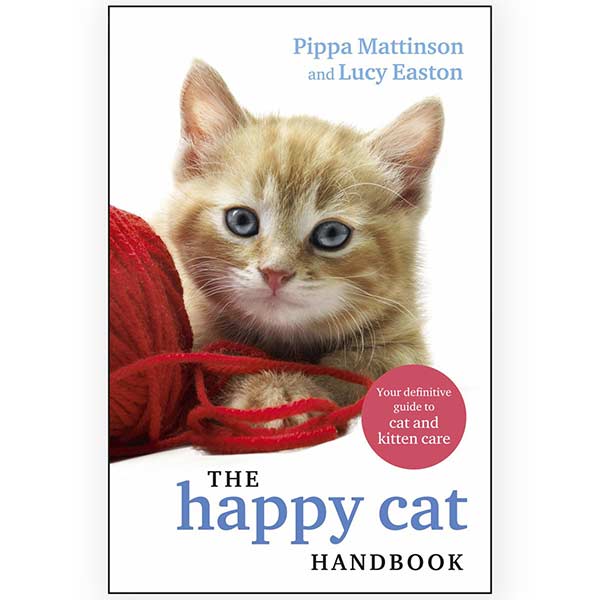 Write down your top name choices for grey cats on a sheet of paper. Next, practice calling your new cat using each name. Notice if your cat seems to respond more enthusiastically or more quickly to one name over the others. You may want to try this experiment over the course of a day or two to be sure you are reading your cat's responses accurately.
But most of all, just remember that your cat will likely be taking the first few days to get acclimated to her new home anyway, so you have plenty of time to ponder all of your choices for names for grey cats and pick the one that is simply purrfect for your new little fluffy love!
Remember, you don't need to give a grey cat a specifically grey cat name.
Check out some of other great naming guides for fun ideas and inspiration:
Your Amazing Cat!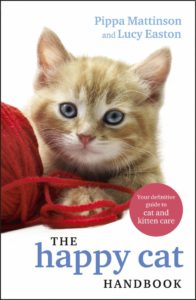 We are so excited to share our new book with you!
If you have enjoyed your visit to The Happy Cat Site we think you'll love The Happy Cat Handbook.
Written by the founders of this website including the author of the hugely successful Happy Puppy Handbook, it's packed with cat care information and fascinating cat facts.
Grab your copy today!
Free Updates For Cat Lovers!
Our cat care articles, tips and fun facts, delivered to your inbox