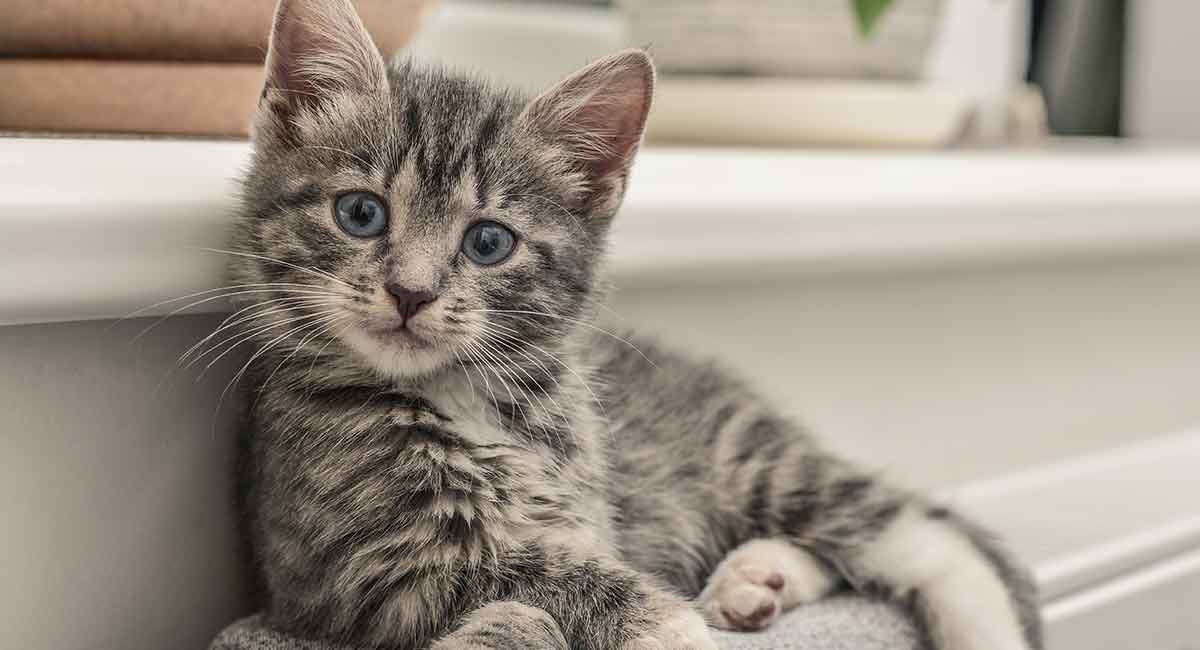 Despite a common misconception, the grey tabby cat is not a breed of cat, but a color and pattern of cat.
In fact, the tabby pattern, which consists of stripes, lines, spots, or swirl patterns in the fur, is quite common in a number of different feline breeds.
Grey Tabby Cats
Are you looking for information on the grey tabby cat? It's always fun to learn about our pets or potential pets. If that is your objective, then you've come to the right place!
The grey tabby is a stunning cat with wild roots. His genetics, temperament, and overall appearance have a fascinating lineage worth looking into.
Let's learn about the grey tabby cat, where he comes from, the secret behind his genetics, and why he may or may not be the right pet for you!
What Is A Grey Tabby Cat?
The size and overall appearance of your grey tabby cat, aside from his coat color and pattern, can vary quite a bit depending on the breed.
Still, when specifically talking about a grey tabby cat, we can conclude that his coat will be grey in color.
Also, as we mentioned above, the tabby pattern can consist of:
stripes
swirls
spots
lines.
Most distinctively, a tabby will usually have a pattern in the shape of an M on his forehead between his eyes.
So, how does a grey tabby become a grey tabby? Let's talk genetics of the grey tabby cat!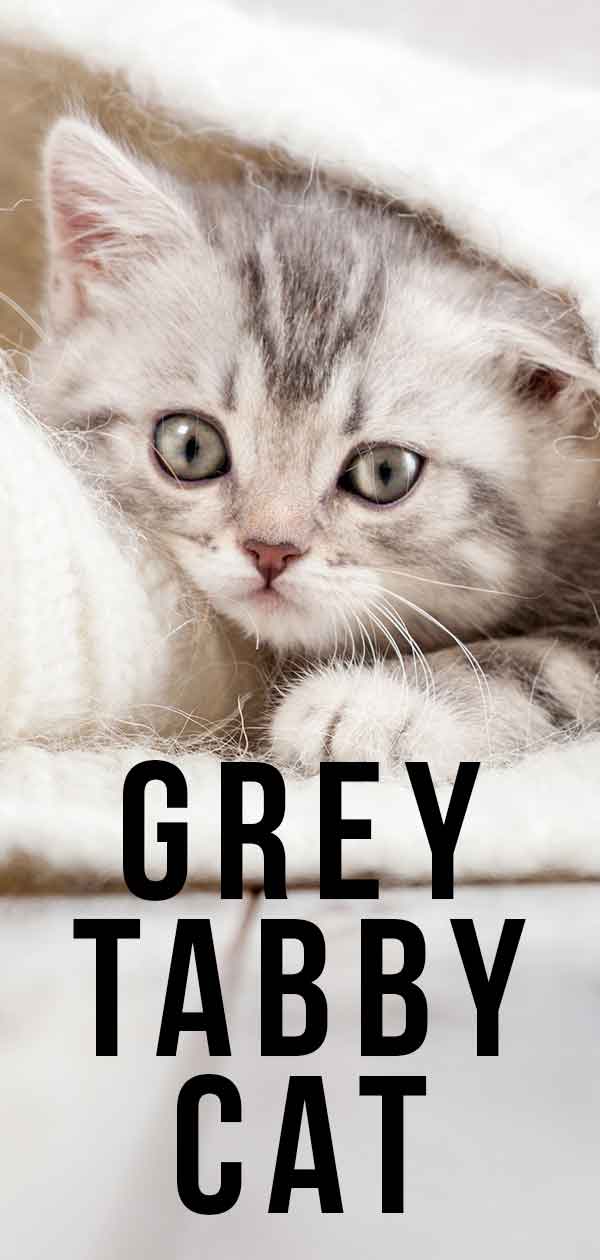 Grey Tabby Cat Genetics
The grey tabby cat is as fascinating as he is beautiful. In fact, did you know that the lovely tabby pattern is believed by some to be from the African Wildcat, the closest wild ancestor to a domestic cat?
The African Wildcat has a similar tabby pattern in his fur. Many experts theorize that this genetic trait was passed along to the little tabby cats meandering around our homes today.
Aside from the grey tabby cat's ancestry, how else do genetics play a role in the tabby pattern? And what about the color?
Studies confirm that the tabby gene is expressed via the agouti gene. Since the tabby gene is dominant, the tabby pattern is not uncommon, although many still consider it special and beautiful.
And since the tabby pattern can be prevalent in many different breeds of cat, it is quite possible to find many tabby cats of different colors.
This means you may come across a grey and white tabby cat, a light grey tabby, or even a cream, red, or beige colored tabby.
So, how do genetics play a role in the color of your tabby? It all comes down to seven different genes. Each of these genes plays a part in the color and pattern of your cat's fur.
Grey Tabby Cat Temperament
Since the grey tabby cat is not a particular breed and is really a description of a cat's pattern and coat color, determining his exact temperament could be a challenge.
The temperament of your cat will depend on a number of things, including his specific breed and how he is raised and socialized. In general, cats are intelligent, independent, and somewhat unpredictable.
Unlike dogs, a cat's temperament is not easy to predict based on his breed. While there are some cats who adore cuddling, can learn tricks, and may even enjoy walking on a leash, others may prefer hiding, climbing, and observing their human families from afar.
However, cats are a great choice for busy families or singles who have active lifestyles and are not able to be home as often as they would like.
Because of their independent nature, a grey tabby cat may be perfectly content lounging around the home or outdoors while his humans are away. He will not need the same mental and physical stimulation as his canine counterparts.
With that being said, it's important to remember that cats have a few inherent needs that are very unique to them and their genetic makeup. For example, cats are natural scratchers and feel safest perched up high where they can observe their environment from above.
To avoid scratched-up furniture and help alleviate anxiety in your cat, make sure you provide him with plenty of scratching posts, wall shelves, and cat trees to climb on, play in, scratch on and hide.
Grey Tabby Cat Health
For the most part, grey tabby cats are healthy so long as they are kept on a healthy diet and given plenty of opportunities to exercise, climb, and play.
Still, we should note that tabby cats have a few health issues a potential owner should be aware of.
Some grey tabby cats may be prone to:
diabetes
obesity
urinary problems
kidney failure
conjunctivitis
worms.
Exercise And Health
Since so many domestic cats can be prone to obesity and diabetes, experts recommend keeping grey tabby cats on a healthy diet and making sure they have plenty of cat trees, cat shelves, and opportunities to play as mentioned above.
While not all cats need the physical stimulation dogs to do, they do require plenty of exercise every day to stay in shape.
Luckily, a cat's exercise can come in the form of cats doing what cats do best – climbing, scratching on scratch posts, and chasing toys.
Outdoor Cats
Cats may also be more prone to suffering from fleas and ticks since many of them enjoy an outdoor lifestyle.
Most veterinarians recommend keeping your cat on a preventative flea and tick medication year-round, especially if your grey tabby cat is an outdoor cat.
While the above medical issues are not uncommon in domestic cats, many of them are treatable so long as they are caught early. This is why it is important to stay on top of your grey tabby cat's health by ensuring he sees his vet on a routine basis.
You can also help keep your grey tabby healthy by ensuring he is properly groomed. Keep reading to learn more.
Grey Tabby Cat Grooming
Grooming your grey tabby cat should be simple for the most part. Cats are naturally clean animals and groom themselves daily on their own.
Still, keep in mind that cats are heavy shedders and will require regular brushing, especially if they have longer hair.
Shorter haired grey tabby cats will only need to be brushed about once a week. Longer haired grey tabby cats may need to be brushed two or three times a week to keep their fur from becoming matted.
Many cats enjoy being groomed and brushed so long as it is done gently and with the proper tools. Make sure you introduce your grey tabby cat to brushing and grooming as early as possible and try to make it a positive experience, so it is one that he will look forward to.
You can help your cat adapt to being brushed by offering him snuggles and cat treats during the process.
Bathing
Bathing your grey tabby cat is a whole other matter. It is well known that most cats are not big fans of water.
The good news is that cats don't need to be bathed very often unless they are very dirty. When bathing your cat, make sure you are patient and gentle.
Offer him treats and use water that is warm but not hot. Use high-quality cat shampoo that will not strip your grey tabby of the natural oils in his skin and fur.
After bathing, you can towel dry your grey tabby cat. For longer-haired grey tabby cats, you may attempt to blow dry him if he tolerates it.
Your grey tabby cat will also need his nails trimmed regularly to keep them from breaking, splitting, or becoming too sharp.
Of course, keeping scratching posts around the home can help keep your grey tabby cat's nails under control and not as sharp, but you may still want to invest in a nail trimmer for your cat.
Your Grey Tabby Cat
Does the grey tabby cat sound like the perfect pet for you and your family? If so, you may be wondering about the cost of rescuing a grey tabby cat or going through a cat breeder.
Remember, the grey tabby cat is not a breed of cat. It is the color and pattern of a cat, and therefore the cost of your grey tabby will depend on where you get him and what breed he is.
On average, cats cost anywhere from $300 to $1,200 through a breeder and $50 to $100 through a rescue.
If you are looking specifically for a grey and white tabby kitten, you may need to do some research to find the right coloring and breed that suits your desires.
A grey tabby kitten shouldn't be too hard to come by, however, since the tabby pattern and grey color is not uncommon.
What is your favorite breed of grey tabby cat? Tell us your thoughts below in the comment section below!
References