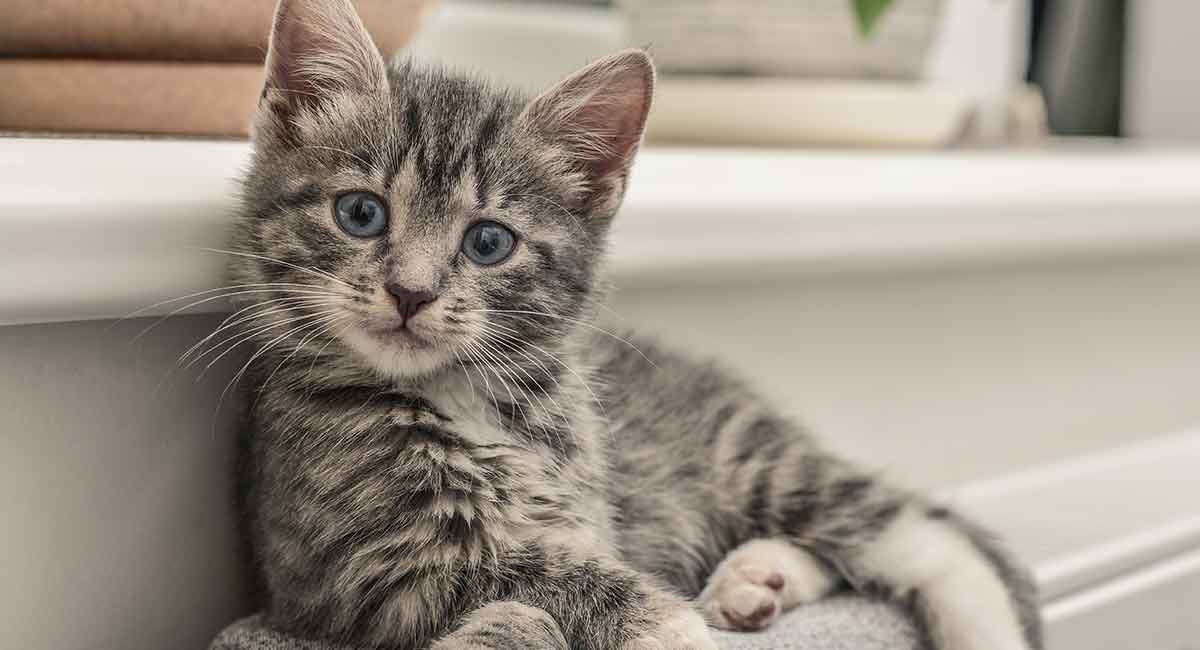 A grey tabby cat has black stripes on a grey fur background, or dark grey stripes on a pale grey coat. These prominent stripes can be mackerel, ticked, striped or blotched in pattern. And grey tabbies are found in several different popular cat breeds.
Contents
I've always loved grey tabbies ever since my parents read me the Mog The Cat books by Judith Kerr as a child. The idea of one day having my own Mog was very appealing, and the reality hasn't disappointed.
Types of Grey Tabby Cat
Are you surprised to hear that a grey tabby isn't just one type of cat? It's true! There isn't a 'grey tabby cat' breed. Instead, lots of purebred, crossbred and cats of unknown mixed ancestry can have stripey silver coats. What's more, grey tabby cats can be organized by their exact color and stripe type, as well as (or instead of) their pedigree.
Breeds That Can Be Grey Tabbies
Lots of well known and not-so-well-known cat breeds can have grey tabby coats. For example:
American Bobtails
American Wirehairs
British Shorthairs
Bengals
Maine Coons
Manx
Norwegian Forest Cats
Persians
So can many crossbreed cats, and cats of unknown mixed ancestry (a.k.a. domestic short hairs and domestic long hairs). In fact, it's estimated that over 9 in 10 pet cats are crossbred, so most gray tabbies will fall into this category too.
Stripes and Patterns
Grey tabby cats can have:
Black stripes on a dark grey background.
Black stripes on a light grey background (also known as silver tabby).
Dark grey stripes on a light grey background (also known as blue silver tabby).
They can even have white patches too, or be one of the color point breeds, such as a Siamese cat. Grey tabby color point cats only have a visible tabby pattern on their face, legs and tail.
Finally, it's possible to group grey tabby cats by the types of stripe they have. The four possibilities are:
Mackerel
Ticked
Blotched
Spotted
Mackerel stripes are the most common, whilst ticked and spotted stripes are usually only seen in specific breeds. They are all recognizable as tabby patterns though, because they all include a characteristic dark 'M' on the cat's forehead.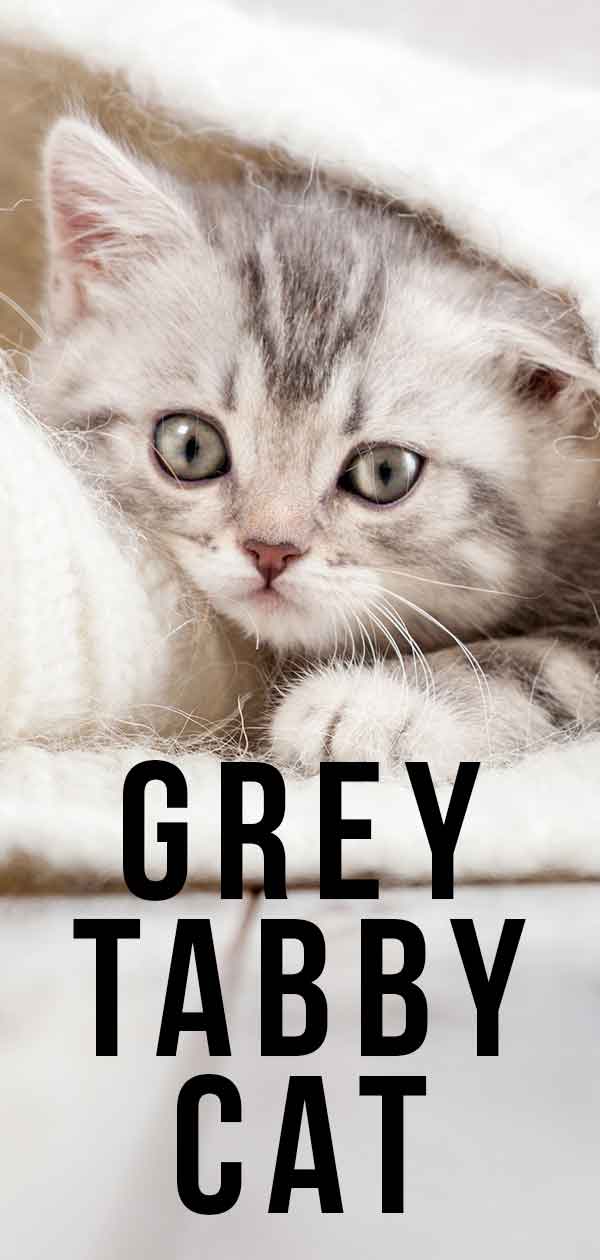 Why Are There So Many Grey Tabbies?
So, these pretty kitties come in all kinds of shapes and sizes, and there's lots of potential for variation in their exact color, and the pattern of their stripes. But how did the grey tabby pattern come to be so diverse and widespread? Part of the reason is that the brown-and-grey mackerel tabby was the 'original' cat coat. In other words, it is the coat of all domestic cats' most recent wild ancestor – the African wild cat. So, tabby stripes and grey pigmentation became predictably widespread among pet cats too.
Since then, random genetic mutations have resulted in variations of the layout of their stripes, and also eliminated the production of red pigment, so that once-brown fur becomes grey instead. And these mutations have spread, in part, because we love them and find them beautiful. So we've gone out of our way to reproduce them in new generations of kittens.
Grey Tabby Cat Temperament
All tabby cats have a personality which is as unique as their stripes. While there are some cats who adore contact and cuddling, and even learn tricks, others prefer independence, exploration, and observing their human families from high perches. Intriguingly, researchers have looked for links between feline coat color and temperament. One study reported that grey and white cats are amongst those most likely to be aggressive towards humans during handling, everyday interactions, and vet visits. But another survey didn't associate gray fur or even tabby stripes with a significant increase in any type of behavior.
So the matter of whether grey tabby cats have any specific personality traits is still unresolved. And some scientists are convinced that predictable differences in feline behavior can be more accurately attributed to their breed, than their color.
Health and Lifespan
Grey tabbies come from all walks of life, and their health and life expectancy reflect that. To the best of my knowledge, there's no evidence that their coat puts them at a higher risk of any specific ailments. Since lots of types of cat can be grey tabbies, some interesting patterns in feline health more generally are:
The most common health problems of cats presented at veterinary clinics are tooth and gum disease, flea infestation, obesity, traumatic injuries, and skin disorders.
Non-pedigree cats are more likely to be diagnosed with abscesses and hyperthyroidism than pedigree cats.
Whereas pedigree cats are more likely to be diagnosed with coat disorders than domestic shorthairs and longhairs.
But overall, neither group has a higher rate of illness generally.
In terms of life expectancy, crossbred cats have the edge. Pets with mixed ancestry live 14 years on average, vs 12.5 years for pedigree cats.
We also know that important determinants of any cat's health are:
Eating a high quality, age-appropriate diet.
Maintaining a health weight.
Physical exercise.
Mental stimulation.
Opportunities to practice natural behaviors, like scratching.
Regular preventative healthcare, such as flea and worming treatments.
Is A Grey Tabby Cat Right For You?
Since this coat is possible in so many types of cat, I think there is probably a grey tabby who's right for any cat-loving household!
Whilst they have a reputation for being aloof and independent, it's smart to be mindful of the fact that some cat breeds are quite the opposite. Persians are generally very affectionate for example. And Bengal and Siamese cats are frequently described as almost dog-like in their love of human interaction and playing games. So, consider how self-sufficient you want or need your cat to be, before committing to a specific breed.
I also think that the specific health problems of some pedigree cats deserves some special consideration. For example Manx cats are known to experience a higher frequency of spinal disorders stemming from their lack of tail. And flat faced cats, such as Persians, have a higher incidence of breathing difficulty, eye injuries, and dental problems.