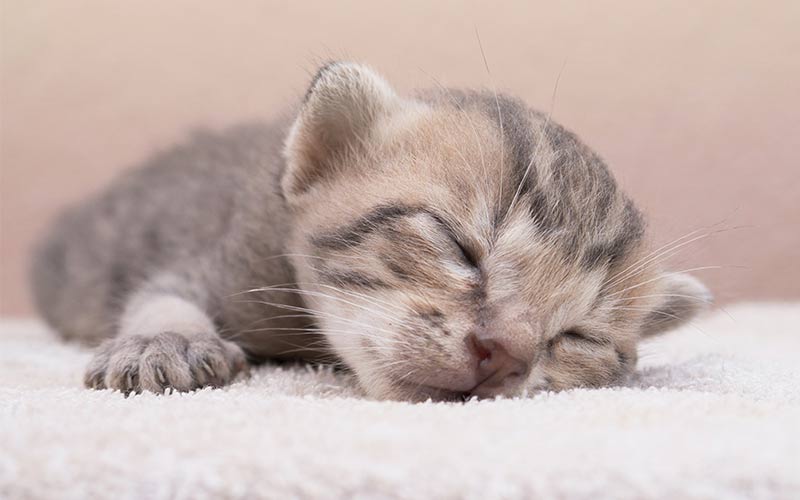 Newborn kittens are tiny, furry and completely dependent on their mother for food and warmth. Weighing just a few ounces, baby kittens will spend the first two weeks or so suckling, snoozing and growing under Mom's watchful eye. Very soon their eyes will open and the fun begins!
Contents
Waiting to bring your new kitten home is an exciting time. You've bought everything they need, and picked the perfect spot for their bed. In the few weeks after their birth your baby cat will make an astonishing transformation into a busy, playful, independent bundle of fun.
And while you're biding your time for that magic milestone age when you can bring them home, you'll probably wonder how big they're getting and what milestones they're reaching. You might have questions like "when do newborn kitten eyes open?" and "what does a newborn kitten eat?"
We're going to answer all those questions and more!
Newborn baby kittens
Let's start at the beginning, with the very first minutes of your newborn baby kitten's life.
Inside the womb, each kitten enjoyed an amniotic sac and a placenta to itself. So the first thing their mom does when they arrive in the world is clean them up, dry them off, and eat the placenta.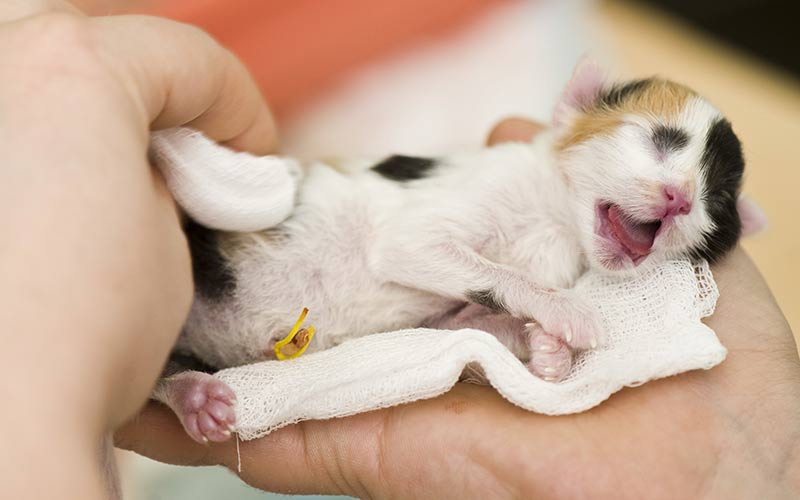 In the wild, this would hide any evidence of the birth and protect her kittens from predators.
Your kitten will typically be one of four to six siblings in their litter, but they could have as many as eight brothers and sisters!
During your kitten's birth and in the immediate aftermath, your breeder will stay nearby and watch closely for any sign that either the mom or one of her kittens is struggling.
But all being well, nature has provided the queen with all the instincts she needs to manage the birth and begin caring for her kittens herself.
What does a newborn kitten look like?
Kittens are born fully furred, but immediately after birth look wet and bedraggled. Their mother washes them thoroughly which helps to stimulate their first breaths.
Within an hour or so their fur is fluffy and dry, and they look more like a tiny baby cat.
The first week
In their first week just born kittens are blind, deaf, unable to generate their own body heat, and can only crawl a few inches at a time. The kitten's eyes are tightly shut and newborn kitten ears are sealed. And will remain that way for a little more than a week.
Their only survival skill is an uncanny sense of smell, which leads them to mom's teats – in fact, before long they'll even have a favorite nipple which they can identify by smell alone!
Once there, newborn baby cats do little more in their first few days than eat, sleep and poop.
The umbilical cord will dry out of its own accord, and usually drops off on day three or four.
At the end of their first week, your breeder should have arranged for them to have their first vet check to make sure they're all as healthy as possible.
How big is a newborn kitten?
A newborn cat will usually weigh between 3.2oz and 3.8oz (90g – 110g); where the kitten will fall within that range is partly determined by breed and litter size.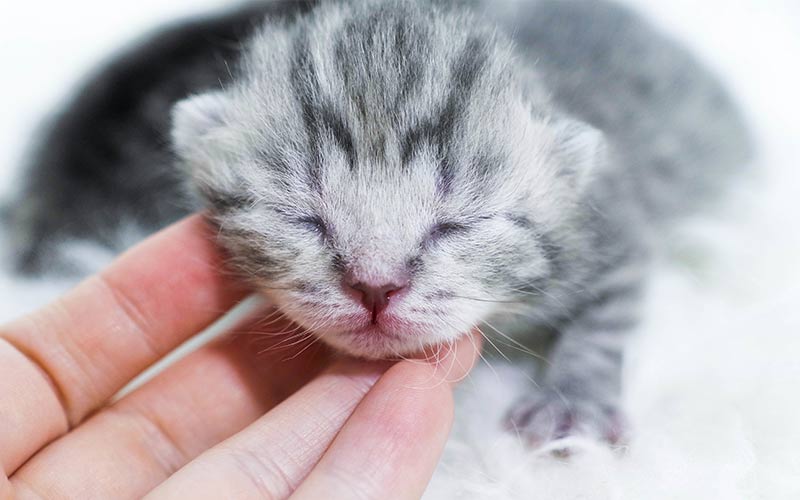 To give you a sense of scale, that's the same kind of weight of a lime.
And as you can imagine, at that size they would easily fit into the palm of your hand (but more on handling newborn kittens later).
Newborn kitten weight
It's clear that newborn kittens have some serious growing to do, and they don't hang about!
Kittens should gain roughly 4oz (115g) a week after they're born, so that they double their birth weight by two weeks old and tip the scales at 1lb (450g) by the time they're a month old.
From then, they should continue to gain weight at about a pound a month.
When do newborn kittens open their eyes?
As your kitten grows they'll hit a flurry of developmental milestones. And one of the first is when those newborn kitten eyes open for the first time.
Just because kittens are born with their eyes closed, doesn't mean they're not doing anything.
The complex neurological pathways that will transmit messages between eyes and brain are being completed, and the blinking reaction (for example to bright light) has been present since birth.
Their eyes will finally be ready to open when they're around seven to ten days old, but their vision will be very blurry at first, because the cornea, lens, and vitreous inside their eye are all still slightly cloudy.
These will clear up by the time your kitten is a month old, and by the time they're six weeks old both eyes will be working together to give top-quality depth perception.
Kitten eye color change
All kittens are born with blue eyes, and yours will be no exception. Which can come as a bit of a surprise if you fell for the green or amber eyes of their parents!
But don't worry, kitten eyes change color early on in life.
You'll be able to see their final, permanent eye color by the time they're eight weeks old.
Newborn kitten sounds
Kittens learn early on how to use specific cries and sounds to communicate what they want and need.
In the first week kittens will meow to tell their mom when they're hungry, cold, or lonely.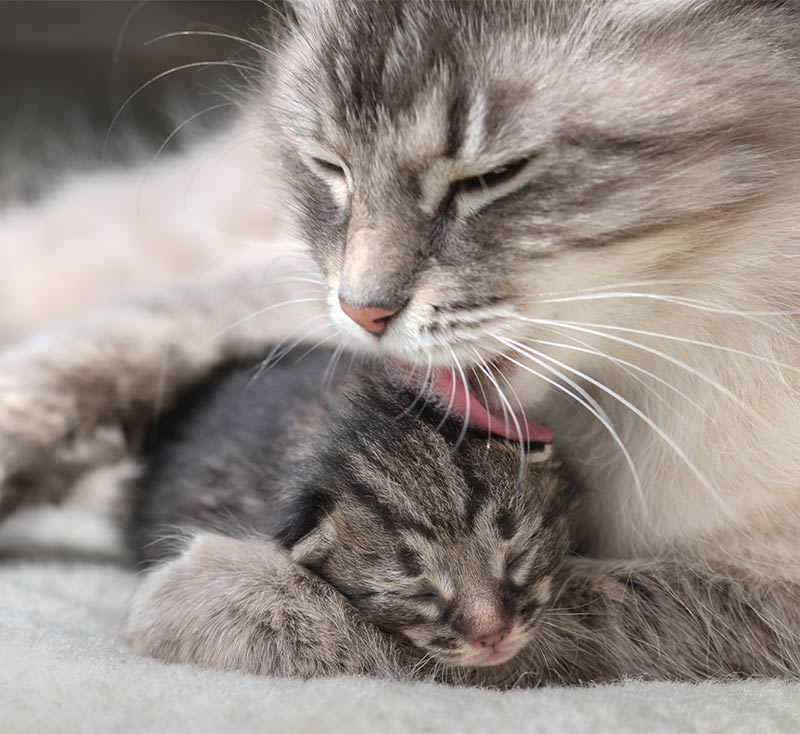 They will also hiss if they smell something unfamiliar (like a human hand) in the nest!
Best of all, kittens start purring within a day or two of being born.
Newborn kitten sounds – How much can newborn kittens hear?
Kittens are born deaf because the physical structures of the ear haven't finished developing yet.
But even though they're incomplete, a newborn kitten's ears can twitch and move from birth, either spontaneously, or in response to a ticklish touch.
As your kitten grows, they will gain control over the movement of their ears and use them to to send important messages about how they're feeling, as well as to hear with.
It takes about a month after birth for the outer ear to take it's final shape, but the ear canal will be ready much sooner – within about twelve days or so.
And as their ears mature, your kitten will start making more and more sense of the sounds around them
By seven days old your kitten will start looking towards the sound of other animals, and by 25 days old they'll be able to tell different animal sounds apart too.
By the time they're a month old, their hearing will be comparable to an adult cat's.
Newborn kitten care
With a little luck, your kitten's mom will instinctively know exactly how to take care of newborn kittens without any intervention.
Like humans, the mother cats produce colostrum for their kittens first, and mature milk a little later.
The colostrum is a vital source of nutrients for early growth, and antibodies to lay the foundations of your kitten's immune system.
If a kitten is unable to receive colostrum from their mom, some vets offer injections of adult cat serum, which works as an alternative method for transferring antibodies.
Your breeder will let you know if your kitten needed any extra care from them in their early days.
Taking care of newborn kittens
As well as feeding them, your kitten's mom will also be making sure her litter stay close to her at all times.
This is vitally important for keeping them warm.
Cats, like all mammals, maintain their body temperature by metabolizing fats and sugars. When we get cold, mechanisms like shivering boost our temperature back up again.
These functions are still developing in newborn kittens, so if you're lucky enough to visit yours very early on, you'll probably discover the room with their nest box is being kept much warmer than the rest of the house!
There might also be a humidifer running to protect the kittens' delicate lungs and guard against dehydration.
How often do newborn kittens eat?
Newborn kittens need to feed every two to three hours around the clock – up to 10 times in a 24 hour period. In fact in their first couple of days they might feed every hour!
For the first three weeks of their life, your kitten's mother will initiate feeding by lying on her side and guiding her kittens to a nipple.
After three weeks, the tables begin to turn, and the kittens will seek out mom when they're hungry.
At about three weeks old your kitten's first teeth will start to come through, and they'll be ready to start weaning.
They'll continue to nurse from mom for up to another five weeks, but mother cats have a reputation for being quite brusque when it comes to moving their kittens on from nursing!
How much milk does a newborn kitten need?
Your kitten's mom will produce all the milk they need for the first weeks of their life.
But if she has problems with supply, for example because she's had a large litter, milk replacers are available.
Your breeder's vet will help them plan a feeding schedule for your kitten.
What to feed newborn kittens
Your kitten will be ready for their first taste of solid food between three to four weeks old.
Their first meals will usually be the same high quality wet kitten food they'll be eating later, softened with kitten milk replacer.
How often do newborn kittens poop?
If you've ever raised a baby anything, you'll know what it's like to be obsessed with their bowel movements.
Doing the right kind of poo at the right frequency is one of the first reassuring signs that your kitten is healthy.
Since newborn baby kittens are incapable of doing much independently, you won't be surprised to hear that passing urine and poo is something else they need mom's help with at first.
Your kitten's mother will stimulate them to pass urine and poo before and after every feed, by licking the area all around their bottom.
Between weeks three and four they'll finally gain enough nerve control to wee and poo unaided.
Newborn kitten development
The first days of your kitten's life might be all about eating, pooping and keeping warm, but it's not long before another important skill begins to develop: playing!
Your newborn cat will start playing with their litter mates when they're between ten and fifteen days old.
If you're lucky, your breeder might catch video of them chasing, rolling and hugging from around the fourth week, and by the time they're six weeks old they'll be sporting like a pro.
All this action is helping them become more physically coordinated too. At 45 days old your kitten will be standing and walking confidently, and at 75 days they will have enough balance walk along a narrow plank without falling (and if they do, their mid-air righting reaction has been fulling mature for several weeks now).
Can you touch newborn kittens?
It's hard to keep your hands off something so small and fluffy, but when can you hold newborn kittens?
Touching or handling newborn baby cats should be kept to minimum in the first two weeks.
Picking them up frequently and unnecessarily could upset their mom, and even cause her to reject them.
However from the third week onwards, very gentle handling becomes an important part of socializing your kitten.
Newborn kitten development – The socialization window
Between two weeks old and eight weeks old your kitten goes through a rapid period of behavioral development.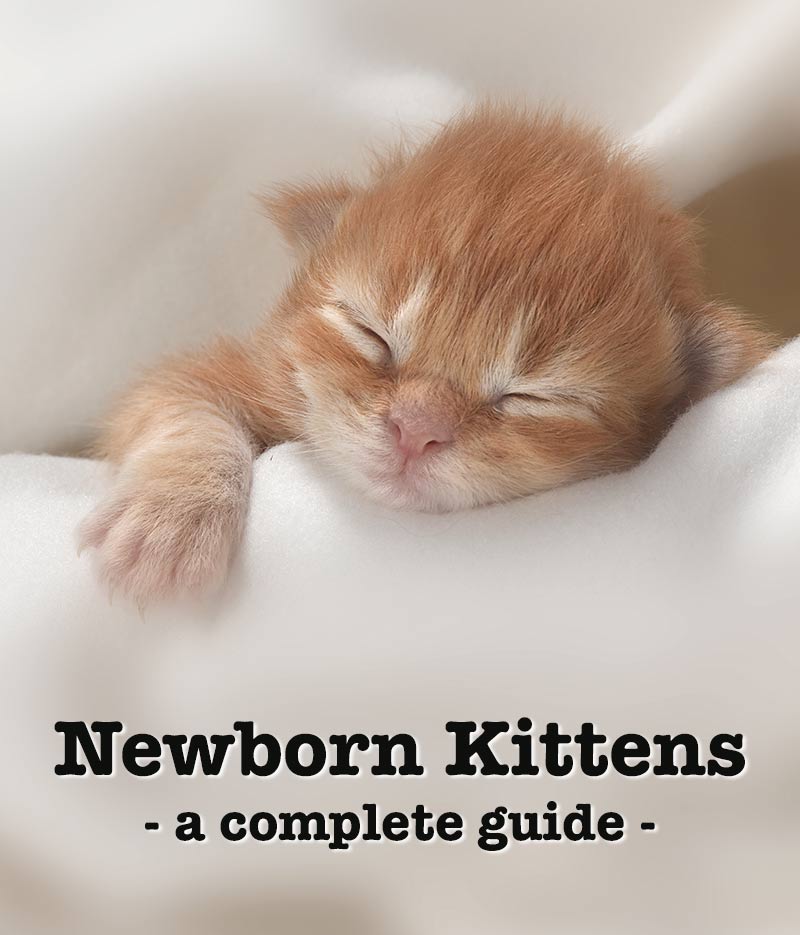 The encounters they have now will shape how they respond new experiences in the future, and what kind of pet they'll be as an adult.
Now is an important time to familiarize them with household noises like vacuuming, get them used to traveling in the car, and introduce them to other people and friendly animals.
When a kitten has lots of safe, positive introductions in the socialization window, they will be more confident and relaxed about new encounters in the future.
But because it happens before you bring them home, you won't be able to have much input into it yourself.
A good breeder will spend lots of time socializing your kittens, for their benefit and yours. This is just one of the many reasons why you should always take your time finding a great breeder, and never use kitten farms.
What to do with newborn kittens – Getting ready to come home
Between six and seven weeks old your kitten is ready to start spending short periods away from their mom.
They will be nursing for shorter periods, until they are fully weaned a around eight weeks – the earliest they should be brought home.
Kittens separated from their mom too early are more likely to be anxious and aggressive as adults, and may retain juvenile behaviors such as kneading and suckling.
Your breeder will be able tell you when your kitten's behavioral development is complete enough for them to come home with you.
Healthy female kittens can be spayed safely from as early as six weeks old, or once they reach 2lb, but some vets still prefer to wait until they are four months old – the "traditional" time to do it.
If you're getting your kitten from a rescue shelter, you might not be able to bring her home until she has been spayed. For example in California, it's illegal for shelters and rescue groups to let a female kitten leave until she has been spayed.
Kittens are ready for their first vaccinations at 8 weeks. If your collecting them around this time, make sure you know which vaccinations they've already had, and pick up the certificates for them.
Newborn kittens
Thinking about cute newborn kittens is pretty fun.
Newborn cats are much less physically developed than human babies, and the first three months of their life is a period of rapid catching up.
Between birth and coming home, their eyes will open, their hearing will mature, they'll learn to walk and play, and they'll move on from a milk-only diet to pre-prepared kitten food.
Many of the milestone they reach happen at predictable times, and your breeder will be able to keep you up to date with their progress as they get ready to come home.
Do you have experience taking care of baby cats?
Has your cat had a litter of kittens at home? Which memories of that time really stand out for you?
Please share your stories in the comments section so we can all swoon over them.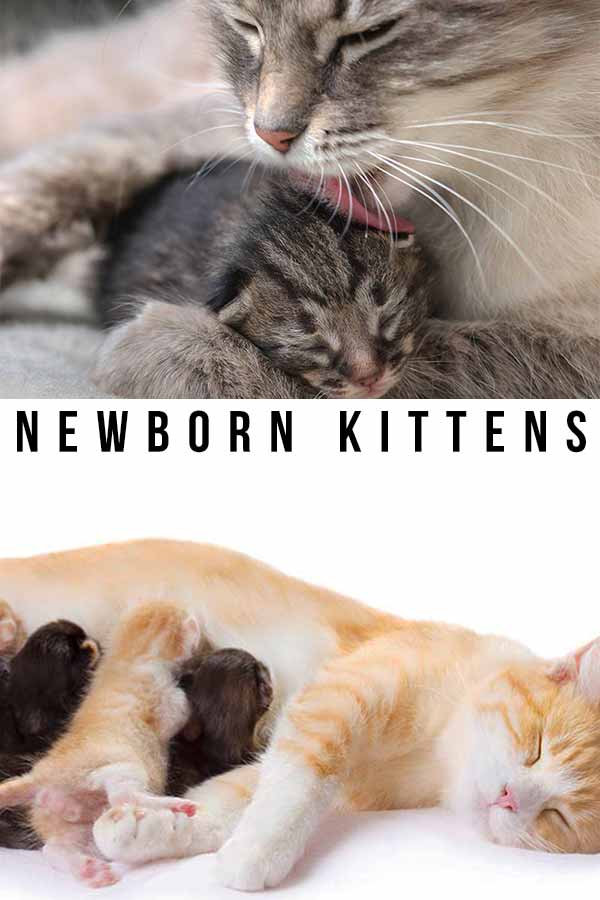 References