Orange female cat names can be just as unusual as orange female cats themselves! Did you know it's much more common to find male orange cats than females? So if you have an orange girl cat you'll know just how lucky you are! And why it's so important to choose a name that matches how special she is. Are you looking for something cute? Funny? Or maybe something inspired by that fiery fur! No matter what type of name you're looking for, we've got a ton of options for you to consider.
The best name for your cat might spring out at you as soon as you see it. Or, it could take a little longer to narrow down the best options! Either way, it's a great idea to try different orange female cat names on your kitten, to see which one really suits her. Let's get started with 25 of our all time favorite orange female cat names.
Good Names for Orange Female Cats
Amber
Ariel
Auburn
Cherry
Dahlia
Flames
Foxy
Ginger
Giselle
Glinda
Goldie
Hobbes
Magenta
Marigold
Marmalade
Merida
Nutmeg
Paprika
Pepper
Pippi
Poppy
Pumpkin
Sansa
Scarlet
Strawberry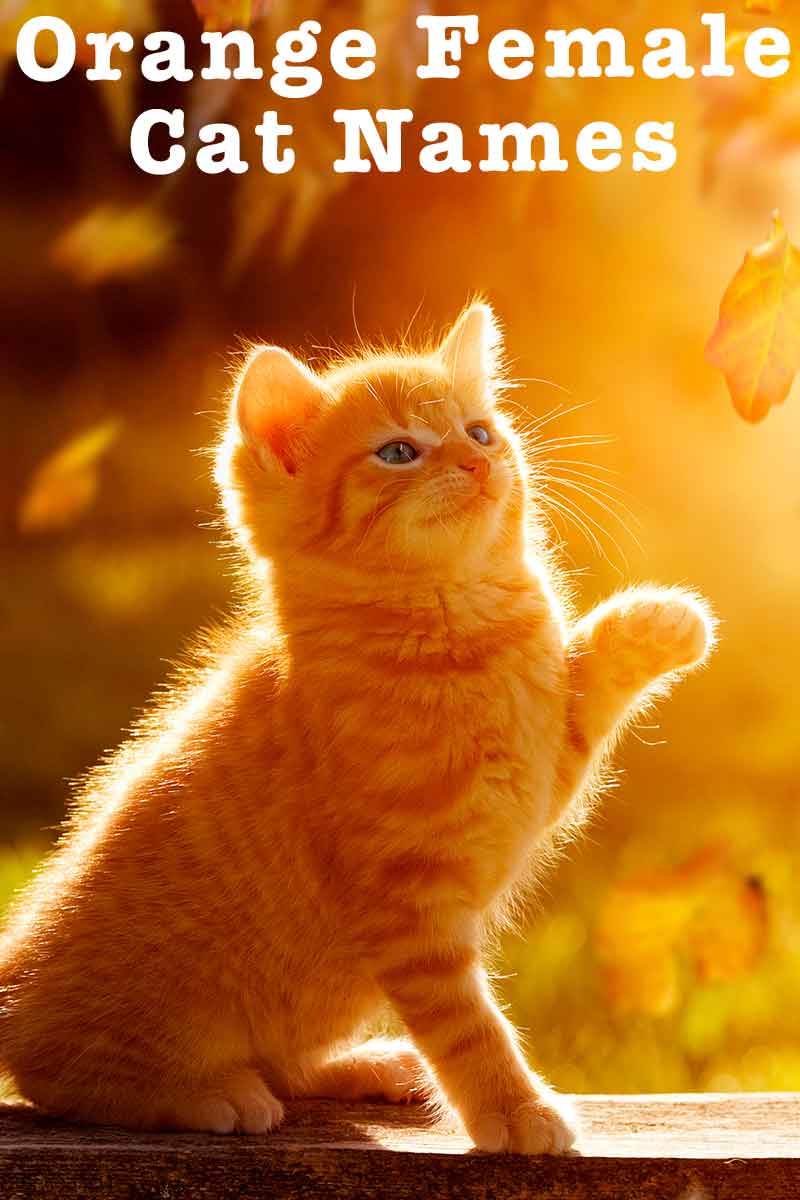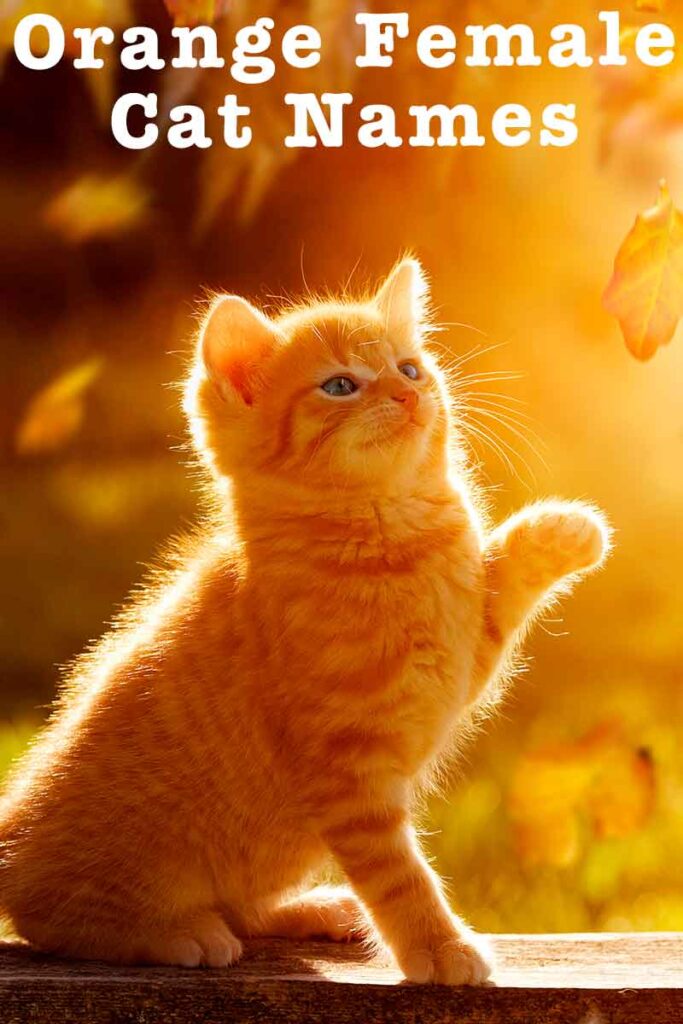 Orange and White Female Cat Names
Although fully orange female cats can be quite rare, plenty of people are lucky enough to share their lives with an orange and white female cat! So, if you're bringing home a new two-toned kitty, here are some name ideas that might suit her.
Berries and cream
Carnelian
Clownfish
Confetti
Dinah
Dottie
Freckles
Jigsaw
Kaleidoscope
Koi
Ladybug
Macaw
Marbles
Panda
Patches
Pebbles
Pixel
Popcorn
Sardonyx
Speckle
Spot
Sunbeam
Sunstone
Swirl
Wilma
Unique Orange Female Cat Names
We all know fully orange female cats are quite uncommon! So how about a unique name for your girl? Here are some ideas that you might not have heard of in other lists!
Acerola
Amaryllis
Anthurium
Arcturus
Begonia
Callistemon
Caprisun
Cashew
Cerise
Goji
Maroon
Mars
Minium
Ochre
Phosphorus
Poinsettia
Rhubarb
Selenium
Supernova
Tellurium
Thornberry
Urucum
Valentine
Vampire
Vermillion
Cute Orange Female Cat Names
Ginger cats are adorable. There's no debating that! A cute name can be a great way to compliment your girl's wonderful coat and sweet personality. Here are some of our favorites:
Apple
Apricot
Bumble
Buttercup
Carrots
Cinnamon
Coral
Honey
Mango
Maple
Nacho
Nectar
Peaches
Penny
Pomegranate
Pudding
Rosie
Ruby
Rusty
Sangria
Sorbet
Sunshine
Tangerine
Tango
Topaz
Badass Orange Female Cat Names
Just because your new orange cat is a girl doesn't mean she can't be a badass too! Here are some awesome names that will suit your cat's fiery fur and cool temperament!
Alyson
Black Widow
Blaze
Bryce
Cayenne
Daphne
Ember
Firecracker
Flames
Inferno
Isla
Kim Possible
Lava
Lucille
Merlot
Nala
Phoenix
Sahara
Spitfire
Tigress
Velma
Wanda
Whiskey
Willow
Ygritte
Female Orange Tabby Cat Names
Our girl orange cats can also have tabby stripes and patterns in their coats! So, why not use this beautiful pattern as inspiration for their name? Here are our top picks for orange female tabbies:
Azalea
Bullseye
Camo
Candy Cane
Checkers
Cheetah
Chevron
Chipmunk
Crookshanks
Domino
Fishbone
Gazania
Giraffe
Herringbone
Linguine
Mackerel
Monarch
Mottle
Nemo
Okapi
Stripes
Tapestry
Tartan
Tigger
Wasp
Funny Orange Female Cat Names
Are you sick of all the serious names? Why not choose something a little more fun! Here are some ideas that might put a smile on your face:
Basketball
Beeker
Beetroot
Cheddar
Cheeto
Dorito
Elmo
Fajita
Goldfish
Goldilocks
Hazmat
Home Depot
Heinz
Jack O Lantern
Lobster
OJ
Orangutan
Princess Fiona
Pumpkin Pie
Raggedy Ann
Sheeran
Snooki
Sunny D
Tikka Masala
Weasley
Take a look at some more funny female cat names in this guide.
Choosing Orange Female Cat Names
It's great that you know you want your kitten's name to be linked to her beautiful fur color. As you can see from the lists above, there are lots of ideas to choose from. And, it doesn't have to be one of these names! These ideas can simply be a starting point for your ideal name, giving you a little more inspiration.
It won't matter if it takes you a few days to decide on your kitten's name. She won't mind! If you're still struggling to narrow down your options, test some out on your little girl. Or you could get the rest of the family involved! This is a great way to ensure everyone is happy with the name.
What is Your Female Orange Cat Called?
Did you find the perfect name on this list? Or are you still trying to narrow down your top picks? If you can think of any other great names for female orange cats, make sure to leave them in the comments below so we can add them to our lists!
Readers Also Liked