When you have a special cat you need an original name. And female orange cats are something of a natural miracle! Did you know that there are four times more orange male cats than females? Which means the odds of your ball of fluff even existing are pretty tight. These orange female cat names will help you to celebrate just how amazing your new bestie really is.
Contents
The best name for your cat might spring out at you as soon as you see it. Or, it could take a little longer to narrow down the best options! Either way, it's a great idea to make a shortlist of your best finds, you can even try different names on your kitten, to see which one really suits her.
Good Names for Orange Female Cats
Amber
Ariel
Auburn
Cherry
Dahlia
Flames
Foxy
Ginger
Giselle
Glinda
Goldie
Hobbes
Magenta
Marigold
Marmalade
Merida
Nutmeg
Paprika
Pepper
Pippi
Poppy
Pumpkin
Sansa
Scarlet
Strawberry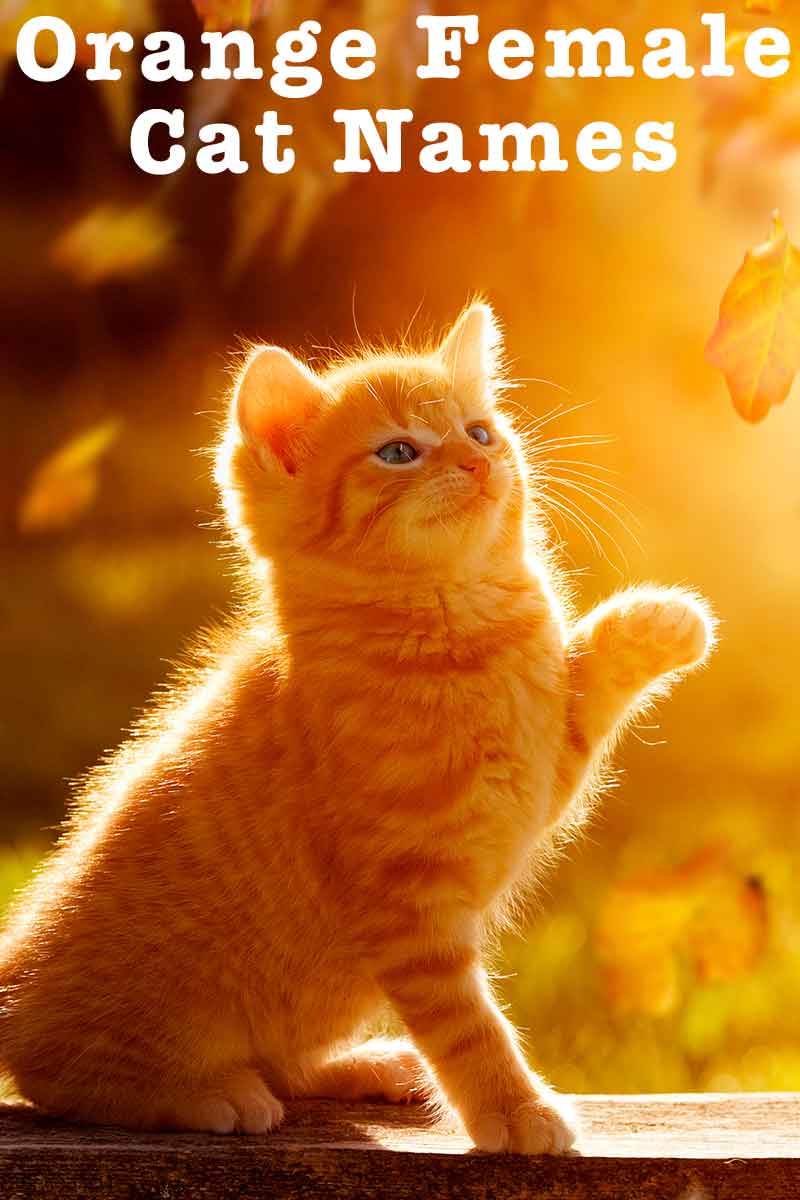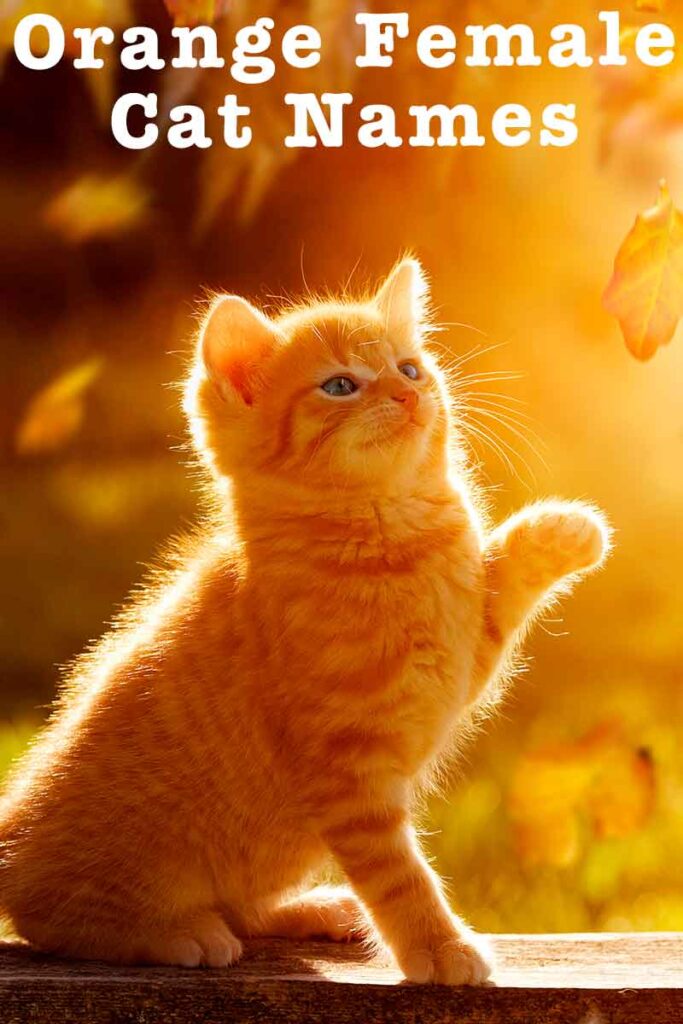 Orange and White Female Cat Names
Although the stripes on an orange cat can range in shade and density, all orange cats have them. They inherit the tabby coat pattern with its attractive tiger stripes. Not all orange cats are orange all over, and some people are lucky enough to share their lives with an orange and white cat! So, if you're bringing home a new two-toned kitty, here are some name ideas that might suit her.
Berries and cream
Carnelian
Clownfish
Confetti
Dinah
Dottie
Freckles
Jigsaw
Kaleidoscope
Koi
Ladybug
Macaw
Marbles
Panda
Patches
Pebbles
Pixel
Popcorn
Sardonyx
Speckle
Spot
Tiger
Sunbeam
Sunstone
Swirl
Wilma
Unique Orange Girl Cat Names
It can be a lot of fun coming up with original ideas for naming your kitten. Try brainstorming names around a theme. The theme could be a sport you enjoy playing or watching. It could be an interest or hobby you have. You could name your cat after your favorite baseball star, if you are a knitting enthusiast you could call your kitten 'Stitches'.
Acerola
Amaryllis
Anthurium
Arcturus
Begonia
Callistemon
Caprisun
Cashew
Cerise
Goji
Maroon
Mars
Minium
Ochre
Phosphorus
Poinsettia
Rhubarb
Selenium
Supernova
Tellurium
Thornberry
Urucum
Valentine
Vampire
Vermillion
Cute Names For Orange Girl Cats
Ginger cats are adorable. And cute names need no further explanation! Here are some of our favorites:
Apple
Apricot
Bumble
Buttercup
Carrots
Cinnamon
Coral
Honey
Mango
Maple
Nacho
Nectar
Peaches
Penny
Pomegranate
Pudding
Rosie
Ruby
Rusty
Sangria
Sorbet
Sunshine
Tangerine
Tango
Topaz
Badass Orange Female Cat Names
Just because your new orange cat is a girl doesn't mean she can't be a badass too! Here are some awesome names that will suit your cat's fiery fur and cool temperament!
Alyson
Black Widow
Blaze
Bryce
Cayenne
Daphne
Ember
Firecracker
Flames
Inferno
Isla
Kim Possible
Lava
Lucille
Merlot
Nala
Phoenix
Sahara
Spitfire
Tigress
Velma
Wanda
Whiskey
Willow
Ygritte
Earlier, we gave you some ideas based on orange colored flowers and vegetables. But of course, you don't have to be constrained by the color of your cat's fur. The next two collections are inspired by our beautiful planet, from nature to geography
Names Inspired By The Natural World
Apple
Willow
Hazel
Coral
Pebble
River
Rowan
Ripple
Ruby
Towns And Countries
Adelaide
Brooklyn
Faroe
Selma
Sonoma
Sydney
Venice
Galena
Alice
Skye
Virginia
Female Orange Tabby Cat Names
Our girl orange cats are the ultimate tabbies! No two cats have exactly the same pattern and they are all strikingly beautiful.
Azalea
Bullseye
Camo
Candy Cane
Checkers
Cheetah
Chevron
Chipmunk
Crookshanks
Domino
Fishbone
Gazania
Giraffe
Herringbone
Linguine
Mackerel
Monarch
Mottle
Nemo
Okapi
Stripes
Tapestry
Tartan
Tigger
Wasp
Funny Orange Girl Cat Names
This is the part where we lighten up a bit. Why not look on the bright side and choose something a little more fun! Here are some ideas that might put a smile on your face – just make sure it's a name you are not embarrassed to repeat in front of your grandma!
Basketball
Beeker
Beetroot
Cheddar
Cheeto
Dorito
Elmo
Fajita
Goldfish
Goldilocks
Hazmat
Home Depot
Heinz
Jack O Lantern
Lobster
OJ
Orangutan
Princess Fiona
Pumpkin Pie
Raggedy Ann
Sheeran
Snooki
Sunny D
Tikka Masala
Weasley