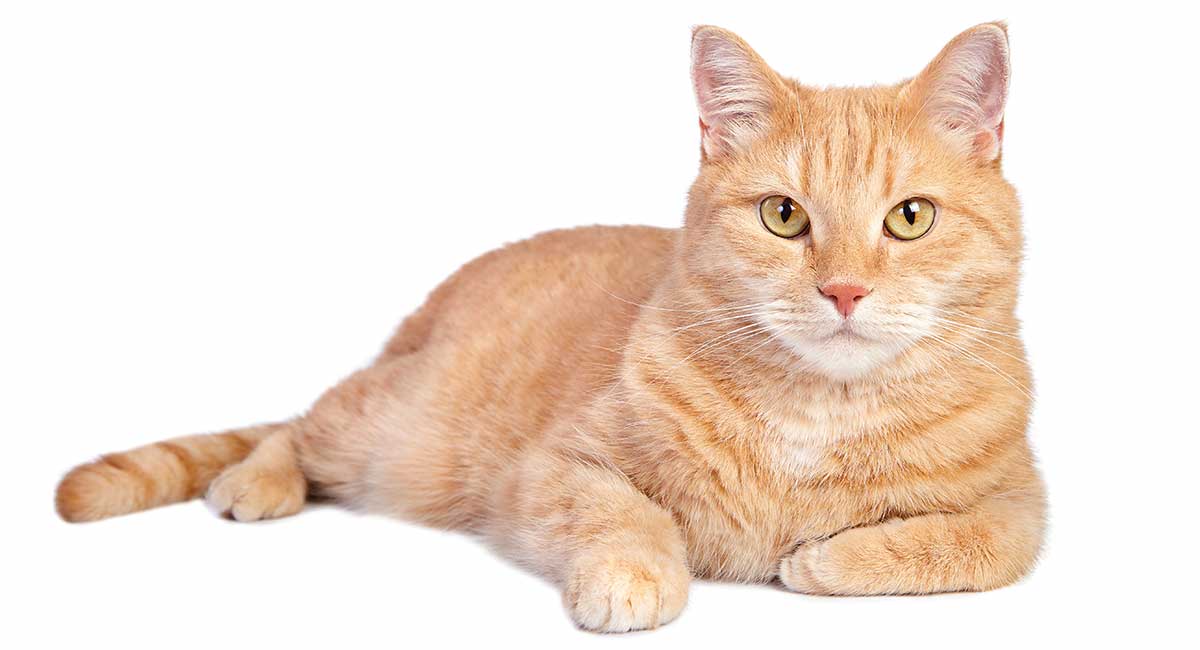 Every orange Tabby Cat is uniquely marked with a gorgeous pattern of tiger stripes. These domestic cats show off their wild side with different shades of light and dark ginger colored fur. Male and female orange tabbies come in two coat lengths, short and long. And there are different tabby patterns, including mackerel, striped, and spotted.
Tabby personalities vary from cat to cat, but many orange tabby cat owners attribute some breed temperament traits, such as friendliness, or intelligence, to their feline friend's stunning color. We'll be looking at some of these claims as we go!
Orange Tabby Cat is packed with fascinating facts about orange tabbies. The Happy Cat Team have put their heads together to bust some myths and to bring you lots of orange tabby cat facts! We'll look at what is so special about orange cats and get all your questions answered.
Orange Tabby Cat Facts
Read on if you're a fan of orange tabbies and believe that they're unlike any other. And when next your friends admire your kitty, you'll be able to entertain them with some captivating orange tabby truths.
Before we get going, we have to admit that we are just a little biased. Billy, chief toy tester on the Happy Cat Team is an orange tabby cat and we have a huge soft spot for orange cats in general.
Okay, let's get started with our orange tabby cat facts!
#1 All Orange Cats Are Tabby
That's right. Not all tabby cats are orange. But all orange cats are tabbies.
Even if a cat looks like it is solid orange in color, you'll be able to see evidence of his or her tabbiness somewhere.
It may be in the form of a faint M on the cat's forehead. Or some pale shadowy stripes on their legs. Orangeness is inextricably linked to tabbiness through a cat's genetic code.
We'll dip a bit further into that topic in a moment.
#2 Orange Tabby Cats are not a breed
Orange tabbies are a type of cat defined by their color (orange or ginger) and their pattern (stripey or tabby). But they are not a distinct cat breed.
Some purebred cat breeds like the magnificent red Maine Coon below have orange tabby as a color option. But many orange tabby cats are mixed breed rather than purebred.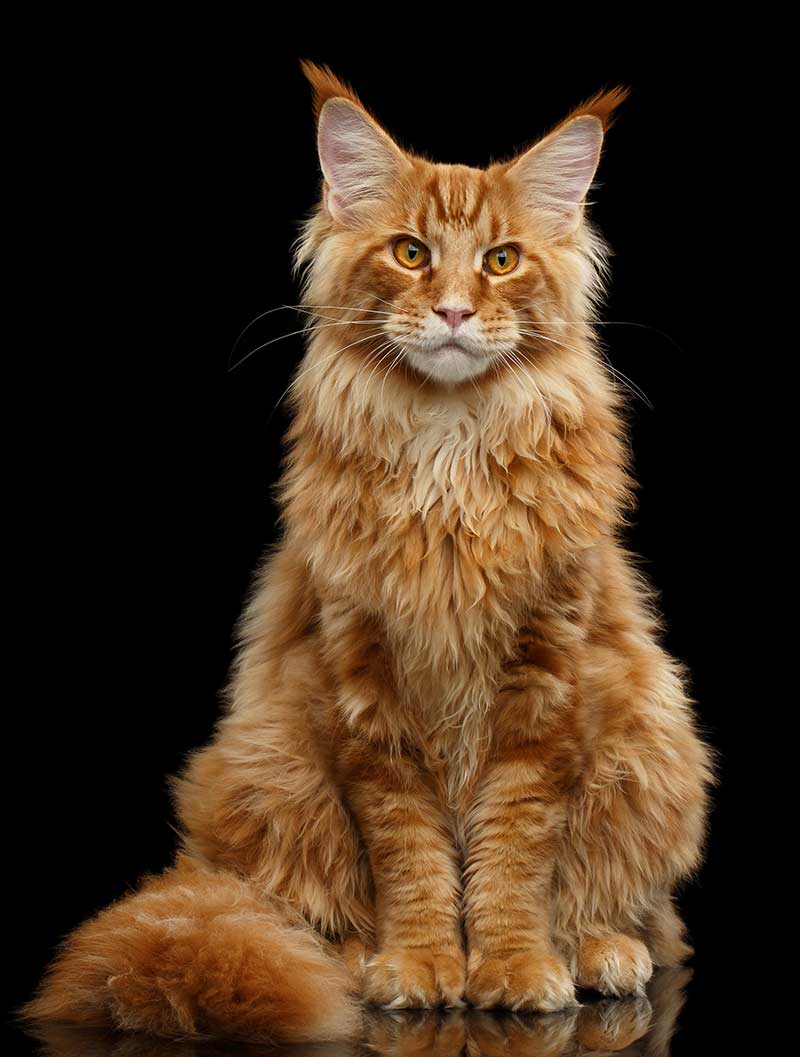 #3 Orange Tabby Cats come in different shades
There is a surprising range or variety in the depth of color that you can find in orange cats. From a pale biscuity orange to a deep rich ginger or reddish brown.
Many people prefer the darker shades. But the paler, brighter orange tabbies can be strikingly beautiful too.
#4 Brits call them Marmalade Cats
Orange tabbies are often called Marmalade cats in the UK, after the gingery color of one of our breakfast favorite – Marmalade, or Orange Jam.
We often say that the M on an orange cat's face stands for Marmalade too! Or Magnificent, Magic, or Marvellous! But when we're not calling them Marmalade Cats, we tend to call them Ginger Cats.
Marmalade and ginger are also common orange tabby cat names.
#5 Orlando was one of the first orange tabby cats from literature to become famous
Orlando The Marmalade Cat was featured in a series of children's books published in the UK in 1938. Author Katherine Hale created the books for her own children.
Based on their real life cat, Orlando
Orlando even made it onto the radio and into a ballet.
#6 The color orange is produced by a chemical called pheomelanin
Pheomelanin in the hair shaft reflects light in a red-orange-yellow range, which we then see as the orange colored fur in many of our pets. Through color dilution, the chemical can create a range of shades from rich burnt orange to pale yellow or cream
Pheomelanin is also responsible for red hair in humans. And areas of the skin that are pink or red – for example, our lips.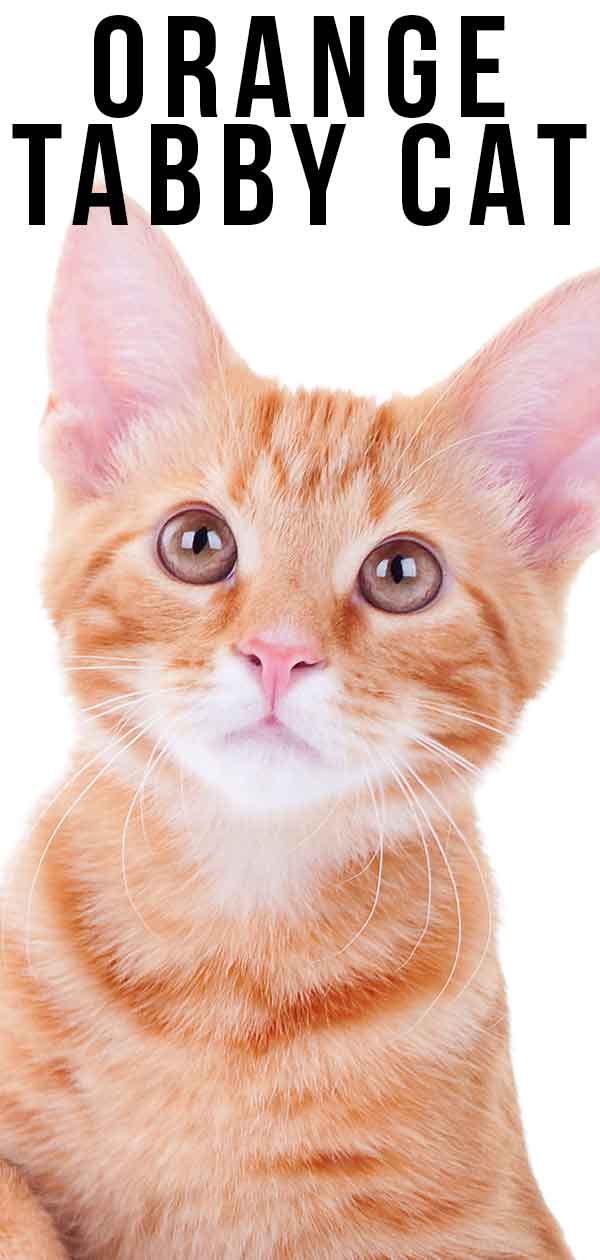 #7 People prefer darker orange
People may prefer their orange cats to be a really dark ginger in color rather than the paler yellow shades of orange.
A study published in 2015 showed that although in general lighter colored cats were rehomed sooner than darker cats, adult yellow colored cats sadly had the longest stay in the shelter.
#8 It's true! Orange Tabby Cats are usually male
You've probably heard that orange tabbies are usually male. And it's true. They are. More than three-quarters of them.
It's all to do with the way that the color orange is passed down on the cat's chromosomes.
Our chief science writer Sarah Holloway explains it all very nicely in this article: Are All Ginger Cats Male – The Link Between Gender And Coat Color In Cats.
#9 Orange Tabby Cats can be long or short haired
Cat coat hair length is inherited independently of color.
But while the typical orange 'street' cat is often short coated, our orange friends can be either long or short haired.
Long haired orange tabbies, need regular grooming, just like other long haired cats, to avoid matting and keep them looking handsome!
#10 Orange tabby fur can be mixed with white patches
Our Billy is ginger all over. But like many other cat colors, orange tabby can be mixed with white patches.
White patches are most often found on the chest and belly or on the paws and tip of the tail.
#11 Orange tabby can occur as 'points'
You will be familiar with some of the more exotic cat breeds that come in pale colors with dark points or markings on face, paws and tail.
Cats like the siamese breed for example.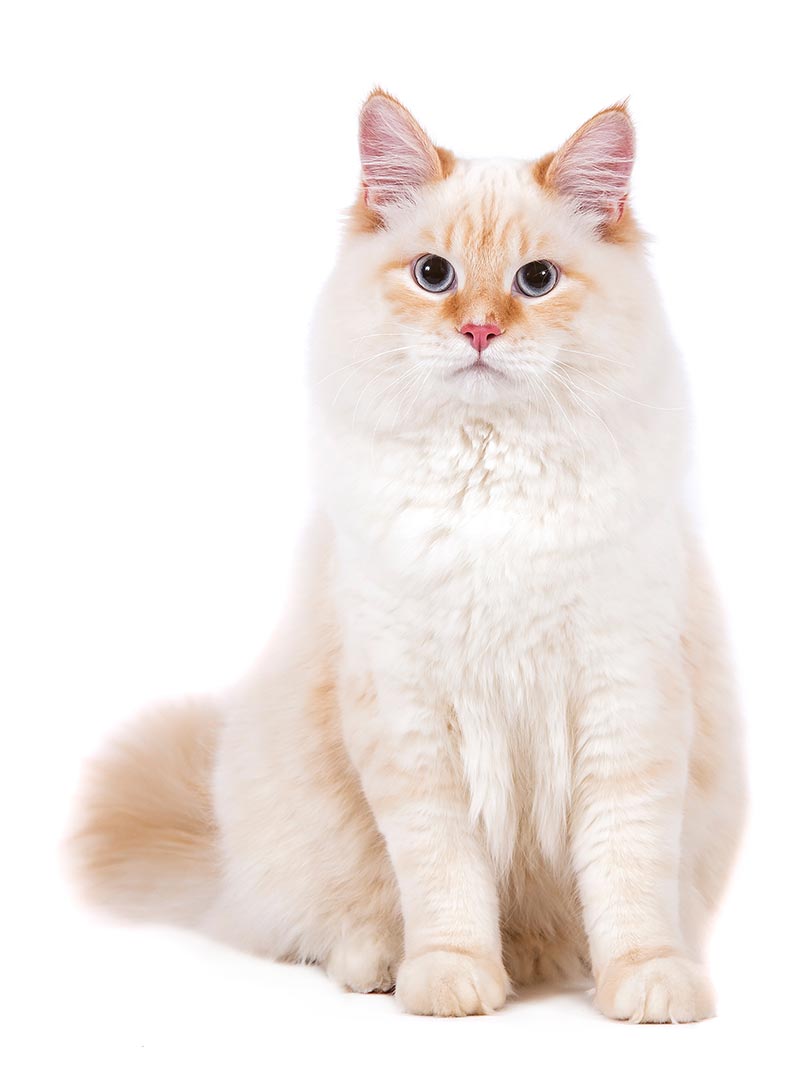 What many people don't realize is that cats can also be found with the same pale bodies and orange tabby points! These cats are often strikingly beautiful, like the lovely Siberian cat above.
#12 Orange tabbies come in several different patterns
Not all orange tabbies have exactly the same markings. Some do have the traditional stripes. While others have a 'ticked' pattern and some have swirls or a marbled appearance.
The Cat Fancier's Association have some nice illustrations and explanations of the different tabby markings on their website.
#13 The gene responsible for tabby patterning is called Taqpep
The full name for the gene that is responsible for the variation in tabby patterns in domestic cats is called Transmembrane aminopeptidase Q. That's a bit of a mouthful, so it's reduced to Taqpep for short.
Our domestic cats have inherited this gene from their ancestors in the wild. The Taqpep gene is also responsible for the stripes and spots of wild cat species such as tigers and cheetahs.
#14 The mackerel tabby pattern is named after a fish
A mackerel is a type of fish. The most common pattern in tabbies is the Mackerel, or fishbone, pattern. This is where narrow stripes, like those of a tiger, run down its sides.
The lines usually run from a solid strip on the cat's back. So, similar to the skeleton of a fish.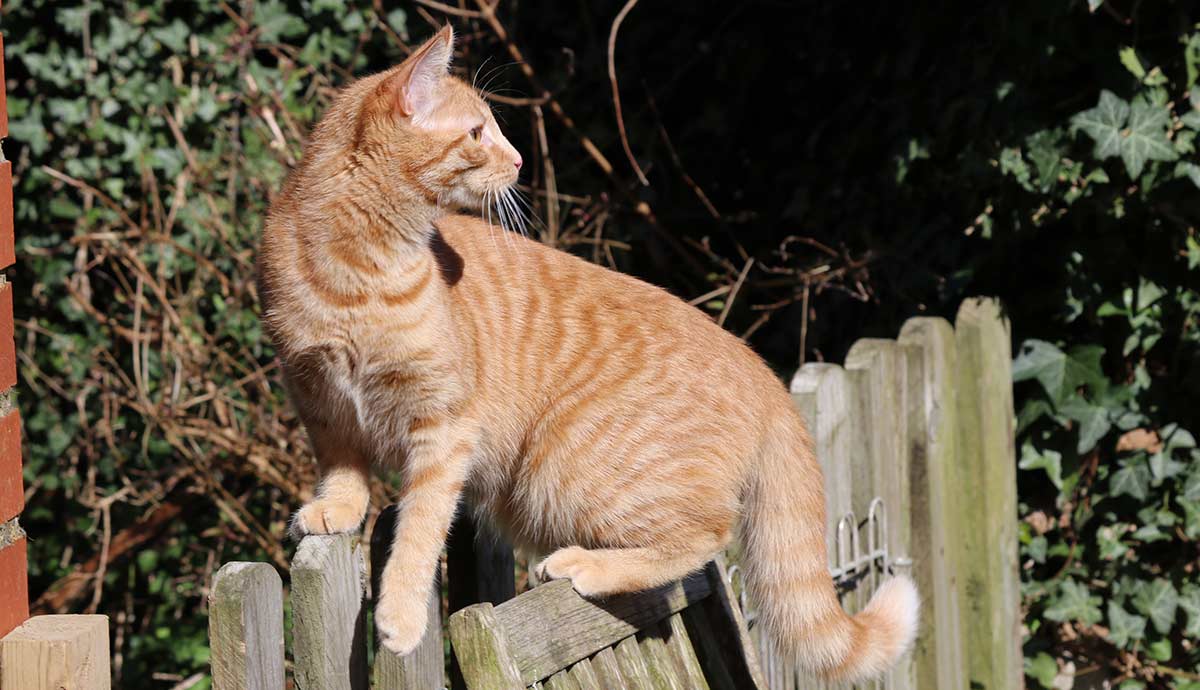 #15 Tabby patterns are designed to hide a hunting cat!
The purpose of tabby patterning is to provide camouflage for the cat when he or she is hunting.
It's harder for prey to spot a predator whose markings blend in with the natural surrounds than it is to spot a cat or any other predator that is a solid color.
#16 Orange is one of the two dominant cat colors
There are two colors that are dominant in cats. Orange (also called red) and Black.
By dominant we mean that these two colors 'override' other colors. So if you cross a cat that is a dominant color with one that is a recessive color, all their kittens will usually be colored like the dominant parent.
It's a little more complicated than that of course. So you can read more about the genetics of cat color at the University of California's Integrative Biology website.
#17 Winston Churchill's favorite cat was an orange tabby
Winston Churchill, British Prime Minister especially known for his role during the 2nd World War, had several orange cats. Tango was his constant companion during the war and often in attendance during strategy discussions.
One of his other favourites was an orange tabby called Jock. When Churchill passed away Jock was at his bedside. Plus, he had made provision for his beloved Jock to stay on at Chartwell after his death.
He also requested that there always be a cat called Jock at Chartwell. Jock VI is reportedly now the resident cat at Chartwell (now owned by the National Trust).
#18 An orange tabby cat was town mayor for 19 years
Stubbs, an orange tabby cat, was elected as Mayor of the small Alaskan Town of Talkeetna in 1998 as a write-in candidate. His Honourable Mayor Stubbs served in this role until he passed away in his sleep in 2017 at the age of 20.
With his office in Nagley's General Store, he was able to keep in touch regularly with his constituents and welcome tourists to the town. At the end of each day he also enjoyed the luxury of drinking water, laced with catnip, out of a wine glass.
#19 Orange tabbies usually have gold or green eyes
Our Billy has pale gold, almost yellow eyes. But many orange tabbies have deep gold, or even green eyes. This colouring is also linked to pheomalanin.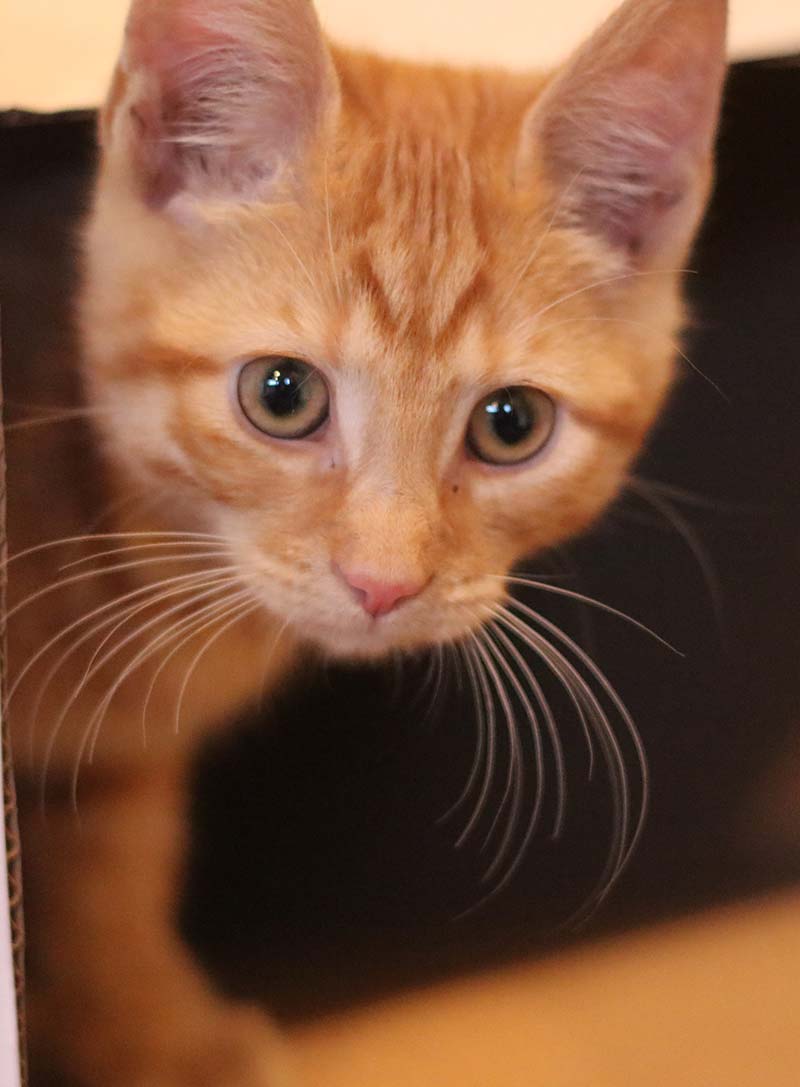 We'd be interested to hear about other eye colors in ginger cats, so let us know if your cat is different.
#20 Morris, the 9Lives orange tabby cat was rescued from a shelter
Morris was an orange tabby cat that featured in 58 different 9Lives commercials in the 1970s.
The original Morris became hugely famous in a classic rags to riches story. His life started out in a Chicago shelter from where he was adopted by an animal trainer who immediately recognised his star quality.
Plus, after Morris died, all the cats that have stepped into his shoes were also shelter cats.
#21 A Street Cat Named Bob won Best British Film
A Street Cat Named Bob is the story of how an orange tabby cat named Bob saved his friend James Bowen from heroin addiction.
Bob is now arguably the most famous orange tabby in the world
Over a million copies of Bowen's book have been sold and it's been translated into over thirty languages! It was also released as a film and won the honor of being named Best British Film in 2017.
#22 Orange tabby cats often have freckles
Orange tabbies often have black spots or freckles on thier skin. Billy has one on the edge of his lip.
But the freckles are only really noticeable on the lips or nose where there is no fur.
#23 Garfield is the most syndicated comic strip
Who doesn't adore Garfield – the cynical, food-loving and lazy cartoon cat with his canine friend Odie and his human, Jon.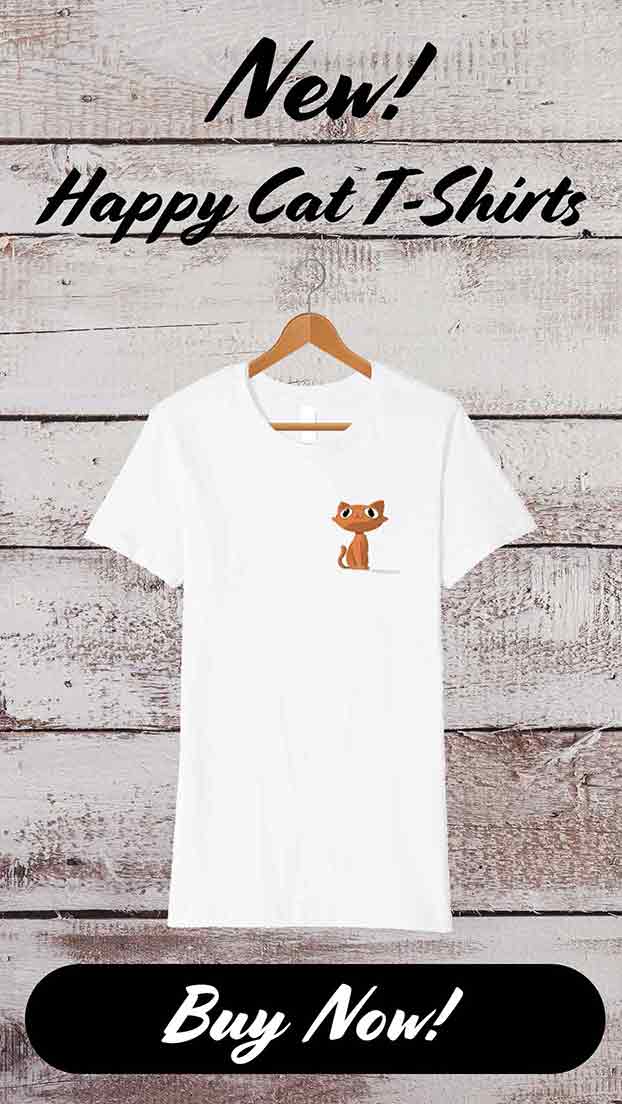 They were created by cartoonist Jim Davis and Garfield currently holds the world record for being the most widely syndicated comic strip.
#24 Orange tabby cat personality – myth busted
Orange cats are often seen as especially friendly, and even lazy. And they love to eat. Our feline friends have in fact been attributed with lots of different personality traits based on their color.
A study published in 2012 showed that people attribute friendliness to ginger cats, tolerance to tri-colored cats, and aloofness to tri-colored and white cats.
But another study in 2016 showed little difference in aggression in cats of different colors when handled or during veterinary visits.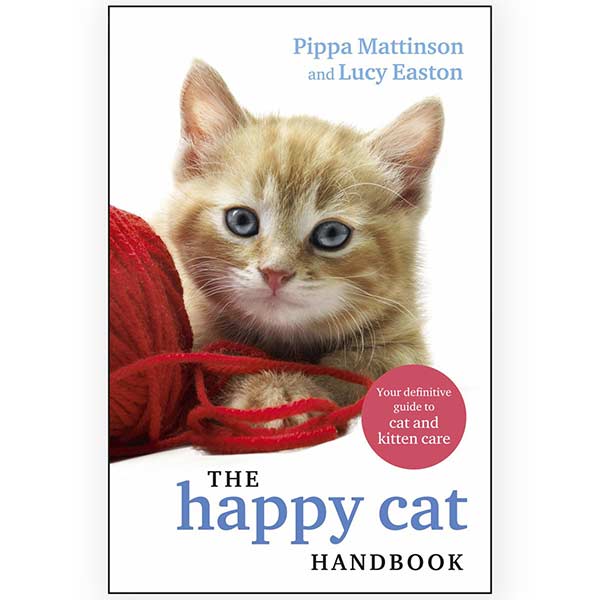 #25 We assign cat traits based on what we believe
So it seems that we credit cats with certain personality traits according to our own perceptions. In colour psychology orange is associated with warm and friendly.
The real orange tabby cat facts are that the personality of your cat is largely determined by the extent of his socialisation before he left his breeder. And how you treat them.
More of that in our excellent article by behaviorist Claire Hemington, on How To Raise A Friendly Cat.
Orange Tabby Cat – Summary
It seems that we're still very much in love with our ginger cats. No matter what the experts say, most of us believe that they are the friendliest, most laid back cats in the world.
Billy is certainly very affectionate to his family. He isn't overly friendly though with passers-by in the way that some cats are.
We hope you enjoyed our collection of orange tabby cat facts. But don't forget to tell us about your orange cat in the comments box below! We'd love to hear what they're like.
References and further reading
Berkeley. Integrative biology. Basic genetics as revealed by cats. UC Berkeley
Brown, W.P. & Morgan, K.T. 2015. Age, breed designation, coat color, and coat pattern influenced the length of stay of cats at a no-kill shelter. Journal Of Applied Animal Welfare Science.
CFA.. Understanding the basic genetics of cat colours. Cat Fanciers Association
Delgado, M.M. 2012 Human perceptions of coat color as an indicator of domestic cat personality. Anthrozoos.
HHS. 2019. Morris the Cat. Hinsdale Humane Society – home of Morris the Cat. Hinsdale Humane Society.
Kaelin, C.B. 2012. Specifying and sustaining pigmentation patterns in domestic and wild cats. Science.
Stelow, E. et al. 2016 The relationship between coat color and aggressive behaviors in the domestic cat. Journal of applied animal welfare science.
Vocelle, LA. 2015. Cats in the 20th Century History (Sir Winston Churchill's Cats). The great cat.
This article has been extensively revised and updated for 2022.
Your Amazing Cat!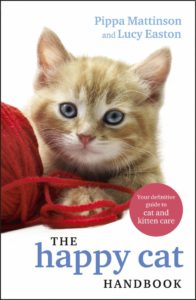 We are so excited to share our new book with you!
If you have enjoyed your visit to The Happy Cat Site we think you'll love The Happy Cat Handbook.
Written by the founders of this website including the author of the hugely successful Happy Puppy Handbook, it's packed with cat care information and fascinating cat facts.
Grab your copy today!