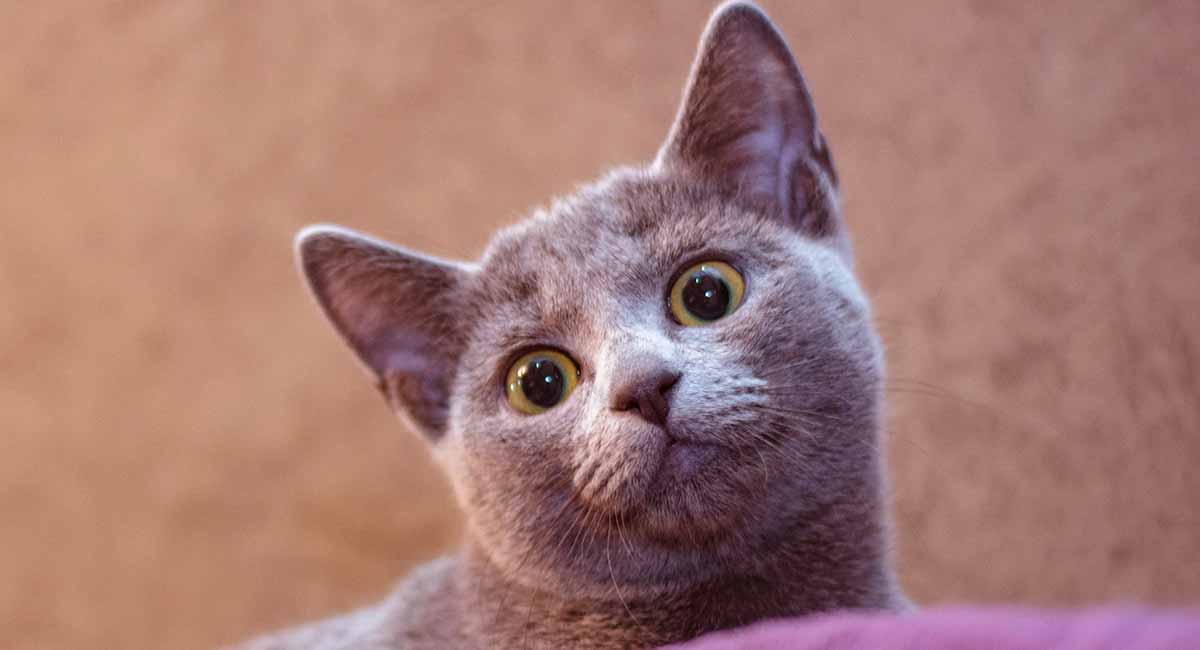 The Russian Blue cat breed is named for their iconic blue, grey or silver coat, which is short, thick, and plush. They are highly intelligent, quite docile and often loving. A medium sized cat, the Russian Blue can be up to 12 pounds in weight, and tends to have fairly good health. Never demanding, always attentive, loyal and kind, it is no wonder Russian Blue cats are steadily becoming better known and more popular all around the world!
Contents
The history of the breed
How coats and colors vary
Do they make good family pets?
Finding a good breeder
What Is A Russian Blue?
Breeders have traced the lineage back to a feral line of blue cats that inhabited Russia in the 17th century. Today, as a result of careful breeding, two distinct lines exist:
The large and stocky European Russian Blue cat
And the leaner, lithe American Russian Blue Cat
In addition, there is the better known short hair Russian Blue cat, and the long haired cousin, the Nebelung.
Just in case you aren't already fascinated with the enigmatic Russian Blue cat breed, did you know their most famous nickname is "Archangel cat?" This nickname arose not because of an otherworldly encounter, however, but because the first Russian Blue cats originated in the Russian port city of Archangel.
However, they were clearly born to travel. They quickly made their way to other areas around Europe, courtesy of sailors who doubtless gave them free passage in exchange for their services on the shipside "rat patrol."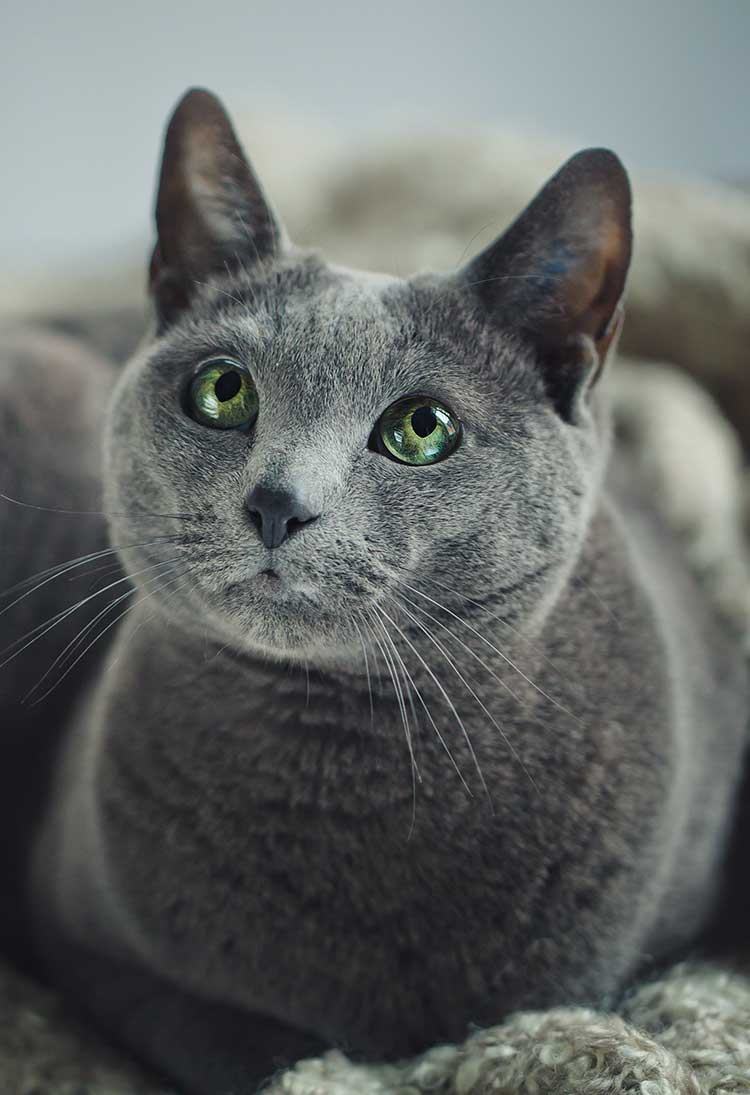 Russian Blue Weight
European or UK Russian Blues, which were outcrossed with British Blue cats, tend to be larger and stockier. The American variant, developed to a standard set by the Cat Fanciers Association, tends to be lighter and leaner.
However in general a purebred Russian Blue cat can range in size from 8 to 12 pounds, or 3.5 to 5.5 kg. This places the Russian Blue cat in the "medium sized cat breed" category.
Colors And Coats
The traditional colors of a purebred Russian blue are quite uniform, according to the Cat Fanciers Association. Purebred Russian Blue kittens have yellow eyes and may have what breeders like to call "ghost stripes" that are a lighter shade than the underlying grey-blue coat color.
The Russian Blue cat eye color changes from yellow to green when your kitten becomes an adult cat. Any kitten-esque stripes will fade into the elegant grey-blue-silver coat color of a full-grown purebred Russian Blue cat.
The litmus test comes at breeding time. If you breed two purebred Russian Blue cats, you will always get kittens with yellow eyes and the blue-grey coat, with or without temporary stripes. Traditional Russian Blues have short, plush coats. The Russian Blue cat long hair breed is the Nebelung. This musical word is of German origin and it translates to mean "creature of the mist."
While the Nebelung was initially classed as a semi-long haired Russian Blue in the 1980s, traditional Russian Blue breeders objected. The end result was that the Nebelung was later classed as a unique breed. Other than the difference in length of coat, the Nebelung purebred cat line shares the same basic personality and temperament characteristics as its shorter-haired cousins.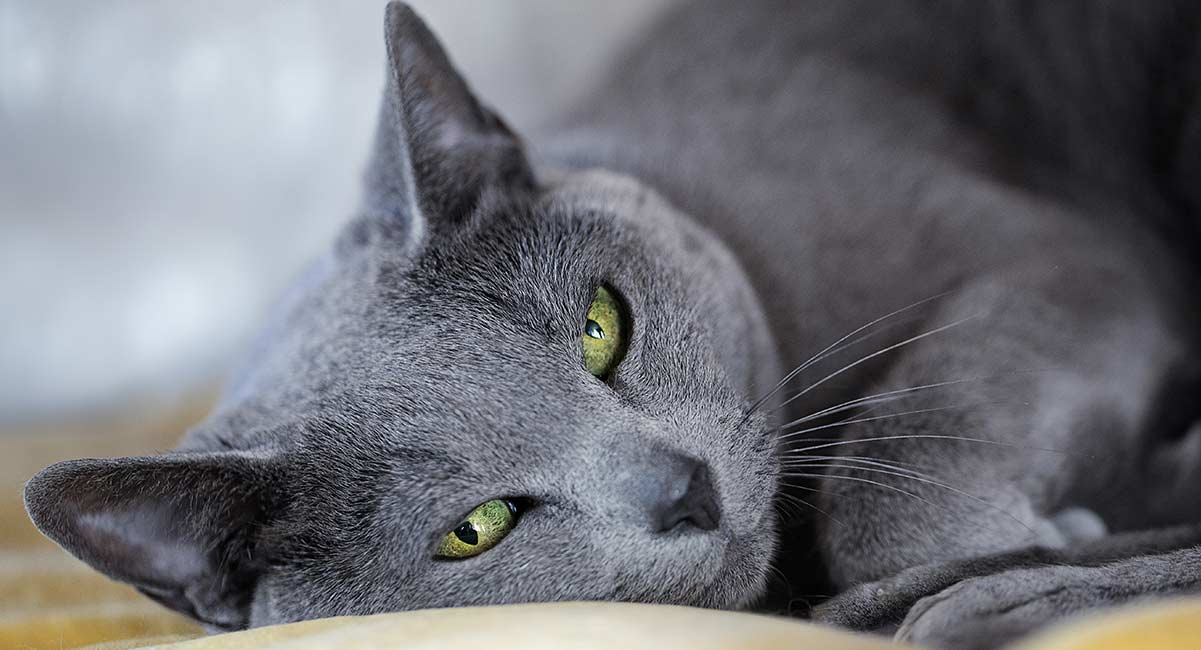 Russian Blue Shedding
While some pet cats shed prolifically regardless of coat length (short or long), you won't ever have this issue with a Russian Blue. These cats rank "low" on the shedding list, in part due to their naturally short coats and in part to a personality that lends itself to meticulous personal grooming.
Remember that a regular brush down is probably the best way to cut down on shedding and on potential hairballs. The Nebelung will shed a bit more noticeably than the short hair Russian Blue cat. But overall, it will still shed less than most other pet cat breeds with either short or long haired coats.
Russian Blue Personality
The Russian blue cat personality is equally as lovely as its appearance. These cats will become intensely bonded with their owners, often subtly following them around with what some owners describe as a sweet "smile" on their furry feline faces.
They are great family cats and can sometimes act more like people than felines – even learning to open and close doors on their own! But they also love to play and jump and climb and just be a fun-loving cat.
The high intelligence of Russian Blue cats can sometimes manifest as shyness or extreme caution at first. But they are really just keen observers of their environment and social dynamics. For this reason, your Russian Blue cat may not warm up to strangers (human or animal) instantly, but given a bit of time and patience, these sweet cats will welcome new pets and people into their life fully.
Are They A Demanding Breed?
While your Russian Blue cat won't ever demand that you pay attention to him or pet him constantly, and may even be happy without a lot of physical contact, these cats really need your company and may grow quite lonely if left alone for long periods of time frequently. So when you are going through the Russian blue cat adoption process, you may want to consider bringing home two Russian Blue kittens or cats instead of just one cat.
These cats tend to be very playful. And they may be avid hunters if they are allowed to go outside. So don't be surprised if they bring you presents of birds and mice!
Potential Health Problems
The Russian Blue breed history suggests that this breed is remarkably free from inherited diseases and drug sensitivities. However, these cats do have known and documented predispositions to the following diseases and health issues:
Renal failure. Russian Blue cats have an increased risk estimated at double that of other cat breeds.
Urolithiasis. The term "urolith" means "stone." Urolithiasis is the development of crystalized mineral stones in the bladder, kidneys or urethra/ureter. Russian Blue cats have an increased risk for developing this condition.
Overweight/obesity. Russian Blue cats have a known tendency to over-feed, which can in turn increase the risk for renal failure and urolithiasis as well as other weight-related health issues. (They are also known to beg for seconds at mealtimes, feigning genuine hunger to convince their owners to give them more food!)
There is no genetic test currently available to verify in advance an increased risk for the above Russian Blue cat health conditions. However, you can ask the breeder for a parental health history. Also ask your veterinarian for help with guarding against these health risks on an ongoing basis.
Russian Blue Lifespan
The average pet cat can expect to live anywhere from 9 to 12 years depending on breed, care, and life circumstances. Happily, the estimated Russian Blue cat lifespan is far longer than that. A Russian Blue cat's typical lifespan is between 15 and 20 years old!
The Nebelung cat, the Russian blue cat long hair breed, has a lifespan between 15 and 18 years old, so it can live nearly as long as its short-haired cousin! We can thank the general good health of the breed for that.
Special Care Requirements
Caring for your Russian Blue cat requires no special accommodations. In general, the Russian Blue cat breed is considered hardy, long-lived and sturdy. The only special consideration to keep in mind on a daily basis is the breed's general tendency towards weight gain, which means you should offer treats sparingly.
The Russian Blue cat is an eager gourmand who is not at all picky. This can cause your fur baby's waistline to take on a life of its own if you don't watch portion sizes closely. You should definitely plan for a weekly coat brushing and teeth cleaning, which your cat will likely love, since these cats really enjoy affection and one-on-one time with you.
It is also important to change your Russian Blue's litter box very frequently, since this breed can be very picky about entering a dirty litter box.
Also, the Russian Blue cat can startle easily and tends to get distressed with sudden changes. So your kitty will appreciate any effort you can make to minimize sudden loud noises and other unnecessary environment alterations. Especially true when it comes to your cat's personal space.
Russian Blue Food
Often, the choice between wet and dry cat food really just depends on the owner, as well as on the cat. Some cats are picky eaters. Not so much with the Russian Blue. Because of this breed's tendency to gain weight, however, it is definitely recommended to keep an eye on their food intake.
Overall, wet food is generally considered a better option for cats who are prone to obesity. This is because many dry foods contain fillers that up the calorie count without providing necessary nutrition.
Russian Blue Breeders
Choosing a single Russian Blue kitten out of a whole litter of cute Russian Blue kittens certainly won't be the easiest challenge you will ever face! If you are like most cat lovers, you'll likely want to pick the whole litter! These guidelines can help you select the Russian Blue kitten with the best potential to be healthy, active, well-adjusted, and happy in his new home with you:
Select a Russian Blue cat breeder in your local area just in case there are any issues later. Ask your veterinarian or the local cat association for referrals.
If at all possible, meet the kitten's parents and verify their good health and pedigree before deciding to purchase from Russian blue cat breeders.
Choose a kitten with bright clear eyes and ears. In particular, check carefully to be sure the kitten's ears are free from mites.
Pick a kitten with a shiny, healthy looking coat. Don't worry if your new kitten's coat has striped markings (called "ghost stripes" by some breeders) that look somewhat like a tabby cat. This is common in kittens and usually resolves in adulthood.
Pick an active kitten who is playful and curious and engaged with you, his litter mates and his environment.
Be sure to handle the kitten you are considering and make sure he is comfortable and does not shy away from you in general or from making eye contact with you. If he does shy away, this can mean he wasn't handled enough by the breeder early on and may never get fully used to human company as an adult.
Buying a Kitten
Much of the Russian Blue cat price, which typically ranges between $400 and $600 (U.S. dollars), reflects the relative rarity of the breed in comparison to other much more common cat breeds. Before choosing a breeder, be sure to ask what is included with the initial price. If one breeder is charging a higher price than all the others, it is perfectly fine to ask why.
On "rehoming day," we suggest following these steps.
Be sure your Russian Blue kitten is at least 13 weeks old before taking her home.
Check to be sure your Russian Blue kitten has completed her last series of vaccinations at least 7 full days prior to you taking her home.
Obtain the vaccination certificate from the breeder. Check to be sure your kitten has been vaccinated for feline enteritis, "cat flu," feline leukemia virus (optional), chlamydia (optional).
Obtain a written kitten health guarantee from the breeder. This should cover at least the first few months of your kitten's time with you.
Obtain the signed pedigree certificate from the breeder (if applicable).
Receive the signed transfer slip from the breeder transferring ownership of the kitten from the breeder to you (if applicable).
Obtain the registration of new kitten insurance from the breeder (if applicable).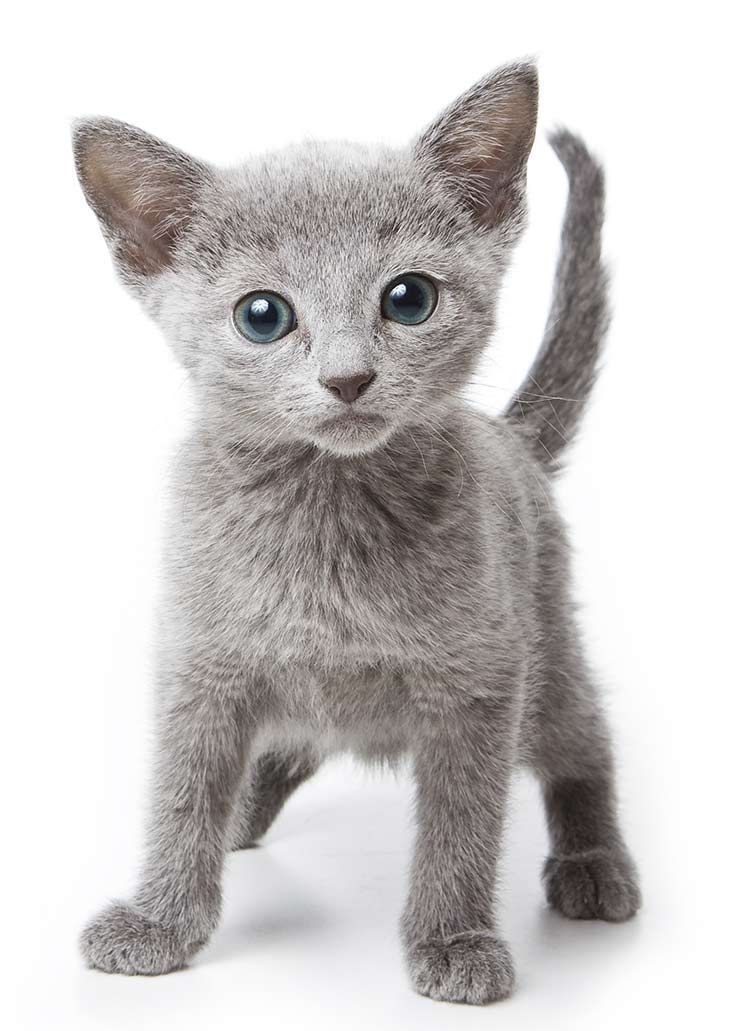 Rescuing a Russian Blue
It is far more likely that you might find a Russian Blue mix cat at a shelter, since an intact purebred Russian Blue male might have snuck out to make kittens with a feral intact mixed or different breed female here or there.
A shelter may advertise that they have a Russian Blue cat rescue available, but keep in mind that there are several cat breeds that can also feature grey-blue-silver fur and yellow-green eyes.
But if your most important goal is to give a shelter kitty a lovely new home, and the certificate is not important to you, then you can just admire your new fur baby's beautiful fur and go home to cuddle and enjoy life together!