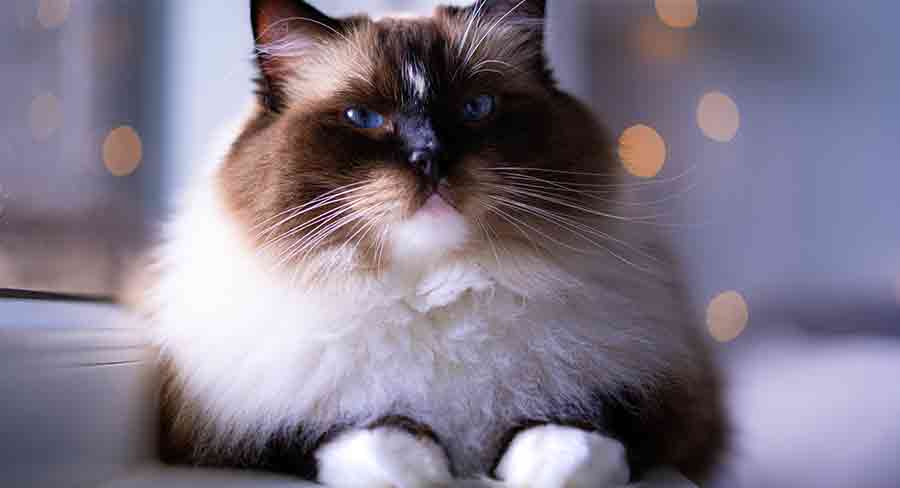 A seal mitted Ragdoll cat has seal points and white markings. These markings include a white chin, and white feet. Some seal mitted Ragdolls will also have a white blaze on their nose or between their eyes. They will have the same medium to long fur as other Ragdoll cats, and the same general temperament. You can expect a seal mitted Ragdoll cat to be friendly, gentle, and affectionate. These cats fit in well in family environments, and are surprisingly low shedding!
Contents
This coloring and pattern is accepted in the Ragdoll breed standard, so a mitted seal Ragdoll can be a show cat. Like any other individual in this breed, the seal mitted Ragdoll will have blue eyes. This is one of the breed's most popular features.
The seal mitted pattern goes all the way back to the breed's creation in the 1960s. In fact, TICA states that one of the earliest individual cats used to establish the Ragdoll breed was a seal mitted cat named Daddy Warbucks!
What Do Seal Mitted Ragdoll Cats Look Like?
A seal pointed Ragdoll will have a fawn or beige colored body, with dark brown coloring at their extremities, or points.
The term "mitted" doesn't refer to the coloring of your cat, but instead the pattern on their fur. A mitted Ragdoll will have a white patch on their chin, extending down their chest and the entire length of their belly.
They will have white front feet, and their back legs will have white that can be as high as mid-thigh level. Some mitted cats will also have a blaze – a small white patch on their nose or between their eyes. So, a seal mitted Ragdoll will have these white markings over a fawn/beige body, with dark brown points at their extremities.
Aside from their fur color, these cats will have blue eyes. Their fur will be medium to long in length. They have well-balanced bodies that fall into the large cat category as adults. And, they will have a softly rounded, wedge shaped head.
Coat Colors vs Temperament
A seal mitted Ragdoll cat will have the same sort of temperament as any other Ragdoll cat. All Ragdolls tend to be loving, friendly, and relaxed cats. They can fit in well to a large family environment. This cat breed is often very patient towards children and tolerant of other pets. But, it's important that any young children are taught how to properly interact with the cat – including keeping playtime and petting gentle. As long as you socialize your Ragdoll kitten well, they will likely be friends with strangers and family members alike.
This is a very social cat that needs lots of attention and company. A seal mitted Ragdoll, like any other shade or pattern, won't suit homes where they are left alone for long periods of time.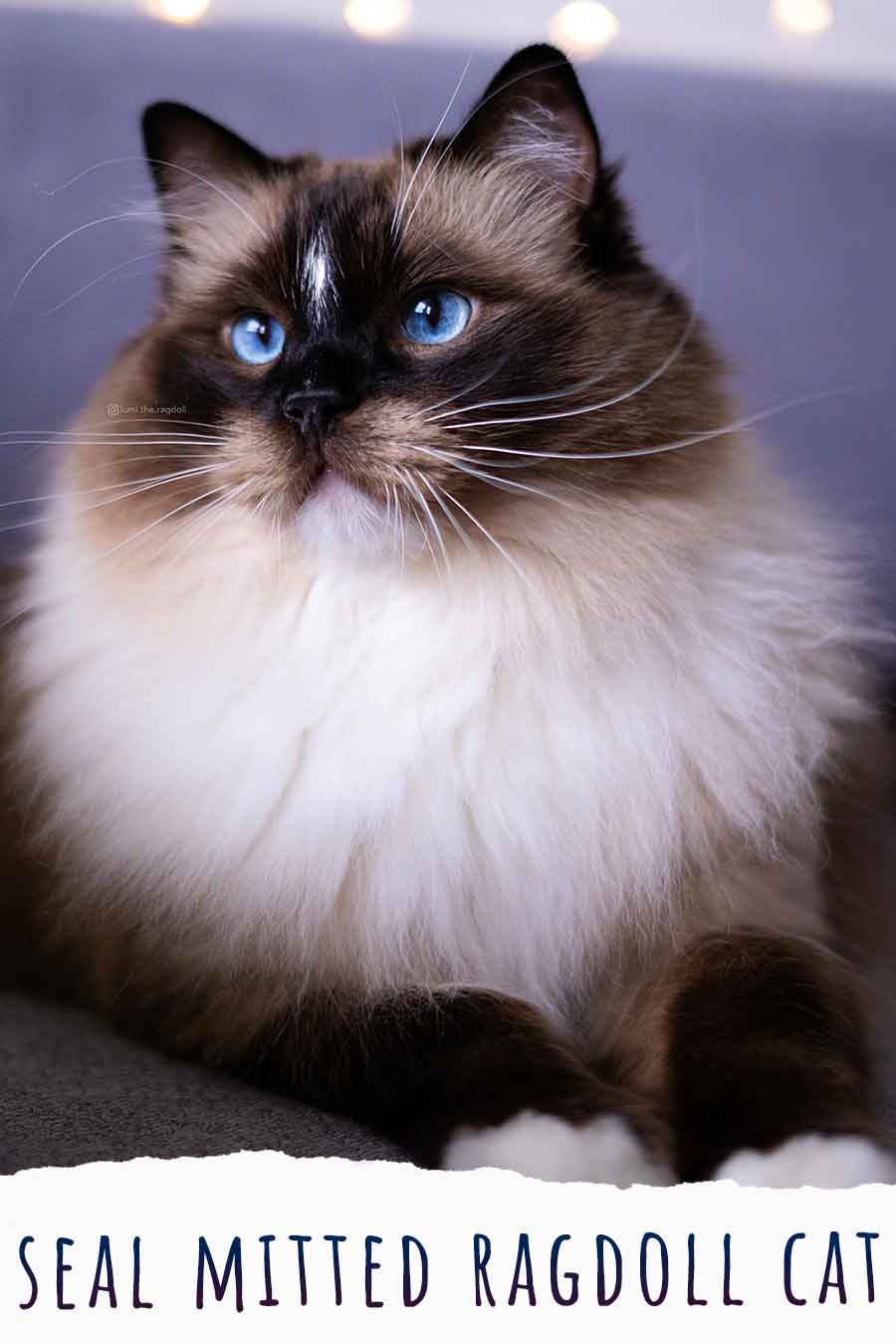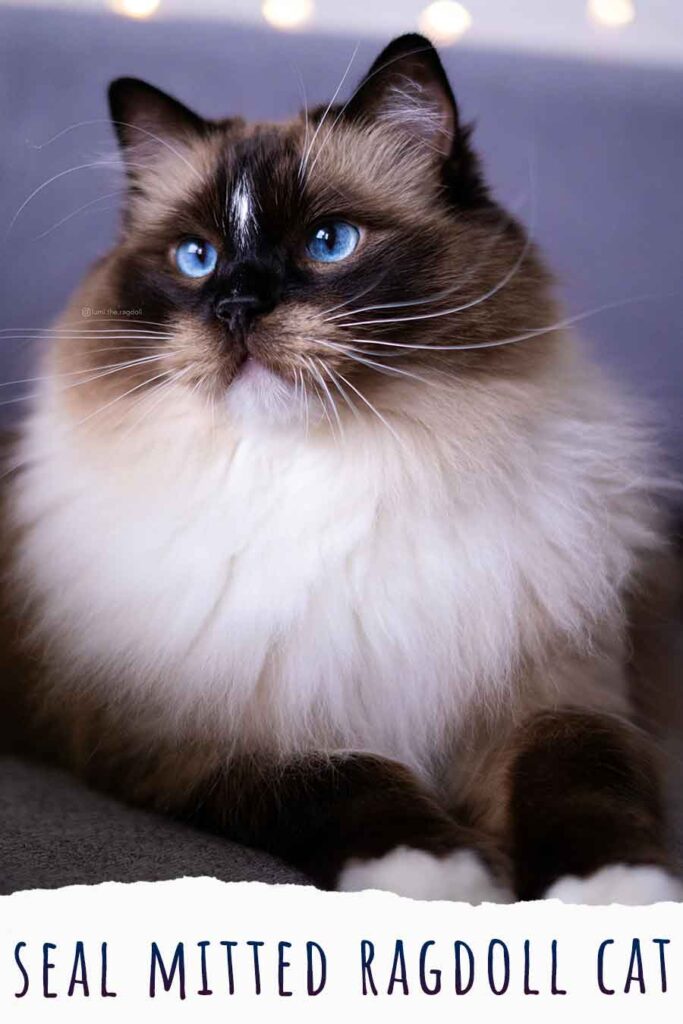 Grooming and Shedding
Like all other types of Ragdoll, a seal mitted cat will be low shedding, but not hypoallergenic. Unfortunately, there's no such thing as a hypoallergenic cat. So, if you suffer from cat allergies, there's a chance that this breed will trigger symptoms.
Although our cats spend a lot of time grooming themselves, sometimes we can help them out a little. Particularly in a breed with longer fur, like the Ragdoll. A seal mitted Ragdoll can benefit from regular grooming, especially to tease out any knots or tangles that appear in their fur.
Are They Good Pets?
A seal mitted Ragdoll cat will suit your home if you're looking for a friendly, social cat that you can spend plenty of time with! To maximise this temperament, make sure to socialize your kitten as well as you can when they come home. Ragdolls are quite low shedding cats, but they will trigger allergies in some people, as they are not hypoallergenic. They will not suit homes where they are left alone for long periods of the day.
Finding Seal Mitted Ragdoll Kittens
Unless you're choosing a mink Ragdoll cat, all Ragdoll kittens are completely white when they are born. It's a good idea to go to a reputable breeder when seeking a seal mitted Ragdoll, as they are most likely to produce the healthiest, friendliest cats. Backyard breeders and pet stores are less likely to put the time and money into finding the healthiest cats to breed from. Which can lead to expensive veterinary bills later down the line.
You may be lucky enough to find a seal mitted Ragdoll at rescue centres too. So, make sure to check those near you, especially if you're happy bringing home a slightly older cat.