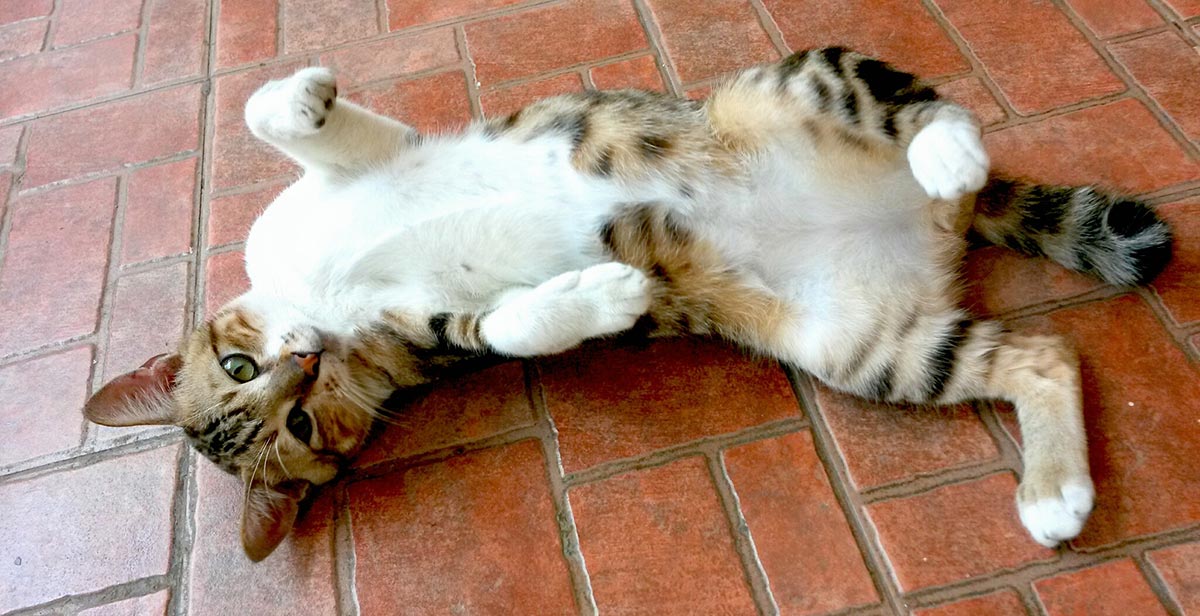 There are several potential pros and cons of declawing cats. The benefits include less damage to your home and even your own delicate skin. However, the disadvantages that come with these are pretty huge. This is no minor operation, and can end very painfully for your pet even in the longer term. Today I'll help you weigh up the costs and advantages, to decide whether this operation is the right way to manage destructive behavior or whether you should go down another less risky route.
Why are cats declawed?
All cats simply love to scratch.
It stretches their muscles, keeps their claws clean and healthy.
It also leaves a visible and scented mark behind which tells other cats "this is MY territory".
Scratching is such an important activity to them that it doesn't even need to be learned, it is completely innate.
However, when cats scratch inside our home and damage our carpets and furniture, it puts a strain on our relationship.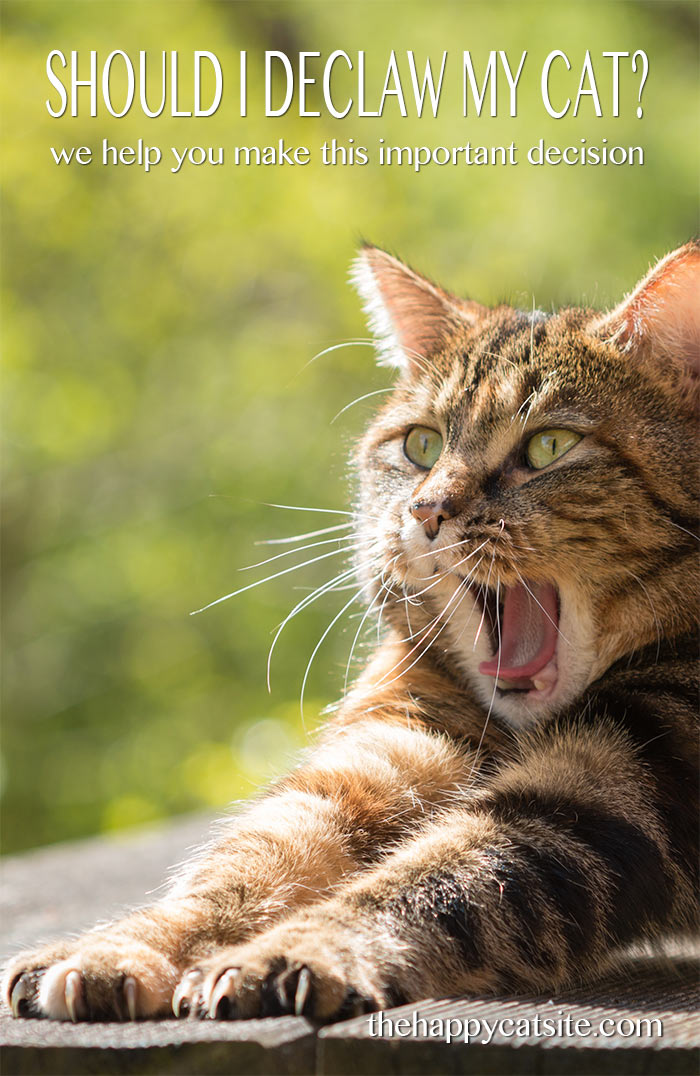 In the United State, approximately one quarter of domestic cats are declawed to prevent them from scratching.
How are cats declawed?
Cats' claws grow directly from the last bone in their toes.
Declawing a cat means amputating the final bone from each toe, using either a scalpel, surgical clippers, or a laser.
So declawing is a bit of a misnomer.
It's not just the claws that are removed, it's a part of the bone too.
The procedure must be performed by a qualified vet, under general anaesthetic.
Pros and cons of declawing cats: the advantages
In the vast majority of cases, the benefits of declawing a cat are all about the owner really.
Which isn't necessarily a terrible thing in and of itself.
Many cat owners feel the quality of their relationship improves as a result of declawing.
Declawed cats continue to perform scratching behaviors, but they no longer cause damage.
This reduces tension and ill-will towards your pet.
A happy owner is more likely to make a happy cat.
But the main benefit to the cat could apparently be a stark difference between life and death.
Or at least rehoming or staying in the house they grew up in.
In one survey of people who opted to declaw their cats, half said they would not have kept their cat if declawing hadn't been available.
Sadly if those cats had all been left with animal shelters instead, nearly three quarters would have ultimately been euthanized.
Medical grounds for declawing a cat
Very occasionally, your vet may recommend declawing on medical grounds to promote your cat's welfare.
The two leading reasons for this are paronychia and neoplasia.
Paronychia is bacterial or fungal infection at the boundary between claw and skin.
Neoplasia is an abnormal tissue growth around the claw.
These are both medical causes with a surgical solution, but thankfully most pet owners don't need to consider them.
Pros and cons of declawing cats: Pain
The American Veterinary Medical Association has done a lot of research into declawing.
They included 24 different papers in a review which have examined how much pain cats experience.
Both immediately after the declawing procedure, and over the long term.
Unfortunately it is difficult to accurately gauge pain in cats, because they are stoic by nature.
However, measurable pain was only observable on average for a couple of days after declawing surgery.
Nonetheless, the review recommended that pain relief should be provided for a minimum of one day after surgery.
And one veterinary hospital recommended pain relief should be provided for twelve days to make sure no animals were unknowingly left in pain.
The rate of long term lameness caused by declawing is low: less than 1% of studied procedures.
Pros and cons of declawing cats: Surgical complications
Should I declaw my cat or avoid doing so due to surgical complications?
Reports of surgical complications after declawing vary widely between study groups, from 3% to 50%.
A retrospective study of 163 declawing procedures at Washington State University found that just over 30% of the cats experienced further blood loss after surgery.
Blood loss was more frequent and more severe in older cats than kittens.
In a review of 252 declawing procedures carried out at the University of Prince Edward Island, 17% of the cats treated experienced wound reopening.
They observed this was more common when declawing was performed with a scalpel.
Approximately 3% of declawed cats experience claw regrowth, which can lead to abscess formation and pain.
Four studies included in AVMA's review reported cats experiencing temporary paralysis in their paws lasting five to 30 after declawing.
A further five studies warned of complications caused by bandages preventing adequate blood supply reaching the lower leg after surgery.
These figures vary widely, but even at the smallest result it's still quite a hefty amount of problems.
Does declawing affect normal cat behavior?
Opponents of declawing have long cited anecdotal evidence that it increases the frequency of unwanted behaviors.
They say declawed cats bit more and  soil outside the litter tray.
The AVMA survey disagreed.
Undesirable behavior didn't increase, and desirable behavior didn't decrease.
How much does it cost to declaw a cat?
The cost of declawing a cat depends where in the country you are, and whether you are having two or four feet declawed.
The cost of declawing a cat using the scalpel or clipper technique typically costs between $80 and $320.
Laser declawing costs $200 – $450.
Should I declaw my cat for financial reasons? Does the cost outweigh the benefits?
Getting cats declawed: questions to ask your veterinarian
If you are considering getting your cat declawed, there are some wise questions to ask your vet before the procedure takes place.
Which technique do they use?
If you can afford it, laser declawing is associated with a faster recovery and fewer post-surgical complications.
Declawing with nail clippers in particular has been linked to higher rates of postoperative infection and long term lameness.
Do they remove all of the final toe bone?
Some practitioners prefer to leave a portion of the bone behind, to preserve some normal function of the foot.
But unless they are very experienced and adept, there is an increased risk of claw regrowth, which can result in painful complications.
If they intend to leave some of bone behind, ask how much experience they have in doing so.
And how often cats have experienced complications or claw regrowth afterwards.
Pain relief
How long will the vet provide pain relief for after the procedure?
And what monitoring will they put in place to make sure your pet receives pain relief for as long as they need it.
When to declaw a cat
Cats under a year old recover more quickly and have a lower incidence of surgical complications than cats over a year old.
If you intend to declaw your new cat, you should consult your vet while they are still a kitten.
Some vets may offer to declaw your cat at the same time as spaying or neutering them.
However this has been linked to slower recovery times and a higher incidence of postoperative complications.
Should I declaw my cat if they are over a year old? The choice is yours, but the risks do seem higher.
Should I declaw my cat despite my reservations?
Declawing is not illegal in most of the United States, but whether it's morally or ethically acceptable is a debate which divides us.
Declawing shouldn't be mistaken for a minor procedure, it is serious surgery and carries with it the same risks as any other surgery.
Many people feel passionately that declawing is an inhumane act of mutilation, which inflicts unwarranted pain upon cats.
Local laws
Bear in mind that if you're reading this is Europe, declawing cats is already likely to be illegal in your area.
Declawing cats is also illegal in some parts of California, and other states are predicted to follow suit.
The American Society for the Prevention of Cruelty to Animals and AMVA have both strongly discouraged the practice in their most recent policy statements.
In general, it appears that declawing will only continue to fall from favor and be more widely condemned.
With that in mind, let's take a look at some of the alternatives to declawing.
Alternatives to declawing 1: Behavior modification
If you are unhappy about how much your cat scratches, you should always start with training.
Surgery should come after all attempts to use toys, scratch posts, distractions and rewards to correct their behavior.
For help with this, hop over to our article How To Stop Cats Scratching Furniture.
Alternatives to declawing 2: Nail trimming
I suspect many cat owners will laugh mirthlessly at this suggestion.
I know I've never owned a cat which would surrender to having it's claws trimmed without a massive fight.
However a cat with an amenable disposition, who has had their claws trimmed regularly since they were a kitten, might just go along with it.
A talented groomer or sympathetic vet might also agree to help you.
Alternatives to declawing 3: Nail caps
These are small vinyl caps that are glued over your cat's claws.
They can still be extended and retracted and used normally for stretching, but they can't scratch.
This is are a relatively recent invention, so there is not much objective research into their efficacy or impact on the cat wearing them.
They fall off when the claw naturally sheds its outer sheath (about every four to six weeks).
You can either replace them yourself, or delegate it to a groomer or understanding vet.
Bear in mind manufacturers do not recommend nail caps for outdoor cats.
Not an acceptable alternative to declawing: Tenectomy
Tenectomy means severing the tendons in the cat's foot so that they can't extend their claws and use them for scratching.
It carries all the same risks of surgery as declawing, but it has lower reported success rates, and cat owners are typically less satisfied by the results.
Whilst the toe bones are left in place, the structural damage to the foot is no less likely to cause short term or long term pain.
So unless your vet can offer a compelling reason for this procedure, it's hard to imagine why you would.
Should I declaw my cat?
I will be candid with you: in compiling this piece, I have been convinced that declawing a cat is inappropriate.
It subjects them to the risks of surgery and the violation of body modification, without any health benefit to them.
I'm afraid I have little compassion for the owners who say that if they can't have their cat declawed they'd rehome them.
Or have to leave them with a shelter and risk them being euthanized.
Before we bring home a new pet, we should be honest with ourselves about whether we can tolerate the normal behavior of that animal.
And if we can provide a safe home for them.
It's time to stop seeing declawing as a solution to scratching.
To resolve to modify unwanted behaviors by training and non-surgical methods. Or not get a cat.
Your view?
As you can see, I feel strongly now.
Have you reached a similar conclusion, or can you still picture non-medical circumstances where declawing is justified?
Join the debate in the comments section below.
Today's article "Should I Declaw My Cat" is by Sarah Holloway. Sarah holds a bachelors degree in Zoology and has a special interest in animal behavior and communication
References for Should I Declaw My Cat
American Society for the Prevention of Cruelty to Animals, "Position Statement on Declawing Cats."
American Veterinary Medical Association, (2016), "Welfare Implications of Declawing Domestic Cats".
Landsberg, G. M., (1991), "Feline scratching and destruction and the effects of declawing", The Veterinary Clinics of North America, Small Animals Practice.