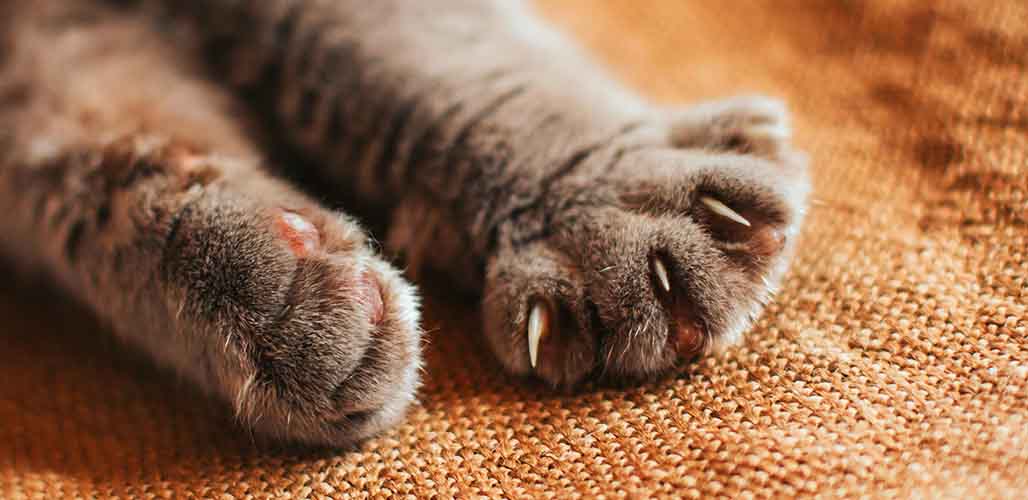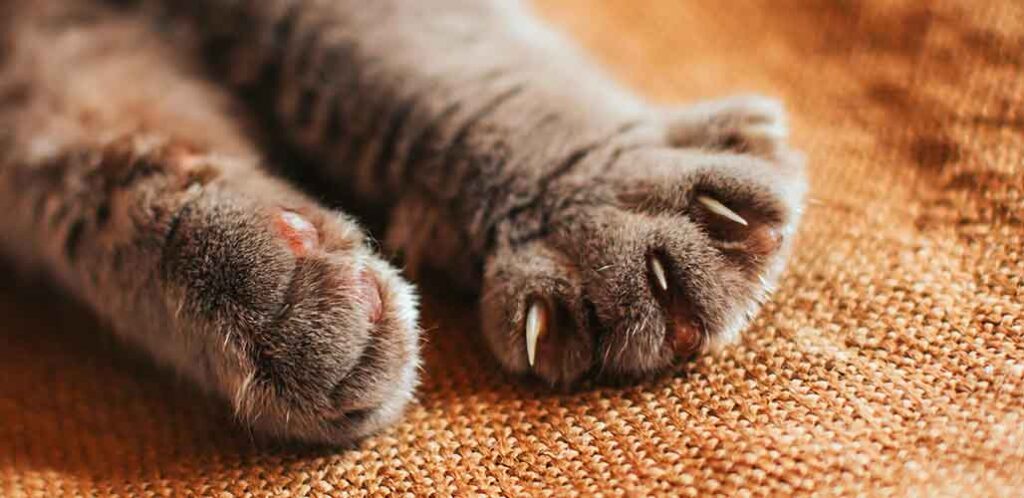 Is declawing cats bad? There are some aspects of companion feline care that fall into a gray area between right and wrong, good and bad, humane or inhumane. Unfortunately, declawing cats isn't one of them. Before I first looked into it, I didn't realize just how dramatic this surgery is. It's not just clipping off your cat's nails, as you might first think. Instead, the process is painful, stressful, and has a long term negative impact on your cat. In this article, I'll address the controversial practice of cat declawing, talk about whether there is any humane way to deal with cat claws and discuss alternatives available to you. I'll give you the information and tools to make good choices in companion cat care.
Contents
What is Cat Declawing?
Imagine you go to the doctor. Your feet are healthy. So are your toes. But the doctor tells you that they are going to amputate – cut off – the last section on each of your toes anyway. This is exactly what happens when a cat gets surgically declawed. The procedure is called onychectomy.
The veterinary surgeon goes in and cuts off the last part of each of the cat's toes. This removes the claw itself and also what the claw is attached to – a section of the toe bone called the phalange. The operation is classified as major surgery and leaves the cat permanently crippled in ways both obvious and not so obvious. And onychectomy is not a single major surgery, but rather a series of surgeries that can number as many as 20 single amputations at a time. Sounds intense, right? Well, there's more!
In addition to the claws and last digit of bone, portions of the cat's nerves, ligaments, muscles, cartilage and soft tissue are severed. Recovery is long and painful and often creates lasting secondary complications both physically and psychologically.
Is Declawing Cats Bad?
Cat declawing is irreversible. Once the claws and the phalanges and associated tissues are removed, they are gone forever. Not only does the cat have to spend the rest of their life walking on the cartilage of the second knuckles of their feet, but they lose the sensory awareness that having claws gives them. Some cats even begin chewing at their already mutilated toes as a result of the surgery.
The cat also loses other abilities. This includes the ability to defend themselves if the need arises, the ability to jump and land safely, the ability to do some personal grooming tasks and the ability to scratch, which is a normal and natural cat behavior.
Less obvious secondary complications often include post-surgical back pain from the spinal imbalances created from partial toe removal and avoidance of harsh-feeling surfaces, like the litter box with its gravel, crystal or hard clay substrates.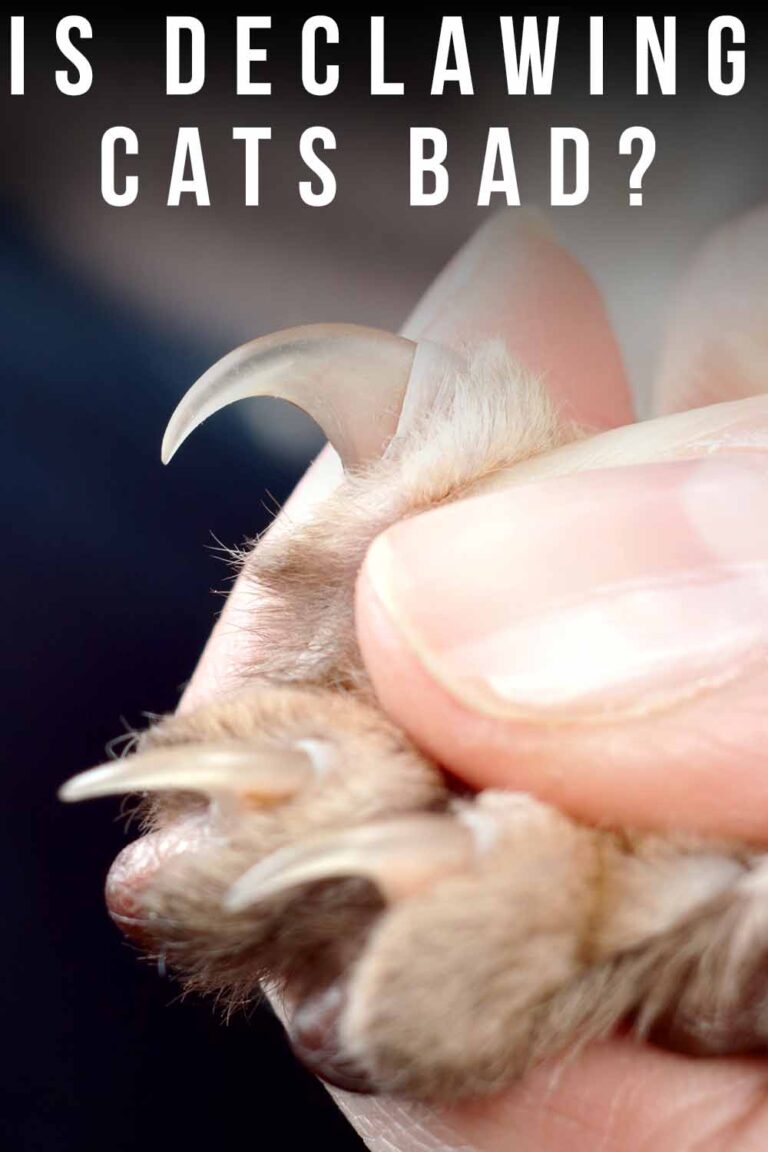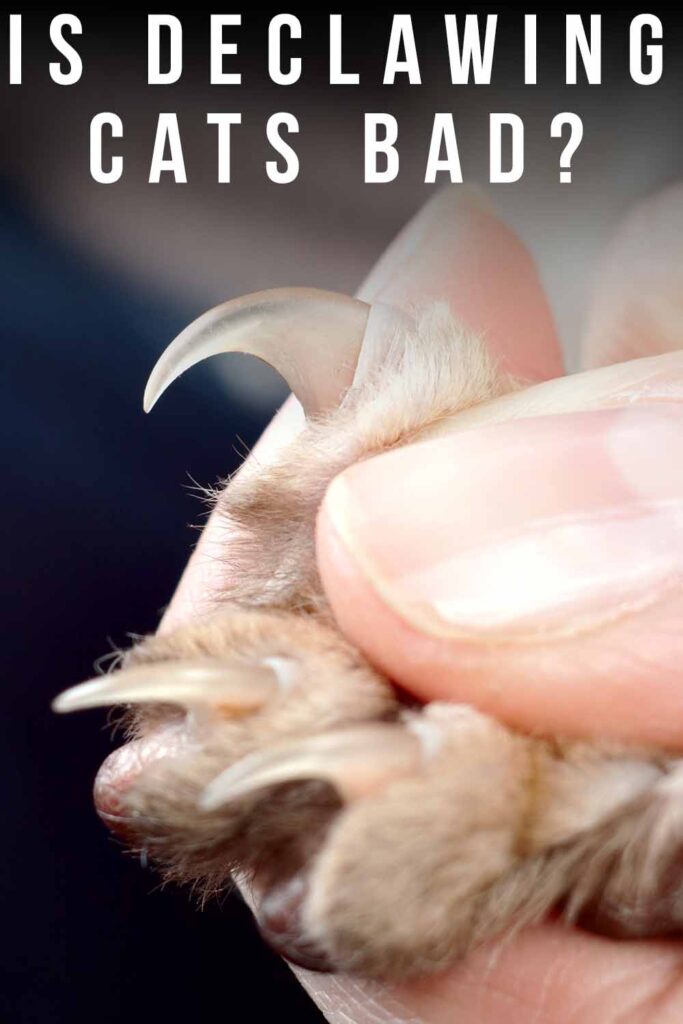 Does it at Least Stop Problem Behaviors?
Well, not always! Research has highlighted increases in undesirable behaviors like biting, aggression towards people and animals and inappropriate elimination as consequences of declawing surgery in cats.
Interestingly, research has also indicated declawing does not work as a method to reduce relinquishments of pet cats to shelters or requests for feline euthanasia. In fact, banning declawing actually seemed to reduce the number of pet cat relinquishment with euthanasia requests.
Is There a Humane Way to Declaw Cats?
Is there a humane method for removing the ends of a cat's toes and their attached claws? No such option currently exists. The reason for this is simple. Since the claw grows out of the last digit of the toe bone, there is no way to remove the cat's claw without also removing some bone.
Even so, as often seems to be the case for animal welfare legislation, enacting bans against cat declawing surgery has been slow going in the United States. It is true that several major U.S. cities have successfully passed legislation to ban cat declawing. But as of time of publication, only two states, New York and New Jersey, have successfully passed statewide bans of the practice. Other states have legislation in process.
In addition, the Centers for Disease Control (CDC) and the American Association of Feline Practitioners (AAFP) have issued position statements categorically opposing cat declawing.
Are There Any Benefits to Declawing a Cat?
At this point, you might be wondering why cat declawing is done. The truth is, the reasons typically have little to no connection to actual feline welfare. Rather, removing cat claws has everything to do with human attempts to limit or stop undesirable cat behavior. But, the unhappy fact remains that cat declawing typically creates as many (or more) problems as it supposedly "solves".
The practice of declawing first became widespread among big cat owners and caretakers who wanted to keep large wild cats as pets or tourist curiosities. Declawing allowed them to keep big cats with a lower risk to themselves and their visitors. The practice then began to gain popularity among small cat owners as well.
As I highlighted earlier in this article, over time, widespread misinformation led many pet cat owners to believe cat declawing would easily solve household problems like cat scratching furniture and cat scratch injuries to people and other animals. But, that's not always the case. And, it can cause other, potentially worse, problems!
Consider Insurance and Cost, Too
Cat declawing is typically not covered under pet insurance policies. So, the surgery is lucrative for feline veterinarians willing to perform it. This, in turn, can cause more veterinarians to recommend it to their clients. But, it doesn't necessarily mean it's the best or right thing for your cat.
The costs of cat declawing to owners can include not just the surgery itself, but also later treatments for medical complications. These can include arthritis and infection from bone fragments that move deeper into the toes and then into the cat's feet.
What is an Alternative to Declawing a Cat?
On a brighter note, as it turns out, human ingenuity is alive and well and many modern alternatives exist to surgical cat declawing. All of these options recognize that cat scratching is a very healthy and normal feline behavior, and can be protective against even more undesirable behaviors such as cat biting.
Nail caps can prevent cat claws from causing scratches where they are unwelcome. These simply slide onto your cat's claws painlessly blunting them. Cat scratching mats and scratching posts, cat trees and feline pheromone sprays (which can even be motion-activated) both offer humane behavior redirection. So, your furniture won't suffer!
There are also other ways to re-route household cats who persist in scratching on off-limits items or surfaces. Double-sided tape, citrus or lavender scents, aluminum foil and furniture coverings can all redirect felines who are intent on having a good scratch. Finally, simple enrichment through interactive cat games and toys can keep a cat entertained and way too exhausted to scratch in unwanted places.
Is Declawing Cats Bad? The Bottom Line
In short, there is very little in life anyone could do to a cat that is more physically and psychologically damaging than cat declawing surgery. Instead, please use the ideas in this article to find humane alternatives to redirect undesirable cat scratching behaviors! It can also be smart to hire a feline behavior practitioner to help you train your cat out of unwanted behaviors.
Have you had experiences with cat declawing? Are you caring for a declawed rescue cat? Share your stories in the comments.
More Cat Care Guides
References