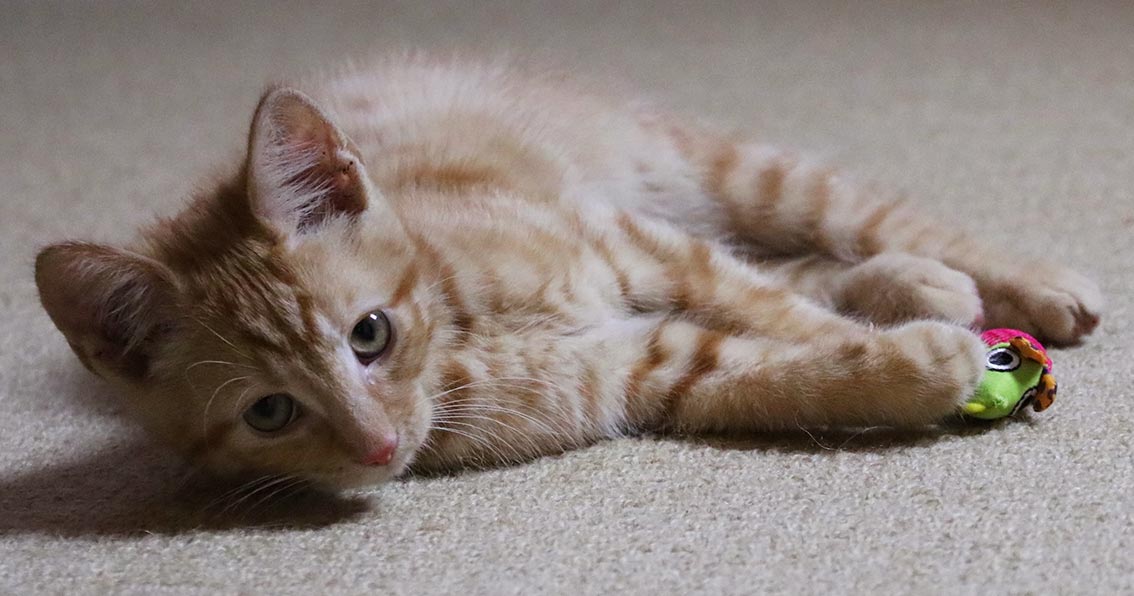 Tuesday November 22nd : Billy is thirteen weeks old!
For a few minutes every day, usually morning and evening, Billy loves to rub the sides of his face firmly and repeatedly all over my hands and face.
Cats have scent glands in the sides of their faces that they use to mark out their territory and to mark objects, and animals friends, including us, that they consider special, or as theirs.
So I take Billy's enthusiasm as a compliment.
Before the results of my allergy test I used to try and discourage Billy from marking me, it's not a good idea to let a cat rub itself against you if you are seriously allergic to the protein Fel d1 that causes cat allergies.
It's wonderful that I can now relax and let him do his thing!
What a treat and a privilege it is to watch this adorable kitten slowly but surely growing into a beautiful cat.
Billy is three months old
And Billy is not just thirteen weeks, he has now reached the grand old age of three months.
I'm noting down some of Billy's characteristics at this age.
Both to look back on later, and for others who are wondering just what is normal for a three month old kitten.
What do three month old kittens eat?
So, this week is pretty much the same as last week, except Billy is now getting
A full can of Thrive for breakfast  (75g)
A full sachet of wet food at lunch time  (85g)
Half a tray of Lily's kitchen for supper completes the day (50g)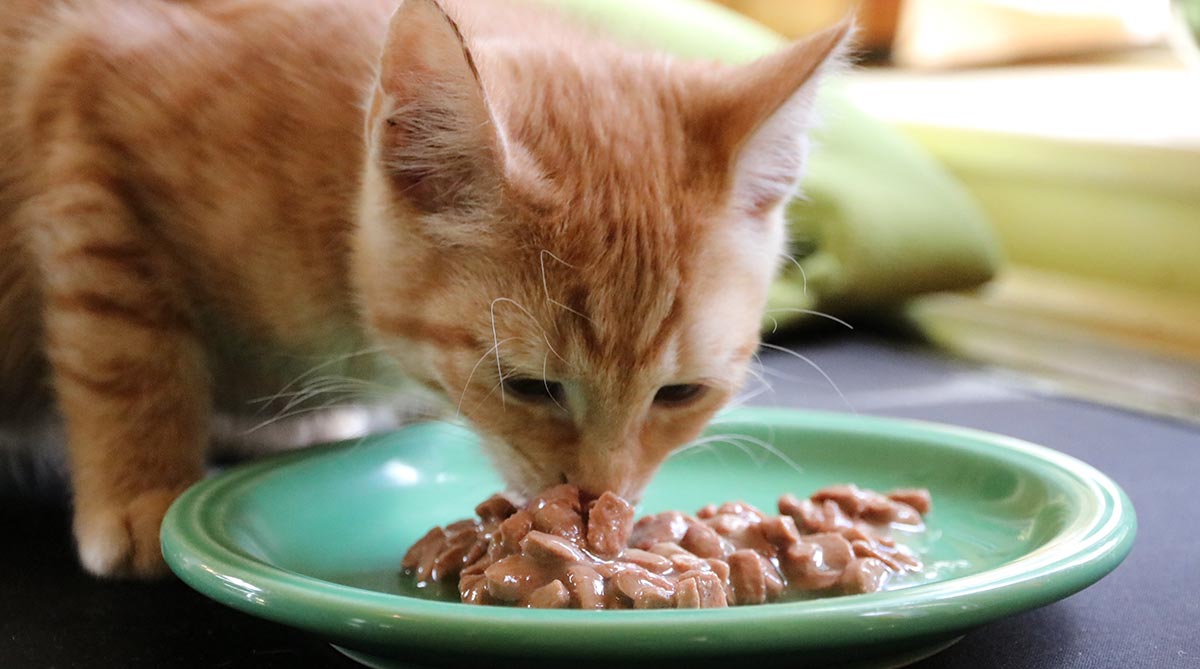 Here he is tucking into his lunch. He's looking pretty well covered so I don't think we need to increase his rations for a few days yet.
What do three month old kittens weigh?
My scales aren't very accurate so all I can tell you is that Billy is no less than three pounds and no more than three and a half pounds.
I'll let you know when he gets to four pounds, but I suspect it won't be long
What do three month old kittens do?
Billy likes to play, to sleep with Tess in the big dog bed (he and Tess are really close now) and to sleep on my lap
He likes to follow me around the house, sleep on my lap while I work, sleep by the fire in the evenings, and watch birds out of the windows.
He'd also love to chase the cursor on my computer screen and sleep on the kitchen table, but I don't let him do either of those if I can help it.
Billy loves to greet us when we get up in the morning, brimming with purrs and affection.
And to play with his puzzle toy and his toy mouse. That's about it!
Naughty kitten?
I think Billy has been the least trouble of any baby animal I have raised for a long time. He is just so easy.
He does 'kitten things' of course, normal kitten behavior, which might be annoying to someone not expecting it. But even then, I don't think anyone could have any complaints about him.
Until today.
Today Billy committed his first act of naughtiness. He stole, and unwrapped, a toilet roll and had a fantastic game shredding it under the kitchen table.
Of course, I know really that he wasn't being naughty.
It was my fault for leaving it lying around. But still, we can't have you thinking he's some kind of angel. Can we?
New kitten toys
Some new toys came in the post today. And I have had great fun photographing Billy playing with them.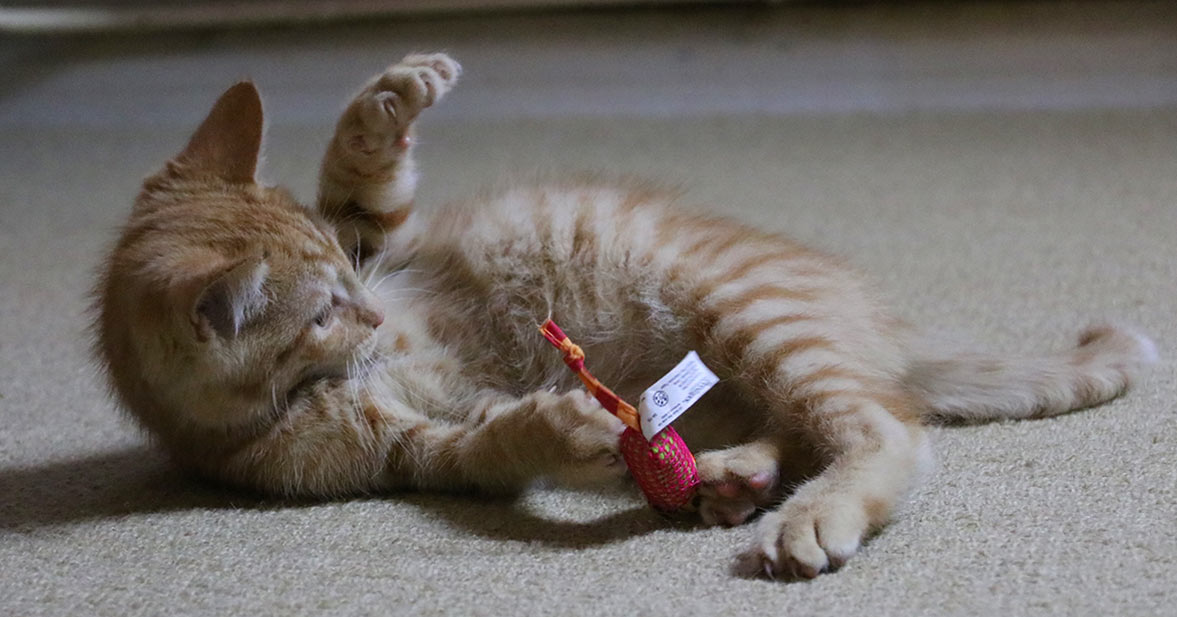 I am not too bad at photographing animals outdoors, but indoors I am fairly incompetent.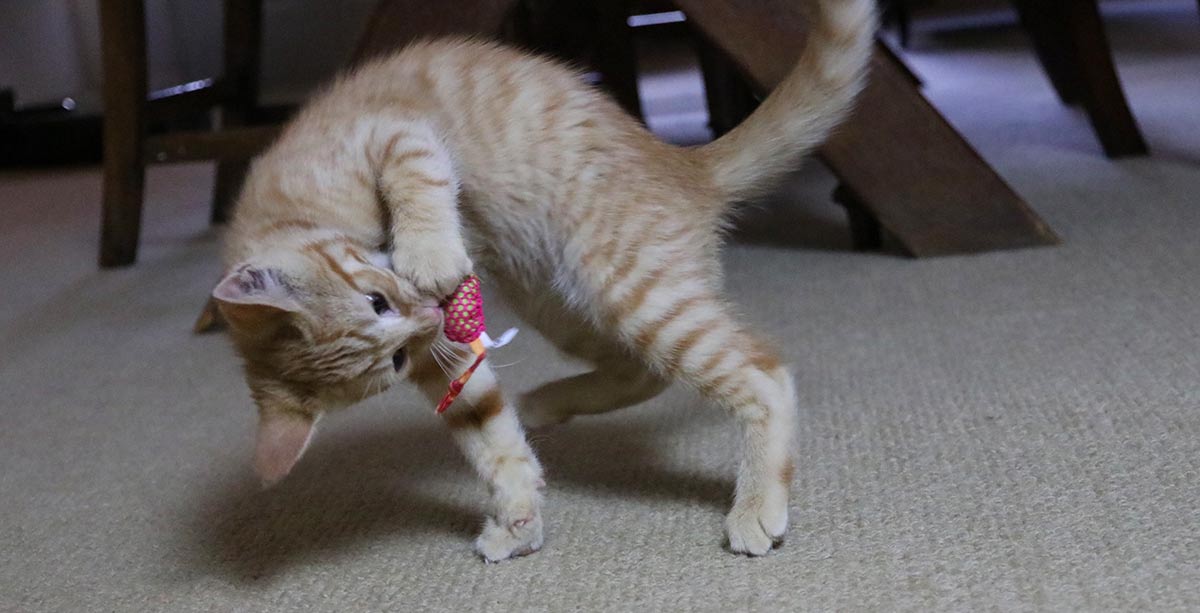 I am trying hard to improve my indoor photography technique and Billy is a great way to practice.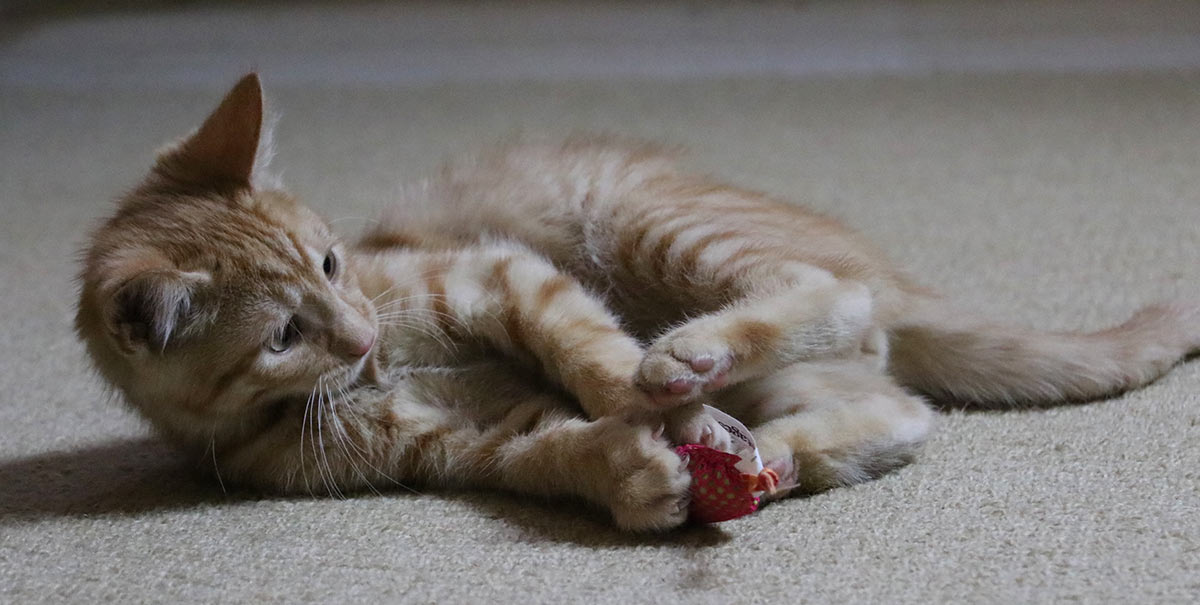 This toy is one I knew would be a big hit with Billy!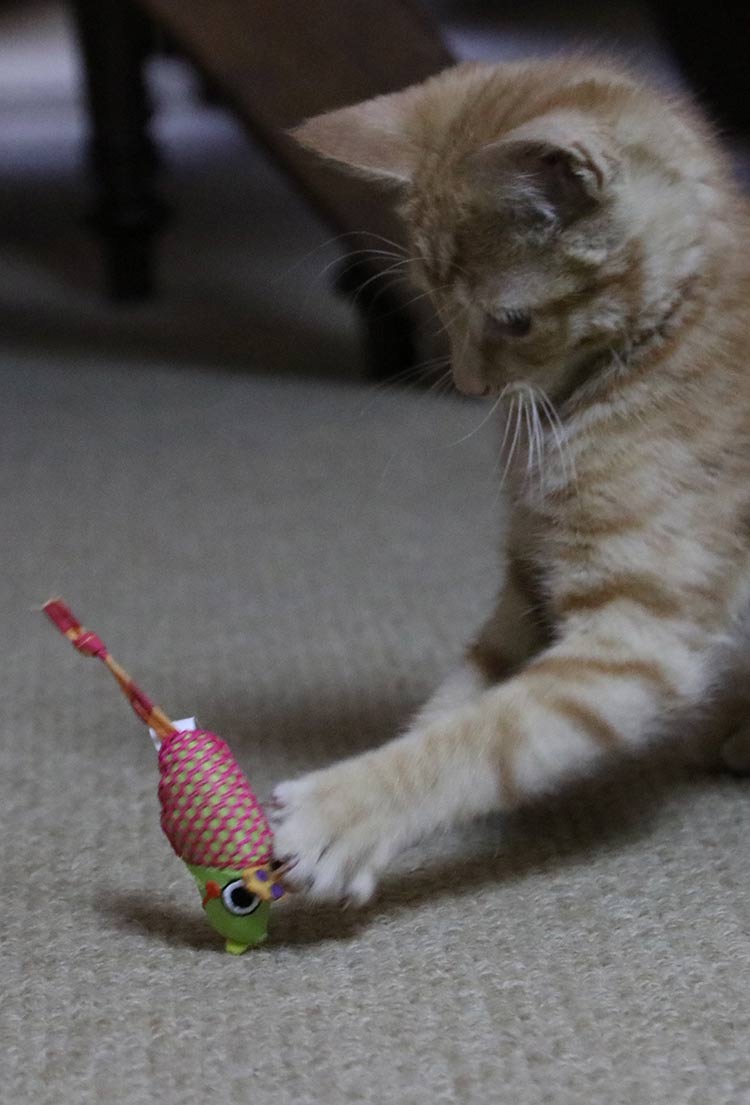 It was some replacement 'pet stages' mice. He loves these and they do eventually become a bit mangled and grubby.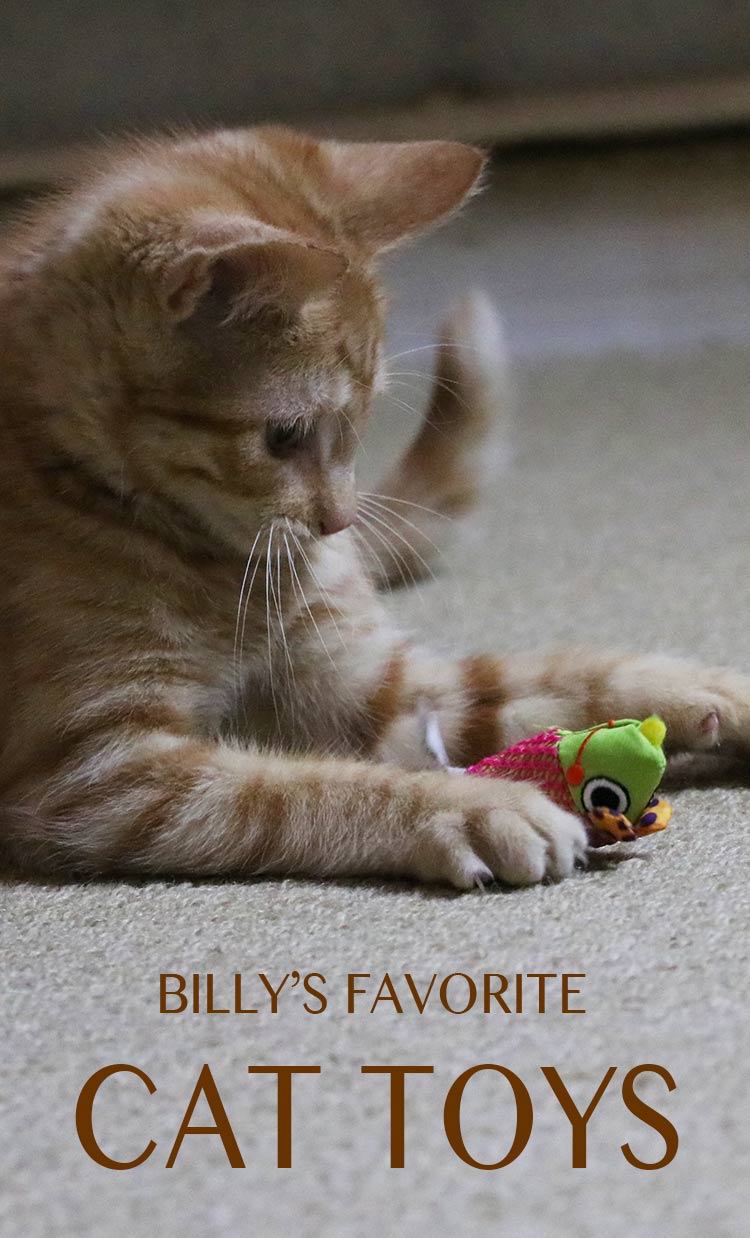 So we threw the old ones away, and you can see how delighted he is with the new.
Continue reading Billy's blog..
Free Updates For Cat Lovers!
Our cat care articles, tips and fun facts, delivered to your inbox