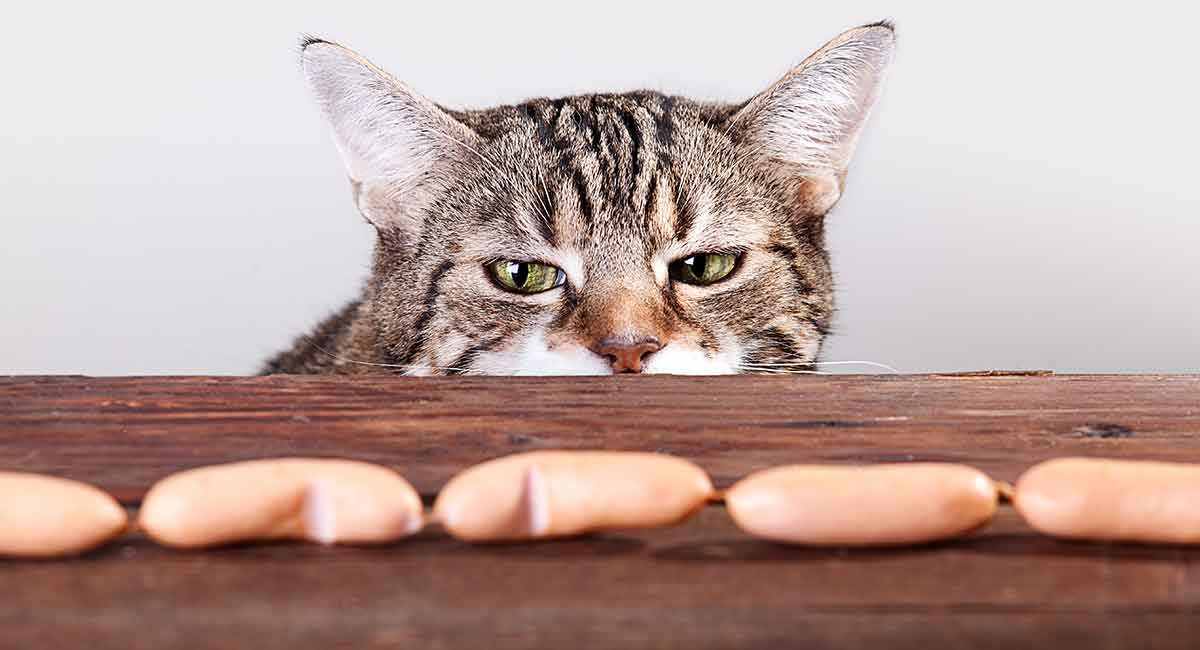 What do cats eat in the wild, and what should they eat in your home? 
This article is all about the nutritional needs of our feline pals.
Most pet cats come home with a small stash of food that they're used to eating. But what if you can't find another store which stocks it nearby?
Or, how about when the cat just won't eat? What if your vet wants you to switch your kitty to wet food?
Confusing reviews, expensive price points, and the need to get something right away for your cat can create a very stressful few days while you try to figure this all out.
Questions, questions, questions!
What do cats eat in the wild? What do cats eat naturally? How can you incorporate this into the meals you give them?
And even then, if you find them raiding the kitchen counter or the dogs bowl, you'll find you have still more, new questions…
What do cats eat other than cat food? What do cats eat apart from cat food?
We'll answer all these questions, and find out what makes good cat food for you and your pet. Let's get started.
What Makes Good Cat Food?
The definition of good cat food, according to the Cornell Feline Health Center, can be boiled down to three major points:
Cats are carnivores, not omnivores. Their diets need to fill a carnivore's needs.
Bigger portions are not always better. Cats should not need a perpetually full bowl of food.
Supplements should not be needed in a well-rounded cat food blend unless a vet recommends them.
What does this look like on a label? Basically, the first ingredient needs to be an animal-based protein.
Compare the amounts of protein, ash and fat. Now work out how many carbs are in that food.
A good rule of thumb is that the less carbs, the better.
Generally, wheat- and grain-free diets are the safest bets when you are in a rush and need to buy something right now.
Key Ingredients of Good Cat Food
Cats are obligate carnivores. That means that their body has adapted to digest meat and animal tissues, and nothing else.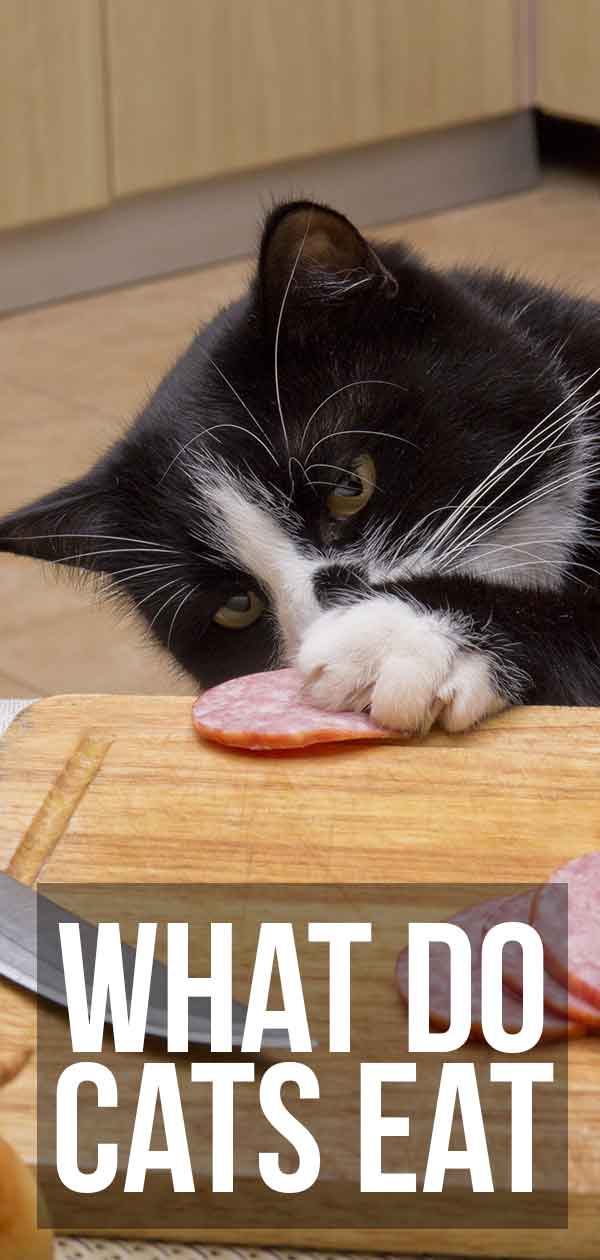 Consuming animal protein is their only option for getting the calories they need for fuel and growth.
And without enough protein in their diet, they also miss out on vital nutrients and essential amino acids.
Amino acids are the building blocks of proteins, and essential amino acids are those building blocks which we need to consume in our diet because we can't make them ourselves.
One such example for cats is the amino acid taurine. Cats need taurine for normal eyesight, digestion, heart function and pregnancy, and they can only get it by eating animal-based proteins.
This means cats need to eat meals containing a high proportion of crude animal protein.
Can You Make Your Own Cat Food?
When you are not in a rush, what makes the best cat food?
How can you make sure that your cat is getting the best possible diet for the best possible life with you?
Some people advocate creating your own cat food, but this has a few major drawbacks.
The time, proper education and steep learning curve that is required to make cat food can be overwhelming.
If you want to do that, that's amazing. For other people, it may not be possible.
That should not get in the way of you and your furry friend's mealtimes.
Let's look at some pre-prepared diets which contain everything your cat needs.
Best Dry Food for Cats
We'll start out with dry food. This is the most convenient and easily served food on the market.
Many cats are already used to dry food, which can make diet changes easier, particularly if you switch out foods.
Even though cats can't digest carbohydrates, dried cat foods contain some starchy ingredients to make them dry.
The best dry food for cats contains the highest proportion of crude protein still possible.
Let's look at some examples.
Blue Buffalo
Our top pick for the best dry cat food is Blue Buffalo Wilderness High Protein Grain Free, Natural Adult Dry Cat Food.
As the name states, it's grain free—a huge plus in the world of cat food.
The first ingredient is a meat source (in this case, chicken), and appropriate vitamins and essential nutrients are incorporated directly into the food.
While the price is higher than other brands of cat food, Blue Buffalo offers quality ingredients and a great track record instead of saving a few dollars.
Depending on your location and buying preferences, it's always good to have a backup plan.
Taste Of The Wild
The Taste of the Wild brand is another great choice for the concerned pet owner.
Very similar to the Blue Buffalo brand, Taste of the Wild could be just right for pickier cats or as a second option.
Best Wet Food for Cats
There are lots of reasons why you might choose a wet food over a dry food for your cat.
They might prefer it.
It's gentler on their teeth as they get older.
It contains more moisture – important for protecting your cat's kidneys if they're disinterested in their water bowl.
Your vet might recommend it.
What ever the reason you reach for it, the basics of a good wet food are the same as the basics of a good dry food: a large proportion of high quality animal-based protein.
These are some of our favorites:
Sheba Perfect Portions
Of all the options out there, Sheba Perfect Portions  are some of the best wet food dishes for your cat.
One of the main drawbacks of wet food is that it spoils faster than dry food.
But with single-serve packaging or larger cans both available, you have more options.
Purina Fancy Feast
Purina Fancy Feast has similarly wide options.
Most cats generally love wet food and will happily eat many different brands.
To make them stretch a bit further, try mixing them with dry food.
If you need a backup plan sometime in the future, look for meat-based proteins and small packages.
Best Food for Kittens
The smallest members of the cat family need a different diet in order to be healthy and happy.
While they may nibble out of other cats' bowls if they have a chance, this is not optimal for them. What should these little ones be eating?
Most of the major cat food brands, including the ones we've already looked at here, have kitten options.
You can also read about our favorite kitten foods, and why we love them.
Kittens are usually not as picky as adults, so you have a fair amount of leeway in getting them to try new things.
Don't be worried if your kitten is trying out adult food on the sly. They are naturally curious and want to know what the adults are eating.
As long as they have food just for them, they will be fine.
Best Food for Seniors
On the other end of the spectrum are our beloved senior cats.
After a certain point, some older cats need to shift to elderly cat food. Sometimes, a vet will recommend a move due to your cat's medical history.
In those cases, listen to the professionals and get what they recommend. You can read about some of the most popular options by visiting us here.
Their advice is based off their knowledge of your senior cat and unique behavior.
Maybe your older cat lags a bit or settles down into a routine of naps and cuddles in the sun?
If you think that your cat may need a senior diet, it's best to ask your vet about your options before switching food.
Just because your cat is older does not necessarily mean that your cat needs a different diet.
Best Choice for Food Allergies
Some cats have food allergies, or ingredients they have difficulty digesting.
This can be extremely upsetting to all concerned. What do cats eat and drink when they have food allergies?
The answer depends heavily on what your cat is reacting to in current food.
Depending on the severity of your pet's reactions, it's best to get them to a veterinary office as soon as you can.
The technicians and doctor will be more than ready to help you out.
What if a vet visit isn't an option at the moment? What can a concerned owner do?
Instinct Cat Foods
A great place to start is with food such as Instinct Limited Ingredient Diet and similar limited ingredient mixes.
While such foods are a little more expensive, they provide a good jumping off point for you as an owner.
Look for food that has the fewest possible ingredients and a track record (usually in the review section) of helping out other furry friends.
You can see more limited ingredient foods for cats with allergies here.
Specialist Foods: A Quick Look
Of all the choices that you face as a cat owner, specialist foods can be the hardest to navigate.
Choosing the right specialized food is a whole topic in and of itself.
Specialist foods are simply foods that have been formulated to solve, treat or care for an ongoing health issue that cats face.
In most cases when this type of food is needed, a vet will suggest or tell you to switch your pet to a particular food for a better life.
In general, unless you are a professional animal caregiver, don't switch your feline to a specialist diet without consulting their vet first.
What Is the Best Dog Food for Cats?
Sometimes, cats just eat things that they are not supposed to eat.
If you have a dog in your home, you may have seen your cat even eating out of his bowl as well as her own.
Seeing such a situation may make you wonder: Is there a best dog food for cats?
It would be so much easier if you didn't have to worry about a food fight between your dog and cat.
Unlike cats, dogs are omnivores. Thanks to their very long history of domestication, they have adapted to digest carbohydrates as well as meat and animal products.
This means a balanced diet for a healthy dog is not the same as a balanced diet for a healthy cat.
That being said, small quantities of dog food snatched from his bowl aren't going to harm your cat.
Just like chips and cheese will never be enough for a human to live on, dog food isn't exchangeable with cat food.
And like chips and cheese, there's no need to worry when your cat steals a bit from the dog.
Best Food For Cats
We've talked a lot about all the different kinds of cat food, food for kittens, senior cats, general food and specialized food.
The list has been extensive. In summing this all up, what makes the very best food for cats?
Look for simple ingredients, grain-free diets and protein-heavy mixes.
Avoid vegetable based mixes and food with heavy amounts of plant proteins.
Watch your pet's reactions to their food and adjust accordingly, sometimes with professional help.
The best food in the world is no match for the amount of love shared between you and your best friend.
From the visiting stray cat to the purring bundle in your bed every night, our cats deserve quality food that's just right for them.
We hope we've made getting that food for you and your pets just a little bit easier. Bon appetit.
What Does Your Cat Eat?
Are they a picky eater, or will they wolf down anything in sight?
Tell us which options you've tried, and which worked best, in the comments box down below.
References and Further Reading
"Feeding Your Cat," Cornell University