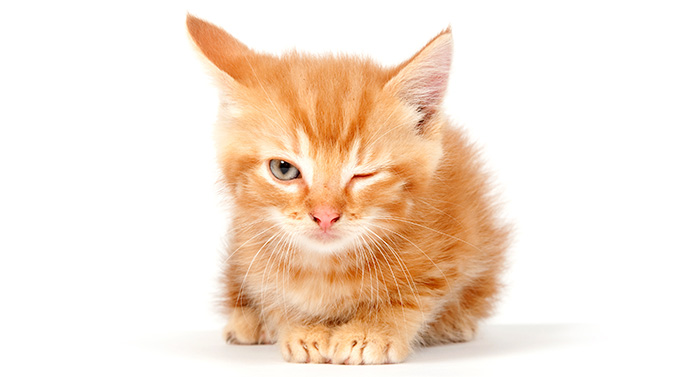 What does it mean if a cat winks at you?
Cats use slow blinks to communicate goodwill and affection. When they wink, it might be to send a similar message, or it could be that a foreign body is irritating the surface of their eye. Alternatively, when a cat winks it could mean that their eye is damaged, injured or infected. In this article, we sort the positive and harmless winks, from the ones which need veterinary attention.
What Does It Mean If A Cat Winks At You?
From the Sphinx in Ancient Greece to the Bengal in your bedroom, cats have always been famously enigmatic. And their cryptic gaze is undoubtedly a massive part of their appeal. We love to speculate and jest about what they're thinking when they look at us.
But what about when one eye slides closed and open again in a sly wink?
Is it a friendly hello? Or a conspiratorial nod to the dead mouse they've just hidden under your scatter cushions?
Here are some of the reasons why cats may wink one eye at you.
What Does It Mean When Cats Wink?
The reasons your cat might wink at you basically boil down into three main categories.
1. They're Being Friendly
The first reason cats wink is connected to the two-eye equivalent – a blink.
Slow blinks are a well documented way that cats communicate a positive emotional state, and goodwill towards whomever they are looking at.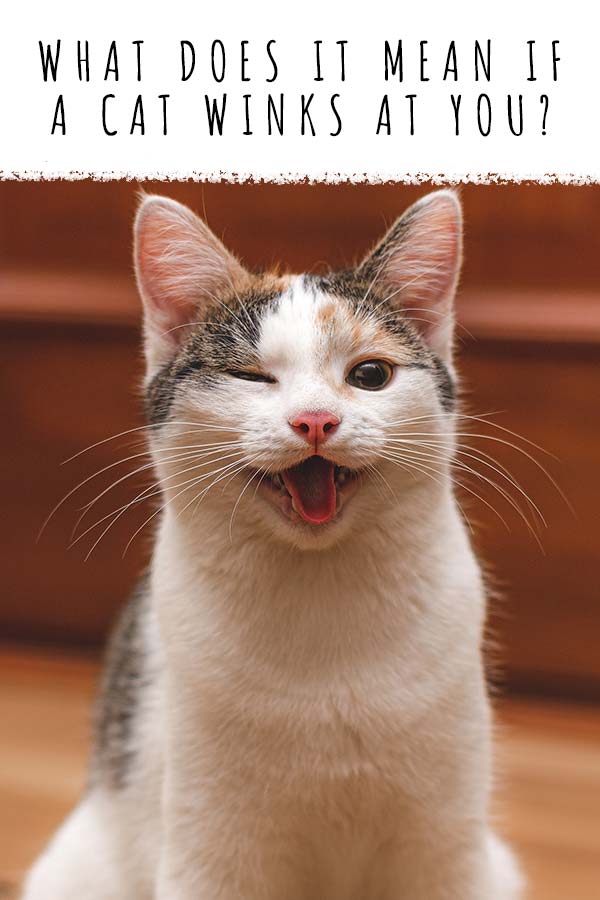 The 'slow blink' consists of two or three slow partial blinks, in which the eyelids don't fully close. Followed by an extended period in which they keep their eyes partly or fully closed.
Recent research has proven something that cat lovers have always said – cats respond to slow blinks from people by giving slow blinks of their own.
This adds to older research indicating that cats recognize human emotional states, and take their emotional cues from us too.
And whether we realise it or not, we also appear to recognise that a cat's slow blinks are a positive emotional sign.
Cats in shelters who slow blink the most are also the quickest to be adopted.
What about slow winks?
Usually a slow blink involves both eyes.
But there are a couple of reasons a cat might substitute a slow wink instead.
If they are resting on one cheek, that side of their face is likely to be somewhat immobilized, leaving the other side to do all the legwork (or should that be lidwork?)
Ear infections and traumatic injuries (such as being hit by a car) can cause facial paralysis in cats. In which case, one eye may blink more distinctly than the other, resulting in a wink.
2. Something Is Irritating Their Eye
The anatomy of a cat's eye is wonderfully sophisticated, and includes no less than three eyelids!
If a fleck of dust or debris gets stuck on the surface of the eye (the cornea) or beneath one of those eyelids, it irritates the eye.
Grass seeds are also notorious for embedding themselves in the eyes of cats and other unlucky pets.
Your cat may wink to try and eliminate whatever is bothering them.
To recognize these kinds of winks, look for these clues:
Rapid, or persistent winking
Redness or watering
Rubbing the eye with a paw
And if you suspect your cat does have something in their eye, monitor them closely.
If it doesn't work it's way out of its own accord it will need to be removed by a vet before it causes damage to the delicate tissues around the eye.
3. The eye is damaged, injured or infected
Cats are prone to numerous eye problems, including corneal ulcers, bacterial infections (pink eye), and traumatic injuries (for example scratches from other cats).
Since the surface of their eye is more densely packed with nerve endings than any other part of their body, injuries and diseases affecting it are especially painful!
When cats experience pain in their eye, blinking, winking, squinting or twitching (known as blepharospasm) are among the most common first signs that cat owners spot.
Other symptoms to look out for include:
tearing
white, yellow or green sticky discharge
the third eyelid protruding from the inner corner of the eye
redness on the eyeball, or the membranes around the eye
cloudiness over the surface of the eye
and over-grooming or rubbing the affected eye.
If you notice any of these signs, or if you suspect your cat has something caught in their eye which they can't dislodge, take them to a vet.
The vet will be examine the eye for damage, and recommend a course of treatment.