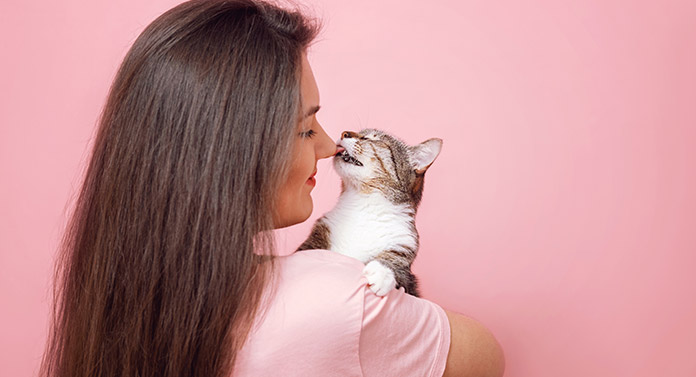 What does it mean when a cat licks your nose?
A lick from a cat is usually a positive sign – it means they like you!
Cats lick each other faces to reinforce the bonds in a social group, and doing the same to people they think of as family is just an extension of that.
In this article, we take a look at how it works, and how to handle it – whether it's something you love, or not.
What does it mean when a cat licks your nose?
It's impossible to ignore the sensation of being licked by a cat at the best of times.
Cats have tiny hollow spines on their teeth which curve backwards towards their throat.
These spines are made of keratin – the same hard protein their fur and claws are also made from (and our hair and nails, come to that).
The structure of the spines is specially adapted to transfer saliva into the depths of their coat for cleaning, and to ease out mats and tangles.
But when cats lick bare human skin, those same spines can feel painfully rough.
Add on top of that, their target being the center of your face, and it feels like a real onslaught of feline attention!
So why do they do it to us?
Why do cats lick humans at all?
Cats are famous for being fastidiously clean. In fact, they spend nearly a quarter of their waking lives grooming.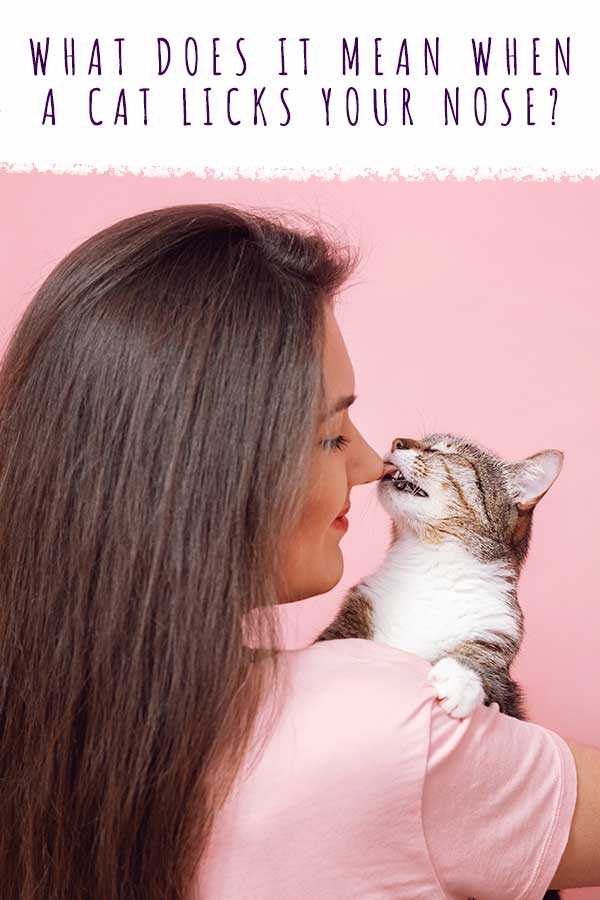 But they don't limit the serious business of keeping neat to just themselves.
They also rely on grooming other members of their social group to maintain social bonds.
The technical term for this is "allogrooming".
Whilst they might groom any part of their family's face that they think needs it, they tend to especially focus on the head and neck.
Allogrooming reinforces social relationships in two ways:
It facilitates bonding
Grooming each other is a way of communicating closeness.
Cats especially groom other cats that they're related to, or that they're very familiar with.
Grooming them acts like a declaration and affirmation of that closeness.
It says "you're part of my family, and I'm keeping you that way".
It creates a group odor
Cats have a highly evolved sense of smell – much, much more sensitive than either yours or mine.
When cats from the same social group (or colony) groom each other, the mingling of individual scents creates a 'colony odor' which identifies all of them as being members of that group.
And this probably the key to why they focus on the face and neck.
Cats have glands in their cheeks which release pheromones – chemical signals undetectable to us humans.
Licking this area is the most efficient way to spread and mingle those pheromones.
No other cats about?
No problem!
Cats' instincts to offer grooming services to other members of their social group extends to other species as well.
So cats will lick people and even other pets that they live with.
But is it a good idea?
Should I let my cat lick me?
This is largely up to you.
Most people find that their non-furry human skin can't handle much attention from a cat's tongue anyway.
And it's hard to hide a bright red, vigorously-licked nose.
We've got some tips for discouraging them in a moment.
But if a kiss on the nose from your cat doesn't cause you any discomfort, here are some sensible precautions to make sure it doesn't harm them either:
Be careful of your hair
Cats tend to focus on the head and neck when they lick each other.
If you have long hair (relative to a cat) be careful of letting them snag any hair, or ingest any they manage to loosen.
It can cause an obstruction in their stomach called a trichobezoar, or hairball. Substantial hairballs can pose a danger to cats' health, and even require surgery to remove.
Think about what else is on your skin
Don't let your cat lick your skin when you've just slathered yourself in sun tan lotion, applied foundation, or if you're using any topical medicines, like acne creams.
Why does my cat bite me and then lick me?
Talk about mixed signals!
It seems like biting and licking are completely contradictory messages. Biting says "go away", whilst licking says "stay close".
But, cats also use their teeth to keep clean. Their front teeth are like precise little combs, for separating patches of hair, tugging out knots, and releasing bits of dirt or debris.
So if your cat delivers a nip whilst they're licking you, it's probably just a reflex action kicking in, and they don't mean anything sinister by it.
Making the most of when your cat licks you
So your cat licks you as a sign of affection, and to identify you as a member of their family.
And it's a great time to reciprocate their feelings.
By licking their nose back?
Close, but not quite.
All cats benefit from having their coat brushed to check for knots they can't get out, ticks, wounds, etc.
You're more likely to notice signs that your cat is unwell, like sudden weight loss, or discharge and odor from an area of infection, if you groom them and examine them regularly.
When your cat licks you, they're signalling that they've got some free time for a bit of bonding, and they're probably opening to you grooming them too.
So it's a great opportunity to run a slicker brush through their coat too, and check their physical condition generally.
Discouraging licking
What about a cat whose allogrooming efforts are overzealous or unappreciated?
What about if you just don't want a spiky tongue and a warm waft of tuna breath in your nose?
The easiest way to do this is to distract your cat to something they can lick instead.
Try to find toys with an appealing texture, like plush toys with short fur.
You can attract your cat's attention to them using scents like catnip or silver vine.
Abnormal cat licking
Occasionally, cats who are stressed or anxious may start licking compulsively.
Which means they lick themselves, and potentially try to lick you, excessively, and apparently without much control over their urge to do it.
When this happens, they may end up damaging their skin, and creating raw patches which get infected.
They might also show other signs of stress, such as:
Changes in appetite.
Disturbed sleep.
Toileting outside of the litter box.
If you're concerned that your cat's licking behavior is abnormal. Consult their vet.
Even if it turns out there's nothing to worry about, they'll be happy to put your mind at ease.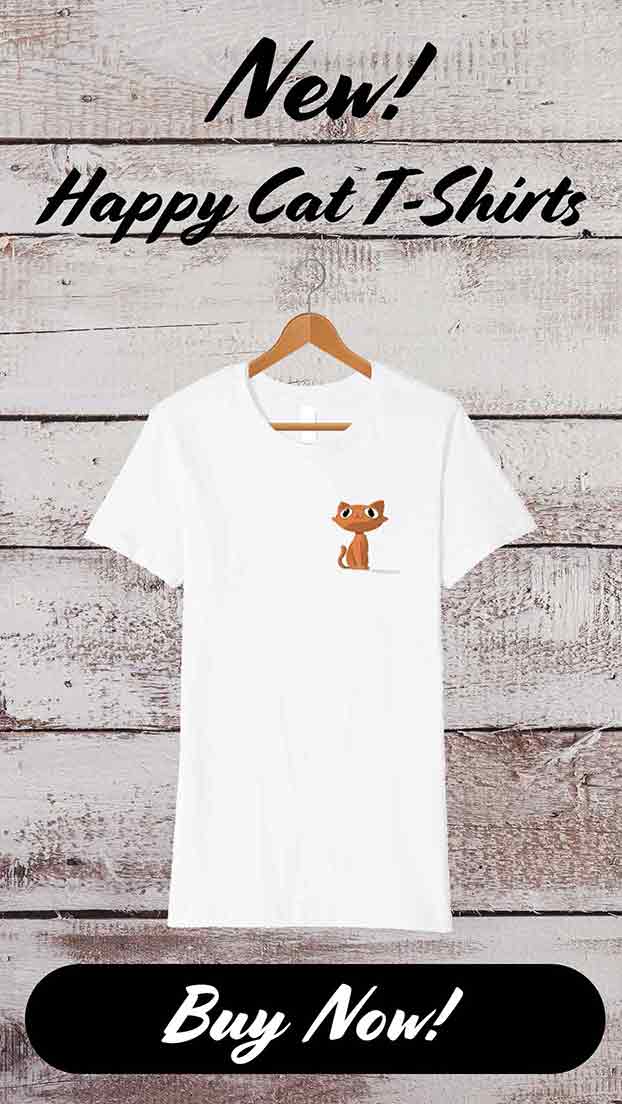 What does it mean when a cat licks your nose – summary
When a cat licks your nose it is likely to be a simple sign of affection, and recognition of you as part of their family group.
It's a sure sign that, when it comes to looking after your cat, you're doing something right!
And you can build on that even further by grabbing the opportunity to check them over too.
Does your cat lick your nose?
Tell us more about them in the comments box down below!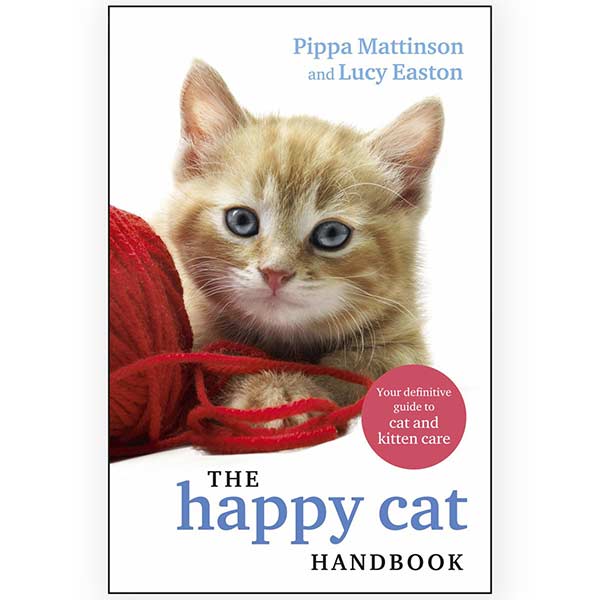 References
Arnold. How cat tongues work—and can inspire human tech. National Geographic. Accessed March 2021.
Curtis et al. Influence of familiarity and relatedness on proximity and allogrooming in domestic cats. American Journal of Veterinary Research. 2003.
Noel & Hu. Cats use hollow papillae to wick saliva into fur. PNAS. 2018.
Overall et al. Feline behavior guidelines from the American Association of Feline Practitioners. Journal of the American Veterinary Medical Association. 2005.
Rodan. Understanding Feline Behavior and Application for Appropriate Handling and Management. Topics in Companion Animal Medicine. 2003.
Titeux et al. From Feline Idiopathic Ulcerative Dermatitis to Feline Behavioral Ulcerative Dermatitis: Grooming Repetitive Behaviors Indicators of Poor Welfare in Cats. Frontiers in Veterinary Science. 2018.
Your Amazing Cat!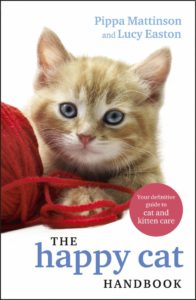 We are so excited to share our new book with you!
If you have enjoyed your visit to The Happy Cat Site we think you'll love The Happy Cat Handbook.
Written by the founders of this website including the author of the hugely successful Happy Puppy Handbook, it's packed with cat care information and fascinating cat facts.
Grab your copy today!
Free Updates For Cat Lovers!
Our cat care articles, tips and fun facts, delivered to your inbox