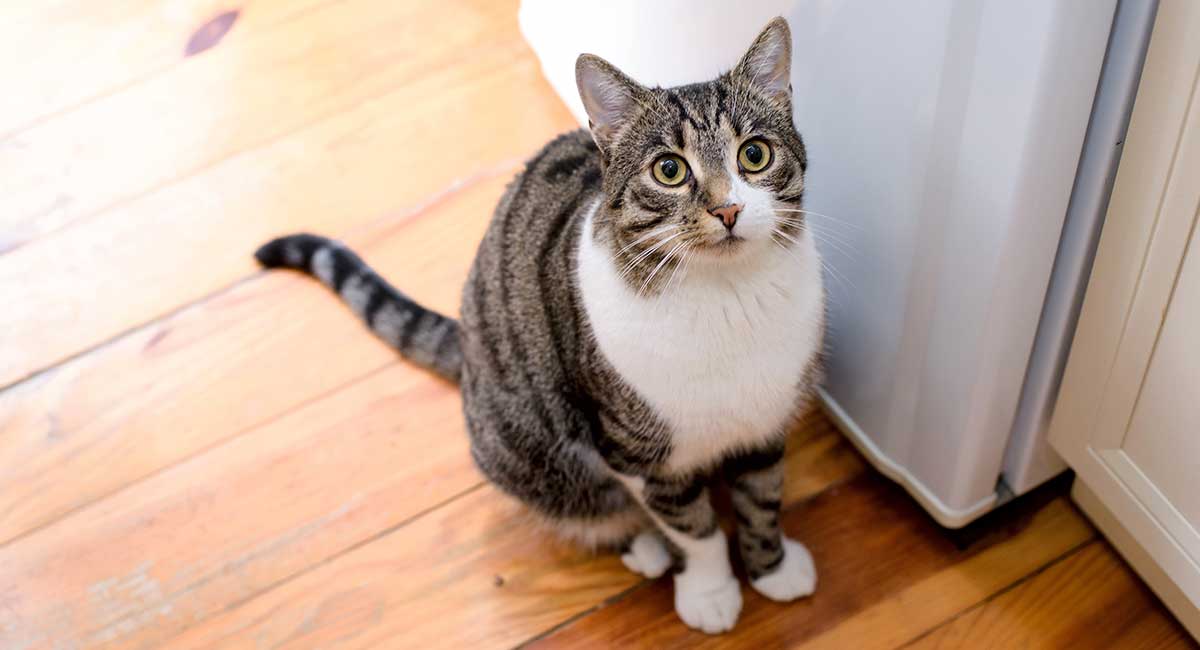 Are you wondering how to stop a cat from spraying?
Perhaps your young cat has just started spraying, or a once-manageable problem is starting to become intolerable.
Cat spraying is a common behavioral problem among cats, and sadly a leading reason why cats are left with animal shelters.
Luckily, there are multiple ways to treat cat spraying, and this article will cover those, as well as the reasons why your cat is spraying.
What Is Cat Spraying?
Feline spraying is pretty unmistakable once you've seen it.
Your cat will turn their back to their target – which is often, but not always, a vertical surface – raise their tail, give it a wiggle and spray a small amount of urine.
When cats spray, they're using their pee to communicate with other cats, and, in a well-intentioned but totally misguided way, you too.
Their urine contains pheromones – chemical signals which pass on information to other cats who visit the sprayed area.
So cat spraying is a kind of calling card if you will, for future passers-by.
Distinguishing Cat Spraying From Inappropriate Toileting
Of course there is another reason cats leave urine in places they shouldn't, and that's because they haven't got the hang of the litter box.
So how can you tell whether your cat is spraying, or peeing in the wrong place?
There are some simple clues to look for:
Spraying only involves squirting a small amount of urine at a target surface. A cat who can't or won't go the litter box in time and empties their bladder will leave a puddle.
A spraying cat will still use the litter box for faeces. If your cat is leaving number twos outside the litter box, they are more likely to have an inappropriate toileting problem.
Cat's spray to communicate about specific situations, and you'll quickly notice a pattern. Cats that simply need to urinate will do so whenever the need arises.
Cat Spraying in House – Why Do They Do It?
In order to work out how to stop a cat from spraying, you first need to figure out why your cat is spraying – it's not a one-solution-fits-all problem.
Cats generally spray for two main reasons. A sexually mature cat who hasn't been neutered or spayed will spray to advertize their availability to mate.
That's right – male and female cats spray!
It's a common misconception that only male cats spray. And un-fixed toms certainly do their best to perpetuate it – male cats roam across a much wider territory than females, and use spraying to warn off other males who trespass onto it.
But female cats also spray. And so do around 10% of male cats that have been neutered and 5% of female cats that have been spayed.
Reasons for Neutered Cat Spraying
In fact, cat spraying is so much more than just boys showing off.
Just like humans, cats can become stressed when something in their life changes.
Urine marking by spraying is a way for your cat to communicate that anxiety – for example because they miss you when you're gone, or they're not getting on with another pet in the house (cat spraying is especially common in multiple-cat households).
Cats also spray "socially important items" to assert their place in the household.
Unfortunately for you this is likely to mean places like your bed and clothing. But by mixing up your scents, your cat makes a place which feels comfortable and shared.
To find out why your cat sprays, keep a note of when and where they spray, and what was going on at the time.
Good old-fashioned pen and paper is best for this to help you spot a pattern emerging.
How To Stop A Cat From Spraying
Even if you think you know the trigger for your male cat spraying the walls, or your female cat urine marking your gym kit, if the problem is significant, or getting worse, it's wise to visit the vet.
For a start, some behavioral problems have effective medicinal treatments (and we'll come to those in a moment).
But it's also a good idea to rule out any underlying physical conditions which could be making the problem worse.
One study found nearly 38% of cats who spray have an underlying physical condition that was contributing to their behavior, such as a urinary tract infection.
The treatment of the underlying condition usually resulted in an elimination of the cat spraying.
How to Stop a Cat from Spraying
Once you've ruled out any illness behind your cat spraying, and pinpointed anything in their environment which might cause them anxiety, it's time to act.
There are lots of way to stop cat spraying, from pheromone treatments and anti-anxiety medicines, to adjusting their environment and using distraction techniques.
However, research shows that most success comes from maintaining a combined approach, rather than relying on just one quick fix.
Let's look at what a combined approach might include.
How to Stop a Cat from Spraying – Environmental Management
To get started, there are some easy changes you might be able to make at home which reduce your cat's spraying behaviors:
Keep their litter box clean – cats really don't like the sight of previous toilet-business in their litter box , and maintaining a strict cleaning schedule has been shown to reduce urine marking.
Make sure that they have a place to retreat to – especially in multi-pet households or families with exuberant young child, giving your cat a space (even better a high-up space) to get away to might offer the peace they need.
Offer alternative ways to mark their territory – cats scratch to leave a visual and scented signal of their territory. Try placing a scratching post where they like to spray for them to leave their calling card on instead. Even if they spray the scratching post instead, at least you can replace it!
Block their view of outdoor cats – the sight of other cats on the street or in your yard is a common trigger for urine marking. Experiment with shutters or drapes to see if these reduce the frequency of spraying.
How to Stop a Cat from Spraying – Focus on Behavior
Never punish a cat for spraying. If they are nervous and upset to begin with, getting angry with them will only make the situation worse.
Once you have a feel for why your cat sprays, you'll probably realize you can tell when they're about to spray.
This is a great time to leap in with some distraction – a toy, a treat, or even a friendly fuss.
If you can't have the treat on hand straight away all the time (who does?) then teach them a word they associate with receiving a treat and then use the word to distract them while you go and retrieve the goods!
How to Stop a Cat from Spraying – Pheromone Treatments
Pheromone treatments are a very popular treatment for cat spraying.
These treatments contain synthetic cat cheek pheromones. Your cat leaves real cheek pheromones on you when they rub their face against you in a friendly greeting – a chemical message that they are content.
The premise behind pheromone treatments is that by spreading happy pheromone signals in your home, your cat will also be imbued with a sense of calm and well-being.
But how effective are they?
Actually, many studies have discovered that pheromone treatments are actually very effective at treating cat spraying that is caused by stress and anxiety.
On specific study found that the use of Feliway, a specific brand of cat pheromones, reduced cat spraying in 74% of households.
Because pheromone treatments do not require a prescription and are sometimes far cheaper than using medications, this might be an option to consider.
How to Stop a Cat from Spraying – Popular Medications
Even for a stressed out cat, the answer to "how to stop a cat from spraying" might be in prescription medication.
Medication is a common treatment for a neutered cat spraying indoors and creating an unlivable problem.
Of course, different medications are effective for different cats, and some cats might experience side effects to one medication but not others.
So finding one which works for your pet might require some trial and error.
Some of the medicines used to reduce cat spraying are:
Fluoxetine hydrochloride
This is similar compound to the active ingredient in Prozac for humans.
It is quite literally, an anti-depressant for cats, and effective for treating straying because it accumulates in your cat's system to achieve a steady, reliable effect.
Side effects can include drowsiness and loss of appetite. Because of this, you will need to watch your cat closely if they begin this medication.
Buspirone
Buspirone is an anti-anxiety medication which works in a similar way to fluoxetine but typically causes less drowsiness. It acts faster too, but the effect wear off quicker as well.
Clomipramine
Another anti-anxiety medication which successfully reduces spraying in a large proportion of treated cats, but often causes drowsiness.
Progestin
Progestin is a synthetic hormone replacement which has been shown to stop neutered cats spraying.
It was not as effective as the other medications already listed, but your vet might suggest it if your cat can't tolerate anti-depressant or anti-anxiety medicines, since progestin works in a different way.
Long-term success of medication
The good news is that in many of these studies where cats received a short course of medication to reduce spraying, the spraying remained reduced to some degree after they stopped taking the medicine.
How to Stop a Cat from Spraying
As you can see, there are numerous ways to stop your cat from spraying depending on the exact reason they started spraying in the first place.
To figure out exactly why your cat is spraying, it is important to take them to the vet. They can run tests to ensure that there is not an underlying problem, which can give you a direction to go regarding treatment.
Some cats will begin spraying because of an underlying medical condition. But, others will spray due to stress and anxiety.
Treatment can take trial and error, and it's likely you will see the most success by combining several approaches.
Have You Stopped a Cat Spraying?
How did you manage it? Have you got any advice for a cat owner just embarking on treatment?
Tell us your story in the comments box!
References and Further Reading
Frank. "Urine spraying in cats: presence of concurrent disease and effects of a pheromone treatment." Applied Animal Behavior Science. 1999.
Pryor, Patricia. "Effects of a selective serotonin reuptake inhibitor on urine spraying behavior in cats." Journal of the American Veterinary Medical Association. 2001.
Hart. "Effectiveness of buspirone on urine spraying and inappropriate urination in cats." Journal of the American Veterinary Medical Association. 1993.
King, Jonathan. "Determination of the dosage of clomipramine for the treatment of urine spraying in cats." Journal of the American Veterinary Medical Association. 2004.
Mills, Daniel. "A Meta-Analysis of Studies of Treatments for Feline Urine Spraying." PLOS. 2011.
Hart, "Objectionable urine spraying and urine marking in cats: evaluation of progestin treatment in gonadectomized males and females.", Journal of the American Veterinary Medical Association, 1980.
Reisener, "On Your Best Behavior – Diagnosis & Management of Feline Urine Marking" Today's Veterinary Practice, 2012.
Pryor et al, "Causes of urine marking in cats and effects of environmental management on frequency of marking", Journal of the American Veterinary Medical Association, 2001.