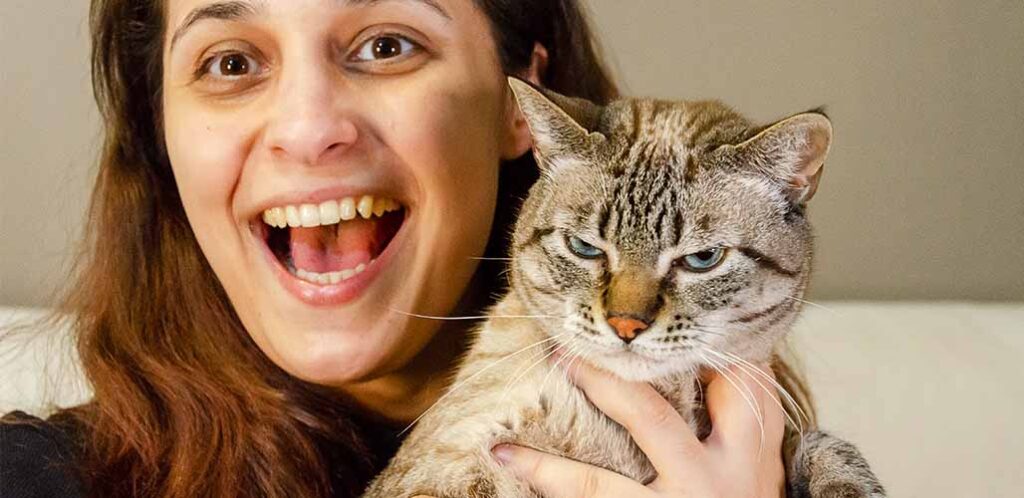 Why does my cat growl when I pick her up? Cats can't speak our language, but they still communicate their needs in other ways. Learning how to listen to my cat and respect their preferences was essential for building a relationship with my furry friend. I soon learnt that not all cats like being held. If your cat growls when you pick her up, she might be trying to tell you she's uncomfortable. In this guide, I'll take a closer look at why cats growl, the best way to pick up a cat, and respectful ways to pet a finicky feline.
Contents
Why Do Cats Growl?
Cats make different vocalizations depending on their mood. Cat growling sounds like a deep, rumbling noise similar to a dog growl. Growling often accompanies hissing, another way cats can vocalize displeasure. Growling may indicate that a cat is annoyed, angry, aggressive, frightened, or in pain.
Cats often growl as a warning to tell someone to back off, so you should give a growling cat plenty of personal space. If your cat growls in response to something you do, he's communicating that he doesn't like what's happening. You might cause pain or discomfort by picking up a cat who doesn't like it.
Do Cats Like to be Picked Up?
Many cats might prefer that their humans never pick up, carry, or hold them. But it varied from one feline to the next. Some will love the affection that comes with a cuddle, and others will hate it. This doesn't mean that your cat doesn't like you.
Cats feel most secure with all paws on the ground when they can move at will. Being picked up may stress your cat because he can't quickly run away from things that cause him discomfort. When cats can't physically get away, they may growl as a warning that they may fight to escape the situation. However, many cats can learn to enjoy being picked up and held if their owners know how to do so in a way that makes them feel safe and comfortable.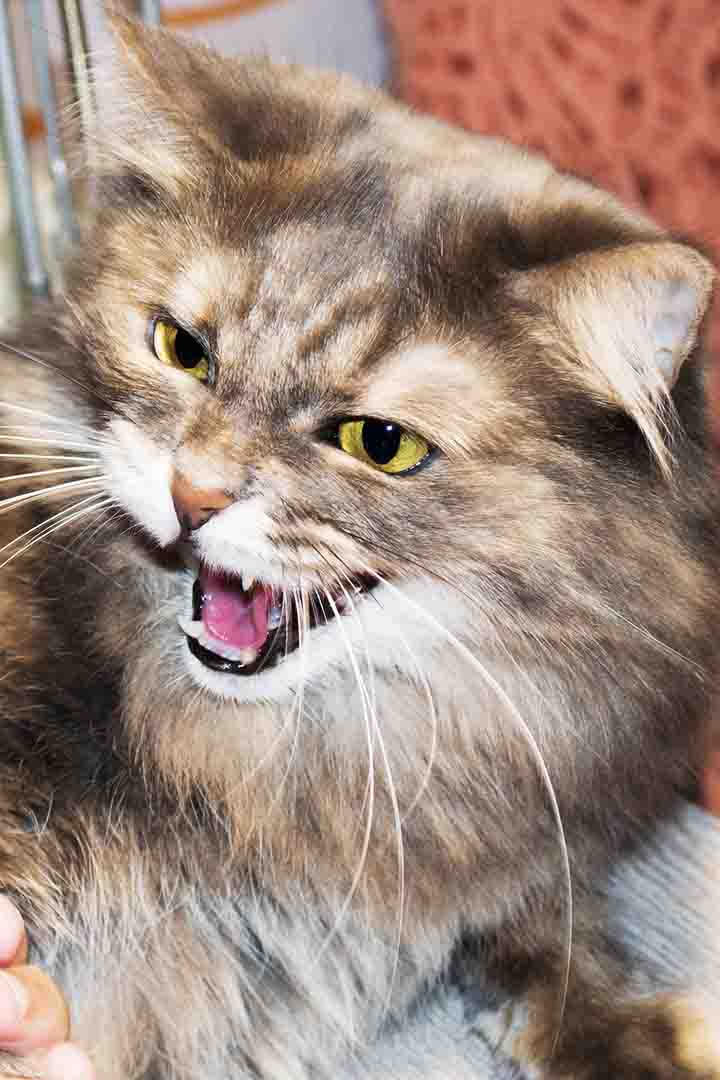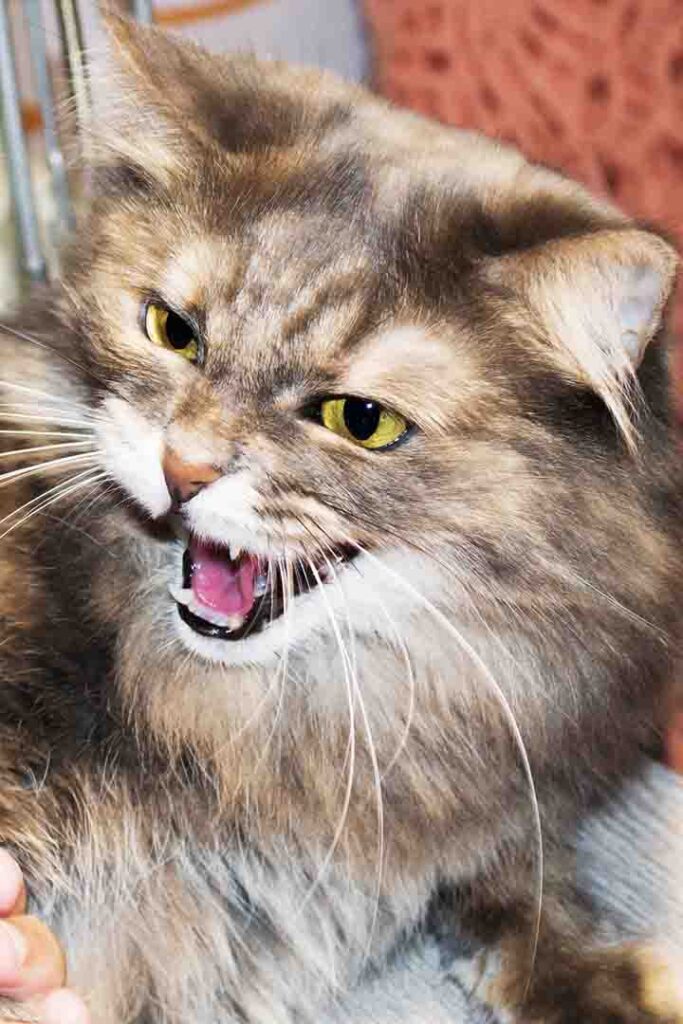 Why Does My Cat Growl When I Pick Her Up?
A cat that growls when you pick them up is usually trying to tell you they don't want to be picked up. They'll usually growl or hiss whilst wriggling to get out of your arms. However, it might not mean that your cat hates cuddles altogether. Perhaps you've just picked them up and removed them from a situation they were enjoying. Picking your cat up whilst she's trying to eat dinner, for instance, will usually elicit an annoyed growl.
Your cat might also growl if they're injured and picking them up aggravates that pain. Or, if you're picking them up in an uncomfortable way. Knowing that you're picking up your cat properly can help to narrow down the reasons for the growling.
What's the Best Way to Hold a Cat?
You should try to only pick up a cat when they express an interest in close contact. Cats in a cuddly mood will rub themselves against you and won't exhibit any signs of annoyance.
Slow and deliberate movements are vital for handling cats. Always use both hands to safely pick up your cat by placing one hand under her ribcage behind her front legs and supporting her hind end with the other hand. Securely cradle your cat with one arm to help your cat feel comfortable. If you allow your cat's legs to dangle, she may feel unsafe and want to get away.
Cats don't like to be squeezed, so don't grip her too tightly if she squirms. This can be a sign that she'd finished with the cuddle and wants to get down. When you're done holding your cat, gently lower her to the floor.
Can You Teach a Cat to Enjoy Being Picked Up?
Not all cats will enjoy being picked up, but there are things you can do to make the process more enjoyable for your cat. Firstly, only pick your cat up when they're clearly in the mood for affection and attention. Don't disturb them from their meals, naps, playtime, and so on.
Make sure you're holding your cat properly – you can use the previous section to learn how! And, if you can, offer your cat a treat once they're in your arms. This way, they'll associate a cuddle with a lovely reward.
Where Should I Pet My Cat?
Cats may growl if you touch them in sensitive areas or pet them in a way they don't like while holding them. If your cat doesn't like to be picked up at all, petting is an alternative way for owners to show affection and reduce stress. However, some cats can be particular about how they prefer to receive that affection.
Most cats don't like their stomachs, tail, legs, or feet messed with. Unless you know a cat well, you shouldn't pet them on their tummies or extremities. Frequent favorites of most cats include head, chin, and neck scratches. But every cat is unique. Pay attention to your cat's body language to determine its petting preferences.
Always use slow and gentle motions to pet cats so you don't startle them. If you're introducing yourself to a new cat, offer your hand for her to sniff before trying to pet her. Don't try to pet a cat that growls at you.
What Do Different Cat Noises Mean?
Cats have a lot more vocal range than just a grumpy growl. Common cat sounds have different meanings that can help you understand what your cat needs. The classic meow usually indicates a desire for attention. While adult cats might not meow frequently with other animals, kittens meow constantly for their mother. Domestic cats generally meow the most around humans to ask for something from their owners.
Your cat may also greet you with shorter meows, or meow repeatedly if she is excited. A drawn-out meow is the sound of a cat demanding a specific request. Owners may recognize this meow as the alarm they wake up to when their cat is ready for breakfast early in the morning.
Other Noises to Listen Out For
Cats might let out high-pitched meows when startled or hurt. A cat making low-pitched meowing noises is probably grumbling about something, like an empty food bowl.
Purring is a favorite sound of cat lovers. This soft noise feels like a comforting rumble and often indicates that a cat feels content. If your cat likes being held and petted, she may purr while cuddling with you. However, cats may also use purring to self-soothe if they are experiencing pain.
Chirping and chattering are rare noises that might vocalize frustration or excitement triggered by natural hunting instincts. Cats in heat may make a shrill wailing nose, but this sound is also rare in spayed and neutered cats. Growling and hissing are aggressive noises that cats make when they feel threatened, angry, or in pain. If you can't identify a reason for this sound, you should consult a veterinarian.
Why Does My Cat Growl When I Pick Her Up? Final Thoughts
Cats growl when you pick them up to communicate that they are angry, frightened, or uncomfortable. Your cat may not like being picked up, and respecting her preferences can help her trust you. There are plenty of ways to show your cat affection while keeping all four paws on the floor. Learning how to pet your cat correctly can help encourage cuddly behaviors.
While some cats vocalize more than others, all cats use sounds to communicate with each other and their human caretakers. Learning what those sounds mean can help you understand your cat better and build a better relationship.
More Cat Care Tips and Advice
Do cats like when I talk to them?
References