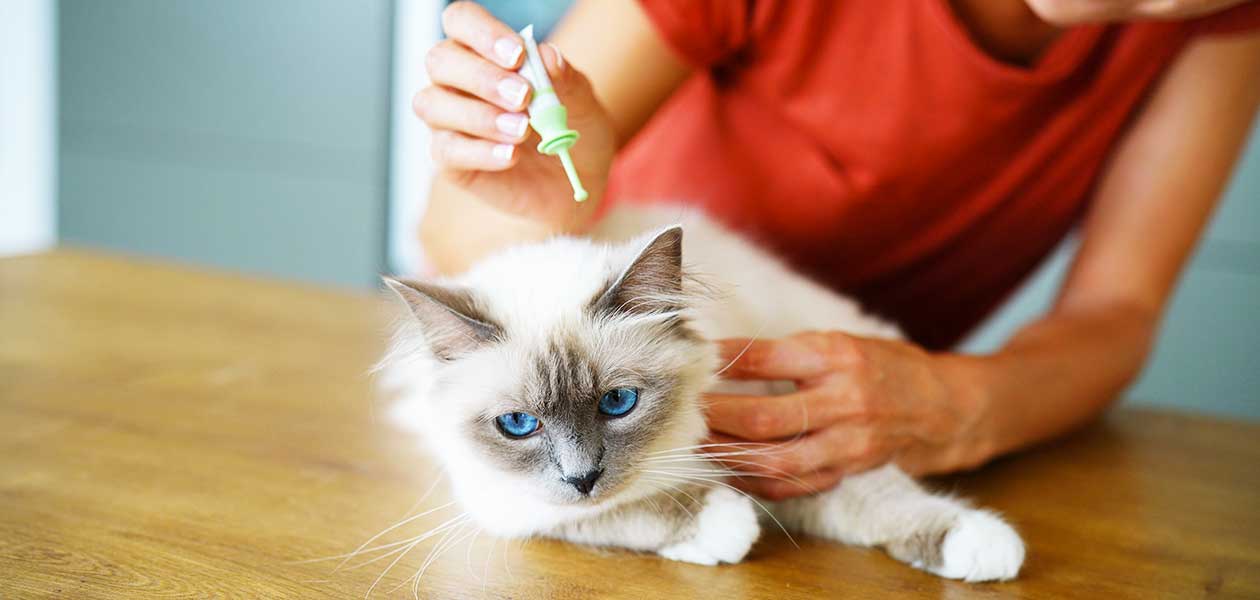 Advantix for cats, isn't really for cats at all! It is a flea and tick treatment that is formulated for dogs. And it contains an active ingredient that is toxic to cats.
So it is very dangerous to use Advantix on your cat.
You should never use Advantix on your cat. Unfortunately, many people confuse it with the flea treatment 'Advantage', which is safe for cats.
Accidental cat poisoning can happen if you confuse these two treatments.
The article is all about choosing safe flea and tick treatments for your cat, and how to spot symptoms of accidental poisoning by contact with Advantix.
What is Advantix?
Advantix is a combined spot on treatment for fleas, ticks, sandflies, mosquitoes and stable flies.
In the U.S. its full name is K9 Advantix II, and it is available to purchase over the counter.
In the U.K. it's called simply Advantix, and pet owners need a prescription from their vet in order to buy it.
But they are both the same product, manufactured by pharmaceuticals giant Bayer.
What Does Advantix Do?
Advantix contains two active ingredients:
imidacloprid, which kills fleas
and permethrin, which kills ticks, mosquitoes, sand fly and stable fly.
Some cat owners might consider using Advantix for cats because they already have it in the house for their dog.
Other cat parents might have previously used the cat-safe product Advantage, and spotted that Advantix offers broader protection against more types of parasite.
After all, Advantage and Advantix are both made by the same company, have very similar names, and come in similar packaging.
It's easy to mistake Advantix for a 'premium' version of Advantage.
Which it is – for dogs.
Is Advantix Safe For Cats?
No.
The active ingredient permethrin in Advantix is toxic to cats. There isn't a cat safe version that doesn't contain it.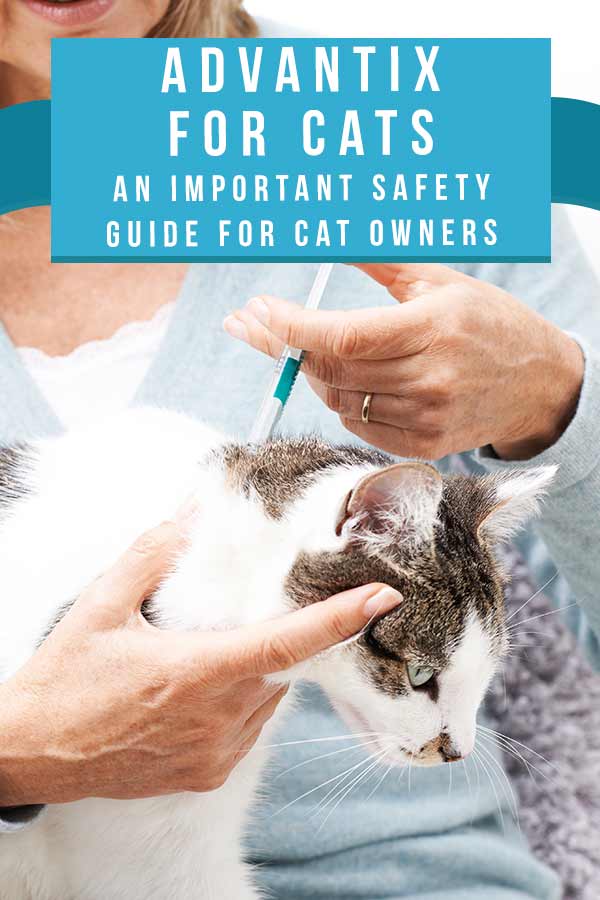 What is the Active Ingredient?
Permethrin is a neurotoxin. It's a synthetic version of a natural compound called pyrethrin, which occurs in chrysanthemum flowers to protect them from being eaten by insects.
Permethrin works by disrupting the transmission of signals along nerves. It causes rapid misfiring all over the nervous system, eventually overwhelming it.
It is fatal to many insects, but safe for dogs because they produce an enzyme called glucouronide transferase in their liver.
Glucouronide transferase breaks down permethrin before it reaches the nervous system.
Cats only make very small amounts of glucouronide transferase enzyme, which means permethrin makes them very sick, and can kill them.
Accidental Application Of Advantix On Cats
Vets see hundreds of cases of permethrin poisoning in cats every year.
They are almost always the result of owners applying a permethrin-containing spot on treatment, intended for dogs.
People make this mistake because they didn't spot the warnings on the packaging. Or because they mixed up their cat's flea treatment with their dog's flea treatment.
Less often, cats ingest Advantix by grooming a recently treated dog, or sharing their bedding.
None of the pet parents in these situations ever wished any harm upon their cats.
That's why it's important to choose and administer flea and tick treatments carefully. And know the signs of cat permethrin poisoning, just in case.
What Is The Best Flea Treatment For Cats?
There are several flea and tick treatments for cats available over the counter or by prescription from your vet.
Your vet can help you choose the best one for your cat, based upon several factors. Their lifestyle, your region, and the types of parasites those factors mean they're most likely to be exposed to.
If you have dogs in your household, your vet can suggest a flea treatment regime for both of them.
Unfortunately though, there isn't a spot on treatment safe for both species which kills both fleas and ticks, like Advantix does.
What Else to Use
Broadline by Merial is a spot on treatment for cats which protects against fleas, ticks and worms. But it's toxic to dogs instead.
There are some flea and tick treatments, including sprays and collars, which are safe for both cats and dogs.
But each of them have their own shortcomings, such as not being able to determine how quickly they will work, or being ineffective against immature fleas.
Protecting Cats Against Permethrin Poisoning
So what if you have a dog in your household, and Advantix is the best flea and tick prophylactic to protect them?
This is fine. But you'll never regret taking a few extra steps to protect your cat from accidentally being treated with Advantix, or being contaminated after you apply it to your dog!
So:
Store the Advantix separately from your cat's flea treatment.
Administer them on different days so you never have both packages out at once.
Double check what you're doing, and have someone else triple check, if possible.
Keep your cat and dog separate until all the residue from the Advantix has disappeared from your dog's fur.
And make sure you can recognize the symptoms of permethrin poisoning, in case your cat is exposed by accident.
Recognizing The Signs Of Permethrin Poisoning In Cats
Cats who come into contact with Advantix usually start to display symptoms of permethrin poisoning within 24 hours. But sometimes they can take up to three days to appear.
Symptoms of cats with Advantix poisoning include:
tremors
twitches
hypersensitivity to light, sound, or touch
seizures
fever
drooling
loss of coordination
and dilated pupils.
Tremors and twitches are the most common symptom, affecting between 8 and 9 out of 10 cats with Advantix poisoning.
Treating Advantix Poisoning In Cats
If your cat shows any of the symptoms above, and there's a possibility they've come into contact with Advantix, they need to see a vet immediately.
If Advantix was applied to their fur by mistake, your vet is likely to decontaminate them by washing them with water and detergent.
It's important not to try this at home, since using water at the wrong temperature could increase how quickly the permethrin is absorbed through the body.
Your vet might also administer drugs to controls their muscle tremors or seizures, and support your cat with extra intravenous fluids, or oxygen.
Once a treatment plan is in place, your cat may be kept as an inpatient until their symptoms subside.
Since one of the symptoms is hyperactive senses, many practices keep patients in a darkened, quiet space.
What's The Prognosis?
Most cats who receive veterinary treatment promptly make a full recovery and don't experience any long term complications.
But cats who don't can die – so it's vital to get treatment and get it quick!
Advantix For Cats
Advantix is not a suitable flea and tick treatment for cats.
The active ingredient against ticks – permethrin – is toxic to them.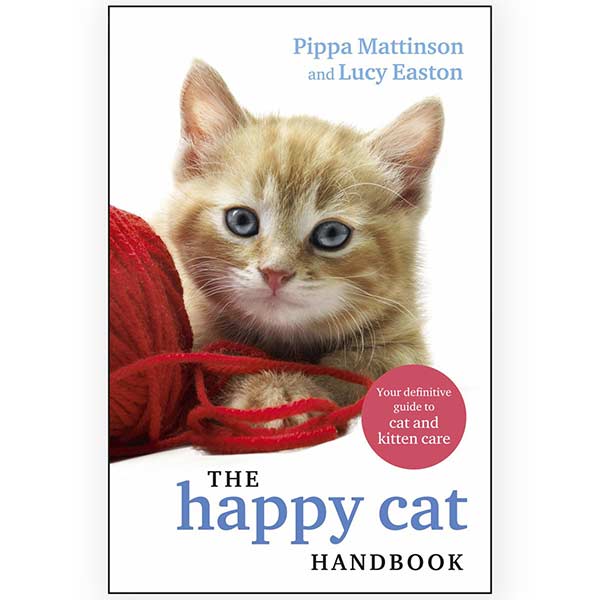 So always check the label on any products you apply to your cat, and better still, only use products approved by their vet.
If you have Advantix in your home for a pet dog, take extra care not to apply it to your cat by accident, and keep them apart after applying it to your dog.
How Do You Manage Fleas and Ticks on Your Cat?
How do you treat your cat for fleas and other parasites?
Do you have a cast-iron method for making sure you never accidentally give Advantix to your cat?
Tell us in the comments box!
Related Articles
References and Resources
Your Amazing Cat!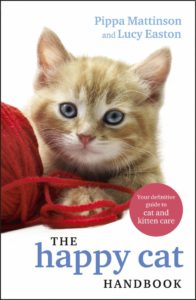 We are so excited to share our new book with you!
If you have enjoyed your visit to The Happy Cat Site we think you'll love The Happy Cat Handbook.
Written by the founders of this website including the author of the hugely successful Happy Puppy Handbook, it's packed with cat care information and fascinating cat facts.
Grab your copy today!