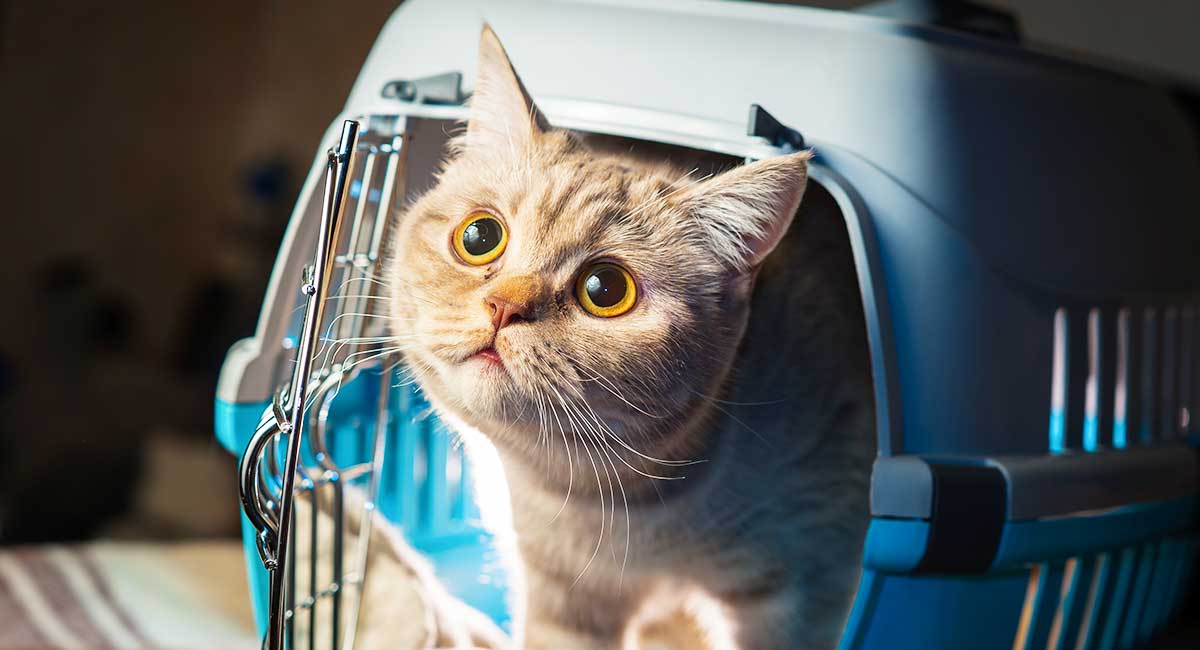 The best cat carriers help us mere mortals perform the near impossible: wrangle our believed felines!
At its most basic a cat carrier is a clever, convenient option for transporting your moggie on short trips to the vet.
You might also use it during extended vacation travels.
Such can be the battle, it might seem easier to just carry your moggie to your car and then dash inside the vet's office.
But what you may gain in convenience could cost you the ultimate price: a runaway, lost, frightened cat.
Bringing home a new kitten, taking a mature cat on a car ride, or transporting kitties to the dreaded vet's office really requires a sturdy and reliable cat carrier to ensure your pet's safety.
All of these products were carefully and independently selected by The Happy Cat Site team. If you decide to make a purchase from one of the links marked by an asterisk, we may earn a small commission on that sale. This is at no extra cost to you.
The best cat carriers
We've reviewed the best cat carriers across a range of price points and boasting a spectrum of unique selling points.
A plastic cat carrier, cat carrier bag and even sherpa cat carrier choices are just some of the popular products we've found.
It's wise to take your pet's personality into consideration prior to choosing a carrier. Would she prefer the soft comfort of a sling type carrier or feel more secure in a hand held carrier?
Do you have a large or heavy cat? Transporting her in a rigid, solid, plastic type of carrier may give her a much needed sense of security while traveling.
No matter which type of cat carrier you choose, the Humane Society recommends tucking a tasty treat inside to help soothe your pet.
Also when travelling for the first time with a kitten, keep in mind that experts discourage cat travel prior to 8 weeks of age.
Best cat carrier for airline travel
If you plan on bringing your cat on a plane ride, she must be in a secure carrier – there are no exceptions.
Each airline sets their own unique and specific requirements for cat carriers. These include dimensions for storing under the seat in front of you.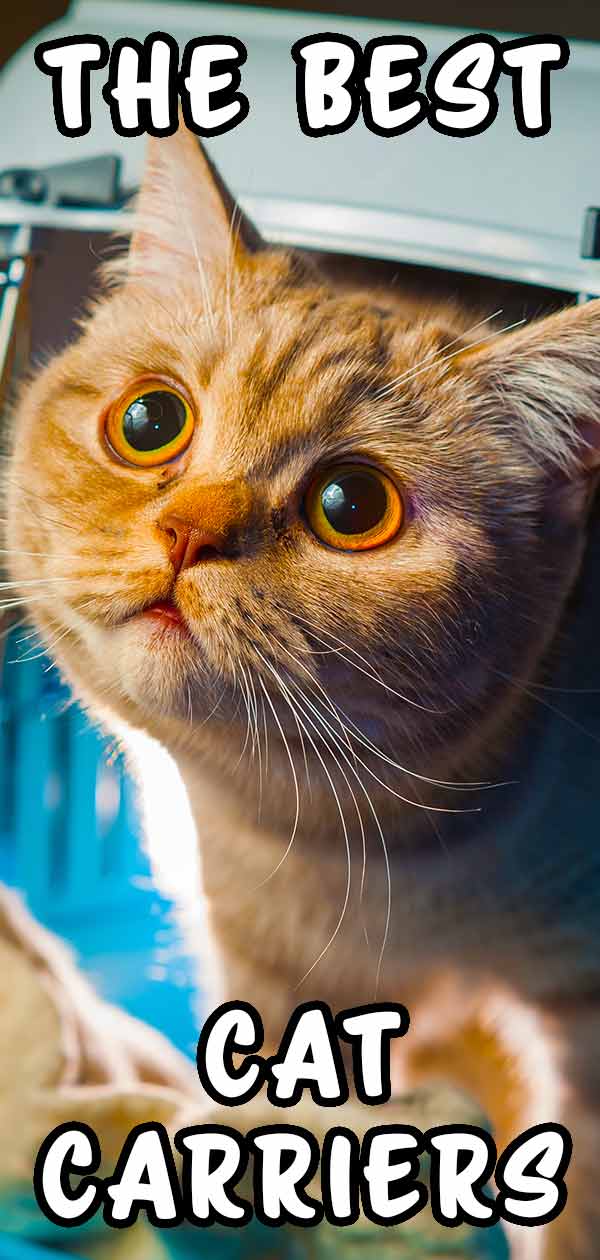 But even within a specific airline, pet carrier requirements can vary. Factors include whether or not the flight is domestic, international, shuttle, etc.
For this reason you should always check with your airline prior to arriving at the airport, pet in hand (so to speak!)
Many cat carrier manufacturers state that their carrier is FAA compliant or designed to meet the requirements of a certain airline.
Nevertheless, it is advisable to understand your carrier's rules prior to boarding.
With all of the above considerations in mind, it's time to review the best cat carrier options available today!
Cat carrier backpack
Nothing beats the peace of mind that comes with a cat backpack.
With your kitty snuggled next to you, you can rest easy knowing that your precious cargo is secure at all times!
Whizzotech Pet Carrier Backpack
If your cat loves to be held, this convenient and adorable cat carrier backpack* might be the answer to your travel needs.
It can be worn in the front or on the back, and used while walking, hiking, etc.
The pet backpack comes in six colors and three sizes.
It has an open top design which allows the legs and tail to freely hang. The backpack has fully adjustable straps, side zippers and a Velcro top closure.
It even comes with an internal leash attachment!
Texsens Innovative Traveler Bubble Backpack Pet Carrier
Your furry feline will travel in the ultimate chic style in this semi-sphere design backpack*.
It is best for kittens and small cats and features adjustable padded shoulder straps, a built-in security leash, ventilation holes and mesh panels.
It comes with a soft, washable pad, and features top and side entrances.
The dimensions are 12.99″L x 9.05″W x 15.74″H, and it weighs 4.1 pounds.
The space age styled carrier accommodates frisky felines up to 10 pounds but may be best for smaller cats.
Soft cat carrier
Some pets are extra sensitive to tactile surfaces.
If your moggie prefers a soft and fuzzy ride, consider these easy-going, soft travel options:
Alfie x B.Duck – Hayden Pet Sling Carrier
This soft, cushy, padded sling bag* is a wonderful choice for those owners who want a roomy bag option.
The ultra-stylish tote comes in a fashion forward red, white and blue, design and has plenty of bells and whistles.
These include extra hooks for added convenience and claw-proof mesh fabric windows on top (for excellent ventilation).
At the base there is a removable hard bottom for added stability.
Plus, a middle mesh side pocket has an opening that is perfect for holding accouterments such as kitty snacks, moist wipes, keys, etc.
The sturdy, well made bag measures 12.5″L x 6″W x 10.5″D.
PetAmi Premium Airline Approved Soft-Sided Pet Travel Carrier
Your little one is sure to delight in the stylish design and comfy features of this bright and attractive soft sided cat carrier*.
It is best for a small to medium sized cat, and has a well ventilated design as well as a cozy Sherpa lining. The dimensions are approximately 19.5×10.2×12 inches.
It comes with a collapsible bowl for travel, a safety strap to prevent escape, plus the carrier can be strapped to a car seat.
The bag has an identification tag, two sided access, a side zipper opening, and a detachable strap so it can be carried by hand or over the shoulder.
Made of premium polyester, the carrier comes in 12 colors.
Airline approved cat carrier
As we mentioned above, each airline has specific requirements for pet carriers. And these rules can vary depending on whether or not the flight is domestic or international.
Always check with your airline prior to prior to traveling with your cat so that there are no unpleasant surprises before boarding!
Mr. Peanut's Airline Approved Soft Sided Pet Carrier
This attractive cat travel carrier* weighs under 3 pounds and has breathable mesh on all sides for superior ventilation.
It comes with a removable, comfy soft fleece travel bed and has a padded shoulder strap.
This elegant airline approved cat carrier comes in three sophisticated colors and features a kitty ID tag plus a compartment for wipes, treats, meds, etc.
It is seatbelt compatible and folds down to less than 3 inches. It fits animals up to 15 pounds and has rounded contours.
The manufacturer states that the carrier meets all airline regulations for underneath forward seat compatibility including Delta, Southwest, United, American, Virgin and others.
Nonetheless, it is always a good idea to check with your airline regarding their unique requirements.
SLEEKO Luxury Pet Carrier Airline Approved
This modern, airline approved, soft sided pet carrier* is designed for small cats and comes in three colors.
It has two seatbelt buckles as well as reflective strips.
It comes with two removable fleece pads, is tear-resistant and has a bottom insert that prevents sagging.
This attractive, airline approved pet carrier has a clip-on shoulder strap plus a padded hand strap for fatigue-free carrying. It measures 17.5" (L) X 10" (W) x 11"9 (H).
The manufacturer states that the carrier is FAA approved as an under seat carrier and easily fits under American Airlines, Delta, Jetblue and other major airlines.
Cat carrier with wheels
Who says that cat carriers must be hand held or draped across the shoulder?
If you must walk an appreciable distance with your moggie, or your usually housebound feline simply likes the fresh air, a cat carrier with wheels could be the answer.
Sherpa on Wheels Pet Carrier
This cat carrier with wheels* has recessed wheels for an easy-glide motion as well as an adjustable shoulder strap which conveniently converts into a padded pull-handle.
The carrier has mesh panels for ventilation, roll down privacy flaps, as well as top and side entry availability (with locking zippers).
It features a machine washable, Sherpa-like faux lamb's wool liner and the manufacturer states that it is approved for use on many major airlines.
The roller carrier measures 19" in length x 9.5" in height and accommodates felines up to 22 pounds (that's a lot of cat!)
Petsfit Pet Carrier with Removable Wheels
This premium cat carrier bag* has all of the bells and whistles needed to make traveling with a cat easier!
The deluxe wheel-able carrier is fully collapsible and foldable, plus it can be taken off the base for a wheel-free carrier option.
The roomy and spacious carrier has a weight capacity of 28 pounds.
So you can transport the heftiest Maine Coon or Norwegian Forest cat*, or even carry two moggies if you wish.
It features two zippered openings: front and top entrances. The handle size is 34.5″.
In many ways this top of the line transport option is the ultimate cat carrier, for kitties with the highest travel standards!
Cat car carrier
My tabby cat Fuzzy loves it when I put him in his carrier and take him to the car.
He knows we're headed for the fast food drive-through lane!
If you have a moggie who loves car rides, be sure that he travels in safety—each of his nine lives is precious!
SportPet Designs Foldable Travel Cat Carrier
If you are looking for a combo cat carrier/bed, hundreds of satisfied pet parents can attest that this zippy carrier option* is a great choice.
This convenient cat car carrier is best for short trips and for transporting kittens or a smaller cat.
It has plenty of fantastic features such as a wide, side-opening door.
The stylish two-tone carrier comes with a soft bed lining (machine washable and dryer safe) and is easy to clean as well as foldable.
It measures 15.2" L x 18.5" W x 14.2" H. the cushy bed is 18 L x 13.75 W.
Pet Fit For Life Extra Large Portable Cat Cage
Whether you have multiple cats or just a comfort loving moggie who knows what he likes, this superior cat car carrier* is an excellent travel choice.
The extra-large (32″x19″x19″) carrier is made of durable, nylon fabric and has a flexible steel frame, as well as two mesh windows and a zippered, screened front door for plenty of ventilation.
The flaps close with Velcro tabs, and a washable, velour bed is included
As an added bonus, the carrier comes with a collapsible, lined litter box, and loops that can be used to stake the box into the ground.
That isn't all though: a cat wand and bowl are included.
The product has a 100% customer satisfaction, money back guarantee.
Top loading cat carrier
If you have a cat who loathes being put into a carrier, a top loading choice is a good bet.
It provides the simple option of placing kitty down feet first, rather than trying to push a wiggle-worm feline in head first.
Petmate Two Door Top Load Kennel
Thousands of happy pet parents recommend this steel and plastic top loading cat carrier*.
The sturdy construction provides enhanced strength, safety and visibility as you tote your precious cargo.
It has top and front doors as well as an ergonomic carrying handle.
The inside dimensions are: 21″ x 14.75″ x 13.25″. Ideally it is for use with small animals, up to 7 inches tall and 15 inches long.
AmazonBasics Two-Door Top-Load Pet Kennel
It would be hard to find a more practical, classic cat car carrier than this sturdy, functional model*.
The rigid plastic rectangular box provides superior protection and features a two-door, top-load option for easy-peasy cat wrangling!
The side door is made of steel.
The spacious carrier measures 23x15x13 inches and the top door opens to both the left and right.
If you desire even more reinforcement, included screws can be used to further secure the top and bottom.
Cat sling carrier
Cat slings provide a cozy means of transporting your cat, and you can even try one on each shoulder if you have two traveling moggies!
TOMKAS Small Dog Cat Carrier Sling
If you would like to use a cat sling carrier to transport your precious cargo, this comfortable, machine washable, cotton and polyester blend choice* is a solid option.
The stylish bag comes in five colors and is fully reversible.
For extra security the sling has a security lock on the collar ring, to avoid accidental falls.
The sturdy, handsome sling measure: 23.6×11.8 inches, and can carry up to 10 pounds.
Alfie Pet by Petoga Couture – Chico Reversible Pet Sling Carrier
If you want a cute, stylish and extra sturdy cat sling, you will appreciate this 9" deep pouch* that can accommodate felines up to 12 pounds.
It features an extra wide shoulder belt and has a safety collar hook for added security.
The handsome sling comes in six fashionable colors, almost one for each day of the week!
The design is suitable for everyday use as well as travel adventures, and is machine washable.
Collapsible cat carrier
If space is at a premium, there are several excellent collapsible cat carrier options to choose from:
Pet Magasin Hard Cover Collapsible Cat Carrier
This collapsible cat carrier* has a hard top and hard base for sturdy transport protection for your pet, and provides a solid surface to stand on.
But it's also a beautiful looking carrier that has ultra-modern looks and a space age design.
It measures 17″ long by 13″ high by 14″ wide, and the soft sides can be folded down into a compact package when you zipper the top and bottom together.
In addition to its superior looks, it is completely functional with a spacious mesh window, padded mat floor and a non-slip surface to stand on.
SportPet Designs Collapsible Cat Carrier
This collapsible cat carrier* is truly the best of both worlds: a folding, hard-plastic design travel companion.
Available in three colors, the unique carrier is made of premium quality polypropylene material, and easily collapsible to save space.
It measures 17.91″x13.98″x12.8″and the smooth plastic surface is easy to clean and dry.
The best cat carriers
We hope you enjoyed our reviews of the best cat carriers available, from wheeled to collapsible to backpack types.
The best cat carrier for your pet is one which takes as much stress as possible out of being transported – you you and your cat!
Take into account your cat's size and disposition. A large cat will need a sturdier vessel to feel stable and secure, whilst a young kitten might prefer being held close to your body.
Likewise, if your cat is so heavy that you'll need to put them down for breaks, look closely for cat carriers with secure closures and even wheels to take the strain.
Finally, adding a favorite blanket, edible treat, or catnip toy to the carrier can help transform your cat's experience from traumatic to pleasurable (or at least tolerable!)
Do you have a favorite feline transport type to recommend?
Let us know in the comments section below!
Affiliate link disclosure: Links in this article marked with an * are affiliate links, and we may receive a small commission if you purchase these products. However, we selected them for inclusion independently, and all of the views expressed in this article are our own.
Sources
Leggat, P.A., R. Speare, R., Traveling with Pets, Journal of Travel Medicine, 2006.